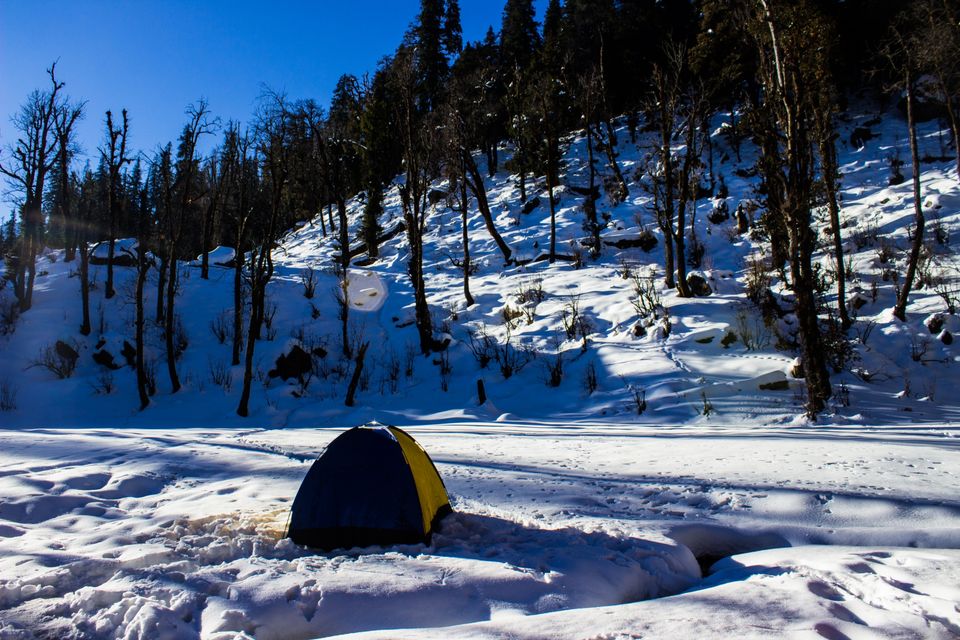 "It's not the altitude, it's the attitude " - Scott Fischer , Everest (2015)
There are only few Winter Treks (December-January) in India and it can be counted using fingers. Kedarkantha , Chandrashila Sandakphu , Brahmatal and Nag Tibba. Among these you get guranteed snow in Kedarkantha through out this period.
Kedarkantha being 12506 feet is not that high according to Himalayan Trekking standards , if you convert it in meters then it is just 3850 meters. People tend to mention in feet because it helps in bragging , " I climbed 12506 feet", even i will do the same . Moreover Kedarkantha is a great trekking destination to get yourself ready for other high altitude treks like Roopkund , Goechha La, Chadar etc. This trek falls in the Moderate range , but during winters the entire trek is through snow , there is continuous ascend and mercury drops to sub zero levels - and that makes this trek a worthy adventure . It is also one of the shortest treks as total distance covered is only 20 kms in 4 days.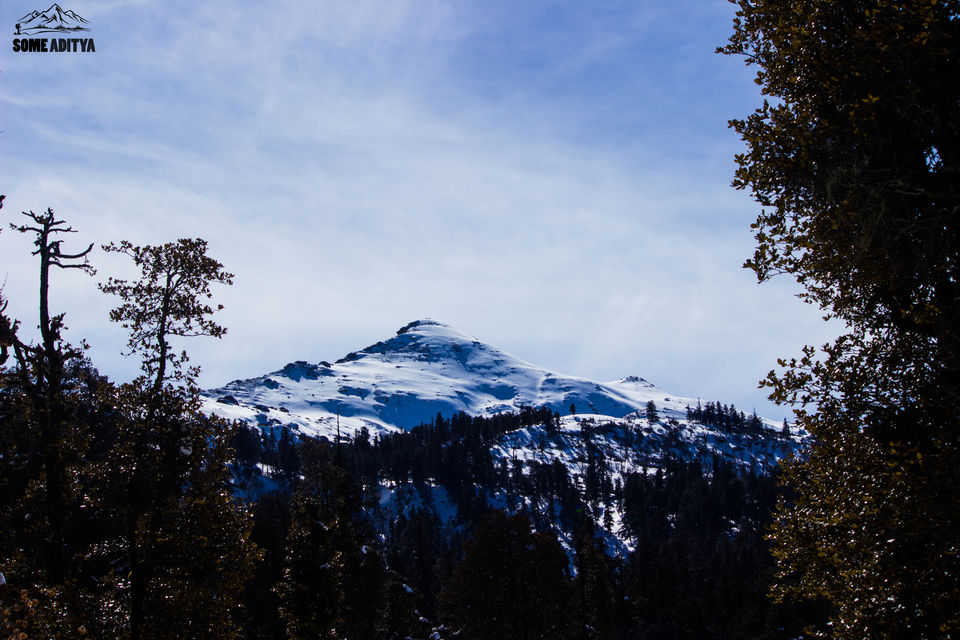 As mentioned by IndiaHikes , Top 5 reasons to do the Kedarkantha Trek in Winter :-
Snow till April - Prettiest Campsites - Best Drive in the Himalayas - The pleasure of walking on a carpet of brown leaves - Snow peaks all around
We reached Sankri in the afternoon and after our lunch we were briefed by the HPMA Team regarding the next few days. In the evening we were introduced to our trek leader Gangaji , having 20 yrs of experience.
Trek Day 1 - Sankri to Juda Ka Talaab - Ascent : 2700 ft - Distance : 4kms - Time : 4 hours
Actual trekking started from this day , from Sankri (6400 ft) to Juda Ka Talaab (9100 ft) base camp. During this 4 km trail one can experience the beauty of lush meadows, dense pine forests, cascading beautiful streams, and gorgeous maple trees -but everywhere it was full of snow.After 2 kms , the snow increased and we were trekking through 3-4 inch snow. It took us around 4.5 hrs to reach our campsite which was around 100 mtrs before Juda Ka Talaab. We took a walk to the lake and It took us by surprise that Juda Ka Talaab was totally frozen , under a sheet of thick ice and snow.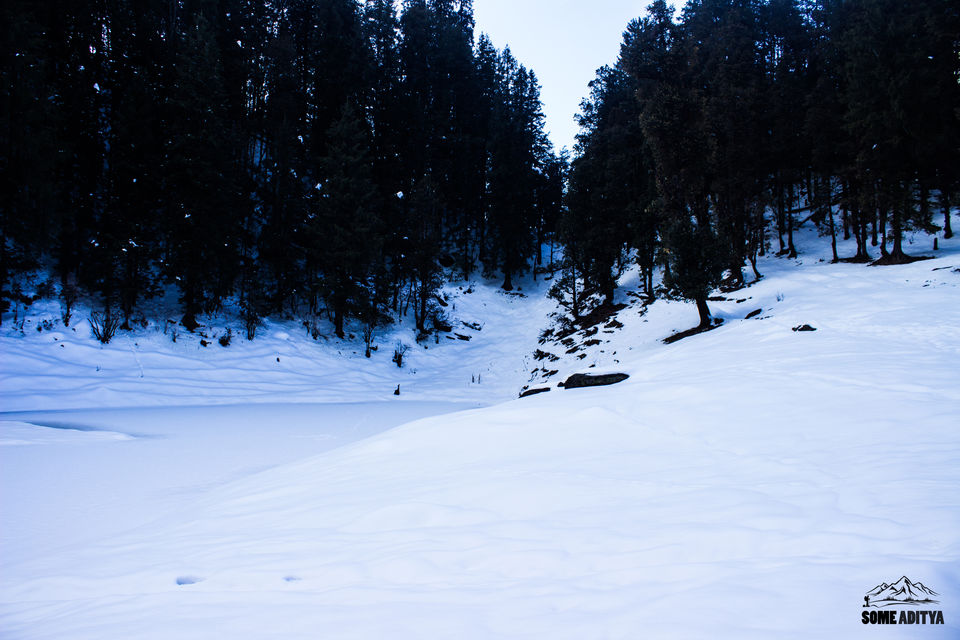 Trek Day 2 - Juda Ka Talaab to Kedarkanth Base Camp - Ascent : 2150 ft - Distance : 4kms - Time : 2 hours
Kedarkantha Base Camp (11250 ft) is further 4 kms from the Juda Ka Talaab campsite. This trail was full of snow , so we were given pair of Gaiters. In this trail the trekkers pass through lush meadows of snow and for the first time catch the view multiple snow capped peaks standing tall encircling the location. One of the most relaxing days as the trek is hardly about 2.5 hrs and very less ascent.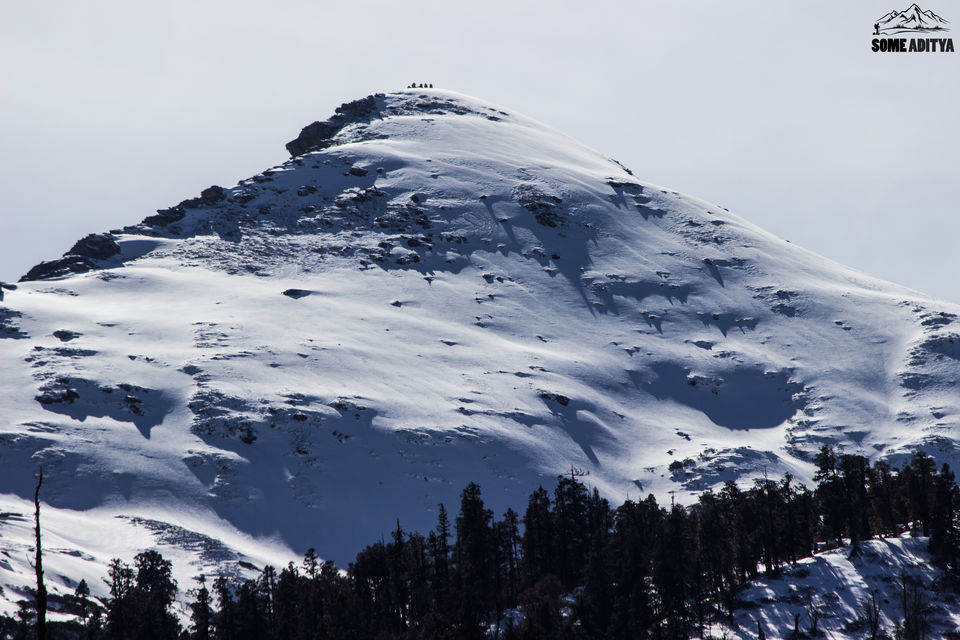 On reaching Base Camp you get the first view of magnificent Kedarkantha Summit. This is the most beautiful campsite in this trek , Oak forests and the mighty Kedarkantha Summit on one side and On the other side the snow capped Himalayan Peaks.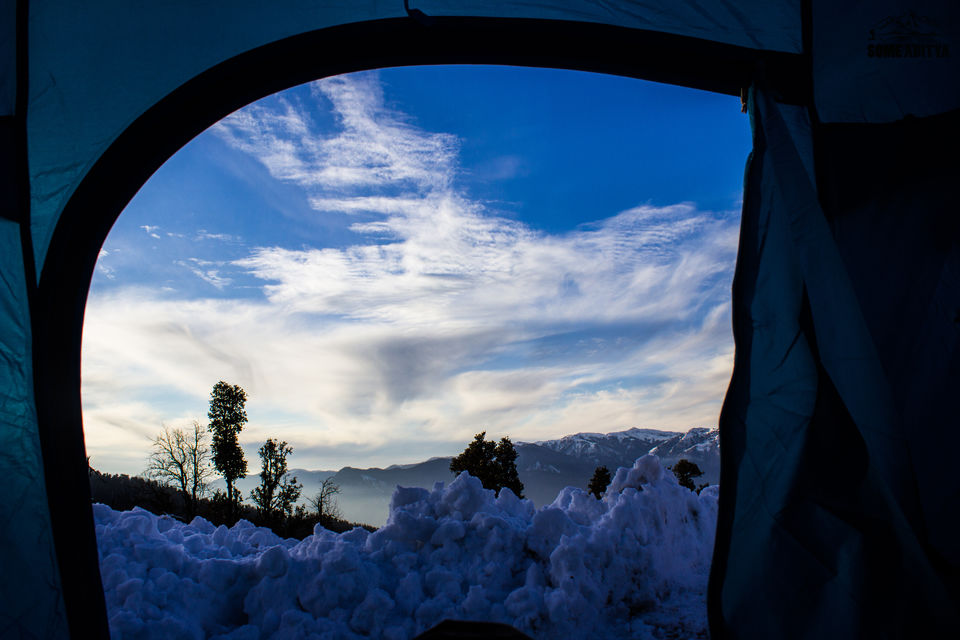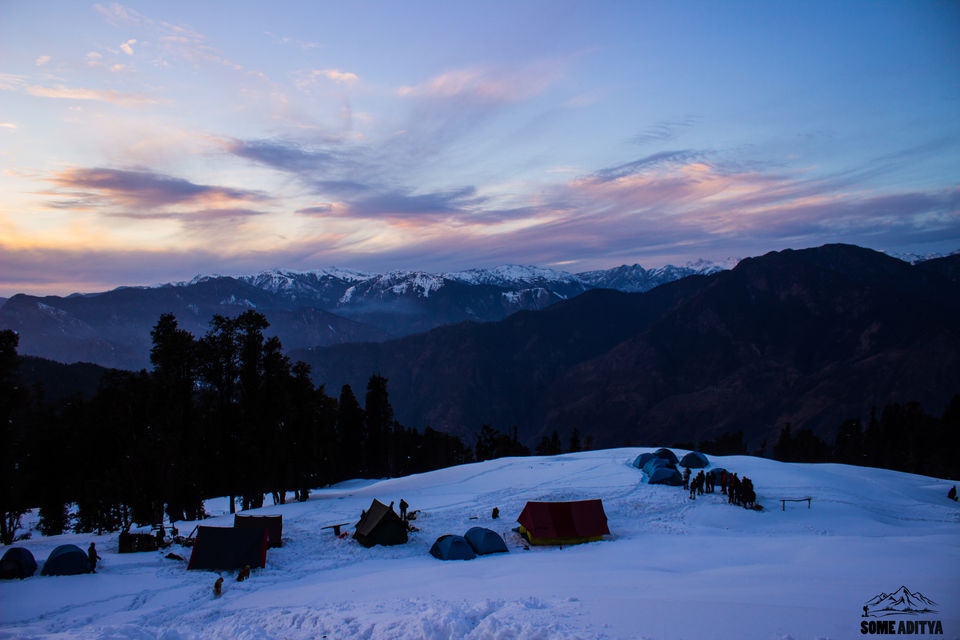 Personally , I was feeling like in the Top of the World. Surrounded by clouds , Chilly Himalayan winds , Intense snowfall , Sub zero temperature - Picture perfect. I had done trekking before too but this was something different , different kind of experience on reaching summit.
Trek Day 3 - Summit to Juda Ka Talaab - Descent : 3400 ft - Distance : 6 kms - Time : 5 hours
You know what's the hardest of trekking ? Descend ! That's the toughest part . A wrong step and your feet slips , you are "Late" within seconds. It was 1 pm when we started descending , we knew we were running late but we had to descend very carefully through the rocky areas of the Southern ridge till we reached the snowy slopes. Snowy slopes are little easy for descend ,at least one can slide down easily but make sure that doesn't take off from the mountain cliff !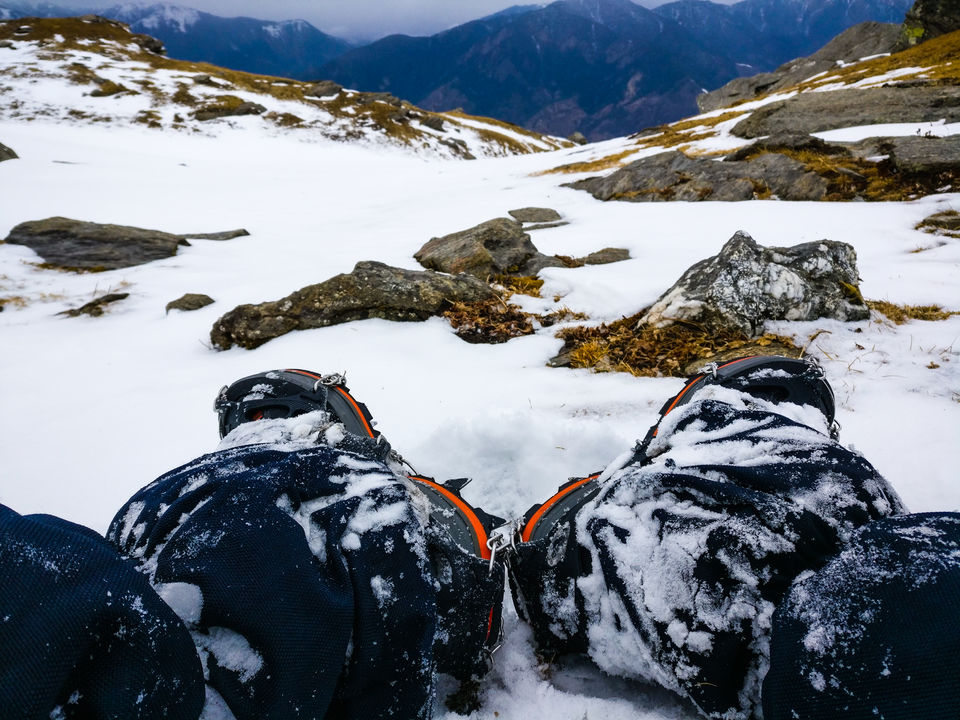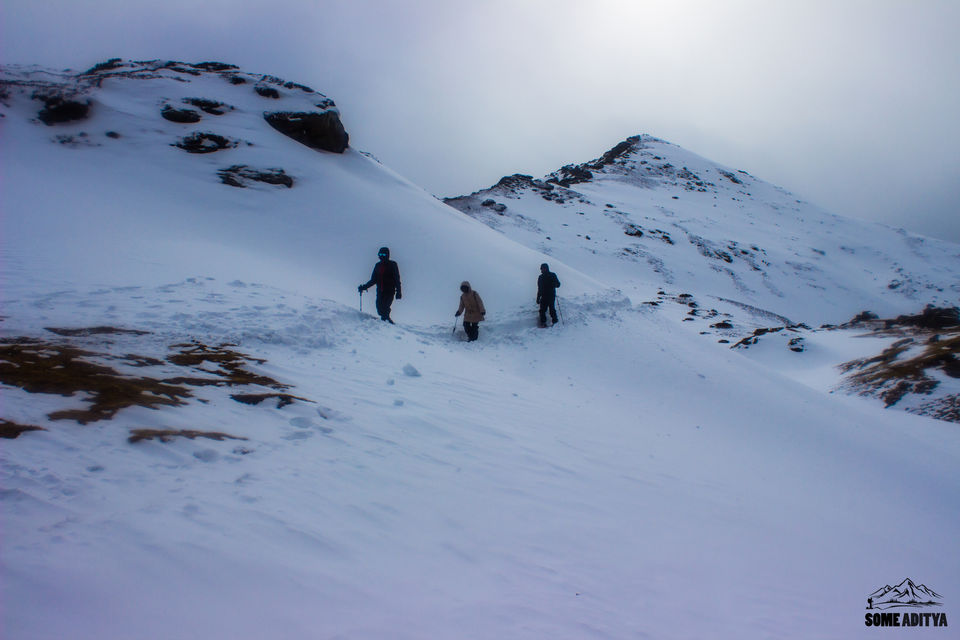 As soon as we reached Dehradun , we were picked up by the Driver from HarKiDun Protection and Mountaineering Association. The distance of Sankri from Dehradun via Mussourie , Nawgaon and Purola is around 190 kms , which is huge in context of curvy Himalayan roads. It took us around 7 hrs to reach Sankri , this journey will give tough time to those who suffer from motion sickness in the mountains.
Trek Day 3 - Base Camp to Summit - Ascent : 1250 ft - Distance : 2kms - Time : 5 hours
The D Day - a lot was discussed last night about starting early, yet we started late around 8 am. That was going to be a very long eventful day. We were given Micro-crampons along with our Gaiters as the trail was full of snow. The news of 4-5 ft snow on the way to summit was making rounds since we arrived in Sankri , so we were pretty confused.After trekking 1 km through feet deep snow we reached the last Tea point on the trail . From there we were able to see trekkers are going towards the summit , near the final ascent. Gangaji asked us ther we want to do summit or not , answer was "Yes". The only thing running in my mind was "If they can , Why can't we". But sadly one of our team mates was too ill , she decided to stay at the Tea point.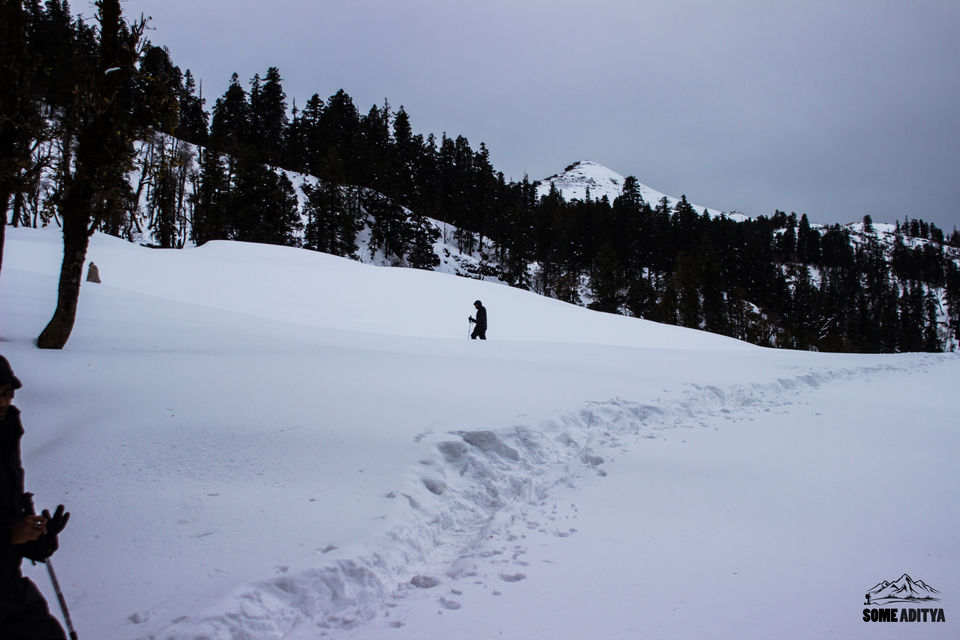 As soon as we reached our tents, the HPMA team greeted us with hot Chai and crispy Pakodas and too our surprise snowfall started. What a timing ! It was magical ! Many from our team was witnessing the first snowfall of their life which added a lot their excitement.
With fall of night, we could feel the temperature dropping , it was somewhere around -10 degrees . We all gathered around a small fire such that we can keep ourselves warm enough. Music and Stories made our evening beautiful far from the noise of cities.And to our surprise , the HPMA team arranged candle night dinner which was super-awesome.
Next morning we woke up to a beautiful sunrise , and when the sun shines bright it adds up to the beauty of the mountains. The sky was blue , all the peaks were clear and snow was shining with the reflection of Sun.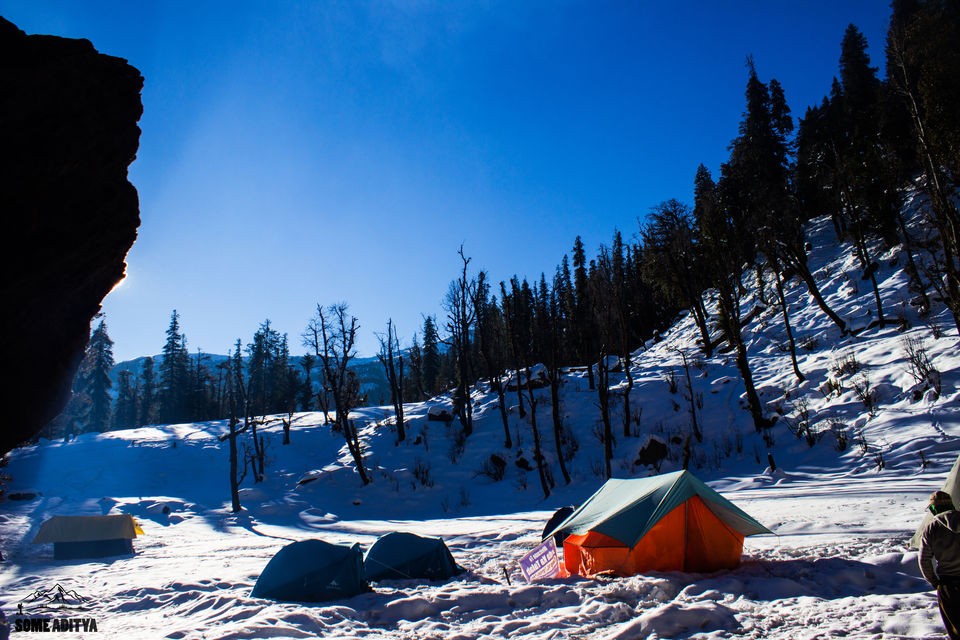 We reached the Base Camp around 4PM, had our lunch quickly, packed our bags and started descend to Juda Ka Talaab around 5 PM. It was quite challenging for us as we lost our torch. So we tried our best to reach campsite before it got dark but we couldn't , so we had to manage with mobile lights for the last few meters.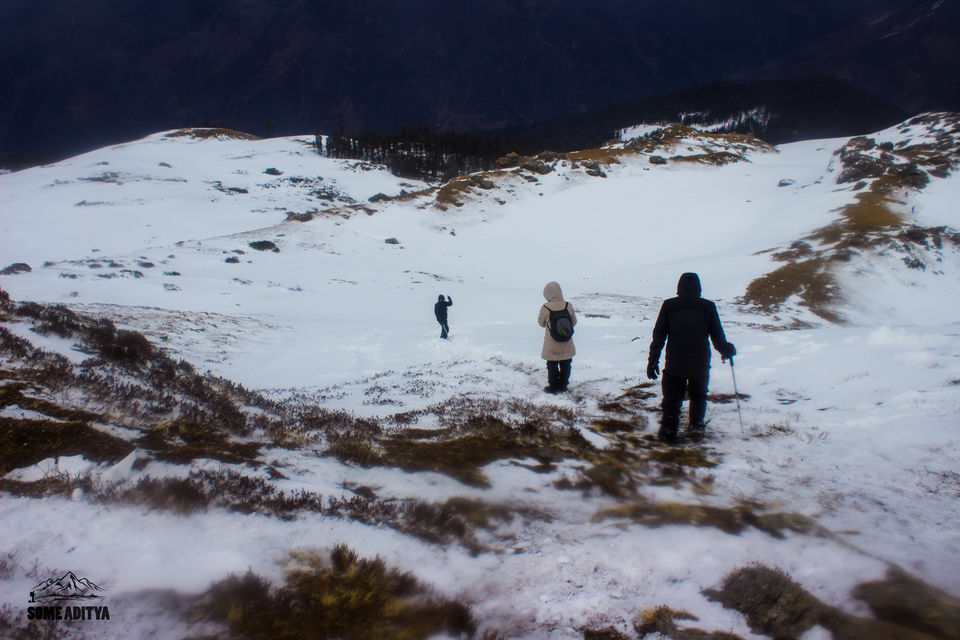 It was the Longest day of the trek , 2 kms and 1250 ft ascend , 6 kms and 3350 ft descend in 11 hours and all in feet deep snow wearing gaiters and crampons. What a lovely day !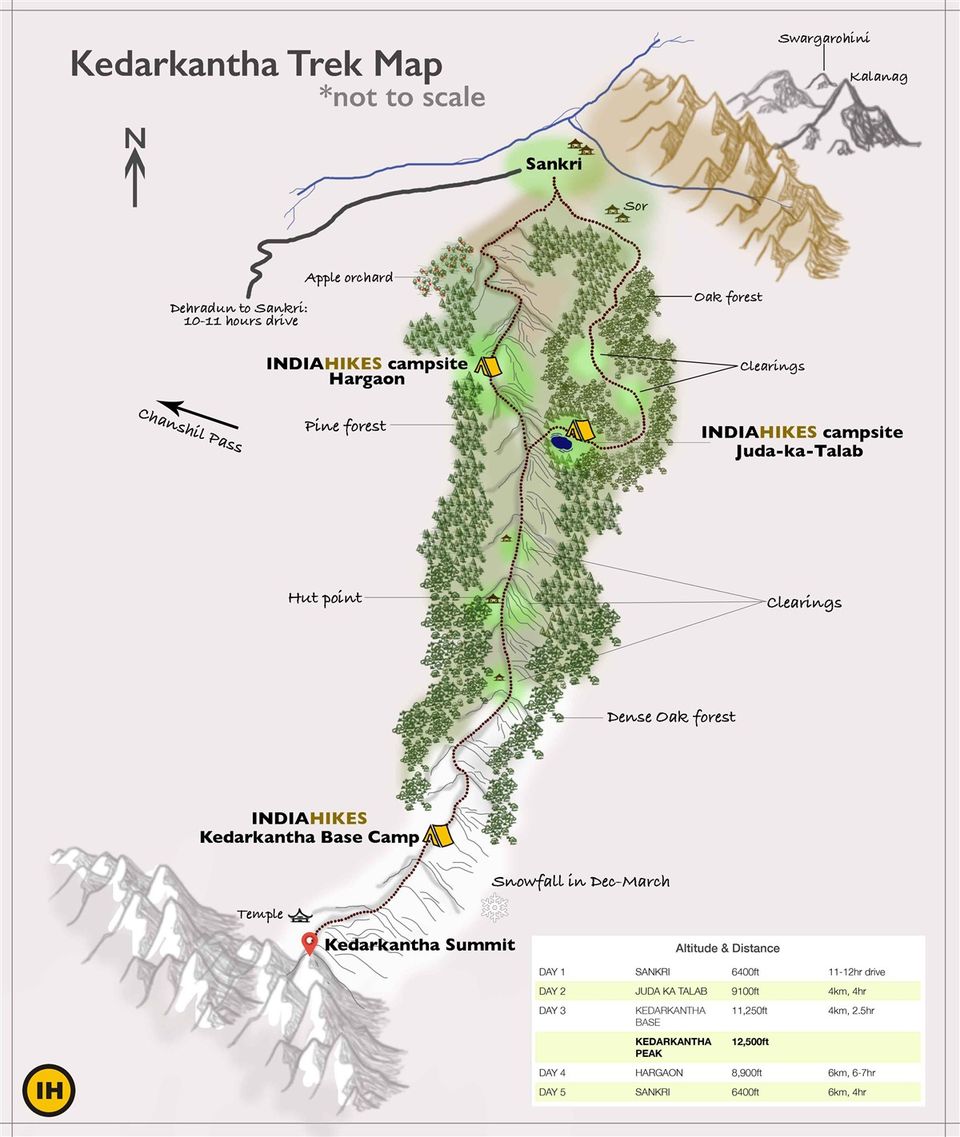 It was last night at the campsite so we stayed awake till midnight. Listening to songs , hearing stories , just like the very first day of trek. But the difference was the relation between the people sitting around the campfire. Same people just like the first day , when we were strangers or acquaintances , but tonight we were friends who ate together , sang together , laughed together and celebrated the trek together. These 4 days had given birth to a friendship which will be cherished in the coming days.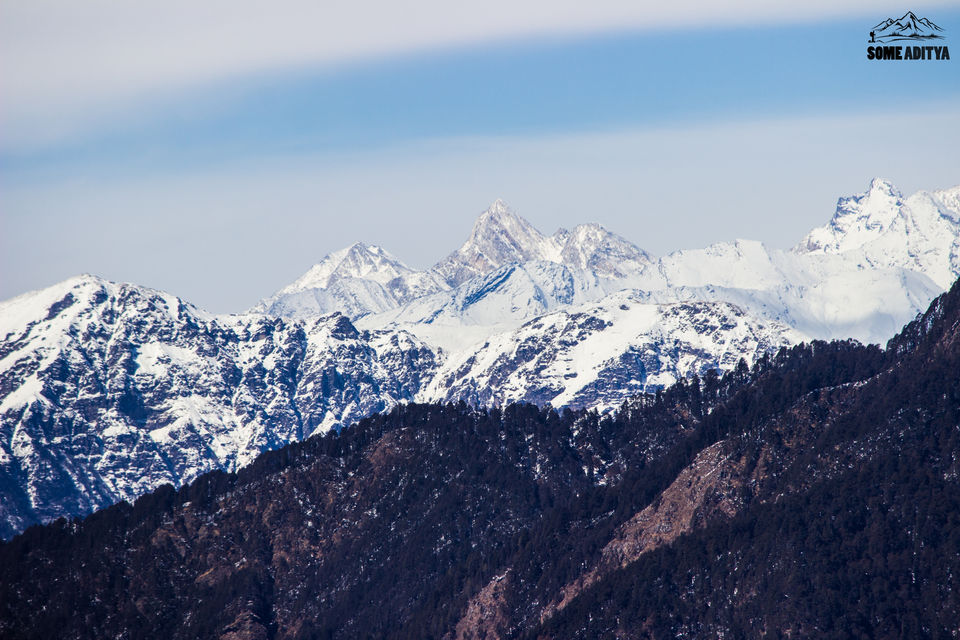 Trek Day 4 - Juda Ka Talaab to Sankri - Descent : 2700 ft - Distance : 4kms - Time : 3 hours
Would have been glad if somebody helped me with a Tele-porting machine because descending down the hill is really ridiculous . When the trails are full of mud and water then its pathetic. I took us about 4 hrs to get down to Sankri. On reaching Sankri , our legs were immovable , Lactic Acid deserves the gratitude. In the evening we were facilitated by the HPMA team on successfully completing summit -It was a good feeling !
The journey back to Dehradun was full of nostalgia of the trek , It was quite fun. The 6 day trek ended with lot of memories.
This trek was one of the most wonderful experiences of my life. The snowy trails , cold winds , snowfalls , beautiful campsites and awesome friends will be remembered through out my life.If you want to really experience the mountains , you must trek.
You can reach out to HarKiDun Protection and Mountaineering Association to plan your trek.
You can follow my Photo Story on Instagram with #WinterTrekToKedarkantha .
You can visit my website for more Travel Contents , Stories , Photos and Videos.
Frequent searches leading to this page:-
best couple friendly hotels in dehradun, dehradun side scene, dehradun sightseeing itinerary, dehradun picnic place, picnic place in dehradun
At night the temperature in the Base Camp was much lower than the Juda Ka Talaab camp. We all gathered in a small hut , warming ourselves around the fire and trying to dry our socks. Socks are very important during this trek , carry four pairs or you have to dry them every them and if you wear wet socks you will die due to Hypothermia.
Next 1 km was most difficult - ascent was increasing, snow was increasing , winds were getting strong and constant snowfalls. It was already 11 am and snowfall became so intense and winds were so strong , it was too difficult to move even a meter. But the target was set , once we have decided to reach the summit , we knew we will do it any how. It took us around 4 hrs from the Tea point to reach the Summit. As soon as we reached the summit ,everyone was overwhelmed with joy - it was the best moment.