For the starters, Kedarkantha is not as famous as the other hill stations, but wait for five more years and it will be hard for you to find a place to set up a camp. It is basically like that kid in school who is not that popular now, but damn he has got potential. So about Kedarkantha, it is situated way above mussorie and the last village that you will find near it is SANKRI. Describing its beauty in least words, if you have been to hill stations like manali, kasol and Shimla, this is like a girl out of the league. Also, you don't reach kedarkantha till 3rd day's evening and the summit? That is like the dragon stage in our childhood video games. So let's get started.
I am from Delhi and I went to Kedarkantha with 12 of my friends. Huge group, I know. The actual trip starts from Dehradun and the travel agency that we hired was to meet us there on 28th morning. We reached Dehradun by 6 AM and brought out our 13th member of the trip; football. It was our best company every time we got free. We played at the bus terminal for about 2 hours before our traveler arrived, which was going to take us to SANKRI. So it is basically a ride around 9-10 hours including food, susu and like in every group, vomit breaks. So always carry some plastic bags, meds and beloved nimbu paani/lemonade or Mojito. We reached Sankri through narrow road loops just like every other hill station, so I am not gonna waste time on that. We reached Sankri and realized we need blankets or fire or blankets on fire to keep us warm. To be clear about how cold it was, I spilled some water on a tree near our room and five minutes later, when I returned, it was ice. I could have directly told you the temperature, but what is the fun in that. It was however around 0 degree. We just sat in a single room, had a few drinks for some heat inside and slept around 12, so we could wake up by 8 the next day for breakfast.
So we woke up the next morning, touched our faces with wet wipes, roadies salute to the girls in our group. We got ready by 9 Am, had our breakfast, which was, toast, tea, bread jam and porridge. A good breakfast is really important, because the trek from SANKRI to JUDA KA TALAB was about 5 hours and lunch after that. We went to the market first, got ourselves the hiking poles, which was 350 rs. , which was reasonable. We started the trek, which was not that difficult. We were just trekking through steep small forests but the only thing that made us tired was our heavy luggage. We took small breaks every 15-20 minutes and kept walking. We did find snow but only at small spots. You will find one or two small huts serving tea and Maggie in between but just tea and Maggie, so don't expect much and carry your own stuff. Also, because of all the walking and the sun, it gets a bit hot, So two layers would very much be enough. While you walk through the forest, just feel that cold breeze, smell the nature, feel the freedom and lose yourself open with some good slow music. We reached around 03:30 at a place one hour before JUDA KA TALAB, set our Camp and directly went to gorge on food. We filled our bellies and went to the small pond which was frozen and a good amount of snow around. We clicked a lot of photographs, played with snow, made the most obvious and necessary 'Snow man' (not like the one you see in movies but more like a small stuffed toy which looked weird) and played football again till it was quite dark and snacks time. We had hot soup, which was necessarily considering how chilly it was right then. Then we went to find some good wood for the bonfire. It really felt like the first hard working thing I liked. We started the bonfire around 7 pm. The whole group brought by the travel agency was around 20 people which included few guys of our age and a small family. Interesting fact, the family had a 12 year old boy who looked very much attracted to our 21 year old friend. Kids these days!!! We sat around the bonfire after our early dinner and started our little drinking session (Not the kid). We sat there looking at the sky, feeling the silence and hearing the sound of the nature at the same time. Around 2 AM, we went to sleep in our tents. This was my first experience of sleeping in a sleeping bag. It was comfortable but you get a little cold by 4-5 am. You might want to carry a very thin blanket.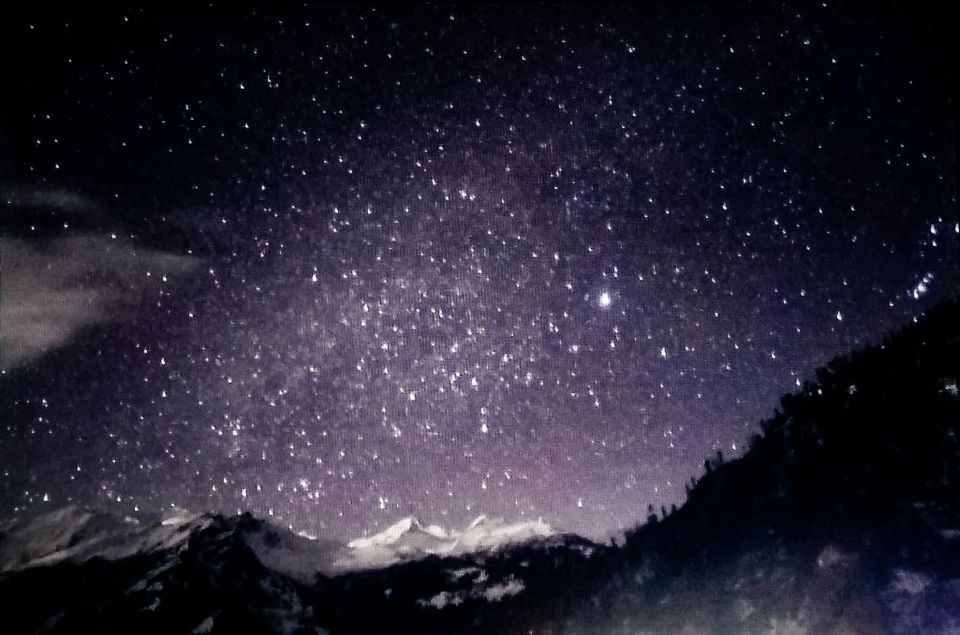 We got up in the morning and were instructed how to go toilet from now on. The instructor was the second person after my mom to do so. There were toilet tents, with toilet seats and after we were done with our business, we had to put soil on it using a shovel. Your hands sure get dirty. We left for Kedarkantha base camp around 10 after having our breakfast. It was around 5-6 hours of trekking. This was our best day of trekking, or as we thought. Our first stop was at JUDA KA TALAB – a frozen lake with snow at the back of it. We were given like half an hour to slide on it, take pictures, eat it, search hidden gold or anything we wanted to do. The pictures describe the rest.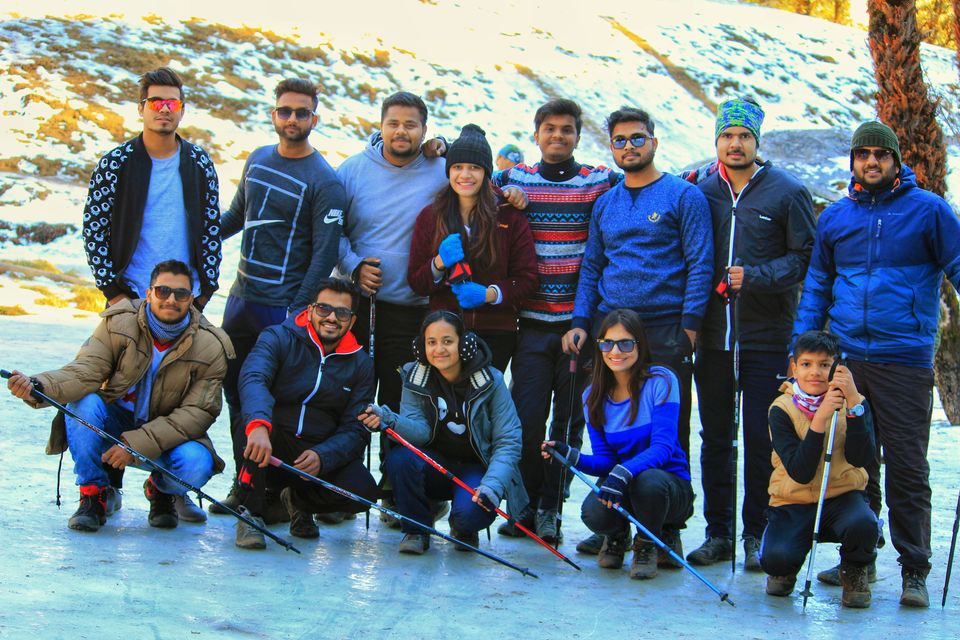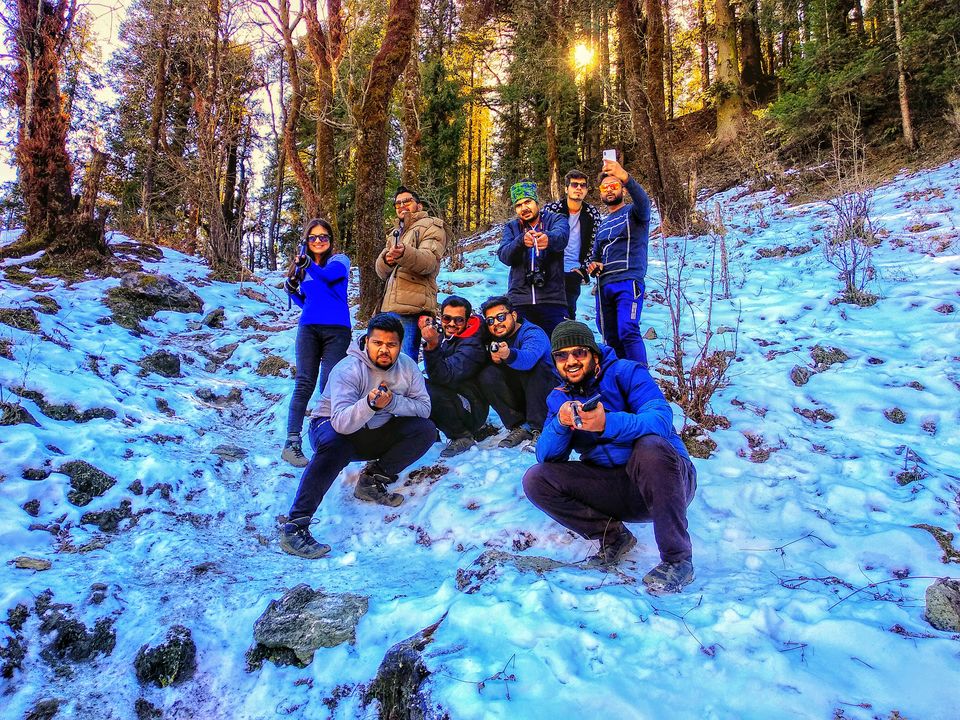 Our next stop was finally the base camp. As we started walking, within 30 minutes, we started to find snow. It started to get a bit slippery, more steep and chilly. Tall trees, with mud slightly wet at places because of snow and the donkey's running downwards after transporting the necessary things required in the camps. Finally at 4, reached the base camp and saw the place completely covered with snow, not in bits and pieces but yes like the ones, they show in movies. We again did the same routine of having lunch, clicking pictures and playing football till it went dark. We arranged for the bonfire, sat and started our dancing and drinking session. We were told to sleep early as we had to leave for the kedarkantha summit by 4 Am to see the sunrise. The travel agency also prepared a New Year cake for all of us. That was an unexpected gesture that everyone appreciated. However the cake was cut at 10 Pm only because they expected us to sleep early. We sat till 1 am (kyunki maa bol bol ke thakk gayi jaldi soja, unki nahi suni) and then went to sleep in our tents.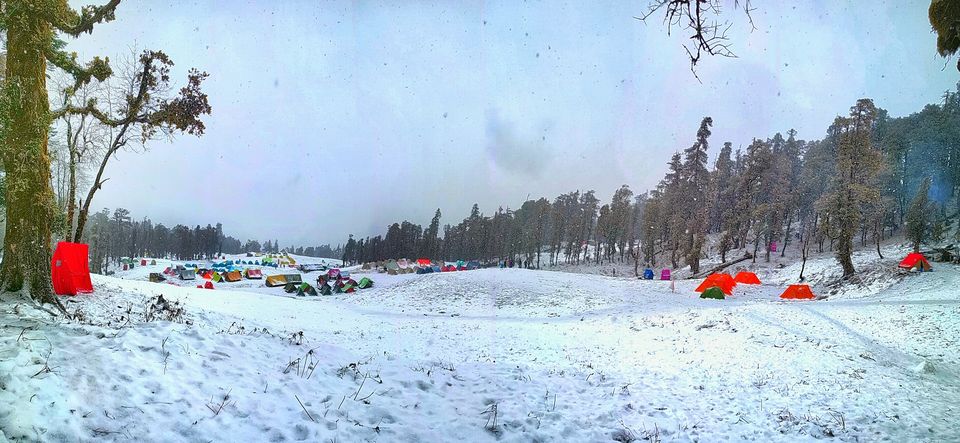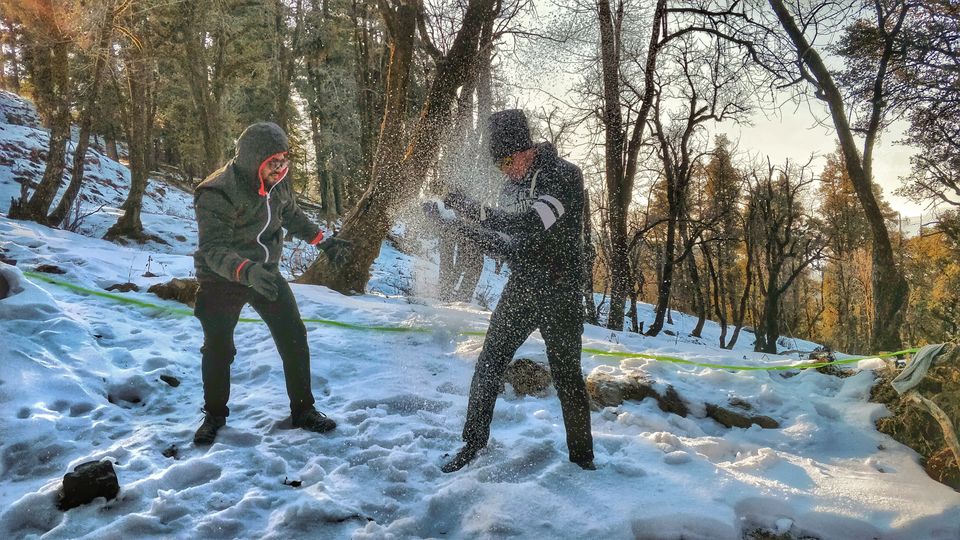 It was the New Year today. We had no idea what it would be like this time. We woke up at 3:30, were provided with spikes for our shoes for better grip in snow so we don't slip. We had the earliest breakfast ever at that time and left when it was still pitch dark. The temperature was -16 degrees. As we started walking, some people started to feel uneasy. One girl and two guys from our group even vomited within an hour but there was no option of going back. We had to reach the summit anyhow by 7 am to see the sunrise. We motivated each other to keep moving. We took breaks at very small intervals. The route was completely full of snow. There was nothing the eye would meet for miles other than snow. It was cold, we were tired and the only thing to eat was the small packets given to us by the agency that had a juice packet, an orange, two chocolates and a small water bottle. We kept walking, no matter what. Nobody made any jokes at that time. We just kept walking. The silence was so strong that we could hear the breeze and the slightest rustling of leaves. Sometimes, the slope would be too steep. If somebody slipped, they will meet you at the end of the slope being a snow ball. We had to be very careful. A few of our friends wanted to give up but nobody did. That was the best part. This is what we signed up for. That was the adrenaline rush we live for.
Our few friends that were walking ahead of us even lost their way and had to come around again. As the light started to fall, we could see the true undisturbed beauty of nature. It was the whitest thing we have seen. Even hundreds of shoes couldn't make it dirty. We felt peace when we saw the summit from the far end. We reached the summit finally by 7:15 and saw the sunrise. It was beautiful. Sun rising up slowly behind the snow-capped mountains just like a child hiding behind the veil of his mother. We were so tired that we all lied down on the rocks and took a nap for around 15-20 minutes. We met our friends, took out the chocolate syrup and the sticks that we brought, made snow balls and put the syrup on them. They were all ready – fresh snow balls with chocolate syrup. Put them in a mall and they would be priced as gold. Everybody who saw what we were doing, came and had a taste of it.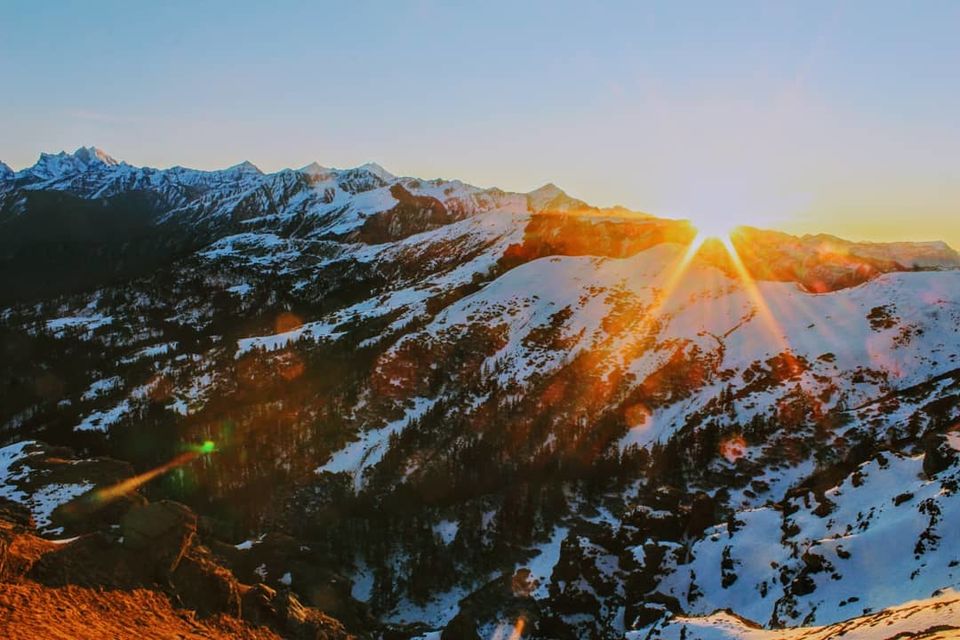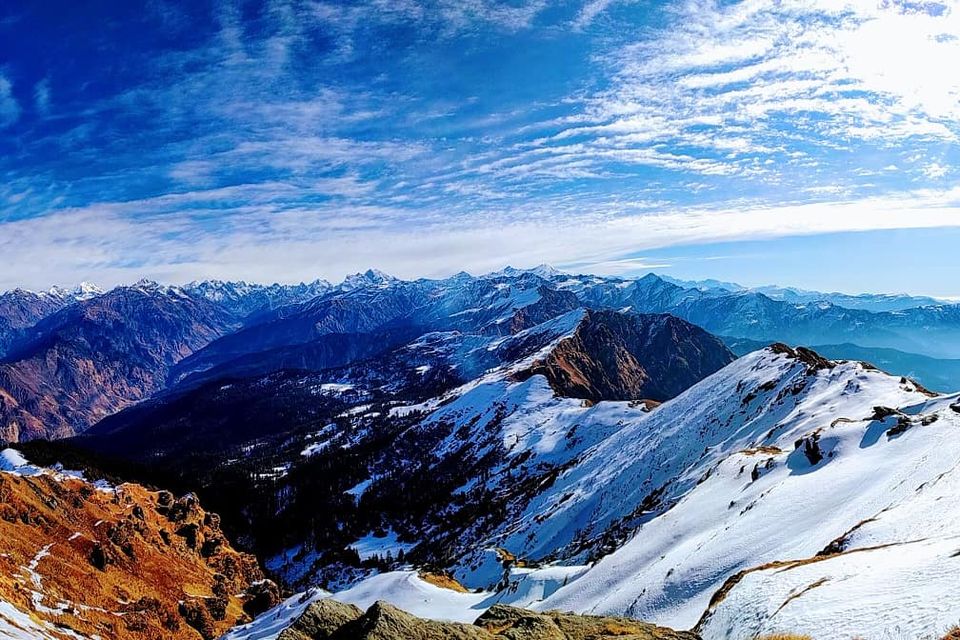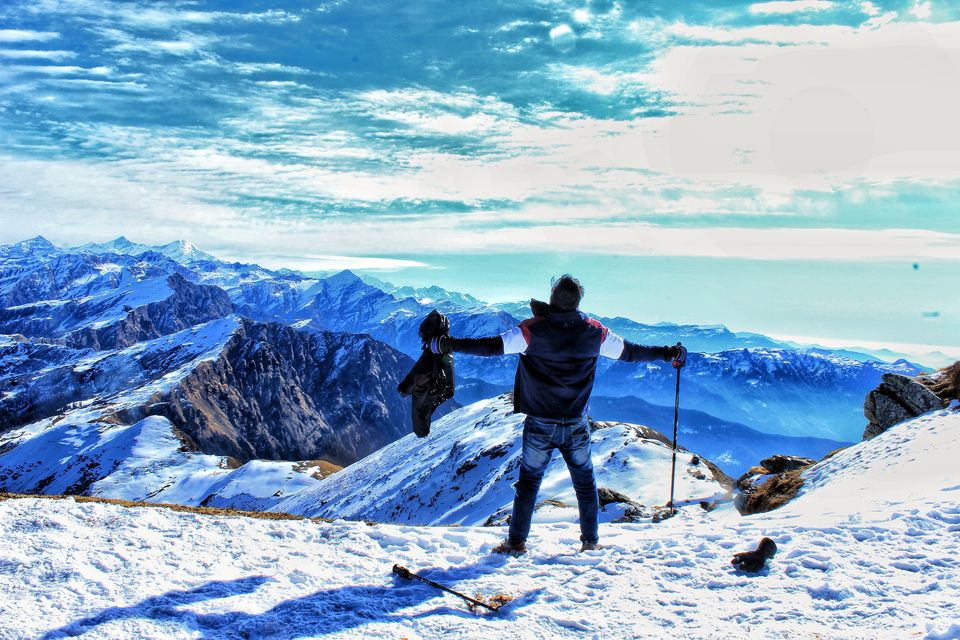 We started walking back to base camp by 10 am and took a different route as told by our guide. The route was even more amazing. It was more snow that our eyes have grabbed till now. Sometimes the snow was as high as our knees. We were supposed to be very careful, because if we slipped, we would slide down at the speed of a bullet and nobody would be able to stop us. That sounds exciting but is also dangerous. It took us around 4 hours to reach our base camp back. We were served hot lunch and everyone went to their tents to rest a bit.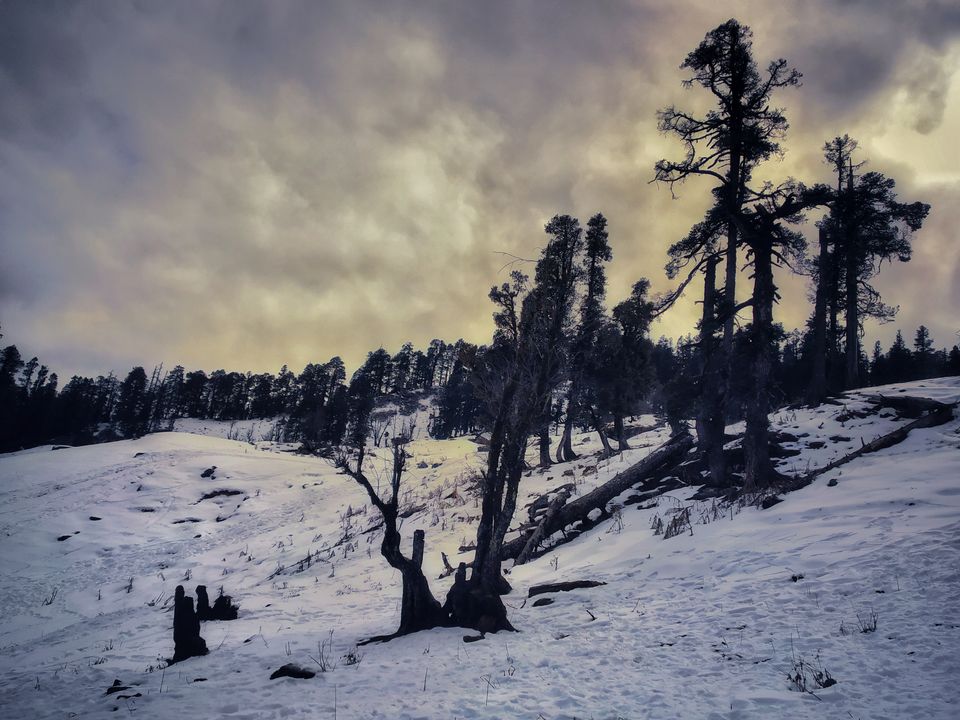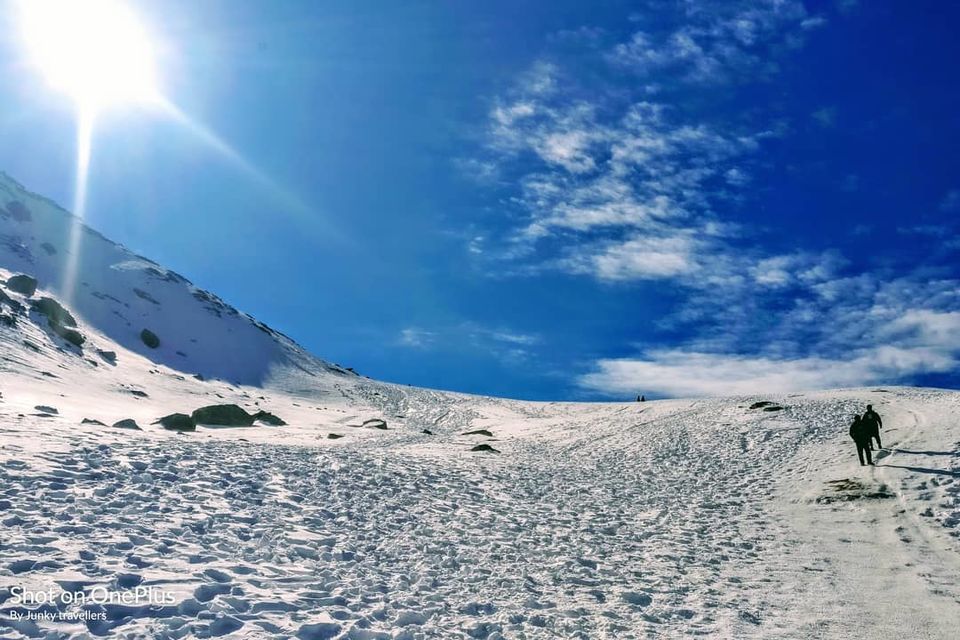 We did the same old schedule of drink and dance that night. We had to leave for SANKRI the next morning. Believe me, it was the best New Year ever in the lap of nature.
At 7 am, we heard some screaming outside our tent. Not the bad screaming, the happy one. I came out and saw the most beautiful thing ever. It was snow fall and it was in abundance. There was no better way, this trip could have ended. It was so heavy; our tents were completely covered with snow. We started to play, enjoy the very first view of it and clicked a lot of pictures. We had our breakfast and left for SANKRI in that snowfall. Eventually the snowfall became so heavy; we felt an avalanche might come. Sometimes we won't be able to see what is in front. As the snow was fresh, it was slippery and out of total 20 people that we were, only 3 of us didn't fall at any point on the whole route. I am proud to say, I am one of them.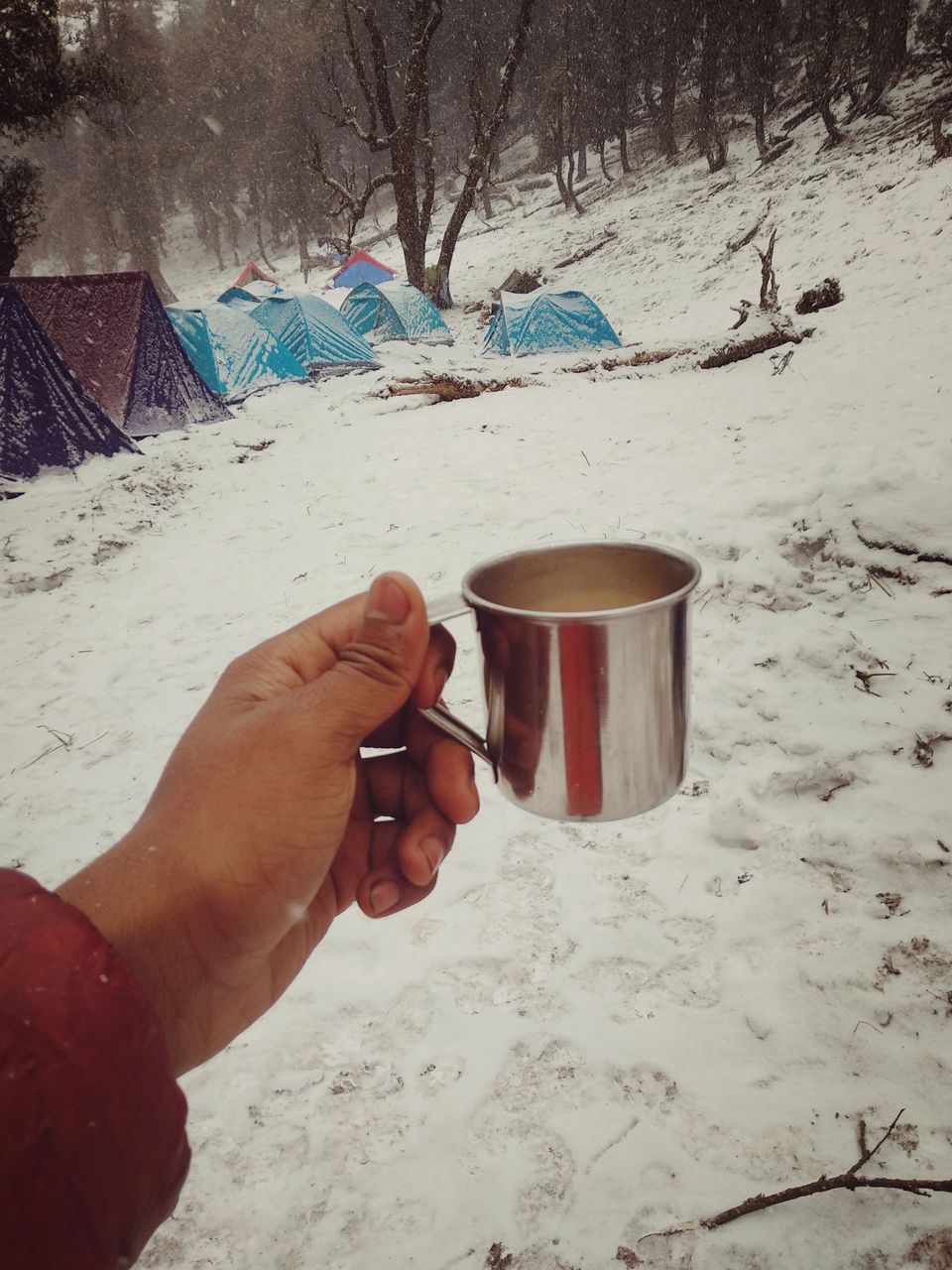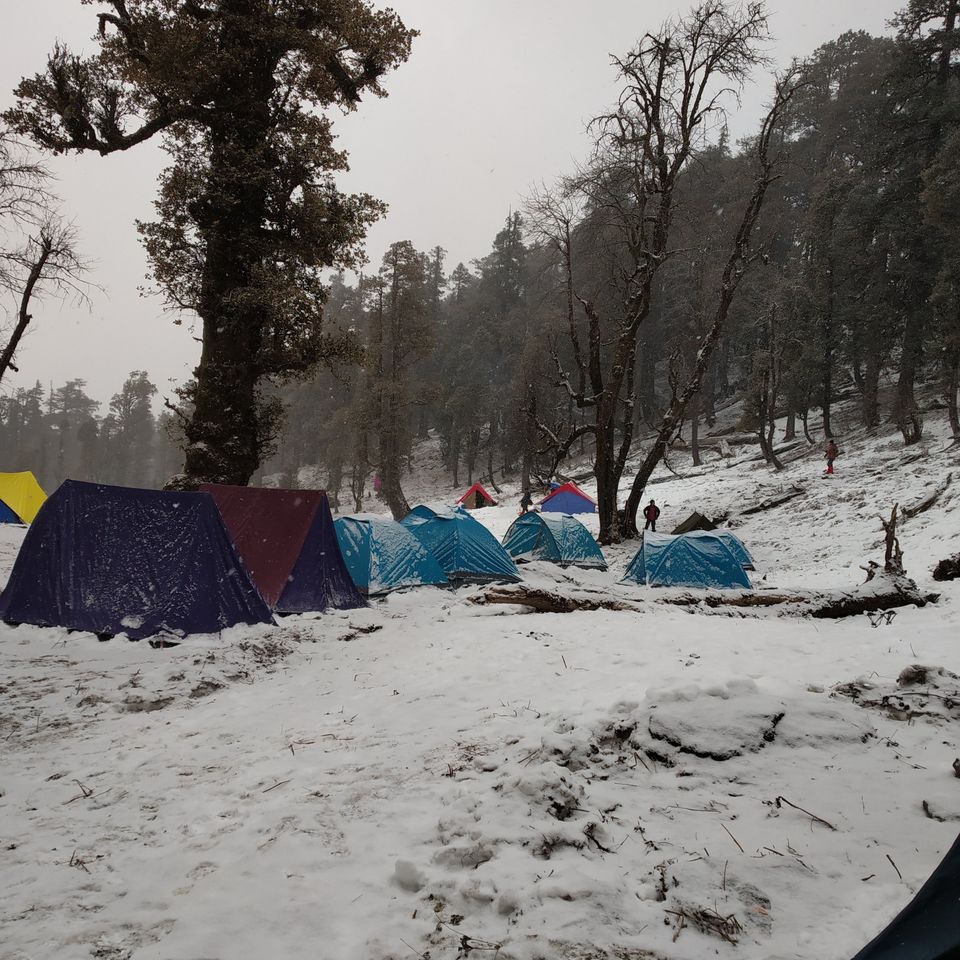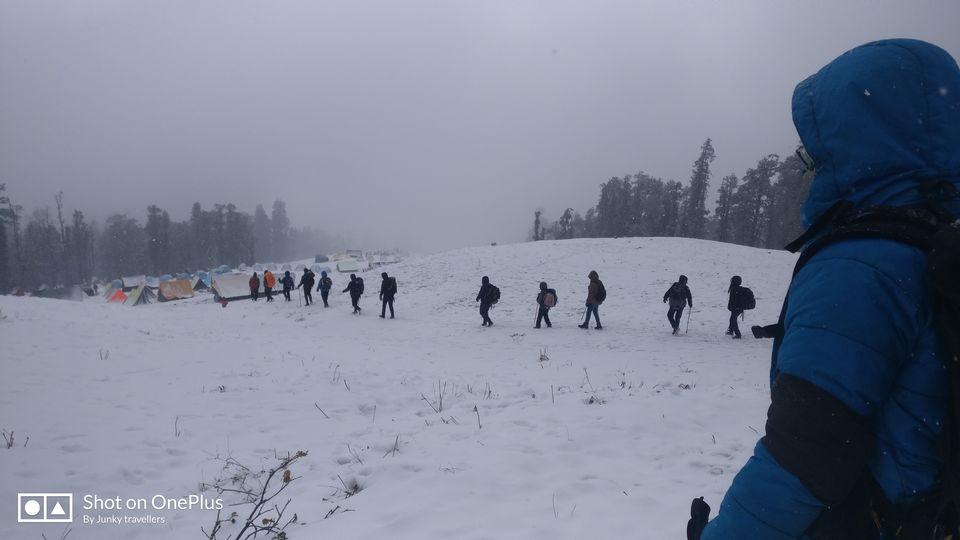 We stayed in SANKRI that night, had the same session, this time harder because of no obligation to wake up early next morning.
We left from SANKRI the next morning for Dehradun and reached by the evening. Everybody separated ways from there.
Things to remember:
• There is no network after a point just before SANKRI. Don't worry, your driver will notify you with 'Jisko ghar pe baat karni hai karlo, aage koi network nahi milega'.
• There is no electricity after Sankri. So charge your phones and speakers well for the music. (We brought 4 speakers)
• Never drink while trekking. It is dangerous. Also at night, don't drink so much that you get a hangover next morning.
• Always carry flashlights with you.
• Only wear trekking shoes. Nothing else.
• Don't go exploring in the dark alone. It can be dangerous and also nobody is Ranbir Kapoor.
• Don't bring unnecessary stuff with you. Keep the baggage light.
• Eat well every time. You need the energy.
• Take your warmest clothes and not the coolest ones. Wear contrasting colors like red, orange or yellow for better pictures.
• Last but not the least, Please visit this place if you love nature and trekking.
Frequent searches leading to this page:-
best hotels near dehradun airport, unexplored top hill stations near dehradun, must do things in dehradun, top places to explore in dehradun, dehradun all place names