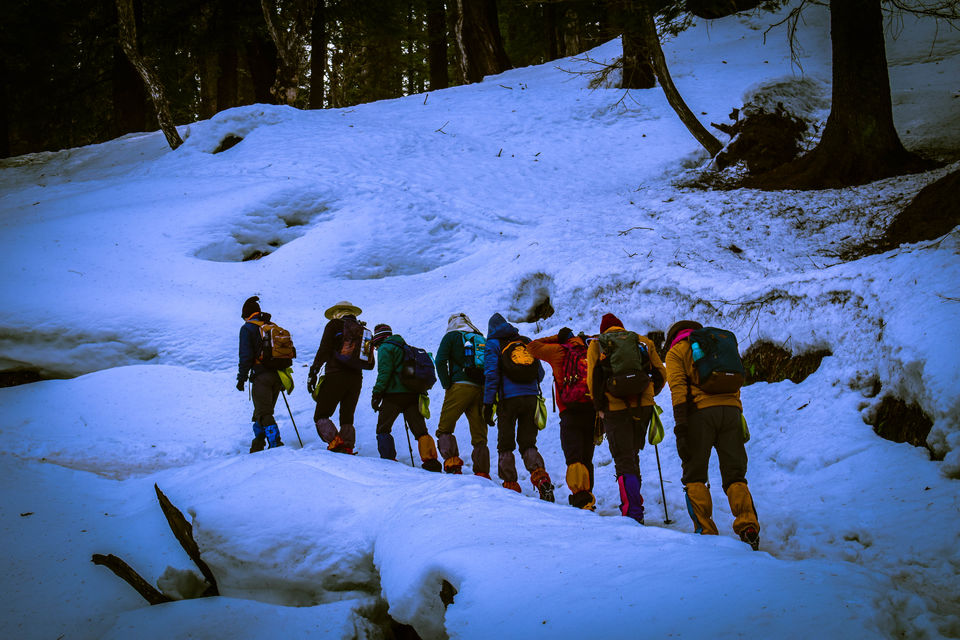 The D-Day was finally here. Ever since I had signed up for this Trek with IndiaHikes about a month and half back, there was not a single day without me thinking about the trek. Be it the fitness preparation or be it the clothing and trek essentials that required shopping (who doesn't love that?). Be it checking up on the weather forecast every single day or be it devouring up every single travel experience of this trek available online (so much so that I at times felt the risk of virtually having seen it all even before I began the trek), there was not a single day without having a mental buildup to the trek. Actually for me, a quick travel to Delhi and Himachal preceded the trek, so there was plenty to look forward to. But here, I will stick to the experience of the trek. The 'Kedarkantha Trek'
Kedarkantha is a 12500 ft mountain summit in Uttarakhand and under normal circumstance is a 6 day trek starting from Dehradhun back to Dehradhun. It is a circular trek where the start point and end point is the same, unlike some other Himalayan Treks, which are a go-through trek with the start and end point being different, for example a mountain pass trek.
Day 1
Day 1 was all about a drive of about 200 kms from Dehradhun to Sankri. Since it was a drive of about 7 hrs, we all were required to be present at the Dehradhun Railway station no later by 6.30-7 am for our pick up.
At the station, a guy from IndiaHikes was present to check how many of the registered people from our batch had turned up. Ours was a batch of 20 people, of which it was realized that 7 had cancelled the trek. The reason unknown, but probably because of an update from IndiaHikes a couple of days earlier on how reaching the summit of the mountain peak was virtually ruled out due to relentless snow during the entire month of February. Usually, end of Feb is not a very bad time to plan the trek but this year the Western Disturbances were relentless dumping unprecedented amount of snow.
Despite the dampener, the 'josh' was high. 7 of us had gathered by 7 am while the remaining 6 were yet to reach Dehradhun stn because of their train being delayed. As there were 2 vehicles available, the 7 of us who were already present left in one of the Traveller by 7.30 am.
TIP : Please withdraw all the cash that you may need before you leave Dehradhun. All though there are ATM's ahead, but there is risk that they may be out of cash or might be non functional.
The 1st hour of the travel takes you through few of the arterial roads and upmarket locations of Dehradhun which then leads to a beautiful climb up the hills to reach Mussoorie.
The 7 of us used this time in getting to know each other better. Surprisingly, among the 7 of us, none were a 'group' as often seen on a trek. We were a bunch of 5 solo travelers [a 17 year old junior college student from Kolkatta, a young engineer who was about to shift his job and his workplace, another young and well rounded engineer from Bangalore , 1 brave young lady doctor, 1 lost soul (me :P)] & 1 newly married couple who were pursuing their PHD's. The varied cultural and professional backgrounds merged into one thing in common – Love for the mountains and passion to explore the world and also the inner self (this may be only me :D) .
Coming back to the travel. After crossing Mussourie, we stopped for breakfast near Kempty Falls. Kempty falls is a sizeable waterfall that trails down the mountain edge into the valley below. The breakfast point offered picturesque views and the tranquility of the surroundings allowed the soothing sound of the water stream flowing in the valley below to reach our ears.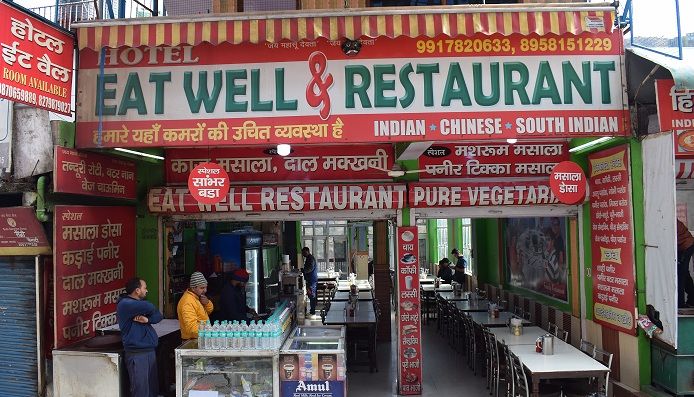 After soaking in the tranquility and clicking a few pictures, we hopped on to the traveler for the long road ahead. The road ahead gradually turns to be more patchy and rocky. As we drove higher we could see a tributary of the river Yamuna flow down the valley. Subtle from above, mighty in its rapids.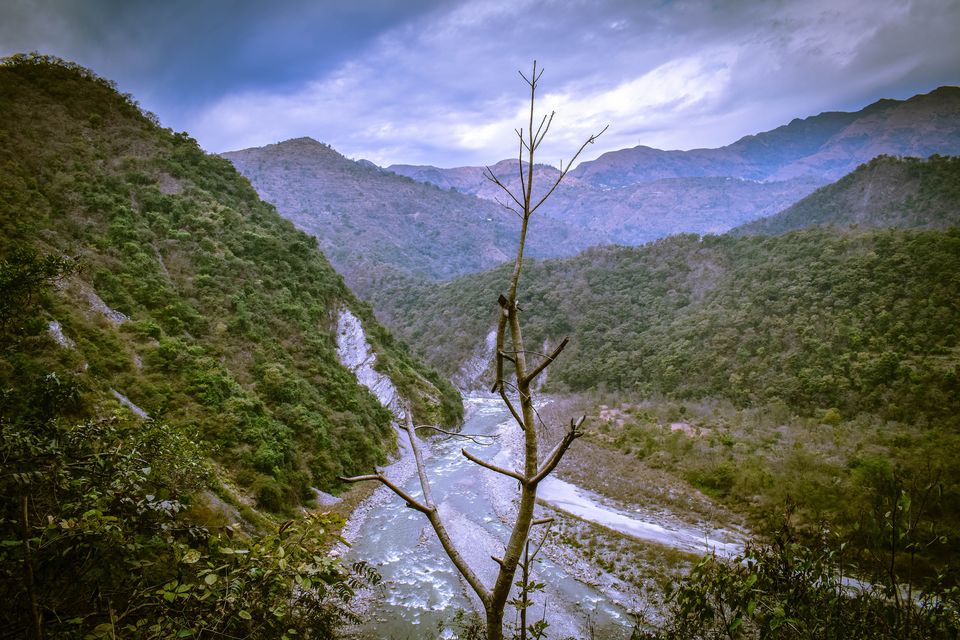 With a bit of monotony setting in the surrounding view, we looked forward to our next stop. Our next stop was for lunch in a village named Purola. It was about 1230 pm when we stopped for lunch. While all of us claimed that we were not really hungry, we devoured more rice and roti's than we planned for. When the weather is cold and the food hot, you tend to eat more than what you plan for.
TIP : Slowly start increasing your intake of water to more than usual. At high altitude, keeping yourself hydrated is important for maintaining the balance of fluids and essential electrolytes.
Soon after we hop on the traveler after lunch, the driver drove for a few hundred meters and stopped for fuel. While casually gazing out, we get the first sight of a mountain that was heavily snow capped. WOW!!!...All of us exclaim. As the driver hops back on, he tells 'Ye hi Kedarkantha hai, jahan aap ja rahe ho'.
It looked very close by and yes the west ridge of the Kedarkantha mountain peak is indeed pretty close to Purola. In terms of air to air displacement, Purola is probably as close to Kedarkantha as Sankri is but Sankri (which is to the north of Kedarkantha) most likely offers a more accessible and easier trail.
Now into the 5th hour of the road journey all of us were a little tired and drowsy. While some of us resigned for a quick nap, I decided to pull out my camera to start clicking. In contrast to the deteriorating condition of the road, the landscape gets more beautiful. The road is accompanied by the mountain ridge on one side and the beautiful 'Tons' river on the other. As we go further, the landscape slowly changes to a canopy of pine trees. The drive through these are amazing and one is surely tempted to put their head out of the window to get a better view (now withstanding the cold air that hits you :p).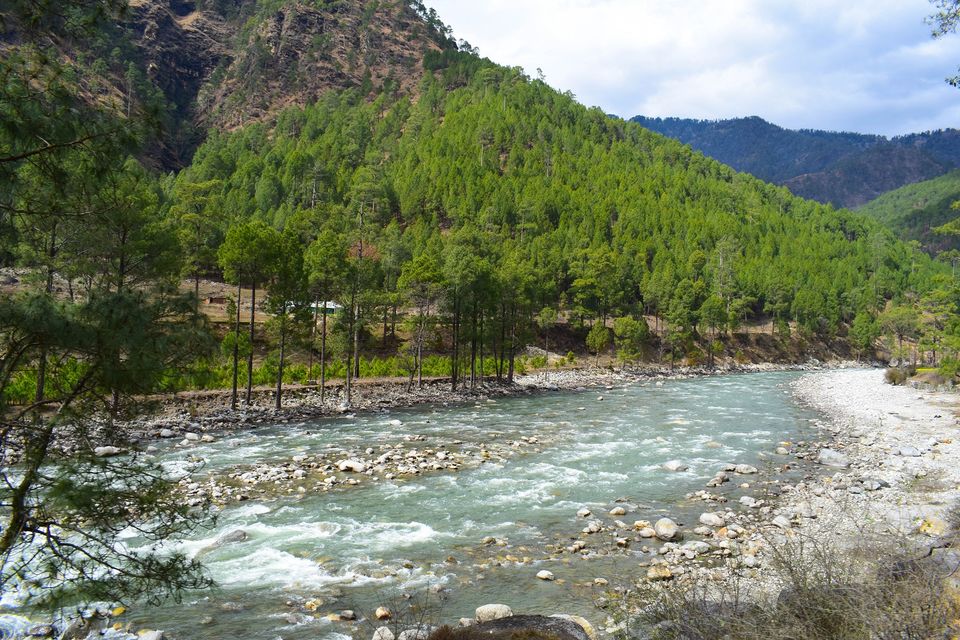 On the last leg of the road journey, we cross the last proper village 'Naitwar/Netwar'. The drive from Naitwar to Sankri is mostly on muddy road and lasts for about an hour.
We finally reach Sankri at about 3 pm and soon after the remaining group of 6 trekkers in the other vehicle join us. We are then checked into a lodge arranged by IndiaHikes. The lodge is decent considering the remoteness of the location, and has basic necessities like well kept rooms/beds, clean washrooms and charging point.
TIP : The power goes off very often at Sankri, so please charge your phones/portable chargers etc whenever you can. Leaving it for the night or next day morning might not be a good idea. Also this is the last place where there is mobile connectivity (BSNL and Vodafone to some extent).
After settling down for a bit, we were called in for a briefing session by the IndiaHikes Trek Leader of our batch. We start the session by introducing ourselves briefly and recollecting each other's names. While the 7 of us were already knowing each other a bit by now, we learnt about the remaining 6 who had joined us. They were a group of friends from Allahabad. Most of them were in the 40's with one of them, a doctor, in his early 60's. Though older, their energy matched (if not exceeded) the others in the group.
The briefings session was followed by an early dinner arranged at the lodge. The dinner was simple and delicious. The dinner was at an open air platform and that's when the cold hits you for the first time in an uncomfortable way. The minimum temperature that night was expected to be about -1/-2 and the trailer had begun.
TIP : Try carrying stainless steel tiffin boxes as the plastic kind of tiffin boxes need a lot of effort to get rid of the oil/color and the more you need to work with the water the more numb your hands will go. The water is freezing cold.
After dinner, the 7 of us went for a quick walk and to have a look at the night sky (which is beautiful ).
Soon after we return and then resign to our beds.
DAY 2
It's about 6.30 am when I get up and rush out of the room towards the corridor outside to get a glimpse of the view. It was beautiful with the corridor offering an unobstructed view of the snow covered mountains on the other side of the valley. More importantly the weather was clear. We were told in a very gentle and appeasing manner that the summit is very unlikely and the distance we will cover depends on the weather. So having clear weather was a good sign.
Soon after, we all had tea and all of us were given health cards and called for taking our Blood Pressure, Oxygen and Pulse reading. Oxygen levels above 90% is considered satisfactory. All of us in the batch had oxygen levels well over required benchmark (drinking a lot water helps says the trek leader). The pulse reading from the machine seemed to be inaccurate though, as for a couple of us ( including me ) it showed to be above 100 per minute, despite being a restful state. The young lady doctor was kind enough to check the pulse manually and shoot down any concerns. As such the trek leader was not too concerned about the pulse reading. Blood Pressure and Oxygen levels were given more importance.
After having breakfast and collecting our rental trek poles, we gather together for the briefing prior to our trek by foot. We click a quick picture and shout a few high energy slogans and start our trek at around 9.45 am.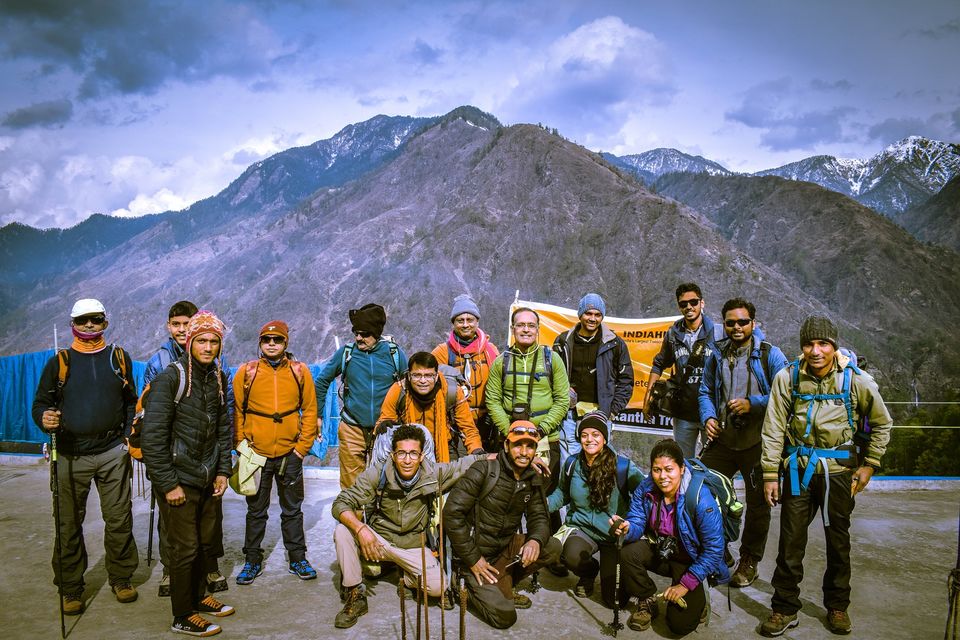 The trek on day 2 is supposed to be about a 4 km trek and should take about 4 hours.
The first kilometer is through muddy and rocky trails with the climb being not too steep. The hike trail is covered with pine trees and thus the first hour of climb does not offer any clear view of the surrounding mountains. Even then the trail is beautiful and very soon patches of snow/ice appear along the way.
We stop for clicking photographs on numerous occasions as every point 10 mins up the trail offers a more picturesque setting that the earlier point. Me and one more guy had gotten our DSLR's along. I had gotten along my zoom lens as well which turned out to be a bad decision as I already found my backpack heavy and the added weight of the additional zoom lens made it uncomfortable.
TIP : Do not bother getting the zoom lens to the trek, the weather is usually too hazy and cloudy for one to exploit the zoom lens and capture distant peaks with clarity.
About hour and half later, we reached a small dhaba where we snacked up on Maggi and Tea. By this time, the altitude was such that most of the landscape was covered with snow/ice. Since the snow was not fresh, it had hardened to ice and it get started to get a little tricky to keep the balance.
After finishing our Maggi (and yes you guessed right - after clicking a few more pictures) we set off for the remaining hike. A little exhausted by now, we were a bit curious on how far we were from the first campsite but our trek leader had warned us from asking this question to him :p Jokingly of course. As time progressed, the gap between the trail of 13 people widened. The group of 6 relatively senior people demonstrated amazing fitness and led the group on most occasions.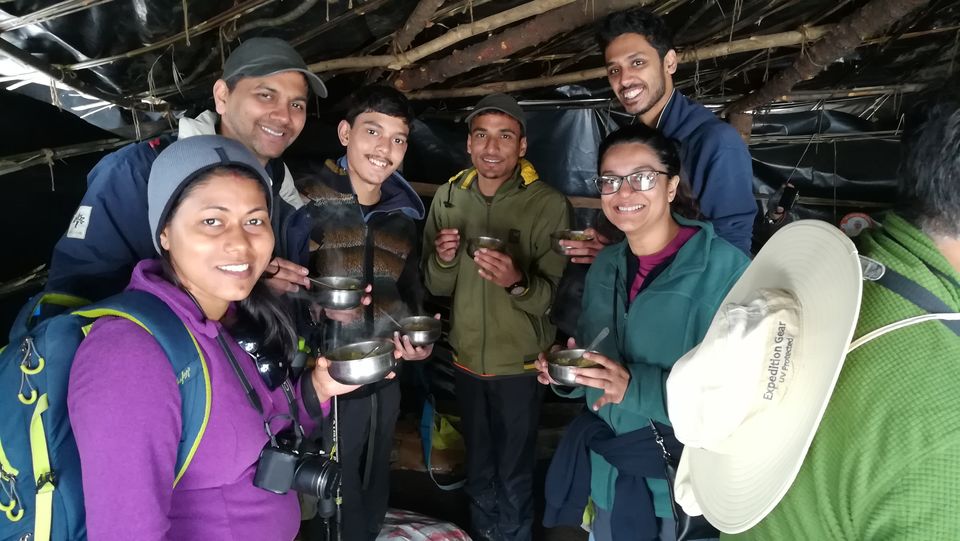 The 7 of us got scattered as well with our friend from Bangalore leading this trail from the front. He led the group with very good pace and demonstrated very good fitness. Later we learnt that he is a keen runner/ jogger, no wonder! Quick, smart, helpful and easy going. A perfect trekker.
Also keeping up with ease were the seniors from Allahabad and it gave us remarkable proof of their fitness . Learning about their feats of accomplishment raised the high bar of respect we already had for them.
Somewhere in the middle of the trail was the young lady doctor from Mumbai who could switch from a leisurely pace, ideal for conversation, to brisk speed with remarkable ease. What made it even more impressive was the fact that it was her first trek and a solo one. Courteous while accepting help and even more generous in offering help; a pleasant conversationalist and a great companion.
Then came the second youngest guy in our group, who was to shift his workplace soon from Gurgaon to Mumbai . He was probably the guy with the most raw energy. Always cheerful, he seamlessly shifted gears and toggled between front of the pack to the trail end when required and had no problem in keeping pace or posing for the camera. He had signed up for this trek spontaneously without much preparation, but not a moment came where he seemed to be running out of his reserve of endless energy.
Then we had the lovely newly married couple at the trail end, who by no means were laggards but were rather forced to trail us with the never ending requests of ours to click pictures, to which they obliged so generously. Their lovely conversations, sharing of stories and their ever smiling faces made for a great company. What's more, they both were amazing photographers.
Lastly we had the youngest guy from our batch, a junior college student from Kolkatta. Talk about action speaking louder than words. A boy of few words but amazing character. He whole heartedly accompanied the larger group into whatever activity they other did. To sign up for a trek this young surely shows the passion, disciple and courage he has within him.
Having such amazing trek mates ensured time flew by and before I could realize we were there the first camp site. It was only about 230 pm and our brisk pace had ensured we had plenty of time to kill before we retired for the day.
The first camp site was located in a small forest clearing, completely covered in snow. Since this was the first time experience of camping in tents for many of us, the Trek leader briefed us on the basics of using and occupying the tents. One of the concerns that I had was the space available inside a tent, 3 of us were supposed to share a tent and me being tall guy with a habit of sleeping in clumsy positions was a matter of concern for me. But I was relieved to see that there was more space than I imagined. The other concern which everyone would have had for sure is the arrangement for loo. Our trek leader showed us the loo tents which were located at a distance of about 40 meters from the main tents and also briefed us on how to use them.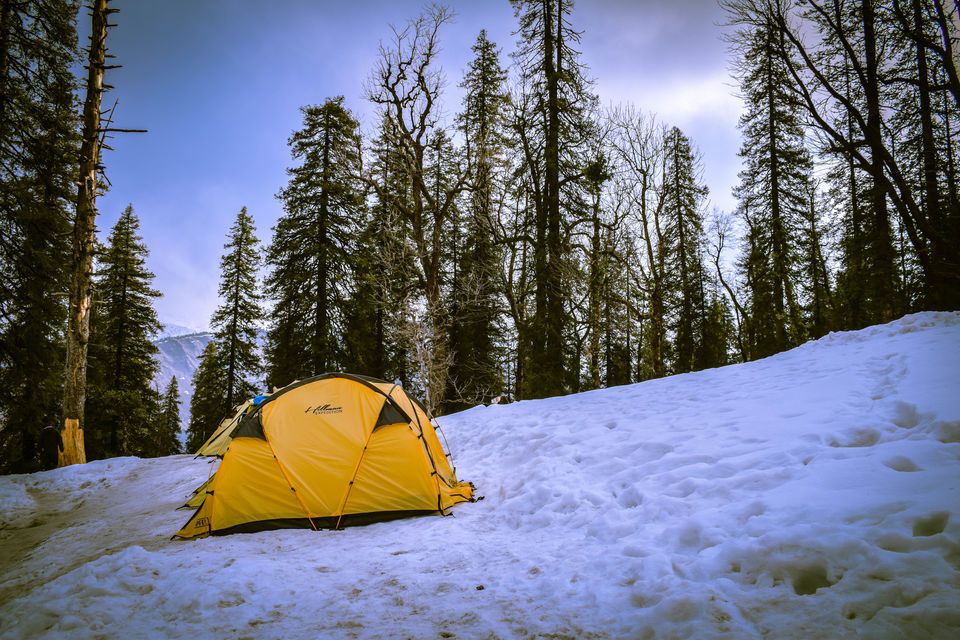 Other than these, there were 2 other tents – 1 kitchen tent and 1 dining tent.
After having lunch, some of us proceeded to a small dhaba which was located near the dining tent. The dhaba's fireplace gave us much needed warmth and we huddled around listening to songs and discussing varied topics.
On the other side of the clearing was a campsite for a team from another trek group. While we were at the Dhaba, we saw a few from the other trek group go on a small hike on the mountain slope adjacent to their tents. The slope was not too steep and yet seemed to offer a decent thrill of climbing and so we too quickly decided to give it a shot. Mock summit climb :p. The view from up there was amazing and it was pity that there were not may dry places where one could sit and enjoy the view. The ground was either all snow or wet wood logs. This compounded by the fact that the sunlight was fading quickly, we decided to descend and return to our camps quickly.
An hour later, we were called for our Oxygen and Pulse reading. My pulse reading showed 122..lol. More importantly, our oxygen levels were fine. We then gathered at the dining tent and played Mafia for a while before being served dinner. The dinner was yet again simple but amazing. We even had dessert. Imagine all this at about 8500 ft, hats off to the Kitchen staff.
Now was the time to either retire to our tents for sleep or do whatever activity one wished to do. It's worth noting that once the sun sets , there is absolutely no source of light up in the mountains and it is absolutely essential that everyone has a torch/headlight to find their way around. The cold was beginning to peak. It's one thing to brave the cold while climbing and another while being at rest. Keeping still would mean the body loses its heat and the any activity that involved taking off the gloves, shoes, socks or the headgear would mean a lot of discomfort.
I had two options, either to retire to the tent and sleep or take out the camera and tripod to shoot the night sky. The sky that night was very clear and star studded. Perfect day for astrophotography. And what do I do? Make the stupid mistake of not shooting that night in the hope of a better view at the next camp site. Here, though the weather was clear, the clearings in the forest were not much and thus a good foreground for the picture was not easily available. And to be honest, the biting cold and the need to remove the gloves and stuff to set up the camera and tripod made me lazy. It was a big mistake to wait for the next day. Our other friend with the DSLR did the right thing and captured some amazing shots. Kudos to him for not making the mistake of postponing the shot.
Me and the two friends from Bangalore and Gurgaon shared a tent. Once inside the tent, all 3 of us quickly kept our bags to the side and got into the sleeping bag. The tent left to ours was shared by the seniors from Allahabad. While we were all set to sleep, their energy remained high and were having a great time playing music and cards.
I usually doze off very quickly and prayed that it be no different today. My toe fingers were hurting with cold and I wanted to be asleep as soon as possible.
Unfortunately about half an hour passed and I had not managed to sleep. The fingers on the foot were now almost numb. I keep moving them inside the sleeping bag to keep the sensation going. To my surprise the other friends were much more comfortable. One of them had taken off the socks and yet seemed okay. Why were my toe fingers hurting so badly? When it started to get unbearable, I decided to get out of the sleeping bag and take off my socks. It was then I found that they were wet and a very thin layer of frost had formed on them. No wonder my finger were going numb. I did not have a dry spare handy and the only solution I had was to wrap the neck scarf around my toe to keep them warm. After a lot of moving around I finally found a good position to sleep. Time to sleep? Haha..no! Now is the time that the bladders wanted to relieve themselves. Drinking a lot of water after dinner had it's effect and not getting sleep immediately did not help. It was getting frustrating now. There was no way I could have gotten sleep in that state. And going to the loo here is not a walk in the park. First you need to get out of the sleeping bag, put your head lamp back on, wear your socks and then shoes back on. Moreover our trek leader had instructed that if one needed to go to the loo at night, a buddy needs to accompany you. And this meant that I needed to wake up my mates in the tent. I hated doing that but I really had no option. Thankfully both of them were very cooperative and without any hesitation accompanied me. Now that all three of us were out, all three of us relieved our bladders. Finally I found my self in a comfortable state and managed to sleep off.
Day 3
After my sleep broke a couple of times early morning, I decided to get out of the sleeping bag. It was about 6.45 am and there was daylight outside. I opened the tent curtain for a quick check outside. It was clear and there was no trace of overnight snow. That was good news for us as we were told that today was the day when we will be given a firm update on if the climb on the summit or even the last base camp would be possible.
The usual cycle of Heath check and breakfast followed and all of us got ready for our next trail. Some of the seniors were discussing about the sound of aircrafts flying that they heard overnight, to which our trek leader expressed surprise. I didn't hear any of it (and that meant I slept well after all the hassle).
More importantly, amidst all this, we were told that we will not be able to summit as the camps further up were still inaccessible, esp for the mules who help getting food and ration to the camps. Needless to say all of us were disappointed.
So our revised schedule meant that we would climb up to a point till 'Juda ka Talab' and then descend some distance on the other side of the mountain to camp overnight at Posla.
The hike from our campsite to Juda Ka Talab was supposed to take about 2 hrs. And this trail was full of snow and ice and thus required us to wear microspikes and gaiters. These were provided by IndiaHikes free of cost.
After learning to wear the microspikes and gaiters, we all gathered and soon left for Juda Ka Talab. The microspikes and gaiters were very handy as the trail on the ice was very slippery.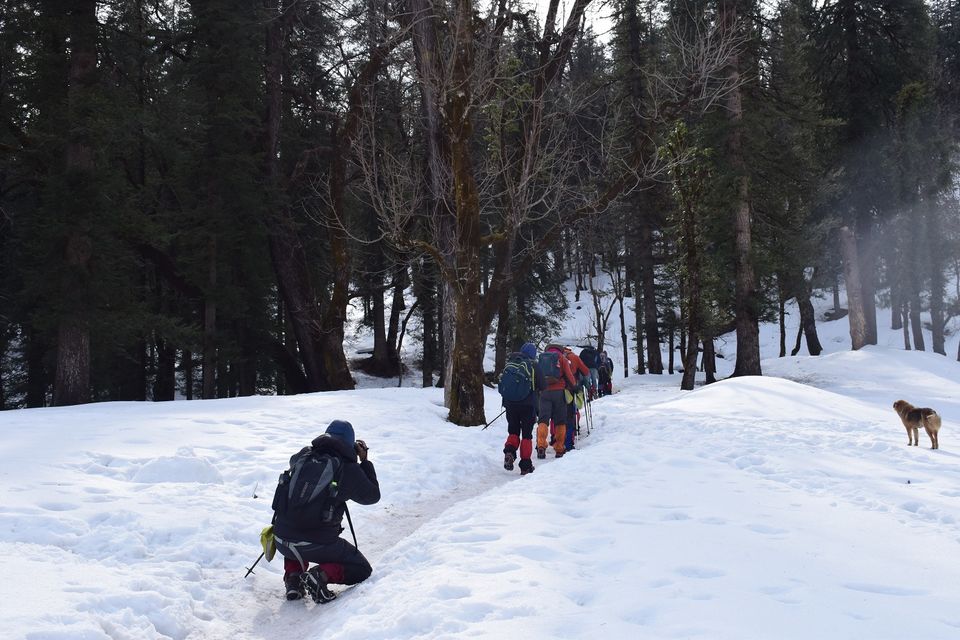 Honestly, for me a bit of monotony had set in by now as the trail more or less had the same surroundings. Exhaustion too was creeping in slightly. However thanks to pleasant conversations, stopping for pictures and good company, we reached Juda ka Talab in good spirits.
Now this 'Talab' is something I had seen many times in pictures and videos. However on reaching there it felt very different. Although I did not expect to see the water in liquid state, I expected to see a frozen sheet of water. But even that was not to be seen. Heavy snowfall and freezing temperatures meant that above liquid water there would have been about 4 feet of ice and on top of it another 2 feet of snow. Inshort, had I not seen pictures of this place on the web, it would have been difficult to believe that this is a water body.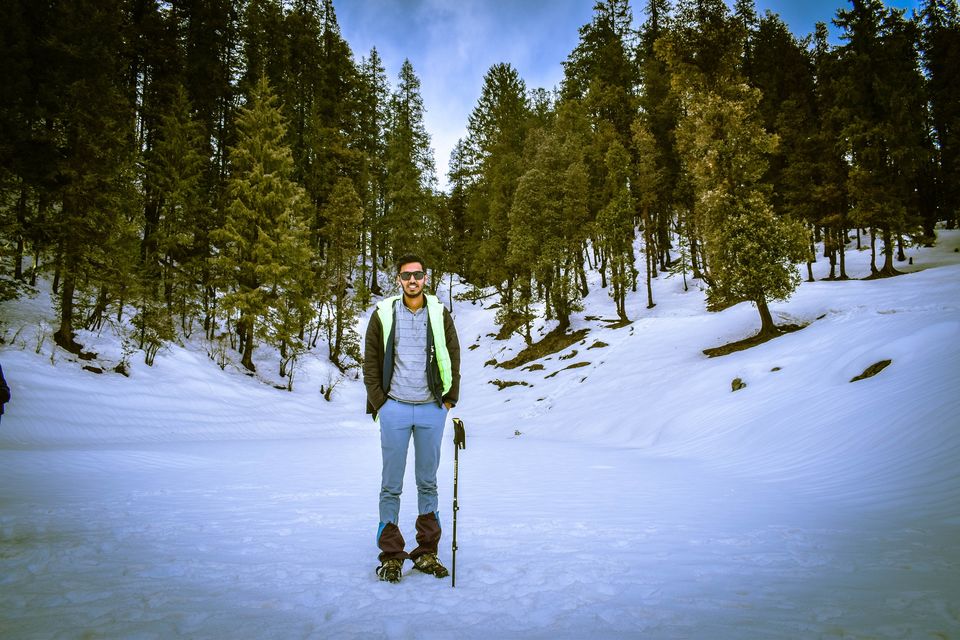 Having clicked and posed for pictures, we started on our trail again. After about half an hour or so we were given further two options, either to trek higher or chill at a place that offered good view, before descending to the campsite at Posla.
I was intially in two minds but the leader cleared my confusion when he said that the place higher does not offer a better view than where we were. Infact a lesser view because of the denser vegetation.
That meant I decided to stay and chill. The married couple , the lady doctor and a Merchant Navy Captain from the group of 6 seniors also decided to stay and chill while the others decided to go for the climb.
One of the guides from India Hikes who accompanied the trek leader ( actually there are 3 guides in total) stayed back with us. After we relaxed for a while and soaked in the lovely view the place offered, we requested the guide to help us slide on the snow slopes. He found us a suitable place and asked us to try sliding. The first few attempts to slide on our back were futile but soon it got better. The lady doctor quickly mastered the sliding technique and had a couple of good slides and the married couple to managed a good slide too. I thought I started well, but for some reason could not keep the momentum going. We then tried sliding on our stomach and head on..this was easier and we all managed to slide well in this position. The Captain chose to relax and watch the scenic beauty.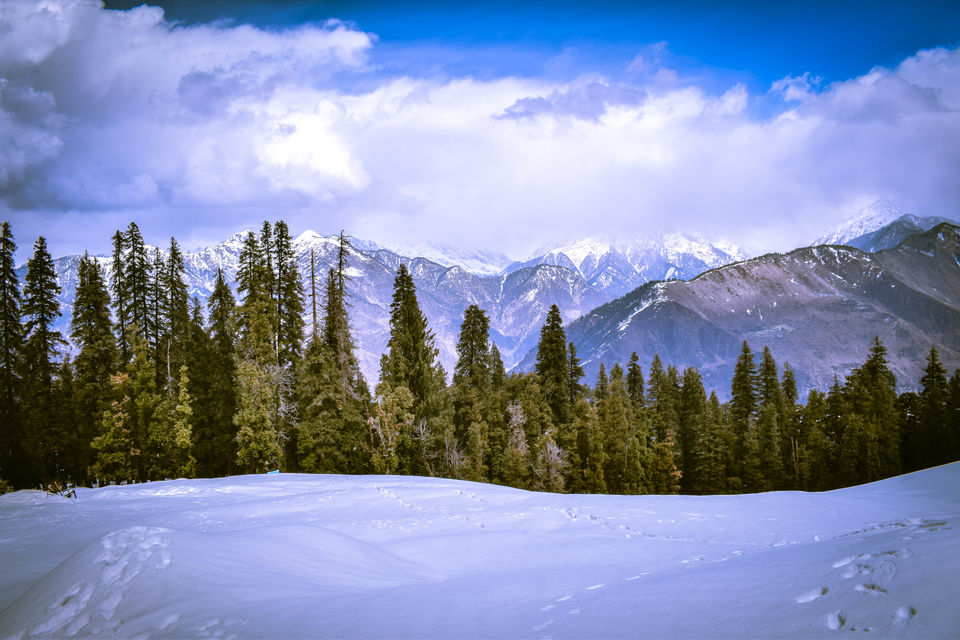 About an hour so later we left for Posla and somewhere in between we met back with the group who had gone for the hike. In the meantime, the weather had taken a turn. It was getting cloudy and light snow showers had started. This was the first proper snow showers we experienced on our trek. We could see the mountain on the other side of the valley getting lashed with snow and this meant that we had move quickly. The snow showers kept coming down lightly but steadily. To my surprise the cold was much more bearable as compared to the previous day.
After a walk of about and hour the snowing had stopped and we reached Posla. I personally found the campsite at Posla to be much more prettier than the earlier one. The land in front of the campsite gave way to a gradual slope into the valley and there were no trees in front to block the view and this meant that one could see the lovely snow clad mountains on the other side without any obstruction.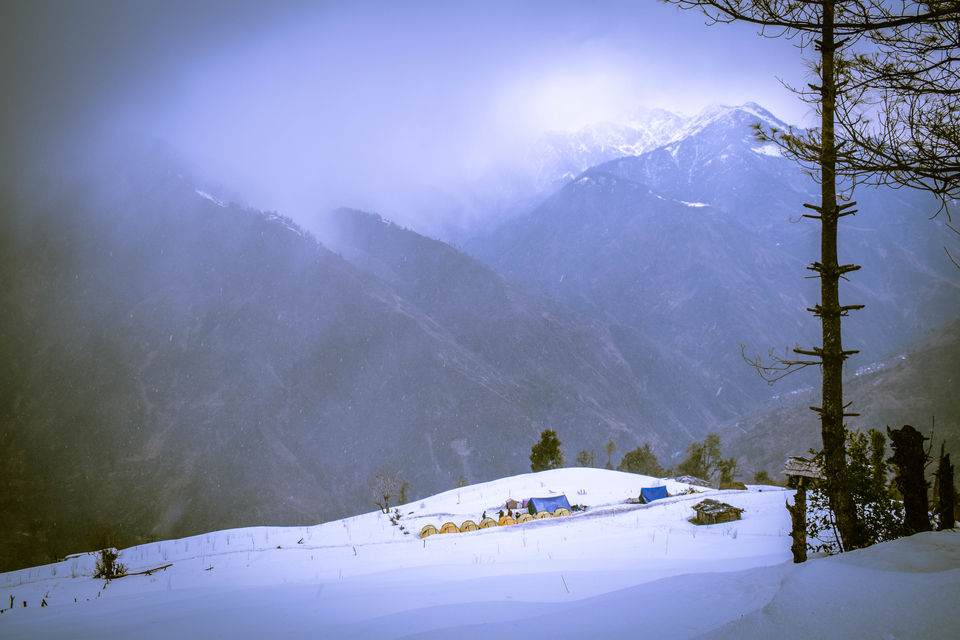 A few of us just stood there and experienced the tranquility of the place.
And then the phone inside the jacket of the lady doctor started beeping. Lol..wait..No network guys.I am hallucinating. Or was I? Her phone was indeed ringing. It was the second time in 2 days that her phone rang. Whoever thought of calling her up had the most perfect timing as we were virtually without network for almost 2 days now. I pulled out my phone and dialed home. Dad quickly enquired on my well being and then informed me about a news. India had attacked Pakistan from air the previous night. I recalled the seniors talking about hearing airplane noises. No prizes for joining the dots.
After the call, three of us (tent mates) decided to walk around a bit. We saw a small unoccupied wooden house about 50 metres right of our campsite. We hopped up the ladder and perched ourselves on the edge of it's entrance platfrom. The view it offered was spectacular. What a place to have a house we wondered.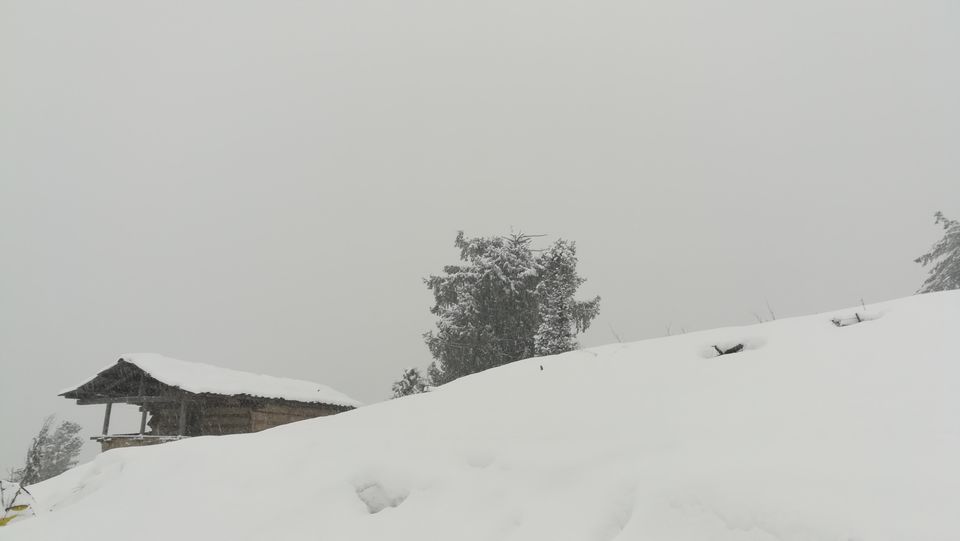 The sun was setting and the routine was set to follow. Health check up followed by Dinner.
After dinner, as we thought of leaving the Kitchen tent for our respective tents when the trek leader asked us to stay back.
He had arranged for a wonderful surprise - A cake for the recently married couple!
The cake was unique, it was frozen Gajar ka Halwa with Milkmaid layered over it. On top it was a garnish of raisins in the shape of a heart. It was such a lovely gesture on the part of the Trek leader, kitchen staff and all others involved in making it happen.
The couple cut the cake and were sweet enough to personally give a bite of the cake to each of us. Theirs was a love marriage and who does like listening to stories behind love marriage? The couple were flooded with requests to share their stories to which they sweetly obliged. And what goes around comes around. All of us were asked to share our stories. The seniors from Allahabad especially had a lot to share. The narration of their friendship, achievements etc had a great sense of humor to it. It was great to see them having such a great time.
Unfortunately all good things have to end and for us it was time for hit the sleeping tents.
We quickly went back to our tents and got inside our sleeping bags.
Fortunately for me, this time there was no repeat of wet socks and frozen fingers and I slept off relatively quickly.
Day 4
After interruptions overnight and being asked to keep our footwear's inside the tent by the trek guide, I finally woke up and out of the sleeping bag around 7 am.
I was aware that it had snowed overnight because we could hear the trek guide hitting our tents to shake off the snow.
But I certainly did not expect the view that saw when I opened the tent curtain. It was a complete whiteout with a blanket of snow everywhere. The snow was still falling and it was cloudy and white as far as eyes could see. It was breathtaking. I had never experienced snowfall prior to this trek, and there could not have been a better first experience of proper heavy snowfall.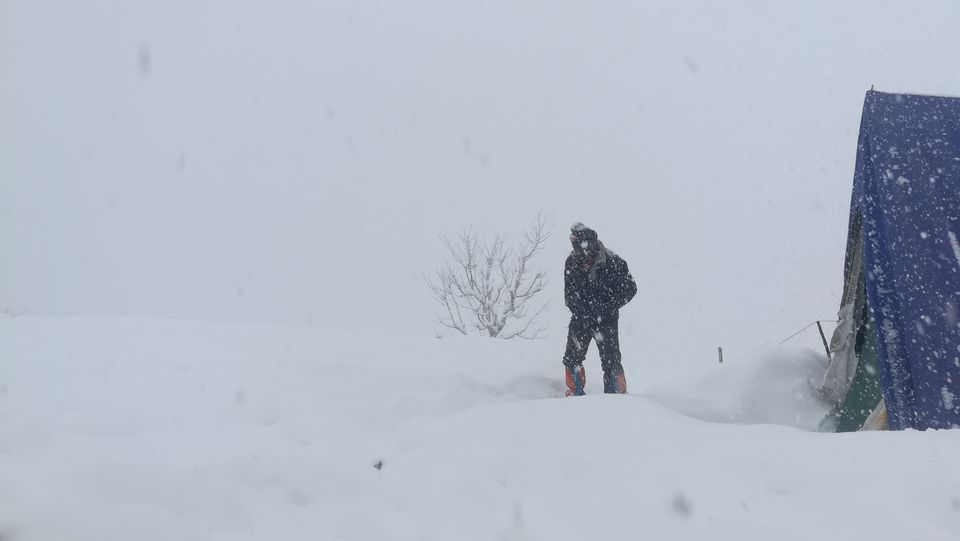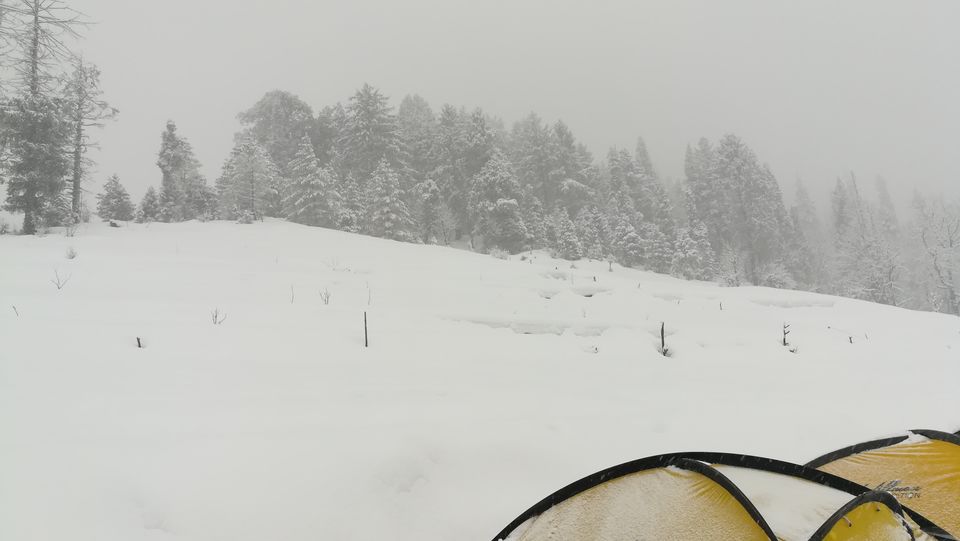 All of us got up in excitement and went out to experience the moment. This was it. The dissapointment of not having been able to summit did not matter anymore. This was Paisa wasool.
This also meant that we needed to start descending asap. The snow fall had not stopped and all trails were now covered with fresh snow.
After breakfast we quickly started getting ready and soon gathered for the descend.
And boy, what a descend it was.
Freshly created trails, every tree leave with snow perched on their top, cotton like snow falling on your jacket and white carpet as far as eyes could see. The settings were right out of a movie script.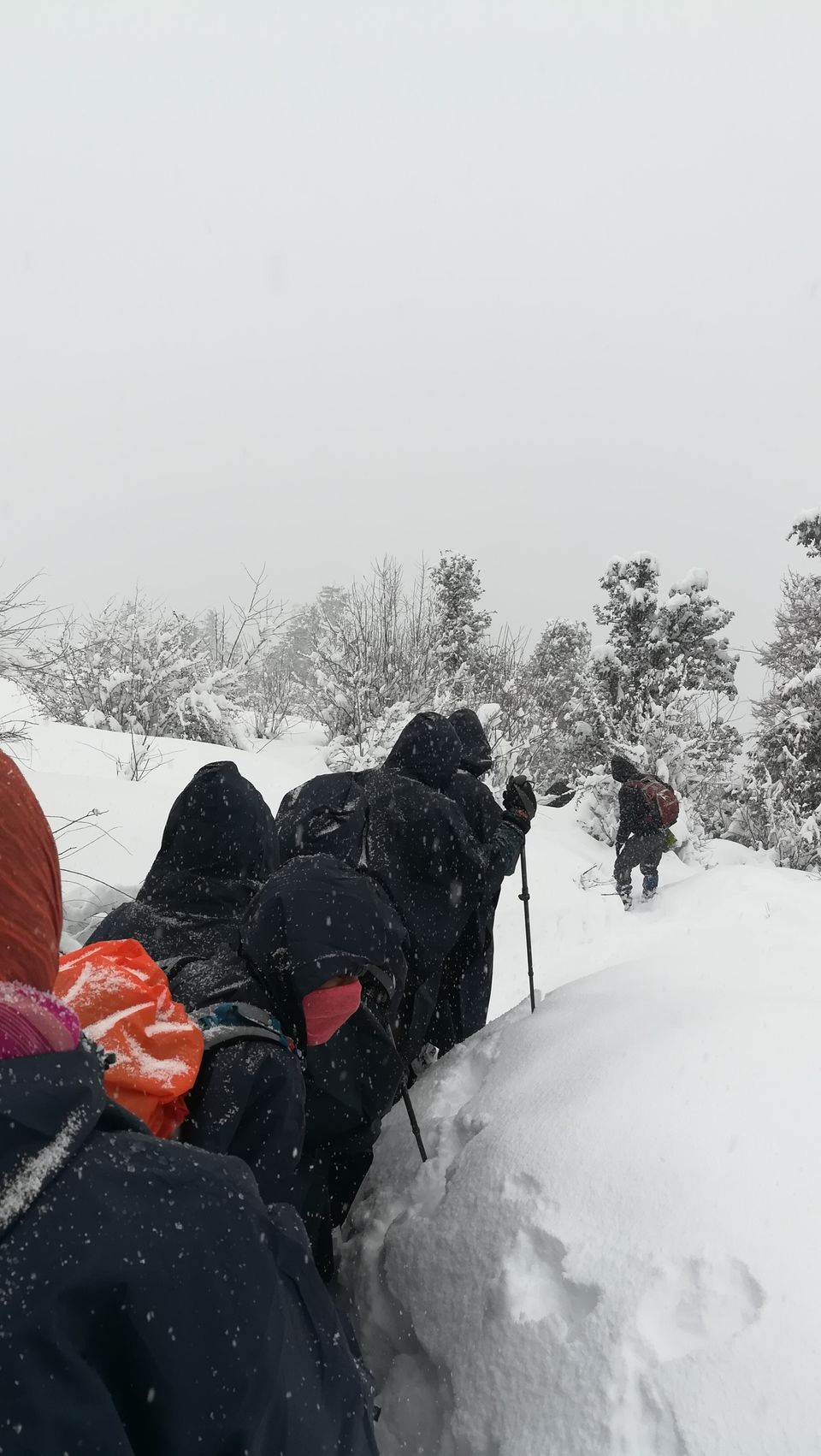 On the trail down we were accompanied by an adorable dog. Btw, we were accompanied by some or the other dog on every stretch of the trail :) Man's best friend indeed.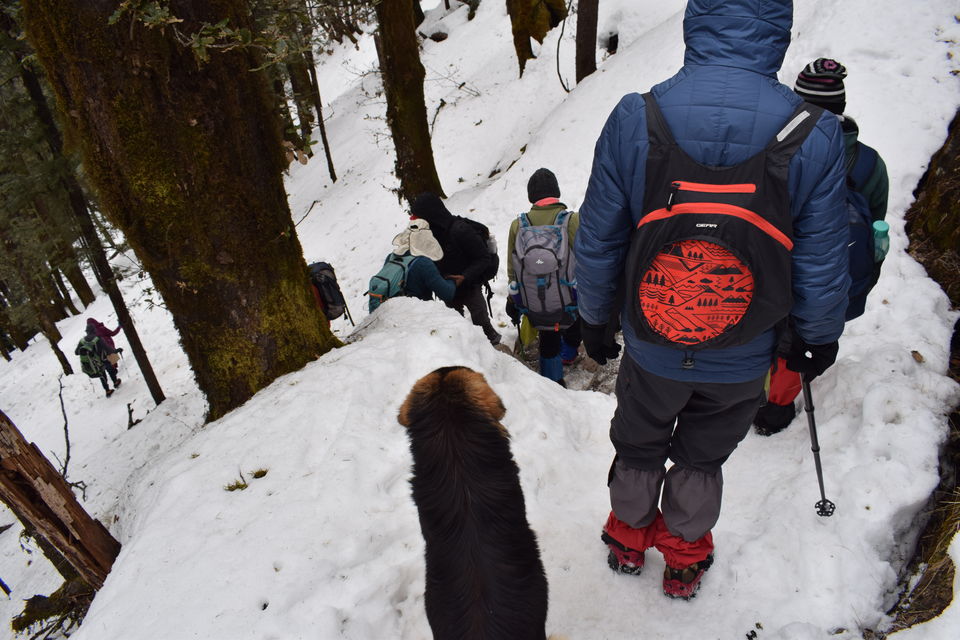 It was a pity that I had kept my camera inside the camera bag and had a poncho worn on top. I could barely click pictures on the way down.
Though we could identify the places that we had seen on the way up, they had a completely different look to it now, completely covered in snow.
A couple of hours later we reached back Sankri, which too was blanketed by snow.
Our group all huddled back together. We just had completed a descend through the most fairy tale like snow terrain. We slowly soaked in the feeling.
We then got back into the lodge where we had checked in on day 1. Since it was only around 1130 am when were reached there, all but one decided to leave for Dehradun on the same day around 230 pm.
We gathered for the debriefing session and every spoke of their experience. The trek leader gave all of us a Kedarkantha fridge magnet which i absolutely loved. IndiaHikes have a great professional staff.
While some of us wondered if we would come back to such extreme conditions again, one of the seniors said 'Dont worry, the mountains will call you back' !
And I swear, as I write this experience from Mumbai, I am already flooded with nostalgia and emotions running high.
The mountains makes you realise how little we actually need to live. Its a lesson to see the brotherhood among the localities and the contentment and happiness they have, while we back in the urban jungle compete and rarely 'live' in the true sense.
The journey back to Mumbai had mixed feeling. Though there was nothing to lose in the mountains, I felt a sense of emptiness, as if I have lost a part of myself back there. The journey left me with more questions than answers.
However the journey sure left me with heart full of memories and some good new friends.
Ciao for now..until the mountains call again!