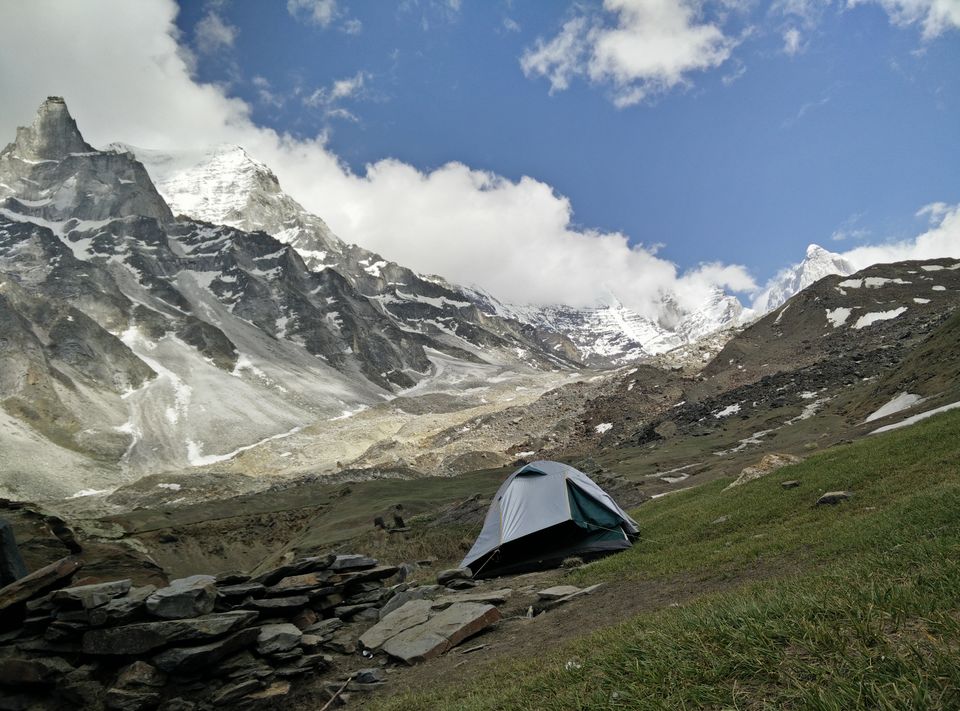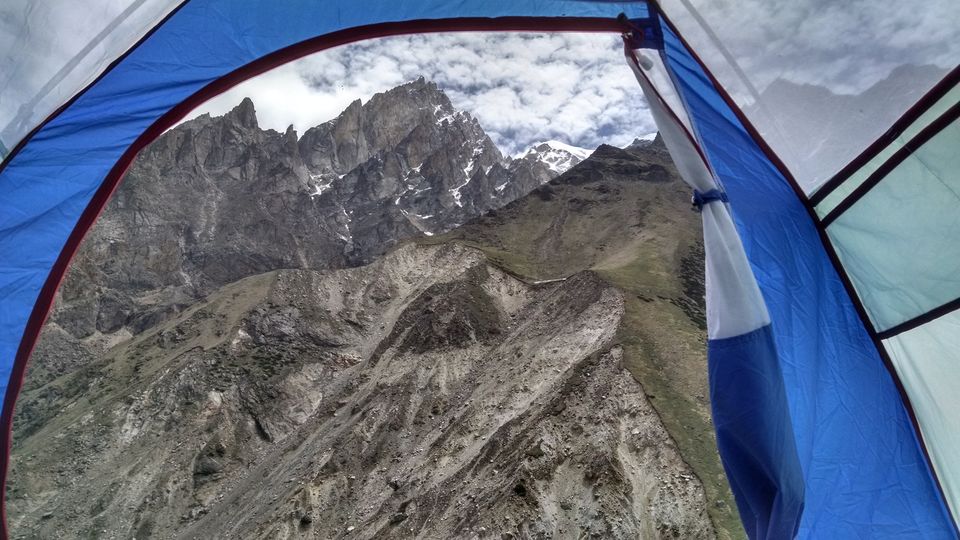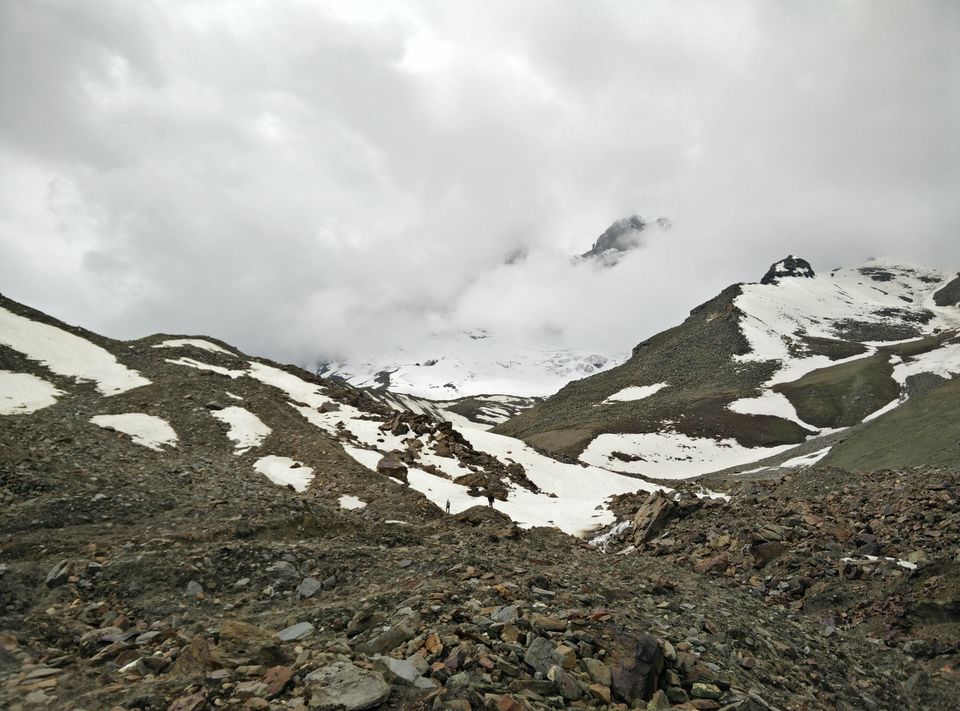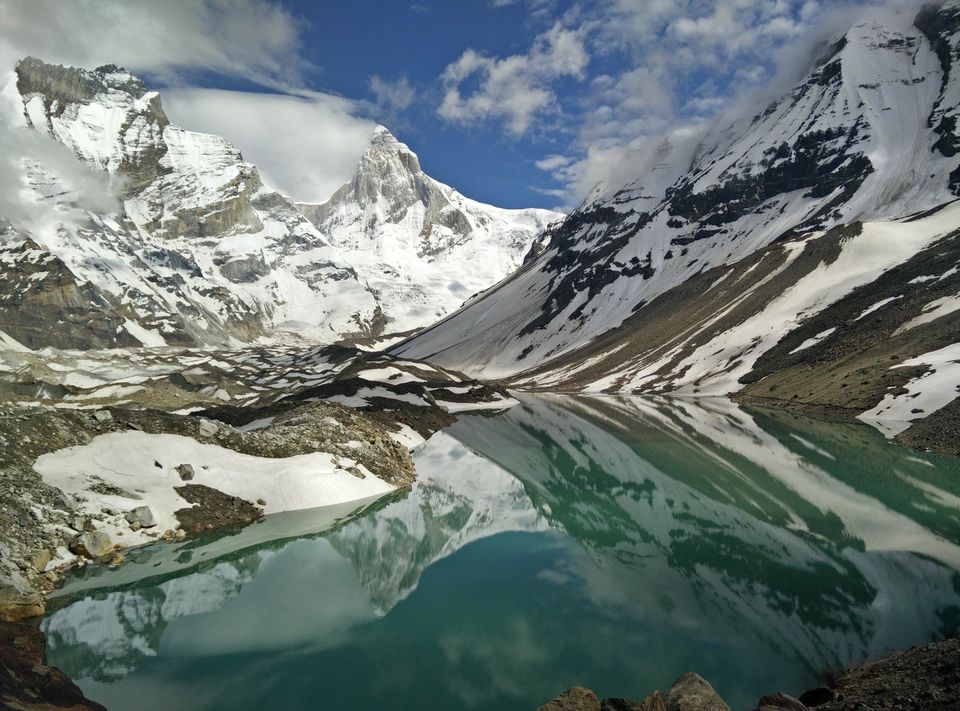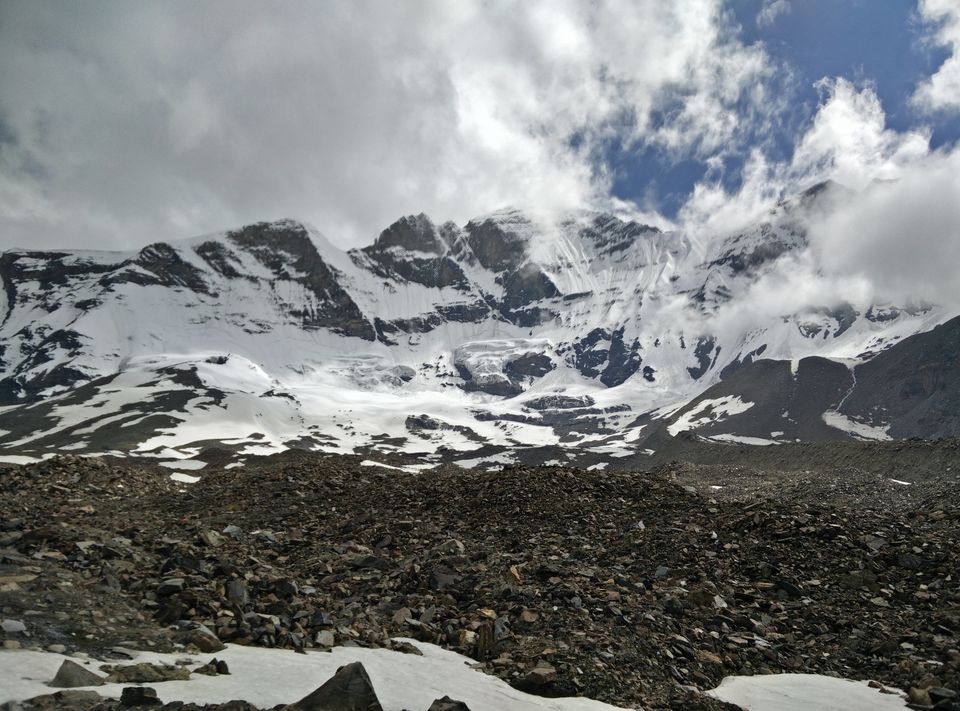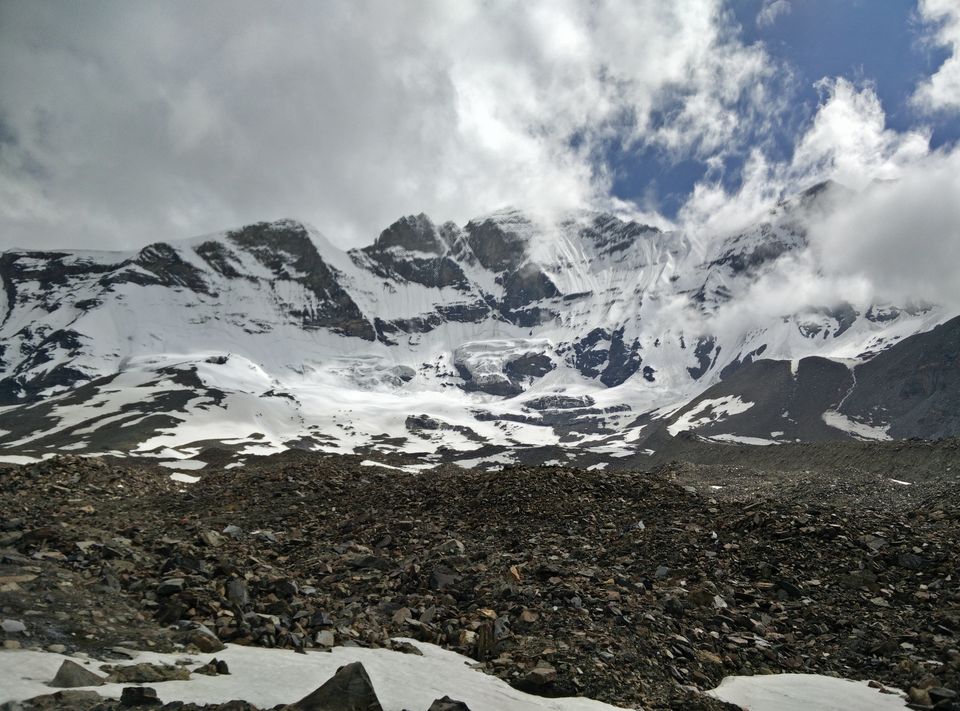 Hi, I'm Varun Guru from Delhi. I am a musician, engineer, athlete and a big travel fanatic ! This particular trip was one of those when you quit your job in frustration and go soul searching. And serendipity it was, as this turned out to be one of the most awesome experiences of my life so far. 
SO, me and three others decided to go for a much needed break away from civilization. We only desired isolation.
21st June 2015: Delhi–Gangotri
We went for trek shopping to Decathlon in Noida sector 18, where we bought shoes, tent, gloves, walking stick, jackets and pretty much everything needed for a good three days. We started by car from one of our friend's place in Meerut towards Rishikesh on the morning of 21st June 2015 to pick up another friend who travelled all the way from Dubai for this. By the night of 21st, we reached Gangotri (had to change a flat tyre on the way ;) ), where we booked a Garhwal Mandal Vikas Nigam hotel by the Gangotri Kund side. 
22nd June: Gangotri–Bhoj Kharak
Early morning at 6, we got up and went to The Himalayan adventure shop to inquire about the guide and porter(One of our dear friend said pretty confidently and I quote; "Guys, we can easily do this trek without any guide, we just need one porter..."). Little did we know how completely crazy that idea would've been. We found a guide who was actually ready to go there(out of the many who refused quite simply), Munna Rana. Following his advice, we hired three porters who carried our tents, butane cylinders and the ration. We carried our rucksack on our own (Come on! We could do that much ;P). We started, ofcourse after taking permissions from the authority, towards our first mark, BHOJ KHARAK. This camp site is 6 km from Gangotri and it took us 3 hours to reach. The altitude gain is a good 500 meters. We reached bhoj kharak by 12ish and we camped at 3600-3700m. On our way, we had to cross frozen ice portions on vertical water streams along the way. That was one among the several life threatening experiences in this trip. A simple slip could make you slide down a good two to three hundred meters to Kedar Ganga flowing along the side.
23rd June: Bhoj Kharak–Kedar Kharak
Today was the day! If I am given a chance to live one day out of my life again, I'd choose this one! This day, we saw what death would look like. From bhoj kharak we started at around 9 in the morning towards our next campsite, Kedar kharak. A good 900m altitude gain. Ofcourse, the same old frozen sheets of ice along waterfalls followed us here too. But we were somewhat adept at crossing these by now. We kept walking and after about an hour, we reached a seemingly ridge like area. We werent able to see what was beyond, and especially here me and my friend Pandey were the last to reach. By now, the others had stopped and looking for something. When we went closer, we saw their faces filled with fear. Our faces copied that emotion. THERE WAS NO WAY AHEAD !!! The path had broken due to the rains and land slides. We could see a good kilometer of loose gravel and stones ahead. The place where the path continues again wasnt even visible. With all the fear and doubt rising, we thought this was the end of our journey and we had to go back. But one man was determined - our guide, Munna Rana. He would find a way to cross this and take us to kedartaal. The only condition- if we were game for it! And yes we were!! With death staring at us directly, we felt just right! It was meant to be! Our guide told us, the gravel will slide but keep a firm foot and come down behind me. As he rightly said, the gravel did slide and none of has any experience in descending on loose gravel, yet we adapted to the situation and came down sliding on our feet and ended right near the banks of kedar ganga. One challenge completed. The next one - we had to remove our shoes and walk in the super cold water and along the bank by holding onto the rocks along the sides. The icing on the cake - Bharal(blue sheep) were grazing(creating havoc) at the top of this rock fall section, bloody buggers kept rolling the rocks down. A few big rocks almost hit us. Small rocks definitely hit us. And mind you, Small rocks falling from a height of 50-60 meters are nothing less than a speeding bullet. If one had hit the head portion, definite death. We had to walk against the flow of the cold water and fast! Our feet were freezing and numbed! We were all successful in crossing the cold water. And as we got onto the banks, more rock fall! Bigger thicker rocks. So we didnt have a second to breathe. Instead we had to walk barefoot on pointy hard rocks for at least a grueling 30 meters, until finally we were able to stop and wear our shoes. It was tiring and painful! if we stopped, rocks would kill us. If we walked, rocks would kill us :P. You get the picture. After a long walk on the sliding stones and no stopping, we crossed the rock fall area that Yamaraaj himself had put. This particular section actually makes it as difficult as the Kalindi Khal trek, which is deemed the toughest trek in Uttarakhand. After a 2 hour long walk, we reached our second campsite, kedar kharak! At around 4500m, this was an amazing campsite with complete isolation from humanity.
24th June: Kedar kharak-Kedartaal (Paradise day)
We set out for Kedartaal, the paradise we had seen only on the internet. From here on, glacial paths begin. There are huge boulders that are stacked and they gradually keep shifting. So one always needs an experienced guide to navigate through this. A good 300 m altitude gain was in stock for us. The low oxygen gave two of us some headache. We would stop after every few steps. There we created a rule of taking 20 paces and then stop. That helped us psychologically. After three whole hours, we reached an ascent. As soon as the guide called out to witness the beauty, two of our friends ran! Literally raced to reach there! By the edge of the ascent, stood the calm and serene and the most amazing site our group had ever seen in our lives - Kedar taal ! The magnificent lake reflecting the mighty Mt. Thalaysagar's summit, we were in awe ! It was surely paradise! There is just no other word for it...
We had attained a altitude of 4750 m. But, we had to go higher! Remember, 5000m was our mark! Now, one way was to walk through the glaciers to reach Jogin ABC, but we took a different route along the side of the lake. This last part was super tough! Me and a friend who had the headache trailed far behind the others. But little by little, we reached our mark! Wait, a little more than our mark, 5125m above sea level. Don't ask about the obsession with the 5000 m altitude, I wont be able to tell. But ask me how it felt! I can write several blog pages about it! From there, ice began. We didnt have crampons and neither were we ready for a climb. Just played a sliding game on the ice section, which was awesome fun! Our dear friend, Pandey after descending to the lake clicked this majestic picture that the others very proudly place as our cover pics. Kudos Pandeyji! 
The weather wasn't going to remain too kind. As it swiftly changed, we had our quota of fun and started for descent. We descended to Kedar kharak camp on time, because as soon as we reached and entered our tents, it started raining! The rain continued throughout the night. 
25th June: Kedar Kharak–Gangotri
Early morning, we were woken up by the continuous shower, only to realize the precipitation was of a different nature altogether. It wasn't water. It was snow! Two of us got up and went out in the snow, quite happily. Clicked pictures, made videos, etc. Our shoes were wet, pants too and the jacket. Totally drenched, we soon realized this precipitation wasn't planning to end anytime sooner. It continued for another two hours before we decided we should start the descent. And what good timing, if we hadnt left, we would've been trapped in that campsite and I wouldn't have been writing this today :P.
So, the descent. Easy isnt it ? NO WAY JOSé! To avoid the route we took during our ascent(remember the one where we met Yamaraaj and said Hi to his buffalo?), our dear guide took us through an even more grueling route. Plus this time it was raining! Loose gravel became even more loose with rocks falling in higher numbers. This descent was more like an ascent. We had to climb up to reach the higher path on the other side. After every ridge seeming geometry, we realized there was more to go before the final rest. This time, we had to run faster and put in the strength you'd need to win a 100 m dash. Not just our physical, but our mental stamina was also tested here. I still to this day dont believe all of us had found the strength in us to reach back! Kudos to the team! In 4 hours, we descended to Gangotri! We put our stuff by a tea shop. Initially, he made us remove it off his carpet. Then he asked us where we were coming from. As soon as we said "kedartaal", he immediately took all our stuff in, made us sit, got us tea, parantha and what not. A hero's welcome! And indeed, anybody who could do this was definitely a hero in his own life! 
End note: 
If you really want to go find some peace, go to Kedartaal. Nature will test you, but in the end it will give you your much needed peace and show you the much desired paradise!
I took a couple of video clips along the way and am working on compiling it. Found a new way to present it in the form of nano-webisodes. I am attaching the link below. The first nano-webisode gives a light hearted start to the awesome trip that will follow. I will be making more of these. Do watch and let me know what you think! 

PS: I might have missed a few details above. Do ask questions, I will be more than glad to interact! If you want to know more about the budget, plans we made, routes we took, stuff we bought, number of paranthas we ate...anything under the 5125 m mark, JUST ASK AWAY! :) 

This is my first blog entry on TRIPOTO, more coming your way! Till then! Bbye!