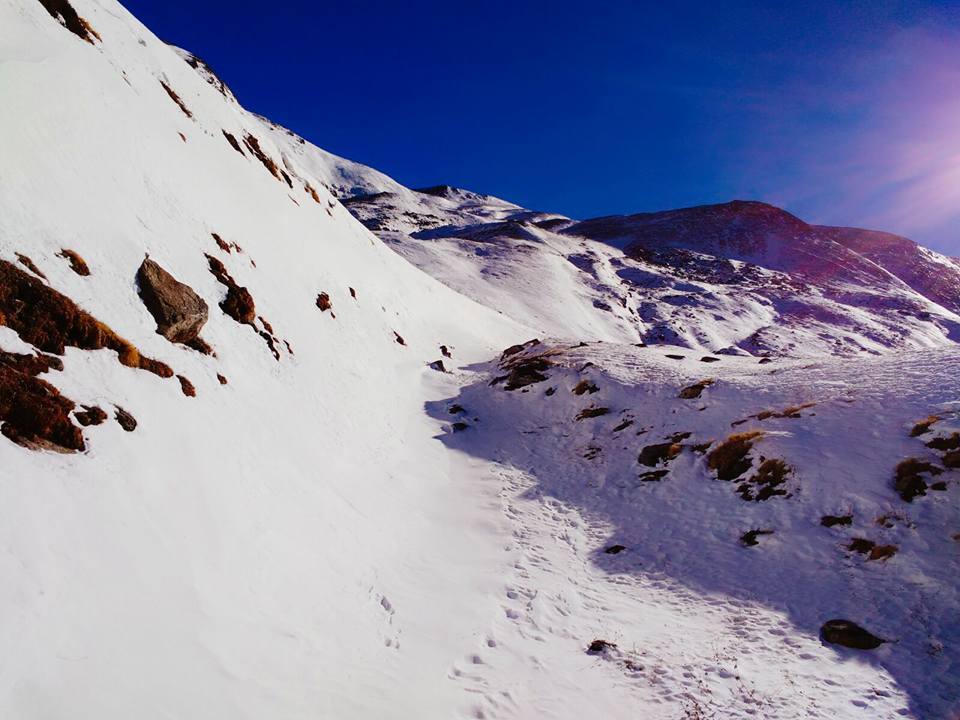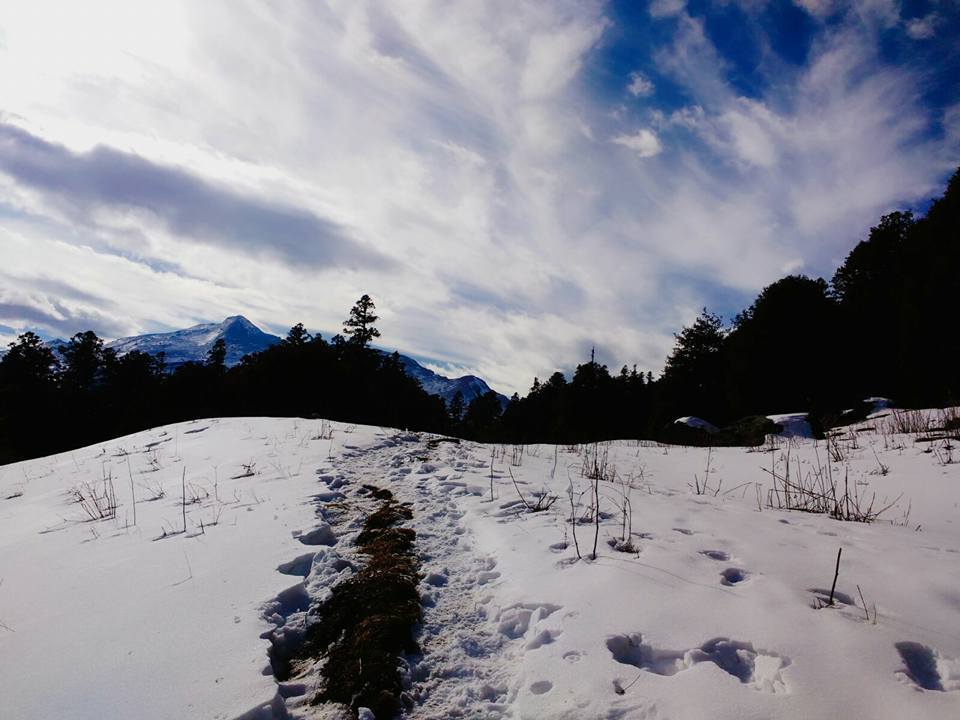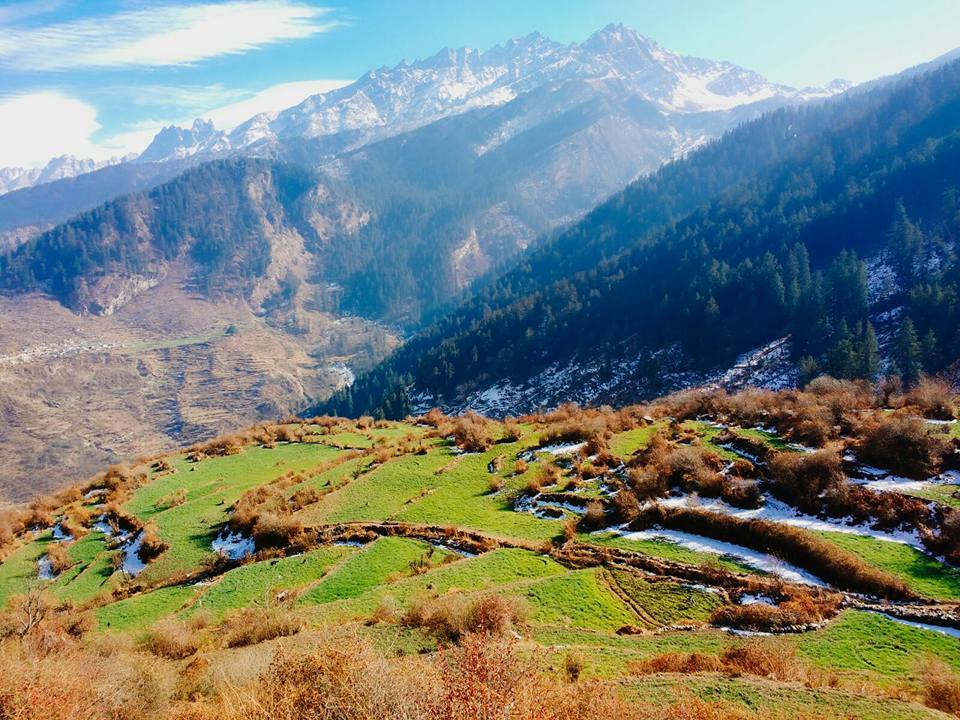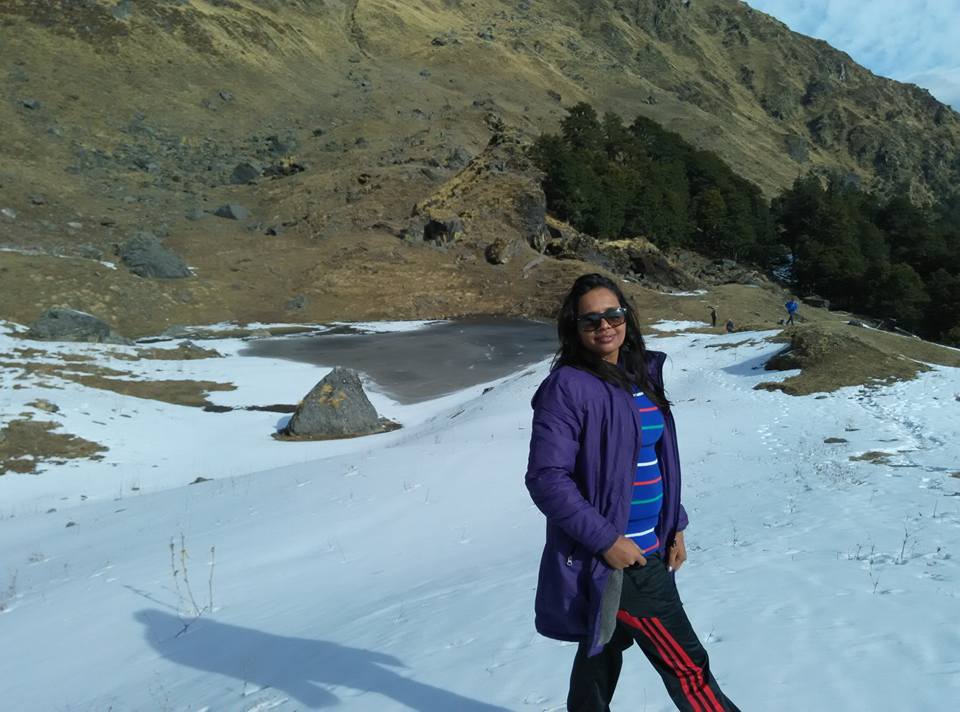 I did first Himalayan trek when I was only 15 years old but later due to college exams and then commitments of Jobs could not do a single Himalayan Adventure for a long. But Himalaya was calling me since ages.Suddenly I came across a 4 days winter adventure trek to Kuari pass . The dates were suitable to me and I was able to get off from my work. I asked few of my friends and, fortunately, many of them agreed. We booked our trip with Adventure Nation which works as the intermediator between supplier and us. They gave us best deal. We received a discount of Rs.1500 per person.I will suggest you all, check the deals with them before you do any direct bookings. We all were ready with the plan in next few days.
Kuari pass is located in Uttarakhand State. Its height is around 13000 feet.The trek is called as Curzon trail because Lord Curzon discovered the route through the hills. The difficulty level is easy and any beginner can start her trekking adventure with this one. You will come across meadows, springs ,dense forest of oak and pines and a lot of snow during trail which will leave you awestruck. Incredible views of snow capped peaks is a real treat to your eyes.
We planned our trek in Christmas week , in mid of Winter.We are based in Mumbai so came to Delhi by Rajdhani express n from Delhi to Haridwar by Janashatabdi Express. Halted at Haridwar overnight. Our trek operator Trek The himalaya (TTH) had arranged jeeps for us to transport to Joshimath Which was our basecamp. A way to Joshimath from Haridwar is full of bends n beauty. You come across four 'PRAYAGs'(Devpragyag, Rudraprayad, Indraprayag and Karnaprayag) on the way. Prayag is a place where two rivers meet each other and start flowing as a single river.In India, it is treated sacred. Dark bluishGreen Alanknanda river accompanies you in most of the path towards Joshimath. Its candid presence makes the journey eyeful. We reached Joshimath by 7 in the evening and stayed in the Guesthouse.After having snacks and tea we met our all fellow trekkers in the dining room. Had introduction session. People from various parts of the country had come...It was looking like a nice group of 25 fellows. TTH did our arrangements of meals and stays in campsites and guesthouse , took care of our schedules , provided group leaders , guides and showered a lot of love and blessings on us...:)
We started trek from Dhak village near Joshimath. It was a walk of around 4 hours to reach to our first campsite Chitrakantha. The way was through meadows and we came across some springs which filled our water bottles with a pure 'mineral water'. We started getting the first site of snow near our campsite. A very tasty khichdi fulfilled our hunger. The view and weather were enchanting. A majestic view of Hathi Ghoda peak was magnetising our eyesight. After having rest for a while we gained some height and did acclimatization and returned to our campsite. The hot soup followed by a tasty dinner was waiting for us. We collected woods for the campfire in the night which helped us to beat extreme cold where mercury dropped in negative temperature.We all had a good session of antakshari that reminded us old school days in vacations.
The next day trail was steep and height gaining through scenic views in dense forests of oak and pines. One can't take her eyes off of the views. It was a walk of around 4 km but it took 5 hours to reach our next campsite TaliTop. The height gain was around 1500 feet. The trail is fantastic. It's wide and safe without any risky patches. We reached our campsite by 2 PM and enjoyed lunch. The campsite was entirely surrounded by snow and we all enjoyed playing in the snow in the evening. The very next day was too critical as it was a summit day. We had to walk for 15 km . (Tali top to Summit and back to Tali top). So all slept early night after spending some time around the campfire.
We started early by 7:30 having a heavy breakfast and taking packed lunch with us. We all were equipped will dark google, stick, heavy water bottle, crampons(they are required to walk in the snow for good grip) and windproof jackets. The trail was entirely through the snow with very fewer trees around. We had to reach some checkpoints at a particular time ; if we fail to reach we would not have reached the summit on time and had to return. So our one eye was on watch and another on trail. By 12 we reached the highest point ..our goal ...All happy and excited with achievement. You can see Dronagiri , Neelkantha ,hathi ghoda,chaukhamba peeks from very close. Nandadevi is also visible from this point.After a photo shooting of some time and having lunch, we started our return journey back to Tali. The winds were strong n taking off all the moisture from the face. We reached to our campsite by 6 PM. (We were the last people to reach) .
Next day was the last day of the trek and we had to descend through the route.We met many locals villagers ,clicked pics with them, listened to stories from them , shared toffees with kids. The kids and women are so beautiful that we started getting complex despite going to finest parlours in the town. We reached Dhak village by 3 pm and then were transported to Joshimath by Vans.The trek ends here with lot of pleasant memories and hearts full.
N.B. Use of sunscreen and glares is a must. Start gyming to do a trek comfortably.
Har ki Pauri and Ganga Aarti make your evening memorable. Khau galli near Har ki pauri is a treat to your tounge.
This place is very near to Haridwar and very famous for adventure activities mainly for White River Rafting in Ganga and highest bungi jumping (83 mtrs) in India.
Joshimath is a basecamp of Kuari pass trek , Vally of Flowers , Hemkund Sahib trek. It is near to Badrinath , one of the Char Dham and in winters , badrinath idol is kept in Joshimath for worship as Badrinath becomes inaccessible .