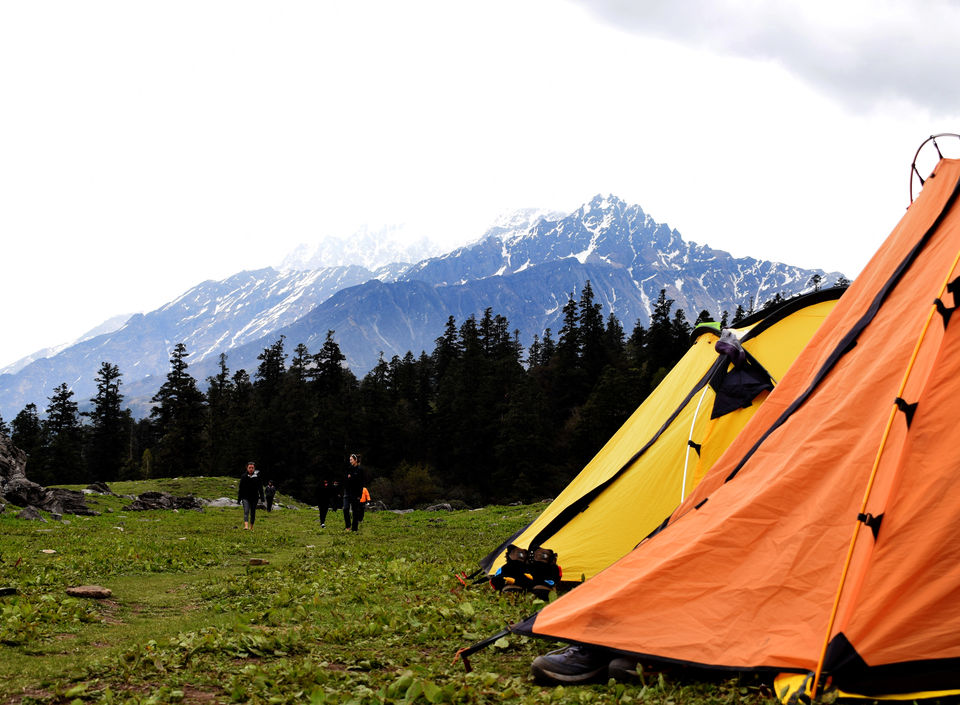 Time : 5.30 am | Village : Gulling | Alt : 9300 ft
THE winds had died down, but had no effect on the chill in the air. The temperatures were closing in on single digits, 7 or 8 degrees C at dawn. We were woken up (yet again) before the alarms went off. To our surprise we had slept well snuggled in our sleeping bags with liners providing the warmth and well pitched tents cutting off the effects of the wind. Jumping out of our bags we unzipped the tent. The sky was turning blue with shades of crimson. One part of the sky had the moon shining while the at the other end the sun had started to show its presence. "Good Morning !!" we heard our trek guide shout from near the kitchen tent. It was a clear indication, black tea was brewing. We grabbed our cups and headed in that direction. Black tea with spices to activate sensory functions and bring warmth to our bodies – a perfect prescription to begin our day.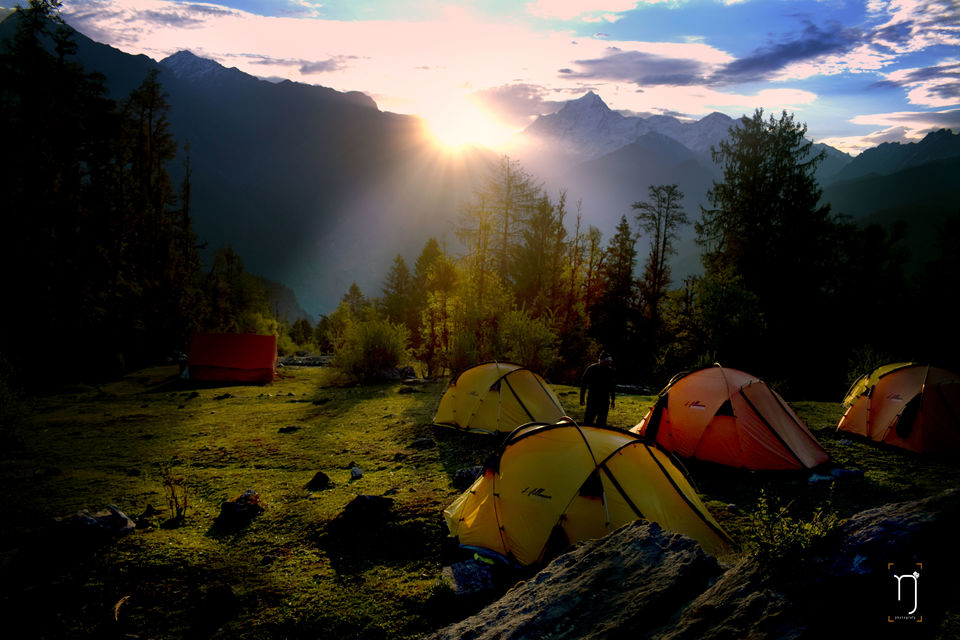 We just sat there on the rocks and watched the sun come up. Day 1 was behind us, we had seen through the difficult patch of inclines and negotiated the tiring rocky paths. As the sky changed colors thoughts and reflections kept coming in.
Quick breakfast preceded by the usual morning routine of oxy-meter readings and health card updates set us on the trail slightly earlier. It was going to be a long and strenuous trek to Khullara our next camp site at approximately 11000 ft. With hope that the weather plays fair we set out to achieve our target of approx 6 -7 kms and an altitude climb of roughly 2000 ft.
The moment we set out, we entered an area of heavy tree cover. This was a true blessing as we were protected from the sun unlike day 1. The climb was steep but extremely picturesque.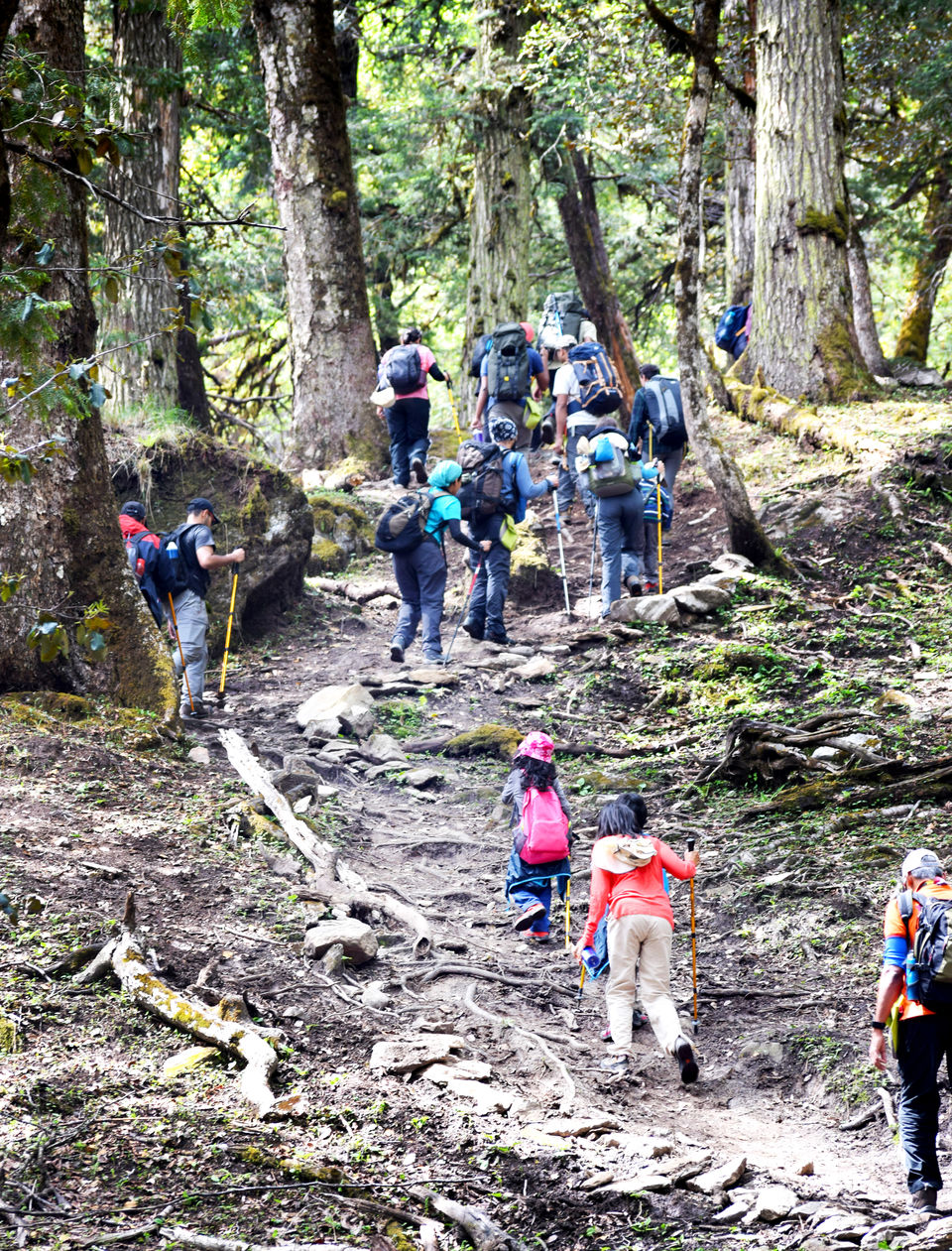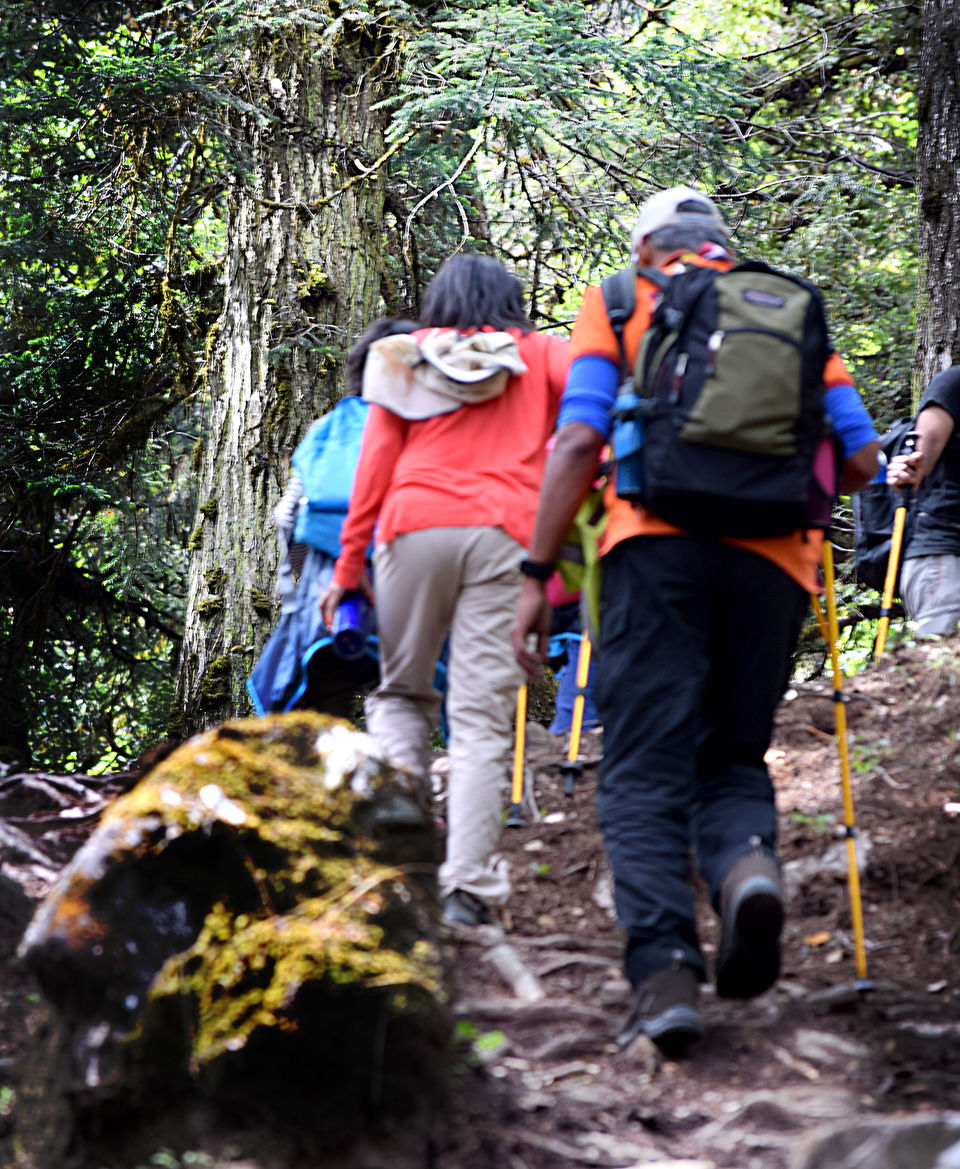 Dense vegetation as we continued made the climb worth every ounce of energy spent. It was about 45 minutes before we reached a small clearing where we could sit down and take our first break while the rest of the trekkers caught up. Oaks of different types : Green, Brown and Silver lined our trails. A few Pine trees provided the necessary blend to the picturesque topography. Finding perfect spots for pictures, the team was encashing every opportunity to break into a selfie or a group picture. Huffs and puffs from the previous days climb had turned into giggles and laughter. Soon enough we were back on the inclines of the trail. The trees provided excellent cover which helped all of us to conserve energy as we crossed the typical ups and downs of the trail.
An odd opening in the forest gave us a glance of Mt. Dronagiri and Haathi (Elephant), Ghoda (Horse) and Palkhi (Palanquin) peaks from afar. A relative sense of how much we had climbed, gave us a sense of achievement.
As Mt Dronagiri kept playing hide and seek amidst few lost clouds and the tree tops, stories about the huge mountain and its postulated mythological connection surfaced.
Legend has it, when Laxmana (brother of Lord Rama) was injured during the long war in Lanka, Hanuman was asked to fetch a herb that grew on Mt Dronagiri. On reaching the mountain Hanuman had found few herbs that looked similar so he decided to pick the entire mountain and carry it to Lanka. To further substantiate the story and connect a few missing dots, a mountain with similar geophysical properties has been found in Sri Lanka.
Throwing amused glances at the mountain we moved ahead pacing ourselves slowly ensuring we had enough energy to make it to the campsite. Targeted to reach around 2 pm we found ourselves doing much better than the previous day.
Our pauses turned into fairly long stops for refilling water from streams that sparkled and twisted between trees and small rocks to replenishing energy through energy bars. Knowing which streams were safe to drink out of and which were best left alone, was accurately executed by Khushalji our trek guide. He kept leading us with unfathomable amount of energy and stamina without a single breath going turning into a pant.
The scenes were beyond mesmerizing causing most of us to get lost in the sight so easily that time which otherwise plays an extremely vital role had lost all its so called magnanimous importance. Each passing cloud looked unique and every swaying tree had a story to tell. We wished we could have sit there a little longer but what lied ahead had its own allure.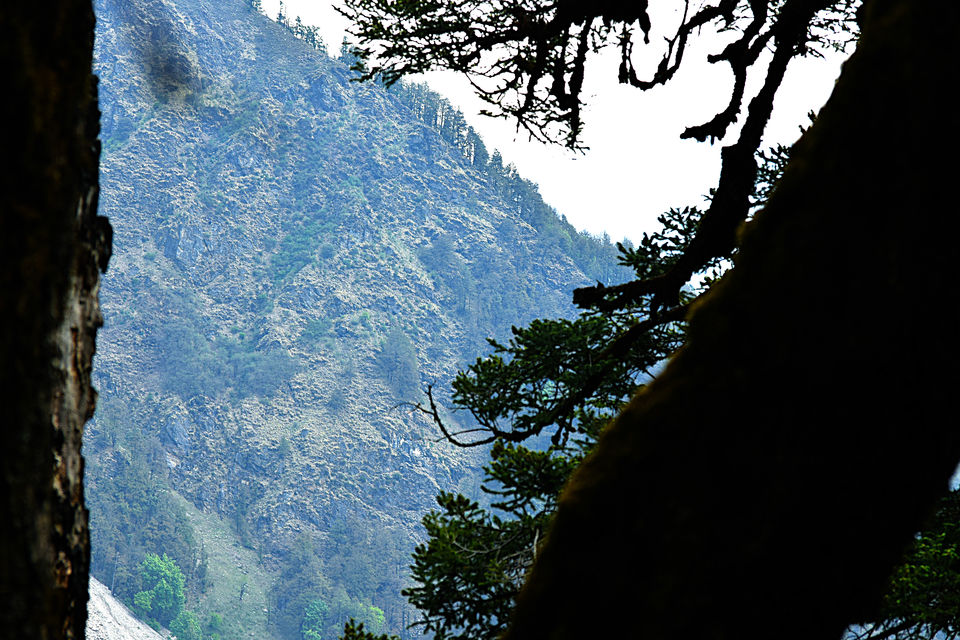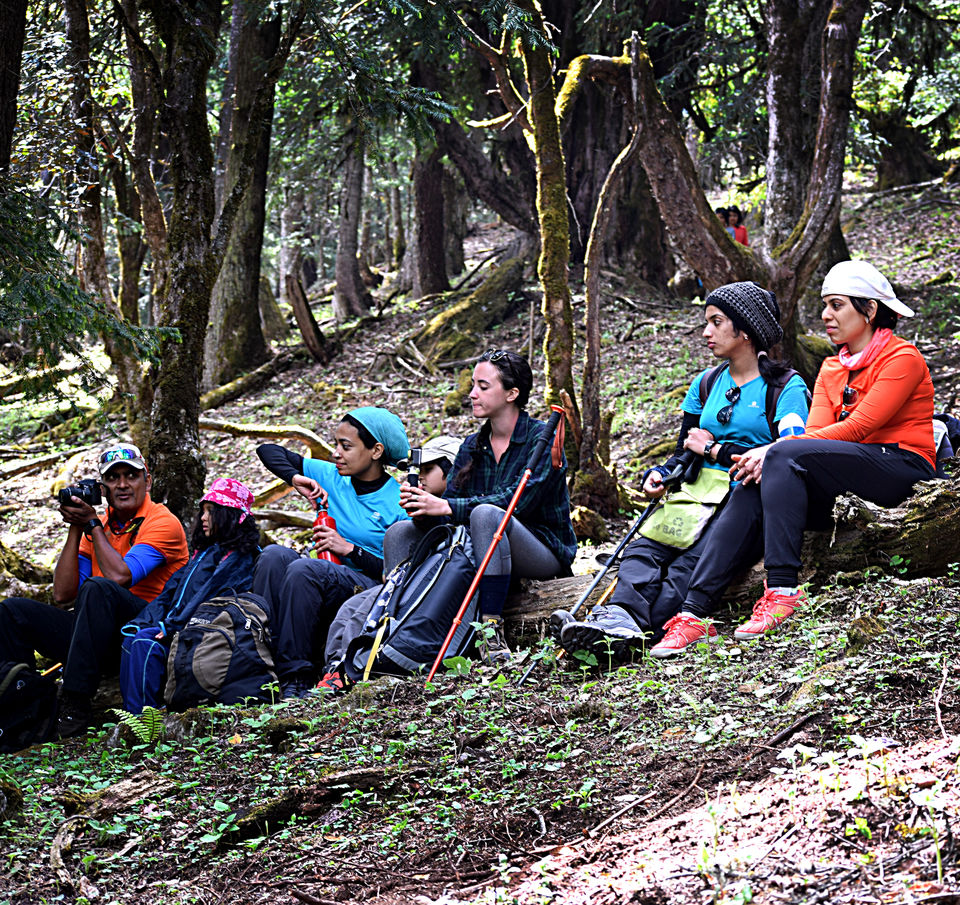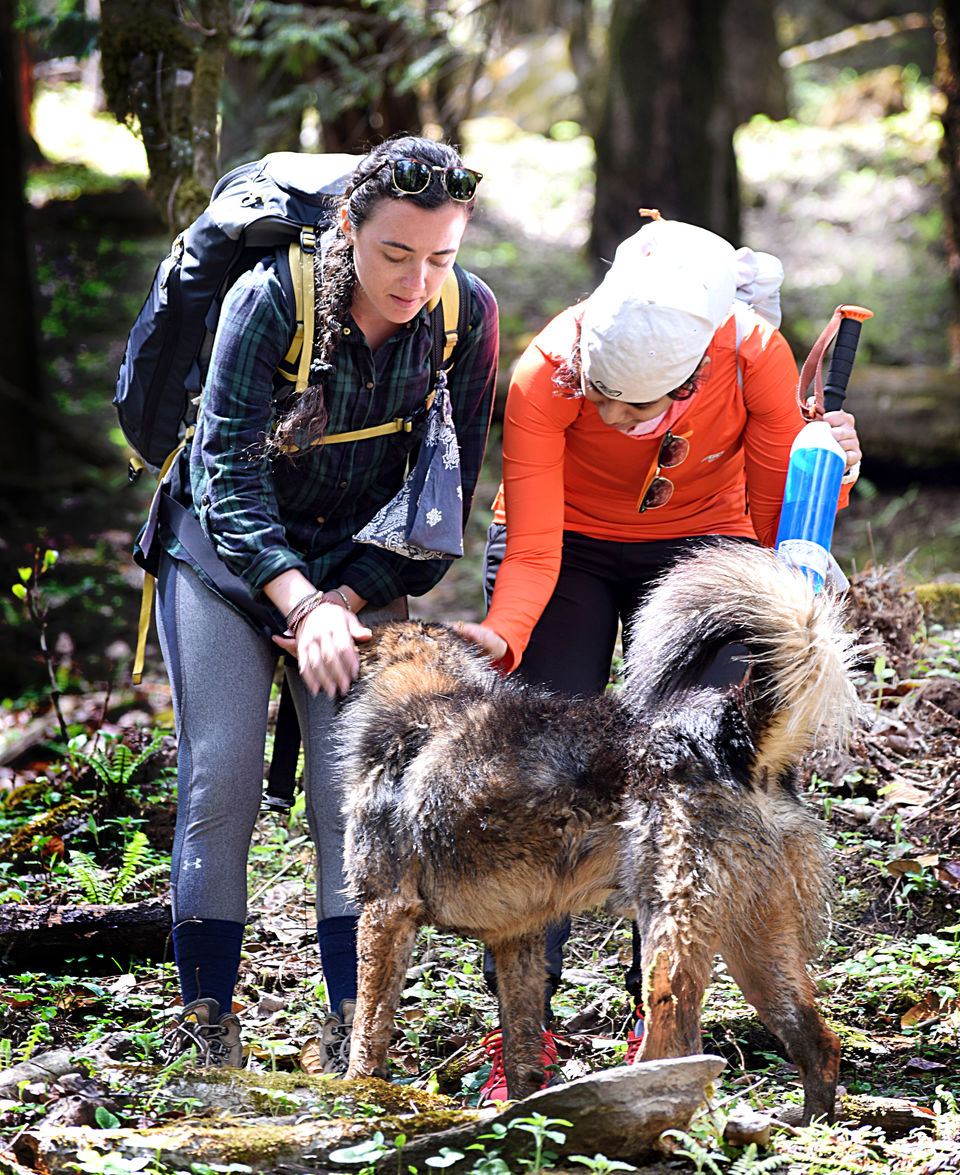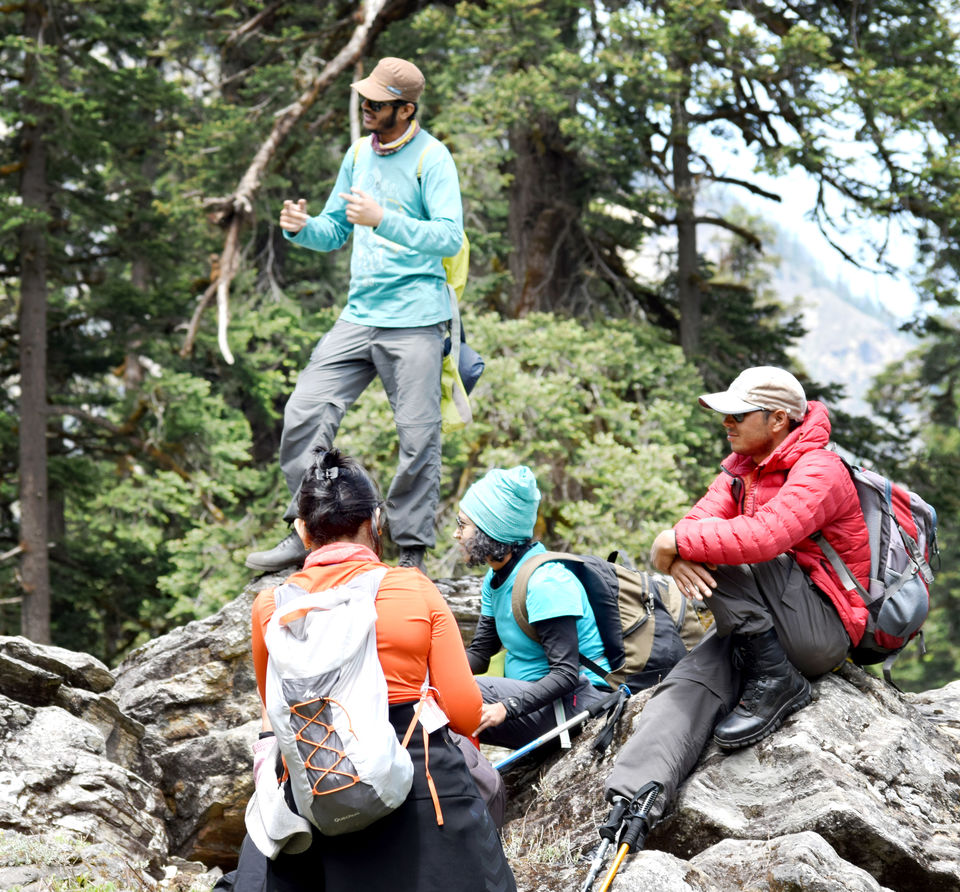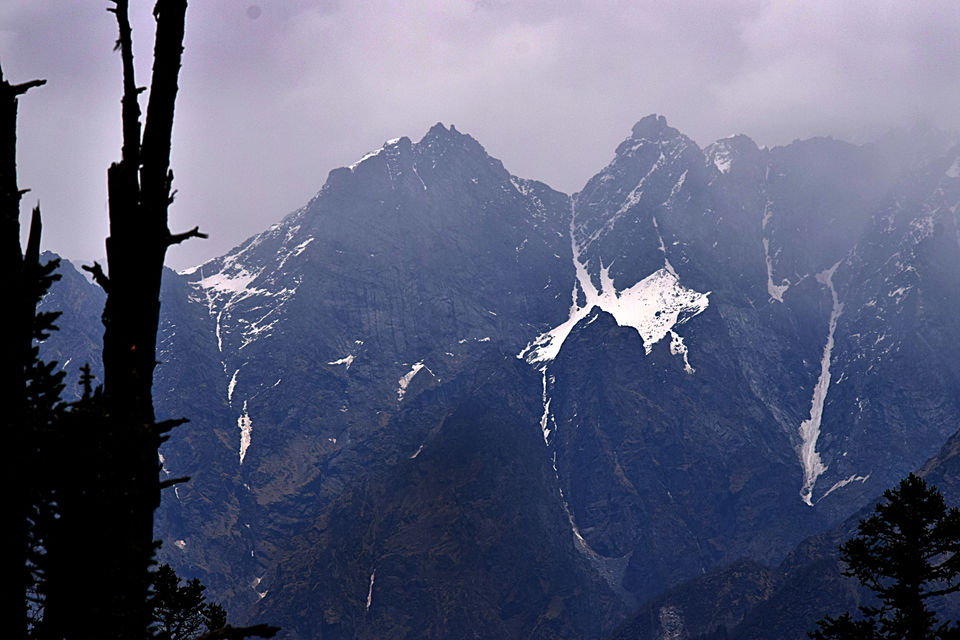 Picking up pace, more to do with a motivational announcement of Hot Lunch (a rather rare privilege since we had begun our trek) waiting for us at the Khullara campsite the troops moved forward slightly hurriedly than before. The trail on the last leg was relatively easy as our altitude was obviously evident. Muscles were talking back as each step we took in the upward direction exerted stress on major body joints. Leveraging the luxury of our trek pole we crawled through the last few turns on the trail to reach the top of the mountain to be spellbound by the campsite that was shining in vibrant colors of orange and yellow. The Khullara campsite left us gasping and in an instant all the exhaustion from the trek was wiped out. Out came cameras and mobile phones to capture the beauty around.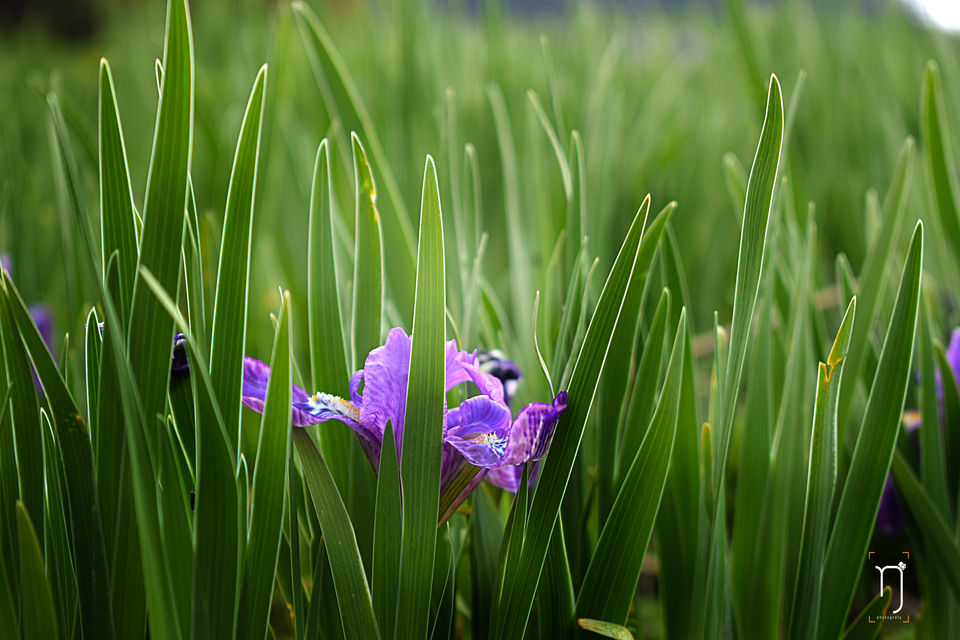 Unique flowers around the campsite caught attention in equal amounts as most of us set out to explore the beautiful landscape.
Snow capped peaks on one side blocked strong winds coming in from the north east. On the other side a small trail led the eye upwards where a rather harmless mountain stood. Snow was visible in patches but most of it seemed barren in a very contrasting way. It was later learned that was the peak of Pangarchula standing tall beyond 14700 feet (another inviting trek trail of Uttarakhand)
Our eyes kept rolling back to the peaks on display from a slightly elevated hillock near the campsite.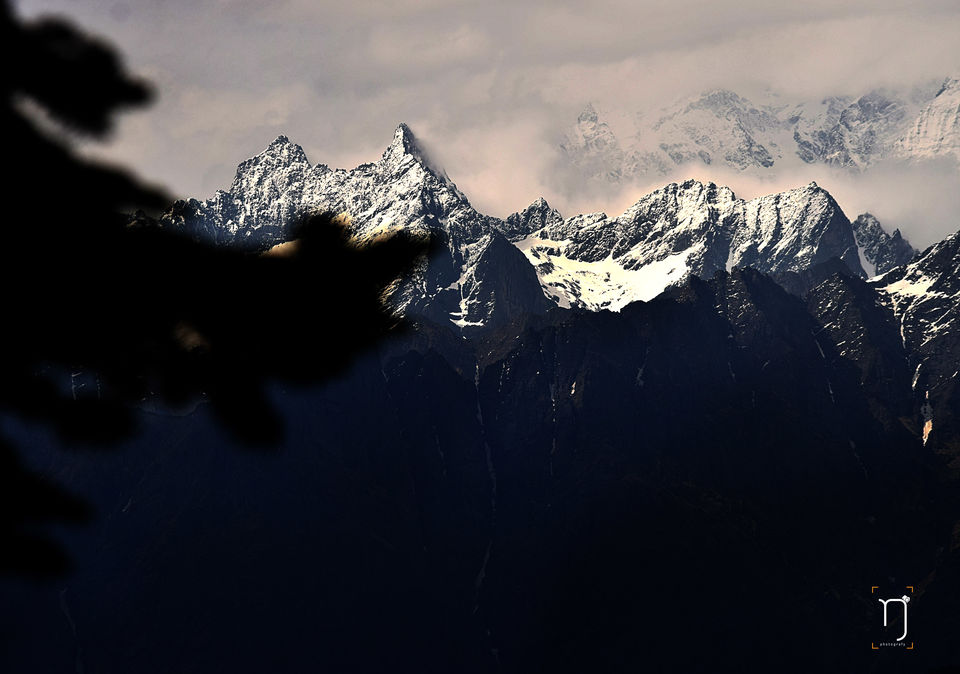 Here are a few names that may be of interest : Mana, Kamet, Dronagiri, Changbabg, Nanda Ghunti, Neelkanth, Haathi, Ghoda , Parbat, Ganesh, Mukut, Trishul towards the other side. Mt. Nanda Devi stayed illusive even at that height. With hopes of catching a glimpse on our way to Auli we traced our ways back to our tents.
"When the wind calls, you know, that somewhere in the mountains, it has found the answers that you were looking for. The pull of the horizon overcomes the inertia of reason…And you just have to go." (Vikram Oberoi)