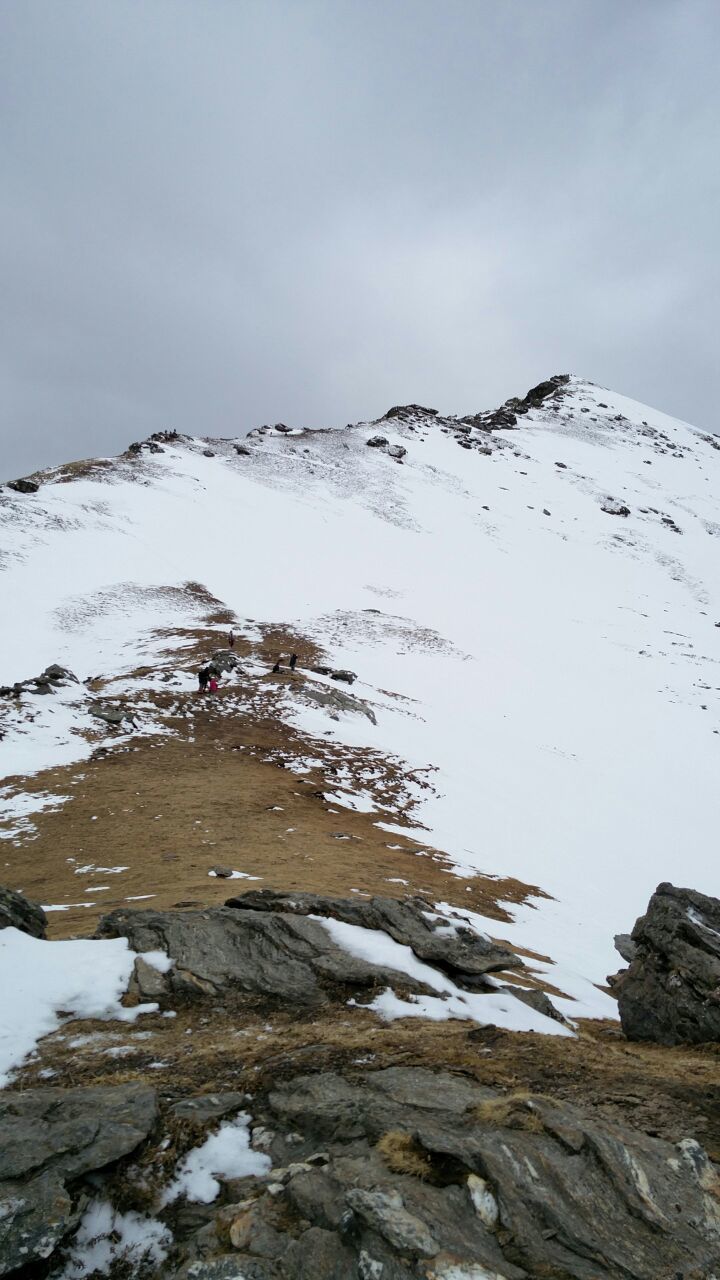 A winter trek full of snow had been on my radar for some time now. This year, I was determined to finally get down and snowy. After looking around a bit I zeroed my sights on the Kedarkantha Trek, and then began to coerce Prashant into accompanying me.
Considered an easy trek for beginners, he was reluctant to go for it. So I started flooding him with pictures of snowy mountains till he gave in. Mission accomplished!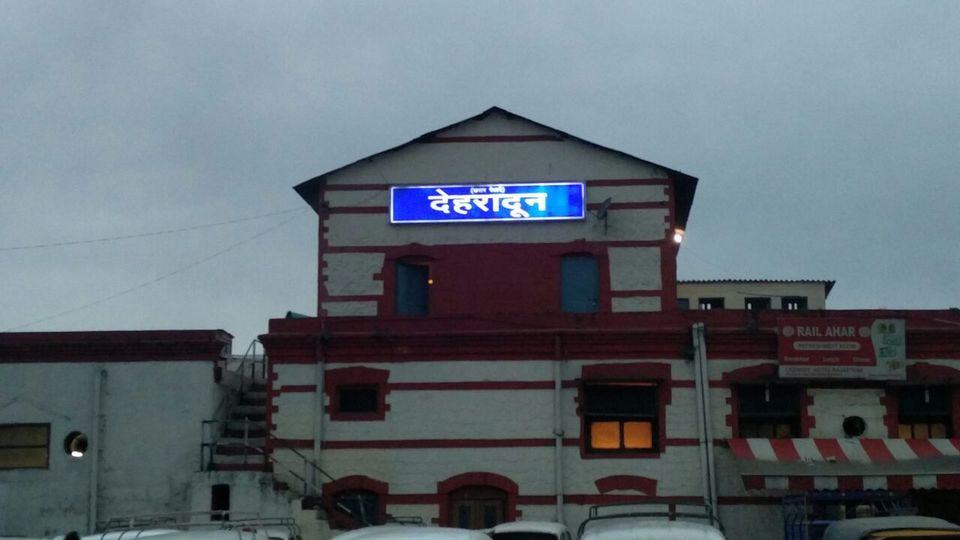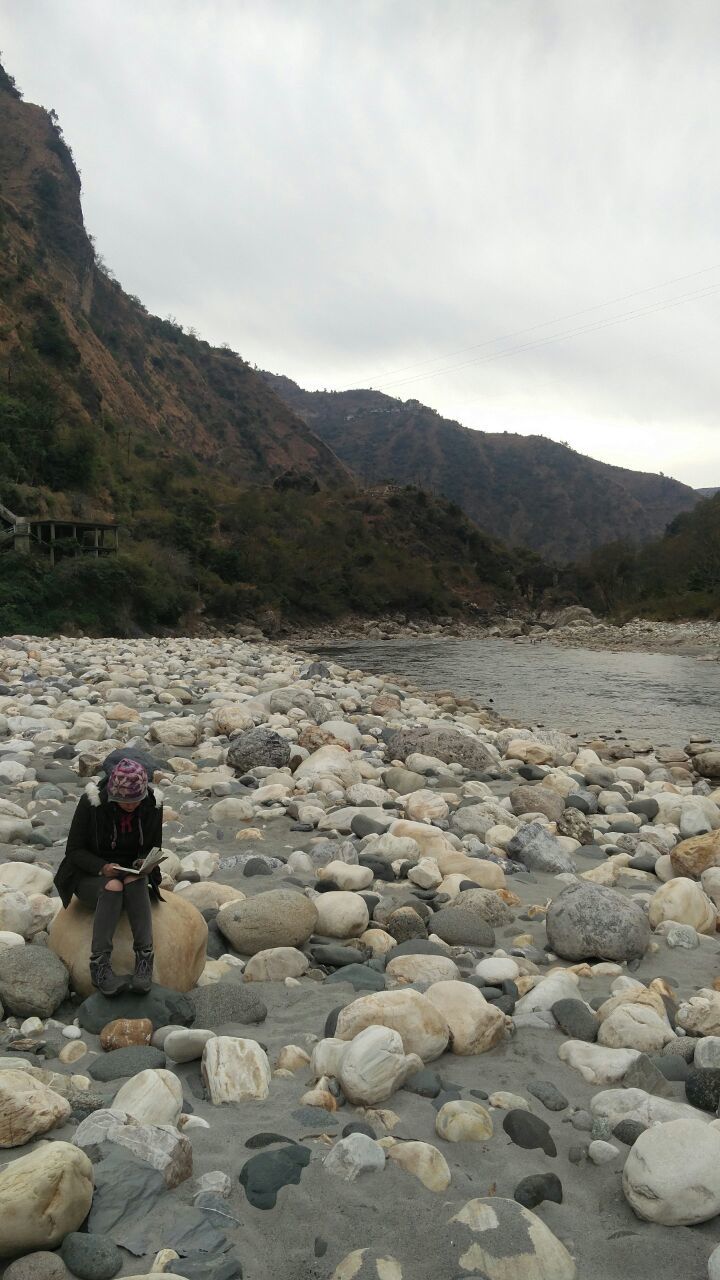 Train tickets were sold out, so we travelled to Dehradun by coach, which dumped us at the Dehradun bus station at 3:40 am, more than 3 hours before our scheduled pick up! We loitered for a while and then giving in to the cold, waited in a dormitory till our pick up vehicle arrived at 7 am. It took another hour to round up other passengers arriving at the train station, and then we were off to Sankri.
It is a full day drive, so we made many stops to ease our stiff limbs.One such stop was beside the river Tons which meandered beside us for a long time, calm at some places and turbulent in others. The river was crystal clear, with aqua foam bubbling around the many boulders in its path.
We reached Sankri around 6:30 pm , barely catching the last of the sunlight. After some very welcome chai and a quick dinner and briefing, we were all tucked in. Tomorrow we start!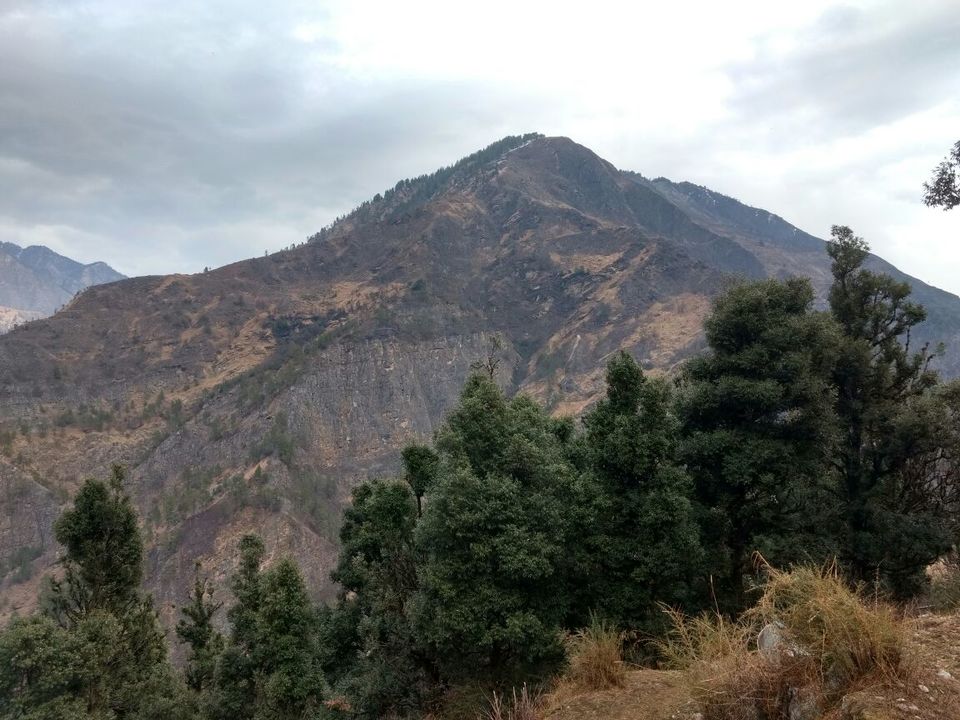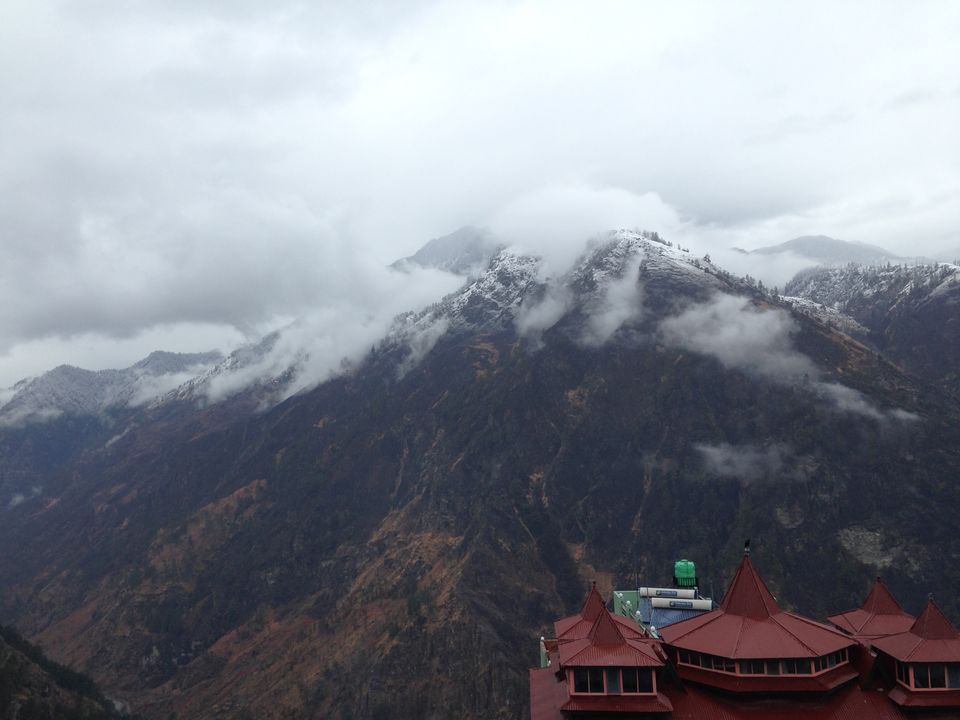 We woke to the sound of rain... it was more than an hour past our scheduled wake up call time and there was no sign of our trek guides. We burrowed deeper in our beds, reluctant to get out of it's comforting warmth.
The guides came knocking around 8:30 am, a good 2 hours late. But they had hot chai, so yay!
We got out of bed and made a beeline for breakfast.Here we got our first proper glimpse of Sankri. The rains had subsided, and the hills were shrouded in clouds. Higher up, snow had fallen, and the tips of the hills were powdered with fresh snow! I was excited! This was to be my first tryst with snow.
We pushed off finally, with a promise of a rendezvous with snow just half an hour into the trek. Woohoo!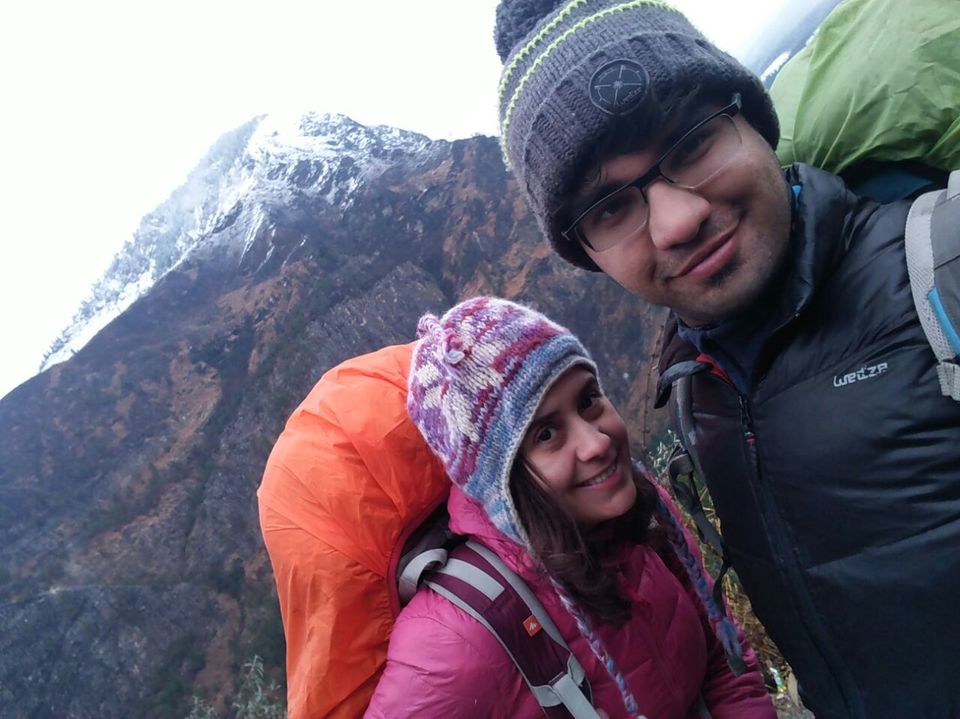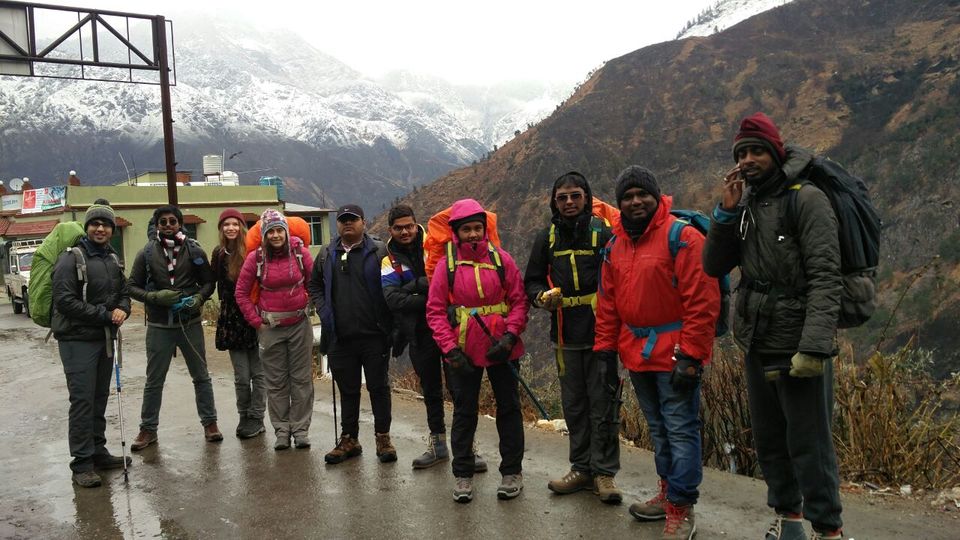 After a cold cold (cold!) night in our tent, we set off for Base camp the next day. It was to be a 4 km trek and all uphill.
I tried keeping up with the group, but only ended up having a wheezing session. So I decided to take it easy, walk at my own pace (i.e. at the most furthest tail end of the group).Prashant , as always was there , keeping pace with my (slow) moves.
The snow got deeper as we proceeded, and the only vegetation was giant pines and an occasional oak. We finally broke through the woods, and before us was an ocean of white, with the Kedarkantha peak as a backdrop, and pine forests on both sides. It. Was. Beautiful.
We parked our weary asses on mats, since our tents weren't up yet, and accepted the proffered tea gratefully. But our rest was short-lived, since our guide came along with the news that we had to start stomping. Yeah, stomping!
Turns out, the snow was 4 ft or so deep and we needed to flatten it in order to pitch our tents. We got up grudgingly , but it turned into a game, and soon everyone was stomping and jumping enthusiastically!
Tents pitched, we had an early dinner and set off to bed. The trek to our summit was to start 4:30 am the next day.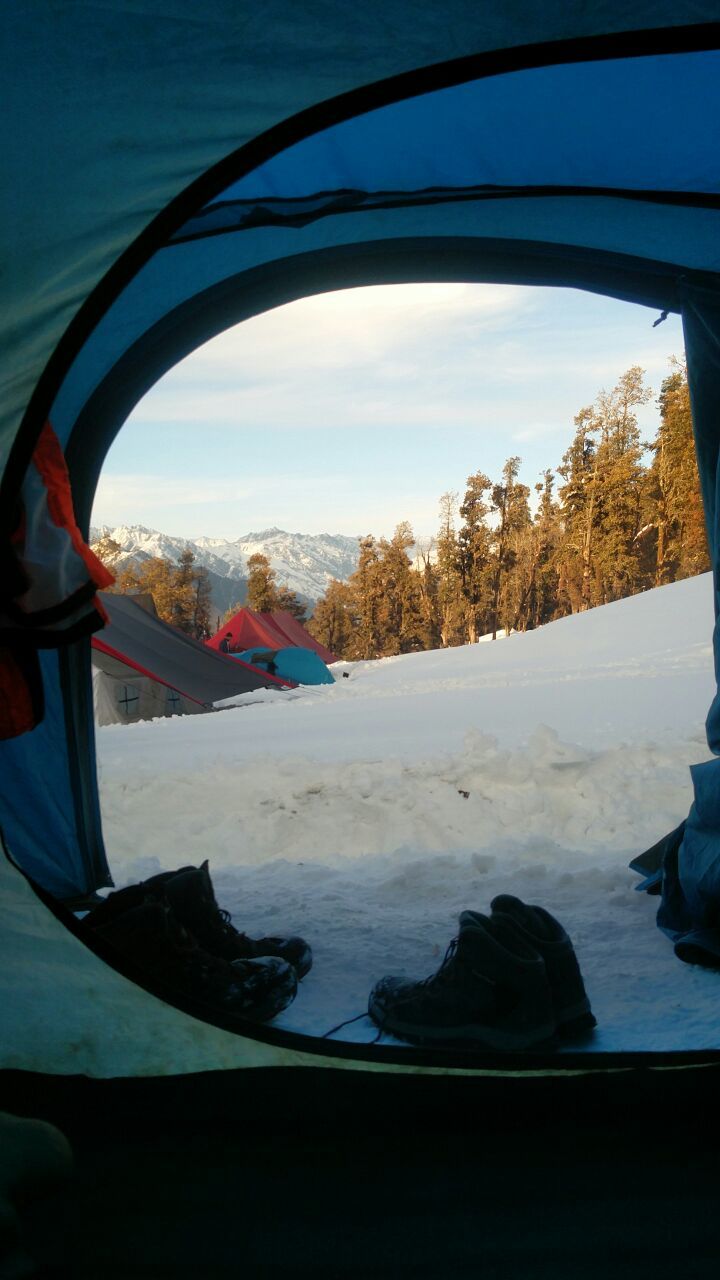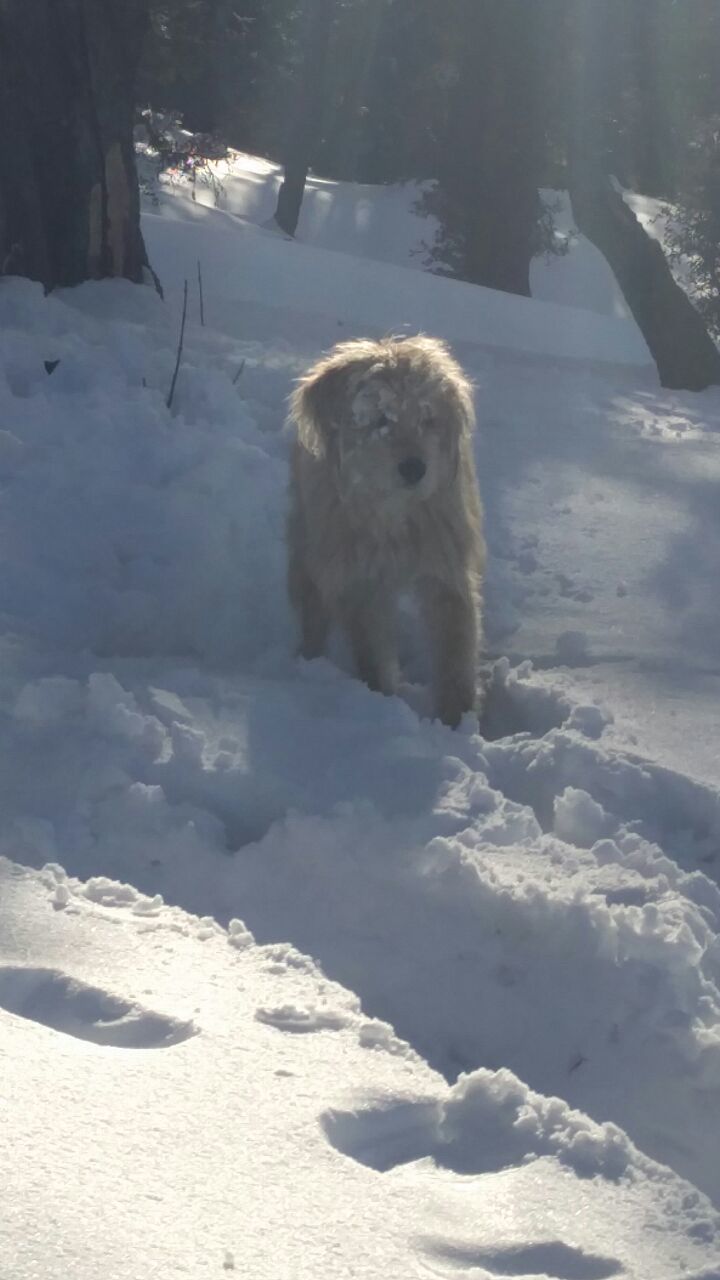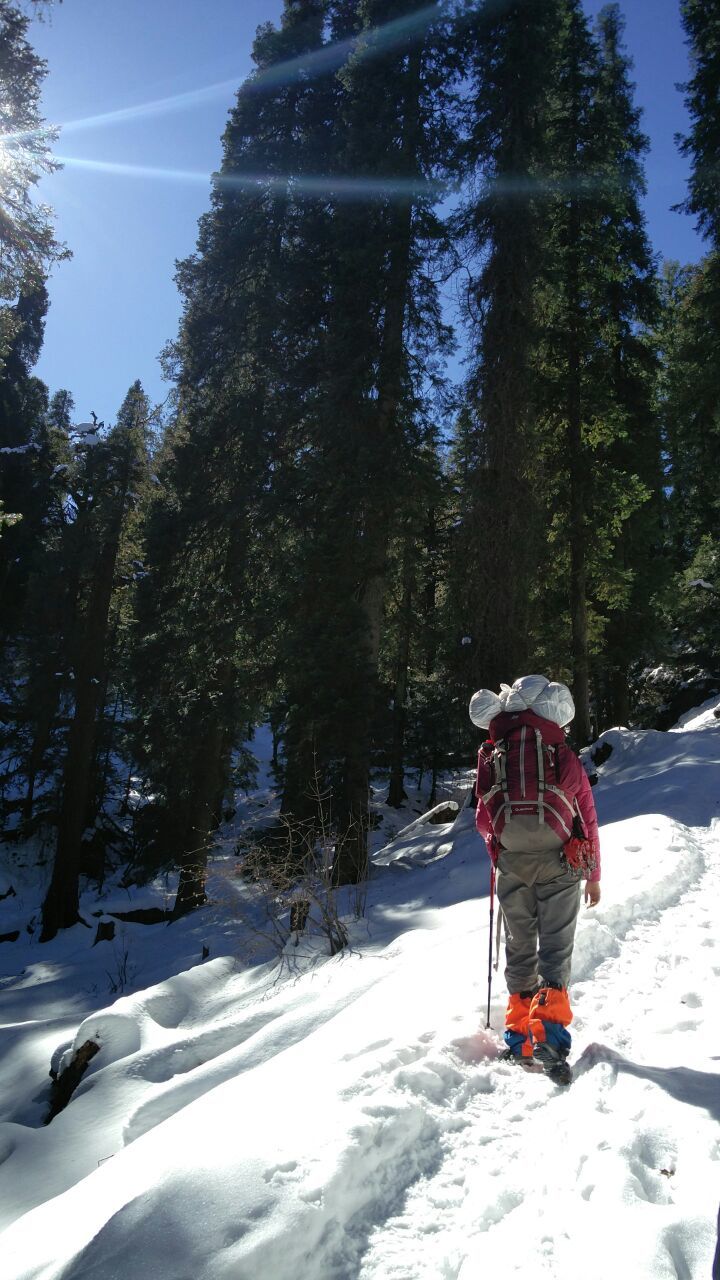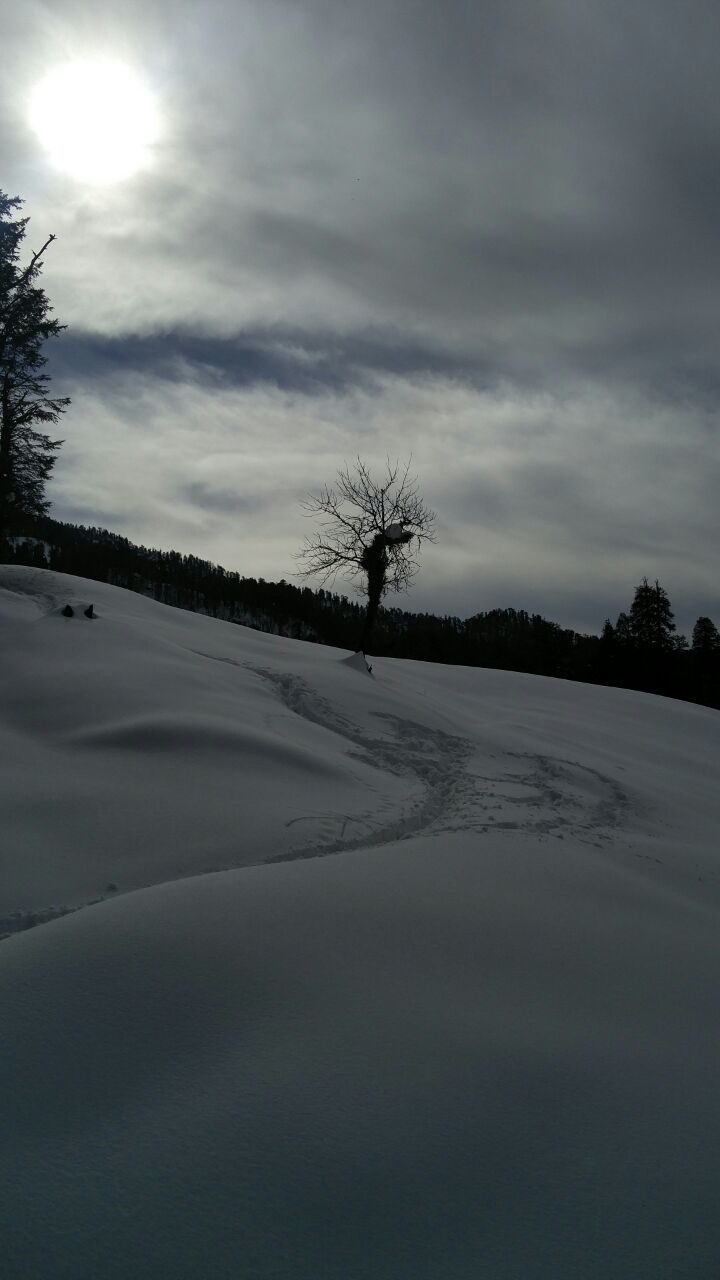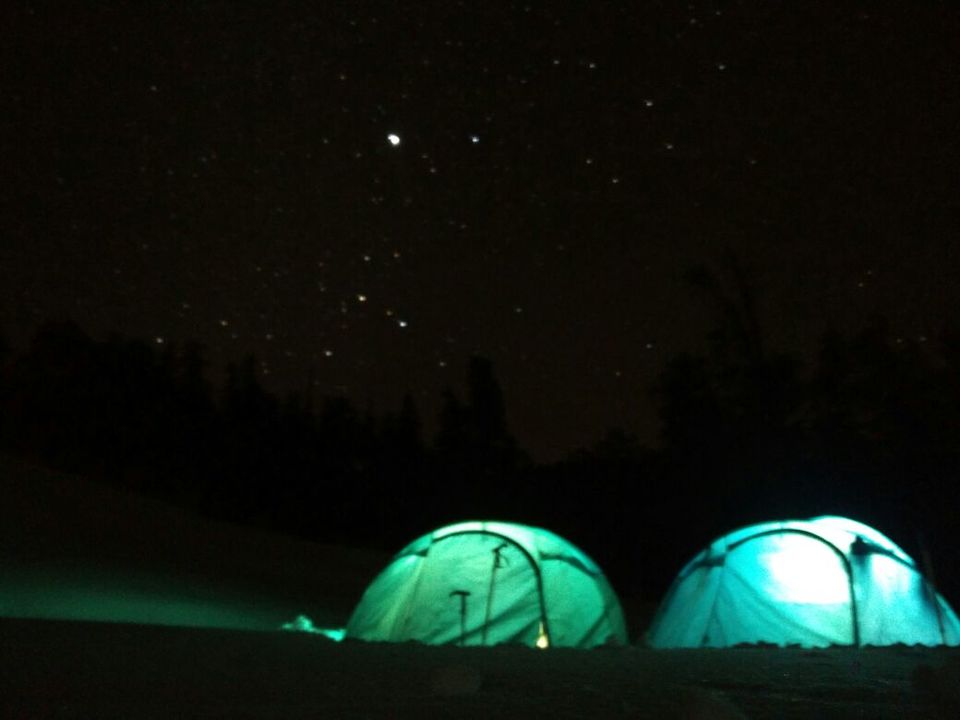 We left camp at 5:30. It was dark and we walked in single file. I was the second from the front, which may sound good, until you learn that the slowest members of the group are kept right in the lead. Yeah.
It was still dark, and we moved slow, stepping in the footprints (rather holes) left by the person in front of us. We had only our torch light to guide our steps. We kept walking , with a small break in between for a sip of water.
Gradually, the sky got lighter, and the torches went off. We stopped at one point to see the sun rise above the mountains.
The rays of golden sunlight streaming from behind the snow clad mountains was like a dreamscape. A hush fell over us as we watched the "golden peaks" and then the clouds started rolling in.
We lined up and started off again, with the threat of snow building up with the leaden clouds moving our way.
Now the group was scattered, with the faster folk walking ahead while us "slowmos" trudging along behind. The going was slow. The heavy snow blanket, some places 5 ft deep, hindered any attempts at a faster pace. The peak still seemed far far off.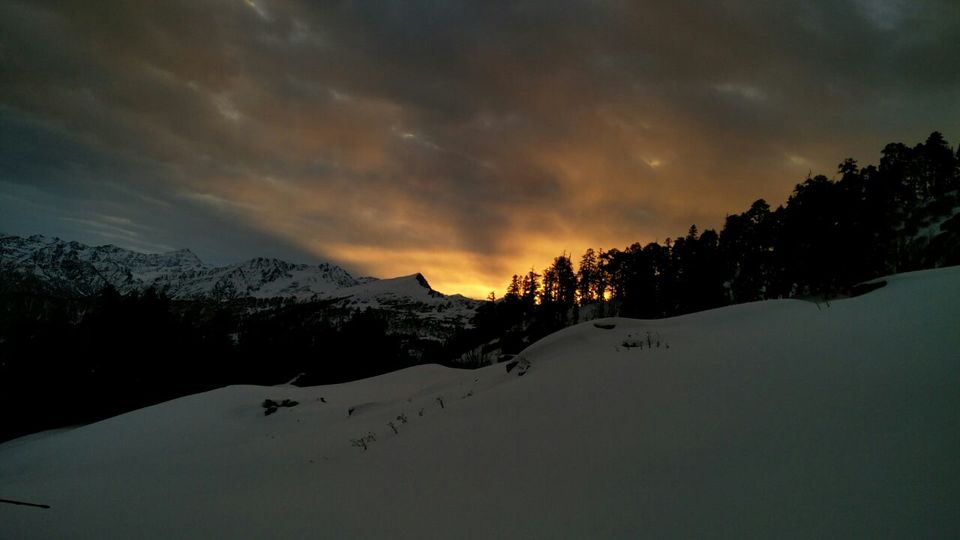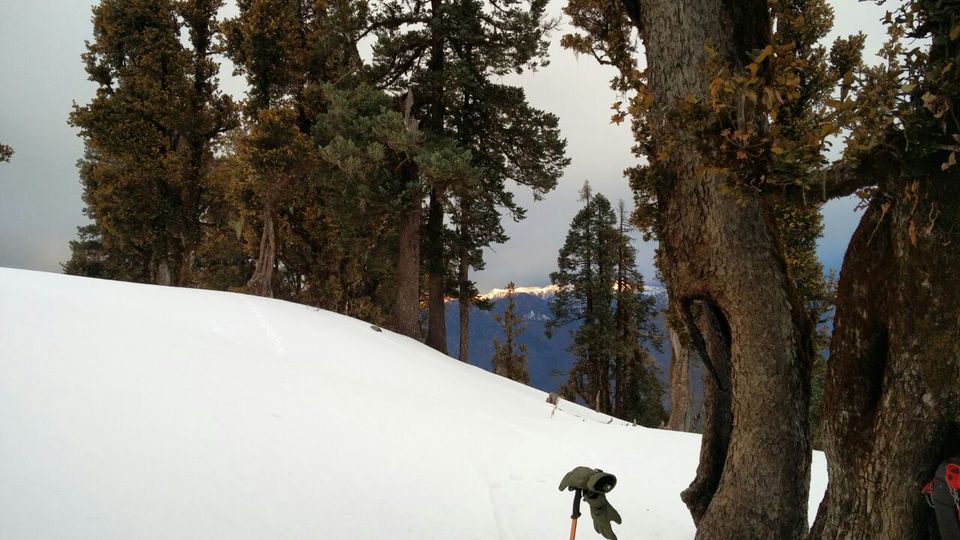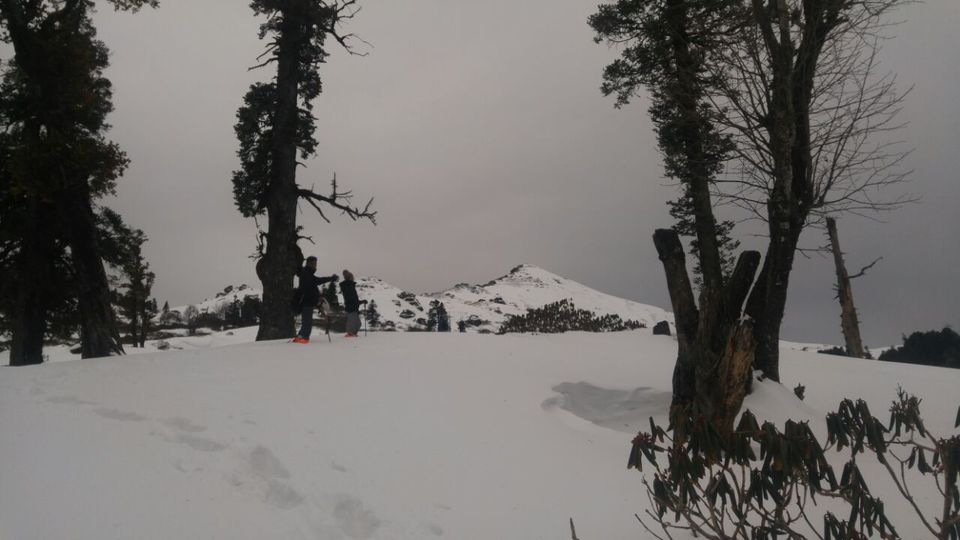 We set off the next morning at 7:30. A second guide from the campsite volunteered to accompany us, since he was worried that the path must've turned even more slippery in the night. However,the night had been cloudy which, in turn , meant the ice hadn't melted. So the conditions weren't any worse than the night before.The guide also informed us that they had managed to raise Sankri on the walky and had informed them of our delay. They had been about to send out a search party for us!
We made good time, with the guides holding our hands and guiding us on difficult paths, or showing us shortcuts which we would've missed otherwise.
Sankri came into view around 11 in the morning, and we finally heaved a sigh of relief. After greeting the trek organisers there, we went up to our rooms to freshen up.
On returning for breakfast, we met up with the rest of the group. They had reached Sankri at 8 at night! We questioned them about falling, and everyone unanimously agreed to having fallen on multiple occasions.One of the guys had even fallen 27 times!
Our group was small, consisting of 14 people only, so we got chatty soon. As promised, we got our first glimpse of snow soon enough, and everyone was all excited. This was a first trek for many from our group and spirits were high!
Our original camp was to have been Juda ka Talaab, as mentioned in the itinerary provided. However, we were informed that the conditions there were not good, and we were to camp at an apple orchard. No one really minded, and all of us city folk wanted to have a close look at one.
The apple orchard wasn't quite what we had expected. It consisted of , well, apple tree skeletons. Yeah, what else did we hope to find in the middle of winter?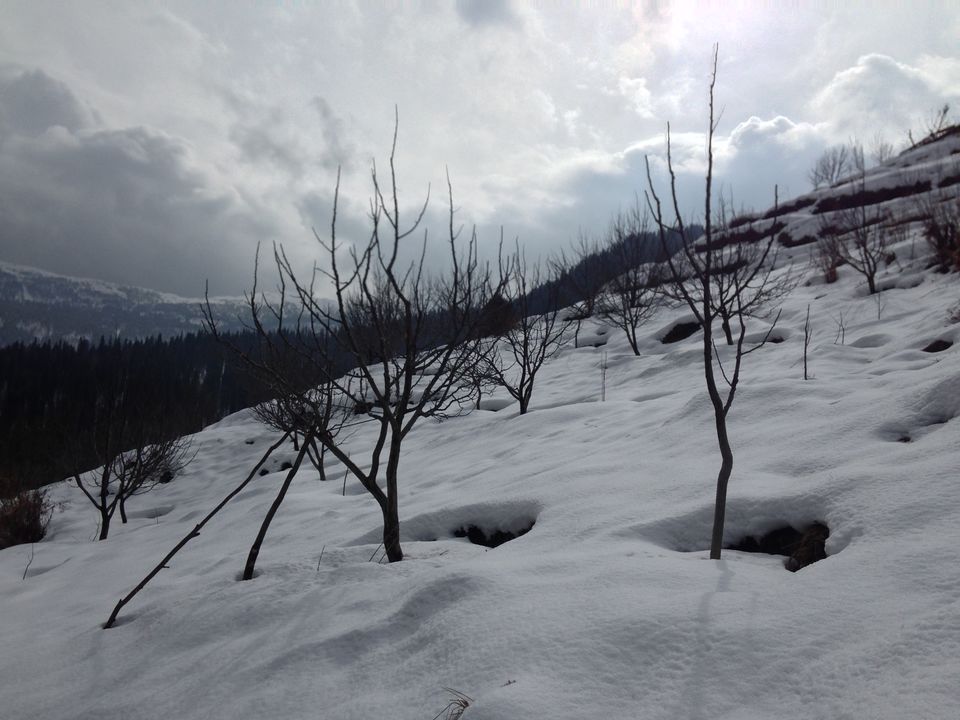 After everyone was fed and rested, we set out to accomplish a childish whim - building a snowman!
We, infact, built 2 of them. The guys got pretty innovative in cladding their snowman, with gloves, ropes and even biscuits were used. My own snowman started out pretty conventional, with the carrot for a nose and shades on its eyes, but ended up looking like he got under the knife of the Kardashian plastic surgeon.
But hey, I got to build a snowman, so Booyeah!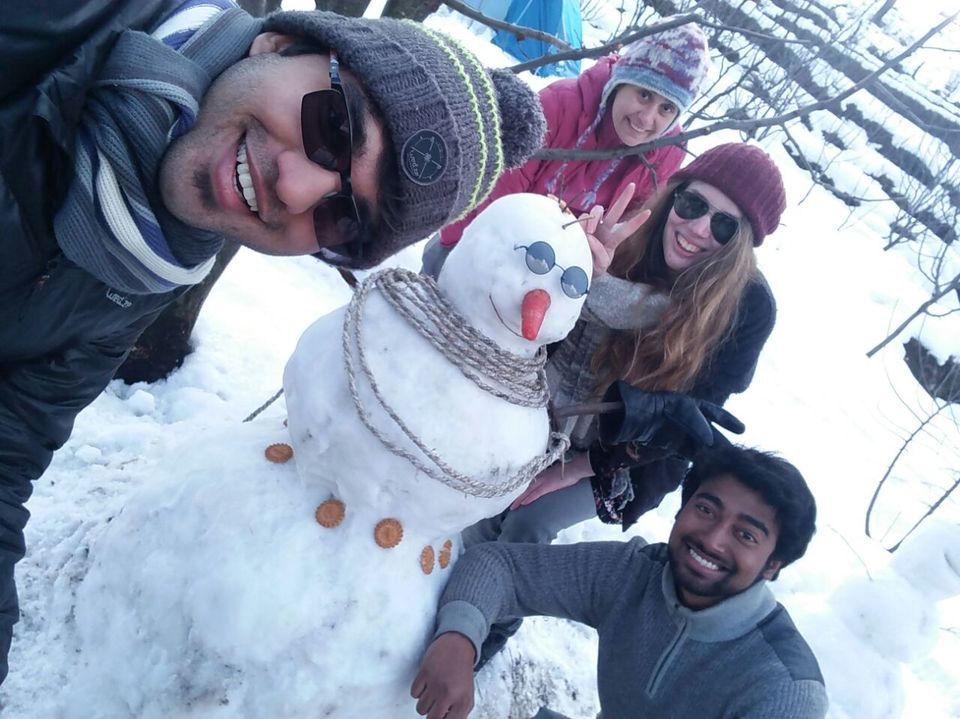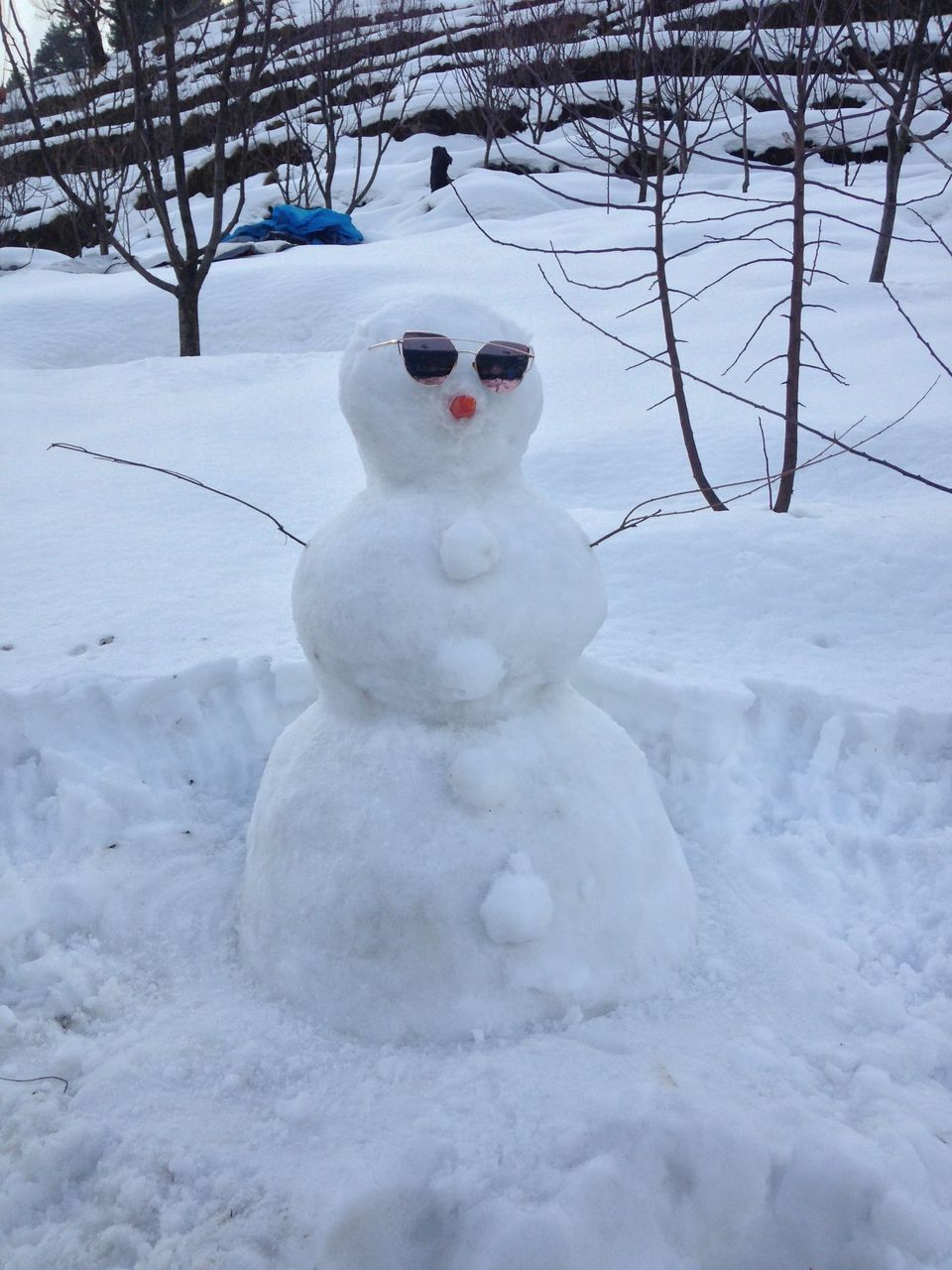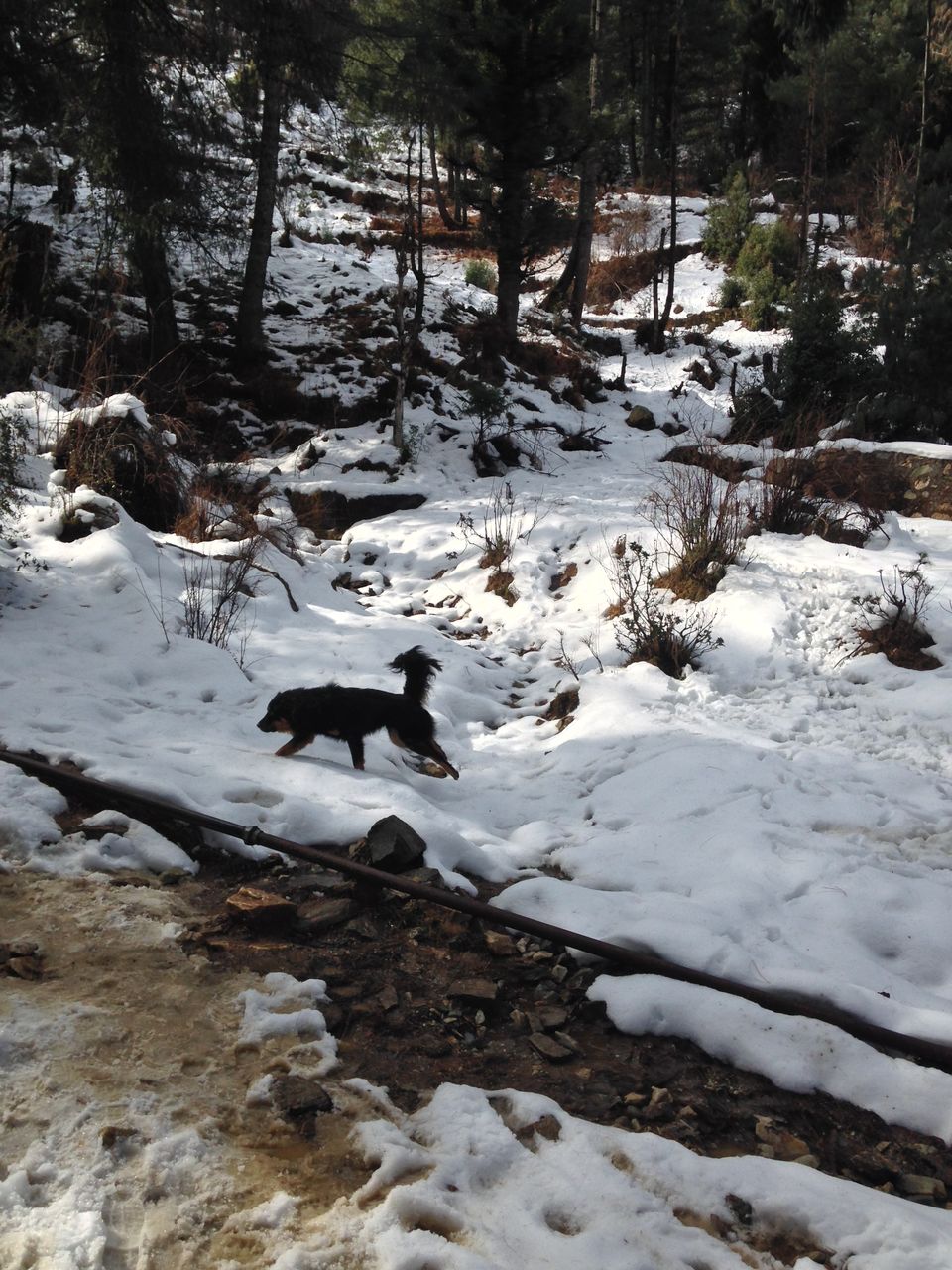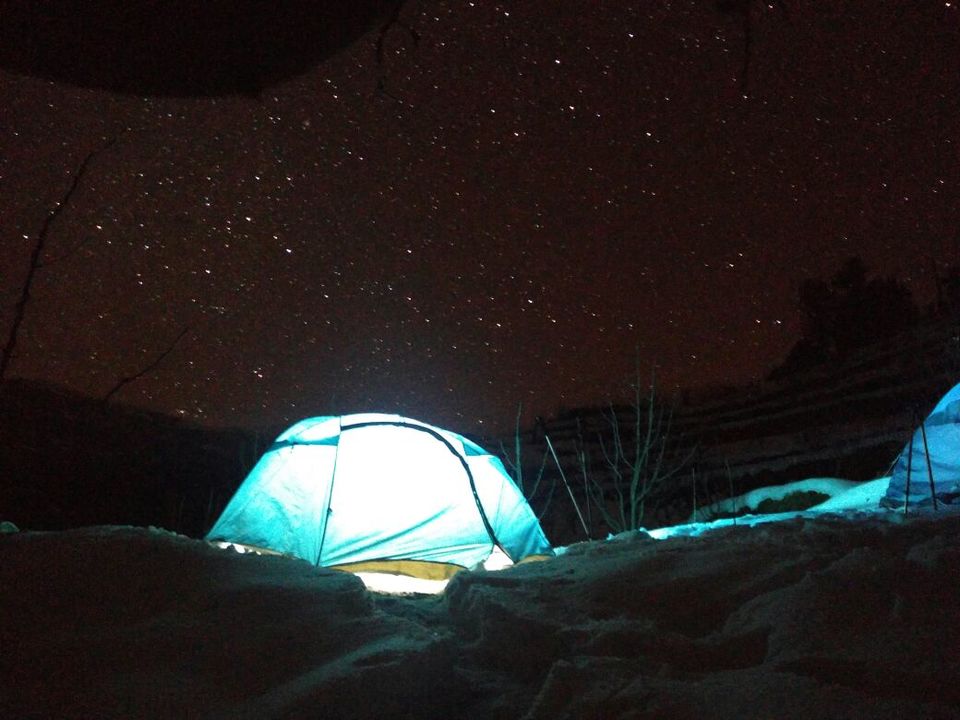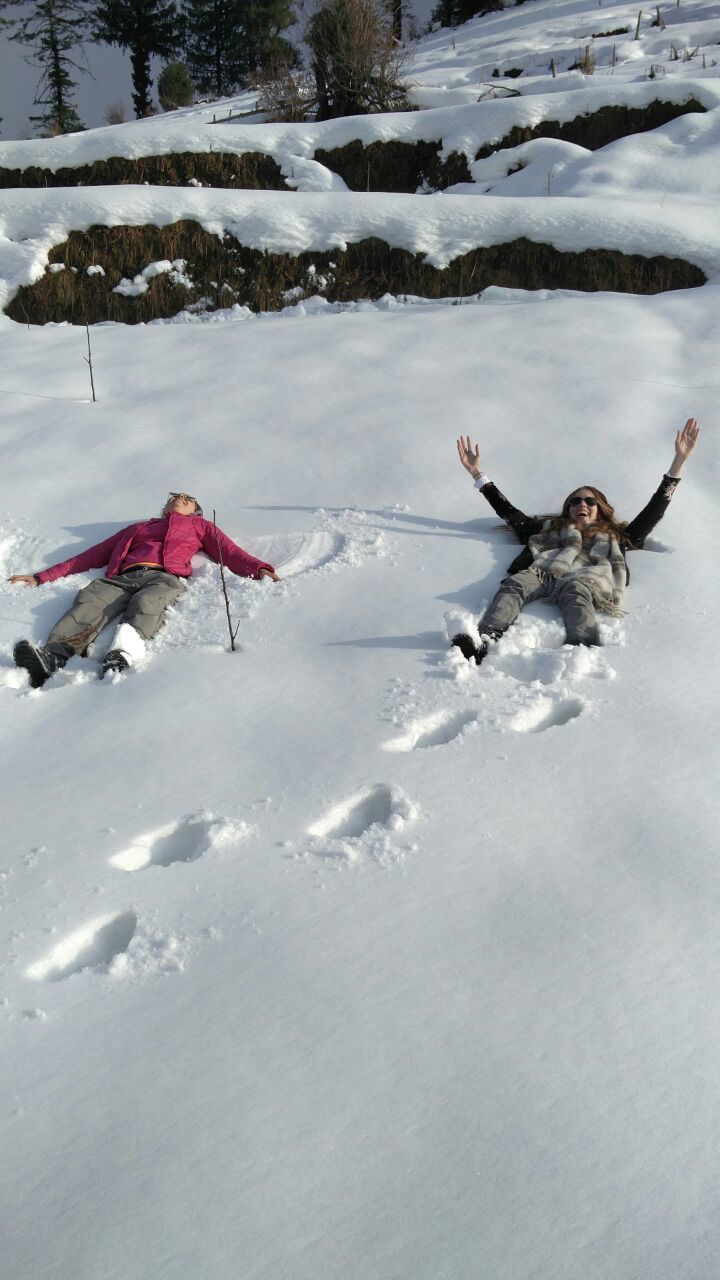 After a very brief stop in a small smoky shack for breakfast, we continued on our way. Now there were no trees around, just rocks and snow. Here and there we could see an exposed patch of yellow grass , and that was that.
Gradually the distance between us and the main group grew, despite urgings from our guide. We couldn't really move any faster, and I was scared of having another wheezing session if I pushed too much. I kept consoling myself saying that there was one guy behind me, so I would'nt be the last to summit. However, he gave in mid way, and returned to camp feeling ill. Talk about luck!
The rest of the group had nearly reached the summit. We were still way back, with my slow pace, and Prashant's shoes being soaked. Our gaiters had slipped down and filled with ice, and after a few attempts we gave up emptying the snow from them.
By the time we reached the summit, it was already snowing, and the clouds had blotted out everything around us. We barely had time to take in our surroundings for a few minutes before the guides asked us to wear our crampons and head back down.They feared getting stranded in a snow storm.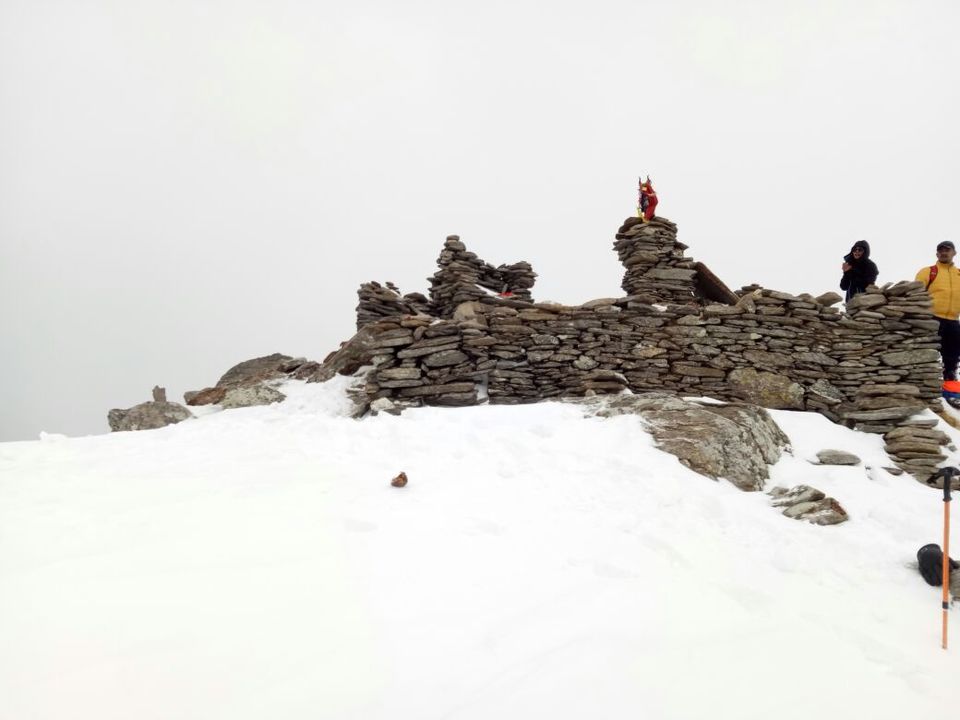 So we started moving down, barely 5 minutes after summiting. The march going down was easier thanks to our crampons, and our pace was much faster too. The crampons gave us some confidence, and once clear of the ridge we started sliding down in places where the incline was gentle. The trip down was quite fun!
We decided to keep moving once we reached the shack, where some had stopped for Maggi and chai. Given our pace, we knew they would overtake us anyhow :)
The trek back to base camp from there was just me and Prashant, and it was very very quiet. The wind had died down, and the snow was falling gently .We could've been the only people on earth.This is what I had come for. Sigh!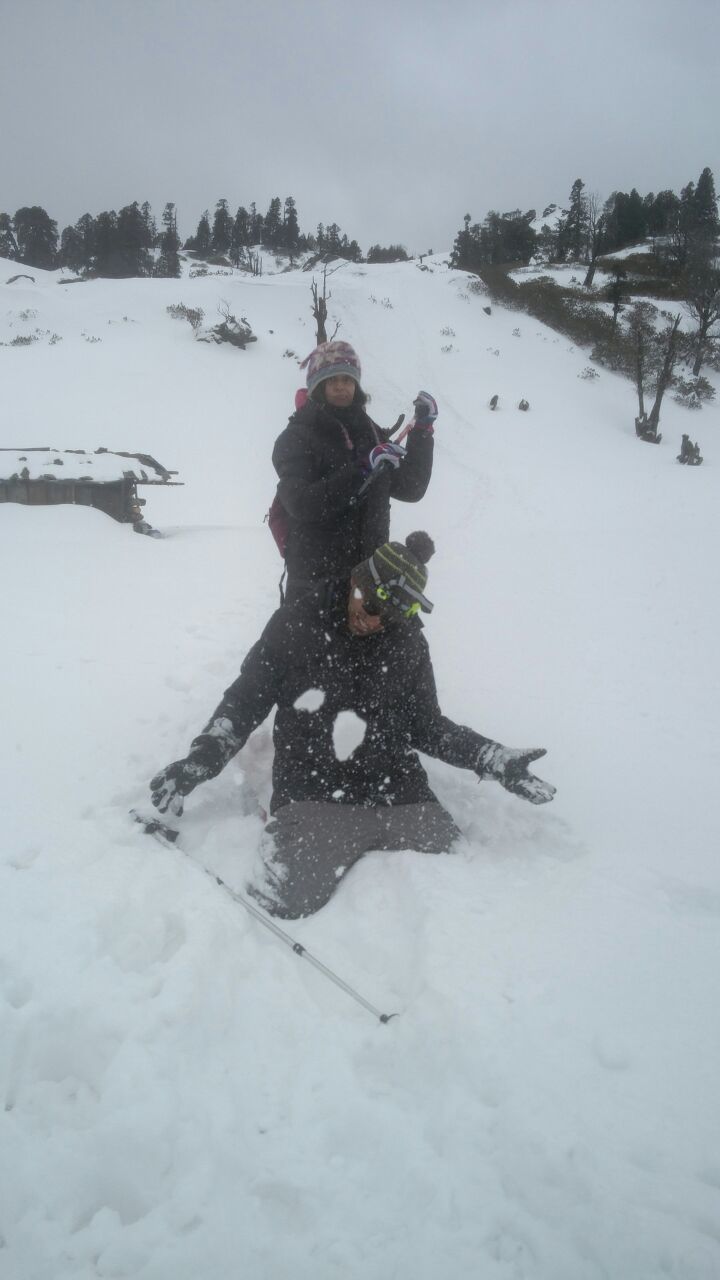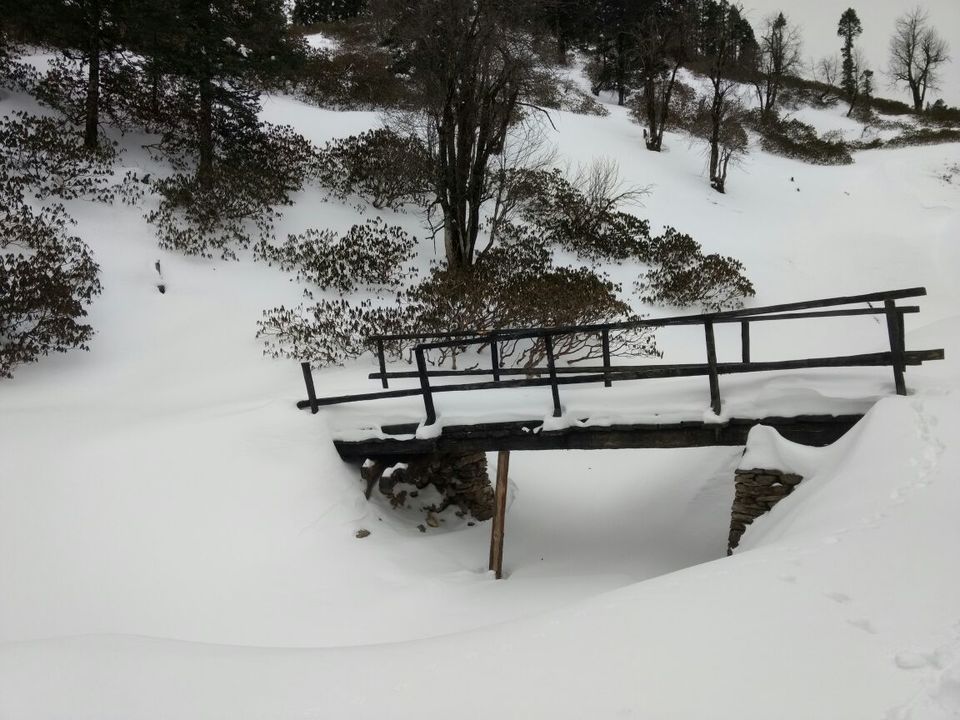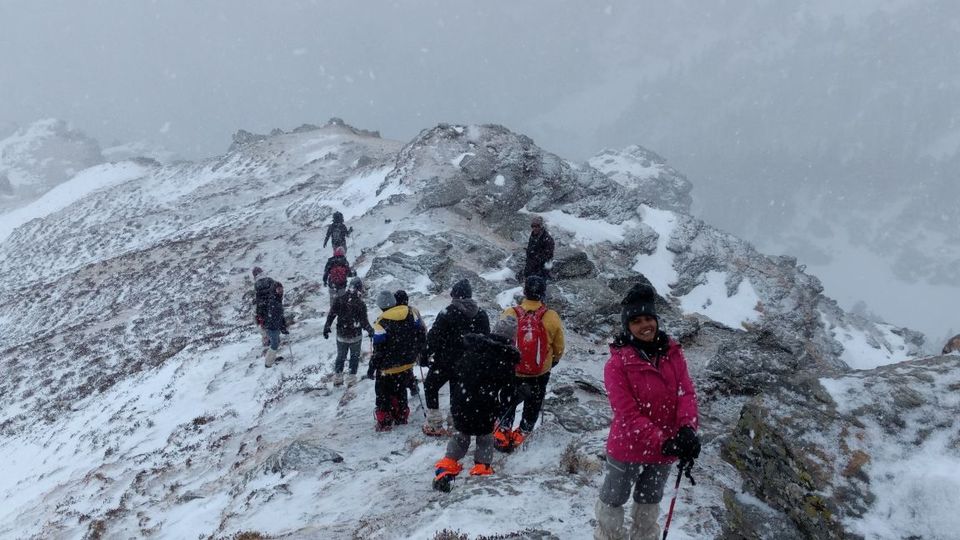 On reaching base camp, we were told to pack up quick since we would leave immediately after lunch. The guides took back our gaiters and crampons. They said it wouldn't be required on our way down. Wrong!
We were the last to set off (again). But instead of moving down, we had to go up a rise. On slippery snow. Without crampons.We made our way up and spoke to the guide. We were quite anxious about moving downhill on a slippery iced path without crampons.
He brushed it off saying the others had done it, and the ice/snow didn't go on for long.The path was different from the one we had taken to come up. We were to move directly back to Sankri with a short stop at Juda ka Talaab. This route was used by other groups and mules to bring provisions up to the area earlier, and had already turned slick with melted snow and mule poop. We moved on carefully, but had our first fall not even 10 minutes into the journey. Despite being extra careful now, and walking much slower, the number of falls kept increasing.
We again requested our guide to get us crampons, to which we got an answer that we can get extras at the campsite at JKT (Juda ka Talaab). So we moved on, really, really slowly.
It took us a good 2.5 hours to reach JKT , where we should have covered this in not more than half an hour to 45 minutes. Here we learnt that there were no spare crampons. Great.
It was already 5:30 pm and the daylight was bleeding out fast. We still had 4-5 kms to cover to reach Sankri, and here we were. We were only 3 people with one guide, the rest had passed through nearly an hour back.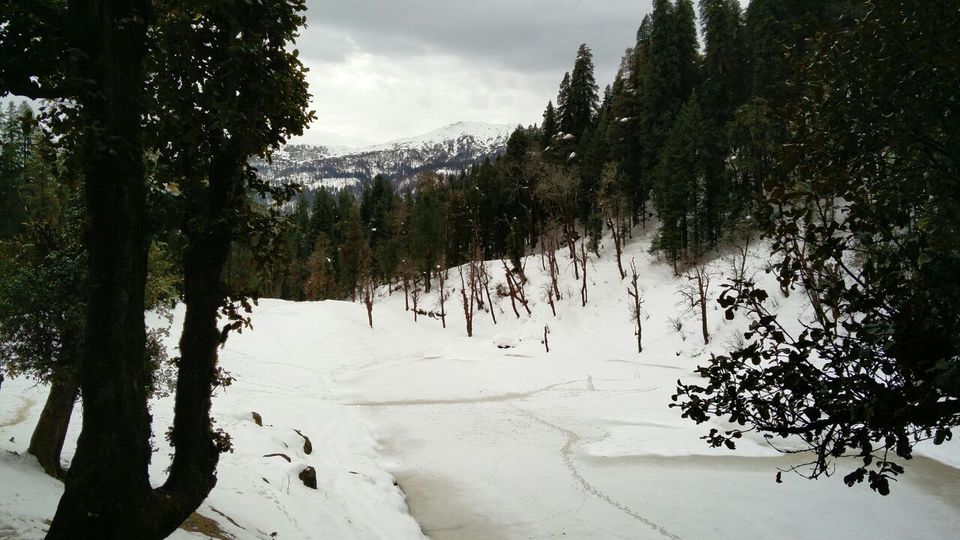 After some angry protests from us, and futile attempts to contact Sankri / Base camp on the guide's walky, we decided it would be safer to camp here for the night. The staff at the JKT camp lent us one of their own tents, while they went and borrowed sleeping bags for us from another trekking group camped a little ahead.
The night was cold and it snowed slightly. Despite this delay in our plans having made us quite grumpy, the staff at the JKT campsite were very warm to us, and prepared dinner for us from their own provisions.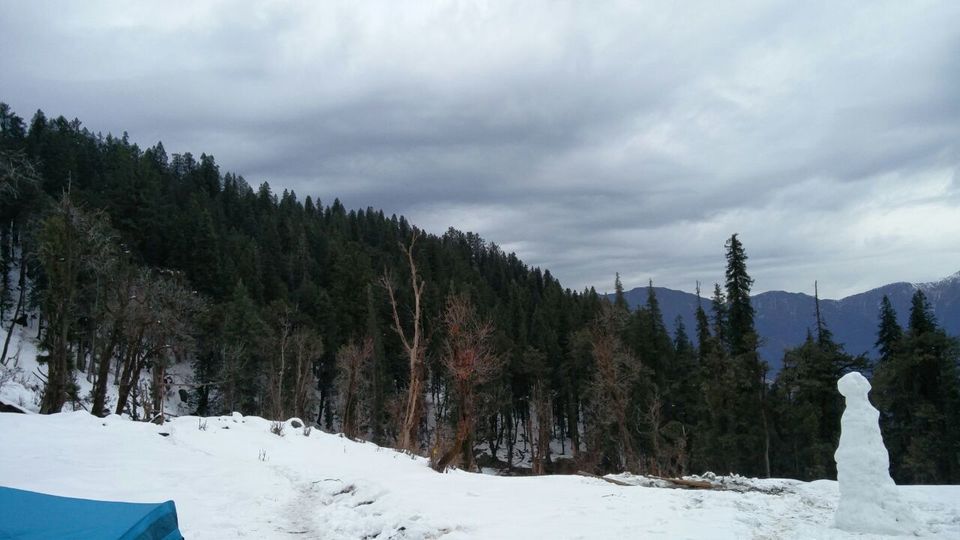 Now that the trek was over, everyone was a bit more relaxed, and we started getting our stuff together.Photos were exchanged, and promises were made to keep in touch.
And then, eventually, everyone was on their own way, to their own worlds. One more thing struck off the bucket list!
Frequent searches leading to this page:-
most expensive hotel in dehradun, dehradun honeymoon packages price, top 5 places in dehradun, top tourist places around dehradun, top places for couples in dehradun