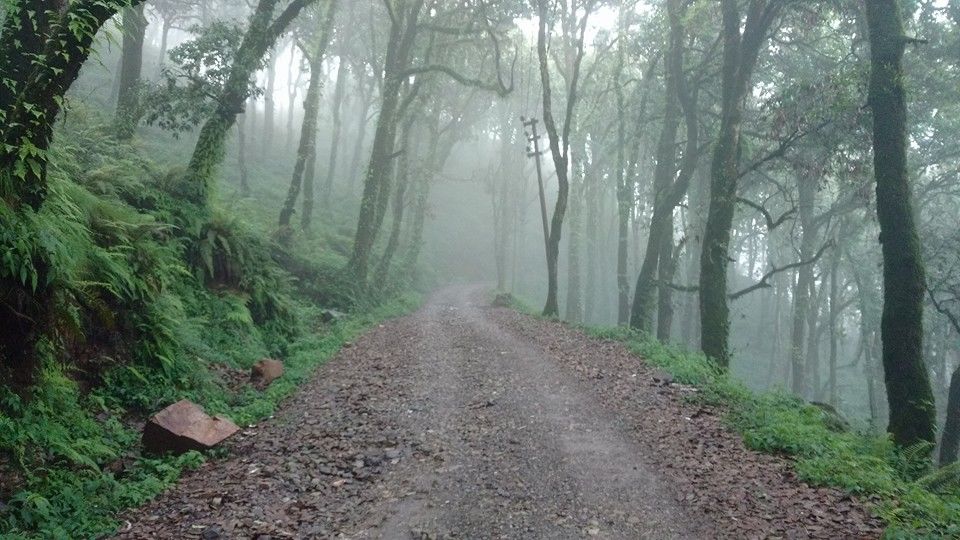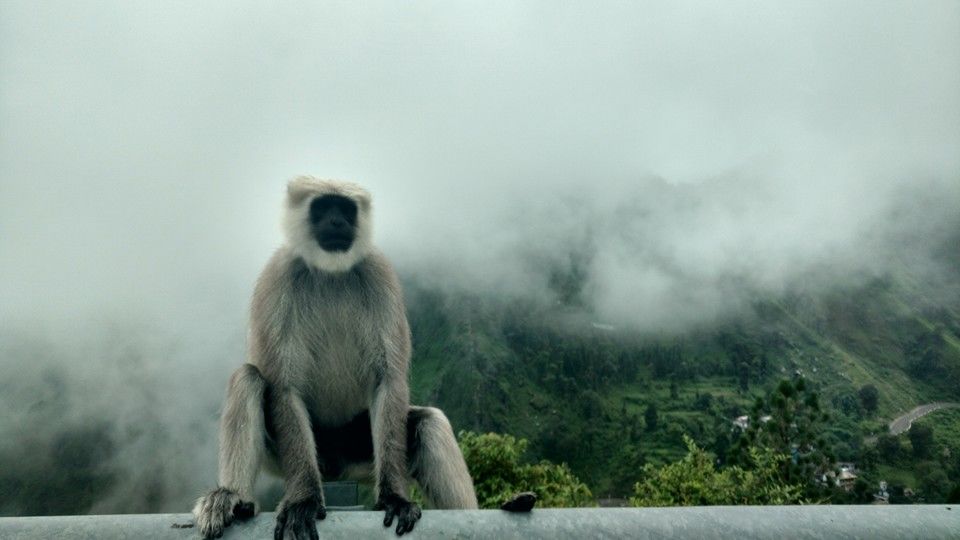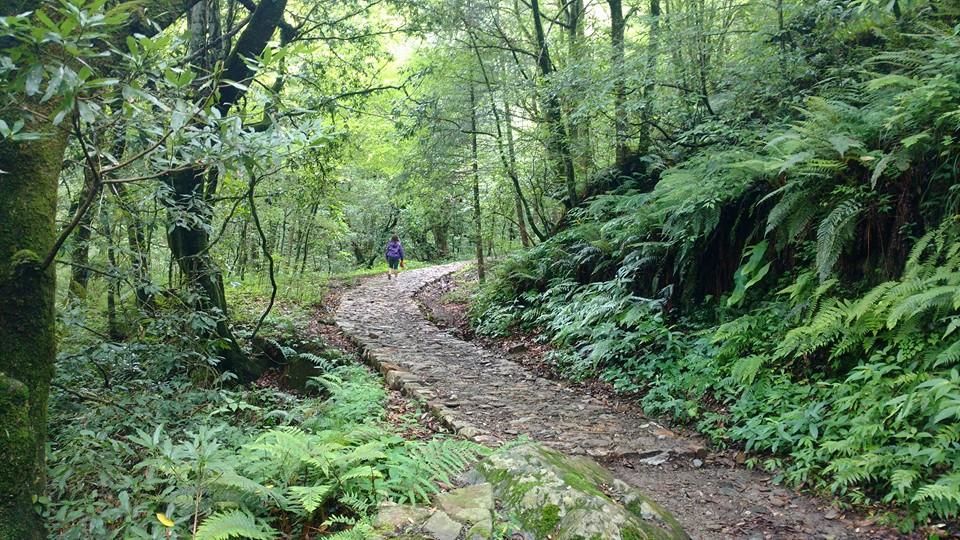 Mesmerizing landscapes... Greenery all around… fresh breeze... Clean air to breathe... This is what one looks for at the end of a hectic days spent in our busy corporate lives.
So it was steaming hot in Delhi in July, We were looking for a weekend escape to unwind and Pangot came across as a perfect place which was near to Delhi and at the same time a calm and serene place. And it is my husband's love for mountains that we again ended up in Himalayas!
Pangot is known as a bird watchers paradise but for us it was an unwinding space away from hustle bustle.
We started from Delhi in early hours of morning and managed to touch pangot around noon covering cave garden of Nanital on way.
Cave Garden has six underground caves interconnected with each other. There are connected through tunnels. Named after various wild animals that they resemble, some of these caves are so narrow that people have to crawl through them, which in turn adds to the fun and adventure. I guess with the spate of rush in hill stations these days this is only thing that could attract people with adrenaline rush.
Spending an hour or so we headed to pangot. On way were typical sights of typical nani tourist's mummy papa bacche eating Maggie and bhutta at small stalls across mountain turns!! The drive took us through dense Cedar forests of the Naina range across the slopes of the valley. As you enter the valley, the view of the Pangot village against the backdrop of these peaks is jaw dropping.
What unfolded in two days was one of our best travel experiences.(Though all of them have been in last three years !!) We had already made the booking for our stay there. It's a very small place to advance stay booking is a good idea. We stayed at janardan resort; it was a small place with clean room and good service. The staff there was friendly and service was prompt. It was great experience overall.
It was late afternoon in Pangot, the clouds were dark towards the horizon It was monsoon and drizzling all the time during our two day stay, so it was green and pleasant all around. The smell of wet mud and wet grasslands is a soul soother in its own. After having lunch and taking some rest, we headed for a jungle drive and walk. Pangot has some easy walks through rich oak and rhododendron forests. First we went for a drive across the pretty green mountain lanes, it was spectacular beauty all around with just we two on the road we had a gala time, clicked lots of pics strolled on the mountain trails, visited a small temple. The walk around the small village and forest lane was a memorable one. With the kind of hectic lives that we have sometimes this peace is bliss. All we could hear was sound of wind and chirping of birds. Plus BONUS was no phone signals!! After the walk we returned to the resort and were welcomed with hot pakoras. Janardan resort has a great cook; we were feeded with great dinner as well after snaking session.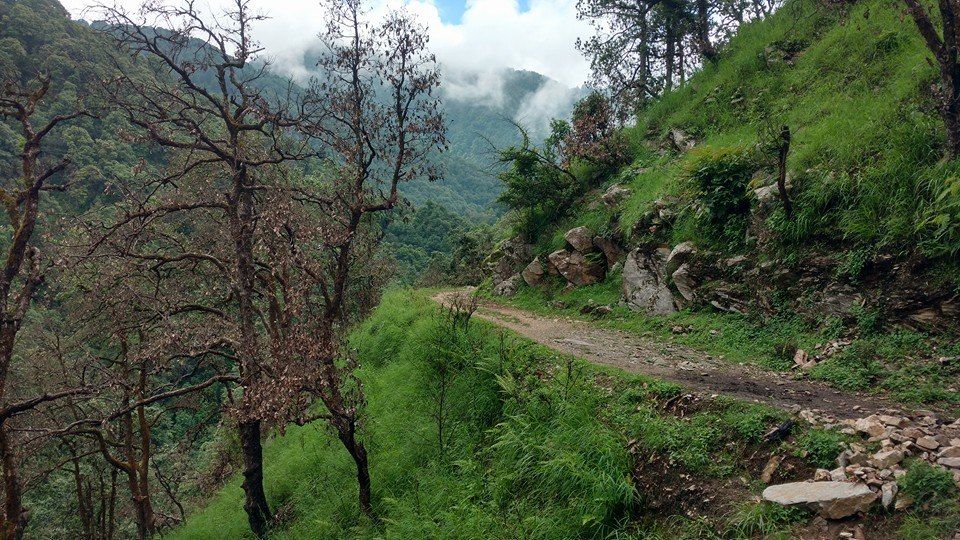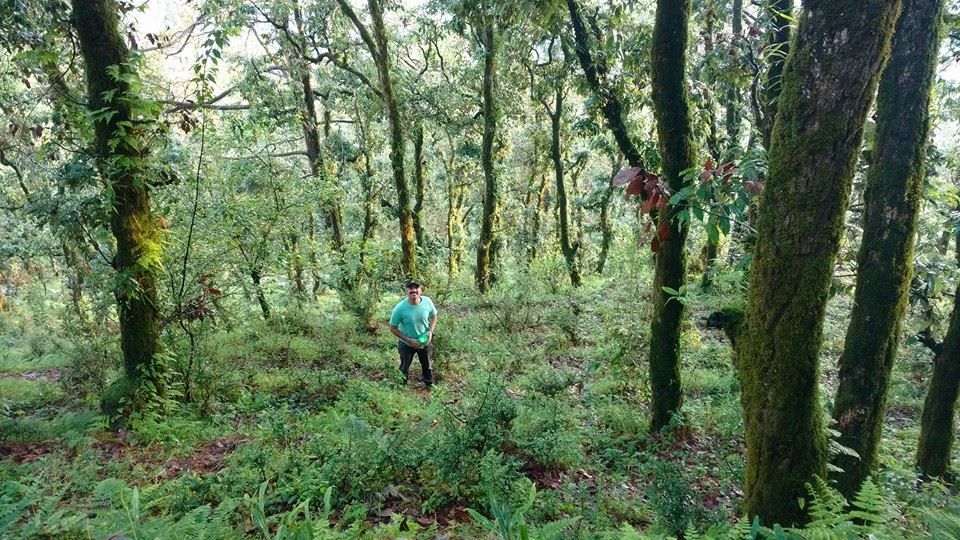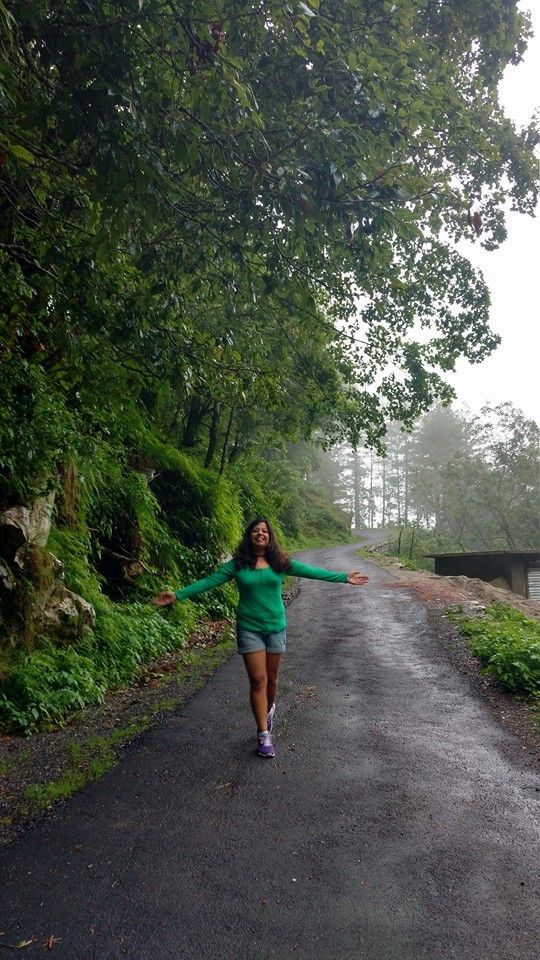 The next morning we woke up early to enjoy the lustrous beauty around. The day started with a walk towards the jungle, we descended in some part of the jungle and kept walking for about 1 hour. There was serenity in the air, with small streams and long oak tress it was a beautiful morning. We could hear sound of water so kept on walking to find the stream or waterfall. Yes! We could spot 2-3 small falls and streams. Now was time to fuel our tummies and it was fuelled in a delicious breakfast: Courtesy the cook.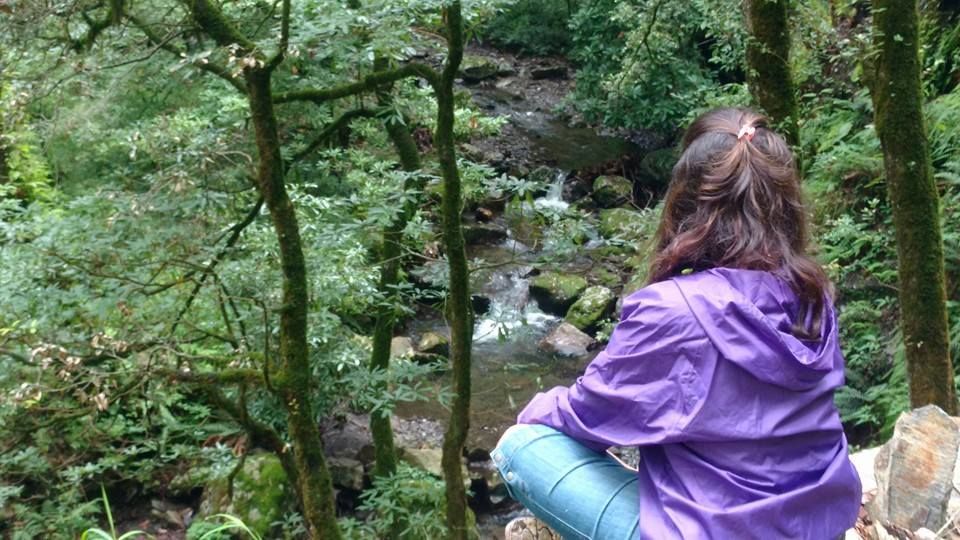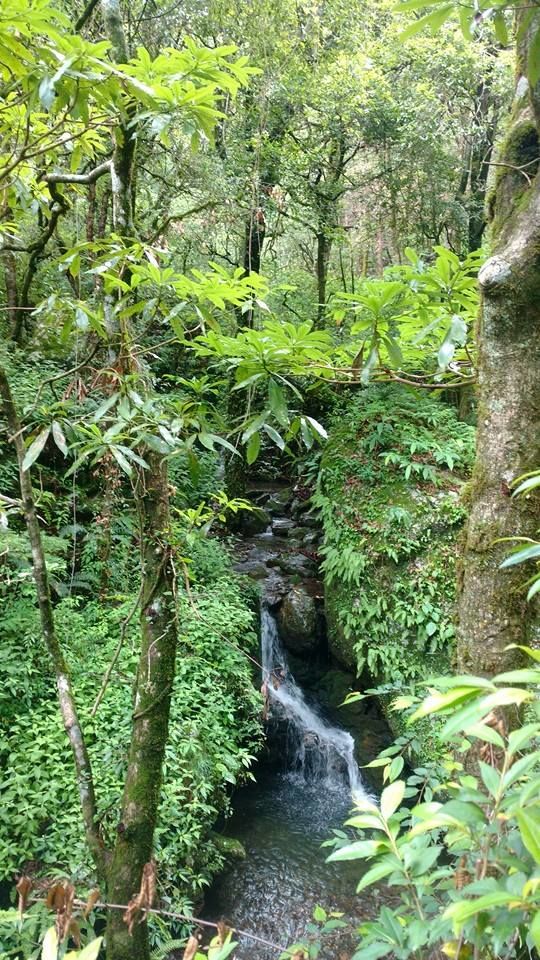 After a good walk and a hearty breakfast, we cajoled out in balcony chairs with our books in hand lazing and relaxing amidst the pleasant weather. After a bit of relaxing it was time to bid goodbye to janardan resort but not the forest trails yet!!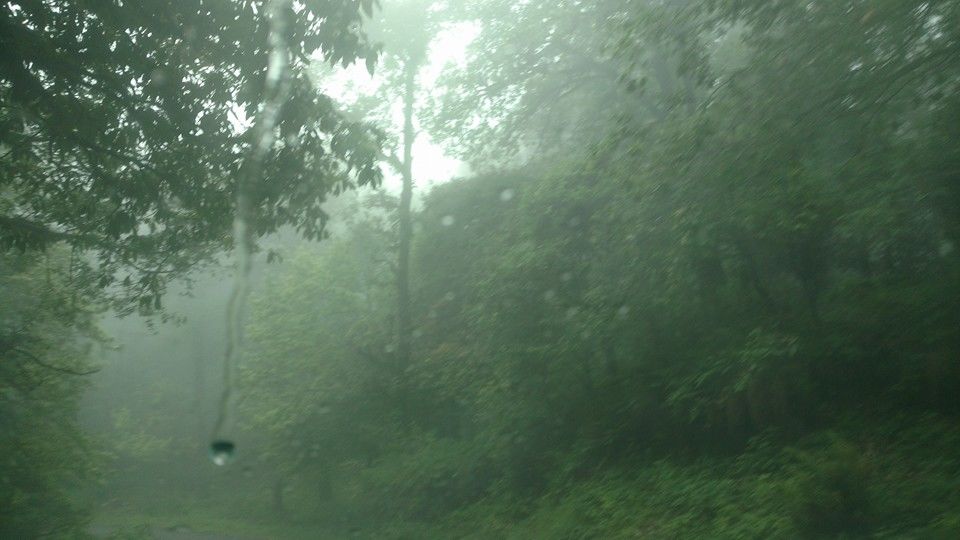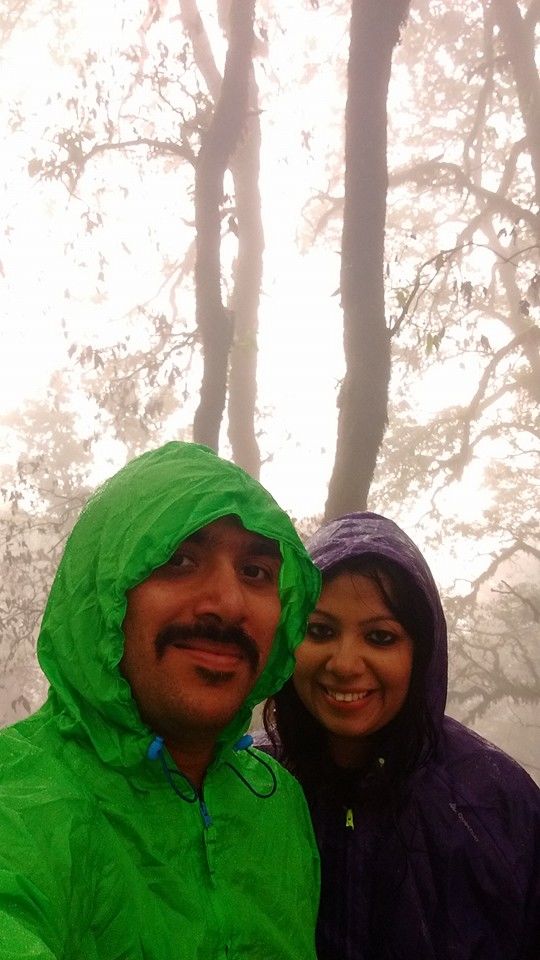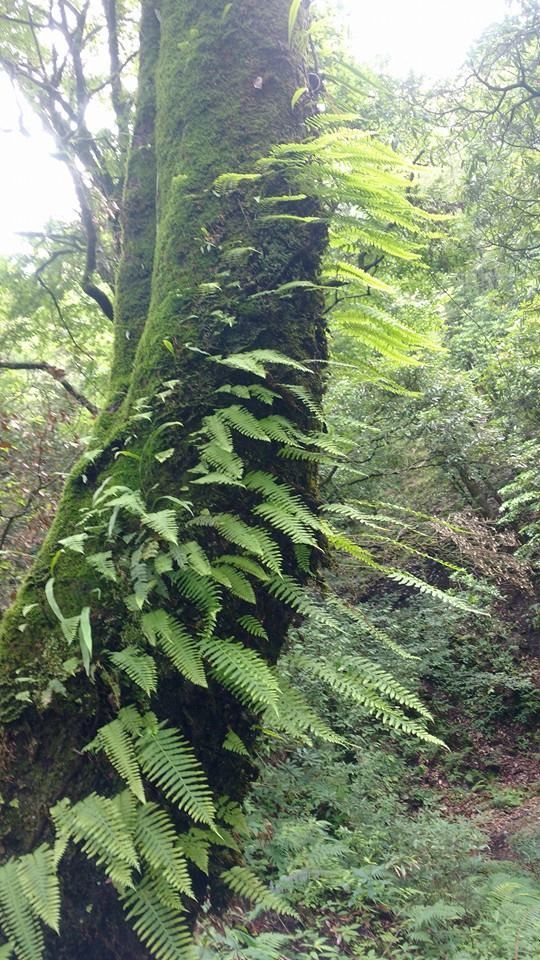 As we checked out of resort it was again raining!!Yaayy so we headed back to forest trails enjoyed the rain run... Yes this time we did a race on the trail with rain pouring on us... I lost :( but pangot won our hearts :)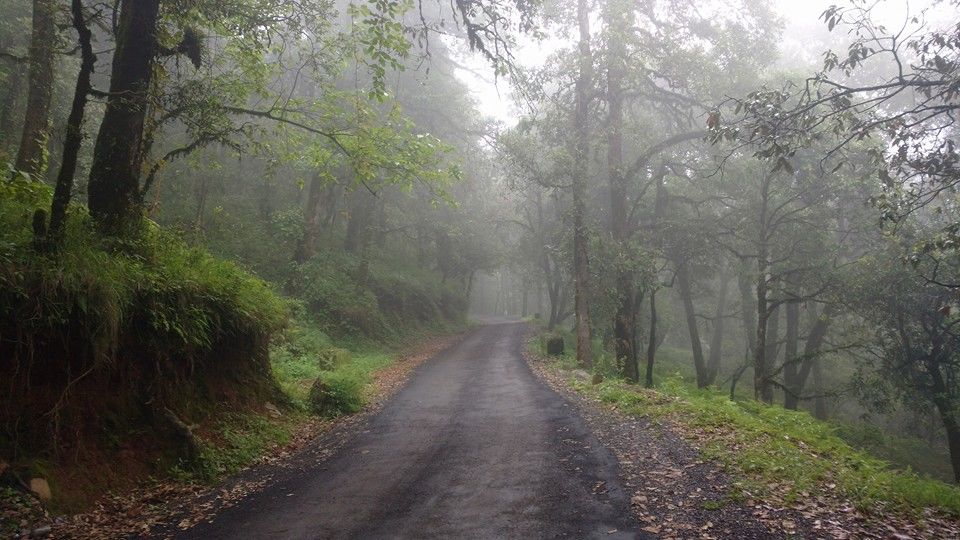 It was time to head back to scorching heat of Delhi but to plan for another journey!!
Frequent searches leading to this page:-
hidden places in nainital, place visit in nainital, Nainital Holiday Packages, Nainital Tour Plan, Package For Nainital, Nainital Package For Couple, Places To Visit In Nainital, Nainital Trip Cost, Nainital Tour Package Price, Cheapest Holiday Package For Nainital