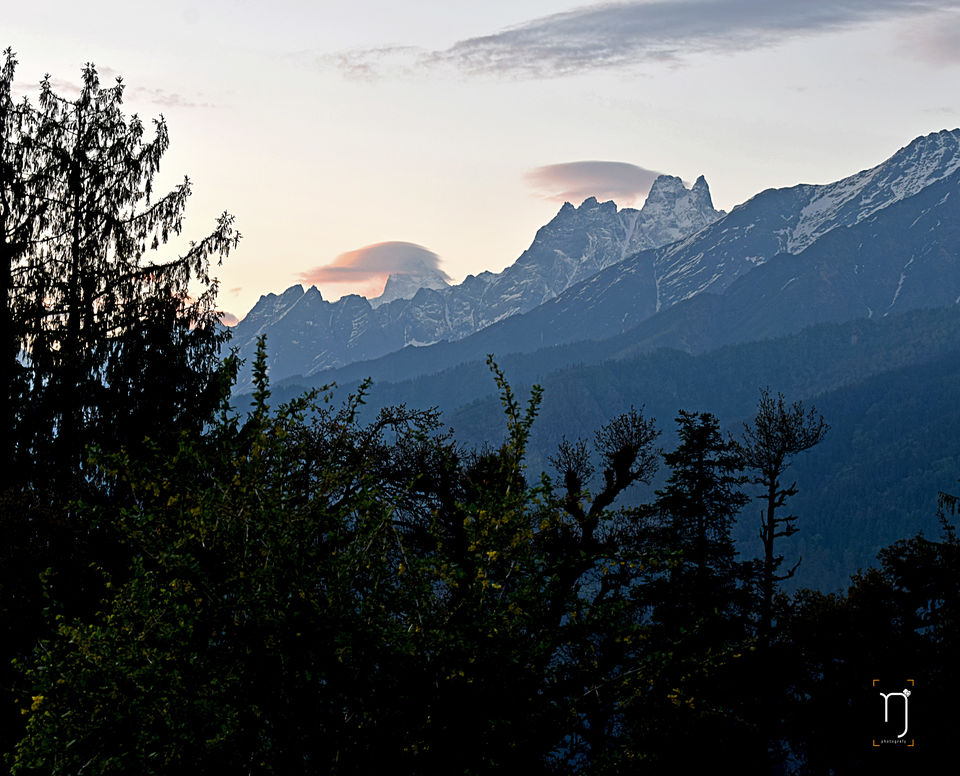 Time: 7.35 am |Place : Village Dhak |Alt: 7200 ft
" TREK Poles taken? Water bottles filled ? Packed lunch taken ?" were the words that fell on our ears ? Each one of us quickly made mental checks. Some like me, did a physical check. " Are you ready to go ?" we stopped our clumsy movements and looked up. "Are you ready to go ? " he yelled again. This time the question hit us like a brick. It was time to start. Start our first High Altitude Trek into the Himalayas. The past three months quickly flashed in front of our eyes and disappeared. The preparations, the dreams we had, the stories we had imagined. We were all set and raring to go. "YES !!!!" was the response he got. A YES so loud it made the mules around us shudder.
A dusty trail was ahead of us. Clear skies, sun beating down relatively easy at that time of the morning. Snow capped peaks in the distance kept shining sharply. Each time we looked up to pause and catch our breath, the peaks looked even more beautiful. Taking 'one step at a time' we began covering serious ground, or at least we thought so, till we reached a sharp turn and climbed up onto the same trail slightly higher up. "Alright, we take a break here !" and we sneaked behind each other into a small retreating place on the trail. The small shelter was probably made by the villagers to protect them from snow, rain or sun like in our case. The mountain winds quickly cooled us down. The trek had just begun but the intensity was pretty clear. Barely able to smile we gathered ourselves for a few group pictures against the snow capped peaks.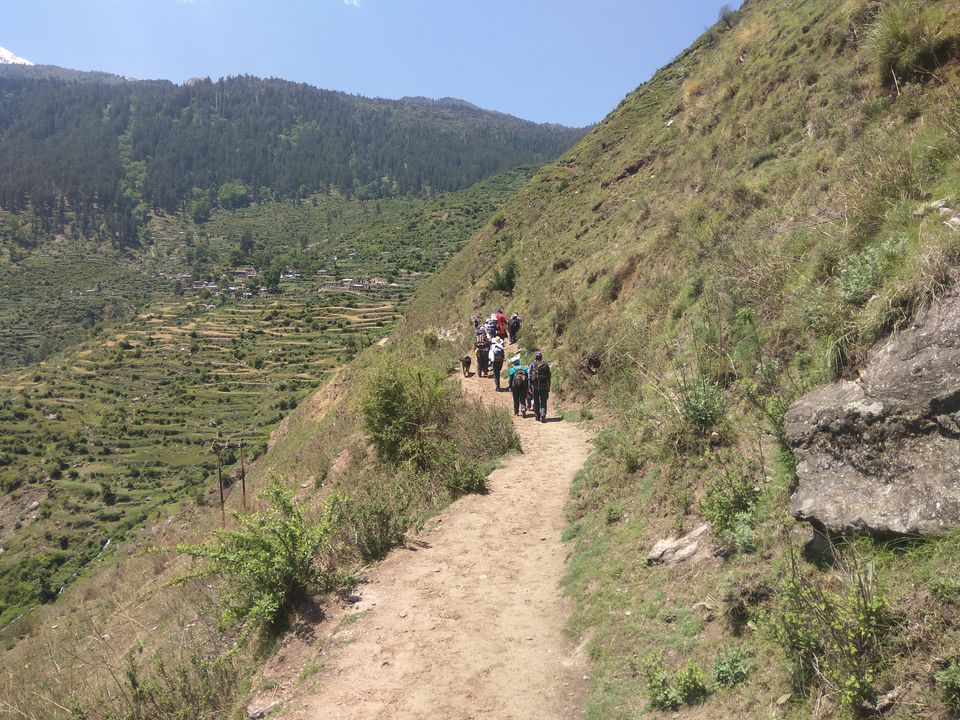 After quick sharing of energy bars, sipping water and popping candies the team was on its way again. The sun had turned from easy to moderately harsh. It was getting harder to do the inclines. Our next stop was at a water stream that was tumbling down the slopes of the trail. The villagers had converted the passing stream into a water point. The water was sparkling and cool almost blessed with magical powers to instantaneously refresh our energies.The hot sun and steep inclines had made sure our stomachs were growling with hunger very soon. While we climbed rock after rock passing by beautiful pine and oak trees in a turn of events we soon realized a part of the group had wandered slightly away. We crawled onto a small stone platform that outlined the area in front of the houses there. It also doubled up as a courtyard for when the sun was out and sitting outside was possible. All of us dropped on the floor in sheer exhaustion. The beauty around was captivating.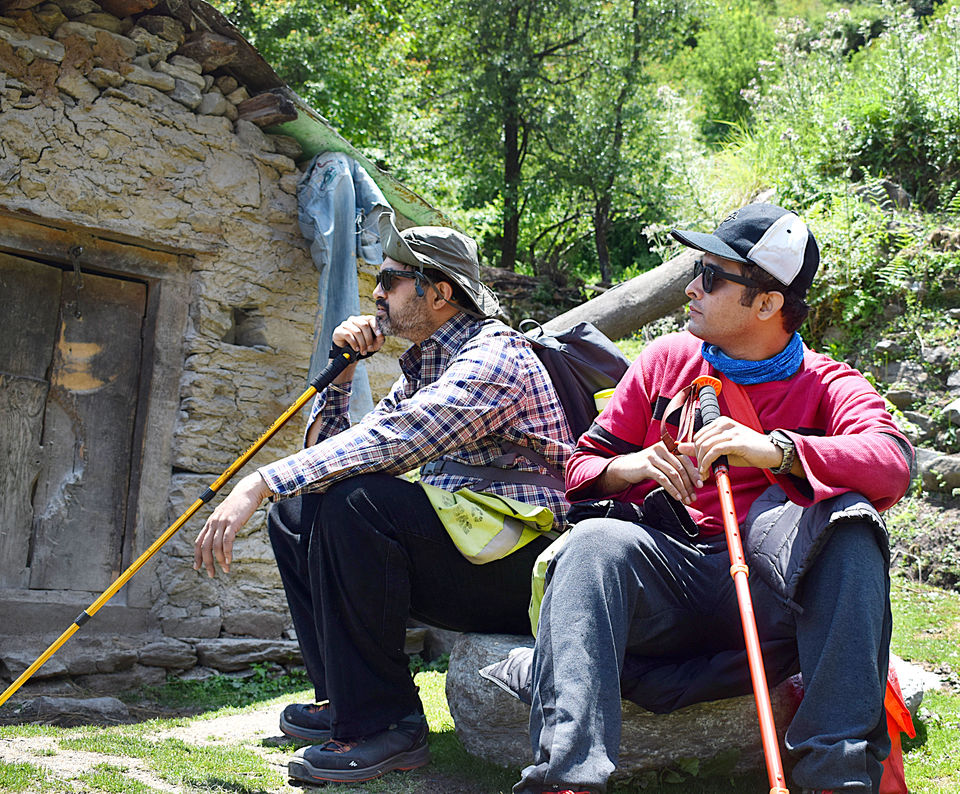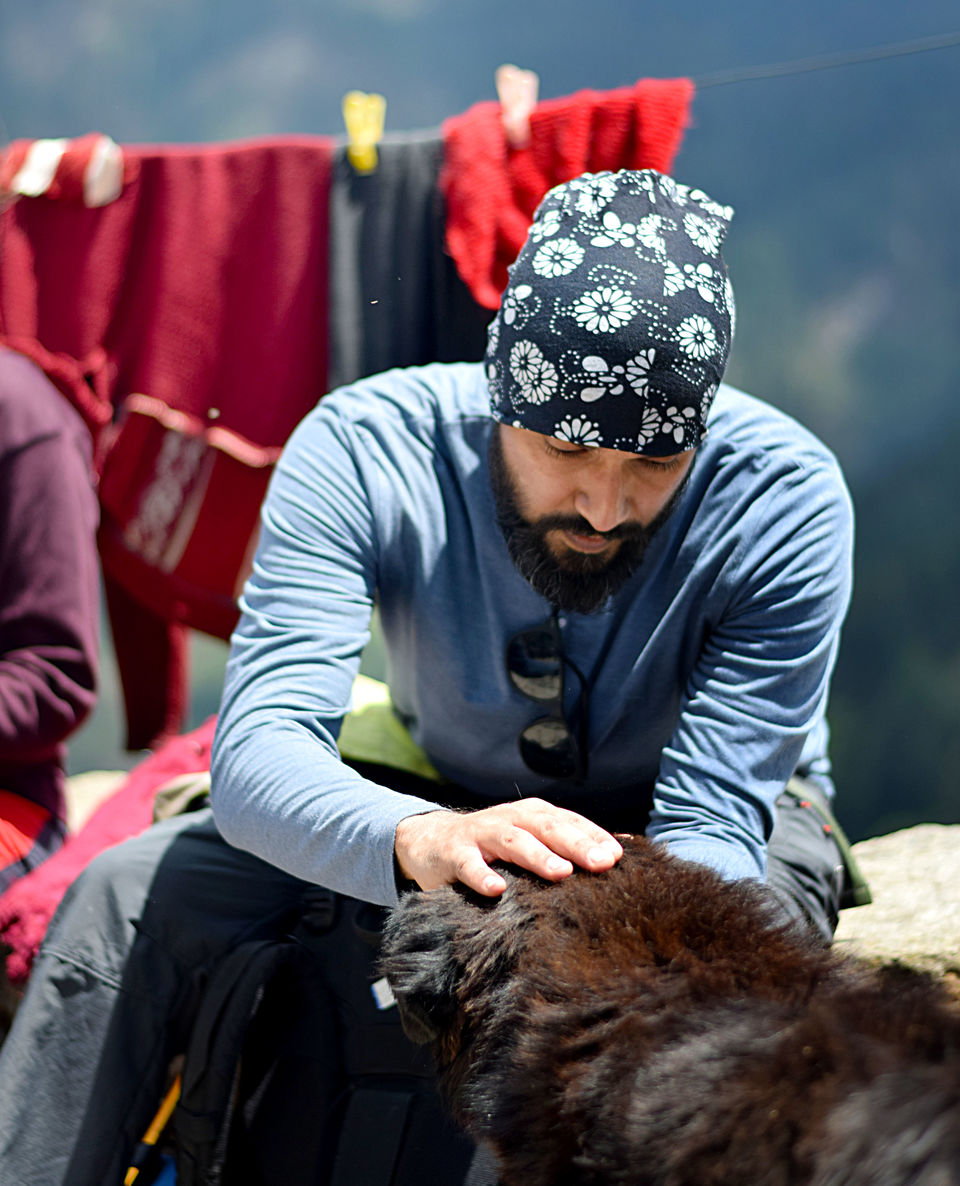 Closer to the mountains and nature than ever before we opened our packed lunches and started digging into them like there was no tomorrow. A simple preparation of masala (spiced) rice with a special onion and chilly chutney served at that altitude with arguably one of the best views of the mountain ranges felt like it was straight out of a fairytale. Ignorant of the fact that we were seated in a private premise we didn't stop eating till we hit the bottom of our lunch boxes. To our surprise the family in the village had prepared buttermilk for us. All 30 of us drank till we could have no more. A gesture so kind it got etched into our minds forever.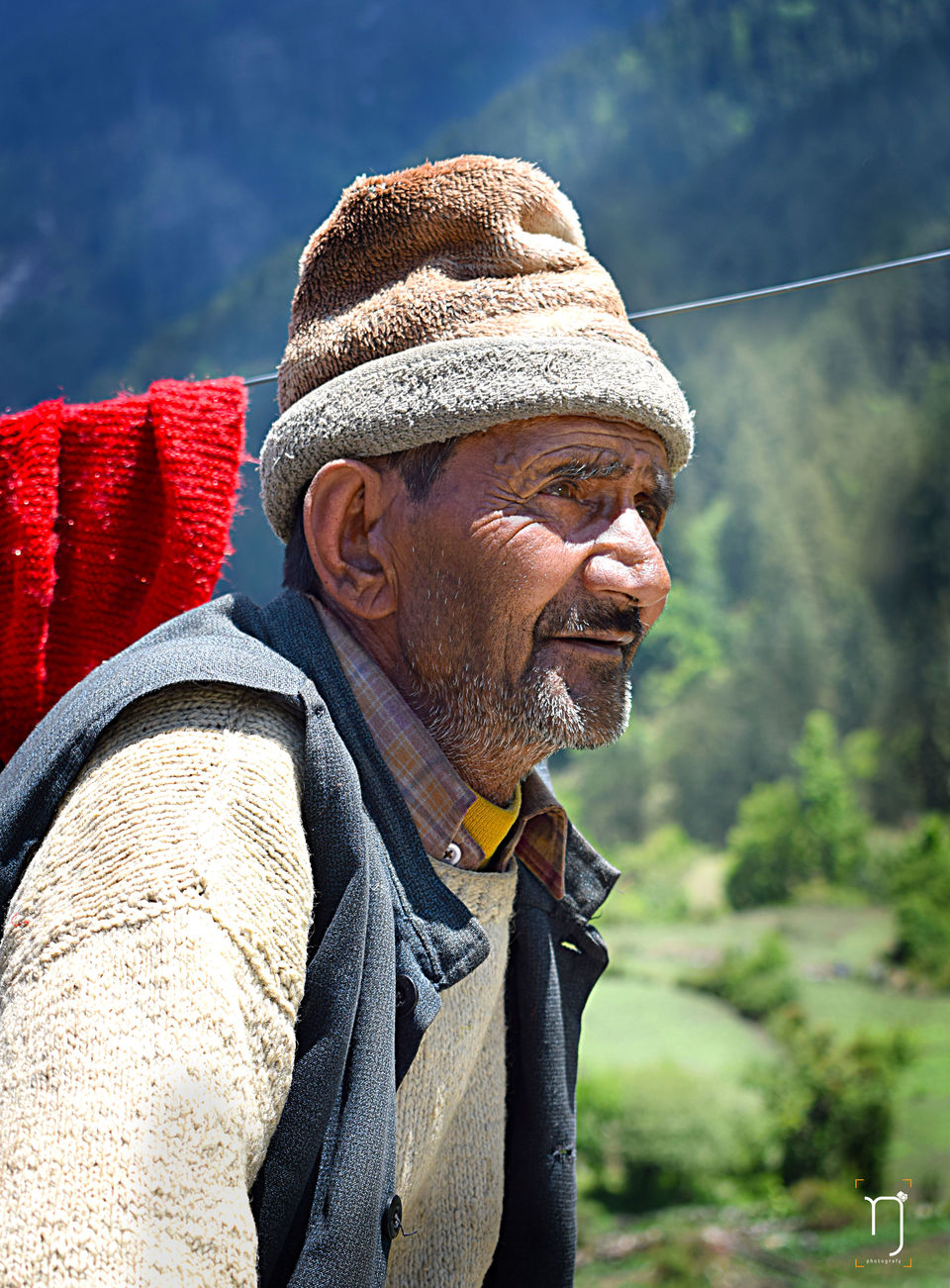 Waving them goodbye we got up on our feet and began the last leg of our trek for the day. Our campsite was based at close to 9300 feet at a small flat top hamlet called "Gulling." The buttermilk and rather regular halts had cooled us down and walking was tough, let alone climbing inclines. Egging each other we managed to pull ourselves up to the Gulling campsite. Rough rocky pathways had given way to a more levelled greenery covered pasture. A small stream flowing on one side made the entire setting a perfect camping place. Our support staff was agile and quickly began pulling out and setting up tents for us.
The kitchen and dining tents were already set. A welcome drink in the form of refreshing lime juice was the perfect way to end the days trek and start unwinding at 9300 ft above sea level.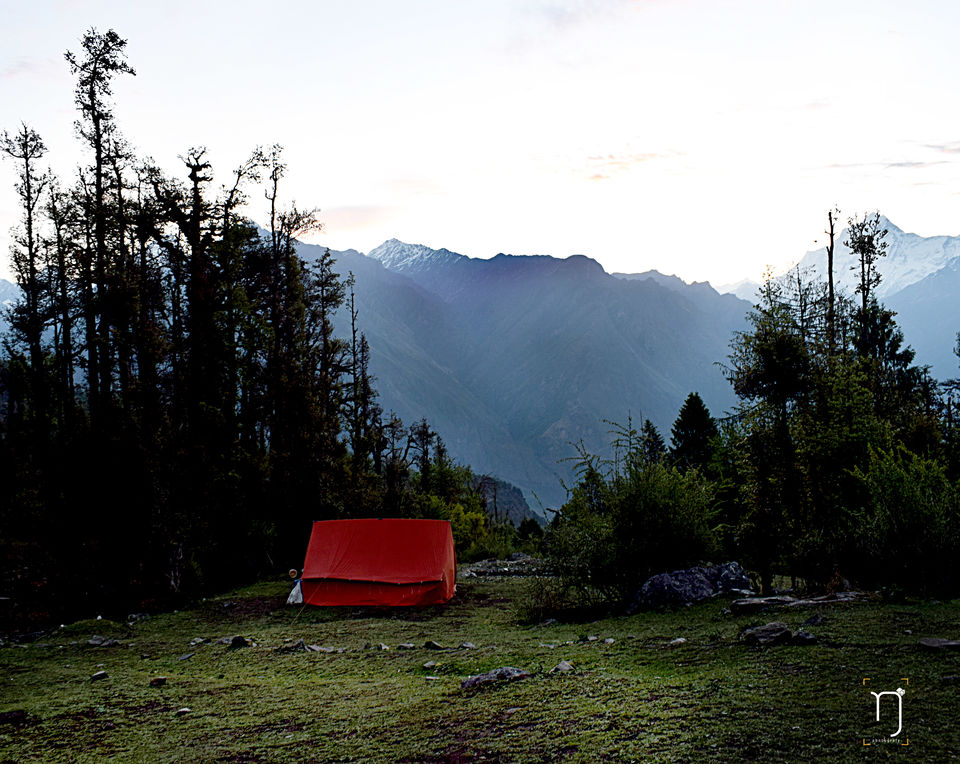 A quick stretching session in the open, led by our trek leader to make sure we had our muscles loosened up and ready for the long trek next day, followed by the usual routine of Oxy meter readings, heathcard updating and some delicious snacks was something we couldn't have wished for to help us unwind. Fatigued bodies and tired feet dragged themselves around the campsite till the weather quickly turned and we got to experience the first spell of light rainfall. Scampering into the dining tents we waited for dinner to be served as we sat down exchanging perspectives on the climb on day 1 of the trek.
It is not by muscle, speed, or physical dexterity that great things are achieved, but by reflection, force of character, and judgment. – M.T. Cicero