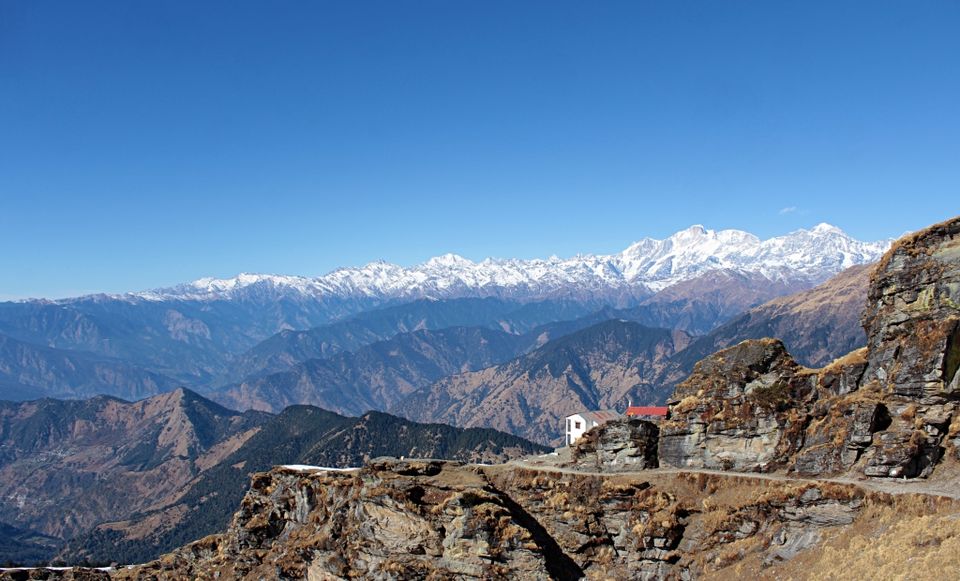 Aah, the month of December is etching closer. And so are my vacations. You see, I work in a firm wherein the last 2 weeks of December contribute to 0 productivity. It's Christmas holidays, and most of us plan for vacations during this time. I am no different, and my plans were already in place 4 months back. Jealous much?
Although I had done quite a few treks never did I encounter snow on my trail. Yeah, I did go to Sandakphu in Dec 2016 in the hope of finding snowfall but there was no snow or snowfall when I was there. So my tryst with snow for the first time was still to be cherished in a Himalayan trek.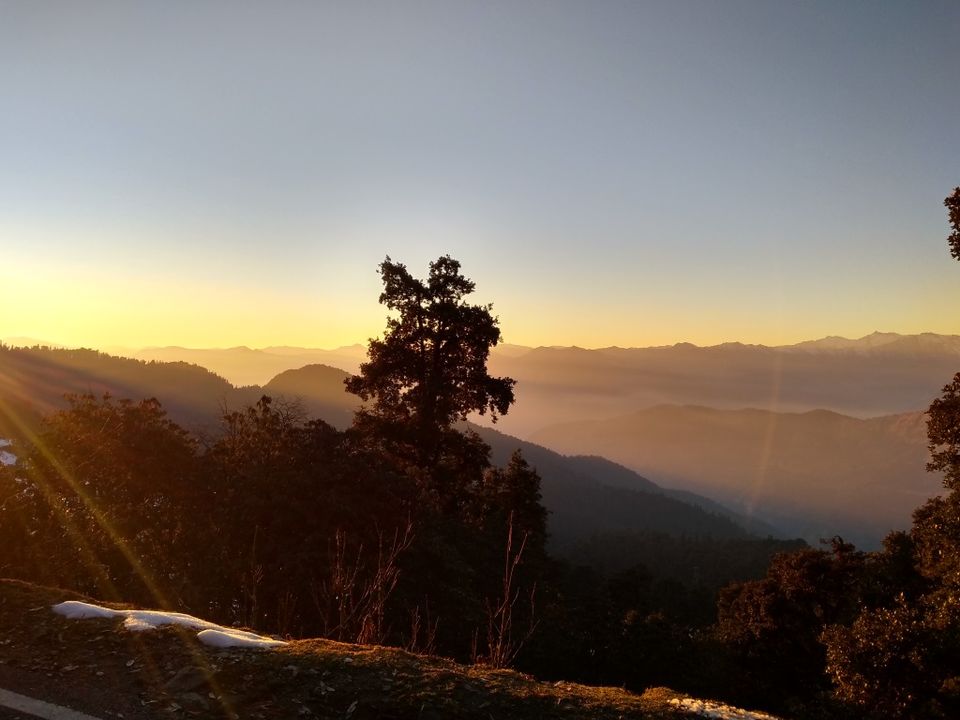 Come Dec 2017 & all that was about to change. 2017 is the year of La Nina, which means globally the temperature will be much cooler. Reports were out that it had started to snow from end of November itself. And by December 2nd week there were reports of heavy snow storm across the Himalayan region. I watched news channels and trek sites curiously of reported snowfall everywhere.
I decided I will be attempting 2 treks, back to back. Deoriatal Chandrashila by self, and then Kedarkantha with Indiahikes. This blog is on my memorable trek to Tungnath-Chandrashila. This blog is more about how you can do it by yourself.
Preparing for the Trek
Deoriatal-Chandrashila trek is a pretty easy and well laid out trek. It's an ideal for anyone attempting their first Himalayan trek. I had planned it in the 4th week of Dec, 2017.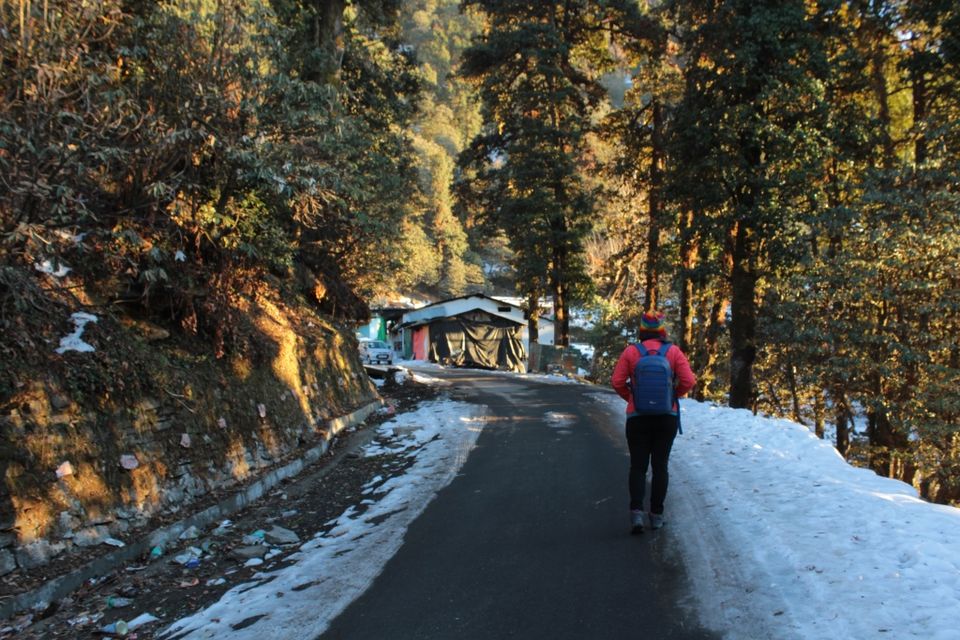 Once out of the airport take a transit shuttle bus to the express line metro station. It costs around Rs. 50. Once at the metro take express line to New Delhi Railway Station (NDLS), if you are planning to go by train. Else, you may also go to Kashmere gate for a bus or Old Delhi Railway station if your train is departing from there. Ensure you check from which station your train will depart.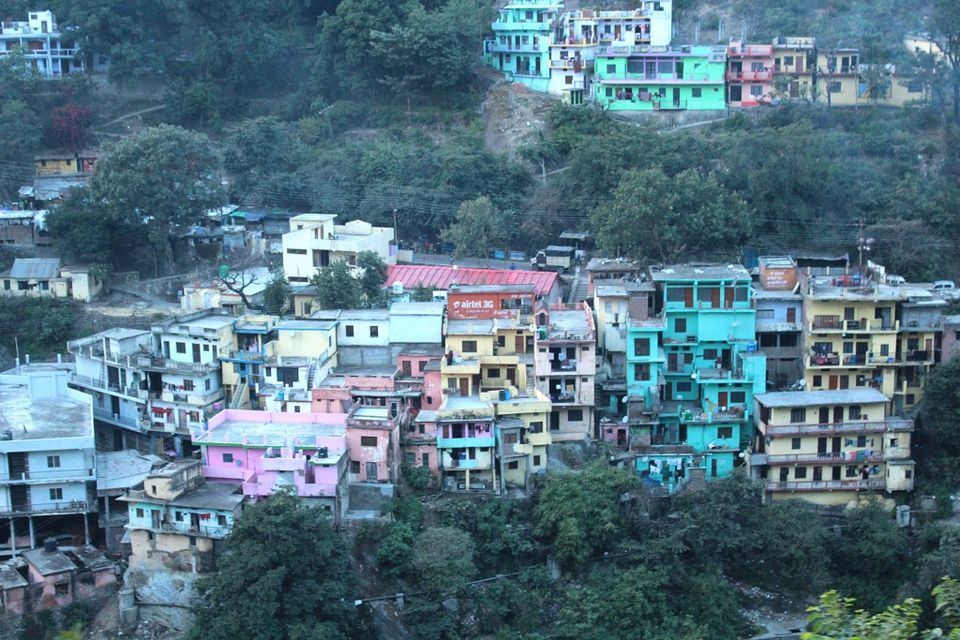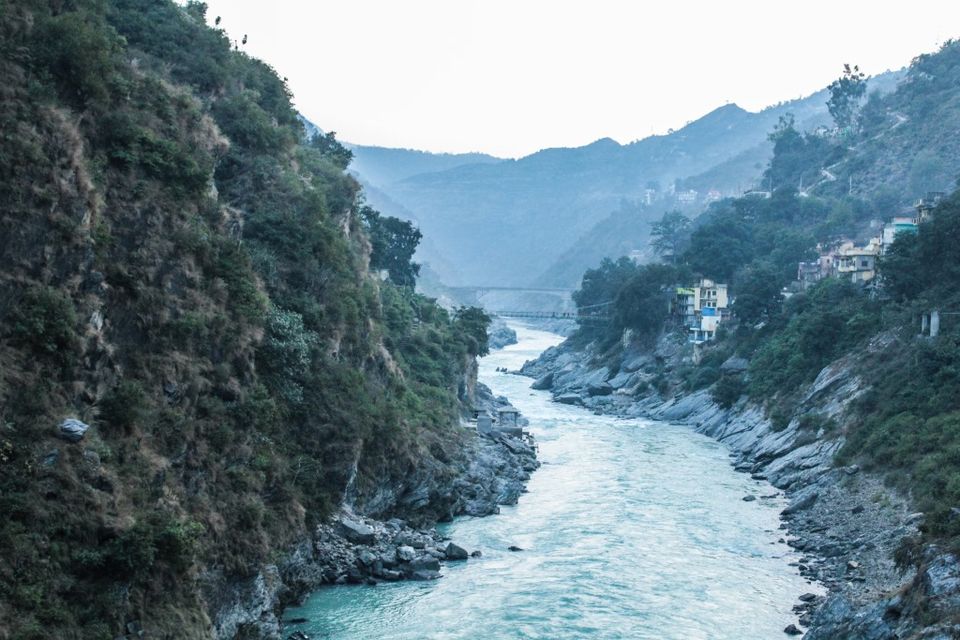 Irrespective of the mode of transport make sure you grab the seat on the right window side while travelling from Haridwar till Rudraprayag. You get to see the river Ganga flowing along throughout, and the sight on the way is something to behold. Especially if you are into photography. The buses will stop somewhere before Devprayag, the dhabas on the roadside are your breakfast points. Gobble up some nice tea, lip smacking parathas (dripping in butter), or maybe some lassi. Also, ensure you attend your calls of nature here only. Because most of the part of the journey there's only rocky hills on the left side and a gorge on the right. So if you are a lady then it is difficult to stop the bus and find some cover to attend call of nature because there's no tree cover. More so, the buses wouldn't want to stop because the roads are narrow and if they stop it would end up being a traffic jam. So, remember this point.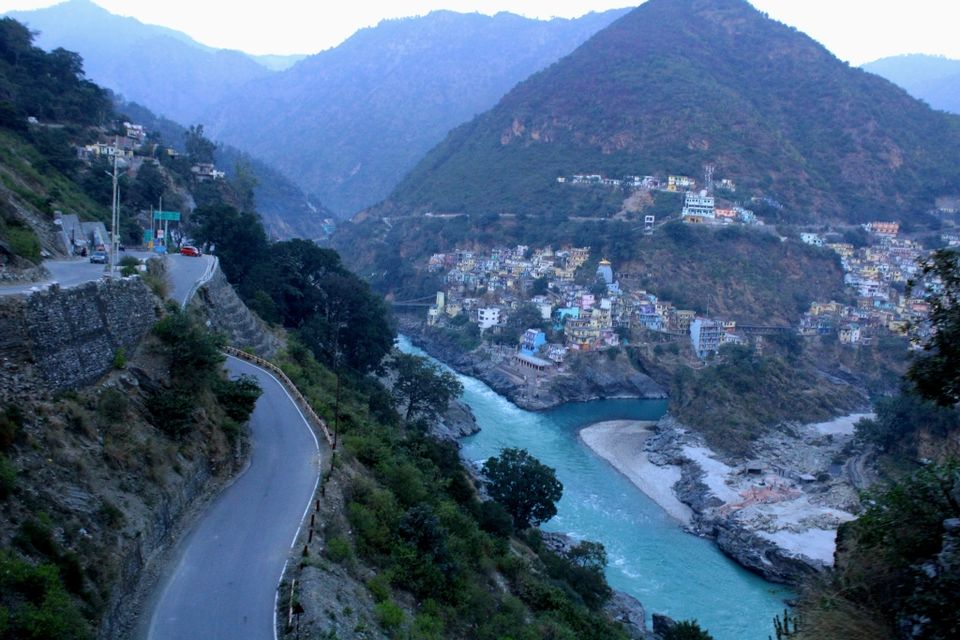 Ok, having said above do remember the bus ride is a bumpy one, coz the buses are normal state govt. buses, and the roads are well, in a bid of bad state. So, if you're the kind who is a back-bencher even in a bus then be ready for one jumpy, roller-coaster experience. The riding skills and speeds of drivers in this part of the region is pretty nasty, and don't be surprised if the driver suddenly brakes while negotiating a steep curve, and you see a 1000 ft gorge in front (happened with me; skipped a heart beat)!
Distance to Kund from Haridwar is around 260 kms, and you cross many important places like Devprayag, Srinagar, Rudraprayag, Agastyamuni before reaching Kund.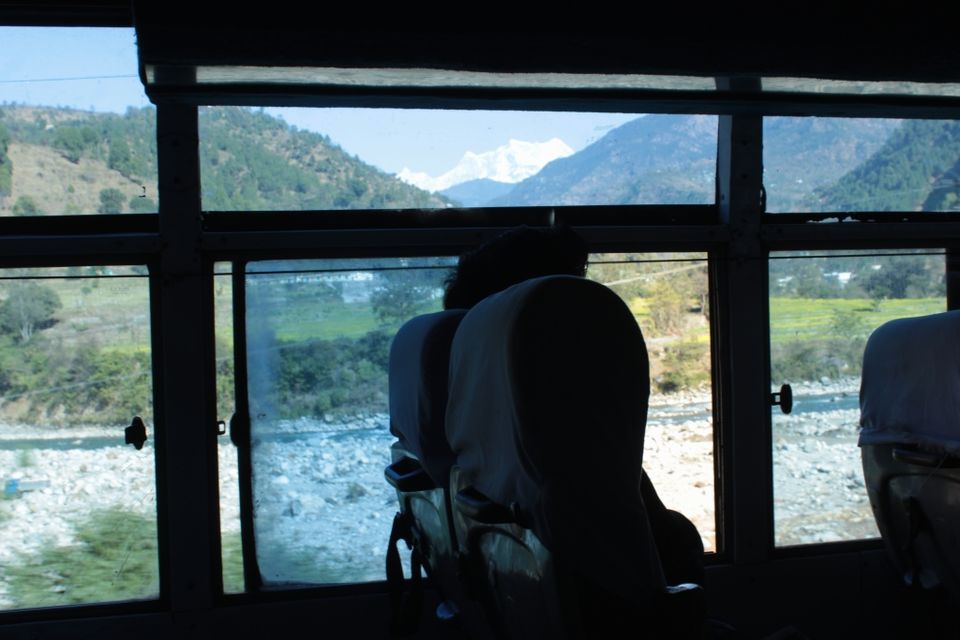 After crossing Rudraprayag, change your seats in the bus towards the left side now. You'll have your first views of the snow peak Himalayan range right after you cross Agastyamuni, with the gushing waters of Mandakini flowing through it. The ride after you cross Rudraprayag starts getting bumpy, but the views outside will more than make up for this hassle.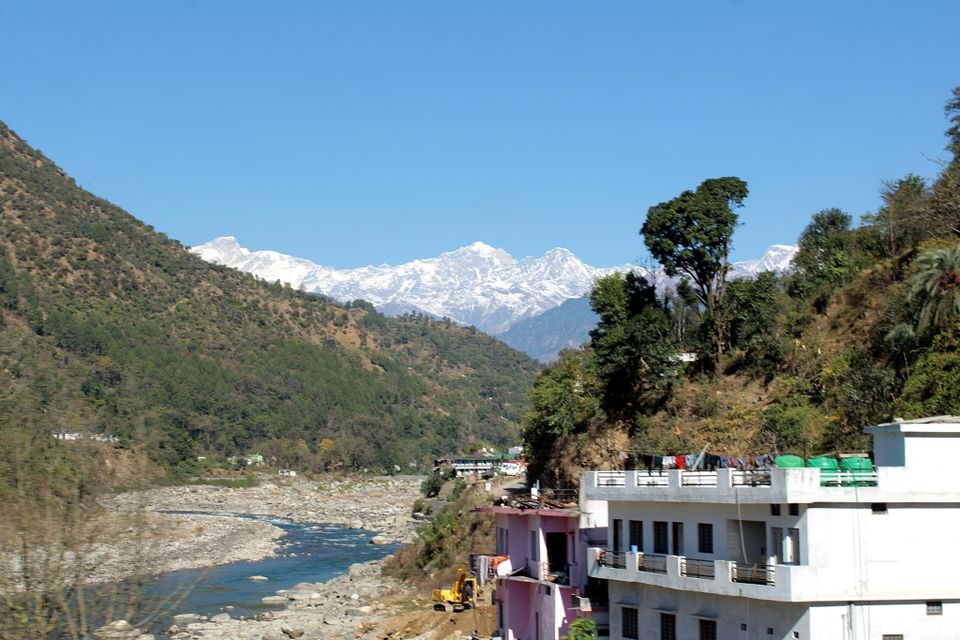 Once at Rudraprayag you may get down here (if not going to Kund) and take a shared Sumo till Ukhimath. Rudraprayag is a big, hustling-bustling town and you can do all your last minute shopping here. Also, make sure you have enough cash with you. ATMs at Ukhimath may or may not work, and no such luxury in Chopta. So Rudraprayag will be good place to get the money. Apart, Rudraprayag is another of the panch-prayags in Uttarakhand that you'll cross after Devprayag, and is witness to the holy sangam of Alaknanda and Mandakini river.
But hey, don't get carried away with the enchanting views because you are about to reach Kund. Get down here, because the bus will now take a left over the river Mandakini, while you have to head straight to Ukhimath or Chopta. Depending on the time of the day and your luck you should get a cab in 15-20 mins of waiting. Negotiate with the driver if he can take you till Chopta. Eitherways, the cab will go only via Ukhimath, so even if the cab is unwilling to go to Chopta then hop in till Ukhimath. Shared cab (like Sumo, Force etc.) charges anywhere between Rs. 30-50 till Ukhimath.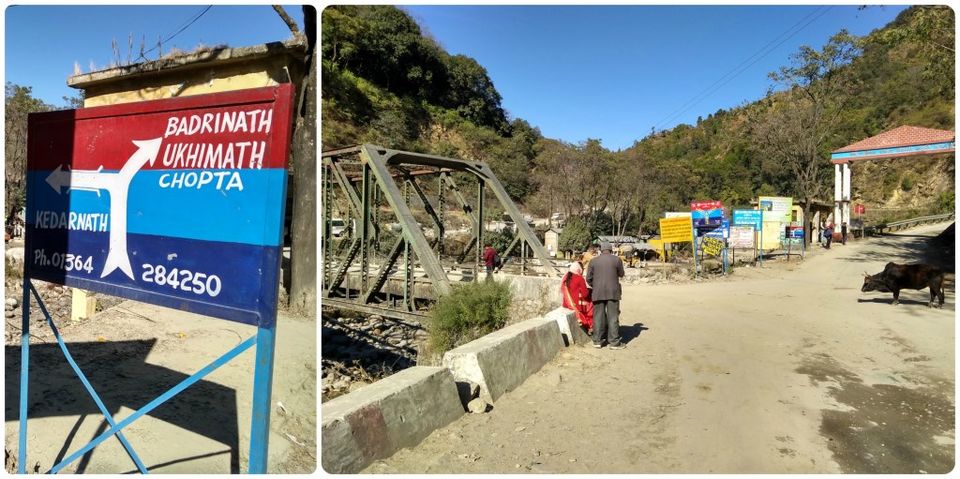 Once at Chopta you should be able to find accommodation in terms of homestays or tents easily. However, remember Chopta is fast catching up on tourist networ so if you're planning to come during a holiday season or long weekend then expect a crowd, and finding accommodation may get difficult. In that case advance booking may get beneficial. We stayed at Moksha cafe, for a 1000 per head (including food), since it was Christmas holidays expect rates to shoot up by 2-3 times. Chopta isn't electrified yet, whatever electricity is there is due to solar panels. Also, do not expect much of luxury in the homestays.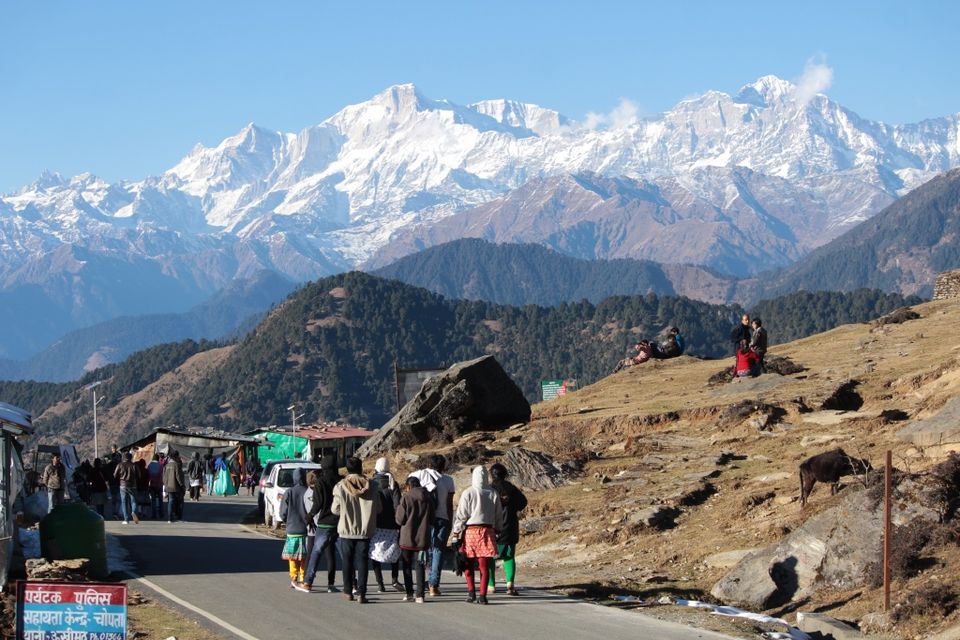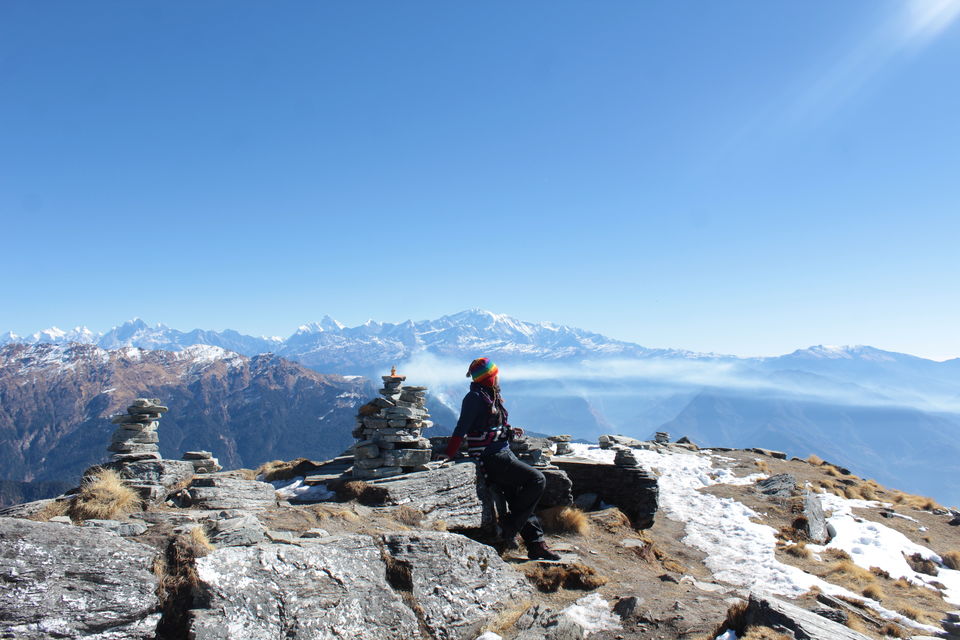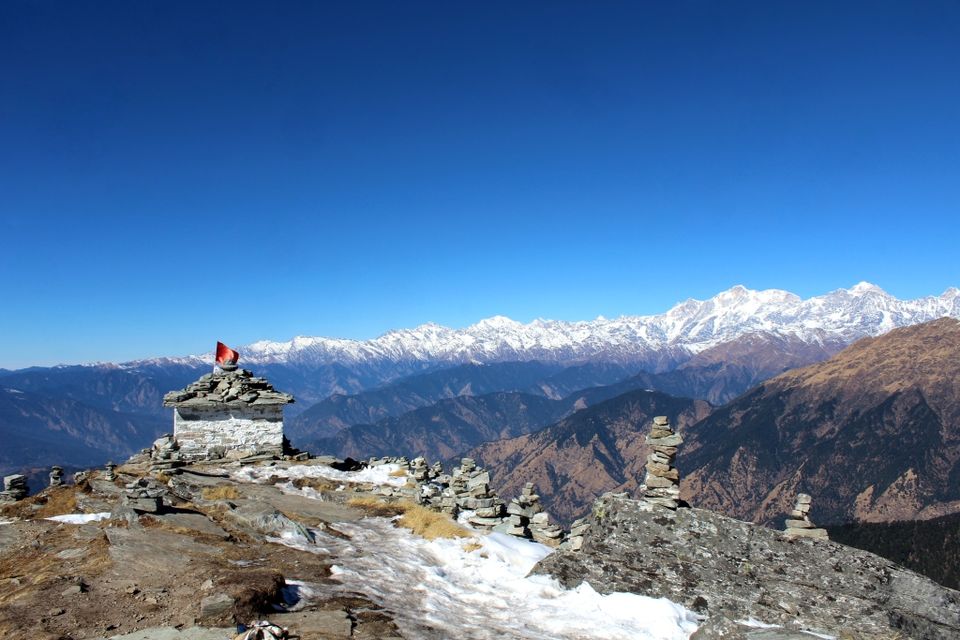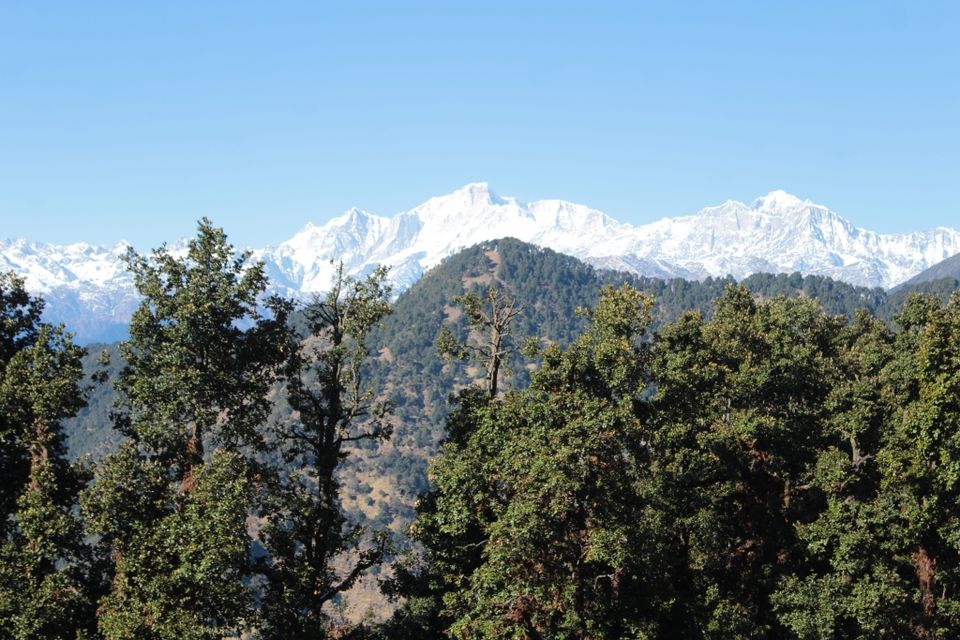 So here's the thing; we did the trek from Chopta to Tungnath and then Chandrashila and back the same way. We planned to go to Deoriatal the next day but due to paucity of time we had to skip this part.
Day 0: Travelling from Delhi to Haridwar
Assuming most of us would use Delhi as the transit point for this trek, you have numerous options to go to Dehradun/Haridwar from Delhi. Once at Delhi airport, you can either take a cab or the metro. The best thing about Delhi is their metro network. The entire NCR is well connected by metro service, and is easily the fastest and most convenient way of travelling in Delhi.
If you'd ask me train is the best way to reach Haridwar/Dehradun than bus. Its comfortable, cheap and reliable.
Almost 90% of trekkers try to reach Dehradun or Haridwar very early in the morning for all Uttarakhand treks that goes either via Rishikesh (like Kuari pass, Deoriatal-Chandrashila, Valley of Flowers), or Mussorrie (like Rupin pass, Har ki Dun, Kedarkantha, Nag Tibba). So the wise way to do it is to take the Nanda Devi express that leaves NDLS at around 11:45 pm and reaches Haridwar at around 4 am, and Dehradun at 5 am. All the coaches of Nanda Devi Express are AC, and you can have a good sleep before commencing with the onward journey next day from Haridwar/Dehradun.
We traveled on 21st Dec via Nanda Devi Express to Haridwar. Delhi was freezing in cold.
Day 1: Travelling from Haridwar to Kund, then to Ukhimath-Chopta by Public Transport
If however, if you are reaching early or later than 5:15 am then you can take any bus or Sumo to Joshimath or Badrinath then get down at Rudraprayag, and take a bus or shared Sumo from Rudraprayag to Ukhimath. The point is here not to waste time over one specific route because remember you have long distance to cover today.
The Scenic Journey till Chopta
Also, DO NOT take a nap while you are nearing Devprayag. You simply wouldn't want to miss the sangam (confluence) of Alaknanda and Bhagirathi river that joins to form the river Ganga. Devprayag is one of the 5 holy confluences in Uttarakhand, and is a pilgrimage site for Hindus. Luckily, the sangam is clearly visible from the bus. Make sure you have your cameras ready, and are sitting on the right side!
Now 3 things can happen:
a. if lucky enough then the same shared cab will take you to Chopta. Now beware, because the rates to Chopta are pretty exorbitant. We negotiated to around 700 for the whole cab to take us to Chopta. Since there are less public vehicles plying to Chopta the rate tends to be high. So if you are a sizable group it tends to be easier on the wallet. However,
b. if you don't get a cab to Chopta from Kund then no worries, reach till Ukhimath in a shared cab from Kund. Once at Ukhimath you will find plenty of cabs waiting there. Approach any one of them to take you to Chopta.
c. Or you may take a bus from Ukhimath that goes to Gopeshwar, and get down at Chopta. The timings of the same you can check with the locals.
The drive to Chopta is full of twists but with some jaw-dropping views. It will take you around 30-45 mins depending on weather conditions and snow on road. The road also goes via the point where it heads to Sari village, if you want to go to Deoriatal. Savor the views because you'll be able to see the Kedar dome and Mt. Kedarnath while on your way. The moment you see them is when excitement really builds up, such crisp and huge those mountains look.
Besides, simple rooms are also available near the Tungnath temple. But those are available only when the temple opens, i.e. from May onwards.
Once at Chopta, What to Do?
Ok, so you should be reaching Chopta not later than 3-4 pm if your transport works out smooth as mentioned above. Once you have checked in at your stay don't stay indoors, get your camera and get out!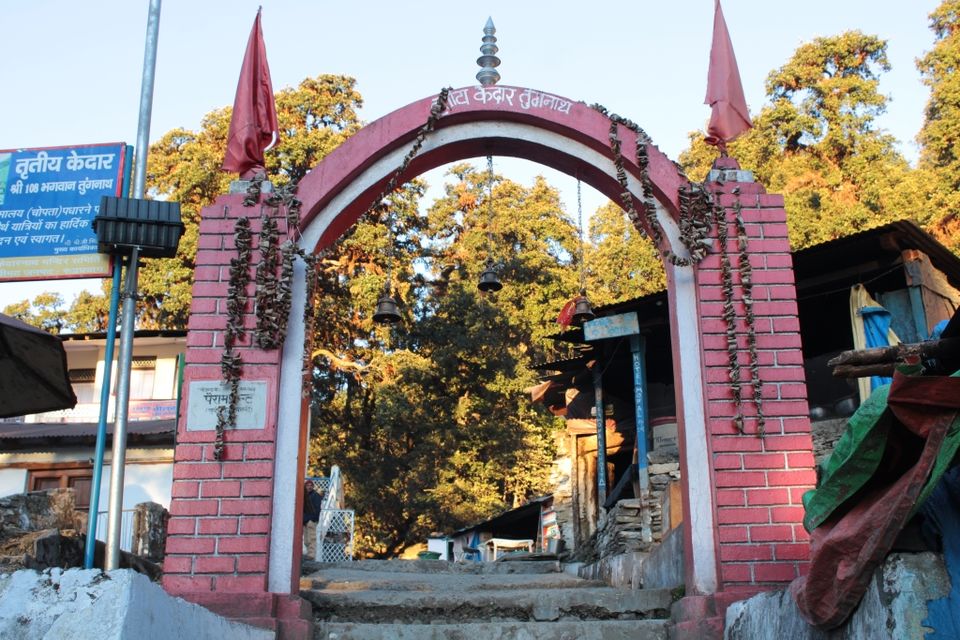 Chopta is also termed as the "mini Switzerland of India" (I never understood why our Himalayas has to be compared to some random place in Europe; it should be the other way around). Chopta is fast catching up in the places-to-visit list, mainly due to trekking and Tungnath temple.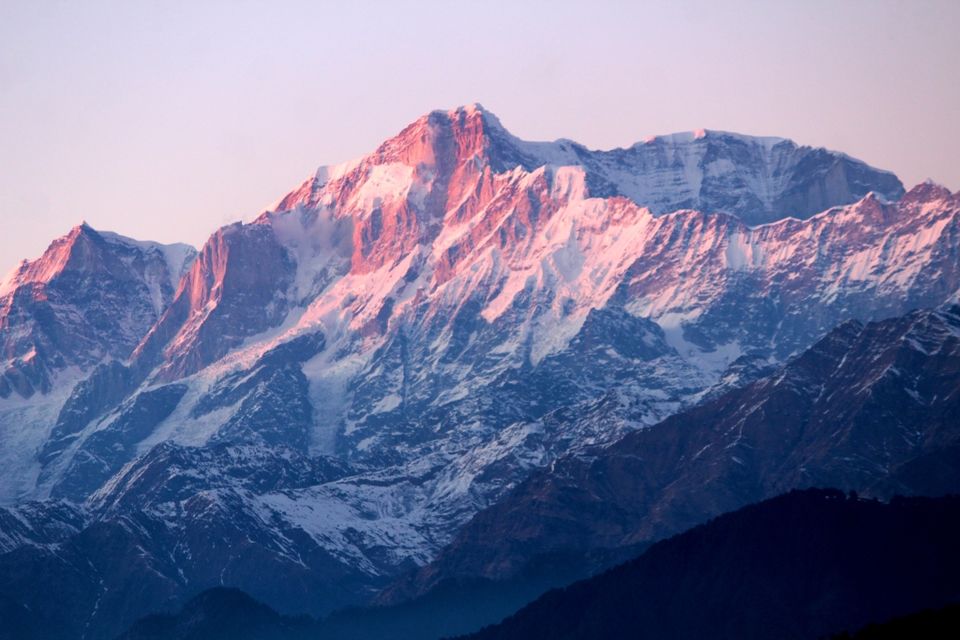 Best time to visit Chopta is from December to April. Though it remains open throughout the year, but during monsoons your views from the Chandrashila top will be obscured by clouds. We went in December last week and got some stunning, crisp, and clear views all around.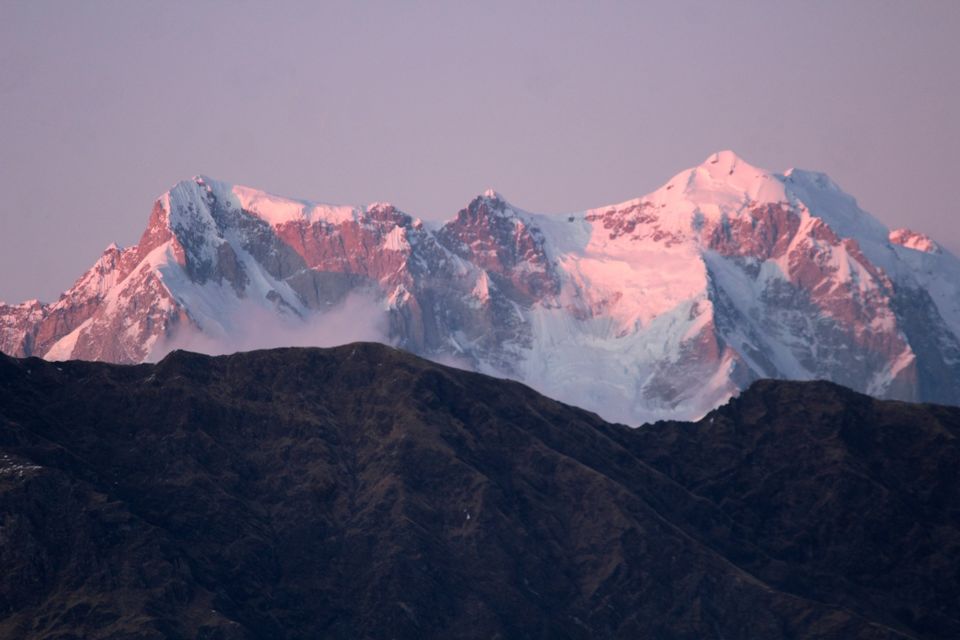 From Chopta you get drool-worthy views of the Kedar dome and Mt. Kedarnath. If you go a little beyond the entry gate to Tungnath trek, on the Gopeshwar road then you'll be able to see the gorgeous Chowkhamba massif as well. And the sunsets are truly spectacular. Click to your hearts content!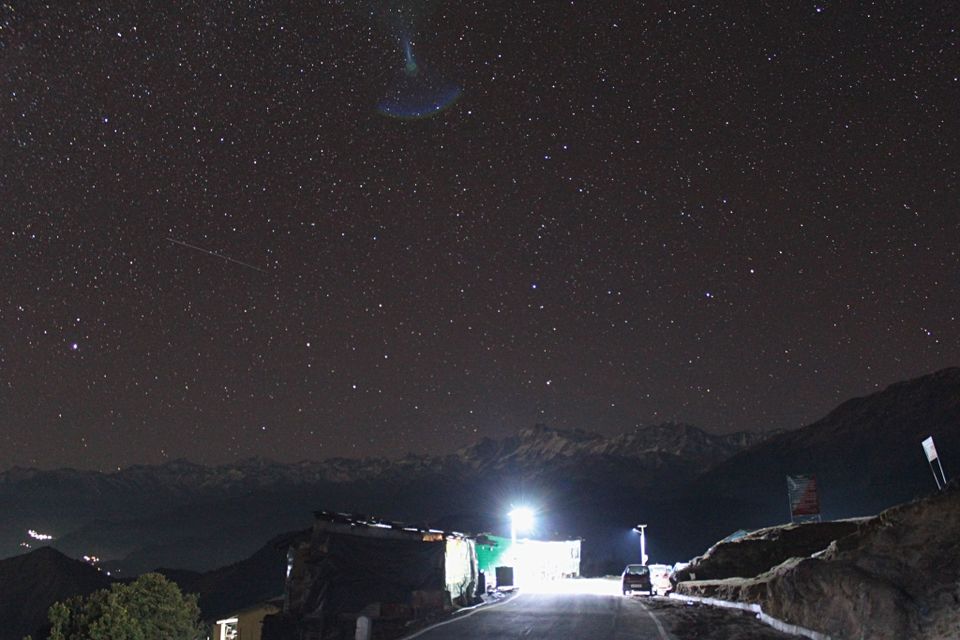 Day 2: Trek to Tungnath-Chandrashila
The trek to Tungnath-Chandrashila is a fairly easy one and is an ideal trek for anyone wanting to start with their first Himalayan trek. The route from Chopta till Tungnath temple is fairly laid out without any deviations. Once in Chopta you will see an entrance which is the starting point to Tungnath-Chandrashila trek. The distance from Chopta to Tungnath is around 4 km, and should take anywhere around 3-4 hours for any trekker.
Now the sunrise views from the Chandrashila summit are something not to be missed. That will be one moment you'll cherish forever. If sunrise is your thing then you'll have to start your trek at 3 am latest. It will be pitch dark, and carrying a torch is a MUST. Also, the locals would warn of bears and leopards on the trail, since there is a dense forest around the trail, and the initial part of the trail goes through the forest. So, it will be advisable to go in a group, don't attempt solo at 3 am. During the month of March-April you will see plenty of Rhododendrons blooming here.
Expect plenty of snow-turned-ice on the trail in Jan-March, turning the otherwise easy trail tricky as people tend to slip a lot. And while you're at it, panting and huffing your way up, don't forget to turn back as the darkness slowly fades, with the first rays of the day striking the Kedarnath range, making for an absolutely stunning moment. Yup, relish and savor each of these moments.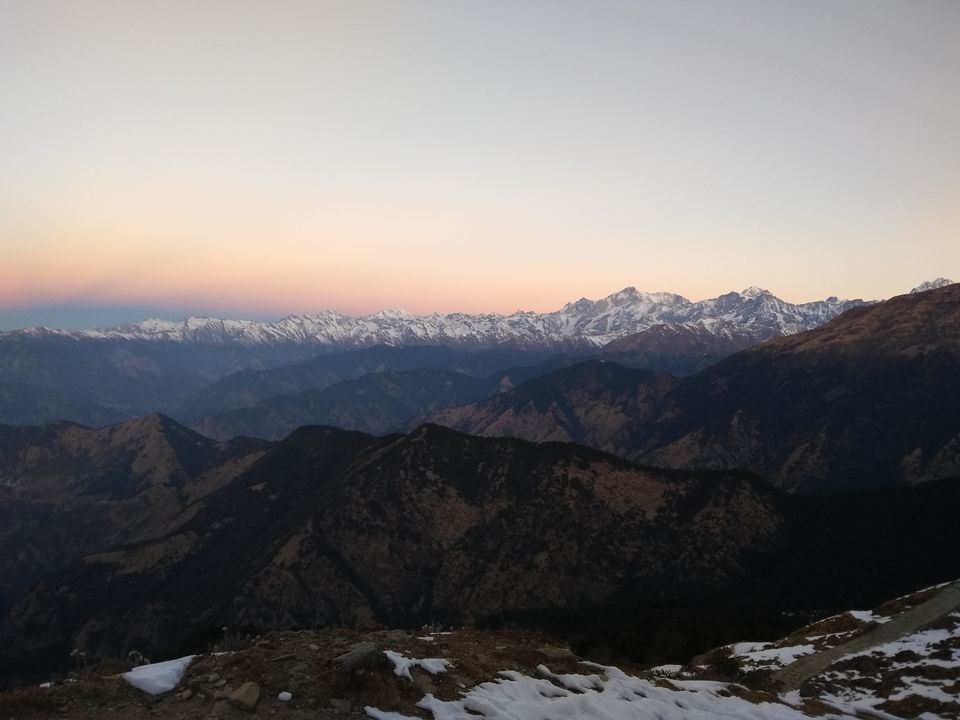 Tungnath is the highest Shiva temple in the world, at a height of 12,000 ft. Expect knee deep snow during peak winter. Also, note that the Tungnath temple remains closed during winters, and the deity is moved to a temple near Ukhimath. Due to extreme cold all the locals living near the temple move down, making the area desolated.
You should reach here by 5 am on an average speed. Quickly offer your prayers and continue on the trail that goes behind the temple, to be on course for your sunrise at Chandrashila. You can spend enough time in the temple after returning from your summit.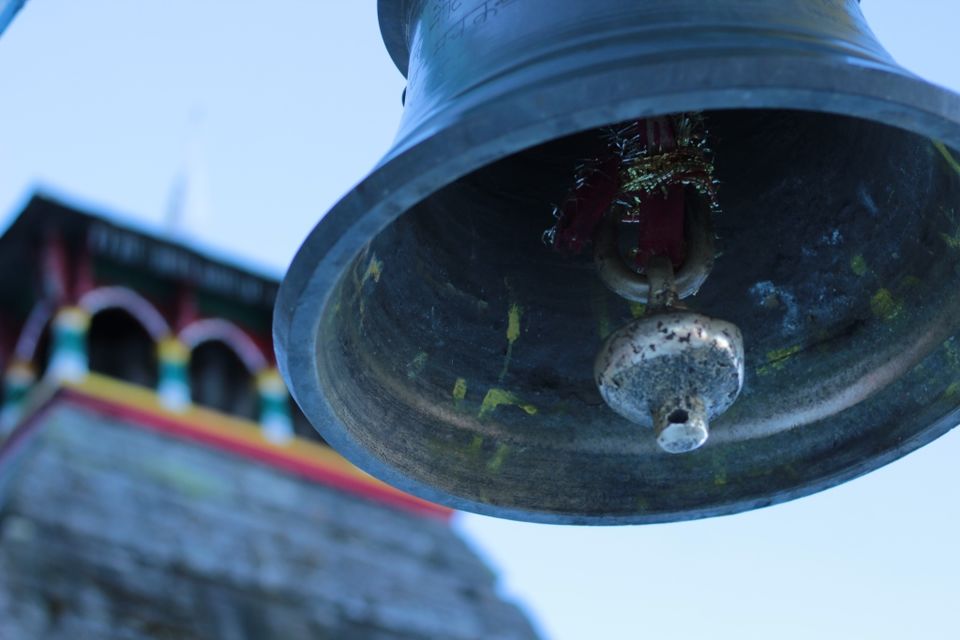 Now from here's where the actual fun starts! The trek till the Chandrashila summit is not as simple till what you encountered till Tungnath. There is a small ridge that you have to carefully walk on before you are on the mountain that takes you to the summit. Once crossed the summit is clearly visible. During peak winter expect a lot of snow all around, making for a difficult trail to tread, yet too much fun.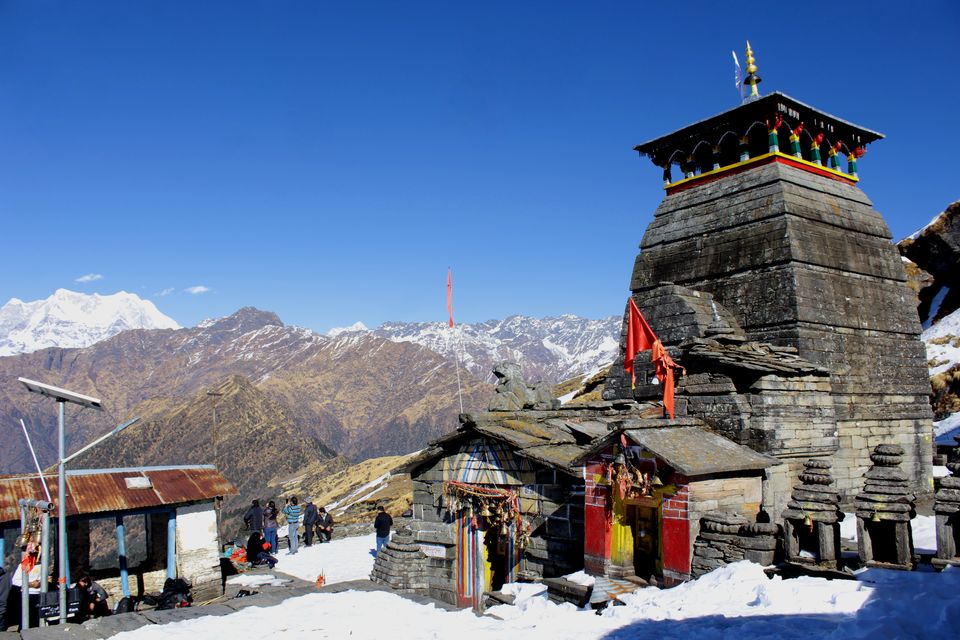 The walk up to the Chandrashila summit is a steep one, with the never ending Kedarnath range and Chowkhamba massif watching your every step from the back. From the base to summit it will take anywhere between 2-3 hours depending on the time of the day and your speed.
Be ready to be blown away once you reach the summit, to rejoice with some majestic 360 degree views of the Kumaon and Garhwal mountains. All the major peaks, and I mean all the major peaks of Uttarakhand are visible from the Chandrashila summit.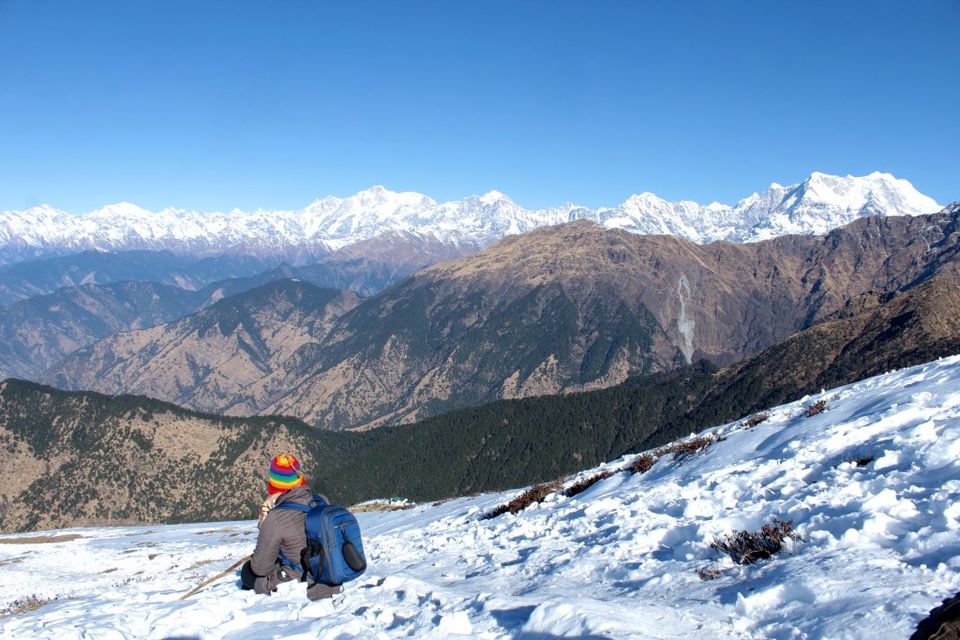 Congratulations, you are now standing at an altitude of 13,000 ft! As Arjun Majumdar from Indiahikes rightly mentions it is like standing in the middle of a Himalayan amphitheater. This is one summit trek which offers one of the best views of Himalayan mountain ranges; from Nanda Devi, Trishul, Hathi-Ghoda parvat, Dronagiri, Janhukut, to Nandaghunti, with the glistening Kedarnath range and Chowkhamba massif on the other side.
Spend some time here, reveling in the magic of nature. There is another small temple on the summit, believed to have been built by Lord Rama, to seek forgiveness after slaying Ravana. Enjoy the panoramic vistas, click a lot of pictures before you start descending.
While descending may look much easy, be careful with your steps because the snow hardens to become ice which is slippery. Atleast I slipped a lot, ripping the bum part of my pant!
You should be able to reach Chopta by around 12-1 pm. Once at Chopta take some time off to relax. You can either relax for the remainder of the day, and head back to Ukhimath the next day or go to Sari village for a small trek to Deoriatal.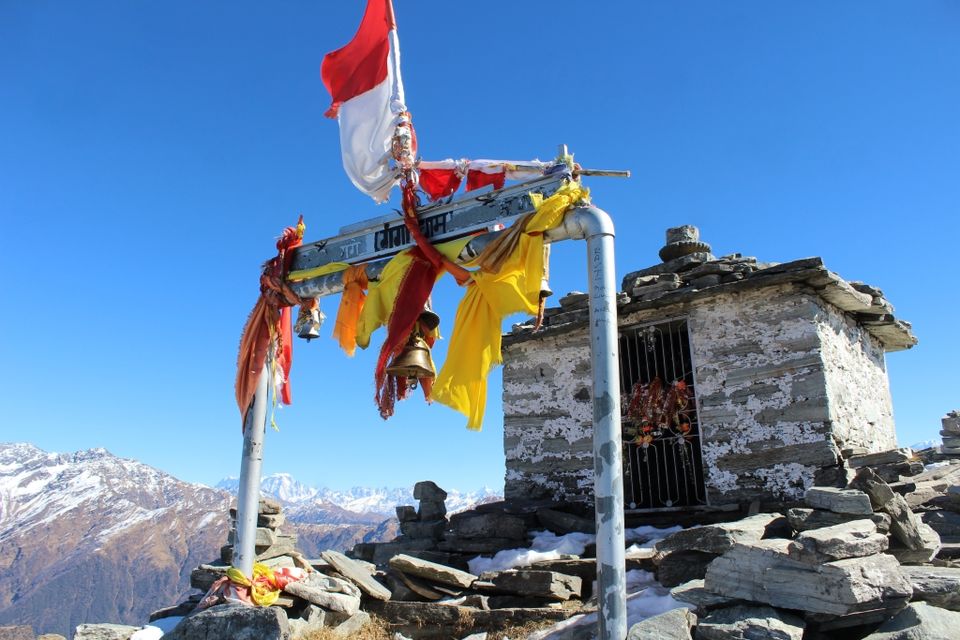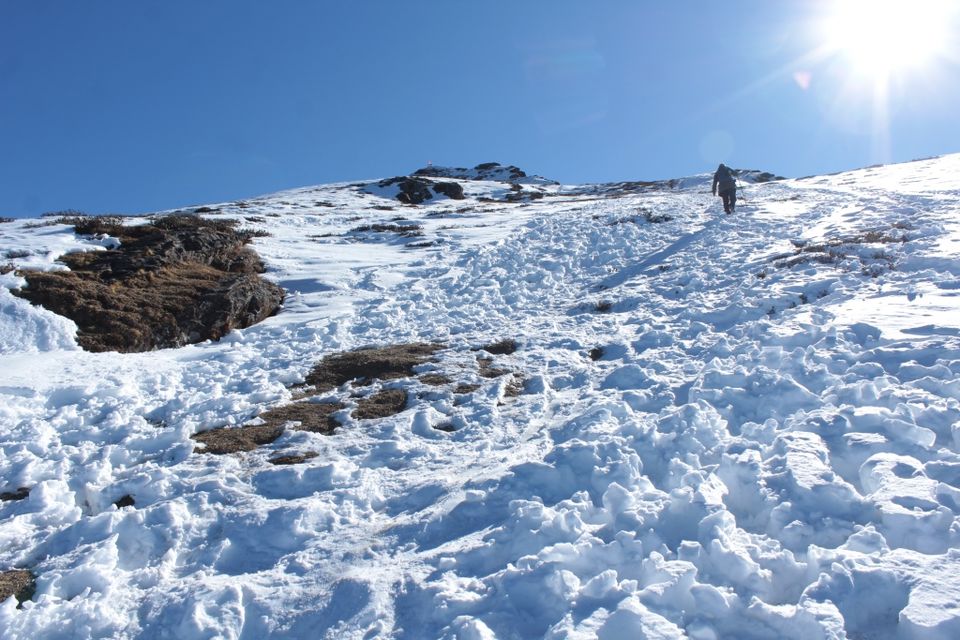 Planning to Go to Deoriatal?
We also planned to visit Deoriatal in our itinerary. Plan was to descend from Chandrashila and reach Chopta by 12, take some time off and then head to Sari village for a quick hike to Deoriatal. That, of course didn't happen as we got delayed and decided to cancel our visit to Deoriatal. I'll still put down the way to reach Sari village.
Sari village lies in between Ukhimath and Chopta. Well, not exactly on the main road; 12 kms from Ukhimath, you need to take a deviation on a road on the left side from the main road that goes to Chopta. Sari is a quaint, small village, with its manicured crop fields and old-styled houses. From here it is a small but steep hike to Deoriatal lake (approx 2 kms). At Deoriatal you will find the forest guest houses or campsites. I'll put down contact# of one such person below who can help you with your stay at Deoriatal.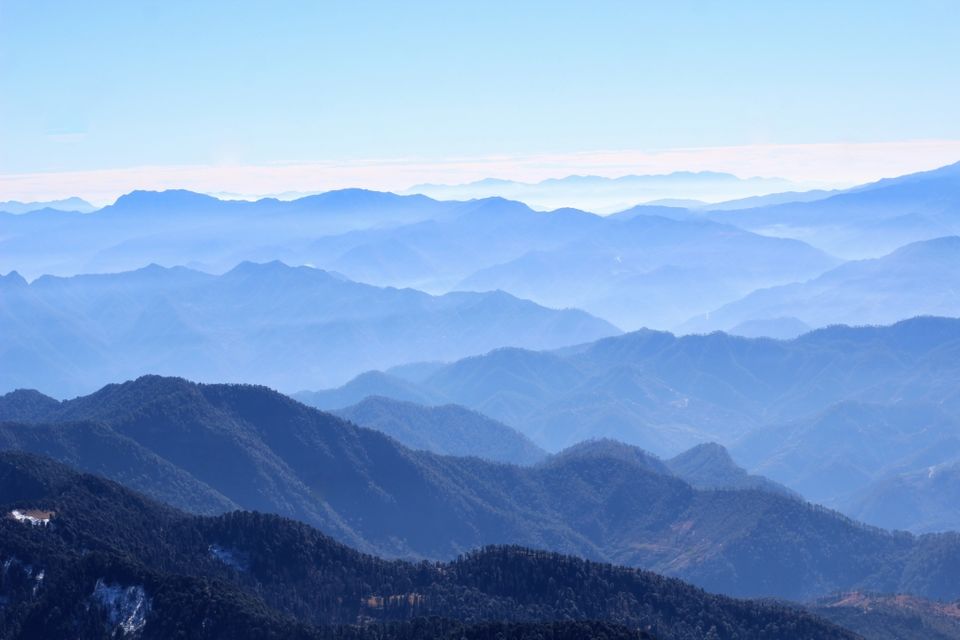 Trekkers also do their Chopta-Chandrashila trek, with Sari village and Deoriatal lake as their starting point. Deoriatal is a small, but beautiful lake, flanked by the Kedarnath and Chowkhamba massif in the backdrop. On a clear sunny day you can get beautiful, sharp reflections on the lake, making for some nice pics. From Deoriatal you can reach Chopta through the forest, via Rohini Bugyal and Bhrujgali. A local guide is mandatory here since people have lost their trail in past. Its almost 13-14 kms to Chopta from here, but under thick forest cover with gorgeous views from Rohini Bugyal. I'll be back one day just to complete the whole trek via Rohini Bugyal.
Whom to Contact?
Below are the contact numbers I was able to collect during my trek. Do note internet is filled with many other contact points, and choose the one depending on your style and budget.
Stay at Chopta: Like I mentioned we had put up at Moksha cafe. Decent rooms and great food. Paid 1000 per head including food, but during off season it may be lesser. Contact Tarun @ 82229-09200
Stay at Deoriatal: Deoriatal also has a forest guest house, but in case if you want to make a booking before only than contact Umeed Bhatt @ 94589-48010, he can arrange tent stay for you.
Trek Guide: The trek from Sari village-Deoriatal-Rohini Bugyal-Chopta-Chandrashila I believe is still the one to go for if you want to do the complete trek. For the same you'll need a local guide from Deoriatal to Chopta as it goes through a jungle. You may touch-base with Mr. Bharat Puspwan, who is a trek leader and will also organize your camping. Contact him @ 94561-08780, 97198-75326, 94561-08780, email @ bharatpuspwan01@gmail.com, and his FB id is this.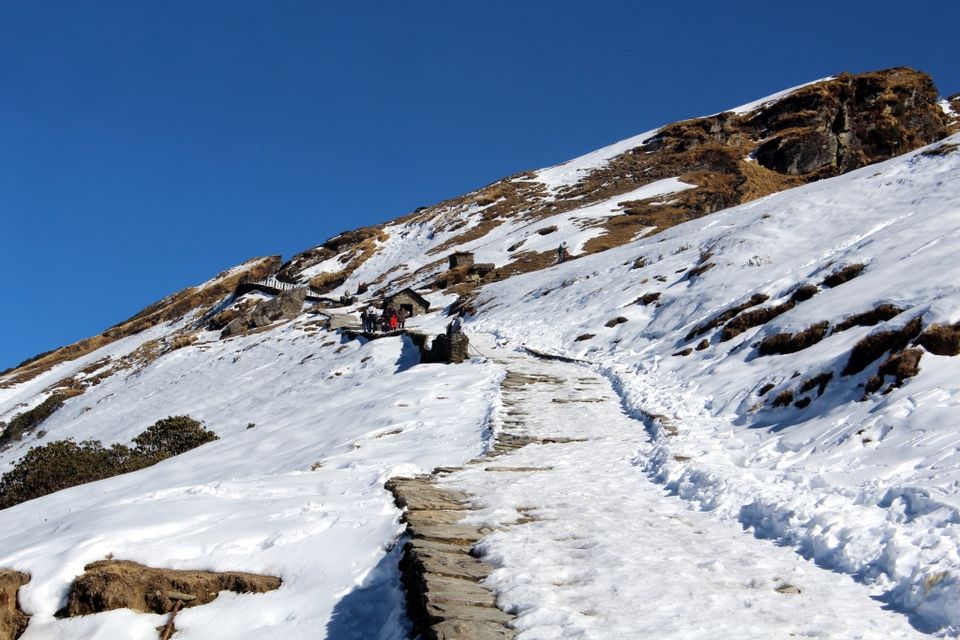 Important Points:
1. If you are planning to do this trek in winter then expect numbing cold! Do ensure to take good quality jackets and winter wear.
2. If possible try to avoid long weekends or festive season. During last week of December expect the whole Chopta to be swamped with tourists. It is also disheartening to see so much of trash being littered around. Also, guide charges and hotel rooms rates will more than double up.
3. Ensure you carry atleast 2-3 ltrs of water with you. During winter there are no locals staying near the Tungnath temple.
4. Do not carry or wear lot of heavy winter clothes on the summit day. It may seem weird but while you'll be descending at the sun is full out you'll feel very hot because of the reflection from the snow and ice. Take 2 layers with you; one light fleece jacket and one wind jacket, on top of your shirt.
5. Make sure to wear sunglasses. Snow blindness is very easy to get here
6. There are no ATMs in Chopta; make sure to carry enough cash. No PayTMs either.
7. Best time to do this trek is from December to April. You'll get sharp and clear views of the snowy mountains. In April you'll see Rhododendron flowering as well.
8. The Tungnath temple remains closed from Nov end till April end.
9. What to take for this trek? Refer this link.
We had a good nights sleep in the train, and on expected lines our train was delayed. We reached Haridwar by 4:30 am under pitch darkness. The bus stand is right in front of the train station, and from here you can get buses to all places.
We entered the bus stand to see if any buses are going to Joshimath, Kund, Agastyamuni, or Rudraprayag. Turned out there was one bus which would leave at 6 am. One wise person advised us to go across the road and take a GMOU bus that leaves at 5:15 am. We had to sprint towards it just in time to catch it. Yes, the bus will be standing on the right hand side of the main road, and is 300 mtrs from railway station. They always leave on time no matter what. So advise is do not go inside the bus stand wasting your time. This bus was going to Guptkashi, and we would get down at Kund.