Nestled in the quaint hills of the Garhwal region in Uttarakhand is a well known summit called the Nagtibba or the Serpent's Peak. It is revered as the abode of Nag Devta or the Serpent God from which its gets its name and 'Tibba' is a local word for hill/peak. The locals in the region come here to offer their prayer to Nag Devta for the protection of their cattle.
What lures most hikers here is that this feat can be completed over a weekend from Delhi. With little planning and with a relatively closer distance from Delhi, the adventurous ones might not need to take a weekday day off for this from their busy schedules.
The Nagtibba summit is approx 10,000 ft and stands apart majestically in this region.
Lured to trek at the drop of the hat, I could not find a reason to resist from taking on this weekend trek to the summit.
The journey began in Delhi on a Friday night with a overnight Dehradun bound train. Once you reach Dehradun in the wee hours of morning, the next part of the journey is by road (shared jeeps) to a quaint little town of Pantwari, which takes about 3-4 hours from Dehradun. This journey passes through the famous hill station of Mussorie and some very scenic views. We stopped at Kempty Falls for a quick, simple breakfast and a refreshing cup of hot tea. The beauty in a journey of this sort is the stops we make for refreshments are a treat in themselves. It allows you to absorb and be one with the place. Sipping hot tea and gazing across the valley we witness some breathtakingly beautiful mountain landscapes. Its time to move on and the next stop is Pantwari. The village Pantwari is the base camp for anyone attempting to summit Nagtibba.
We reached Pantwari around 12 noon on Saturday. The trek leader and his associate welcomed us to a nice and simple meal of rice and hot daal. We had a good trek ahead of us and hence were urged to eat well. Keeping oneself hydrated is of utmost importance while attempting any trek or hike. While the trek is in progress, one does not realize on the amount of water discharged as sweat. Drinking water at regular intervals helps a great deal to give you that boost.
Well, off we started our climb at around 1 pm. The initial climb waded through mountain grass, water trickles and domesticated animals such as buffaloes, dogs, hens etc. It is intriguing to see the modest housing and earthy existence in such locales.
As we gained altitude, the air became cooler, and the vegetation denser. We could see the village Pantwari as a small speck down below. Every now and then we encountered a waterfall, an odd village shelter, mud houses, and natural water tanks. In a fast paced city life, these occurrences are rare and hence much cherished in their rightful environs.
The climb was tough and we did out best. Occasional munching of bananas, nutrition bars, chocolates etc. helps. We continued our ascent and gradually could sight the further ranges in region. Occasional stops allowed us to interact with other team members and trek guides. They always have interesting local stories to tell.
As we went higher up, we could gather a strange sense of accomplishment. It is an intense feeling within of delight on where we have reached and yet intrigued on what lies further up.
After a good 3-4 hours trek up with our packs, we reached a wide plateau. This was the base camp for the summit of Nagtibba. Our tents were ready. We could see the kitchen tent with the humdrum of helpers preparing lemon water and tea with some biscuits and light fried snacks. It is simply amazing to experience the hospitality of locals here. Their affection comes across in the very way they welcome trekkers and it made us feel at ease instantly.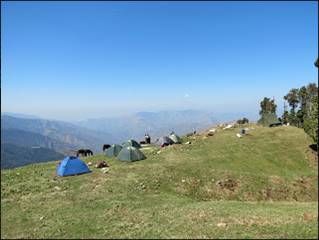 We settled down in our shared tents. It was around 4:30 pm, bright sun on us at about 7500 ft (base camp). This was the time to chat up with fellow trekkers and exchange the experience till now.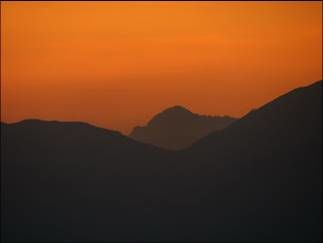 After some hot soup and clicking pictures the whole evening, it was time for dinner around 8 pm. A trek up the hills is never complete without a bonfire, so we huddled around it and had dinner. It was getting quite cold now and breezy too. A nice long day came to a satisfying end as we wrapped ourselves in our sleeping bags by 9:30 pm. Sleep came by pretty quick!
The next morning, Sunday, I was up at 5 am. The air was particularly chilled and pricking. With a haze and a peach colored sky that beckons the beginning of a beautiful day ahead, it was time to gather ourselves up and enjoy our morning cup of masala tea and a simple yet nutritious breakfast of hot porridge, mashed potatoes, boiled eggs, maggi and bournvita.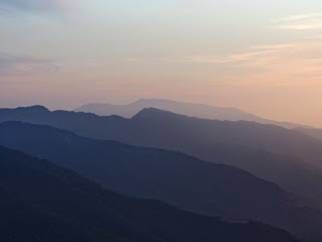 By 8 am, we were all set towards the summit. This was a good 2500 ft climb with snow laden slopes welcoming us as we explored further. The trek now was getting tricky as there was thigh deep snow and at times we had to pull ourselves up with both hands firmly holding on to the rocks above. There were wide patches and snow around us like white sheets kept out in the sun, spotless and showcasing a divine white.
A good 3 hours trek up brought us closer to the summit which was clearly visible now. As we approached triumphantly, it was the serenity and peace of the place that made it magical. We made it to the top of Nagtibba – the Serpent's Peak. With pristine white snow around us, we sat on the summit for about an hour with a 360 degrees view of the Himalayas here. The profundity of the mountains is also exemplified in its calm and composed presence yet teaming with life that it supports.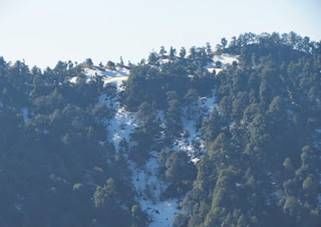 Unwillingly, we started our descent to the base camp the same way back, which was rather quicker. We had a quick lunch at the base camp and further on the same way back to the village Pantwari.
Back to earth from heaven up above, our road transport awaited us to transport us back to the rigors of the mundane. The drive back to Dehradun was a sober 3-4 hours via Mussorie.
At around 6 pm, the trek was officially over and we could head back to our destinations accordingly. I took a train back to Delhi and reached 5 am on Monday morning.
It was a splendid weekend and a trek worth experiencing. I could only wish to explore more such options where bereft a long break, the trek lovers like myself could find solace in the lap of the Great Indian Himalayas.