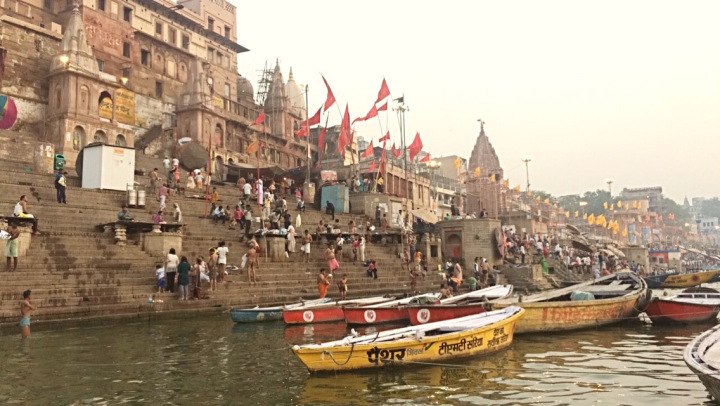 Varanasi is the living symbol of the Hindu renaissance, one of the holiest pilgrimages of Hindu religion as well one of the world's ancient city where daily millions of Pilgrims from all over the world pay a visit to the ghats of Ganges either to take a bathe in the sacred river to wash away their sins or to cremate their loved ones. Varanasi's ancient name was Kashi then during Medieval period it change to Banaras and now Varanasi. Basically Varanasi is a combination of two Sanskrit name of the rivers Varuna and Assi where in between these streams the city was built. Here most inevitable cycle of life and death is celebrated everyday. Countless temples around the ghats. The city have most beautiful light views in the night. Varanasi is also favourite place among the writers, photographers, movie makers and spiritual person. To be believed the city was build in 11th century BC making it the world's oldest inhabited city.
I believe in God. The supreme power which control the sky, the mountains, the ocean. He is the Creator, he is the Destroyer. But I am not a strict religious person. I pray daily, chant Mantra's, but I don't follow any kind of religious prayers. Though I am aware of most of religious practice. I believe, God is everywhere. Believe is all about ????
When it comes to visit a Pilgrim place, I always encounter with hundreds of questions in return when I ask the Guide or local person about which Puja they are doing and why. I respect the religious culture they follow but sometimes there are many things which astonished me. Well Mythology is basically a collection of Myths which has been passing from generation to generations and will never stop. It's a good knowledge to learn about it though but to follow is a choice ????
Believe it or not, every year when the monsoon delayed (June month), to please the God of rain - Lord Indra (in Hinduism) a weird custom practiced at Ashwamedh Ghat - The Frog Marriage. Yes! you read it right. The priest performs the rituals of wedding a couple of frogs and then they left into the river. Mythological belief that marrying off wild frogs with Vedic rites helps bring rainfall. This weird tradition also celebrate in Assam Village (North-East India).
Varanasi has 88 Ghats (Ghat is series of steps leading down to a water body, usually a holy river, lake or a pond), which most of the Varanasi Ghat was built in the beginning of 18th century during Maratha Empire. Most of the ghats are associated with legends or mythologies while some ghats are privately owned. They named the Ghats accordingly.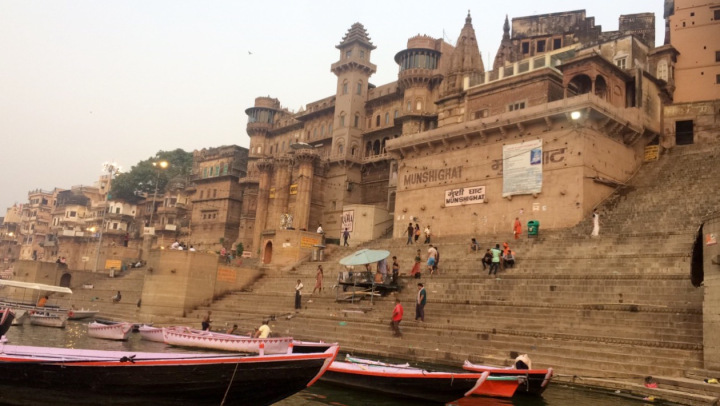 This was my first time visit to Varanasi. Majority people are more interested in take a holy dip in river Ganges to wash away their sins or for sacred wedding rituals. But I was here to explore the ancient culture the city still holds and to witness the Ghat which have never seen darkness - Manikarnika Ghat. The Ghat which is strictly only for cremation. Though there are one more Ghat which is used for cremation - Raja Harish Chandra Ghat. The name of the ghat is derived from the Mythology King Harish Chandra, who spent his life as a keeper of a crematorium. It is believed that for his servings at the ground with devotion and strictly abiding the truth path, Gods rewarded him by restoring his lost throne and his dead son. But as its has been modernized to an electric crematorium as well the ground is smaller so only left Manikarnika Ghat for burning funeral pyres.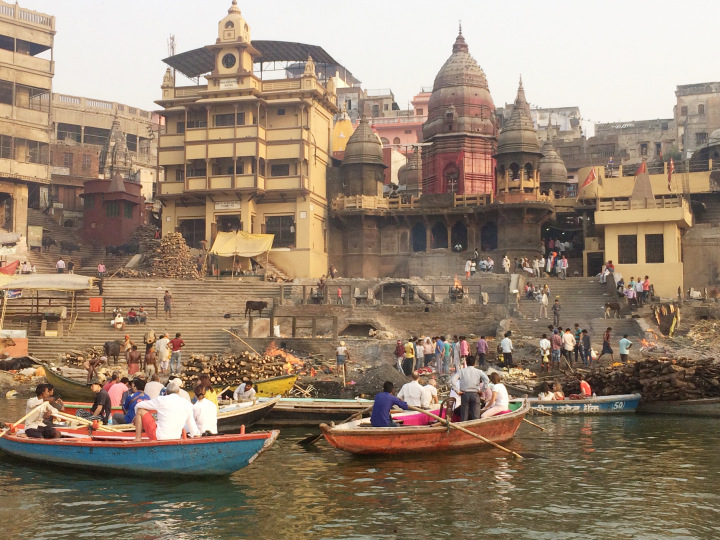 I am very fond of movies. Recently I watched Hindi movie "Masaan" (meaning: Crematorium) which was shot at Manikarnika Ghat. The story involves a family which belong to Dom Community (a low-caste of corpe burners) and works in cremation ghat by burning funeral pyres. I also have read about Manikarnika Ghat that the corpse burn here for all days in year. Even when the city floods during monsoon, the rain can't stop the fire. I can't say this was one of my best trip, but as I said in my previous post Varanasi taught me something which the books failed.
Well It was truly amazing experience. Reached early in Varanasi at 5:30am and the day has already started. Local people selling fruit and vegetables on the roadside. Some people were going for sun-rise boat rides. Stayed at Hotel Divine Destination which was appx 600m from Dashashwamedh Ghat, Varanasi's most picturesque spot. The name indicates that Lord Brahma sacrificed (medh) 10 (das) horses (aswa) here, hence the name is Dashashwamedh.
After a quick bath and (heavy) breakfast, set to explore the city. Booked the tour car from the hotel itself. The tour starts at 8:30 am (which was quite late, according to the driver). Started with d arshan at Durga Temple and at the entrance something caught my eye. A notice written "Gentleman not belonging to Hindu religion are requested not to enter the temple", it was quite annoying though, but one cannot really mess at Religious place. Followed by darshan at Tulsi Manas Temple and Sankat Mochan Temple.
After a good 2 hours temple darshan and stucked in traffic jam, we reached Birla Mandir situated within the campus of the "Banaras Hindu University". Besides the religious importance, Varanasi is also a major center of learning and culture. The "Banaras Hindu University" in the city is the largest university in Asia. The property is huge. It was like a mini town. Lovely temple surrounds with lush green garden where students were quietly studying.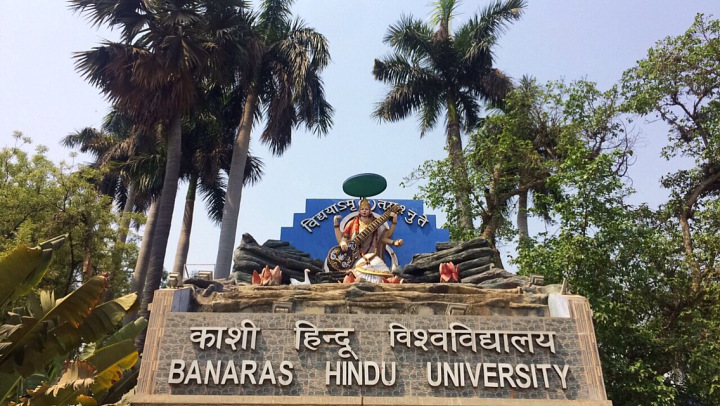 Vishvanath Mandir, also known as Birla Mandir (having been built by the Birla Family) is dedicated to Lord Shiva. The temple is one of the tallest in India with its tower being the tallest in the world. Total height of the temple is 77 meters.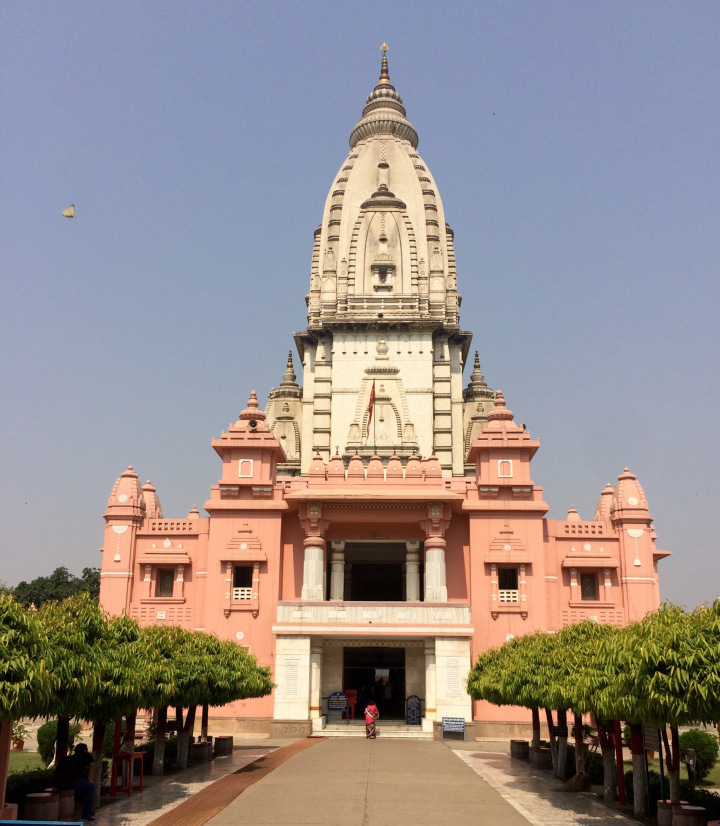 At 11:30 pm set to leave for Ramnagar Fort. The 17th Century Fort and Palace on the eastern bank of the river Ganges. It's a house of eccentric museum showcasing collections of Vintage American Cars, Sedan Chairs, Vintage Weapons, Kings and Queens Attires, Old Sari and Vintage Cutlery Collections and unusual Astrological Clock as well the real preserved of hunted animals by the Kings. Sadly the management is never bothered to clean the dust except sweeping and moping the premise. The property is damaged as well.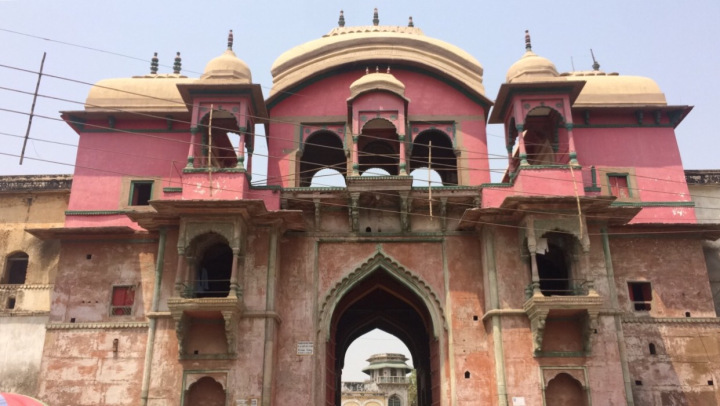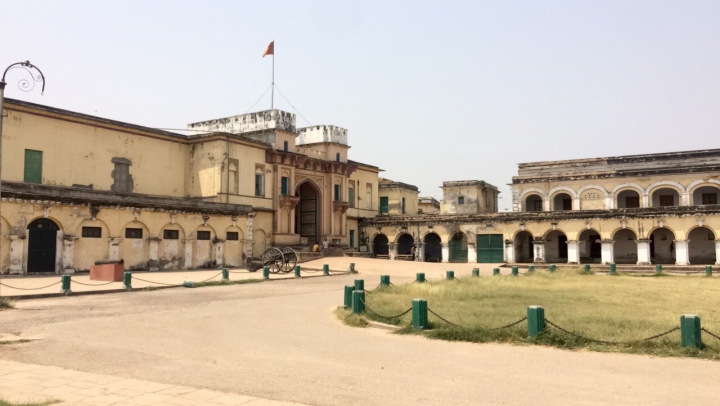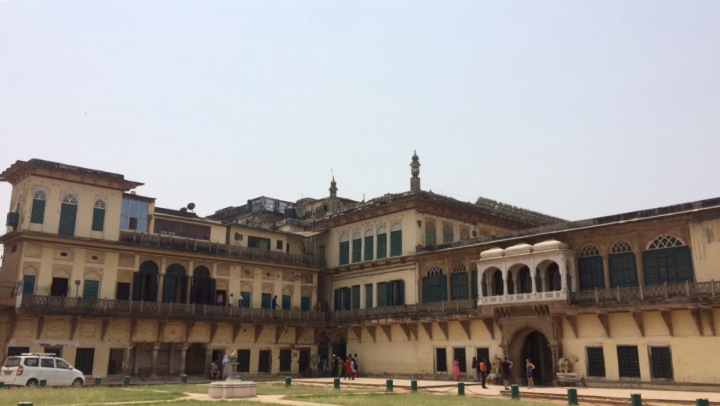 Took an hour tour of the Fort and without wasting any minute, left for Sarnath. The city is located appx 15 kms from Varanasi. Sarnath is the destination culture of Buddhist Pilgrimage.

To make it easy exploring around, I saved all the places on Google Map.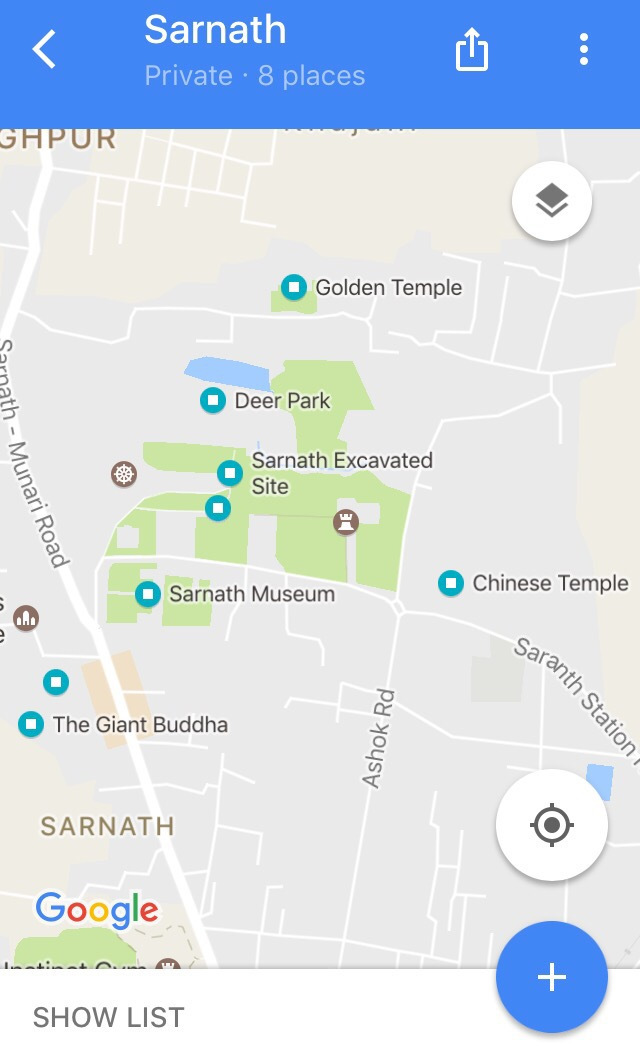 All the attractions are nearby, you can explore by foot.
Wat Thai also called as The Giant Buddha. India's tallest Budha statue of 80 feet high inaugurated by Thailand Prime Minister as well Thailand's Chief Priest Fra Suthi on 16-Mar-2011. The project took 14 years to complete.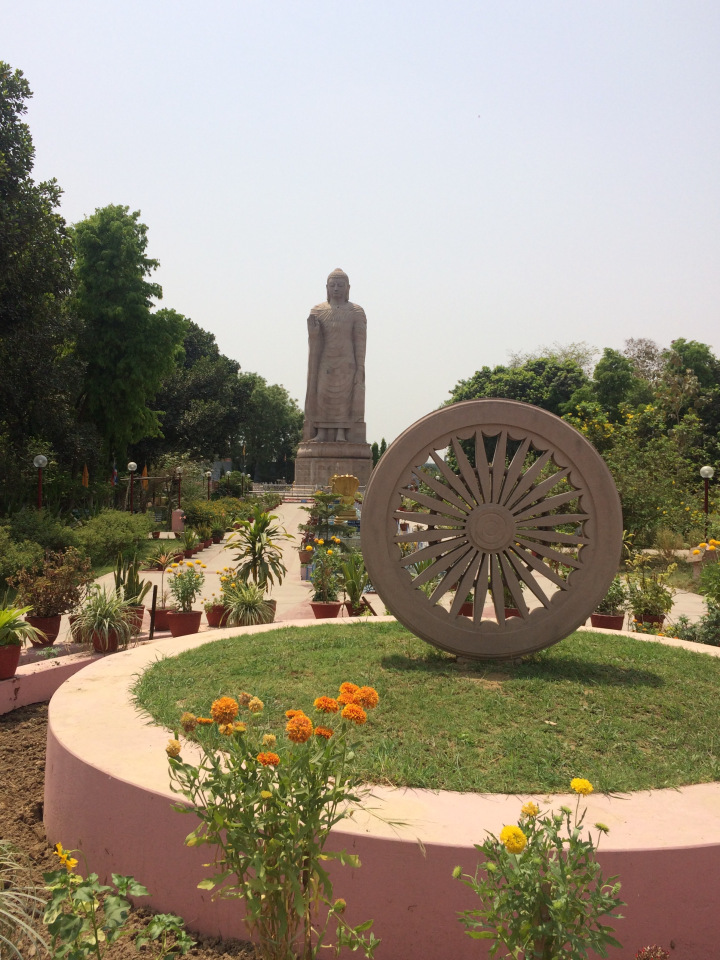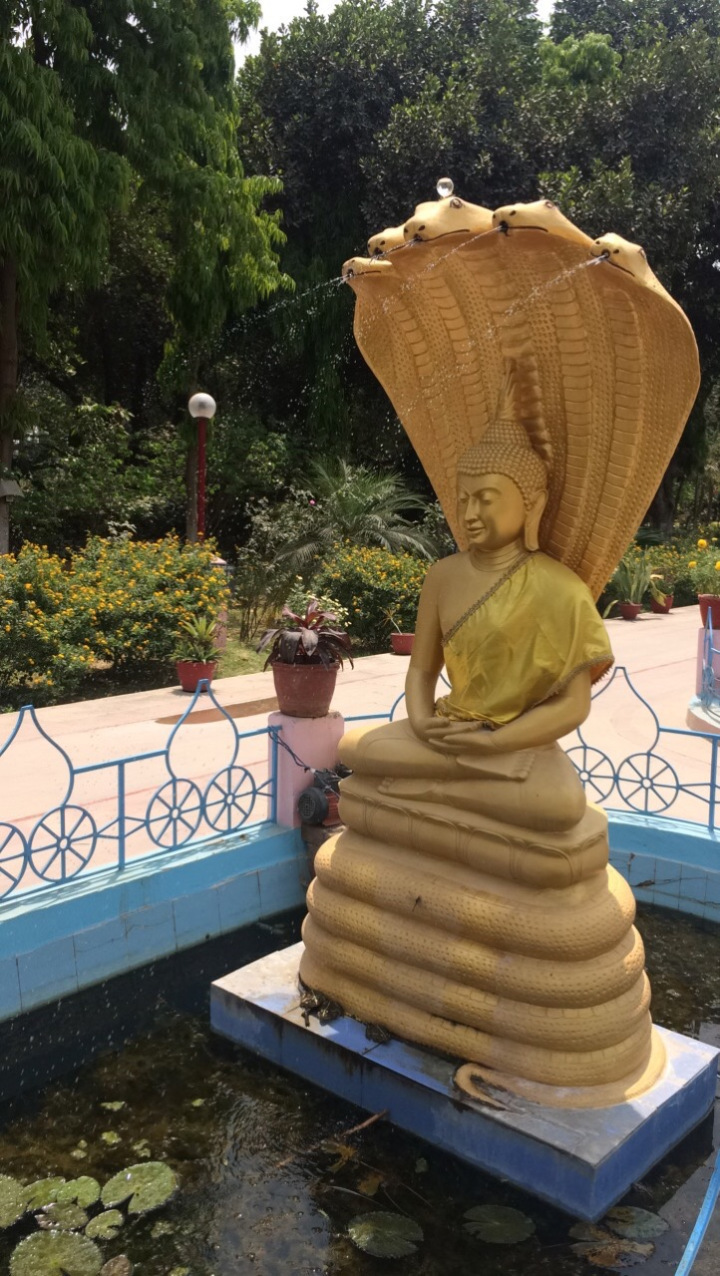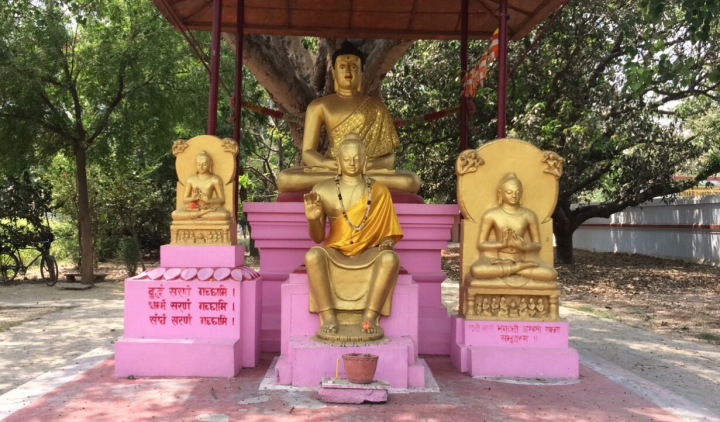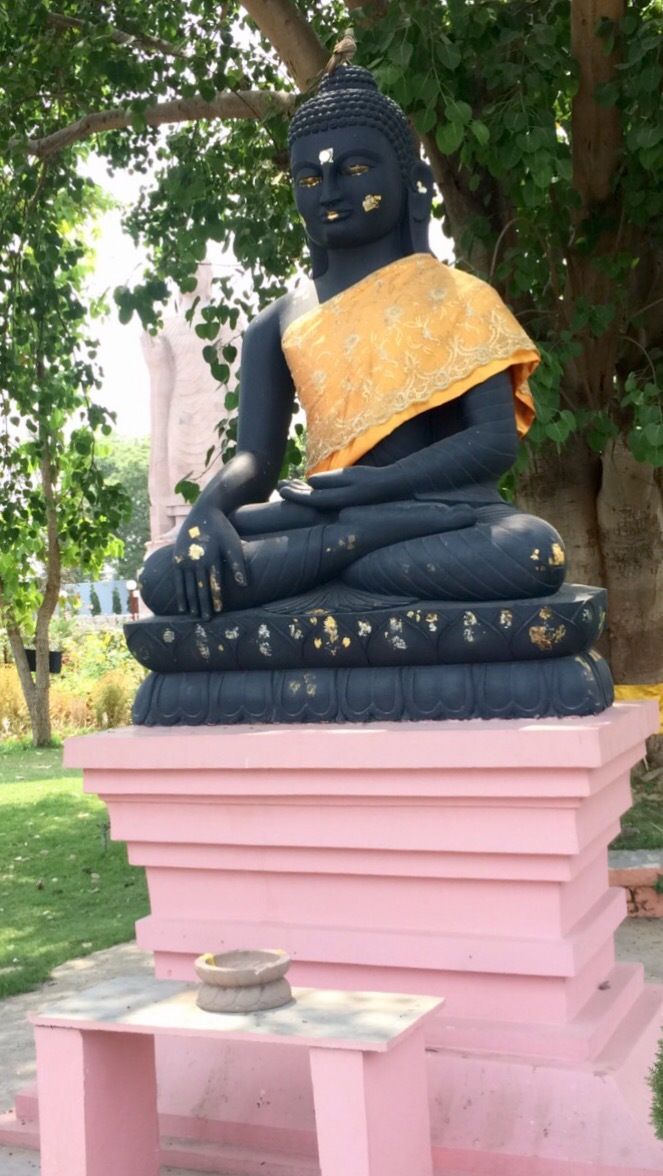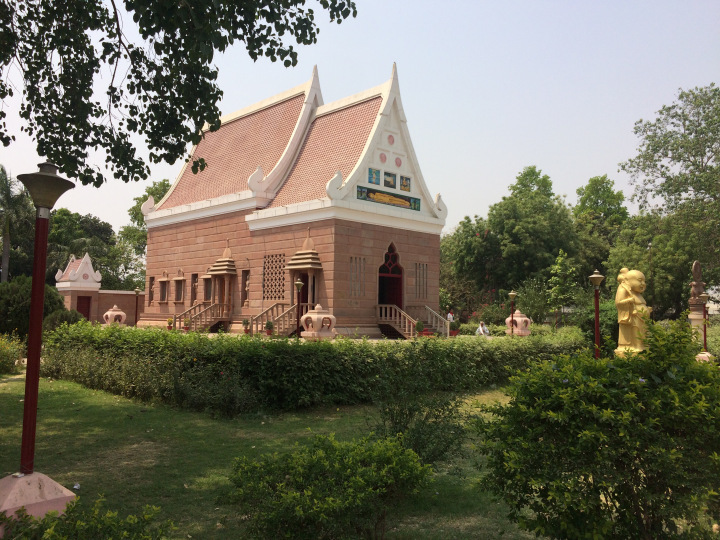 Sarnath Archaeological Museum
The museum have 5 galleries displaying antiques ranging from 3rd century BC to 12th Century AD. Rich collections of sculptures, artifacts comprising numerous about Buddha. One of the finest collections of Buddhist Art exhibit here. The museum is also have collection from Mauryan dynasty. The original sandstone sculpted Lion Capital of Ashoka is as well preserved at this museum.
Note: Carrying any type of bag, mobile phones, camera are prohibited inside the museum. They have locker facility. If you are a history love, it will take around an hour or more to explore the galleries.
This temple is appx 15 mins walking and 5 mins by auto rickshaw. The temple complex is huge. Such a peaceful place it was. If you want to spend some peaceful time, you can spend more time at this Temple.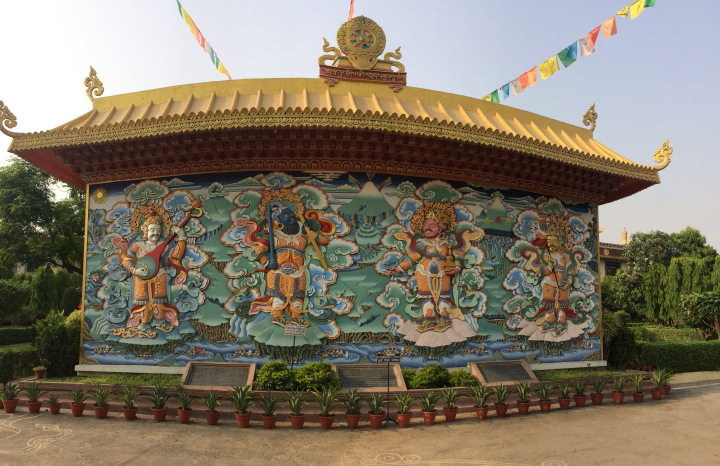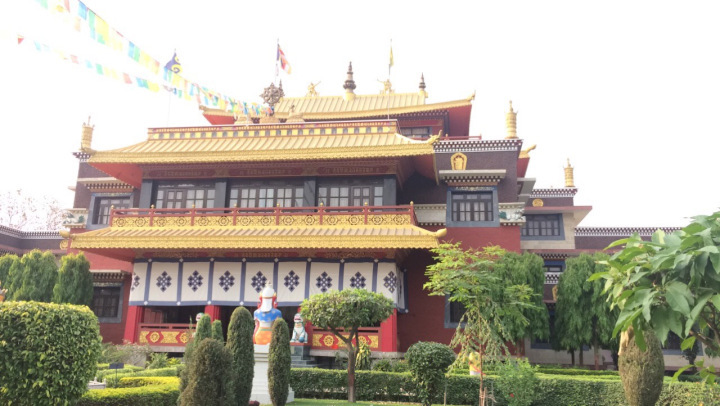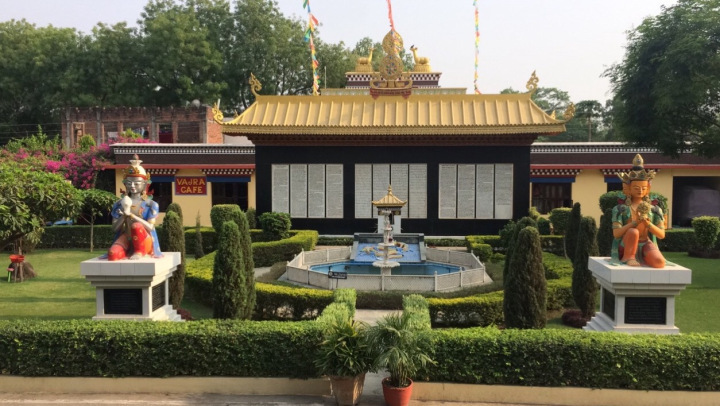 Sarnath Excavated Site
The excavation sites of Sarnath have amazing collections of sculptures. The most imposing structure is Dhamek Stupa.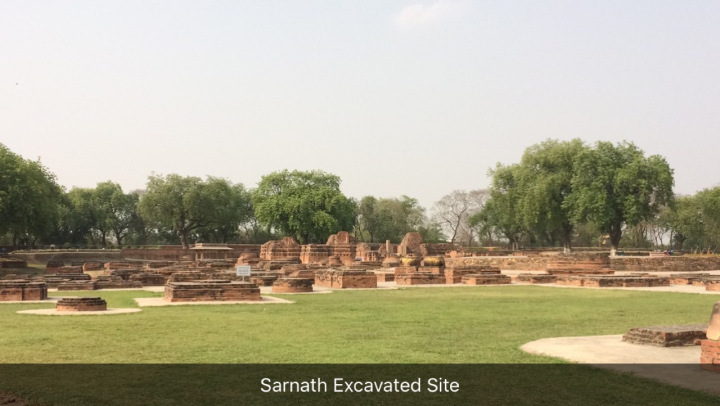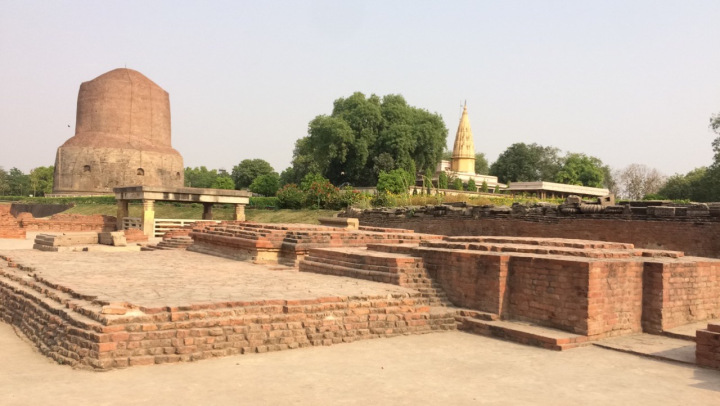 Broken piece of Ashoka Pillar built by King Ashoka (Maurya Dynasty) and destroyed by Mughals later are kept at the premise of excavated site. The four lion is kept at the museum.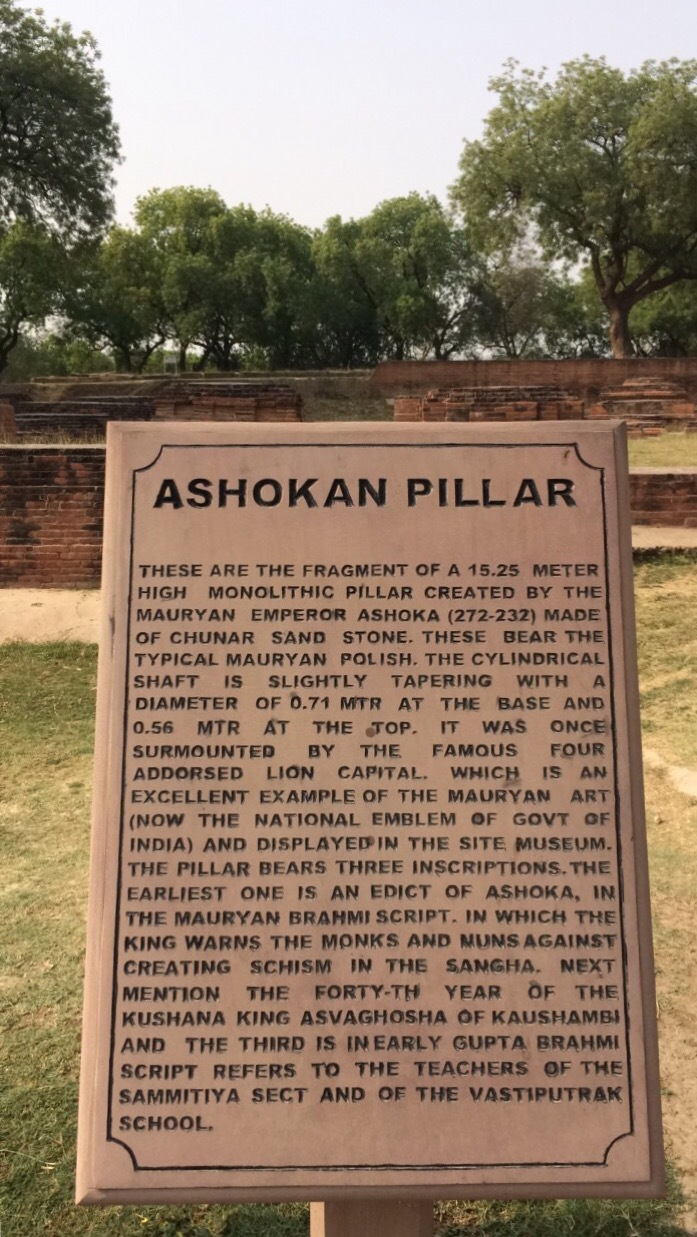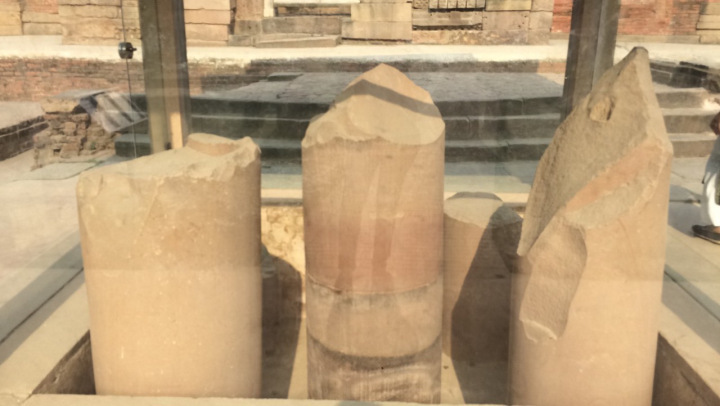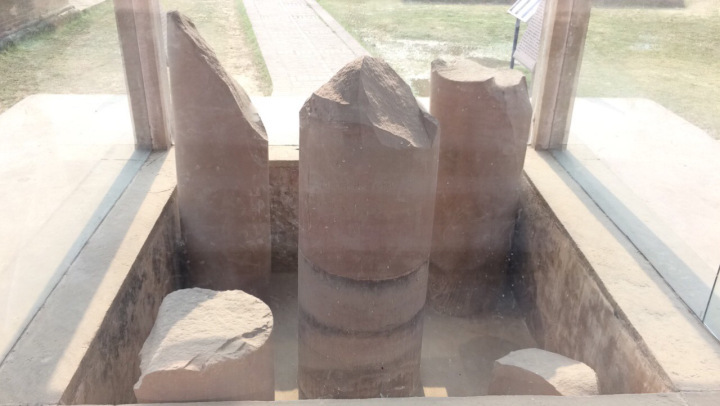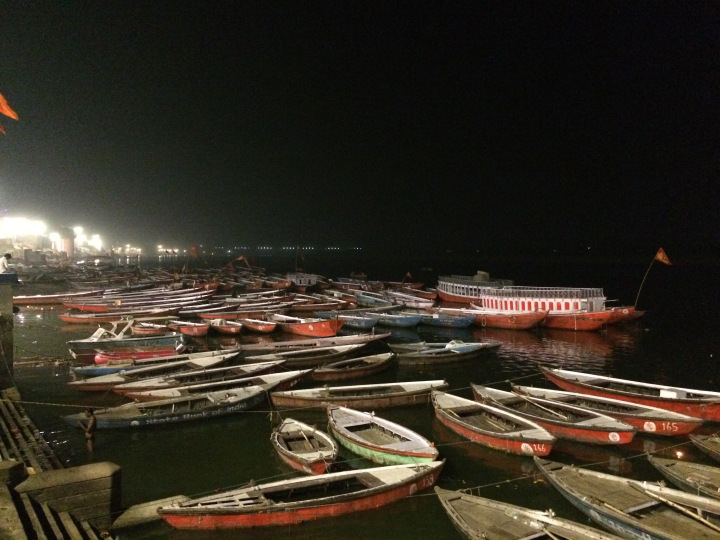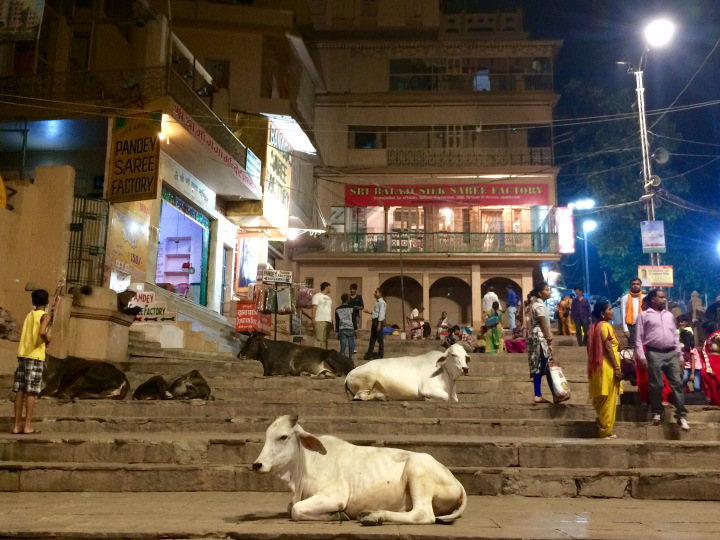 P.S.: If you are visiting Sarnath, make sure you have time for at-least 5 hrs, as well the cab you have book is willing to wait for long. You will get Ola Cabs as well (INR 100-115), but depend upon their route. Weddings in town make them to switch off the system and work as private cab driver to earn more money. You will get auto-rickshaws as well which will charge more (around INR 200-250). The temple close at 5pm.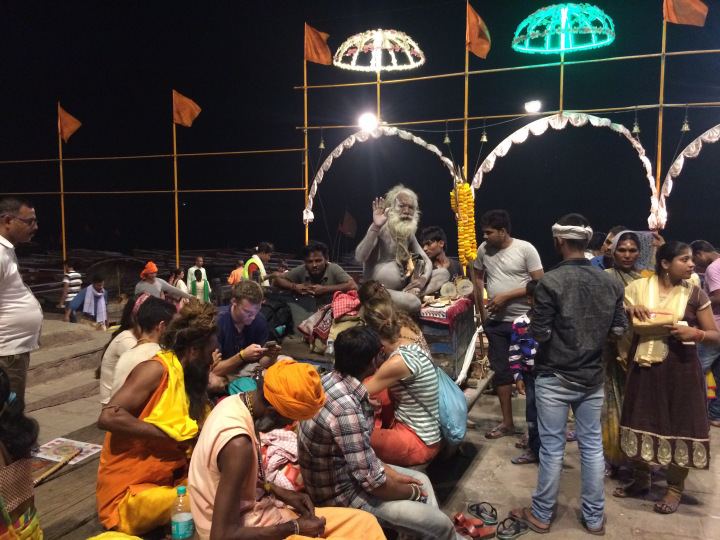 It was 7 in the evening, tired, but still I was excited to go to Ghats and explore the life there. After a good meal and quick shower I head to the Ghat. 200m to the ghats, one need to go either by walk or cycle rickshaw or private two-wheeler. It is a VEHICLE FREE ZONE. The entire path was full of shops selling clothes, bags, wedding trousseau as well restaurants and dharamshalas (cheap rate rest house for travelers). Beside the uneven dug up roads, traffic jams, crowd of people walking towards the Ghats, some slippery stairs, path full of people selling flowers, prasad and diya's as well I could hear the sound of drums followed by newly weds on the way to their hotel. But I found solace by being near the river that night. It was around 10pm. Cool, calm nature breeze, some reflecting things about life. The river was calm and boats were parked on banks of the river.
Something caught my eye while I was wandering from one Ghat to another (curiosity never ends!), I saw a group of foreigners as well locals sitting near Naga Baba Sadhu (Naked Holy Man), skin covered in ash, sitting on the ghat along the Ganges. They were on their own, having a great time exploring the Ghats cultures of Sadhu Baba's (Holy men).
In Varanasi, the first ritual Puja is begin in Kashi Vishwanath Temple at 3:00 to 4:00 hrs. They called it Mangala Aarti. As the city is lies on East, the sun rises early at 5:45am. The local people said, rainy days are the worst period here. Water level rises and cover the half of the city which lies on the bank of River Ganges. No ceremony perform at any Ghats that time except cremation.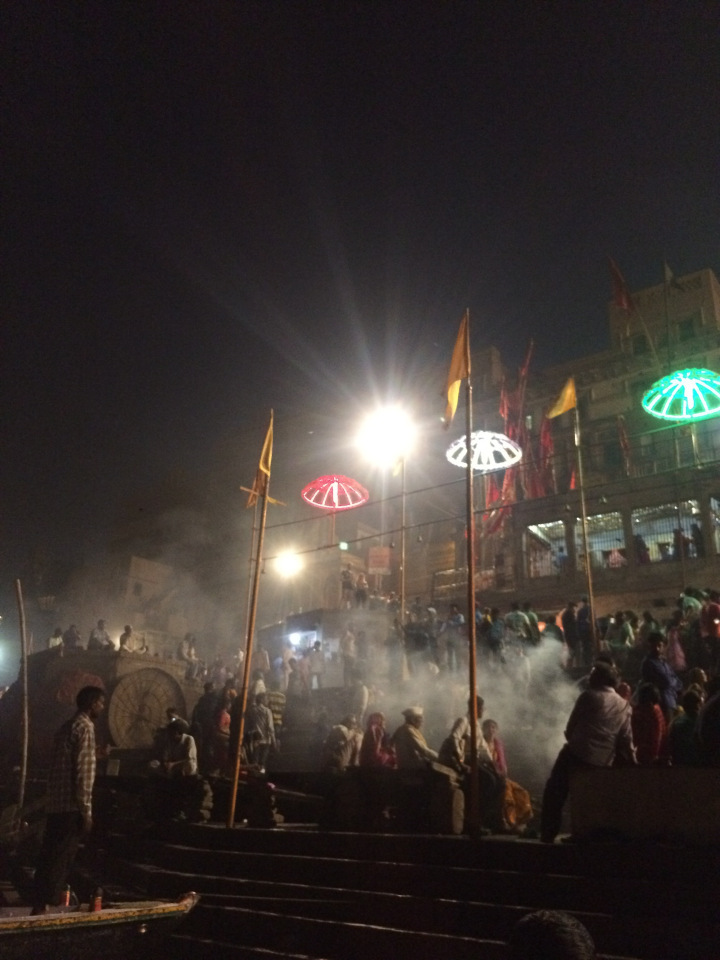 Next day I woke up early at 4:30am for sunrise boat tour. I was literally half awake but reached at Ghat on time, 5:15am dot. Starting from Priest doing Puja at Dashashwamedh Ghat and people taking holy dip bath in river, performing rituals. I could hear many temple bells with shankh (conch shell)sound. Boat ride start at 5:30am. I saw people doing Surya Namaskar (Sun Salutation) at Vijayanagaram Ghat. Some people were washing clothes at Babu Pandey Ghat. Many different ghats and ashrams have different stories. But the most fascinating thing was the sun-rise. It was blissful and irreplaceable experience. Saw a boat carrying Buddhist monks and they were chanting mantras.
At 8am, I was back at hotel. After breakfast, I took a power nap. I am not a morning person, but believe to start the day as soon as sun-rise :D. Choose to have lunch Mc'donalds giant burger at JHV Mall. I traveled 7 kms to Cantonment area and realized Varanasi is full of surprise. Neat and clean road. No potholes. No traffic jams. After a lazy afternoon break at mall, I was back to hotel in the evening to get on the boat for Ganga Aarti tour at 6pm at Dashashwamedh Ghat. Though you can see the aarti at the ghat itself, but the crowd will disappoint you. The better view you will get to see by watching it from the boat.
After the aarti ends at the ghat, I took an immense courage to visit Kashi Vishvanath Temple. Sandhya Aarti begins at 7pm to 8:15pm. I said "immense courage" because the temple is situated at narrow alley which is crowded by devotees who doesn't know how to stand in line and no bag, phone, camera, water bottle, etc. allowed to carry inside the temple. You need to deposit it at the safety box. You need to go thru the security check points guarded by the Police. I saw one Police guard mercilessly kick off the beggar who was old and limping. Despite of an ancient temple, the priests won't shame to ask you for baksheesh (a small token amount of money in return of their favor) of not less than INR 500 after he do Puja for you (INR 500 per puja) and not let you even stand around the jyotirlinga for more than 5 secs. If you refuse to give them money, he will curse you. The police security inside the temple literally push people to leave the temple after the aarti finished. I don't believe in curse until I don't do anything wrong, I did enter the temple after the boat tour person asked me he will get me thru the VIP Entry. Even though I was aware the VIP entry means the tour person have tie-up with some Priest (whom he is working for). I left the premise without uttering a single word and without giving any baksheesh. Because the Priest didn't do any puja for me (I request not to do).Instead of giving money to the Priest, I gave beggar food.
One cannot miss to have Banarasi Pan and Banarasi Lassi while in Varanasi. I not a fond of pan, but lassi is one of my favourite drink. It taste amazing! Varanasi is also famous for Banarasi Sari.
After a 2 days non-stop hopping from one place to another, it was the time for bid-farewell. It was a great pleasure learning something new here. Something which I will never forget. A lesson about Life and Death cycle.
"The holiest of the holy sites in the east is Kashi or Banaras as it is known today. Kashi is held as the core of the universe."