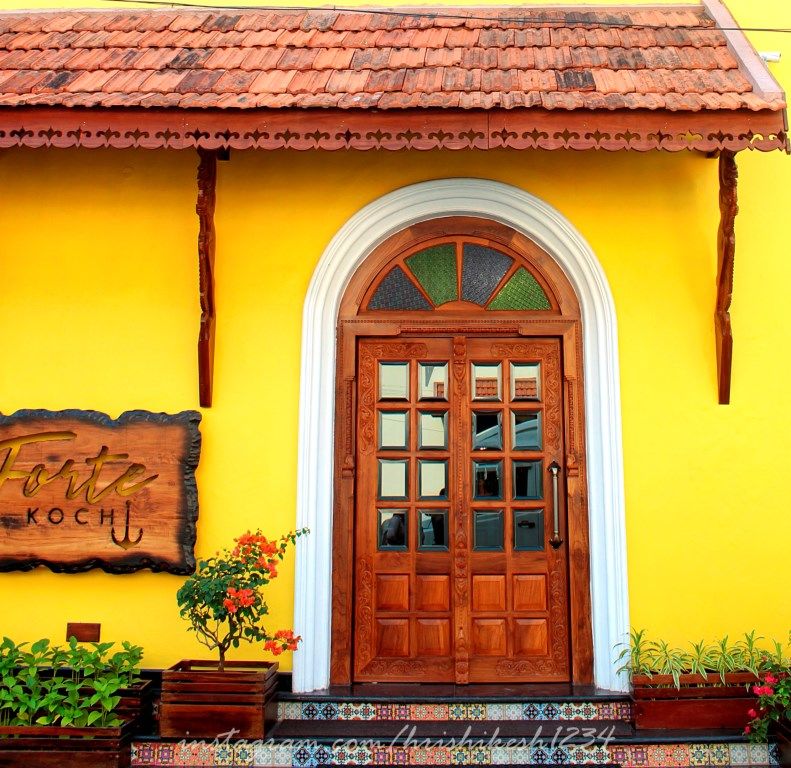 From hills to beaches, cardamom and rubber plantations to the backwaters of Alleppey, Kerala has it all. Kerala is one of the top tourist attractions not only in India but across the globe as well. And Kochi (also known as Cochin) shares the same strata as its other sibling tourist destinations.
Kochi is more notable as a port and shipyard, and was a prominent trading destination from the early 14th century, primarily for spices. An important base for the Indian Navy Kochi has emerged as one of the hotbed for tourists, and Fort Kochi is one such place which should be on the radar of anyone visiting Kerala. So, here we are in Kochi to explore what the city has to offer us.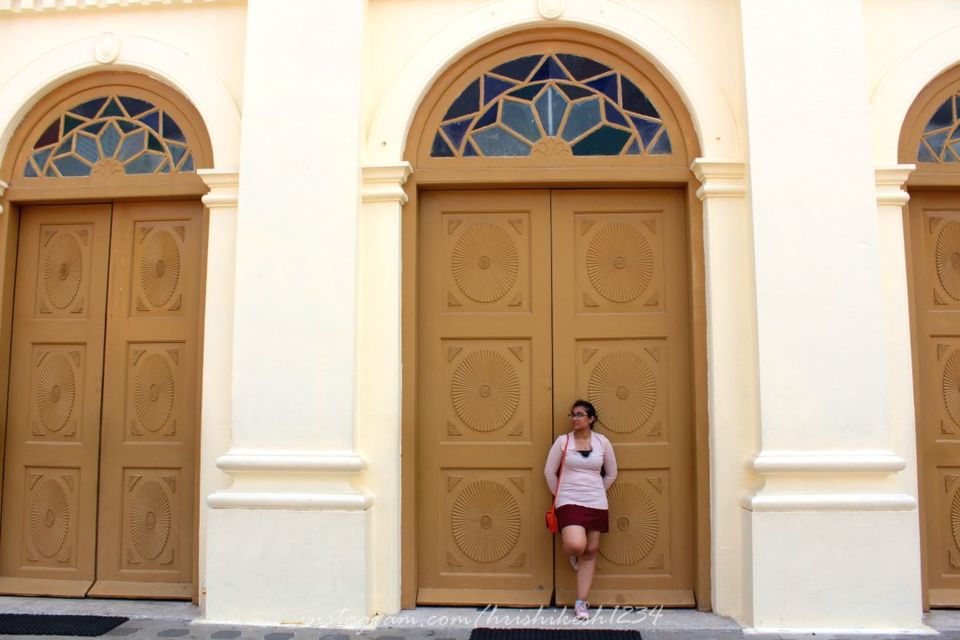 A bit about the city, Kochi was under the possession of the Portuguese before the Dutch landed and wrestled the city away from the Portuguese. And then the British drove away the Dutch to gain control of the city, and more importantly the trade route. As such Fort Kochi is a good mix of Portuguese, Dutch, and British culture and remnants. However, the iconic Chinese fishing nets is what makes Fort Kochi the icon that it is. Especially during sunsets the Chinese fishing nets provides for that perfect photographic moment. This apart Fort Kochi has numerous options that it can throw at any avid traveler.
How to Reach Fort Kochi?
Just to keep things simple just understand Kochi and Fort Kochi are "technically" 2 different regions, separated by the sea. Both the regions are well connected by bus and boats (jetty). Kochi is well connected to all major cities in India, by air and rail. From Bengaluru, Hyderabad, Chennai you can take a overnight bus to Kochi as well. We took a KSRTC bus from Mysuru that took almost 10 hours to Kochi. Once at Kochi you may either take a bus, cab, or jetty ride to Fort Kochi.
Personally I found the jetty more helpful (I'll tell you why later), the bus or cab takes a full circle and takes a longer route to reach Fort Kochi. If taking the jetty then either take an auto or Ola/Uber till the Marine Drive. From here go to the jetty boarding point and get yourself a ticket to Fort Kochi for Rs. 4. Yes, you read that correct, fare from Kochi to Fort Kochi on the jetty is only a mere Rs. 4. Talking of budget travel! The jetty services are quite regular, and runs till 10 pm. Once on-board enjoy the breezy ride while you get awed by the shipyards and huge vessels that berth here. Don't worry, the jetty ride is extremely safe and you'll reach Fort Kochi in about 20-25 mins. The ride at night becomes even more pretty with the entire shipyard lit.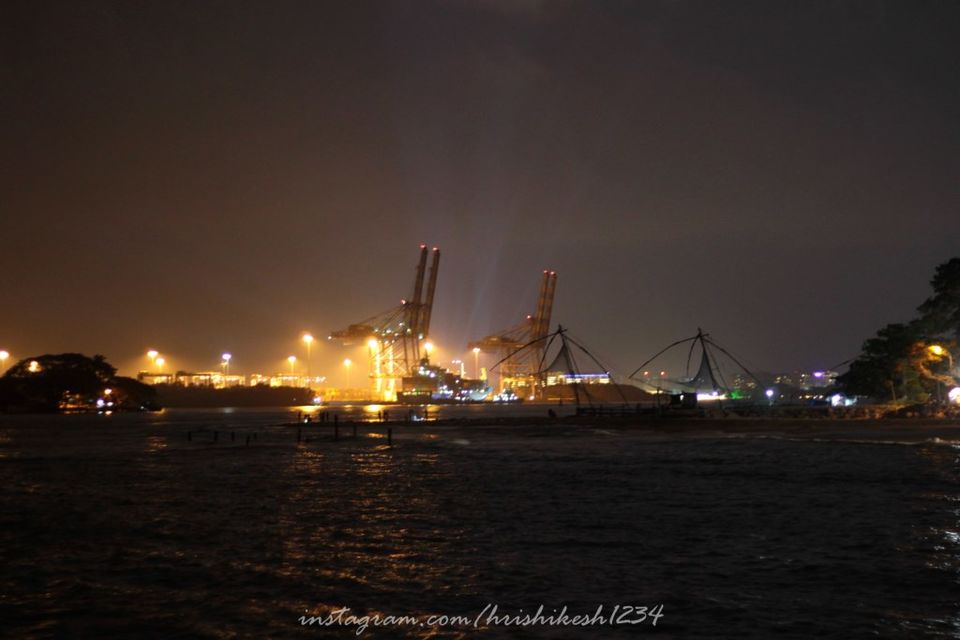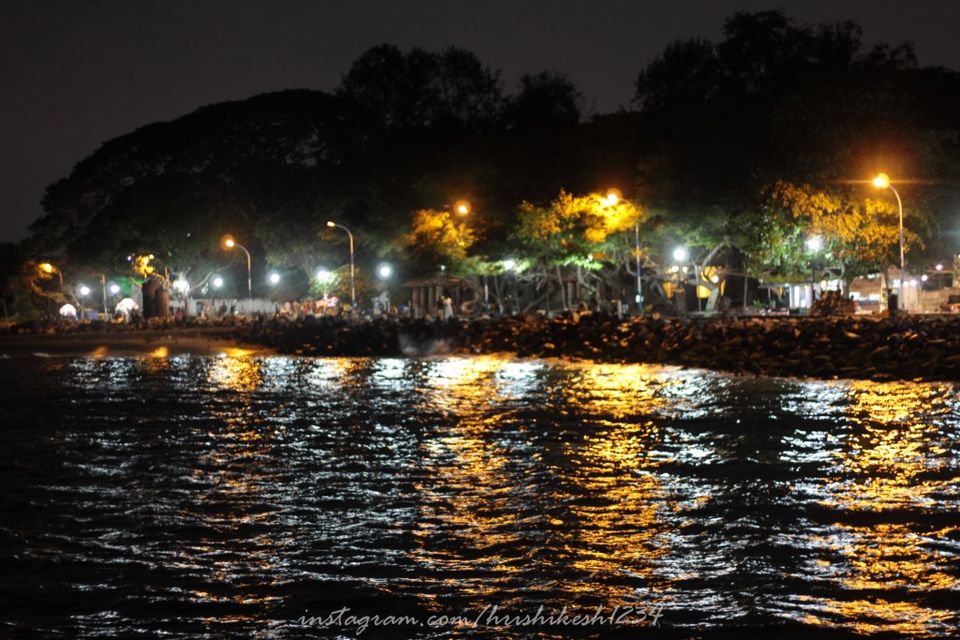 Once at Fort Kochi be welcomed by numerous old houses, buildings, and string of churches that were build by the Portuguese, Dutch, and the Britishers. The narrow roads that leads to the beach will take you to memories down the lane of the life and culture of that era.
Where to Stay?
2. In Fort Kochi do give a visit to Seagull. Not for the food (food was just average), but for the ambiance at night. Situated on the harbor overlooking the shipyard, this place is a perfect spot for that romantic evening, or just to relax after a tiring day. While you're at your food you wave goodbye to all the boats and ships that sails past.
3. Kashi Art Cafe is yet another good place to be in if you are the one of those who likes to appreciate art while on a plate of food.
4. This apart you can also try having a good meal at street cafes that are lined up under the tree shade, giving you the European feels. Its bang opposite to Kashi Art Cafe
5. This beside there are numerous fish vendors near the sea-shore that sell fresh catch (you can literally see them wriggling around) and will cook it up for you as well. We tried a snapper fish in one such place, and boy it tasted awesome.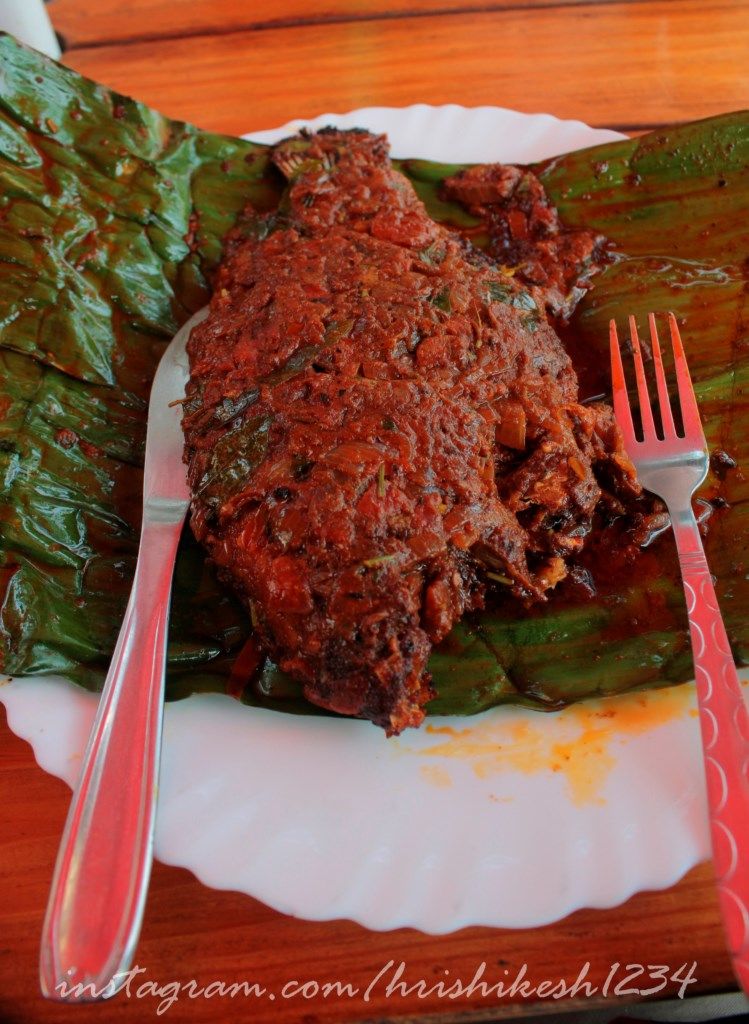 A perfect for those looking for a less crowded and a clean beach. Not yet popular among most tourists and can be reached from Fort Kochi in about 1.5 hours. While at Fort Kochi take the Ro-Ro vessel to Vypeen island. This takes around 10 mins to reach. Once there take the bus that will drop you near the beach. The bus fare is 19 bucks. It takes around 30-40 mins to reach. Enjoy the ride with the greenery and typical Keralaite houses and lagoons.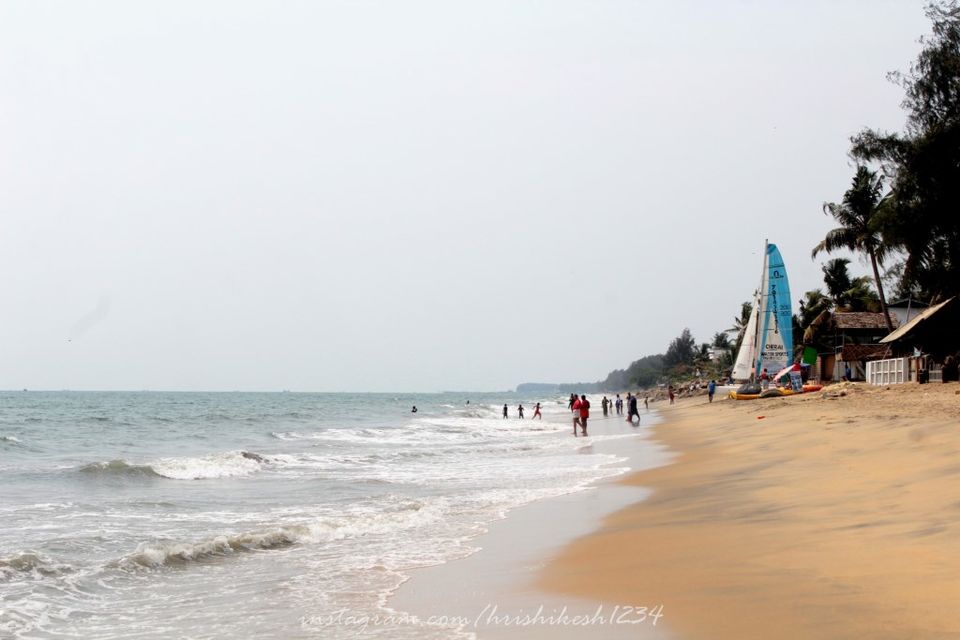 Once the conductor tells you to get down at the designated place take an auto to the beach. Ensure to keep an eye on a bridge dividing a backwater in 2 parts. You can see the Chinese fishing nets engaging here as well. Soon after crossing the backwater you'll reach the Cherai beach. Cherai is a small yet beautiful and clean beach. There are quite a few restaurants as well, and couple of them will serve alcohol also. Post some good seafood and couple of beers we went to the beach to immerse in the warm sea-water. If you want then you can also indulge in water sports as well. On return we booked a Uber as it got dark to catch a bus.
Jew Town
Being a popular destination on a traveler's map there are numerous options to stay, both in Kochi and Fort Kochi, from the most lavish to the ones who do not wish to burn a whole in their pocket. Zostel is now there at Kochi so that makes things much simpler. I got a bed for Rs. 500 in an AC dorm. This apart there is also a hostel named Happy Camper which is very popular among foreign travelers, and me got a bed for only Rs. 350 a night. Personally, Zostel was way better. That apart, almost every house has turned into a guest house or backpacker hostel.
What to Eat, Where to Eat?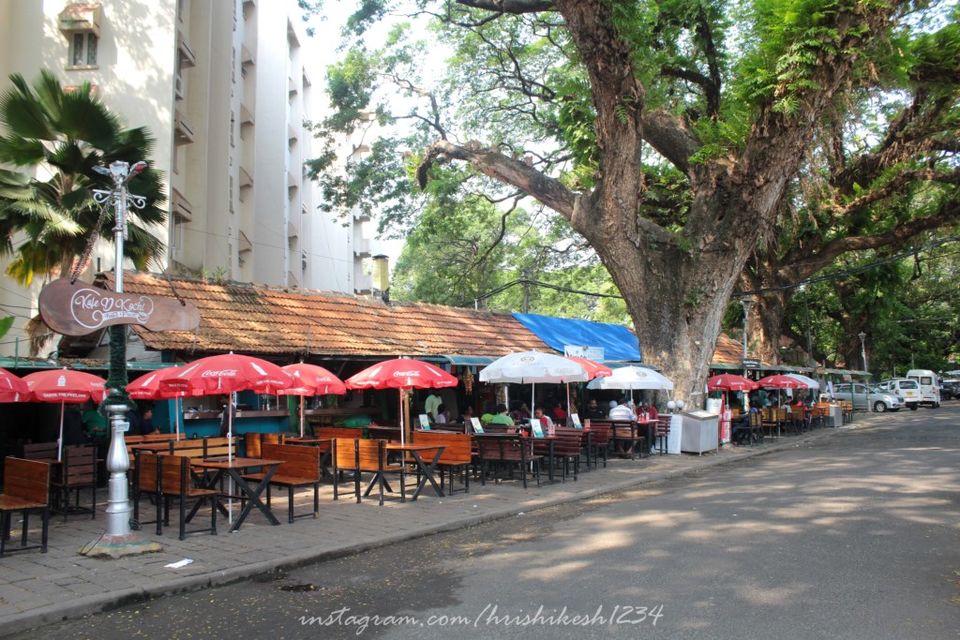 Lot of Fish, Prawns, and Seafood to be honest! No seriously, Kochi is a heaven for sea-food lovers. There are literally hundreds of options to you. Few options that I really liked a lot are:
6. Also, don't forget to try the local drink Kulukki sharbat. A MUST try drink if in Kochi. Made with sugar syrup, 1/2 slice lemon juice, ice cubes, basil seeds, and any fruit flavor of your liking. Then put in a shaker (the ones they use in pubs) and shake it up! Enjoy the drink! I had pineapple, green apple, orange, mango, and strawberry flavor.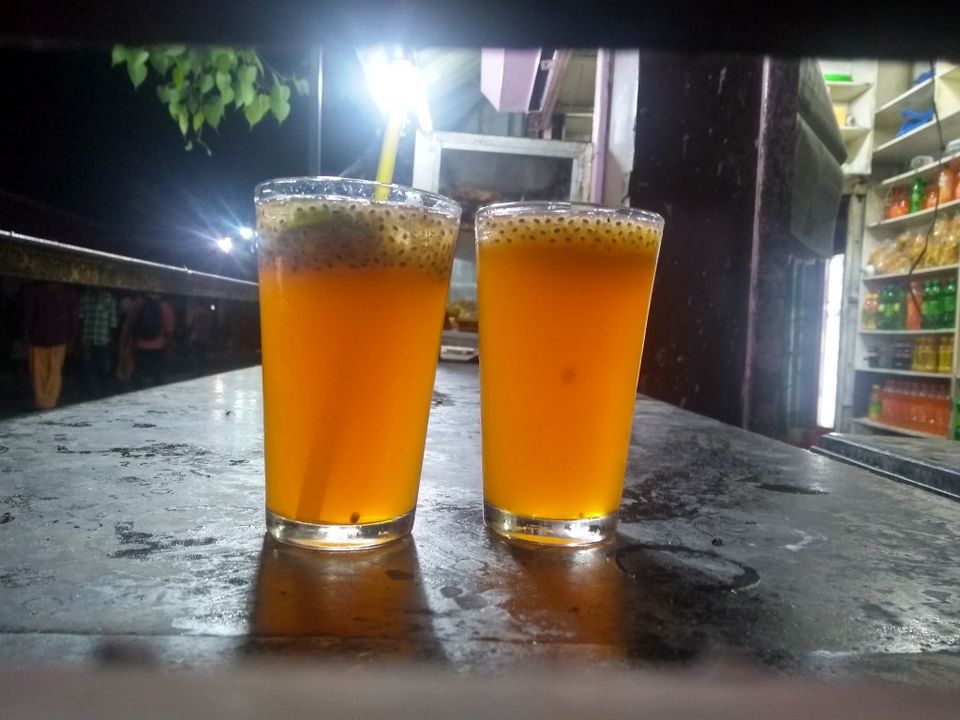 What to See, Where to Go?
Ok, so I'll list down the places I covered in the 2 days that I was there in Fort Kochi. Of course, there are plenty of places to see and things to do besides the below.
Fort Kochi Beach/Sea-Shore
The centuries old Dutch cemetery is right next to the shore. Also, the St. Francis Church is at a walk-able distance from the beach which has a huge historical significance. Vasco da Gama, the first European to reach India was initially buried here.
Cherai Beach
Santa Cruz Cathedral Basilica
Enjoy A Fresh Catch With The Chinese Fishing Nets
These Chinese Fishing nets are said to be using from the early 13-14th century, and are a symbolic element to the identity of Fort Kochi. Newer and better technologies have evolved for fishing but these fishing nets still find their usage, and uphold a century old culture.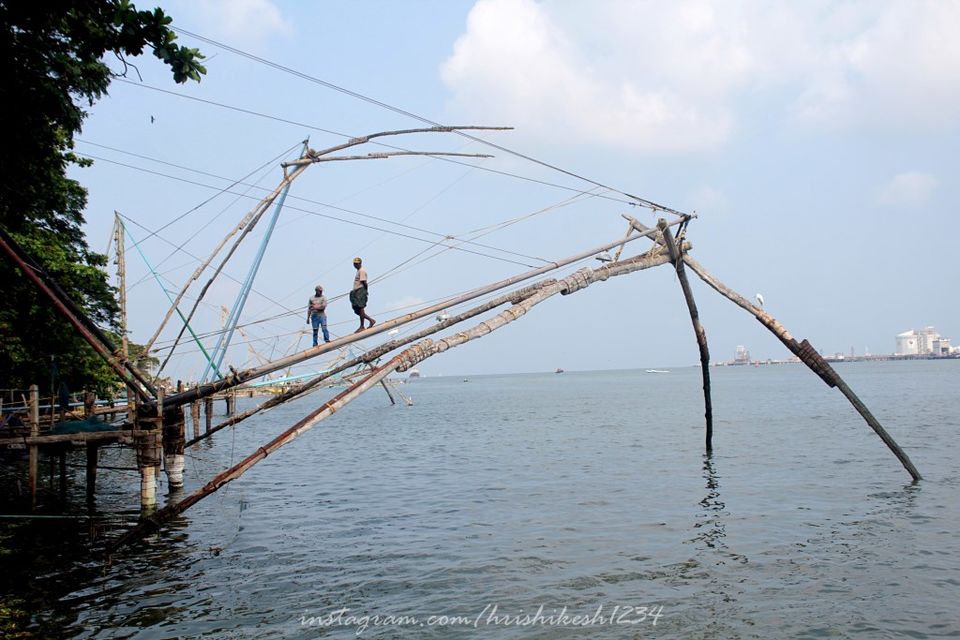 If you're into photography then bask in the sunset glory with these fishing nets in foreground to get some cracking shots. Or maybe just approach any of the fish vendor to cook one freshly caught Carimeen or Snapper right there.
Cochin Spice Market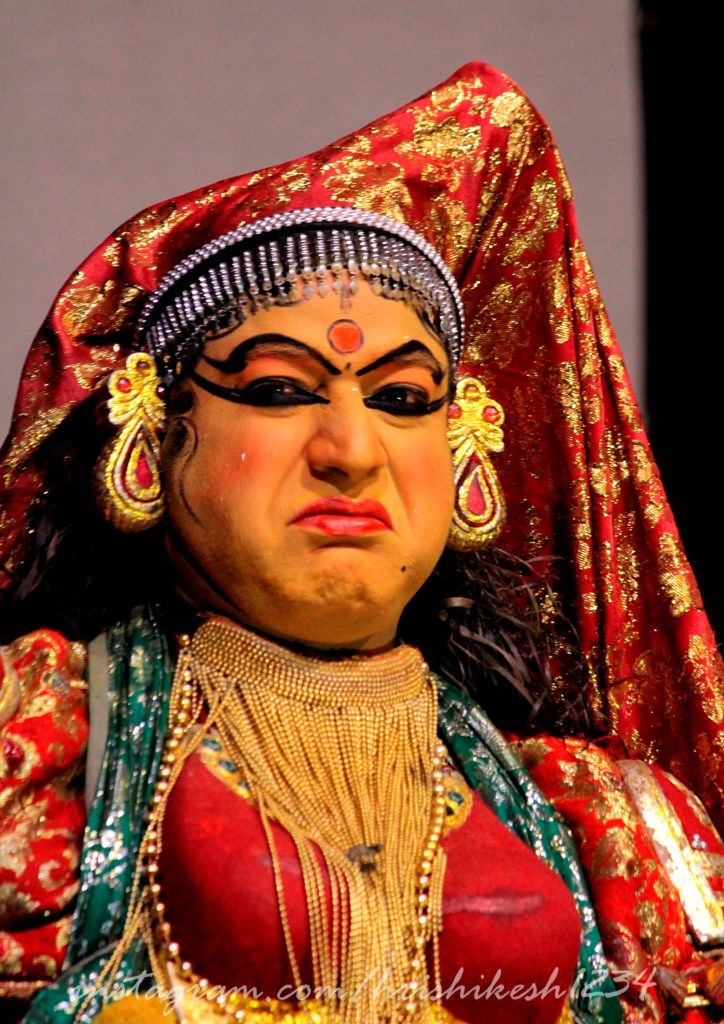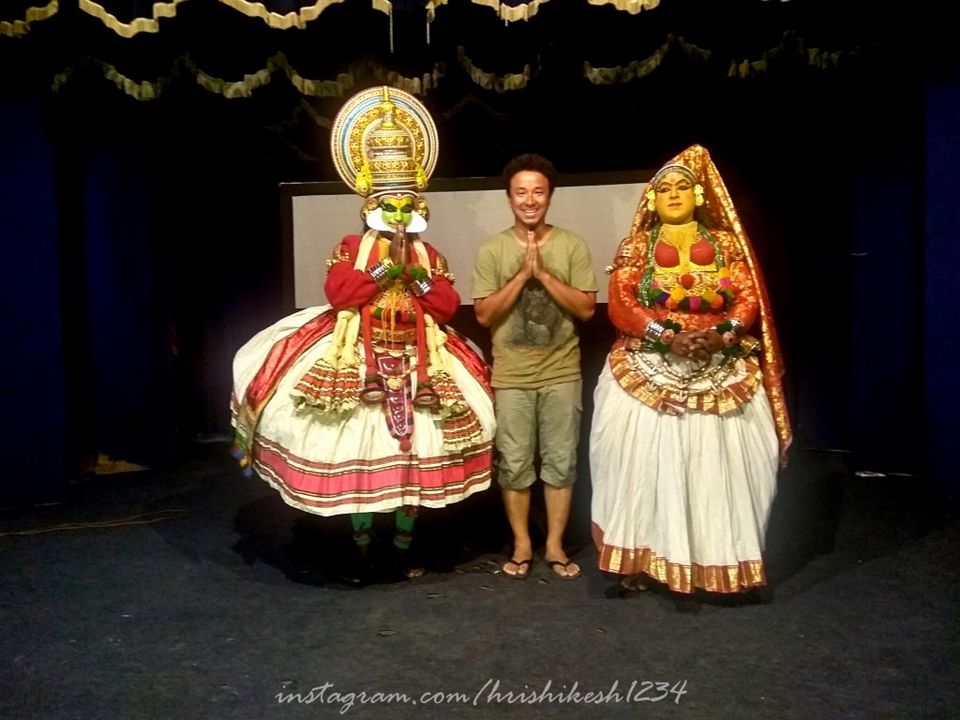 Also, don't forget to get your pics clicked with the artists once the show is over.
Indulge in some Street Shopping
Ok, as you may have already guessed Fort Kochi is a gem of a place for street shopping. Whether you want to buy antiques, decorative items, toys, clothes, art on leaves, shawls, toys, cheap jewelry... you'll get everything here. I promise you you'll have a great time going through all the interesting stuff, even if you end up buying nothing.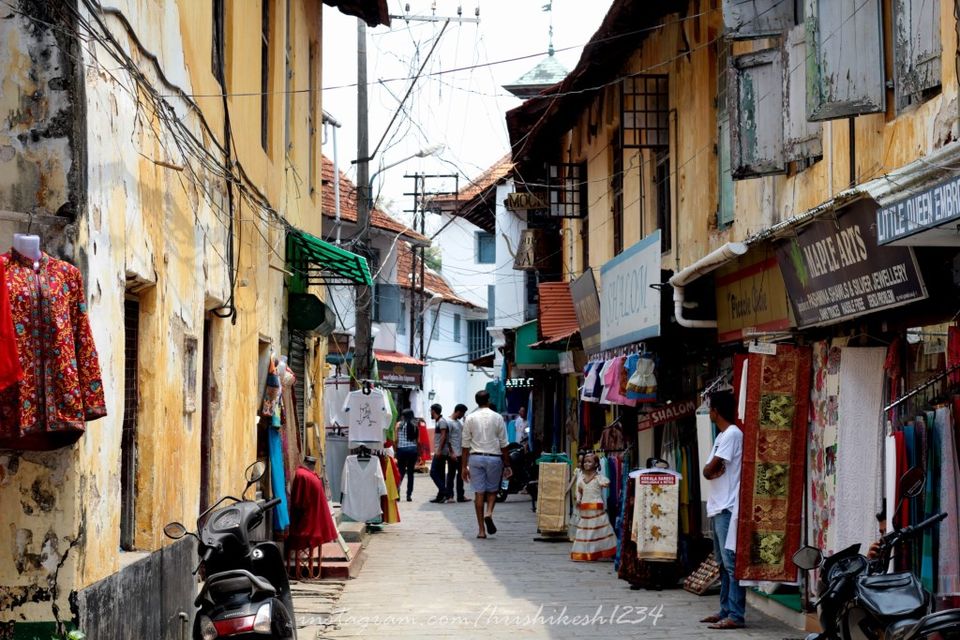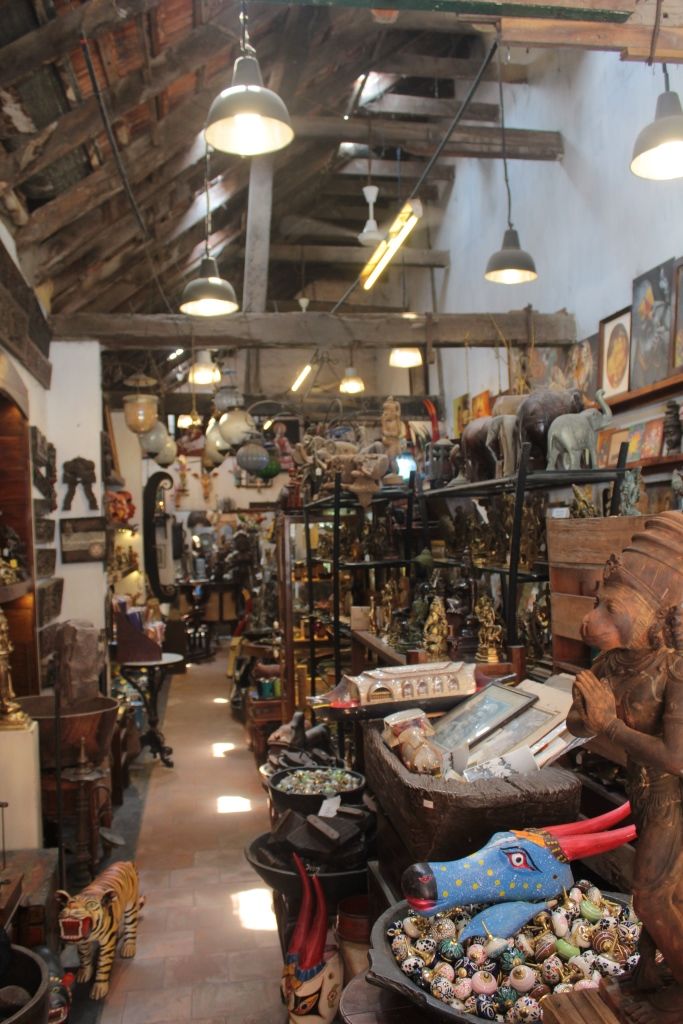 Enjoy the Jetty Ride from Kochi Mainland to Fort Kochi
Where Else Can You Go?
You may also take a bus or train to Varkala, which is a cliff-side beach and is 4 hours from Kochi. Or better, head out to Alleppey which is only 2.5 hours from Kochi. If in Kerala you HAVE to take a boat ride in the backwaters of Alleppey, else your trip remains incomplete.
Another option will be to head out to Athirappilly falls, which has been witness to numerous South Indian as well as Bollywood blockbusters. This requires a full day, and my blog post can be found here.
When is the Best Time to Go?
Honestly speaking we were sweating profusely while there. Being in a coastal area humidity comes naturally in Kochi. Wear light cotton or airy synthetic clothes. Drink plenty of liquids. We went in April, and honestly it was way too hot. We got roasted!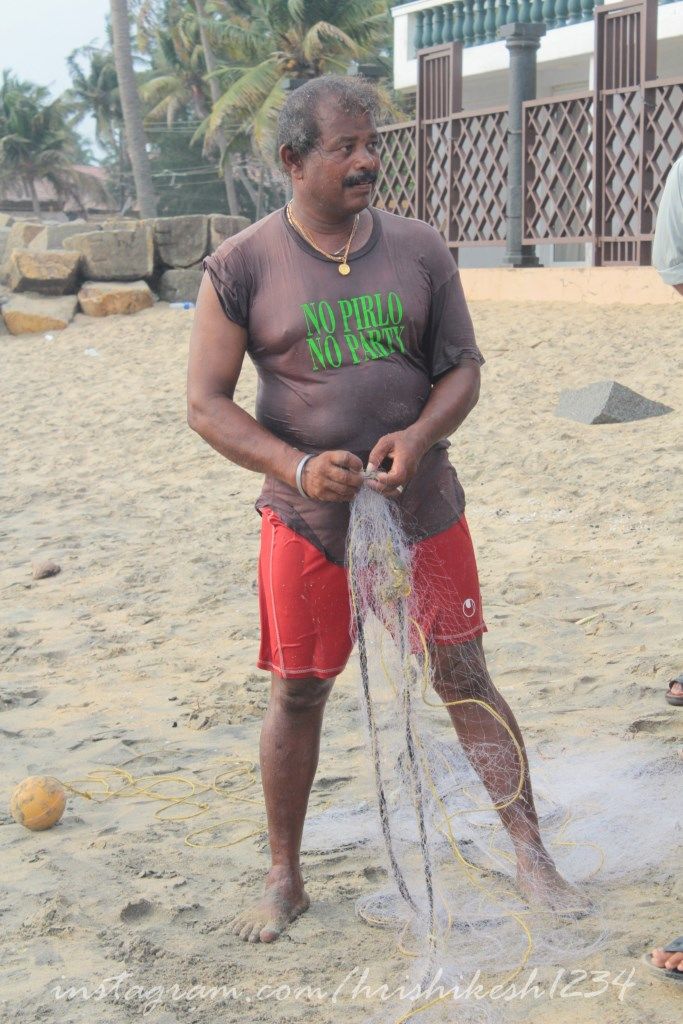 Monsoon hits Kerala from last week of May, and it may rain for days. So monsoon can be ruled out as well. Post monsoon period till February is ideal to visit Kochi.
If you just wanna unwind and see all the ships sail by then head to the sea-shore in the evening. Sit on the bay and just enjoy the cool breeze flowing through your hair. Just ensure not to get in the water; its quite dirty and stinky to be honest. The govt. has put up benches and a pavement to walk making it a good spot to relax. Also, you can eat in the numerous small eateries that serve all kinds of food.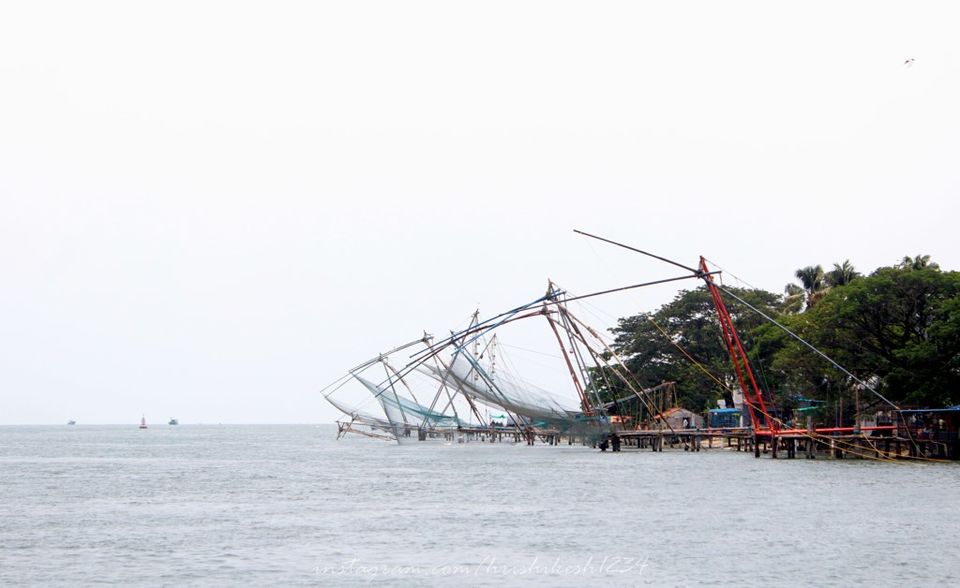 A great place to hang around to explore the Jew settlement, culture and shop for numerous artifacts and spices. The Pardesi Synagogue is one such structure, was built in the 16th century by the European Jews and celebrates the Jewish contribution in adding and promoting to the culture of Kochi. A clock tower also sits outside the synagogue. Unfortunately for us we visited 2 times, and both the times the synagogue was closed. You can shop for numerous artifacts, clothes, and toys that line-up to the synagogue.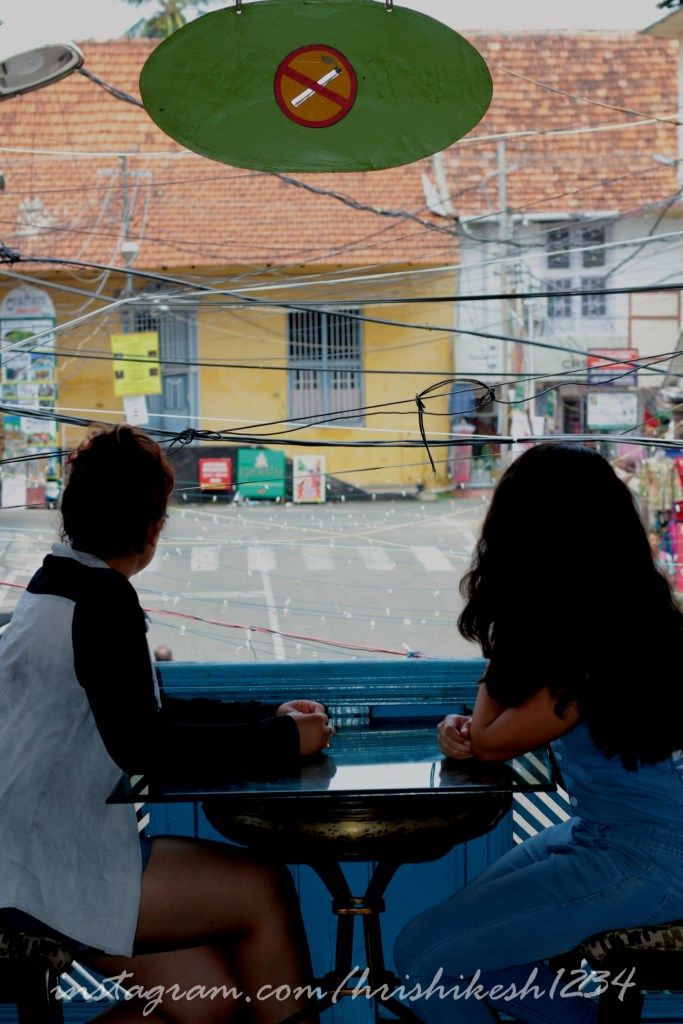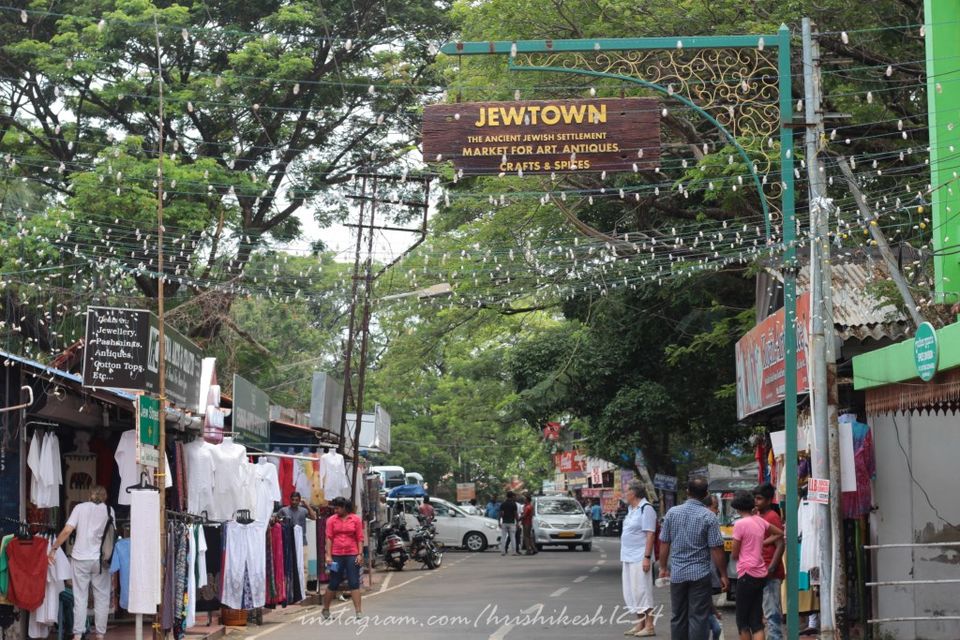 Right next to Jew Town is the Dutch palace. The Dutch palace was under the Dutch and showcases the history of Kochi, its gradual evolution, and the people that shaped Kochi's history. Also, intricately painted and maintained are the depictions of Ramayana on the walls. This is also a good place to visit and to know the history of the city.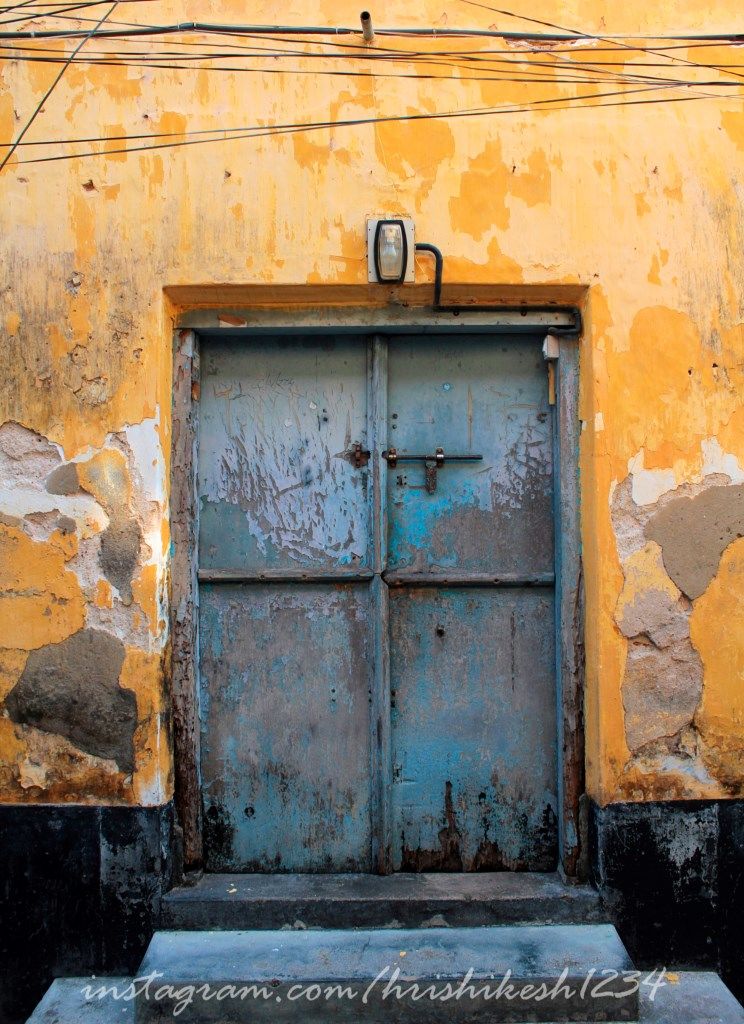 Right in the heart of Fort Kochi is a church revered by people globally with impressive architecture and design. It was built by the Portuguese in the 16th century, and was spared by the Dutch from their wrath. An important place of worship.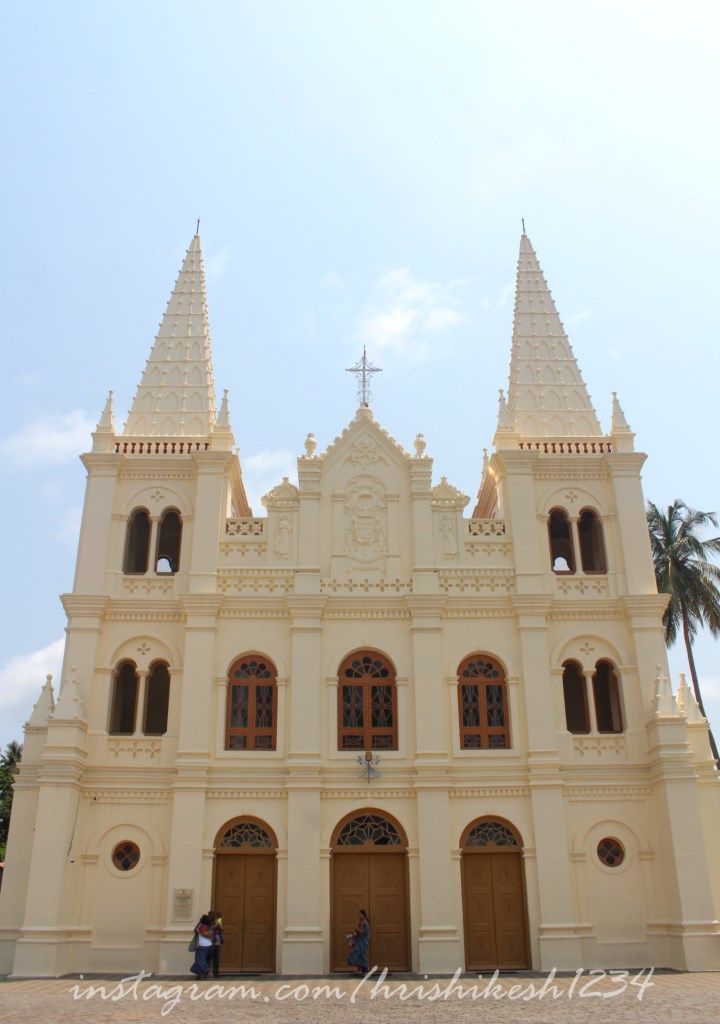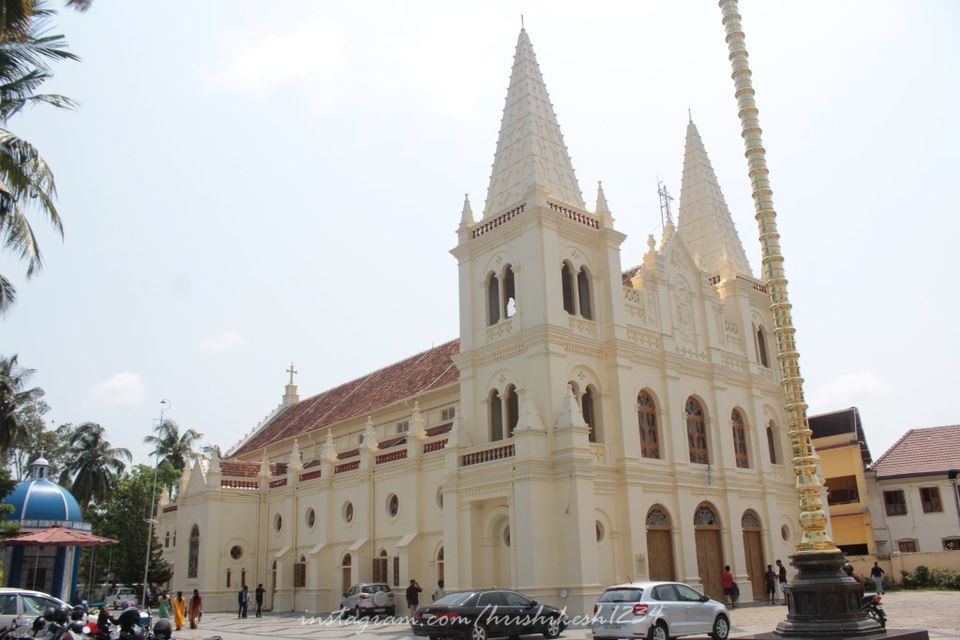 Set in old, rickety Portuguese building these are some of the oldest spice markets in the world, and you can taste and buy spices from here. Apart from the spices do take some time out to appreciate the centuries old buildings. Be careful while climbing the stairs; they are made of wood and may collapse at any moment!
Enjoy an Evening of Kathakali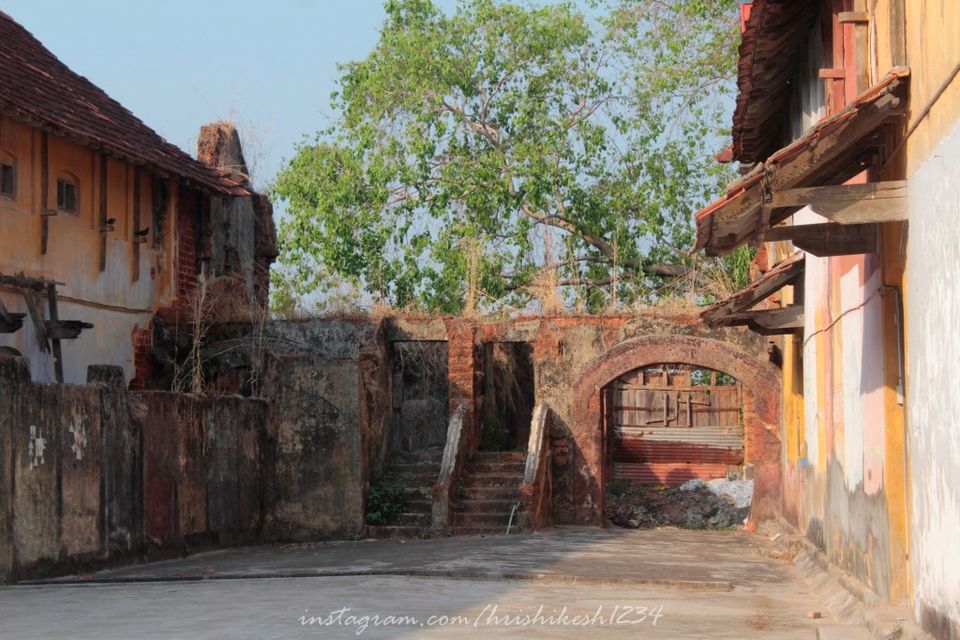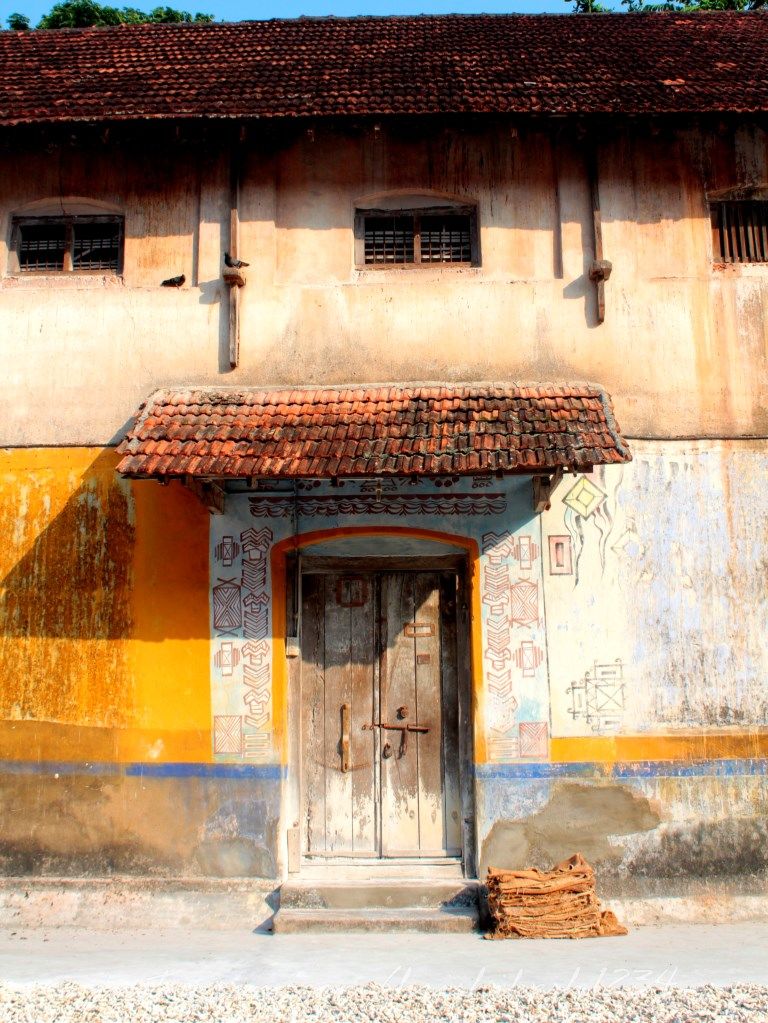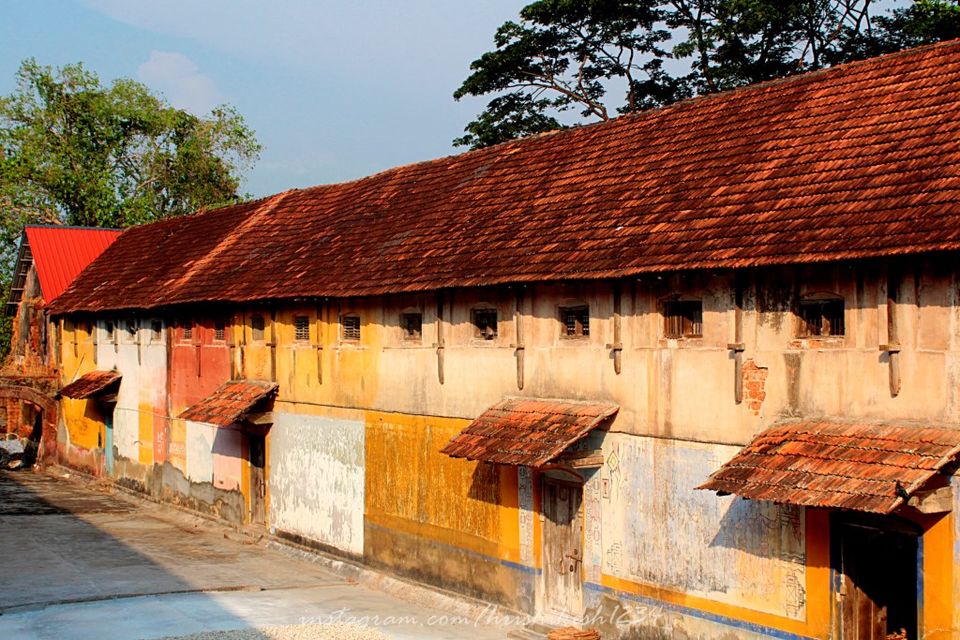 A major Indian classical dance form Kathakali is a form of story narration, characterized by the usage of elegant and detailed make-up made from natural dyes. The entire session is of 2 hours duration, with the 1st 1 hour dedicated to make up and costume, and the 2nd half to dance form. I was absolutely intrigued from the start, and the minute details that goes in the make up and dress is reflected in the dance form. This is another MUST visit when in Kerala, and it costed only Rs. 350 per head for 2 hours.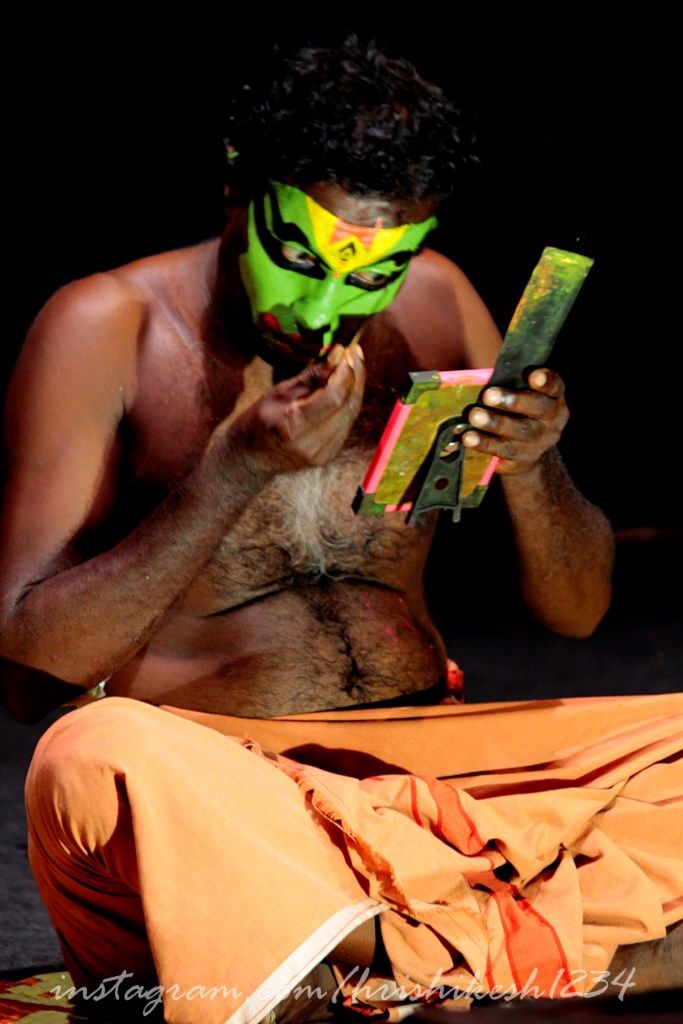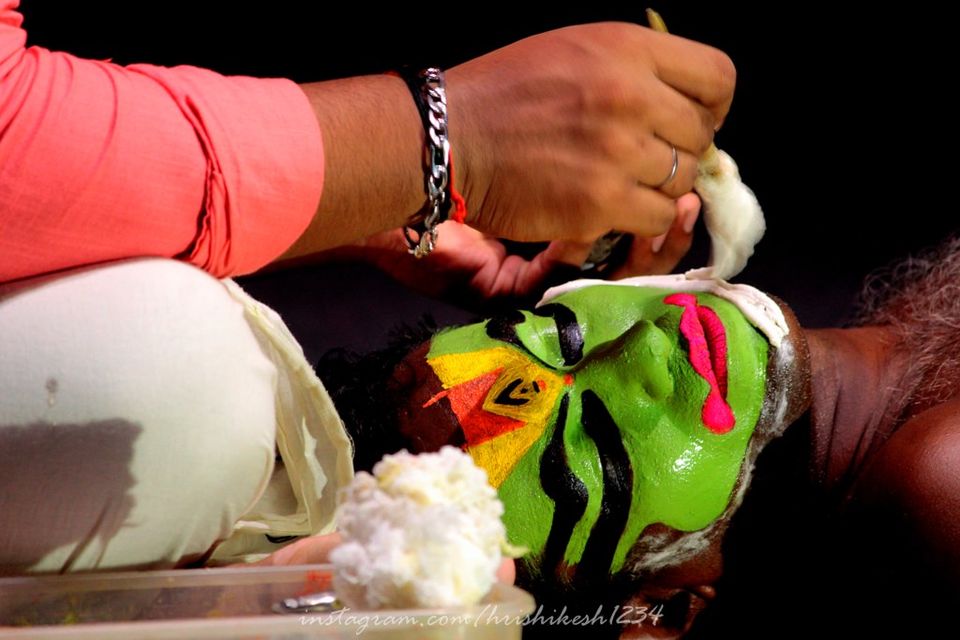 Like I mentioned above take a boat jetty from Marine drive to Fort Kochi. If travelling at night then you'll gawking at the shipyard and the port lit up under a dark sky, and huge vessels rolling out in the sea. For a fare of Rs. 4 nothing can be more rewarding and value for money than this.