Here I am again, after a long hiatus, with a post on my recent December vacation ! Coming to think of it, may be my blog handle should be called "thedecemberblogger" ????
Vietnam, Cambodia and Laos were on the top of my travel bucket list for a long time now. In a family function, when the topic of December vacation came up, all of us agreed on the 3 countries as destination. As we started researching, we realised that it was impossible to cover all the 3 countries in 15 days. We would end up just 'visiting' them. So, we zeroed in on Vietnam ! 12 days, 1 country .. Seemed a decent enough time. After all, it looks so small on the map ????But boy, were we wrong ! When we started finalising the places, we realised we could accommodate only 4 cities comfortably. There were still many many more places we wanted to include but couldn't ! ????
We booked the flights in August after finalising the entry and exit points and got our visa approvals online. Our group (all cousins) consisted of 11 adults and 7 kids. We are vegetarians and though, vegan-ism and vegetarianism is not totally unheard of in Vietnam, we knew it might be difficult to find good vegetarian food. Hence, we booked airbnbs with kitchen facilities in all the cities, shopped for ready to eats from Adukale , so that we have a backup option for the kids atleast. Pre-booked a few day tours (details ahead) that we wanted to do and left the rest to be decided on the fly.
December 23rd: Our flight to Ho Chi Minh from Bangalore was at 11:10 pm. All of us gathered at the airport by 7.30-8pm thinking we have enough time for dinner. But may be God wanted to prepare us for the days ahead, so a drama unfolded. Turns out, one of our cousin's passport number was incorrect on the visa !! After a couple of tense hours, he got an emergency visa and we barely made it to the flight ! Uff ! The flight too had no vegetarian options ???? So, goodbye dinner ! We landed in Bangkok at 4:10 am with a layover of 3.5 hrs. Understandably, our stomachs were growling. Bought veg sandwiches from Subway and some fruits. In the fruit shop, there was a display of something that looked like fancy smooth black stones. On one side of the display, it was written "Banana Roasted Cookies". On the other side, "Pork rind .." ! Whhattt !!! ??? ???? 2 names to cater to 2 kinds of customers ??? ????????
December 24th: We finally landed in Ho Chi Minh at about 10 am. Our airbnb host had sent a vehicle to pick us up and we landed in the apartment. Famished, we ordered lunch from an Indian restaurant (I know ???? ), filled ourselves up(Our lunch bill was 3.5 million Dongs ???? :D) and took a quick nap.
The people here did not seem friendly and were a little irritated with the kids. In the airport, my daughter even said some lady pushed her! I was beginning to worry if this was the case with the whole of Vietnam ! ????What do we do with these many kids !!
In the evening, we googled a few nearby places to visit, booked Grab (taxi service) and started. Since it was Christmas Eve, the city was beautifully decked up.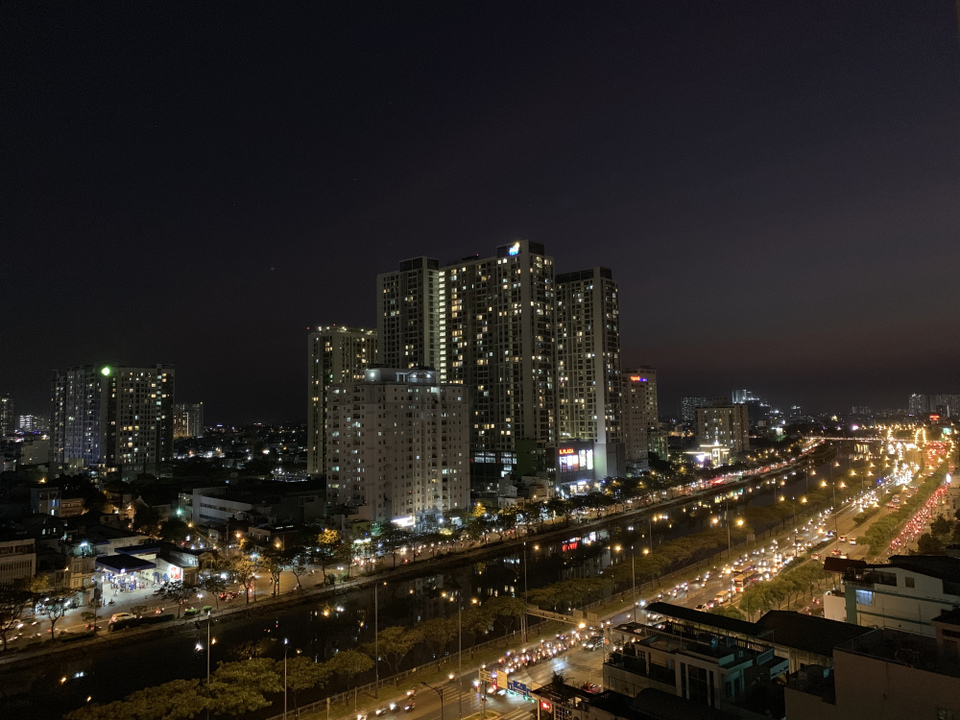 View of the city from our balcony
Our first stop was the Notre Dame Cathedral. Sadly, there was some renovation work going on. Hence, entry was prohibited.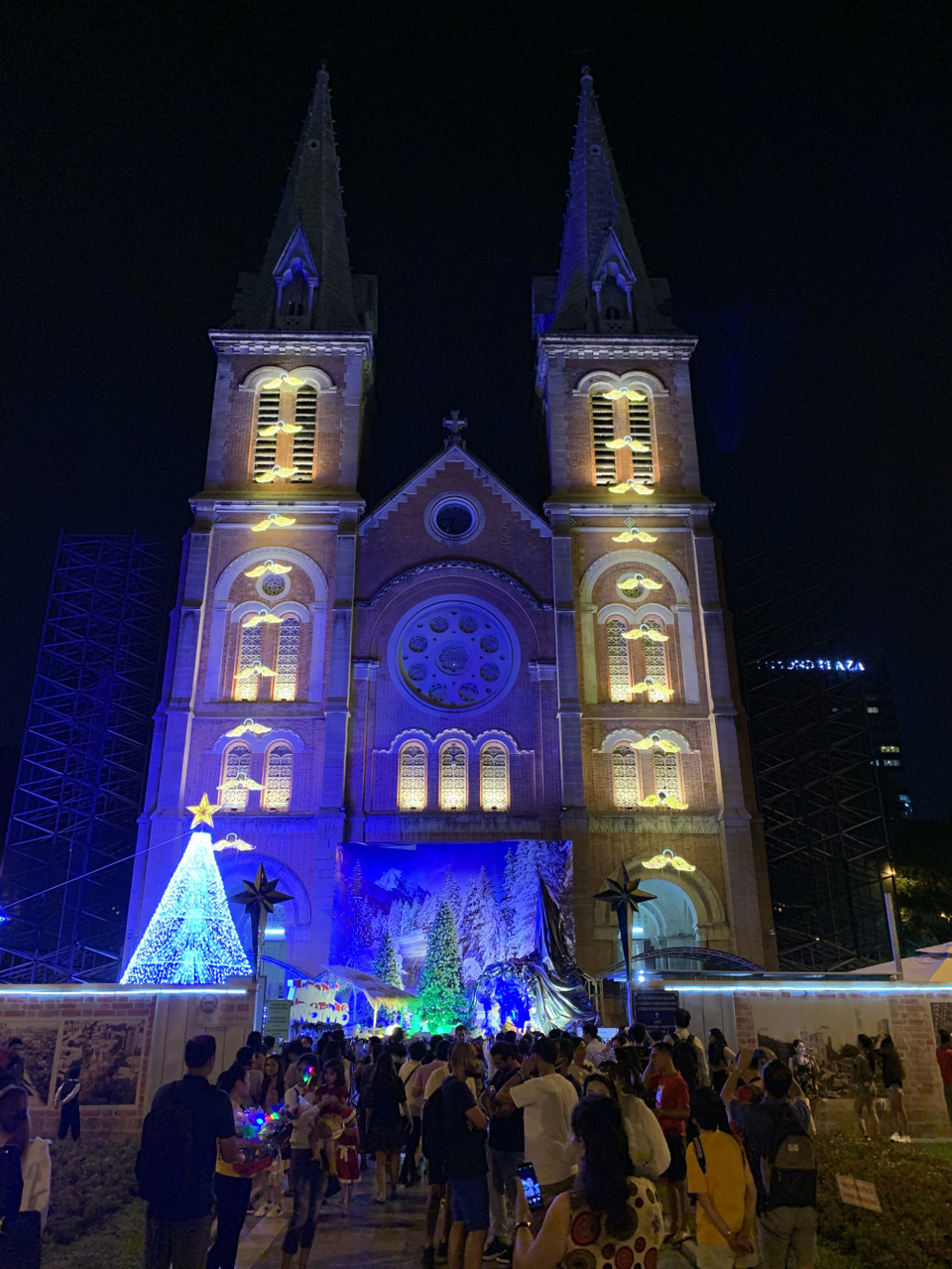 We found some coconut ice cream shake on a roadside cart. It was yumm ! It was basically a mix of coconut milk, tender coconut and ice. We then walked through the city to the Bitexco Financial Tower. The skydeck is on the 49th floor. The view is simply amazing !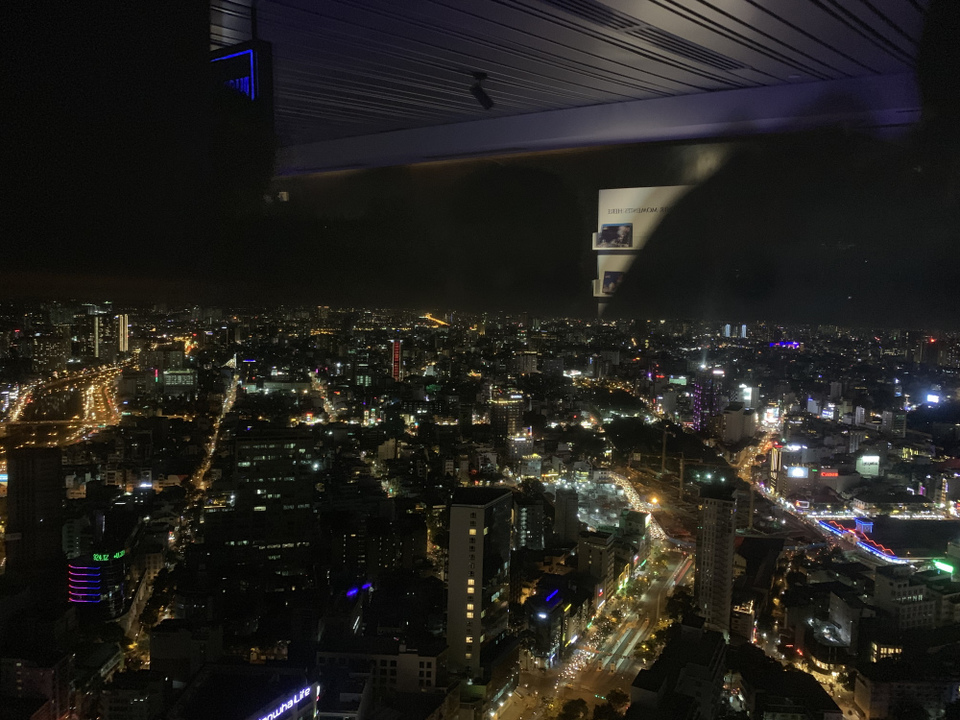 Back to the hotel, we cooked dinner, even made ghee ???? (Yeah, we are foodies like that! ) , had dinner and dozed off.
December 25th: We visited the Independence Palace. When we entered, we saw an electric car filled with passengers waiting with no driver in sight. A few minutes later, another empty electric car comes by and stops next to the halting car, and all the passengers "slide" into the empty car which whisks them away ! It was too funny to watch ! ???? When we enquired, we we were told that is the norm. You sit in the "staging" car and then slide to the "production" car when it arrives ???? ????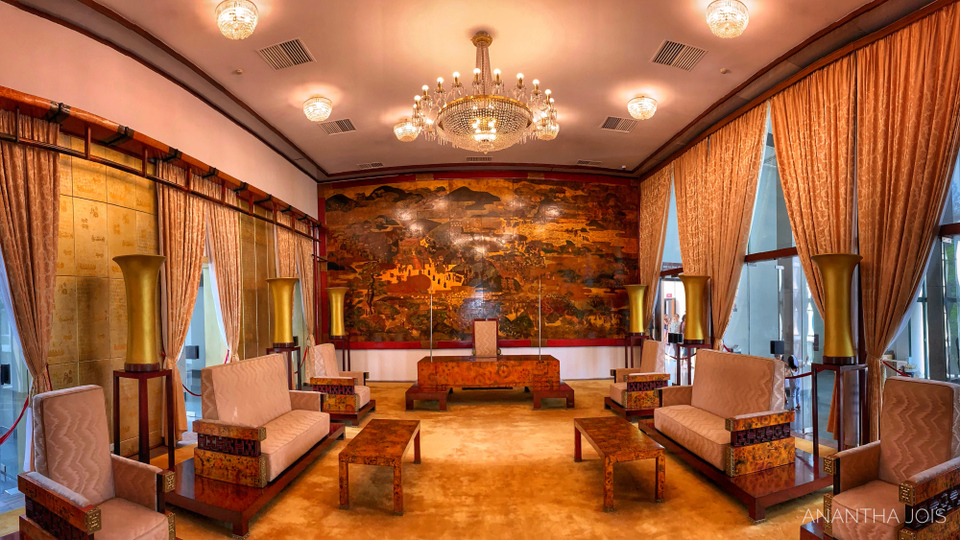 A room in the Independence Palace
For the later part of the day, we had pre-booked a half day Cu Chi Tunnel tour through Viator. Our guide Emily was very prompt. We were picked up from our apartment in their bus. On the way, she gave many insights about the tunnels and the Vietnam war.
The Cu Chi Tunnels were built by the VietCong during the Vietnam war. Our guide explained that the tunnels had 2-3 floors too. The entrances to the tunnels here have been a little widened in order to allow the tourists to explore. We went inside the tunnels and one literally has to crouch and move. There was one tunnel 100 mts in length which the guide said we could go through with exits at 20 mts, 40 mts, 60 mts and 100 mts. About 6 of us took this up. Some quit at 40 mts and some at 60 mts. Me and my husband were the only ones in the group to complete the entire stretch ! And it was totally worth it ! Especially the last 40 mts. It had upward and downward slopes where we literally squeezed ourselves in ???? ????
It is impossible to imagine how people could live there ! And that too for a mind-blowing 19 years !!!! Since enemies were always on the lookout for VietCong, they lived in tunnels in total silence, digging only by hands. They came out only at night to gather food. The tunnels had secret entrances that were impossible to discover unless you were really really looking for it. Entrances also had booby-traps in order to stop enemies from entering inside. In order to provide ventilation to the tunnels, holes were made on the ground. But enemies began using these holes to pump poisonous gases into the tunnels. The VietCong then came up with a brilliant idea. In order to cover the holes, bamboo saplings were planted over them and a queen ant was placed on top of it. The ant then built a termite hill and a hole was later made in the hill !!! Mind blowing, right ???
The history of this place is very moving ! It stands as a testimony to the sheer grit of the VietCong. I highly recommend a visit to the Cu Chi Tunnels if you are in HCM city.
December 26th: Boarded a flight to our next stop Con Dao Islands. The landing itself was an experience ! The flight lands very close to the beach ! ????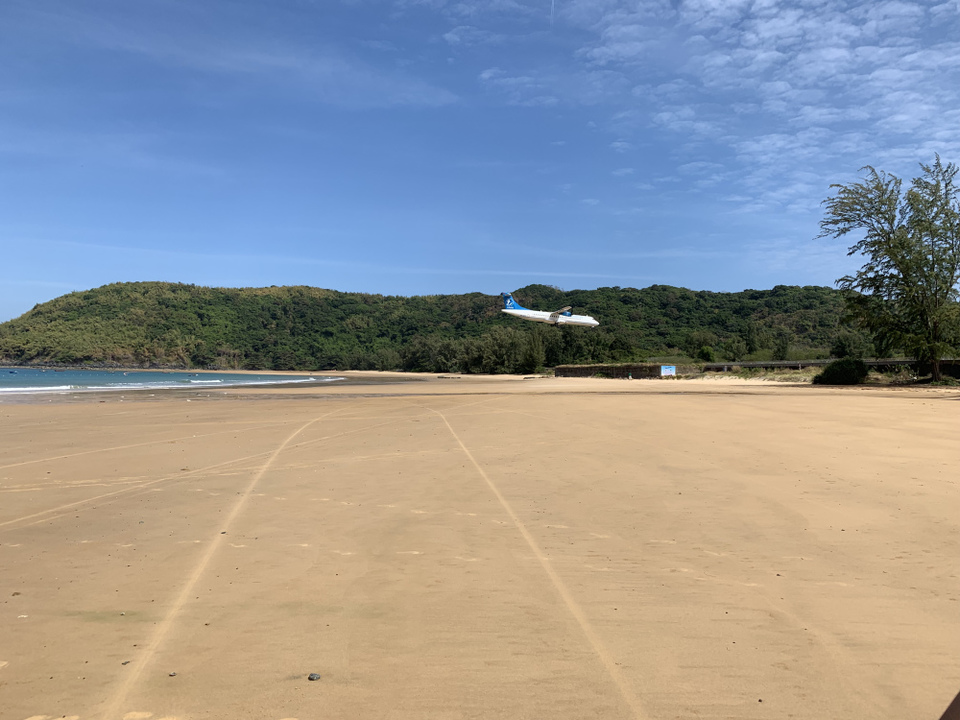 [Picture taken when we were at the beach]
After checking in into our hotel (Shell Hotel), we freshened up and asked the receptionist to suggest a hotel which could serve vegetarian food for lunch. But, she did not know a word of English. So, after using google translate back and forth, she suggested a local hotel which would meet our "No meat, no fish, no egg, no fish oil, no meat broth ..." requirement. The hotel was actually pretty good and went to great lengths to meet all our needs. But alas, here, vegetarian = vegetables/bland fried rice/bland noodles/bland tofu mushroom soup !! But anyway, it was our first proper lunch in Vietnam and we were very grateful !
In stark contrast to HCM, people here appeared very friendly and seemed to love kids. Even with the language barrier, they always tried to communicate.
In the evening, we walked to the nearby beach and spent some time there. Took a walk in the local market and bought groceries. Back to the hotel, we prepared and had dinner( Though it was a hotel, the host kindly let us use the kitchen). Being the typical South Indians that we are, meals are incomplete without curd rice! But buying the right yogurt was a problem ???? After a series of flavoured/sweetened yogurts, it was here that we were finally enlightened that "Khong dong" refers to unsweetened yogurt. ????????
December 27th: We hired a few motorcycles for the day and roamed around the island by ourselves. For breakfast, our host took us to a Vegan hotel !!! Woooww ! We were on cloud 9 ! Just the feeling of not having to translate the "No meat, no fish" phrase was a bliss ! The food was pretty good too ! Again, it was the same noodles, tofu and mushroom, but it packed flavour at least ! The owner was very kind and friendly too. She gave free chips packets to all the kids and even hugged me when I complimented the food????????????
Driving through the island was super fun ! We spent a lot of time at the beaches, watched the sunset and had an amazing time !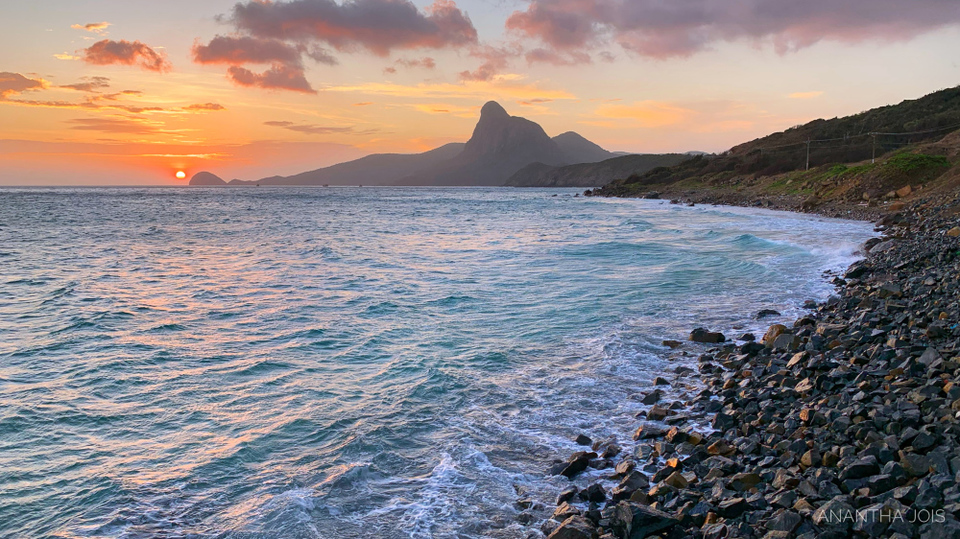 December 28th: Flew to Da Nang and then proceeded to Hoi An.
Hội means "Festival" in English. And the city could not have been named better. It quite literally is a festival to the eyes !! I instantly fell head over heels in love with this place. DO NOT, I repeat, DO NOT skip this place in Vietnam. Swap it with any other place in your itinerary and I'm sure you won't regret it ! Be it the colourful lantern lit streets, the beautiful bridge, the boats on the peaceful canal, couples having candle light boat rides, the "wishes" floating on the water, the market which is a shopper's heaven, the artfully decorated restaurants, the list goes on and on ....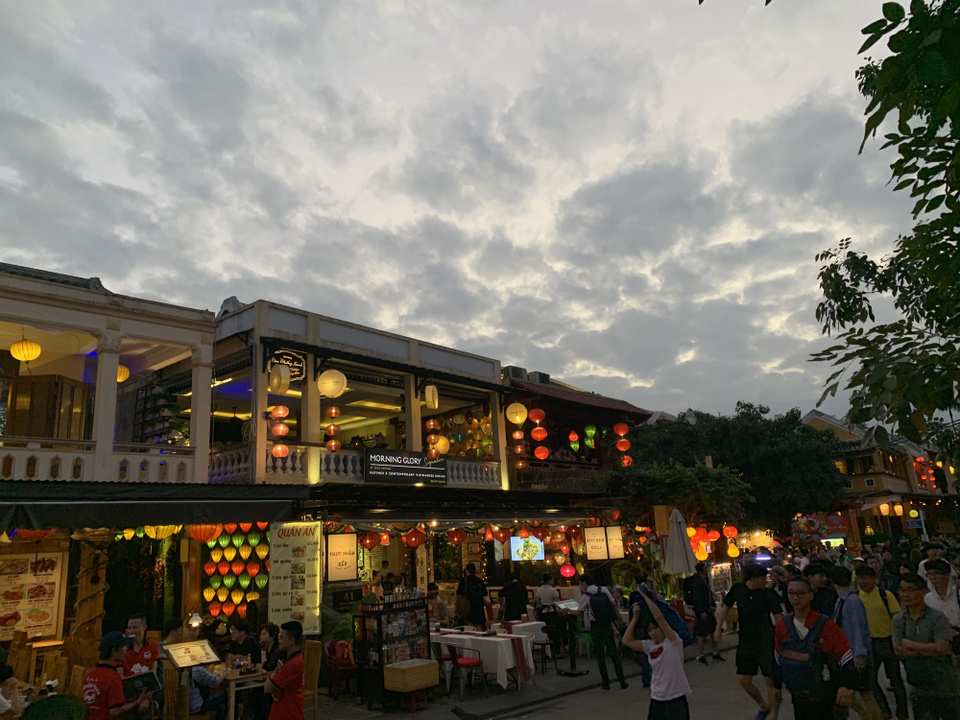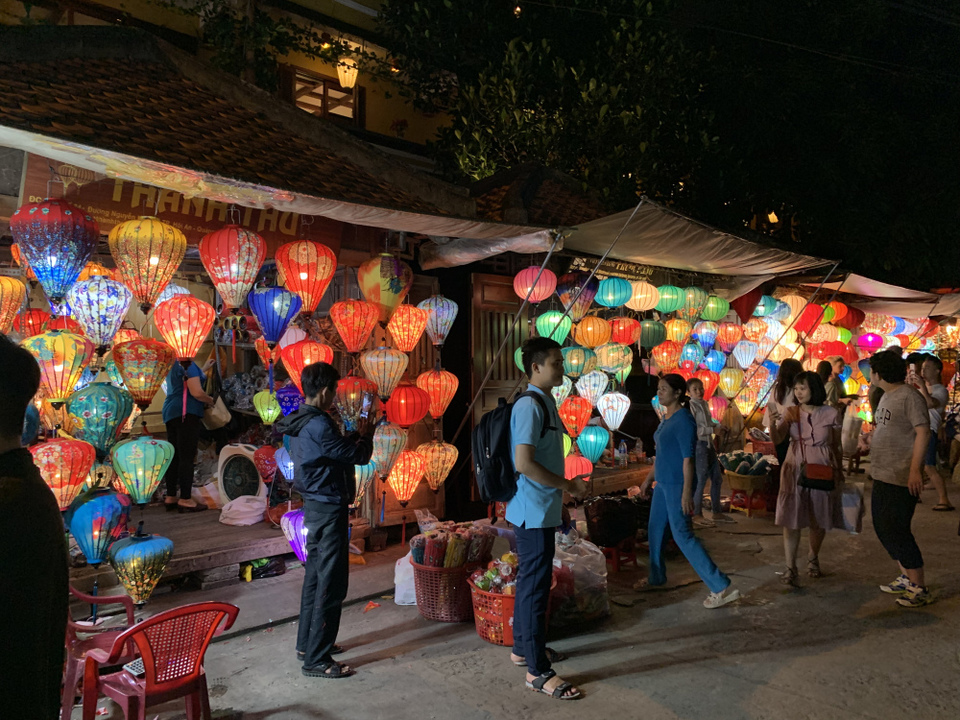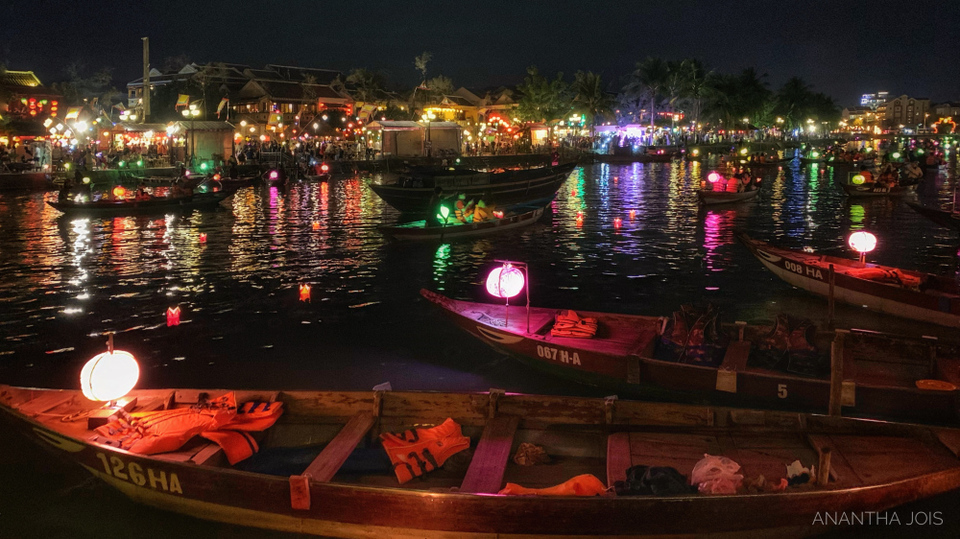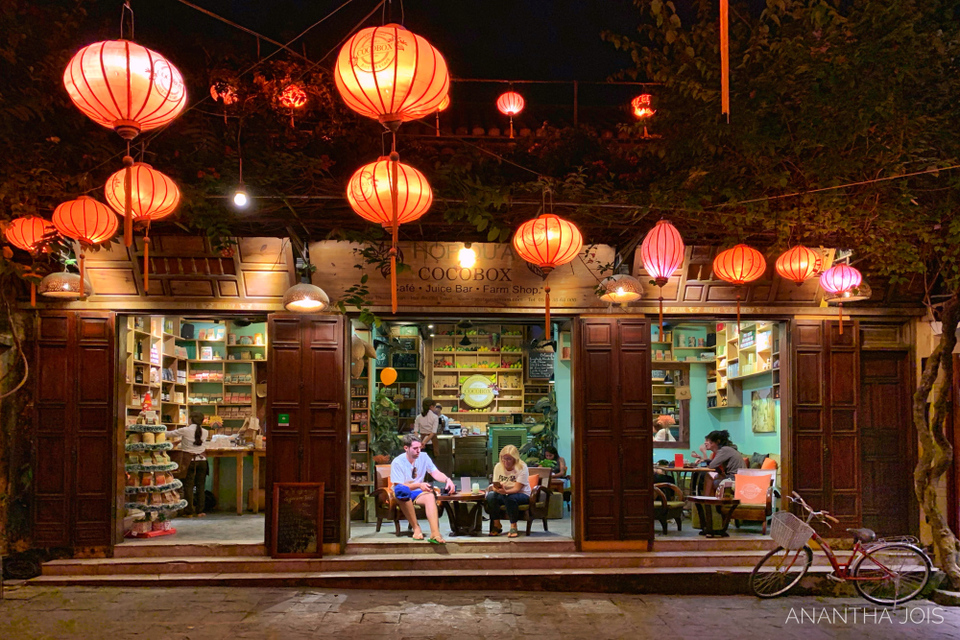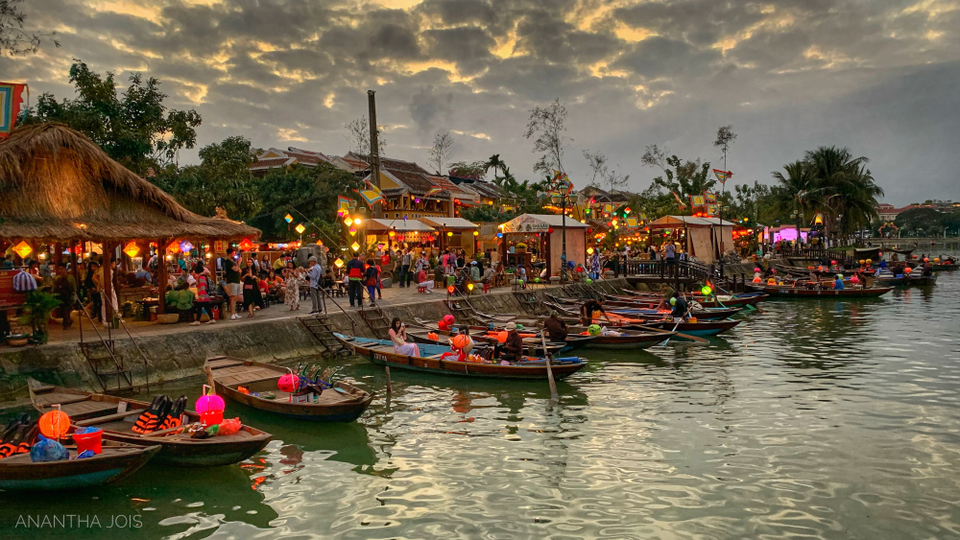 Oh ! The beauty is too much to handle !
We had booked a villa here but our host had informed us that the booking will be changed to another airbnb. We did not ask for pics of the new place ! Uh, oh ! Mistake !
The rooms were good enough but it was not what we were expecting. And the kitchen ! Ugghhhh !! I don't think anything there was ever cleaned ! The stove could have been used in a dishwasher liquid commercial ! And the smell ! Yikes ! The only big plus of this place was the location. It was pretty much in the centre and we could walk to all the places. So much saved on commute !
We asked our host to suggest a vegetarian place for lunch (Thankfully, she could speak English) and she offered to walk us there. We walked for about 15 minutes. We finally arrived at a "Halal" Indian restaurant which was CLOSED ! ???? I dont blame her, because she might have thought Indian restaurants should serve some vegetarian food. But we wanted to try some Vietnamese food. After googling ourselves, we walked into a nearby vegan restaurant with a beautiful ambience ( Minh Hien Vegetarian Restaurant). The food was yummmmm !!! The noodles tasted exactly like the Indian "shavige/chomaayi", the "Banana blossom salad" was beyond description and the soups were pretty good too ! This stands to be the best meal I had in Vietnam.
December 29th: We spent 2 days here just taking in the beauty of the city, shopping and visiting all the major places like Japanese bridge, Pagodas and an ancient house. Hoi An is famous for custom made dresses that are stitched within 24 hrs. You choose the fabric, the design and it is ready for you the next day. But you also have to haggle a looooottt here !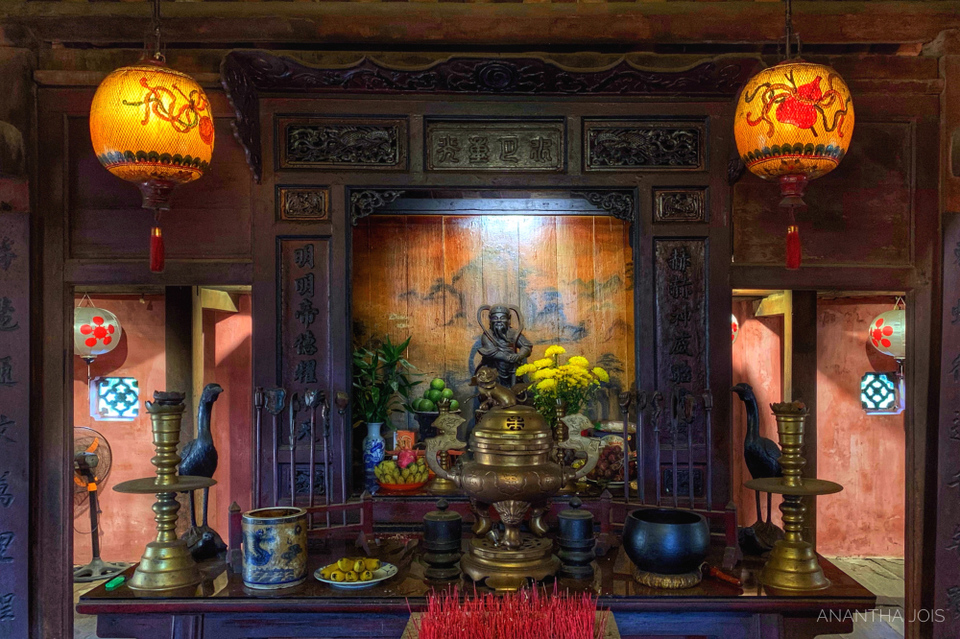 A Chinese temple on the Japanese bridge ????
December 30th: We booked a bus with a local tour operator for the day. The plan was to visit Ba Na Hills. We started the day early and reached the cable car station at around 11 am or so. This is the longest cable car network in the world and we were pretty excited. As the cable car took off, we were spellbound ! The hills beneath us, the waterfalls and the view of the town was breathtaking! After a while we were amongst the clouds ! My 2 year old daughter, was looking at the scenery and screaming "Very good ! Very good !" on top of her voice ! ????
On top of the Ba Na hills, is the Sun World amusement park. We went on a few rides first and then entered the French Village. Since this is on the hill top and December being rainy season here, it was very misty which added a whole new charm to this place ! It looked like a fairyland ! Magical ! The pagodas were pretty beautiful too !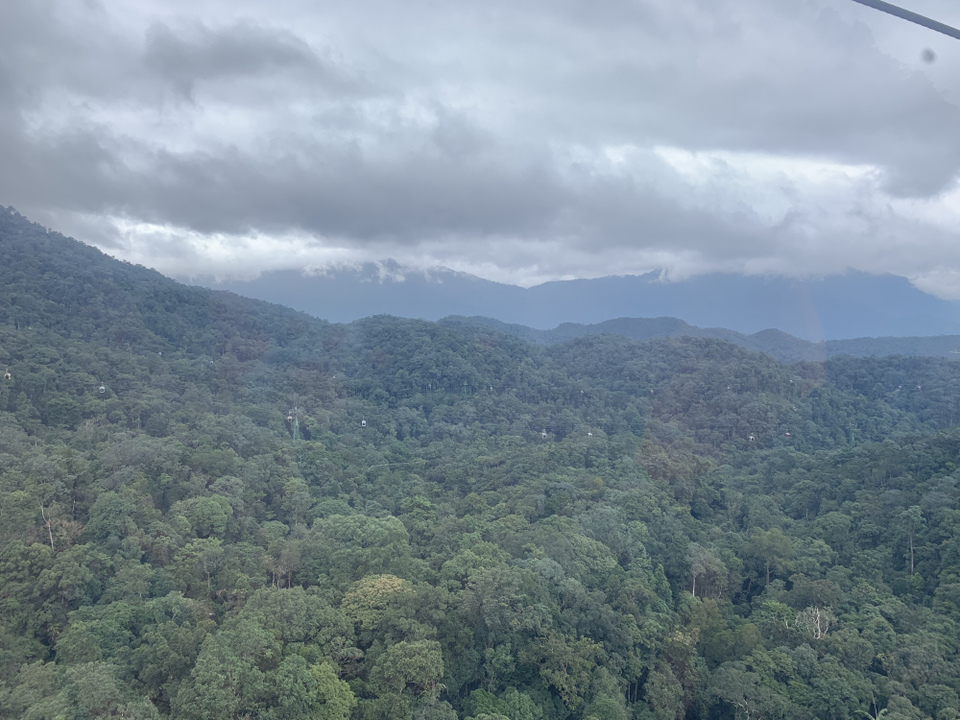 View on the way up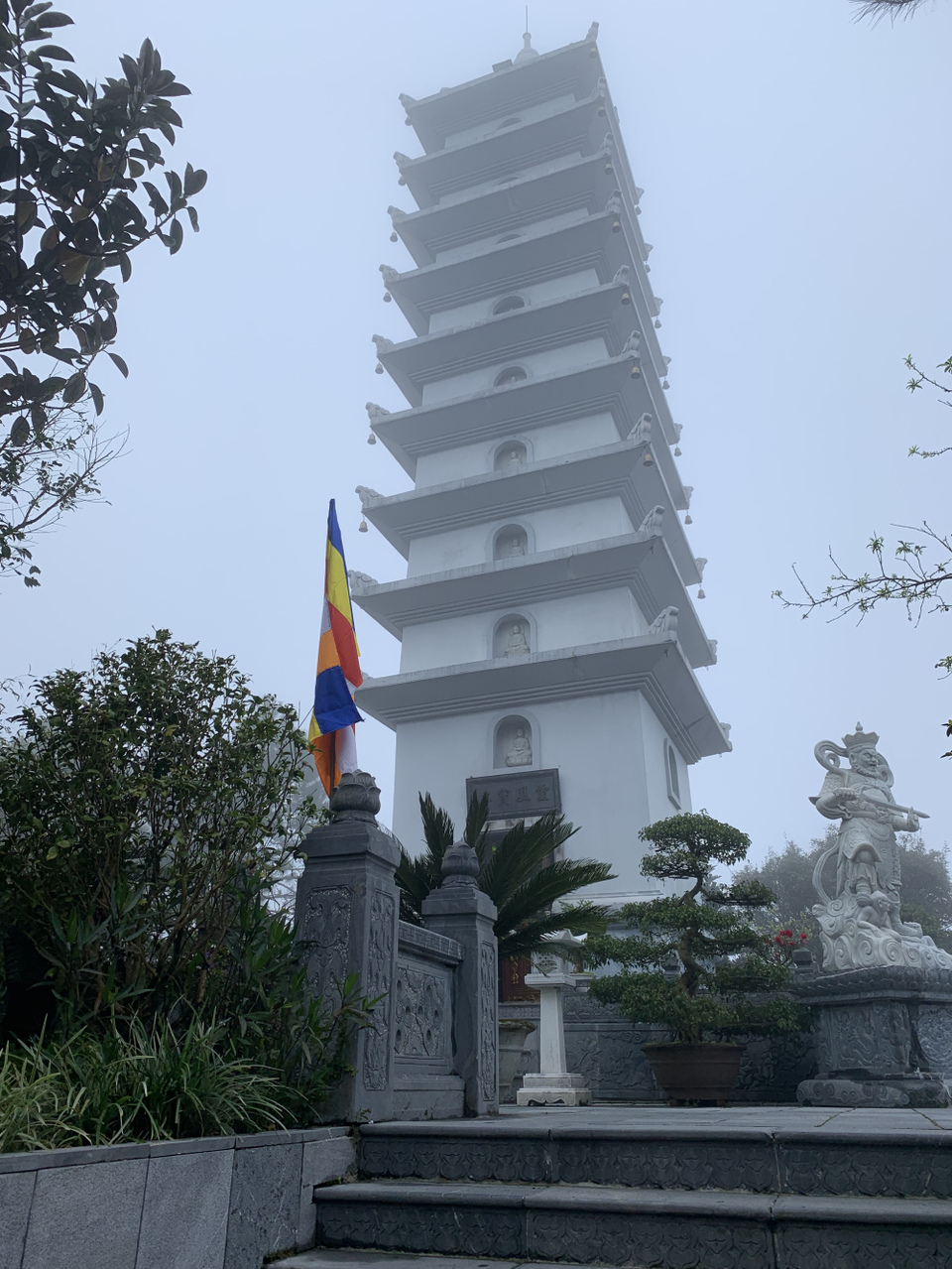 A pagoda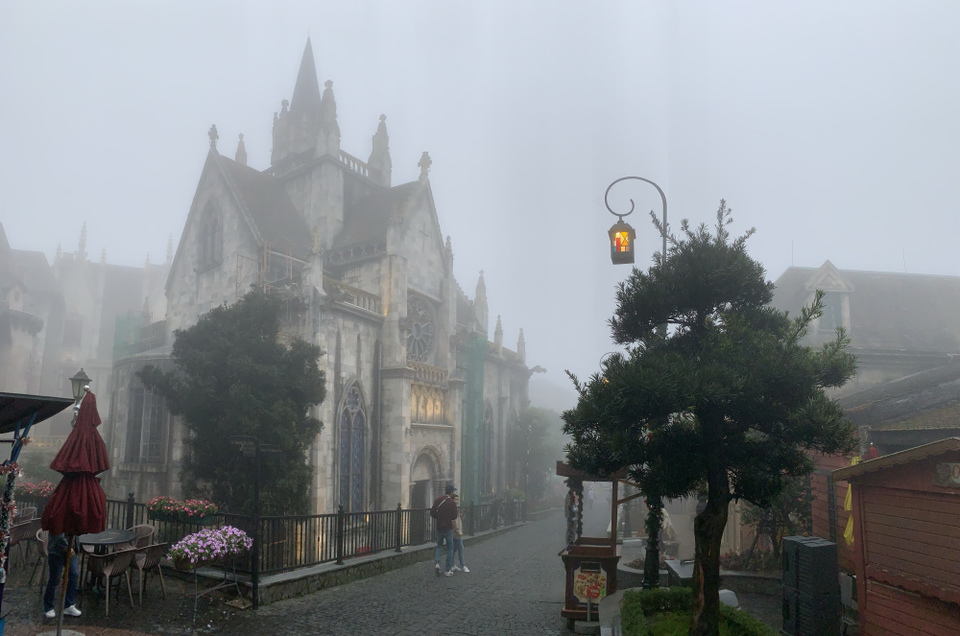 The French village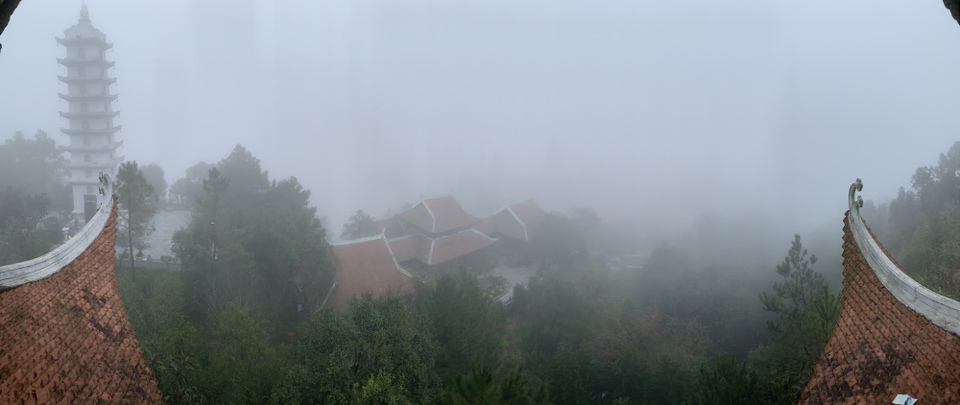 The view from cable car ride on the way down
At last, we went to the "Golden Hand bridge" which was the main reason for visiting Ba Na hills! You know, when we dream of visiting a place, we build up an image in our head, as time passes that image grows massively and when we finally do visit the place, it might end up disappointing us. But, the Hand bridge was in reality, even better ! Walking on the bridge, I began to imagine what would happen if the 2 hands suddenly came alive and shook the bridge, like a roller coaster ???????? That would really be the best ride in the amusement park ! Wonder la, Need a new ride ??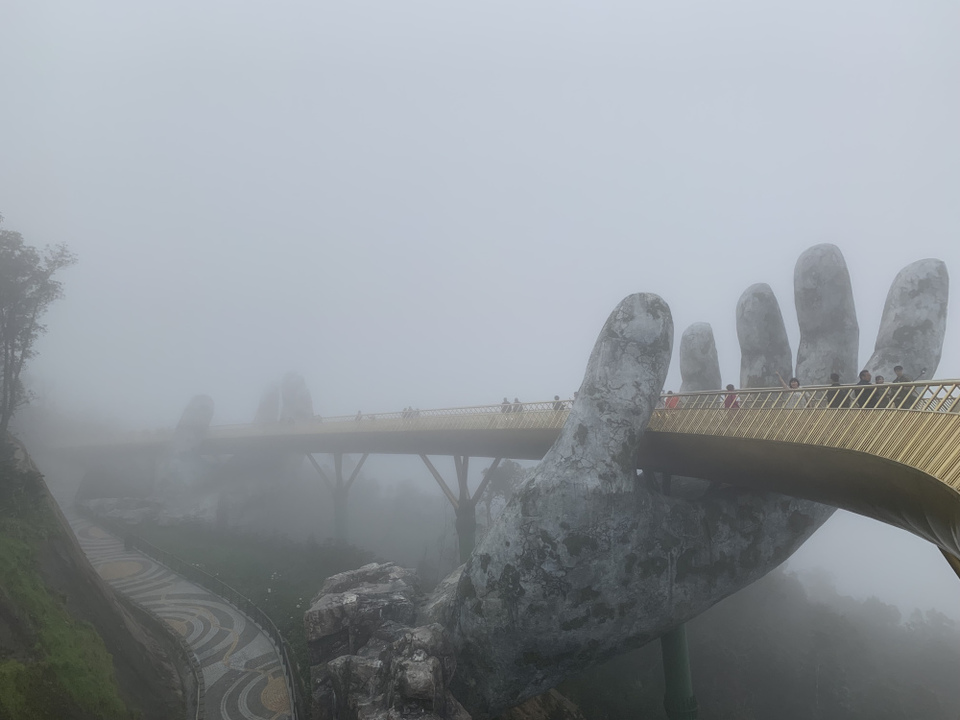 Golden Hand bridge
Also, this place was like a park of mutated body parts ???????? There were statues of ear, legs, feet etc. Wonder who thought of this!????
December 31st: Reached our final destination Ha Noi. Checked into our airbnb, collected tickets for next day's water puppet show and took a walk at the Hoan Kiem Lake complex. This city has no traffic rules whatsoever (This is coming from a Bangalorean) and the streets stink (public urination). It was a nightmare to cross the busy streets with so many kids. HCM was much better. Had dinner at a vegan restaurant (Repeat noodles, tofu, mushroom) and rested.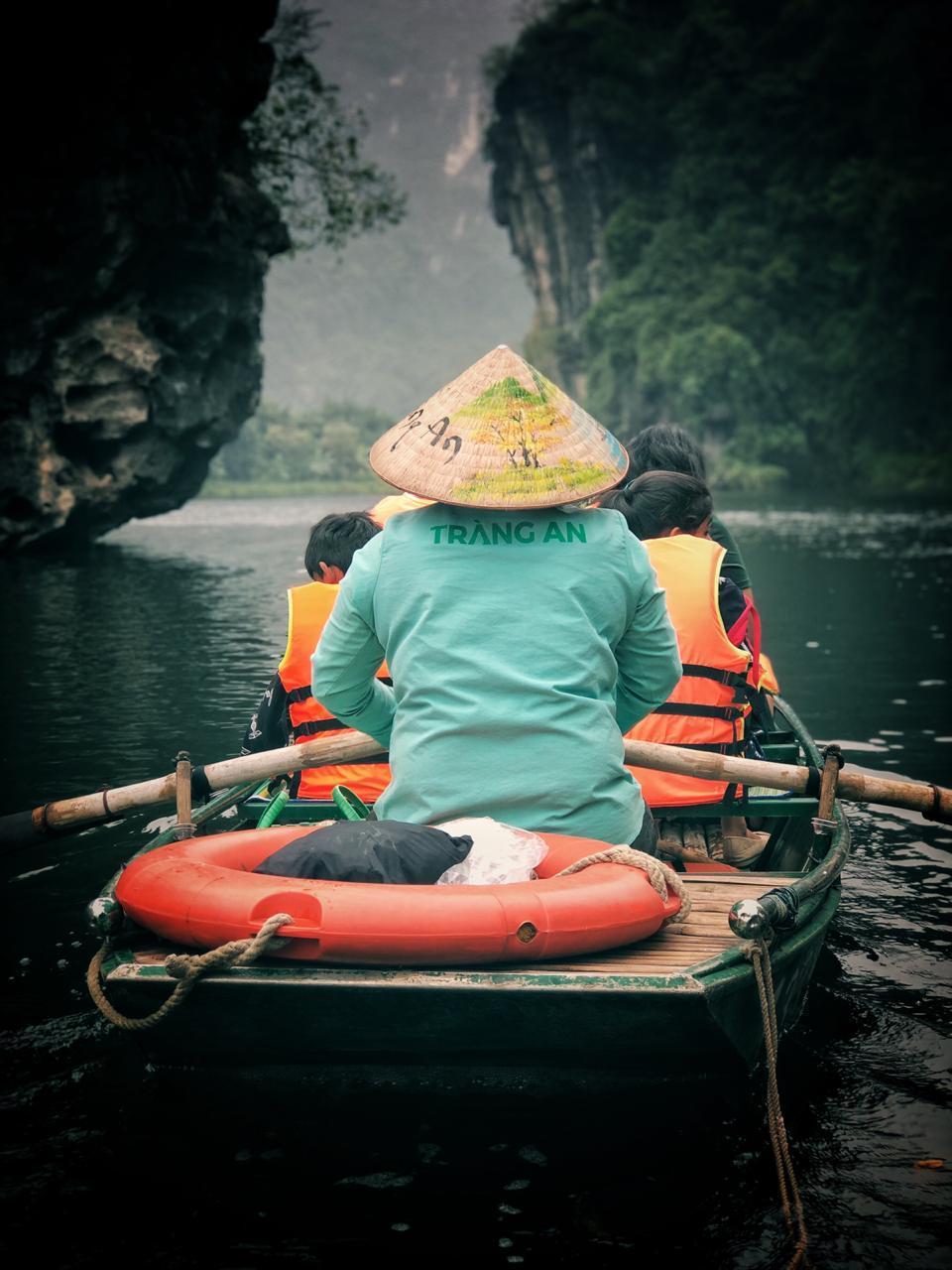 January 1st : We had pre booked a day tour to Trang An caves. Boat riding through the caves, pretty exciting ! ???? There are 3 routes to choose from, each covering different caves and different pagodas. We chose route 2. It was a 2-2.5 hours ride. Most of these boats are manned by women ???? Extra oars are placed in the boat in case one wishes to row. We rowed for a few minutes and our arms gave up! It takes extraordinary strength to be able to row that long. Really admire those women !

The caves are very beautiful. It's mostly dark inside with a few bulbs placed for lighting. Most caves are natural while some are man made. In some places, we had to crouch in order to avoid hitting our heads to the rocks! Our guide was very friendly. He taught us many Vietnamese words. He later suggested we visit the Bai Dinh pagoda and we are glad we took his advice. This was the most beautiful pagoda we saw in Vietnam. It has a huuuuggee complex which houses many temples and the view is also pretty great !
In the evening, we went to watch the water puppet show at Thang Long Water puppet show. It was a good experience. The kids loved it! ☺️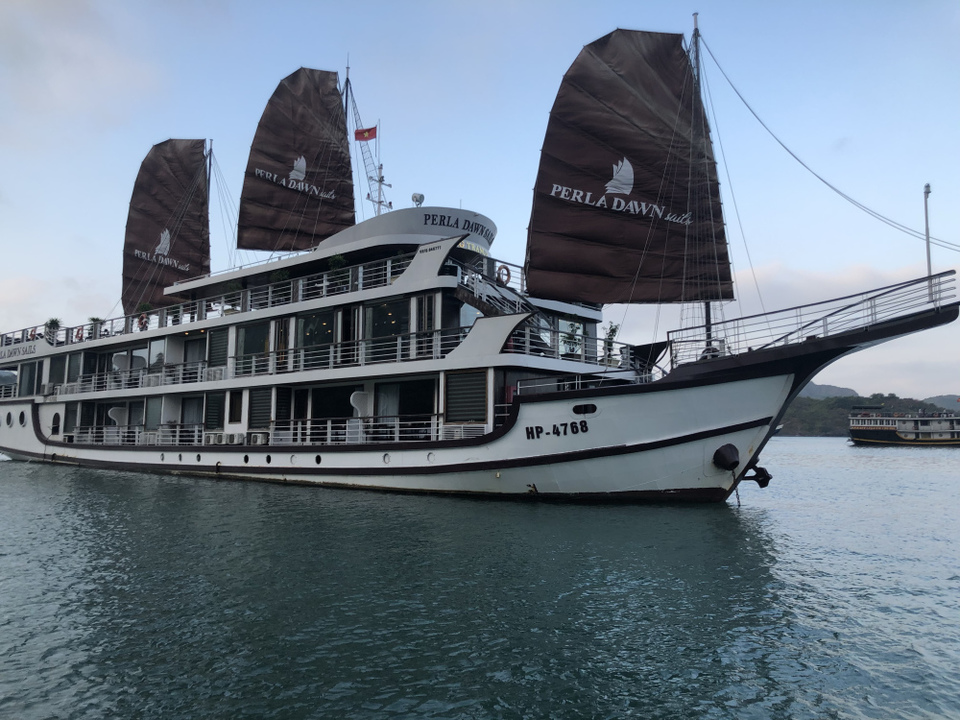 January 2nd: Off to our cruise to Lan Ha Bay. We chose Lan Ha Bay over the much famous Halong Bay in order to avoid crowds. Online reviews said the views are similar but Halong Bay will be crowded this time of the year. The journey from Hanoi to the cruise port took two and a half hours. A motorboat took us from the port to the cruise ship. The cruise(Perla Dawn Sails) was very nice and comfortable. The bathroom even had a bathtub ????????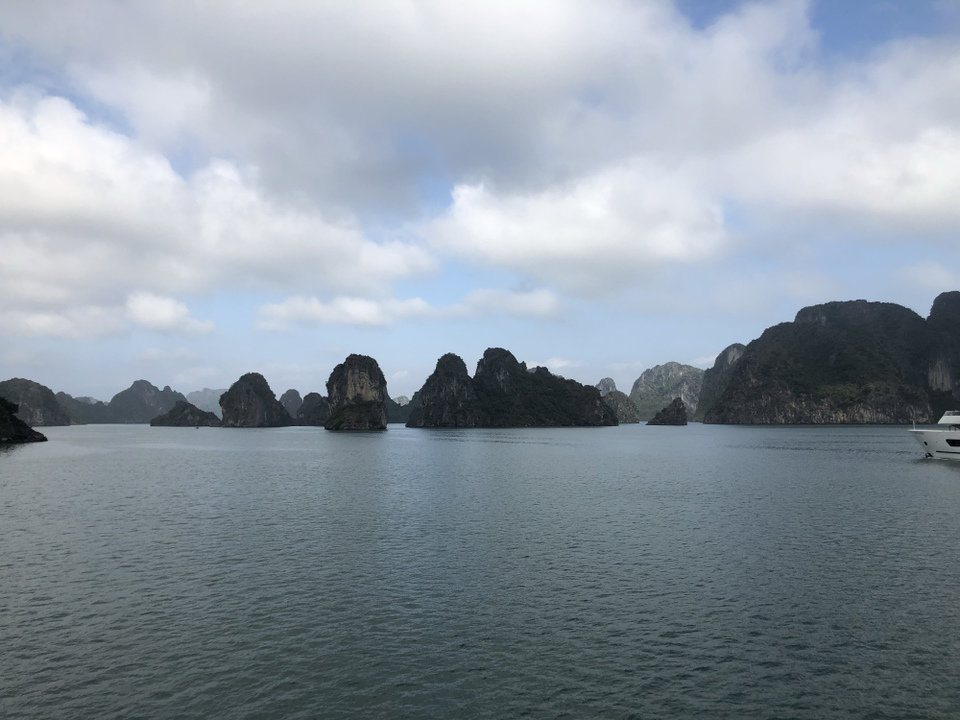 Lan Ha bay was very serene, peaceful and beautiful. At night, we lay on the top deck gazing at the stars. We had placed our "vegetarian" request here too and the crew were really trying to put something on our plates. Yes, sometimes that meant par boiled vegetables but on the whole, it was ok. The dinner had a varied menu and was good !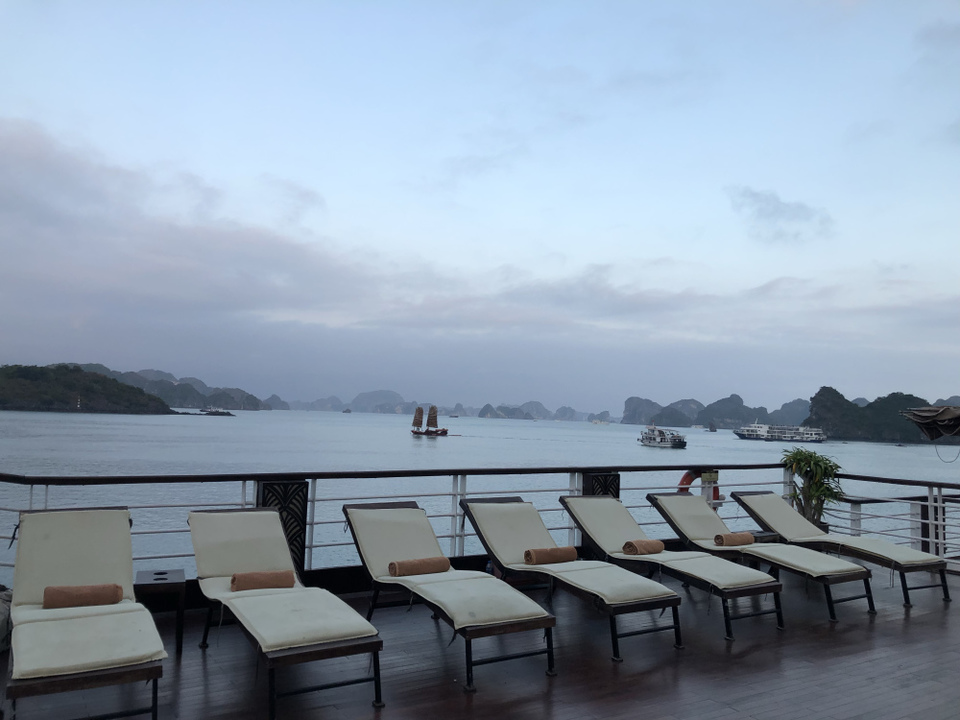 Our seating for star gazing
In the evening, we were taken on a boat ride through the caves. These caves are much bigger and the boatman can stand and row.
January 3rd: Our last day in Vietnam! We were taken kayaking ! A 45 minute kayaking ride by ourselves in the bay. I was surprised they let us by ourselves even with our daughter! Even younger babies were allowed! It took a while for us to get the hang of it. It was super fun though ☺️ After this, we checked out from the cruise and headed to airport for our flight. Wish we had one more night in the cruise to just laze around and do nothing. But it's better to leave things wanting than have more than enough I think ☺️
And you know what we did the minute we touched down in Bangalore at 2 am? Headed to a darshini(hotel) and feasted on Masala Dosa and Bisibelebath ????????????
Vietnam, we loved you! You gave us a lot of beautiful memories to cherish and we would love to come back !
Some tips if you are planning a trip to Vietnam:
We were able to wrap up all costs at about 90k per person for 12 days.
1. Try and book airbnbs (if it suits you) if you are looking for cheaper accommodation. Also, while choosing your airbnb, choose a central location close to all the prime attractions. Though you might find cheaper ones a little away, you will cough up a lot more on commute. Also, since we had so many small kids in the group, we could put them to sleep and then go for another round of shopping again at night ????????
Airbnb's we stayed at :
Con Dao : https://www.airbnb.co.in/rooms/19575780?s=67&shared_item_type=1&virality_entry_point=1&sharer_id=11043389. Good budget hotel. Extremely friendly and helpful hosts.
Hanoi : https://www.airbnb.co.in/rooms/35898848?s=67&shared_item_type=1&virality_entry_point=1&sharer_id=11043389
Hoi An : https://www.google.com/travel/hotels/nhu%20huy%20hoi%20an%20villa/entity/CgoIk8KT6MmCw_8jEAE?g2lb=2502405%2C2502548%2C4208993%2C4254308%2C4258168%2C4260007%2C4274032%2C4276710%2C4280051%2C4305595%2C4308216%2C4314846%2C4315873%2C4317915%2C4324293%2C4328159%2C4329288%2C4330862%2C4333267%2C4338120%2C4270859%2C4284970%2C4292955%2C4307996&hl=en&gl=in&un=1&q=nhu%20huy%20hoi%20an%20villa&rp=EJPCk-jJgsP_IzgCQABIAQ&ictx=1&ved=2ahUKEwj15uqoufvmAhWr63MBHVQCDFkQ65QEKAB6BAgMEAM&hrf=IgNJTlIqFgoHCOQPEAEYCxIHCOQPEAEYDBgBKAA
2. Always ask for real pictures of the airbnb and don't go by the ones they posted on the website. Vietnamese are very good at technology (read photoshop)????.
3. As I mentioned earlier, do include Hoi An in your itinerary. It is not a city, it is an experience. And here, when you are shopping, haggle haggle!
4. For currency, we took USDs from India and converted to Dong at airports and local shops.