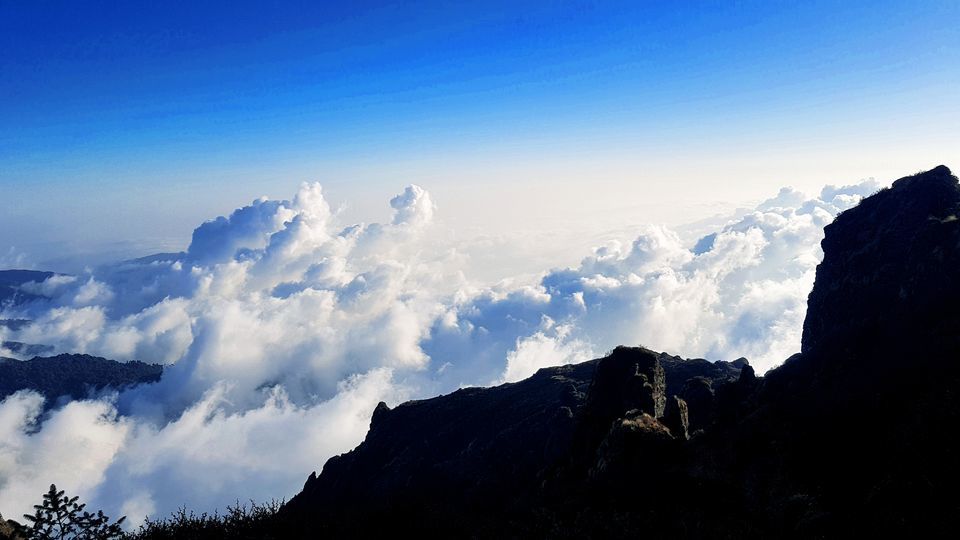 Well, that's how I felt when I finally completed Sandakphu trek - A six-day trek spread over 73 Kms, an average 8 hours trek per day, elevation up to 12,000 feet above mean sea level and temperatures ranging from 0 to minus 7 degrees and yet they call it an easy trek! The trek sure was fun & picturesque. Demanding both physically and mentally yet totally worth it yet and by no standards an easy one for a common man!
One might wonder then why on earth I chose this trek as my first trek! After my last leisure vacation, I was somehow bitten by the adventure /offbeat bug which prompted me to consider various options - from caving in Vietnam to canoeing on waterfalls to Amazon jungle trek which finally took me to the page of One in the orange jacket and Vyshakh Nair (More about the "Orange One" later). It was just a matter of few messages and the detailed itinerary was in my mailbox.
As I went through the itinerary, the thought struck me for the first time that I would be trekking for more than 10 km per day on an average at single digit temperatures! But the idea of doing something for the first time, the thought of pushing the envelope gave me the impetus and I decided to take the leap of faith and sign up for the trek. Aah, not alone, I managed to coax my better half who was totally unaware of what she was signing up for until two days before the trek :)
Sandhakpu is a trek like no other - It is one of those unique treks in the Himalayas that takes you from ~6000 ft to double that in a matter of a couple of days while gifting you some of the most breathtaking views - The Everest and The Kangchenjunga - two of the world's tallest peaks! All these while not having to endure snow anywhere on the trail. Hurray!
With bags full of excitement and a dollop of anxiousness, my wife and I land at Bagdorada airport. We had a one day stopover at Darjeeling, the darling of Britishers. The city has still not lost its charm, albeit being over crowded and commercialized like crazy. We were greeted by a rail locomotive of bygone era, a sight that you do not get to see every other day!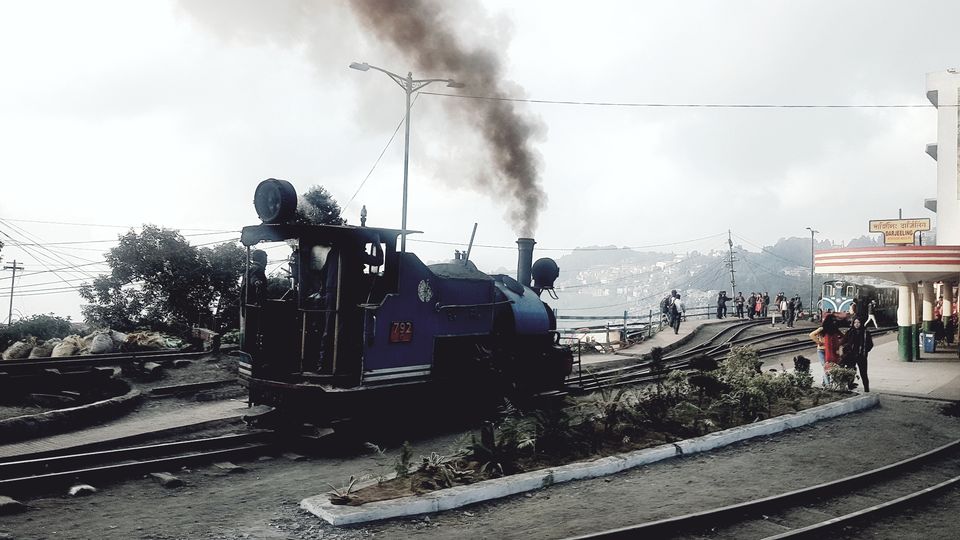 Though we got up the next day early morning to catch a glimpse of the sun rise against the mighty mountains it was not meant to be as it was heavily cloudy. Post lunch we headed to Ghoom Railway station, a small hill side station an hour away from Darjeeling where we were to meet our trek group. Ghoom is the highest railway station in India at around 7400 feet. Around 4.30 pm, a white Tata Sumo came grinding in front of the station & four pairs of anxious eyes popped out of it. The doors opened and a long face in an orange jacket greeted us with a warm smile, Vyshakh. We got on board and headed towards Jaubhari, a couple of hours drive from Ghoom. The paved roads soon turned into narrow road done with flat rocks and then into mud. Before we knew we were snaking our way through a small village. Finally, as darkness enveloped us we reached the pit stop for the night. It was a small hill station village cum tea estate frequented by trekkers.
Our trek lead Vyshakh Nair elucidated to us the Do's and Dont's which gave us the first glimpse of how well versed this guy was in his job. He could turn any conversation around treks into an erudite discussion.The kind of details he got into while explaining the plan for next few days, the passion with which he did it gave us the confidence that we made the right choice planning the trip with him. So here he was explaining the key rule for the next few days 6-7-8 which means wake up at 6 am for tea, 7 am breakfast and begin the trek at 8. Being a city dweller it didn't dawn on me why it would take two hours from getting up to beginning the trek - which sunk in next day morning.
We woke up to heavy thumping knocks on our door the next day morning at sharp 6 am. It was none other than our guide Mr John, a local sherpa who was going to be our Guide, Friend, Caretaker, Story teller and above all a motivator for the next one week. It was pretty cold (single digit for sure) and not being a morning person sucks! It took me a good 15 mins to get my ass moving, thanks to the inspiring songs from Mission Impossible and Ricky Martin flowing out of the portable speaker in the room. The morning's in hills are indeed a beauty - I would let the picture speak a thousand word for itself below.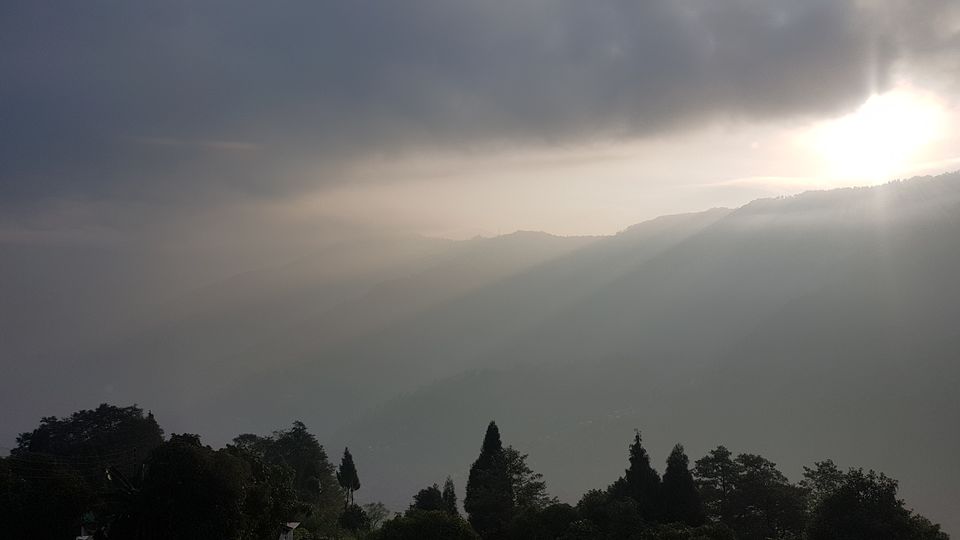 The ground rule of any trek is living minimalistically - limited restrooms to be shared by the group, food that becomes cold in minutes and the worst of all - no hot water! Albeit a small group it took us 1.5-2 hours to get ready and get moving. Finally we bid good bye to our kind host and started on our trail running starting from a nearby mountain side.
The Trek Days: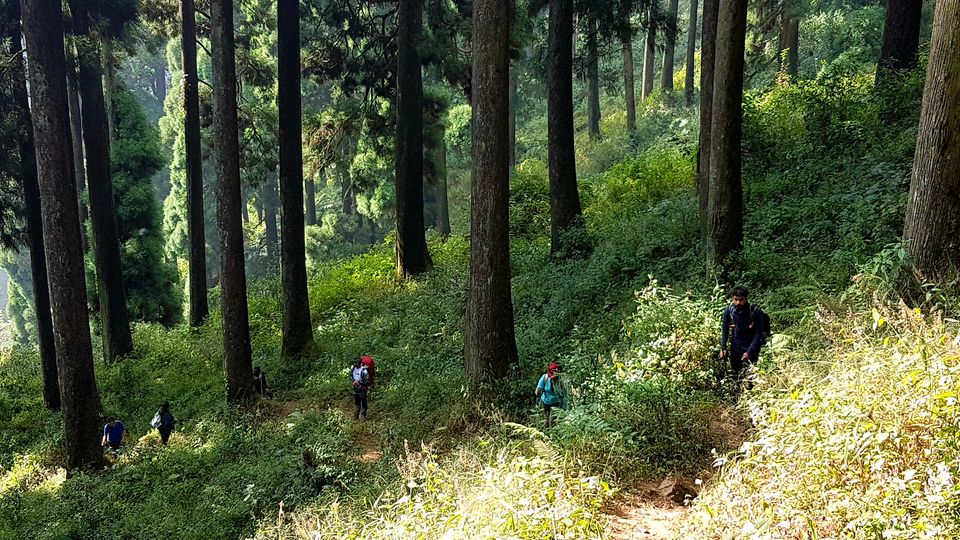 Day 2 started off well with the trail snaking through some of the tallest pine trees I have ever seen. It was green on all sides as far as the eye could see. Slowly the incline started to build and before we knew we were climbing trails at an incline of well over 45 degrees. We kept going for an hour aiming towards the nearest teashop. A tea stall in the middle of a mountain was a huge motivator! Our guide John assured us that it was just a couple of hours of accent and we kept going. Since I hate cold, I had started the trek with a 3 in 1 jacket which I had to soon loose given how the body was heating up quickly during the trek. After 3 long hours filled with steep inclines, narrow trails littered with zillions of varieties of plants and trees, we finally reached the "top" and settled on the benches that welcomed us at the tea stall. We were more than glad to get a warm cup of tea and biscuit which we gorged without any guilt.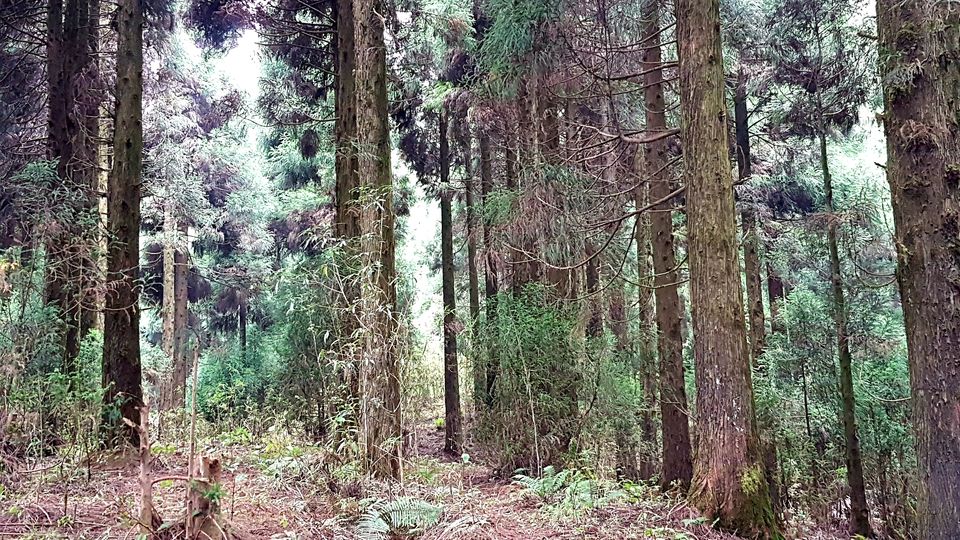 After a 15 min break we continued our trail and John our guide soon became our friend. He kept us enthused with local folklore's, his experiences in other treks and even spiced it up in between with some ghost stories. We continued the climb covering trails which traversed through the bushes, trees, rocks which changed into stairs and unpaved broken roads and what not. Given that we are advised not listen to music (for safety reasons) one has nothing else to do but to enjoy the nature. Over the next few days we were greeted by some of the best hillsides overlooking the mountains, rivers, streams, heard of cows, thick forests, bamboo forests etc. The biggest motivation that keeps you going in any such treks are such views.
After almost eight hours and 12km later, we dragged ourselves to our first campsite at Tumling a picturesque village at 9000 feet. Given that it was day 1 we had enough energy in all of us regroup later in the day for a few rounds of Mafia game, followed by hot soup and dinner. We hit the sack pretty early with Vyshakh promising to wake us up early the next day to catch the glimpse of the sun rising over Mt Kangchenjunga!
The next morning gave us one of the most majestic, awe-inspiring views I have seen in my life - sun shining over Mt Kangchenjunga. The Sleeping Buddha, the epithet of that mountain range came from the shape of the mountain line - With Mt Kumbakarna forming the head and Mt Kanjenjunga forming the tummy!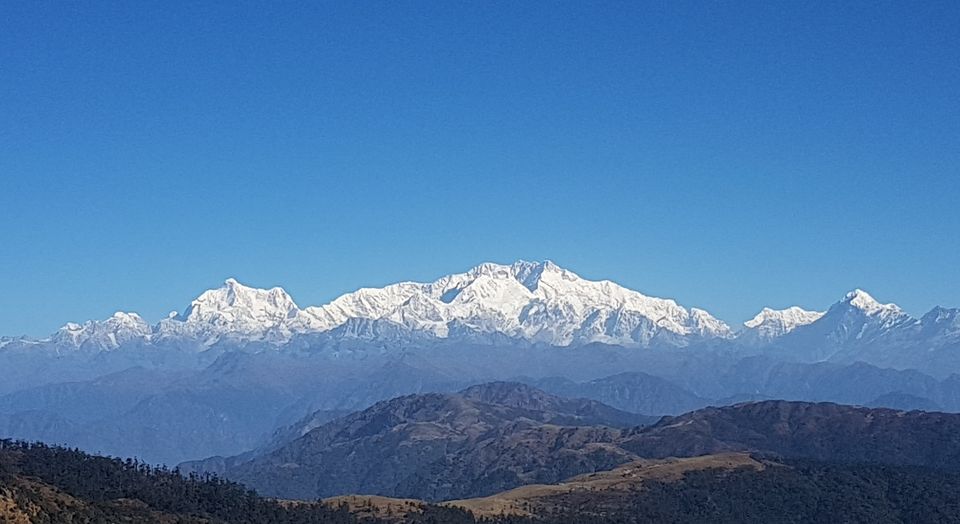 We soaked in its beauty while enjoying our hot tea and breakfast. Our destination for the day was Kalipokhri, another village on the India-Nepal border. Another interesting fact about Sandhakphu trek is that you would be crisscrossing between India and Nepal multiple times during the day. Not something you get to experience every other day. Day 2 was littered mostly with cemented and tarred roads which really takes a toll on your foot.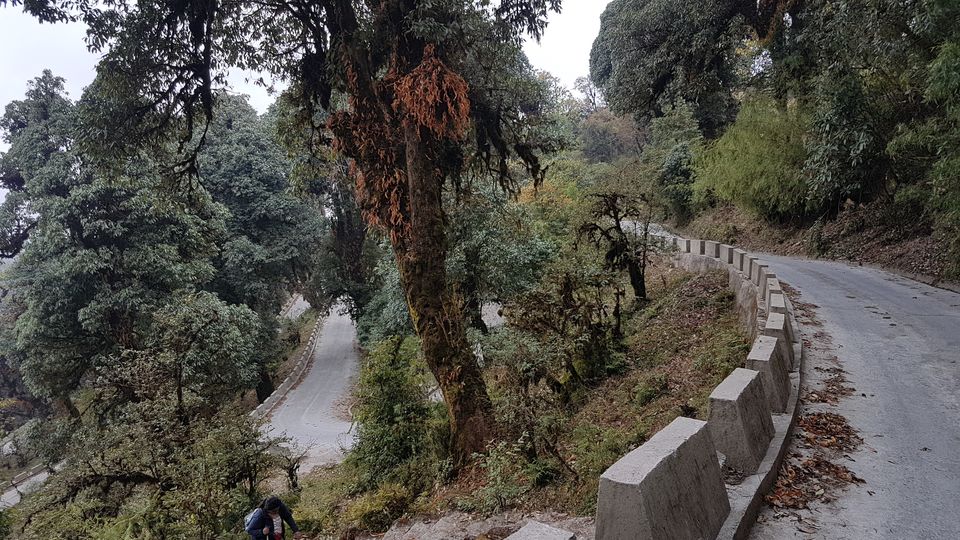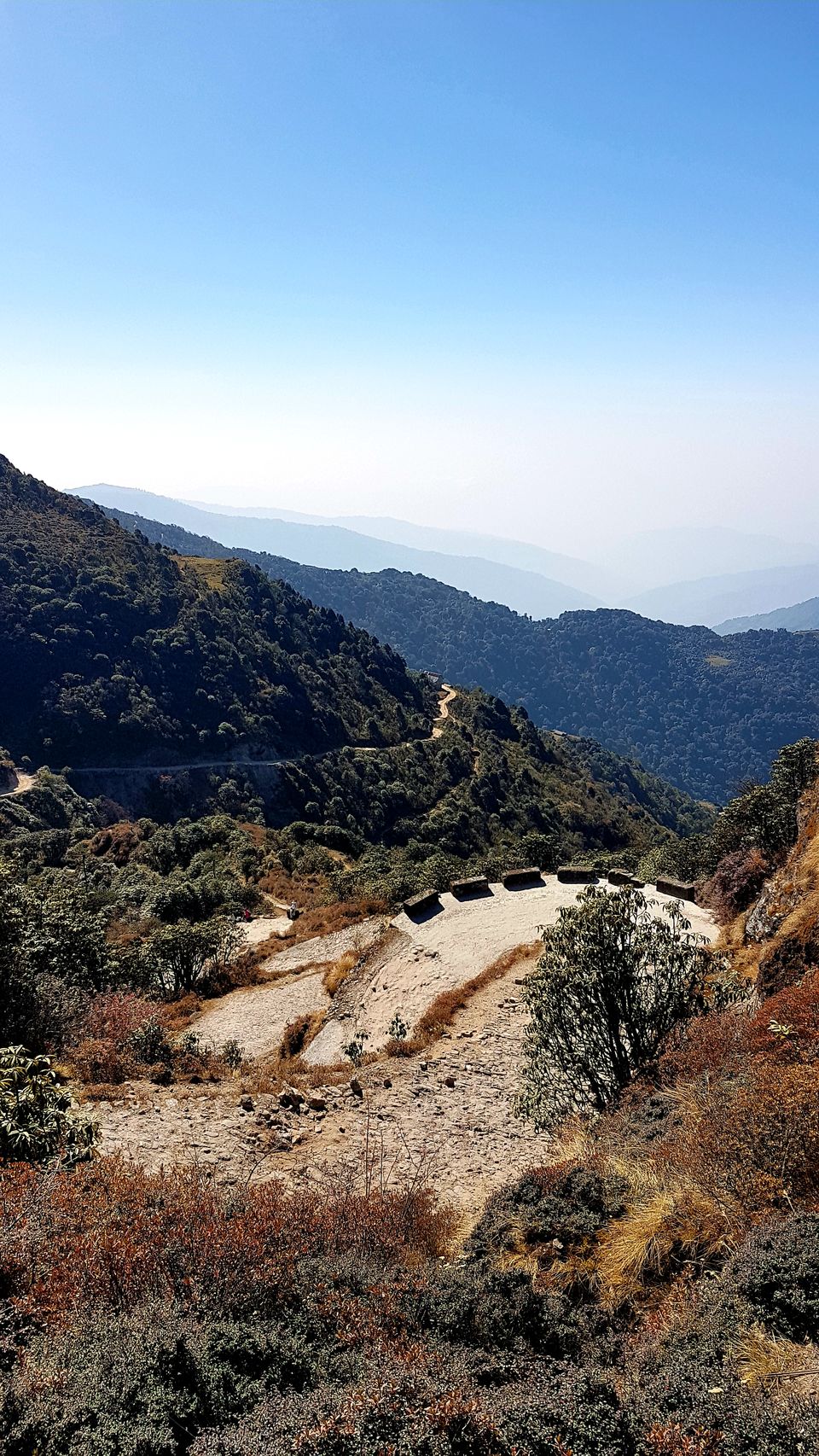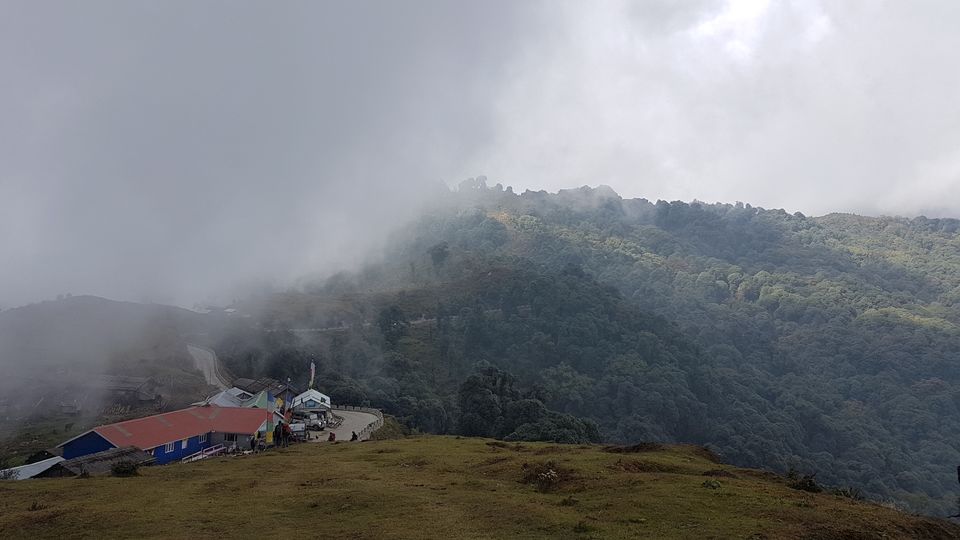 We continued the same routine & reached a tea house this time a bit late around 11.30. Thanks to our guide John, we were treated to a buffet of Momos of all types! Lunch on good day consisted of Dal and Rice with vegetable sabji. From Day 2 onwards the trek became demanding - both physically and mentally. Towards the end of the day, we finally located our tea house atop a small hill in front of us - A red coloured house on top the hill, only to appear farther and farther away with every step we took. It was not the house that was moving away from us but the winding roads that made it appear farther and farther away. Finally after 9 hours of long winding day we dragged ourselves to the top. Setting sun and clouds greeted us as we approached the village. We found ourselves in bed soon after our dinner as the long nine hours and ~15 Kms walk had taken a toll on us.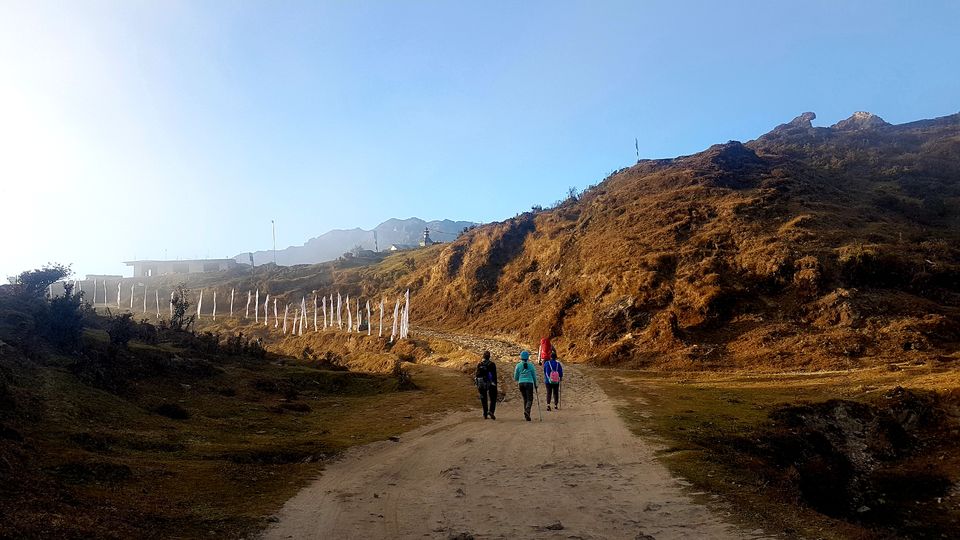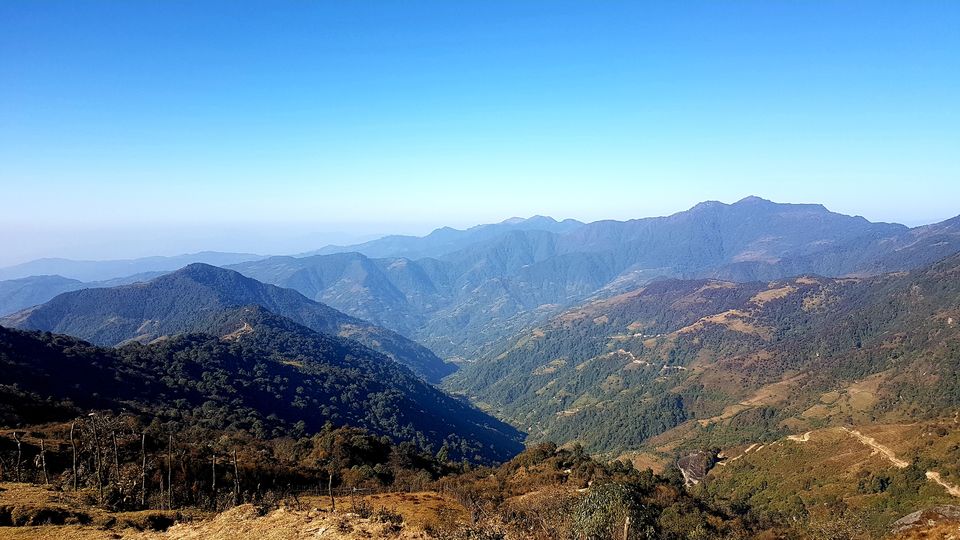 Day 3 of trek was supposed to welcome us with the view of Mt Everest but it was not meant to be, thanks to the heavy cloud cover. Mercury was falling steadfastly. This day was supposed to be a tricky one with just 6 km but gaining an altitude of 2000 feet. The trail was pretty steep and tiring. Breaks were becoming quicker and longer. Road if any in between was winding but very steep.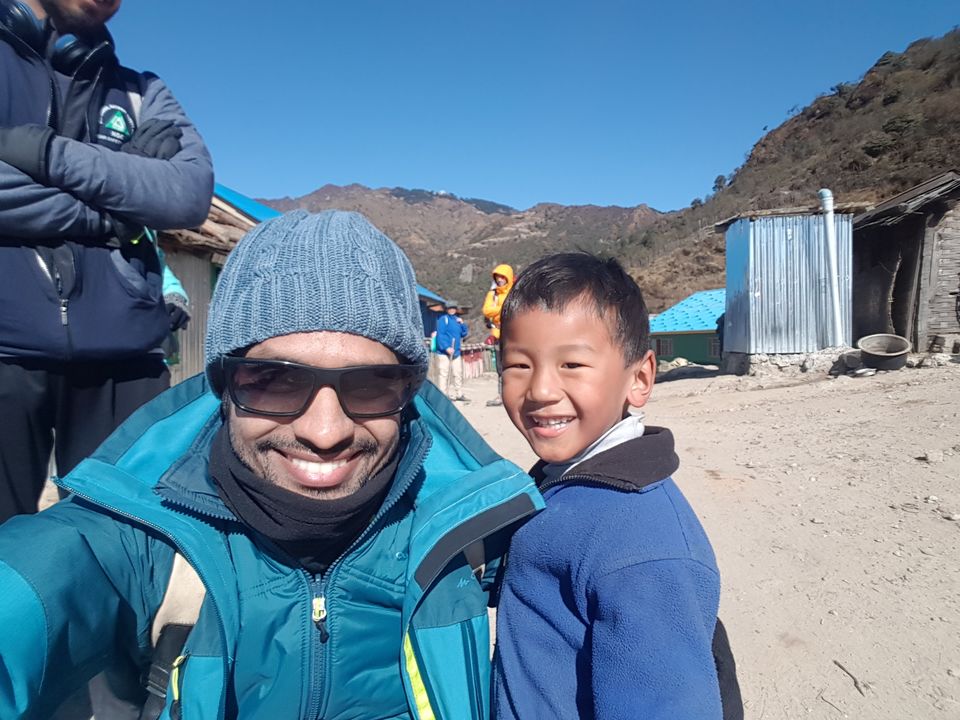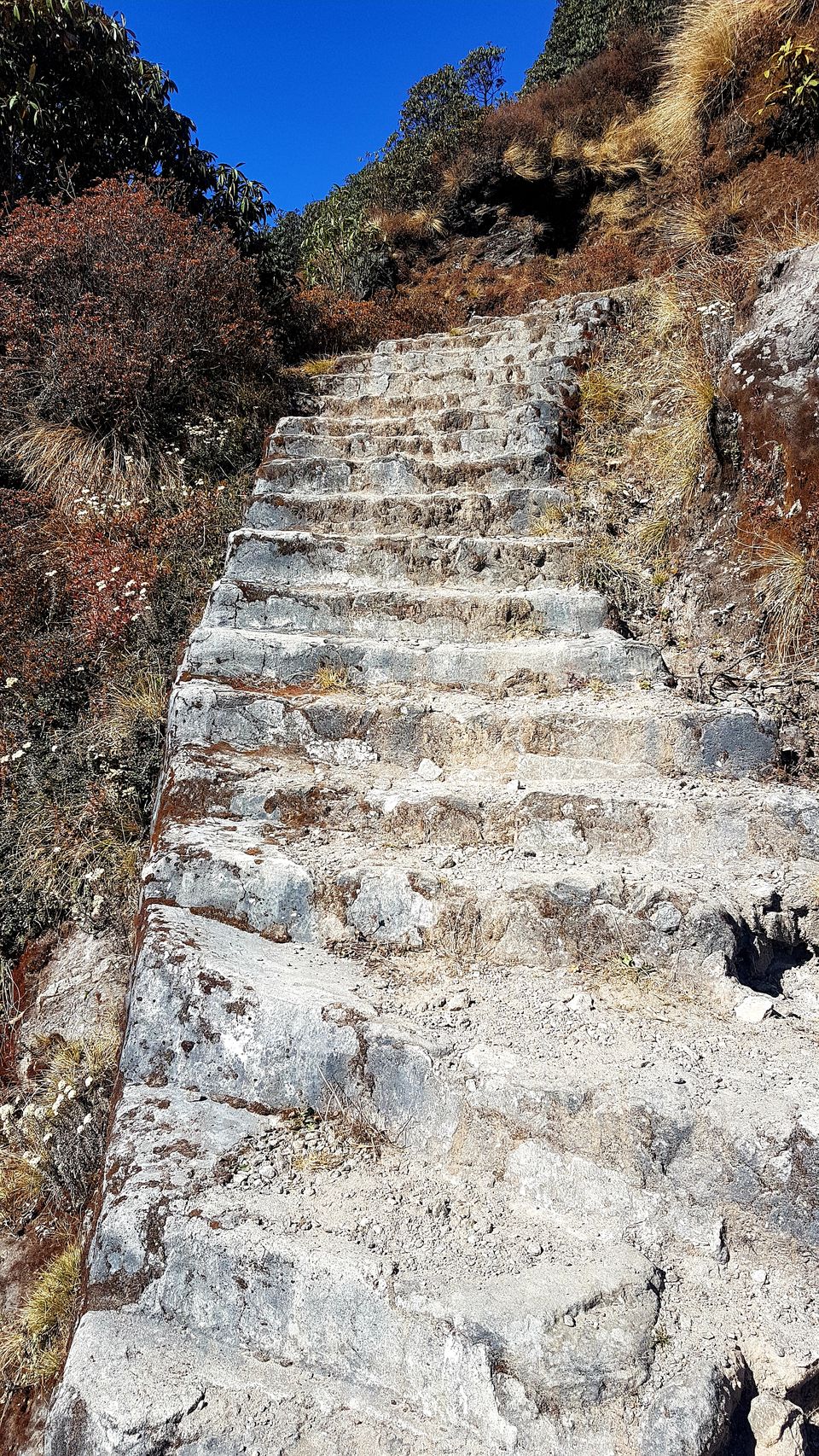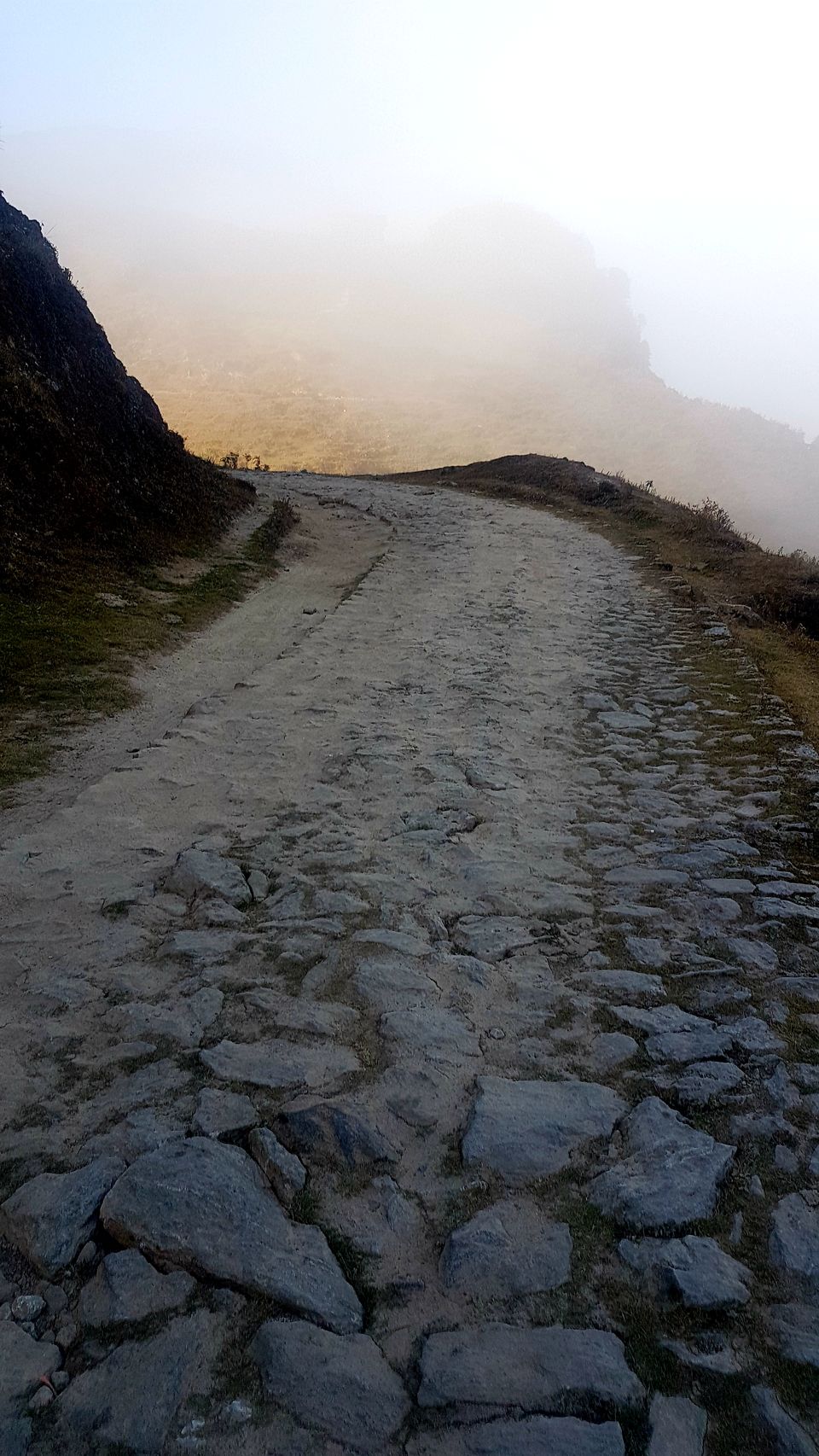 The days were growing long and dark and we were literally dragging ourselves to the next highest point of the trail only to reach there and realize that there is yet another climb awaiting us. Since the route had no tea stalls, we decided to stop in between for a packed lunch our guide had carried for us - boiled potatoes and eggs. The lunch setting was perfect with the Himalayan mountain range behind us and green meadows in front of us as far as the eye could see. Potatoes and eggs never tasted better, as we were v tired after a pretty long walk! Post lunch, the trail became even more demanding. One corner after another was staring at us. We were trying hard to enjoy the clouds floating around, sun-kissed mountainsides and the scenes of cows grazing lazily on the meadows. After around 6.5 hours of trek, we reached the top, Sandhakpu and there it was in all its beauty - the majestic Mt Everest. At that height of around 12,000 feet, it is always cold. But you wouldn't mind it when the view is Mt Everest, the tallest mountain in the world with the sleeping Buddha by its side.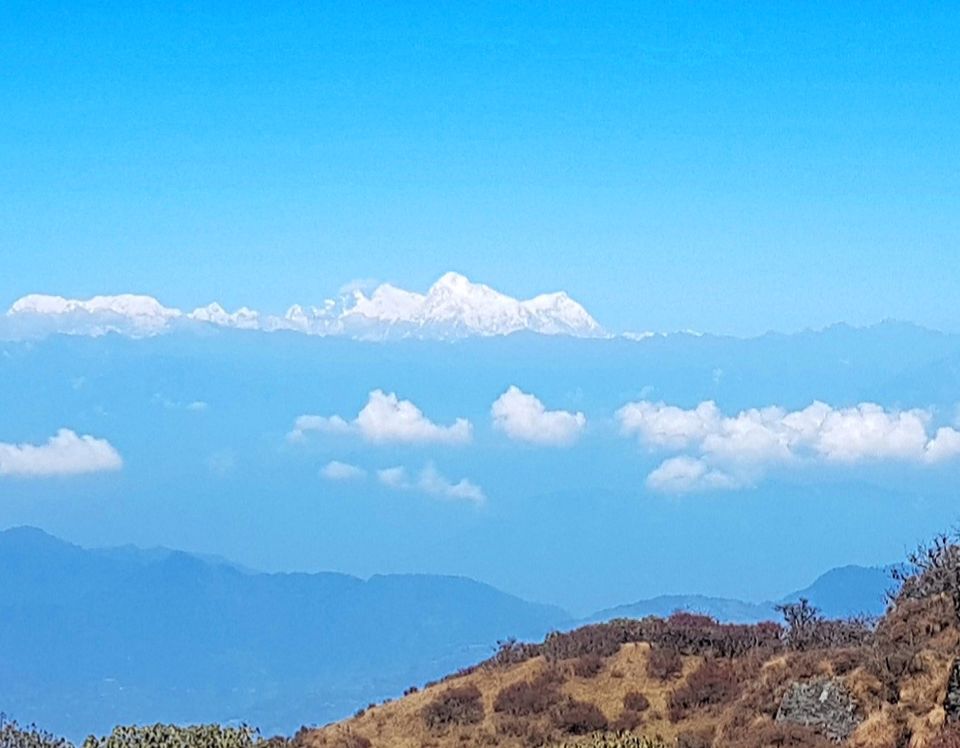 The setting sun at 12,000 feet is a sight by itself with clouds floating around like cotton candies. I think the mountains have a way around with the color Orange from Navel Orange, Bloody Orange, Mandarin Orange, Tangerine and Clementine! There are no words I can explain the sight than through these pics.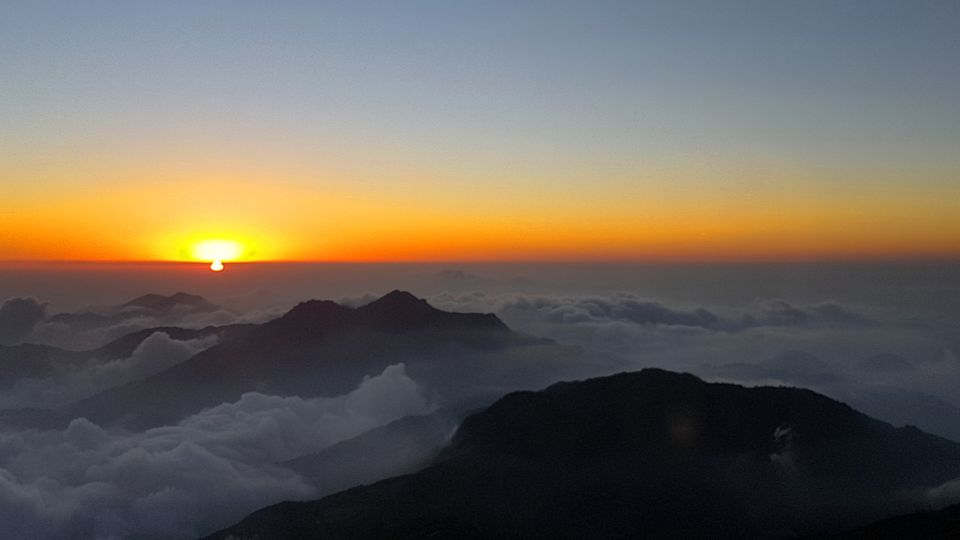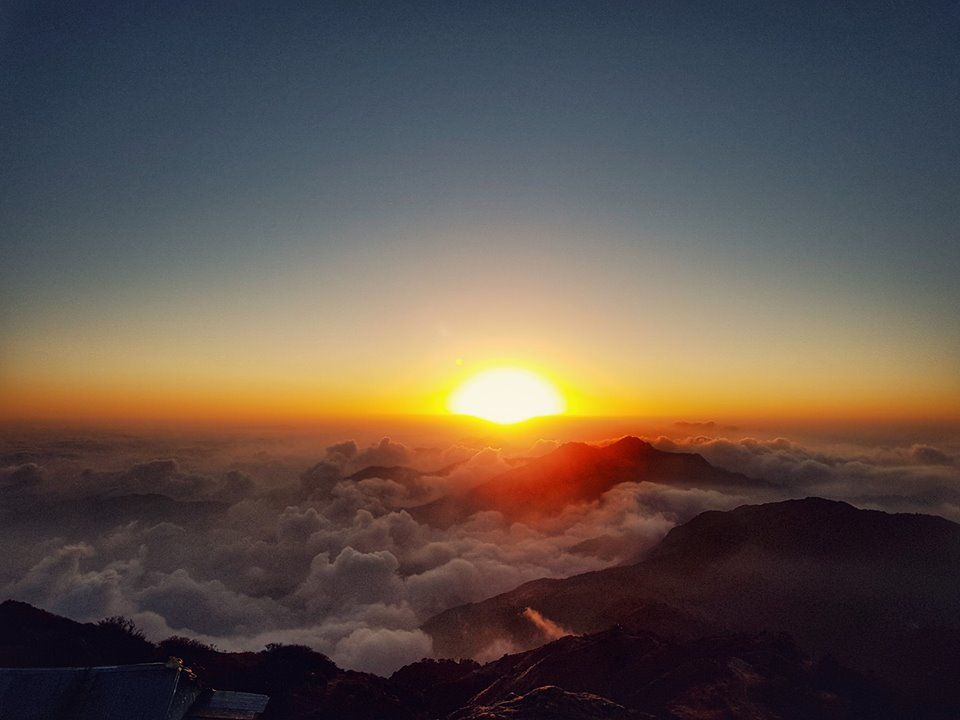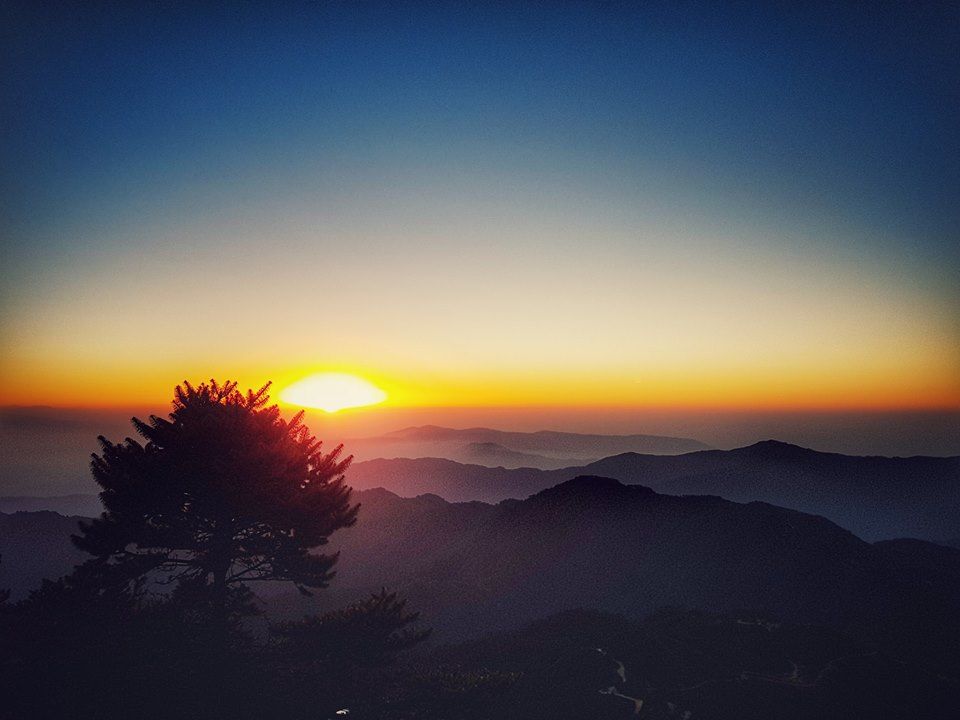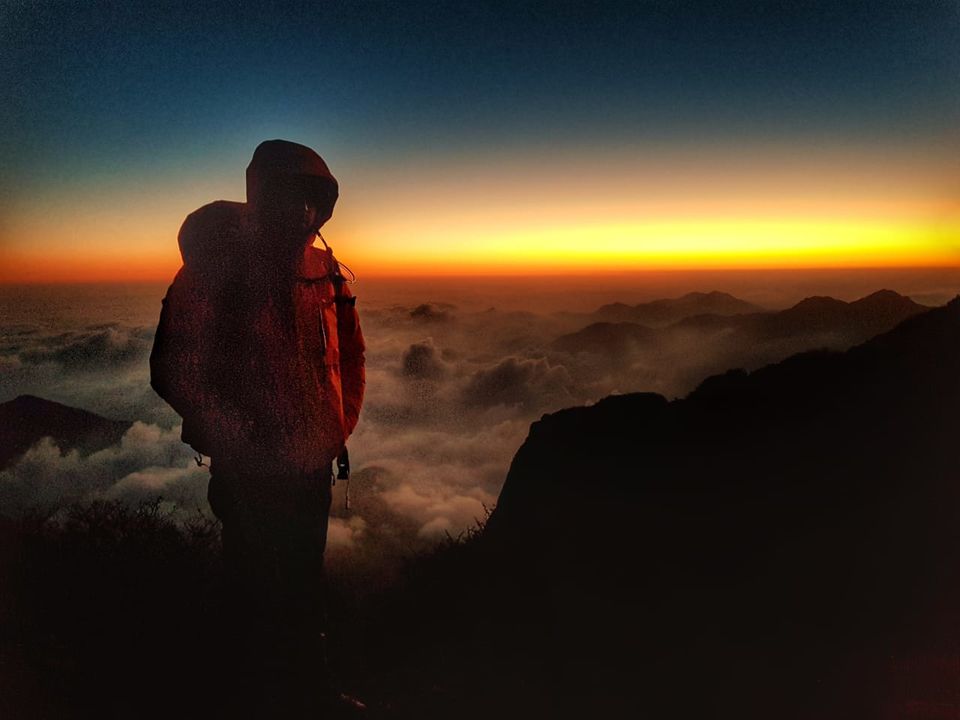 As the sun set behind us in India, we turned around to the see the peaks in Nepal covered with the last rays of the days before we headed to our camps.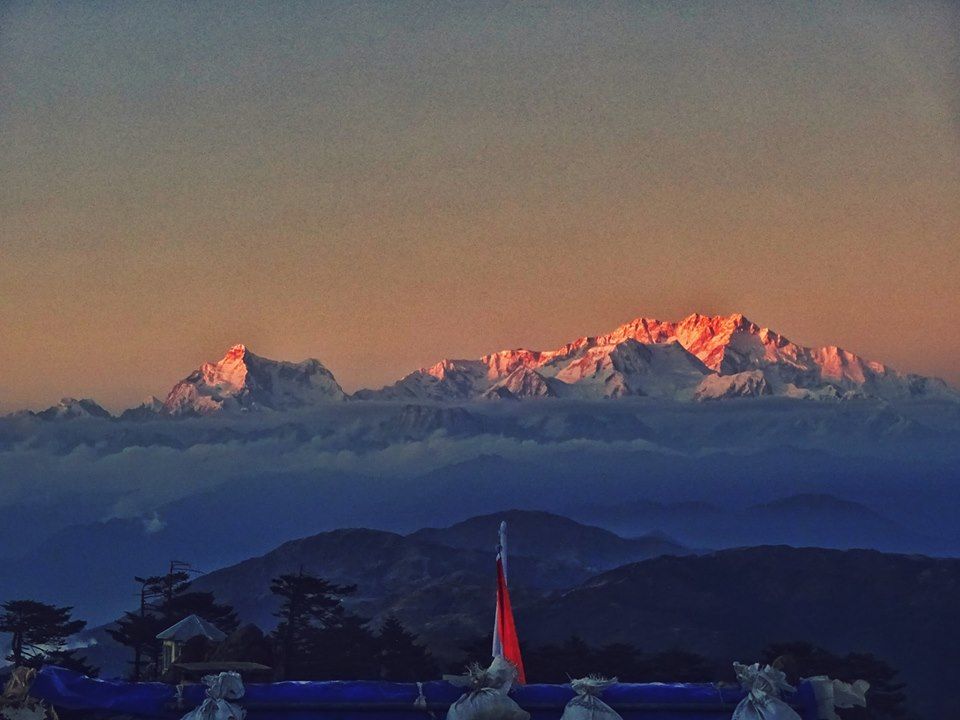 Next day was to be the longest with 16 kms to be covered taking us to Sabargram. Our bodies and mind had begun to give up and the walk was just becoming robotic. Even after three weeks of preps by jogging and walking, our bodies were unable to cope up with the rigors of the trek. To make matter worst, it was fast becoming sun down and fog was setting in. It took us almost 10 hours to reach Sabargram. Our trek lead and guide kept us entertained throughout the day at each and every corner - mostly by saying it is just 5 more mins/half a KM more while in reality it is never less than hour! Vyshakh ensures that the morale of the team is kept up with his interesting stories and experiences from his earlier treks. Many fascinating stories were shared as the group grew closer. Among his many stories, one thing that struck in my mind was the quote by George Mallory, the first mountaineer who had (almost) conquered Mt Everest. When someone asked him why he wanted to climb Mt Everest, he said poignantly, " Because it is there".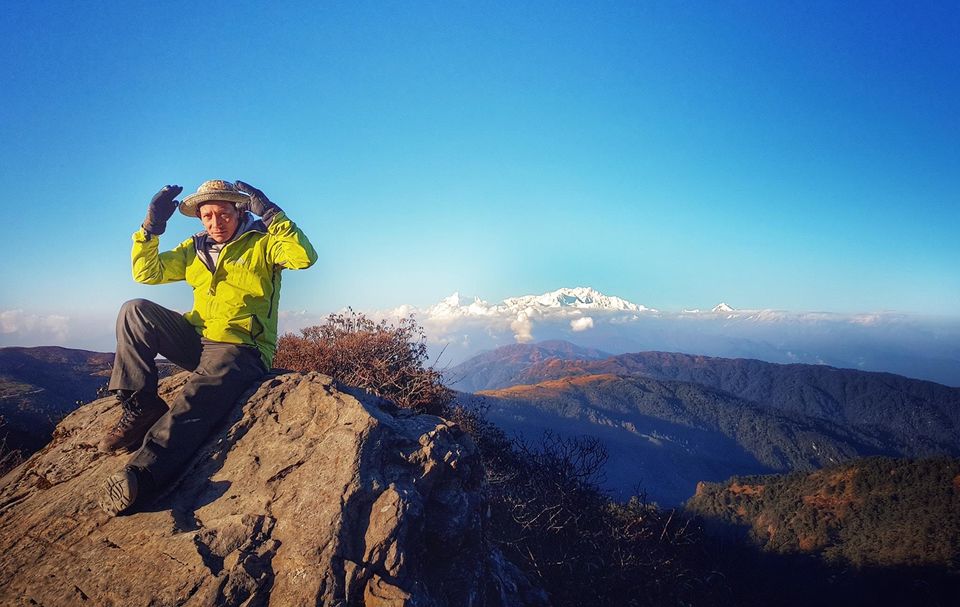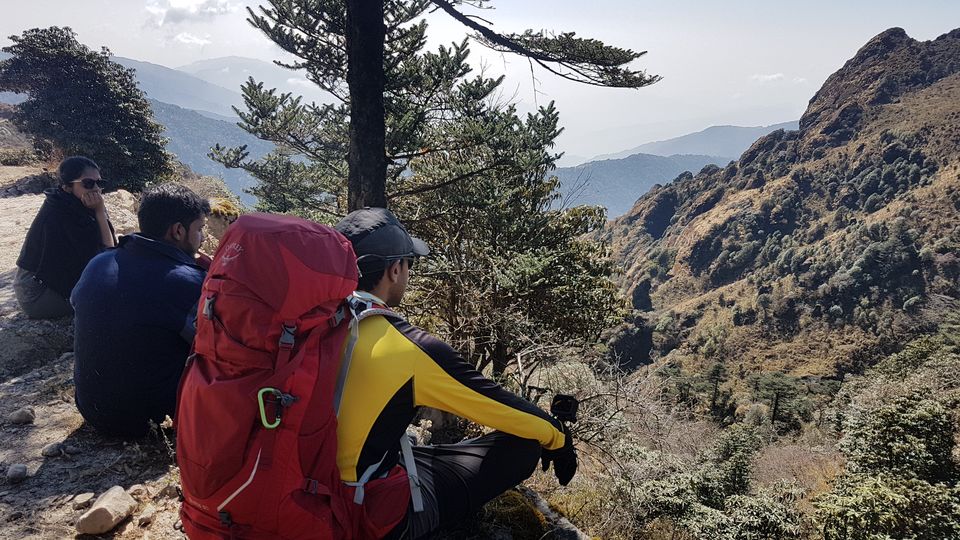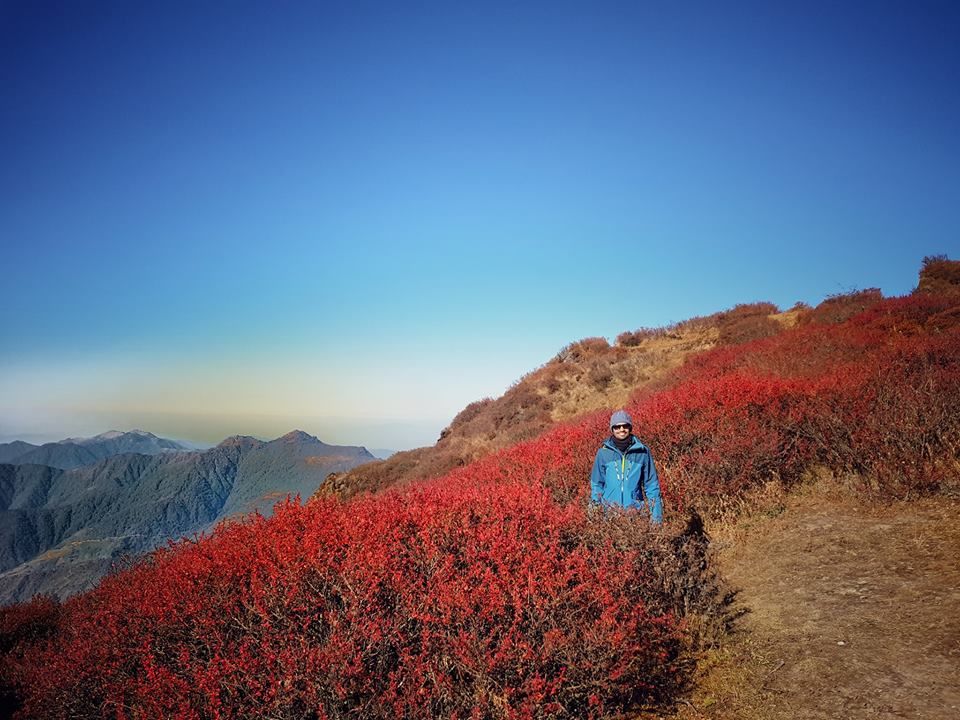 Finally we reached Sabargram and thankfully our stay for the night was arranged at the Forest guest house. Why I said we were lucky was coz, the mercury had fallen to minus seven that night outside and I am sure no amount of warm clothes would have kept me alive that night!!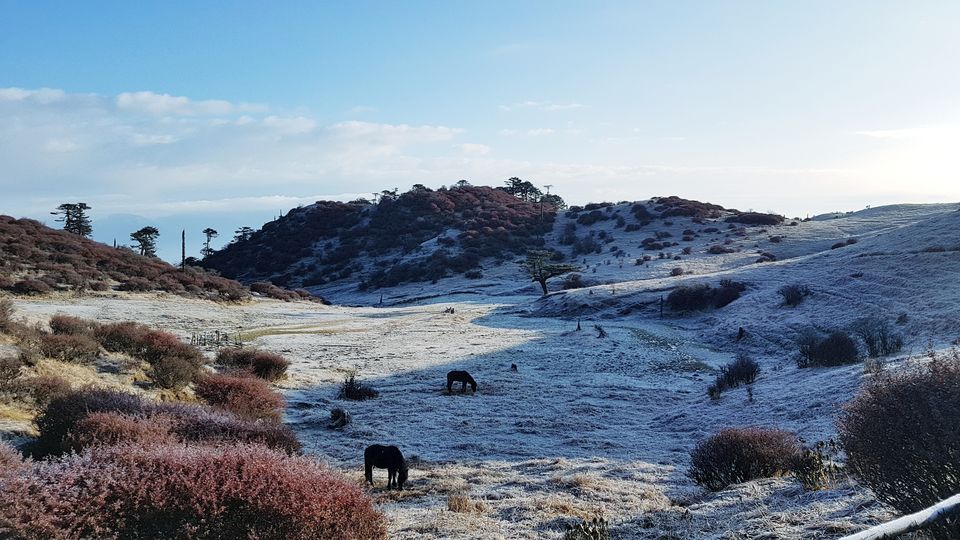 Dawn broke and we got up thinking the worst is behind us. Unfortunately it was not as two more days of trek remained. It was going to be continuous downhill of 12-14KMs each day. While downhill treks are faster they can be tricky as well. Most of the injuries happen while you decent. And when the decent is so sharp, it is bound to put lot of load on your knees. We stayed that night on a hill side village called Gorkhey where the villagers welcomed us with a local Diwali delicacy. Being the last day of Diwali we joined them in their celebration participating in Housie while dancing to the tunes of hit Nepali songs and rock songs!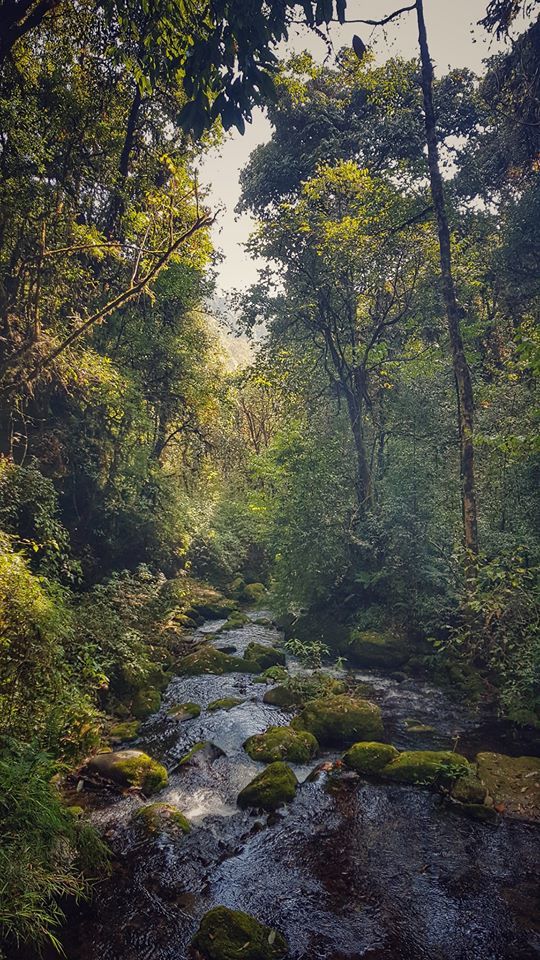 Last Day: We left Gorkhey early and headed to Jaubhari. The descent was becoming all the more difficult as by this time my left knee had started hurting badly and was literally dragging myself. It meant putting more pressure on right leg and hence now the right leg was also beginning to hurt! The last break we took was at a tea shop overlooking the mountain side with a few houses dotting the landscape here and there. It gave us a peak of what Darjeeling would have looked like decades ago! As we made our way through the last half an hour of the trek we were fascinated by the little houses with scores of beautiful flower pots decorating their front porch.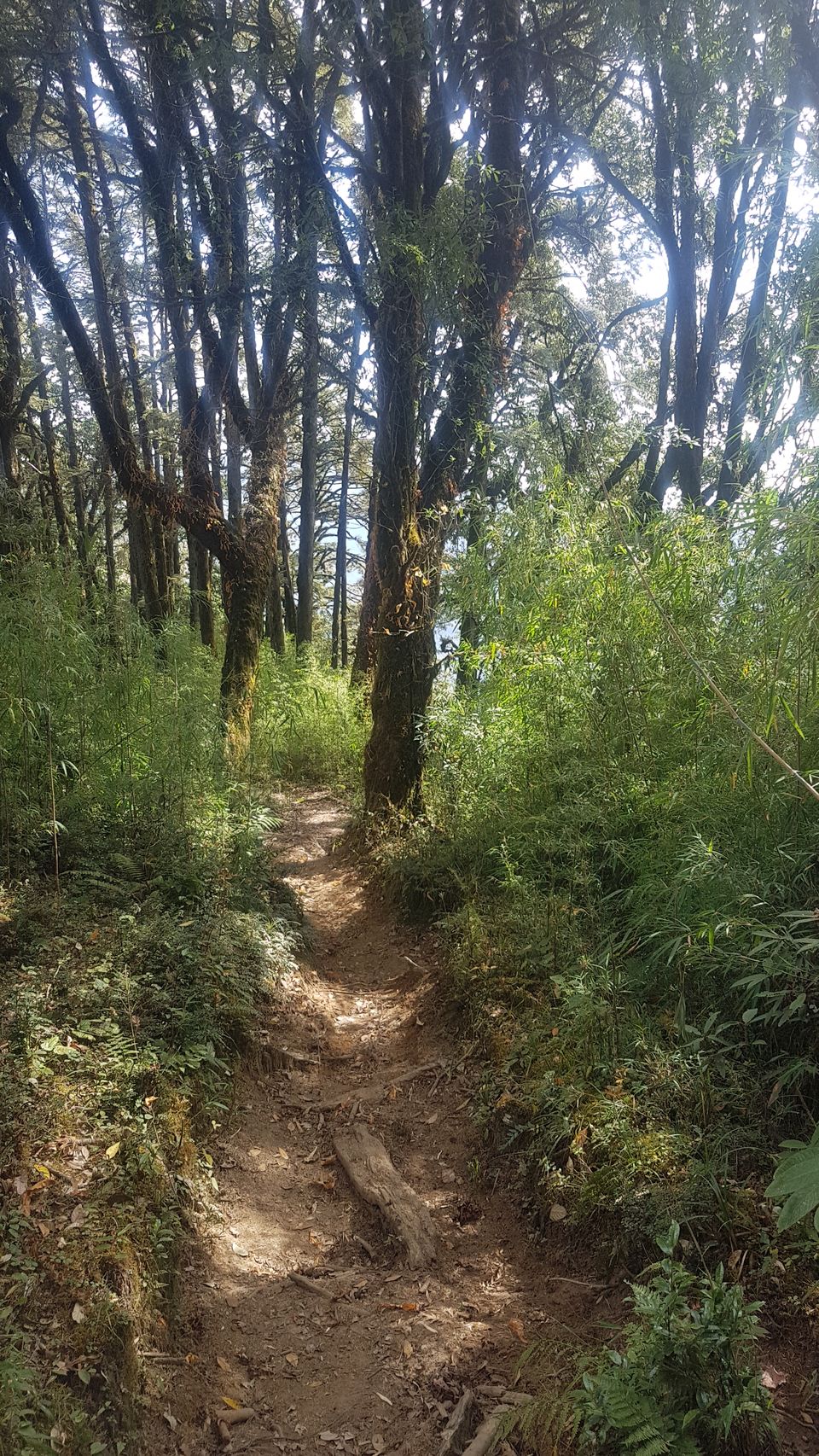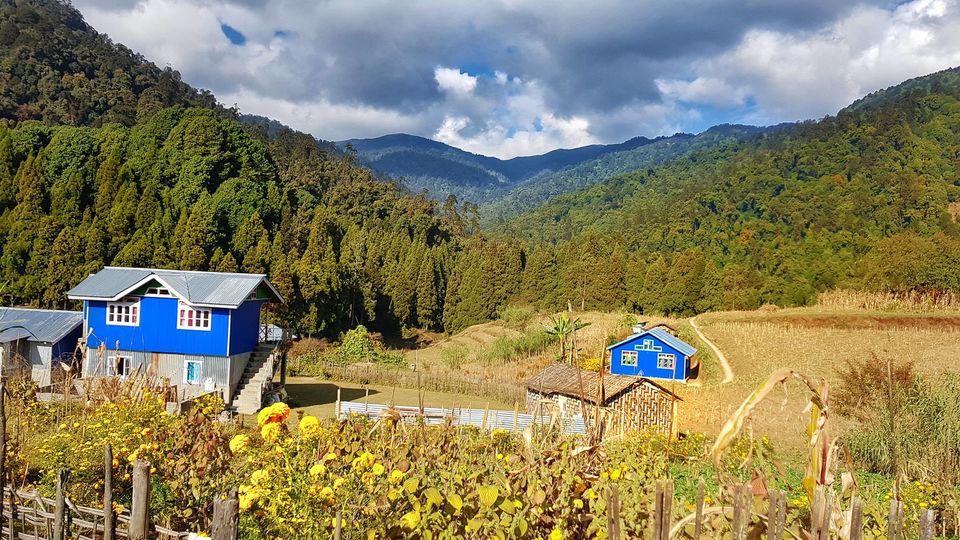 After a week of walking for hours on end almost breaking down at the end on the last day we reached the finishing line - the Sirikkola bridge. It was sight to behold - there stood our jeep waiting for us! As I crossed the bridge a deep sense of achievement, satisfaction and more than anything a sense of self belief creeped into me - I had done something which couple of years back was unthinkable for me. I had just trekked non stop for the last 6 days covering 6000 feet up and down through single digit temperatures. Covering on an average 12-13KMs sometimes 16KMs and ten hours in a day, I had pushed myself outside my physical and mental comfort zone (Almost cursing myself to sleep as to why I chose this trek) and emerged victorious. For a person who has never walked more than 10KMs a day, one who runs for a jacket when the mercury falls to 24 degree in Mumbai, this was great achievement!
As I sat in the jeep to take the journey back to the airport I looked back at the Himalayan mountain range one last time and said to my self "I may be bruised, I may be broken but I am not out, I will come again and conquer you because as a mountain you cannot grow but as human, I can!"