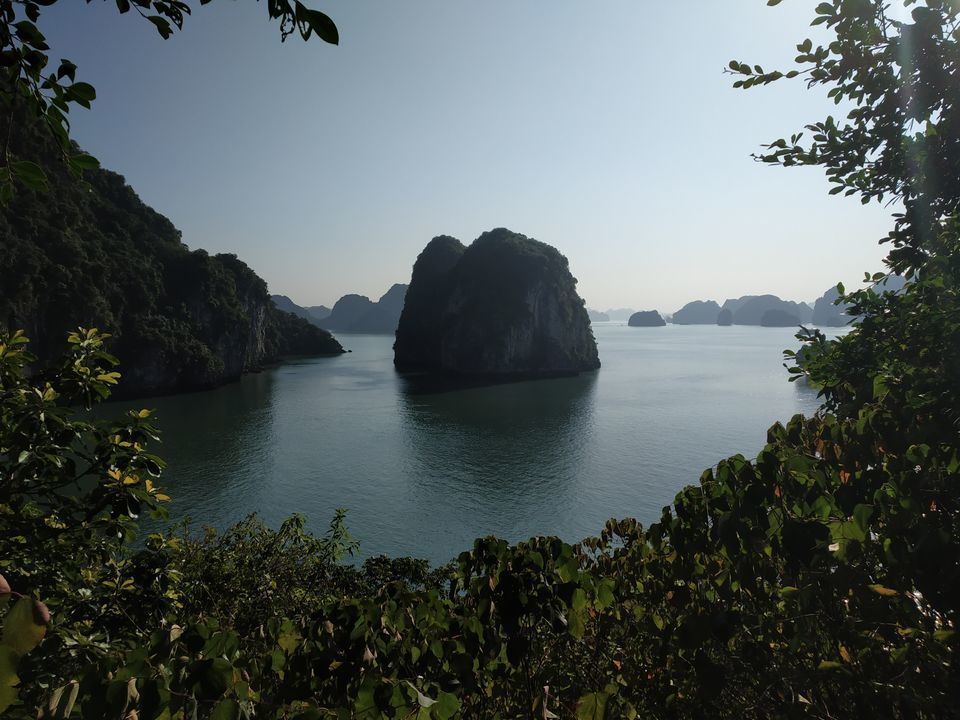 And somehow after a tardy late night flight, I made it to Da Nang ( Central Vietnam) at 3 AM and checked in to this homestay-cum-hostel Loca Hostel at Phuoc My. Quite a cute place I must say! I crashed right away and got up late only to be informed of a great piece of news. This fabulous beach was just a 2-minute walk from the hostel across the road. Thank God I saved my beachy moments to witness this. Spik and span, blue waters, peaceful, not crowded at all and most of all, had such character! From there, I made this totally impromptu decision to actually visit the popular Golden Bridge at the Ba Na hills some half an hour away from Da Nang. The scooty ride was quick and easy on pocket and I made it there on time. Plus the entire route was lush green, scenic and cooler than the main city. This bridge gets closed at around 6 pm. So make sure, you plan your time well and reach there atleast 2-2.5 hours before the closing time, because I was sheer lucky to have wasted half the day and still be able to make it. The ticket is a bit expensive for around 550 Dongs, but trust me it was worth every penny. It includes the 40-minute cable car ride to and fro , a buffet up there at a restaurant, some gorgeous performances and a shuttle drop to wherever you are staying. The bridge and the lovely French ambience around it is absolutely stunning.
TIP: It gets cold up there, so do carry something warm.
In Da Nang, you can also visit the popular Dragon Bridge which spits fire on weekend nights. I missed it though because it was a weekday then.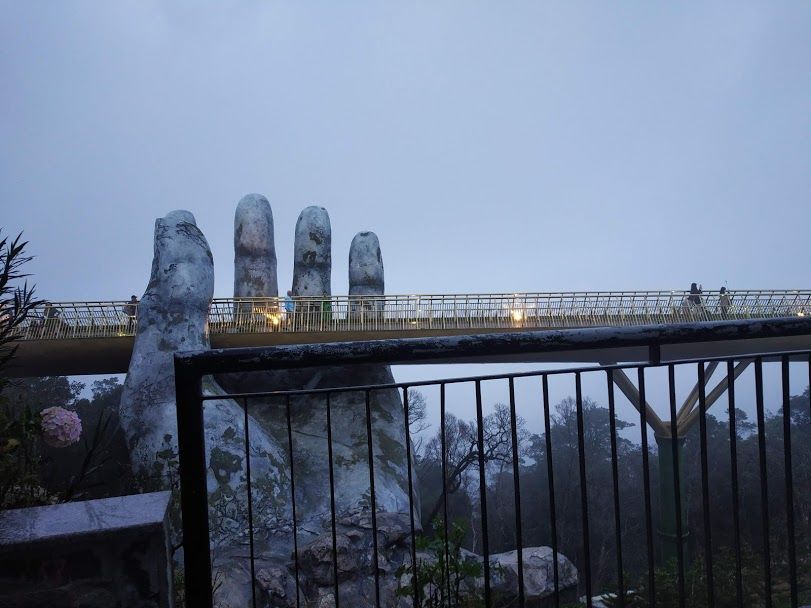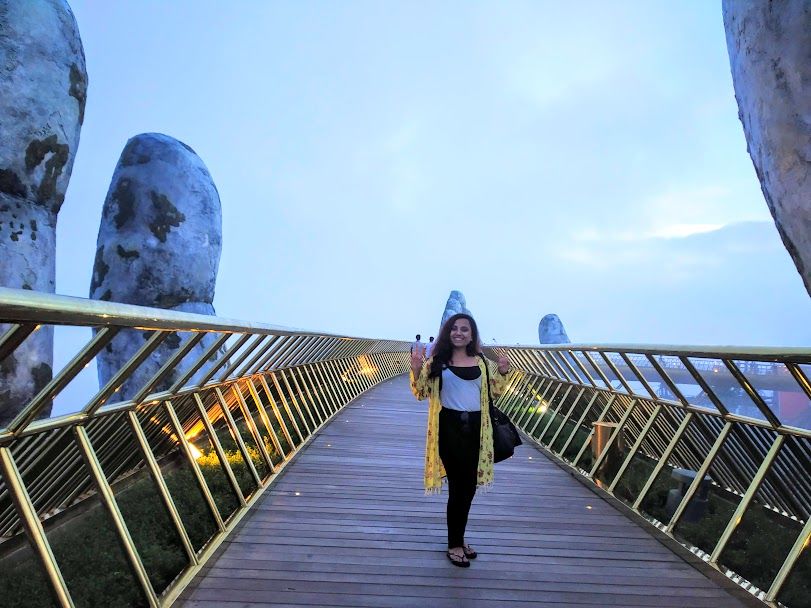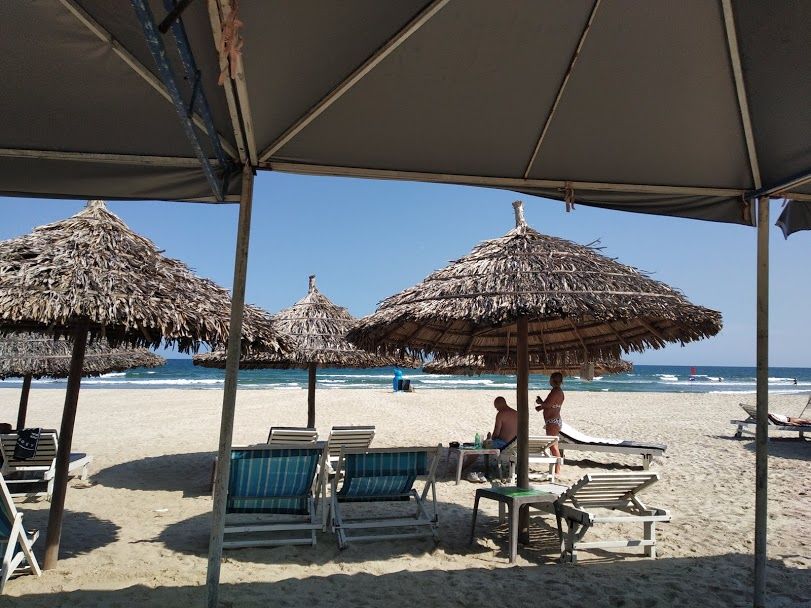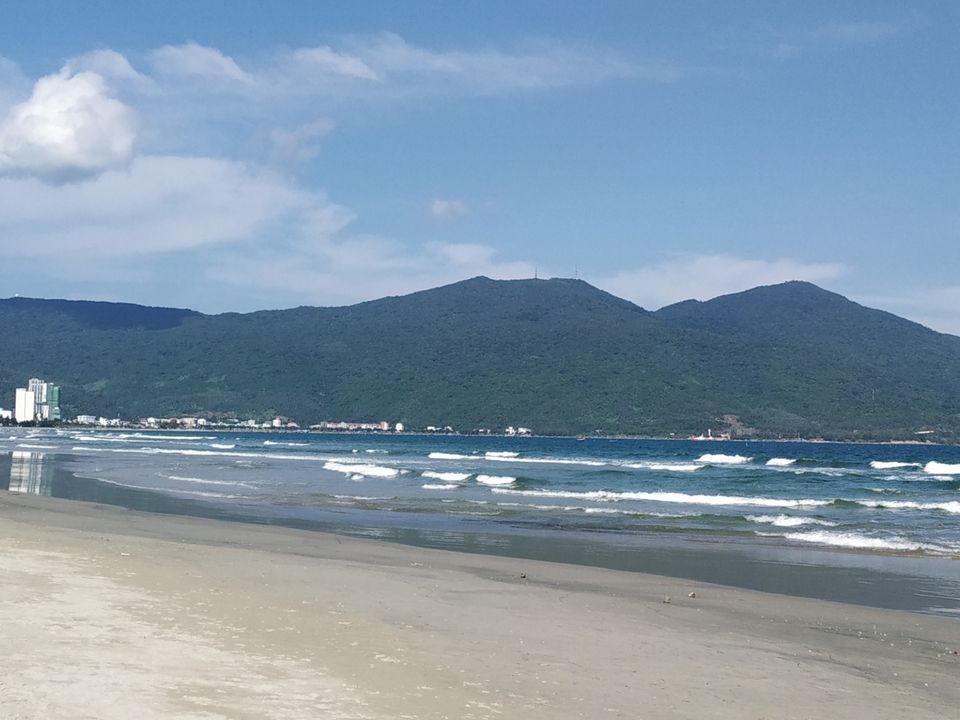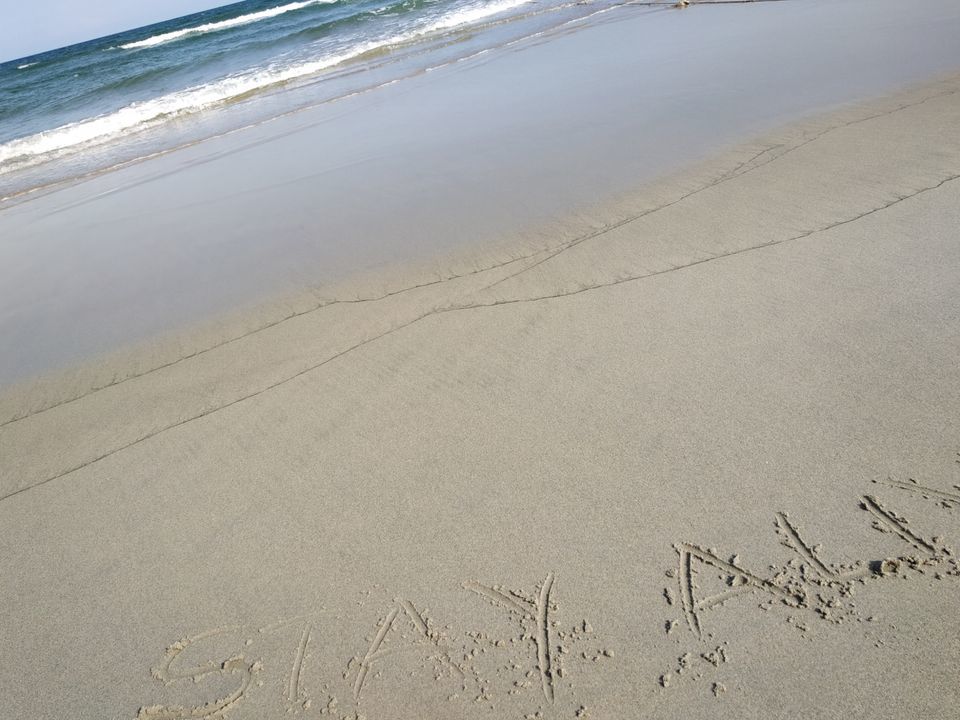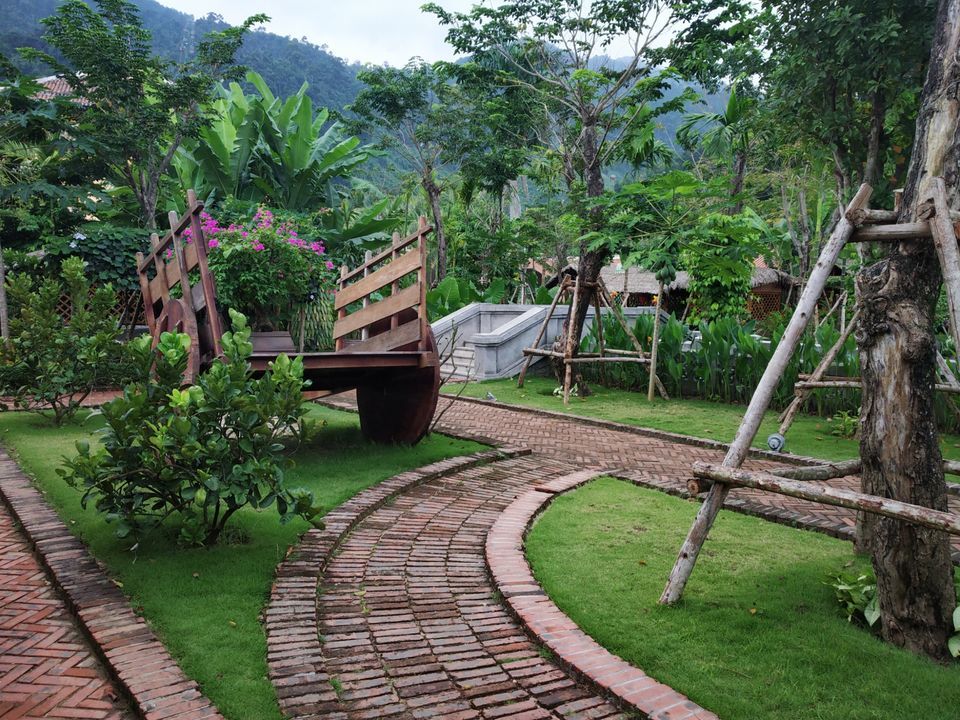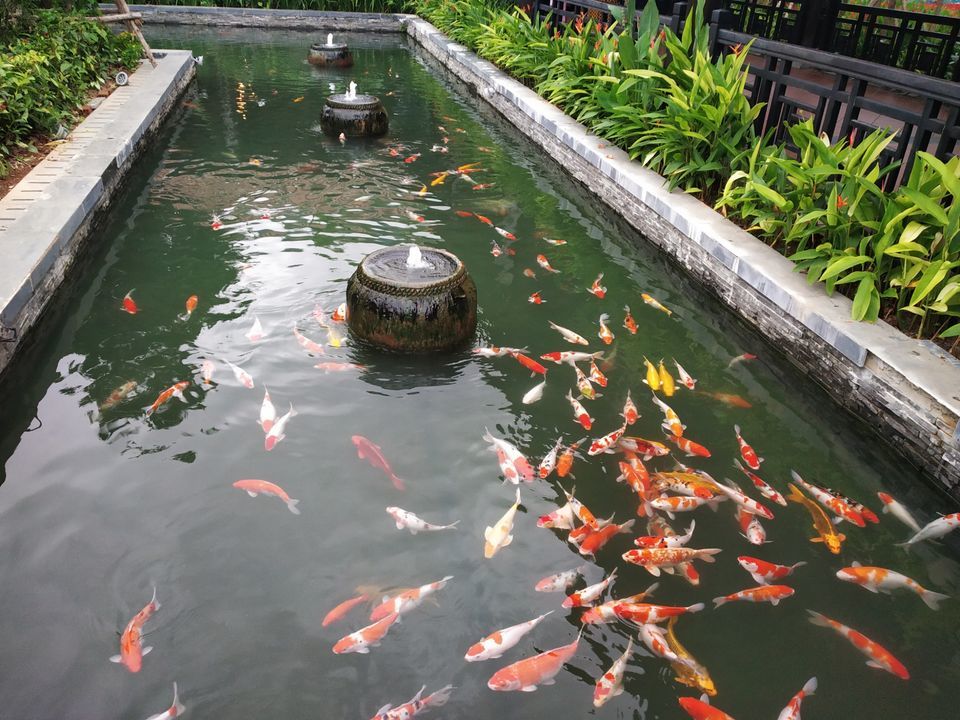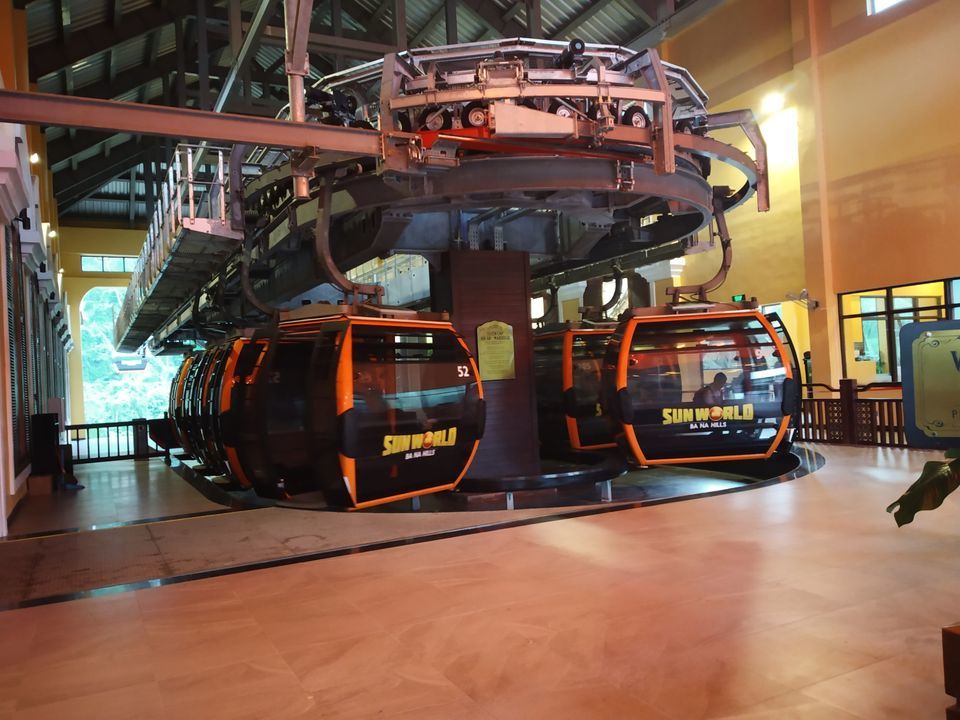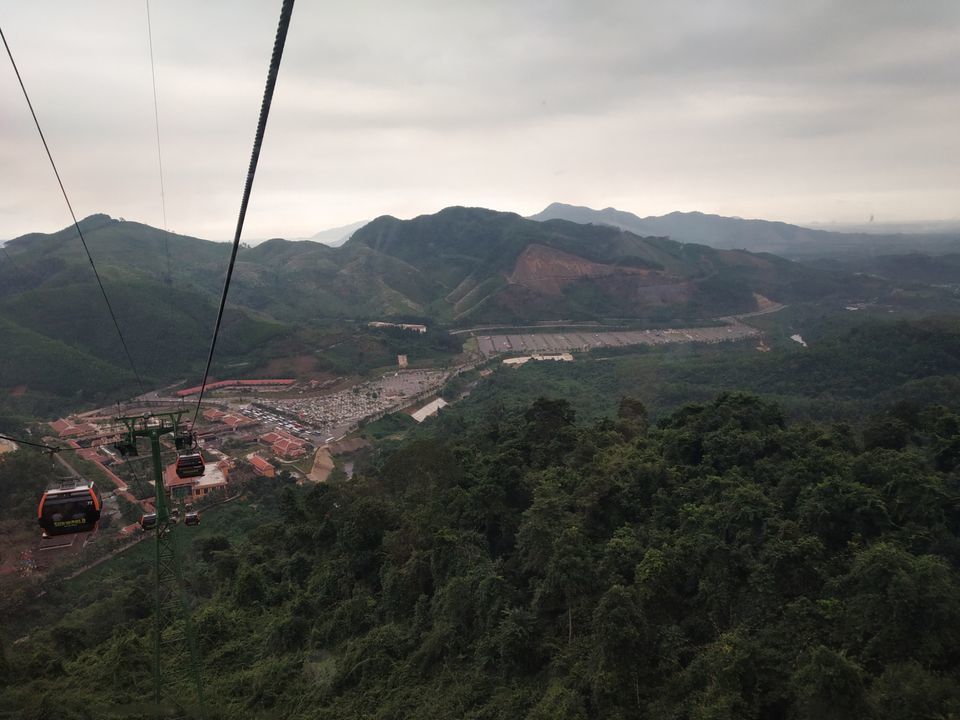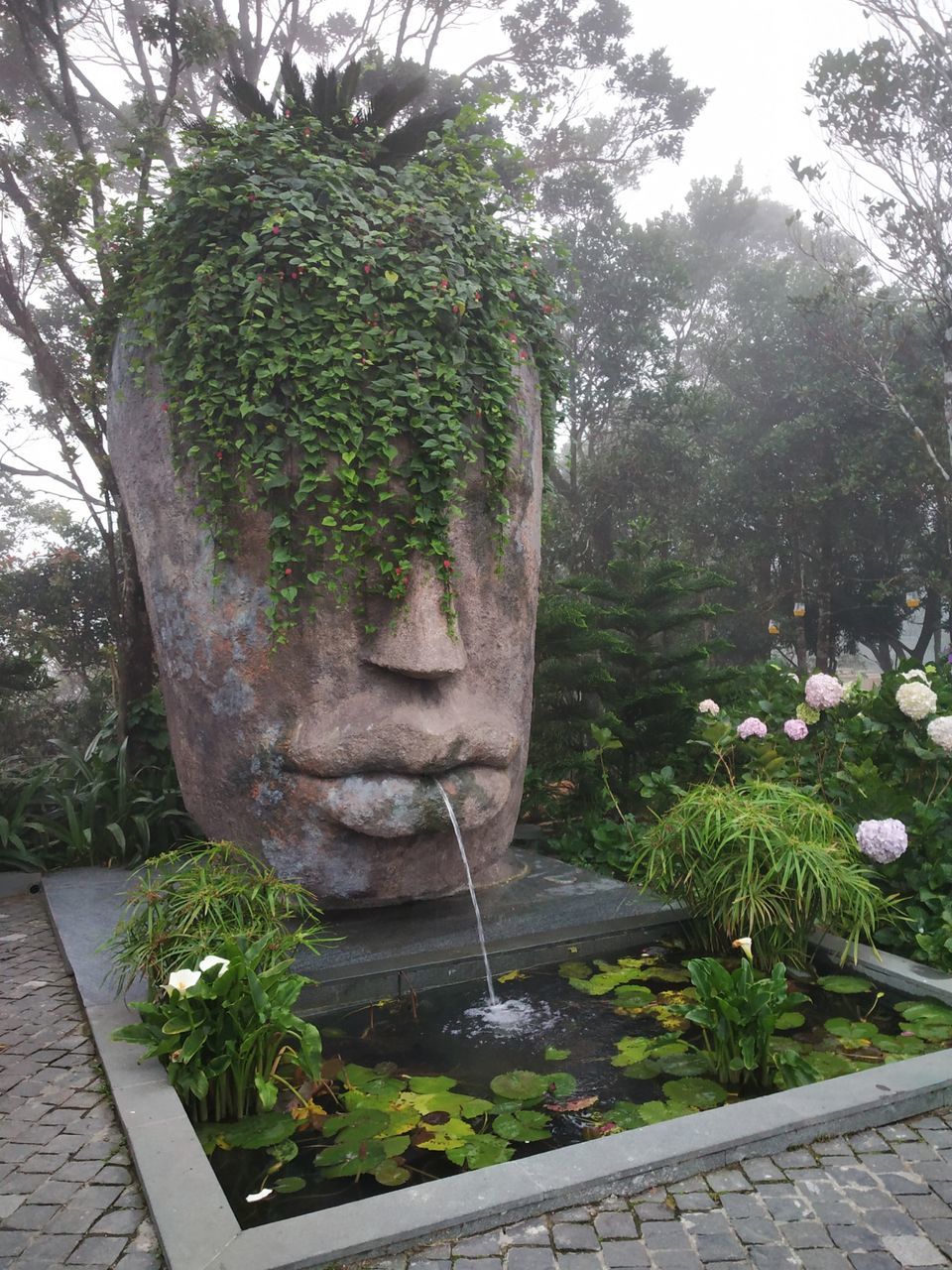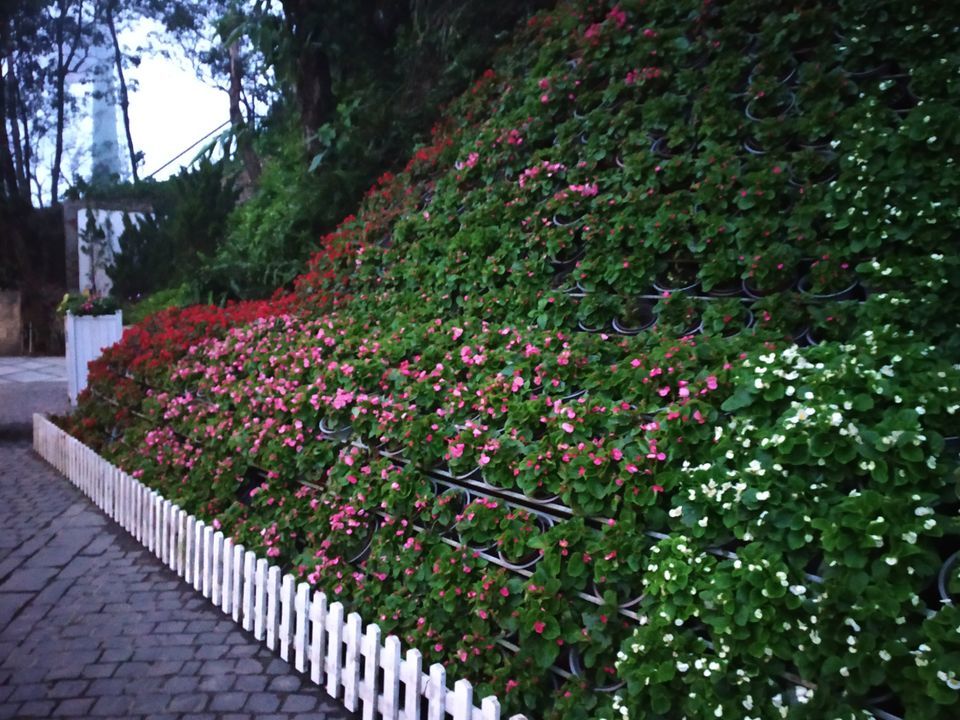 Next day almost in the afternoon, I managed to reach Hoi An along with my room mates at the Loca Hostel in a cab. It's barely a 30-40 minute ride from Da Nang. I stayed at this gorgeous, really aesthetically done homestay at the Terracotta Village there. The landlady was super efficient, well aware and had a solution to every query of yours. I recommend the stay here. It's barely 15-20 min away from the Old Quarter. I had a 3-day stay at Hoi An and it completely superseded my expectations. Be it the food, the vibe around, the places to visit & explore, the people, best prices to shop for the Vietnamese coffee, handicraft, the super quick tailoring services- Hoi An was a complete package!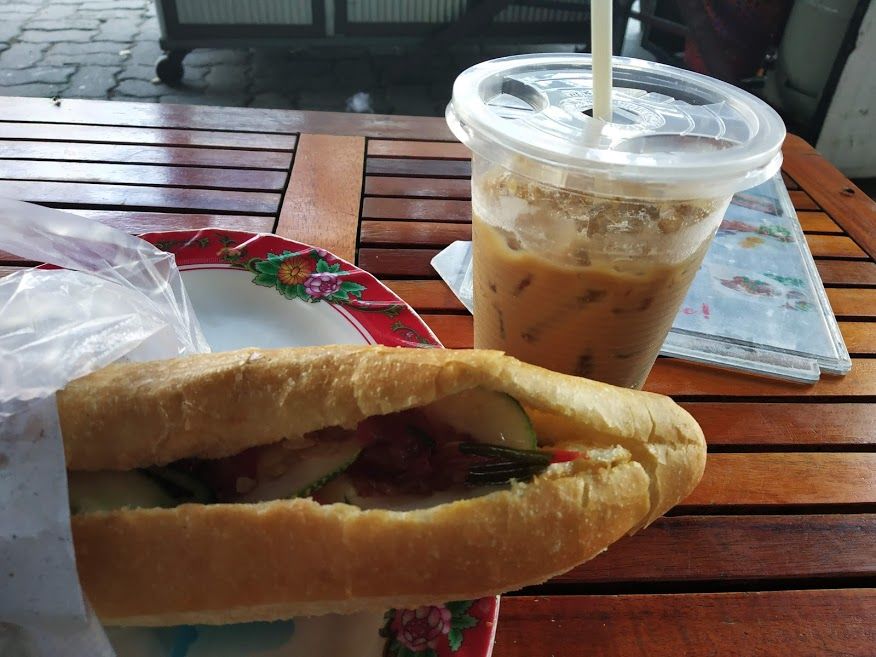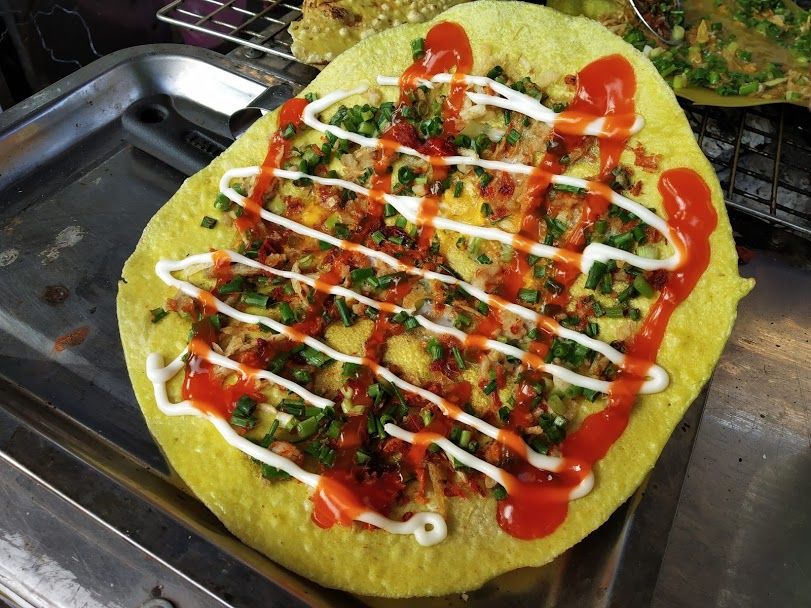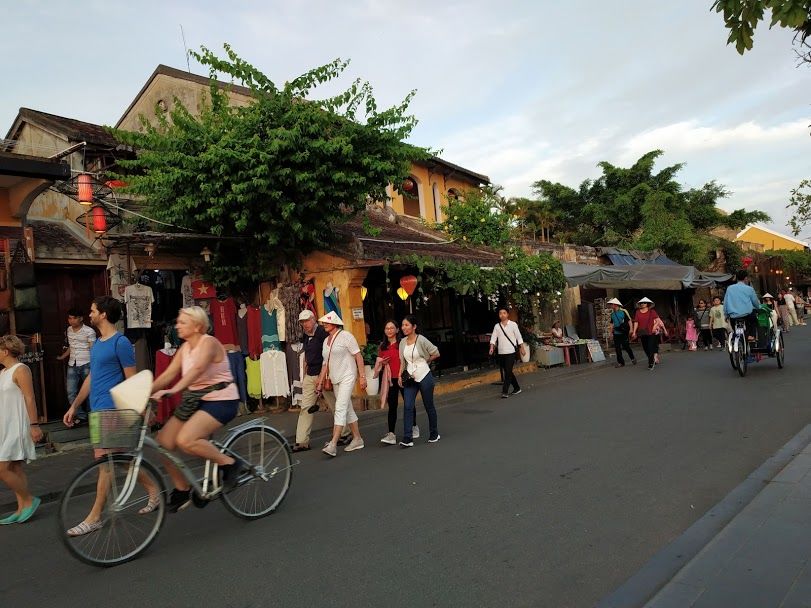 I'd suggest Hoi An can be done in 2 days. I visited the Old quarter, the Ancient Town where you get a ticket for 120,000 VND that allows you to visit 5 historical attractions in that vicinity. I visited the Japanese Covered Bridge, the Old House of Quan Thang, the Trade Ceramics Museum, Quan Cong Temple & one more place which I can't remember now. All these places are at a walkable distance from each other. And infact, that's the best way you can explore Hoi An Ancient Town which connects the Old Quarter too. Tip: If you're at your own pace and haven't been able to visit all the given attractions, do not forget to carry the same ticket the other day too, or else you will be charged again for everything. The same ticket can be reused for another 2-3 days.
Try the amazing local delicacies like White Rose, the yummy Vietnamese pizza which is a grilled rice paper with egg and vegetable toppings, fresh beer for just 4-5000 VND (dirt cheap as it's almost Rs.13), Thai Banana/Nutella rotis, coconut cakes etc. Go for shopping as it will be cheaper here than the bigger cities like handicrafted purses, leather stuff, silk scarfs, silk sleeping bags, the popular Weasel coffee, souvenirs etc. I got myself a black blazer stitched for almost 47-48 USD which was delivered to me the very next day. Unimaginably quick & no compromise in quality as such! Do scout a bit and bargain for stitching prices, as they can go variably low with what they offered at the first go. I loved mine! Give yourself ample time to just aimlessly walk around the Night Market, admire the lanterned streets, binge upon things, and yes....get those fabulous massages done. I splurged more on massages infact than the shopping. Hoi An was by far the most picturesque and photogenic place in the entire Vietnam. Very very pretty! Tip: BARGAIN & BARGAIN!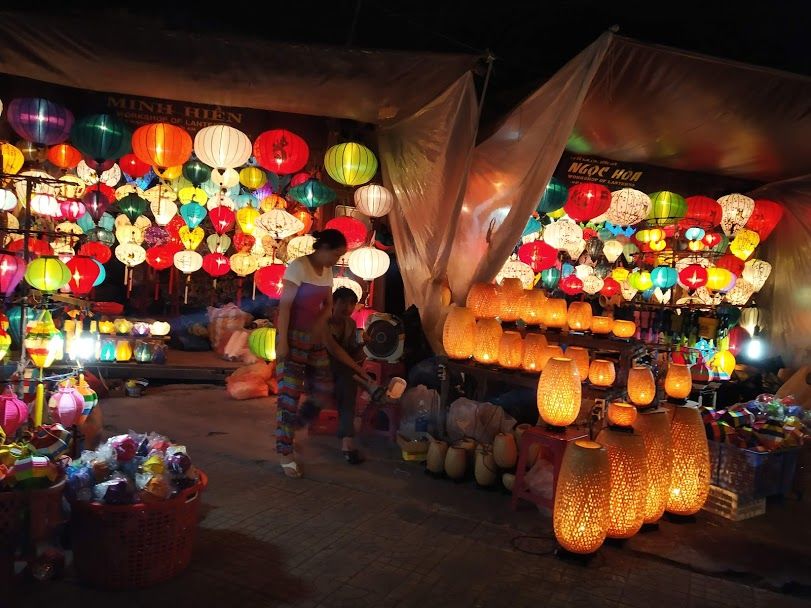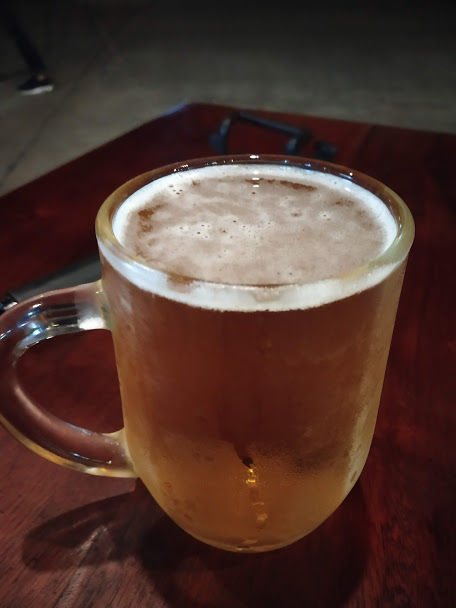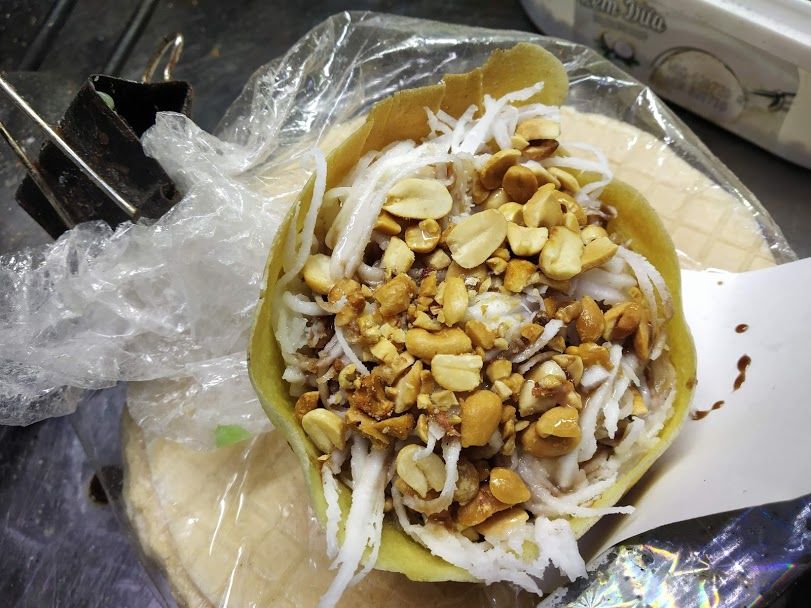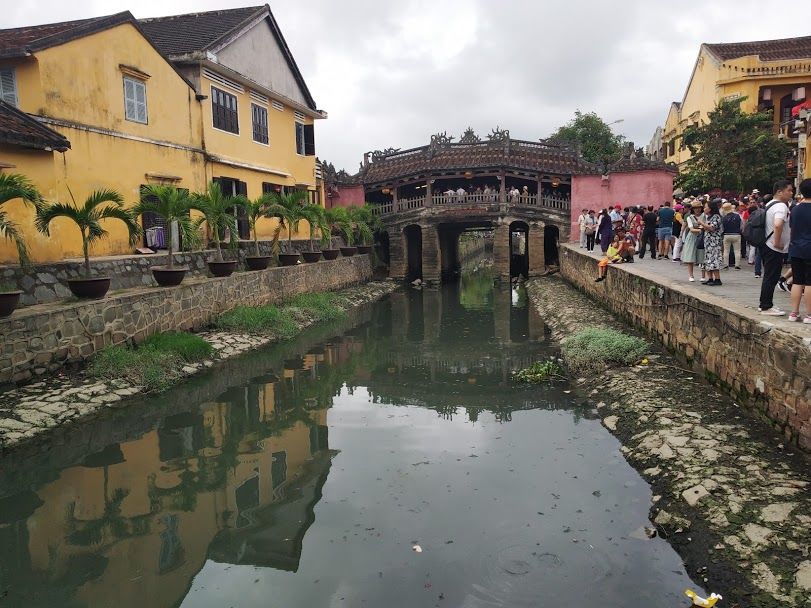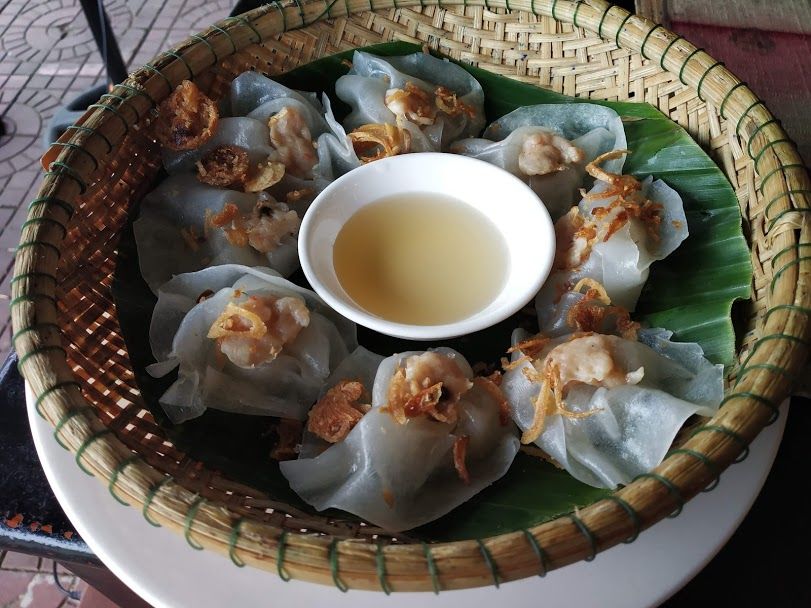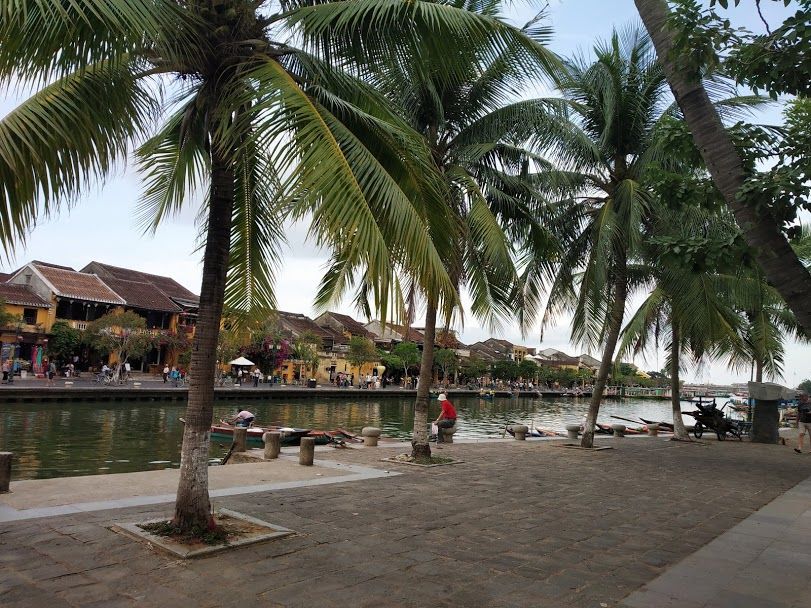 Next day, I was determined to cover the selected sightings inspite of bad fever. I took a public bus from Beach Bar where the staff helped me with it as taking a cab would have cost me easily around 700Rs. for one way which I feel was stupid to do. I managed to reach at a spot around the Perfume River and booked a 3-hour trip which included a one hour boat ride and rest of the time in visiting these two places- the Khai Dinh Tomb and Thien Mu Pagoda. Khai Dinh was quite nice! The boat ride in Perfume River in my opinion was just touristy and over-rated. It totally can be avoided. I from there booked a Grab motorbike and headed back to Beach Bar, to chill solo for sometime at the moonlit beach.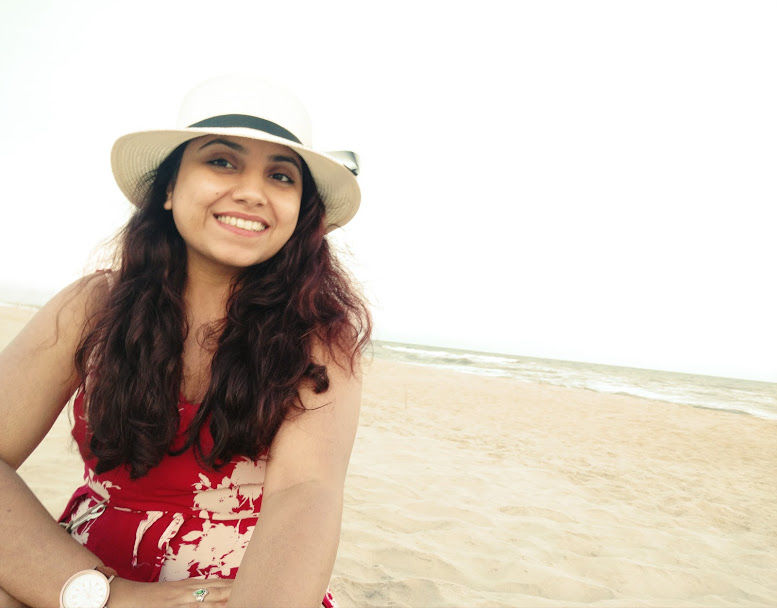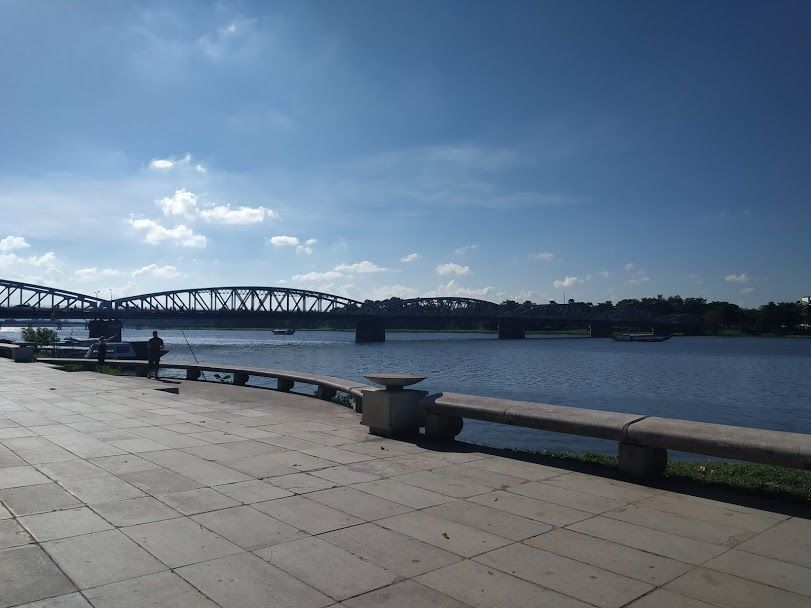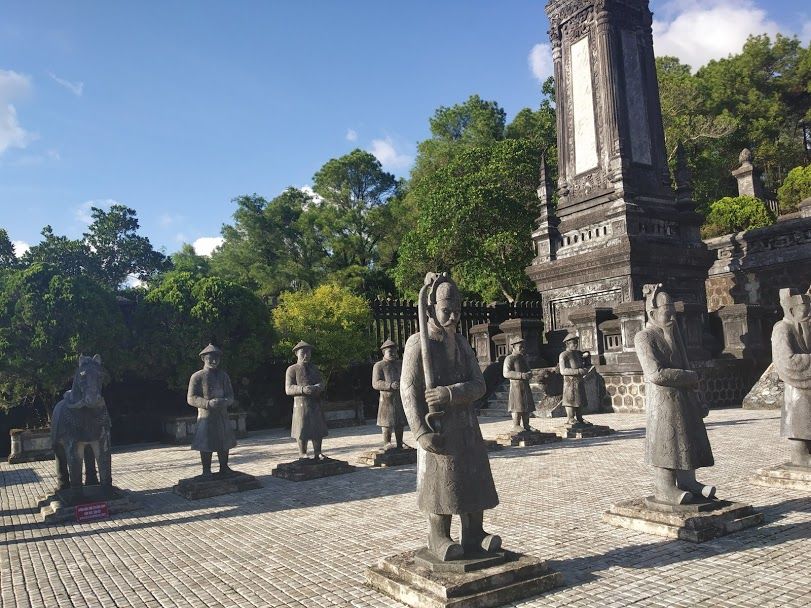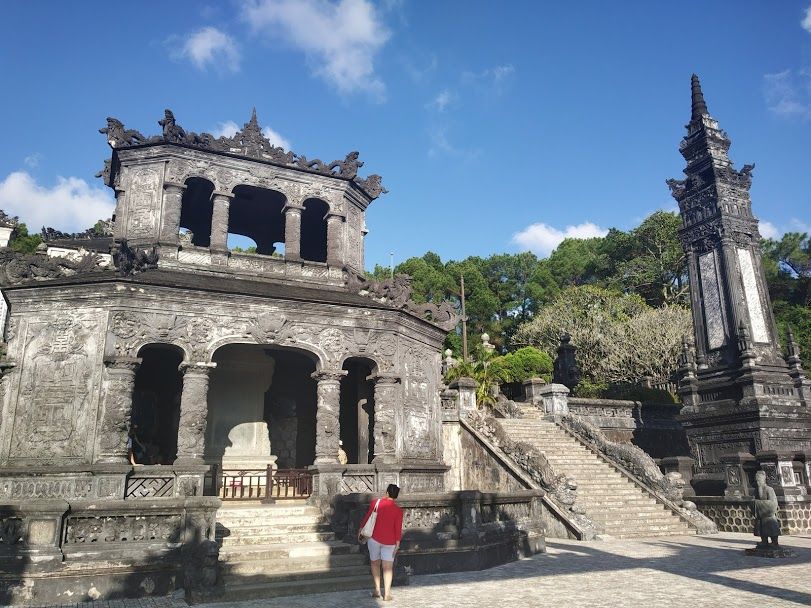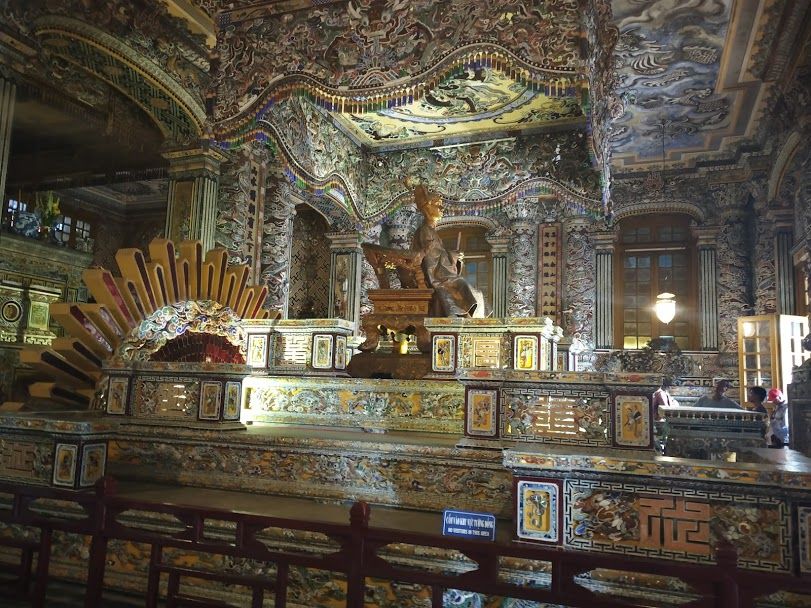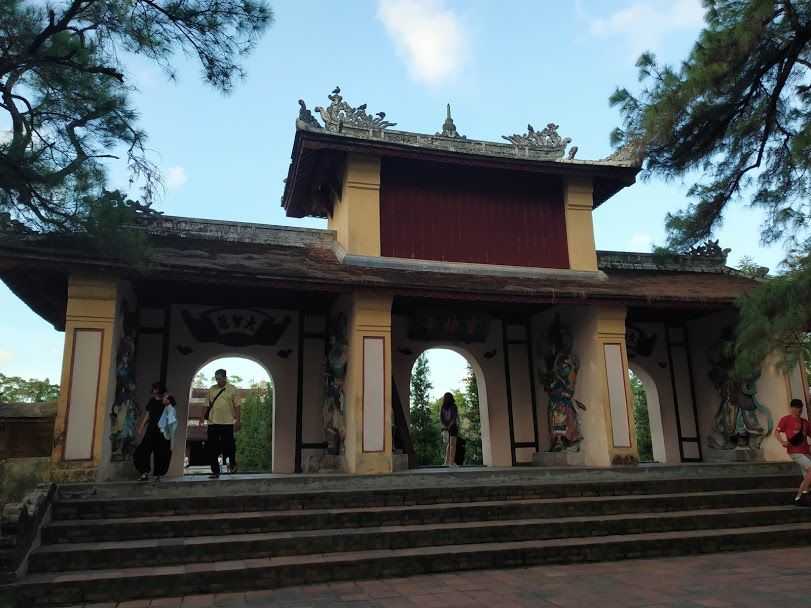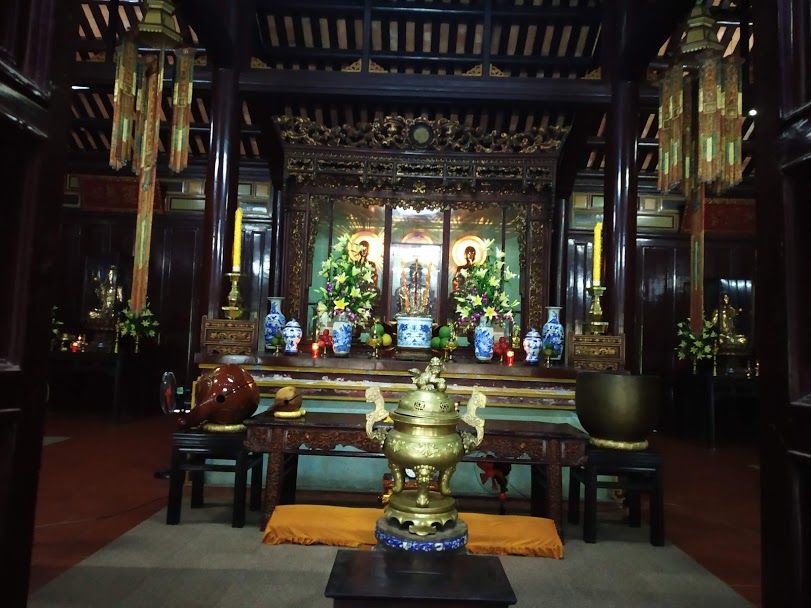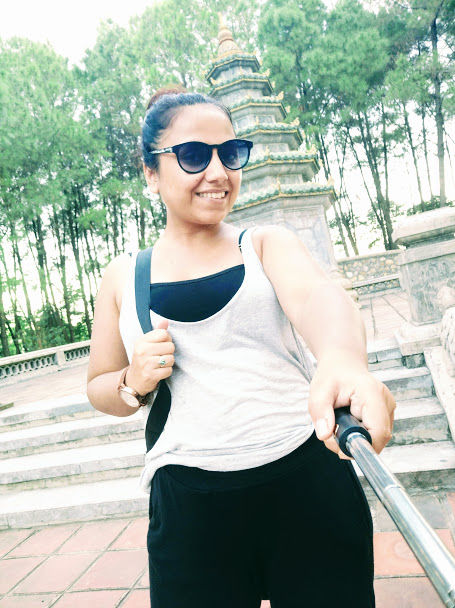 Next morning, I had a Vietjet flight to Hanoi (the capital of Vietnam) for which I had to rush to the Phu Bai Airport as it was almost an hour away from Beach Bar. It was almost 4 pm when I made to my hostel at the Hoan Kiem at Hanoi. Take a shuttle from the airport itself as it is easy on pocket because the airport is an hour away from the city centre.
And yes, I was back again to the city bustle. But it certainly was way better than how it was in Ho Chi Minh. Way more cultural and less-noisy! I had my stay at the Hanoi Centre Hostel at Hoan Kiem. This was supposedly my best hostel experience in Vietnam. Amazing staff, very comfortable beds, nice breakfast served every day and much more if you happen to make friends there. I booked my Bai Tu Long cruise from my hostel itself as it was supposed to be next day early morning, and I really had no stamina left to hunt for better deals. But I would still suggest to do it if at all you don't have issues like mine. Don't go for more than 200 dollars for a non-luxury cruise. I got mine booked with White Dolphin for 135 USD for a 2 Day 1 Night thing where I had got private accommodation. To me it looked like a fair deal, but one can and should still bargain with whatever is offered to them at the first go.
Once I was done with this entire planning, I roamed around the Hoan Kiem lake, had a nice early dinner and superb Egg Coffee. Do not get grossed out as it wasn't eggy at all and super-duper frothy and tasty. I loved it!! I dozed off early because had an early morning departure for the cruise.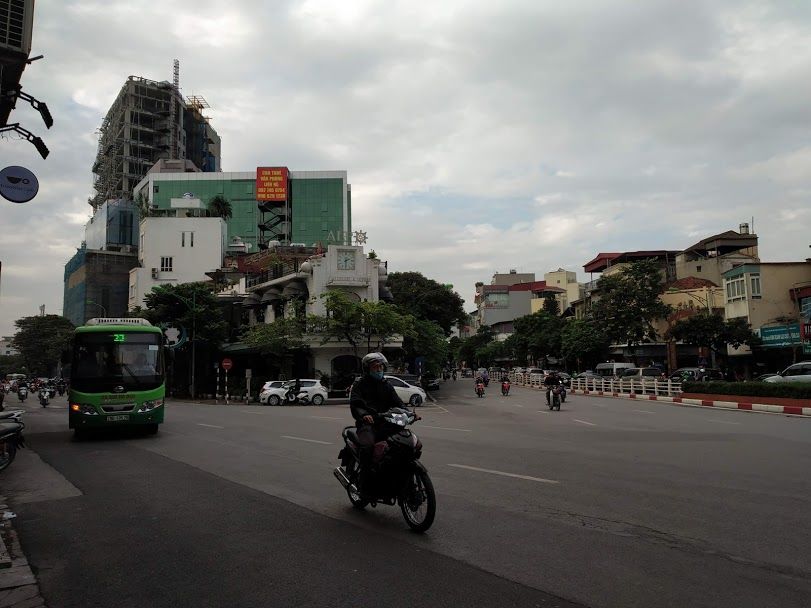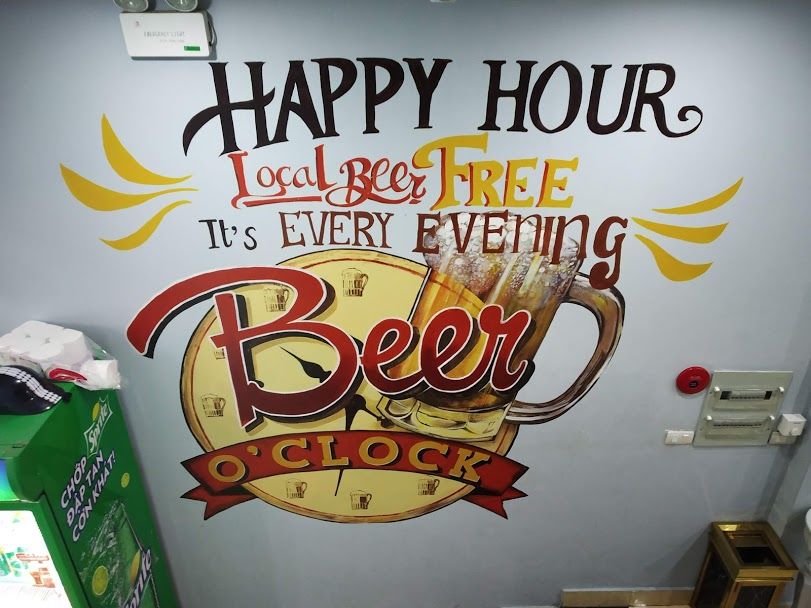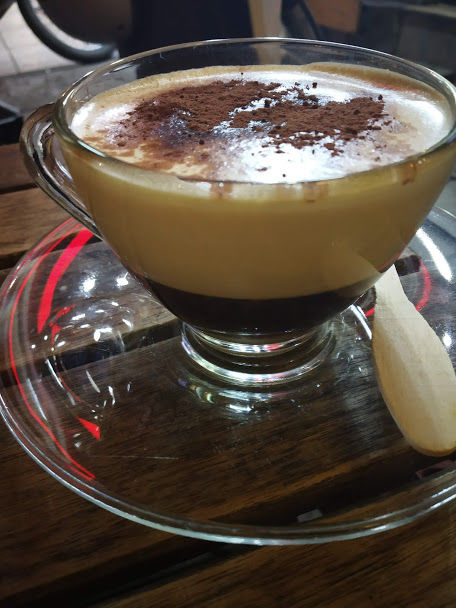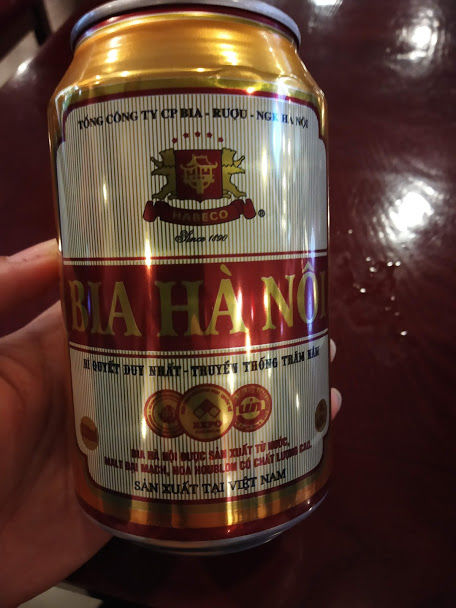 Finally, the much-awaited day had come! I was very clear from the beginning to do a less touristy and a cleaner bay tour than the incredibly commercial Halong Bay cruise. The differences are not humongous anyway. It's completely your call to do Halong, Bai Tu Long or Lan Ha Bay. My shuttle came to pick me up at 7.30 in the morning along with other customers. There was one old-aged Australian, one Italian and one Chinese couple who accompanied me at the cruise. Lovely people were they!
So the Halong harbour was 3-4 hours away from Hanoi. We all reached there around by 11 and quickly were escorted to our lovely boat. I'd run short of words here to explain how beautiful and dreamy this place was and what this entire trip meant to me. So, let the pictures do all the talking. In between we were taken to this mystically beautiful cave called Thien Canh Son cave. It had ceiling covered with many stalactites which looked like hanging lamps. Stunning it was! Outside there was a sand beach completely in contrast to the dingy cave. Our tour guide Nam was more than amazing to have let us be and still instruct whenever it was required. We did activities like kayaking, fishing and a brief cooking class and the day ended with this lovely moon peeping from one of the islets in the bay. Splendid as it could be. The White Dolphin took utmost care of my dietary preferences as I was the only one having vegetarian food. By far, I had the most amazing vegetarian food in the entire Vietnam on this very cruise. I slept to my heart's content.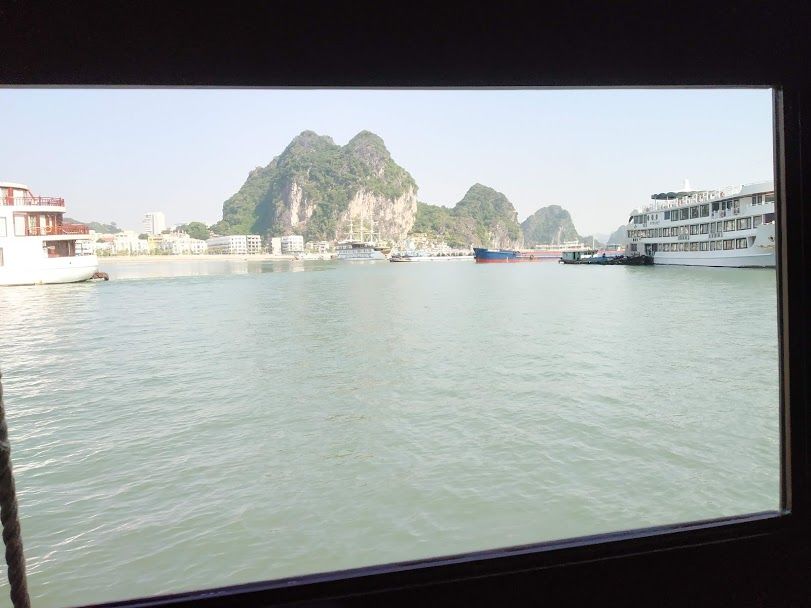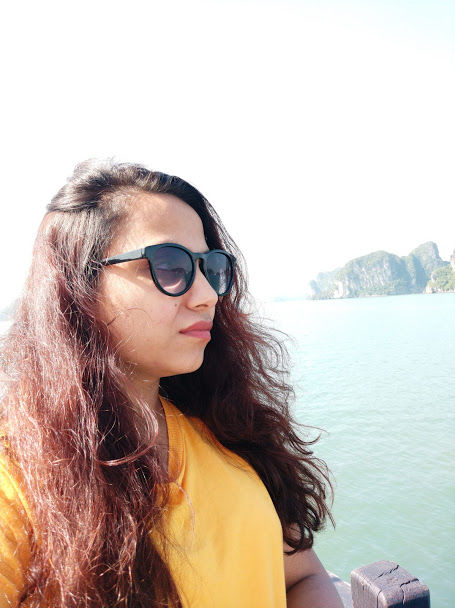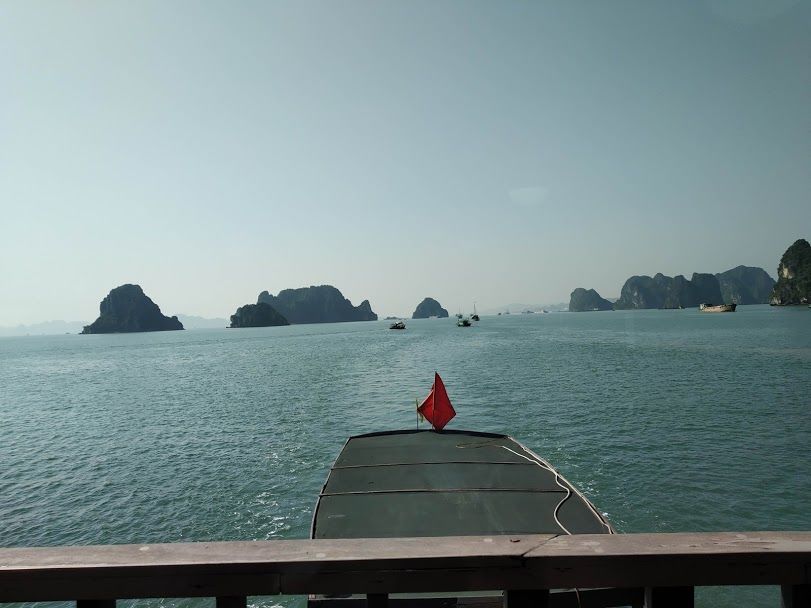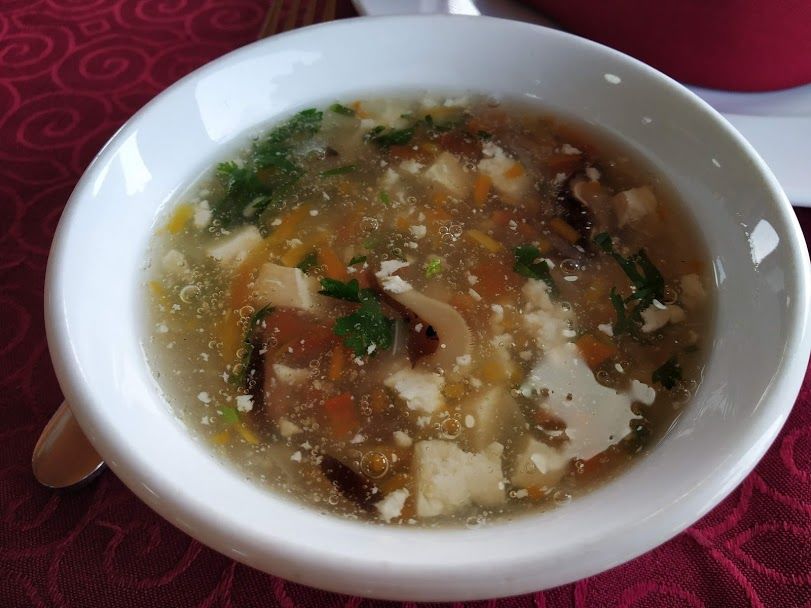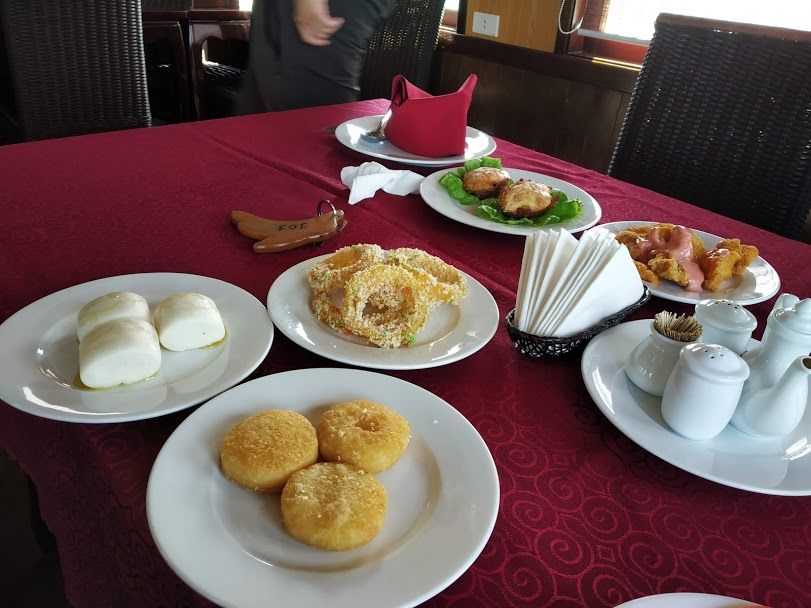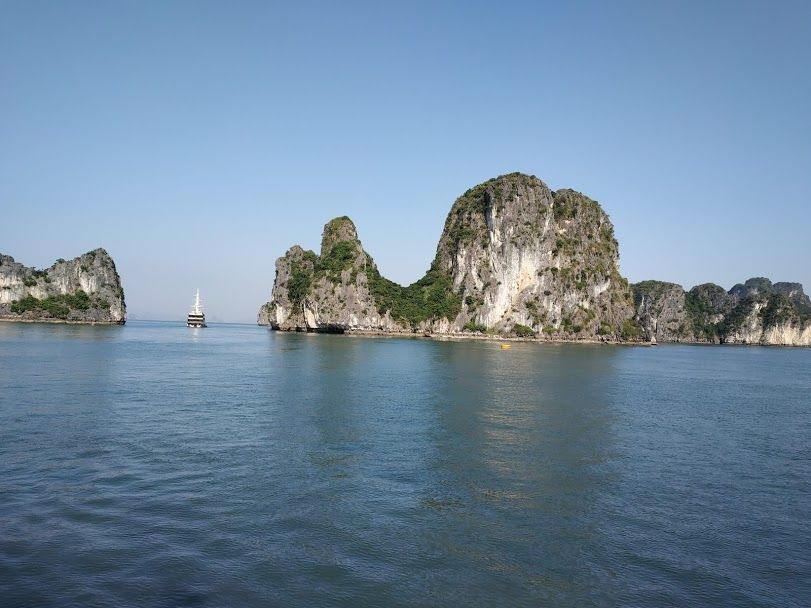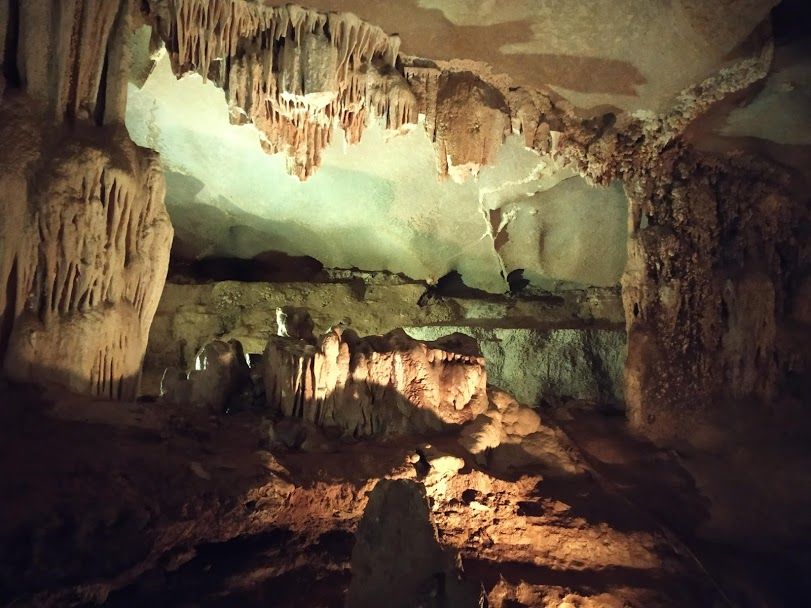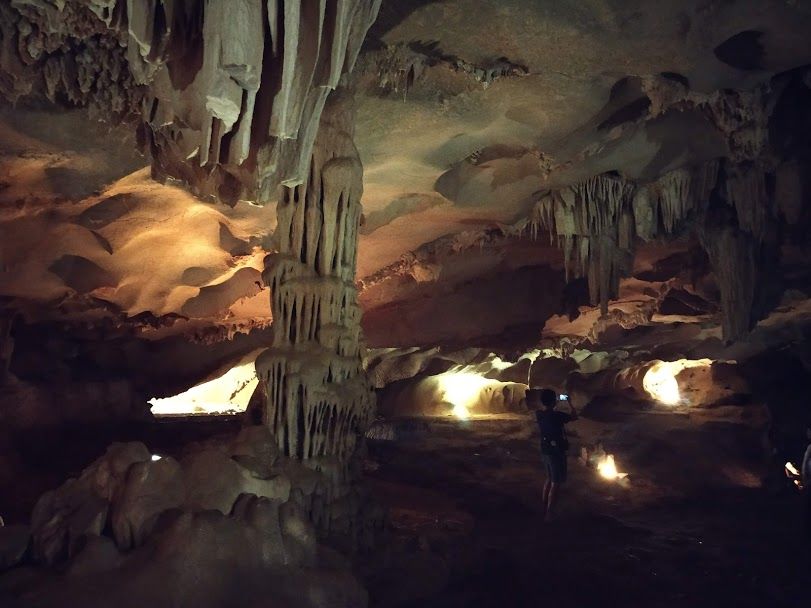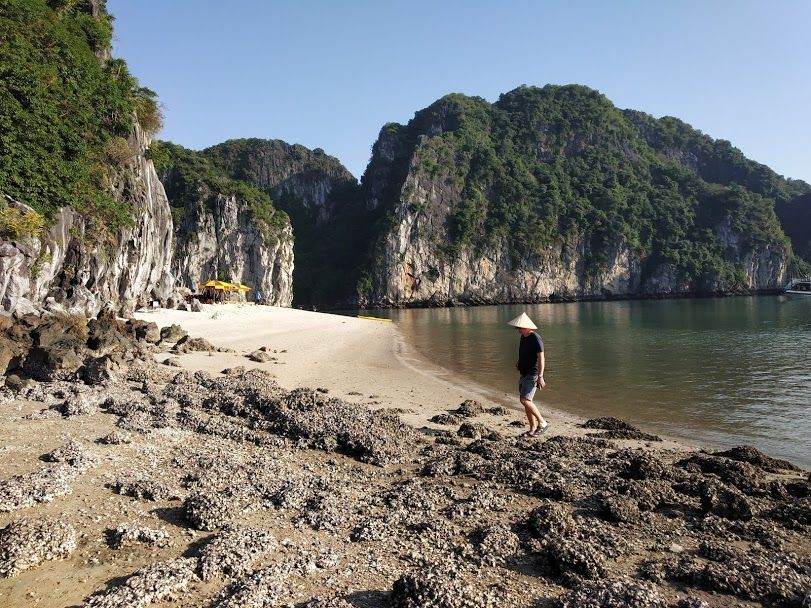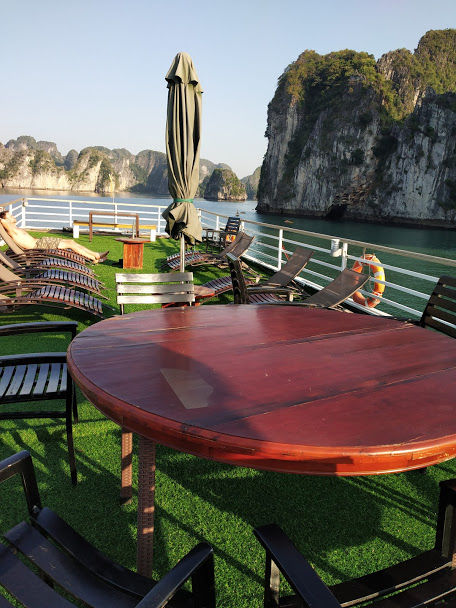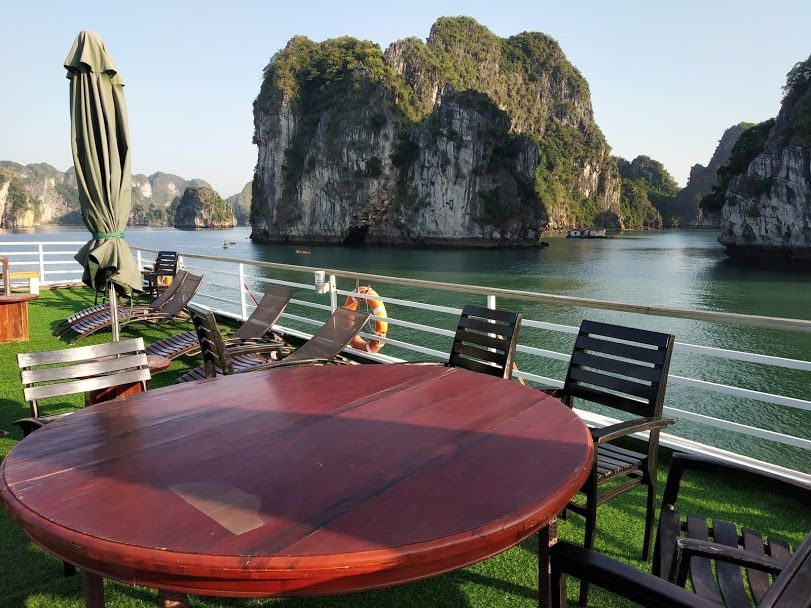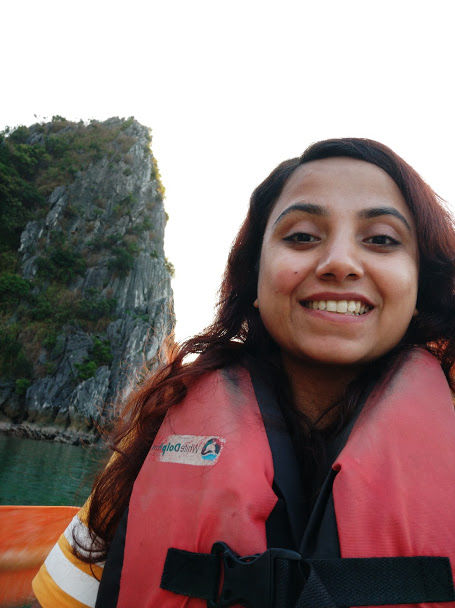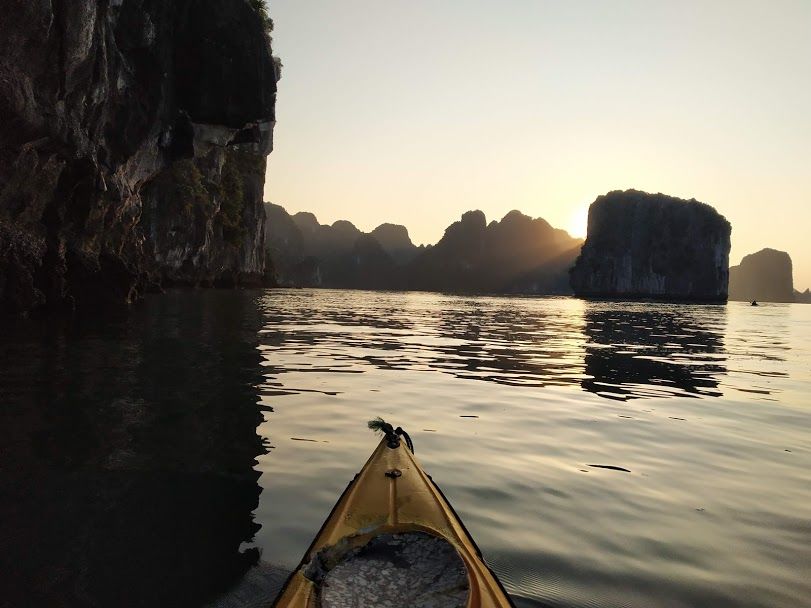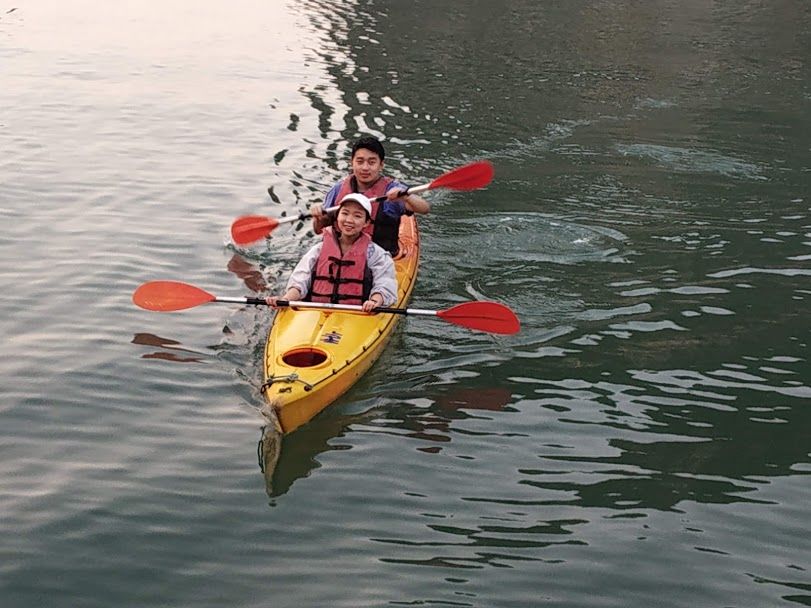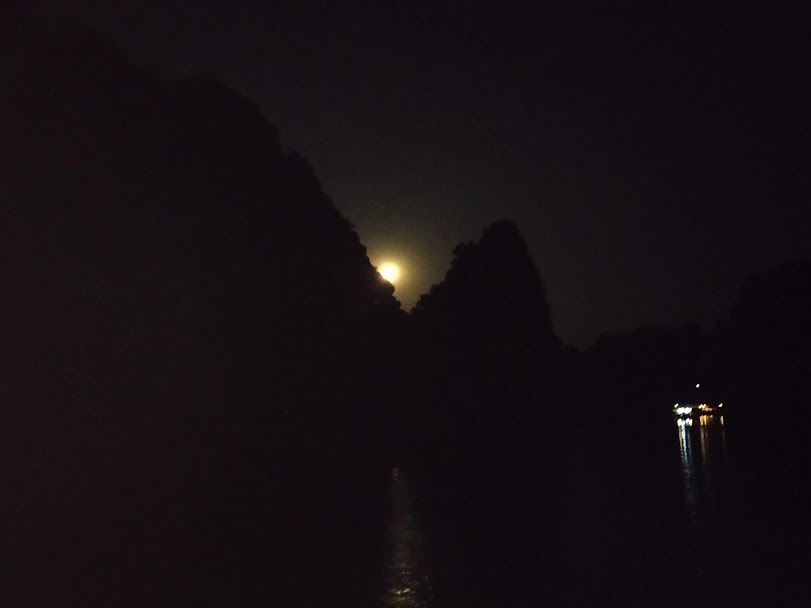 Next morning after a lovely breakfast, we were taken for a short boat ride to a nearby village on the bay which in itself was a surreal experience. Serene and tranquil, it indeed was a beautiful morning! Post that, we had a brunch at our cruise boat and it headed back to the harbour. It was a tad bit heavy on the heart back then as I wanted to stay more on the bay and just keep breathing there. This cruise should be a must to-do thing on your Vietnam itinerary. The same shuttle dropped us to our respective hotels by early afternoon.
I then started to plan for the next day, which was this music festival called Quest for which I was super excited. Alas! I got to know, it got cancelled by the Vietnam Ministry at the very last moment. It was another huge fight on social media. In short, one entire day wasted!!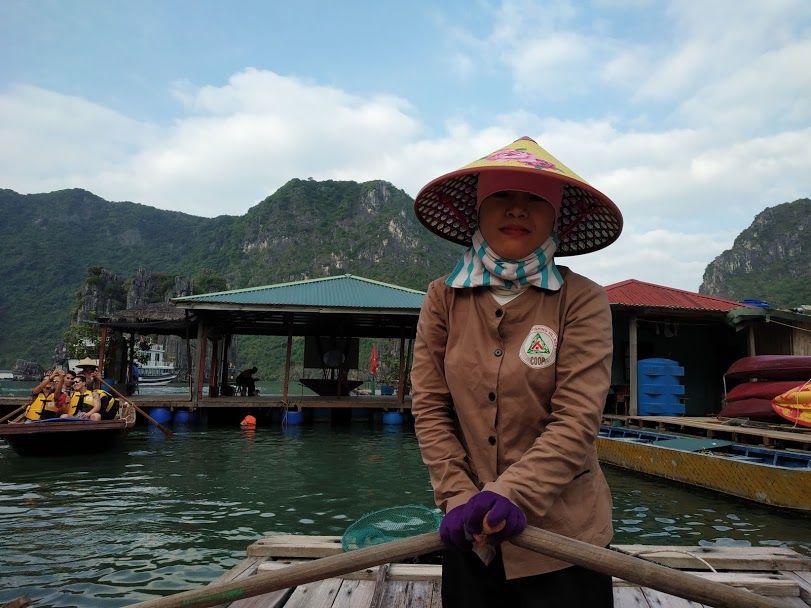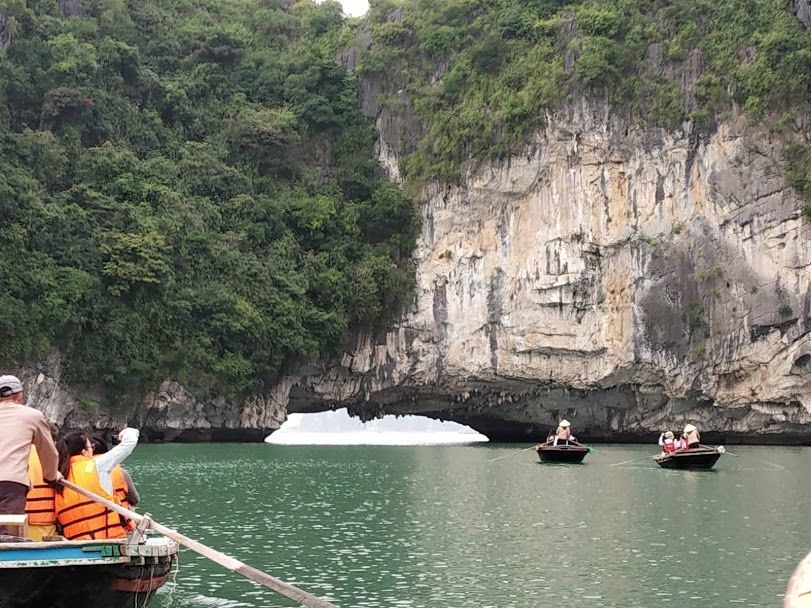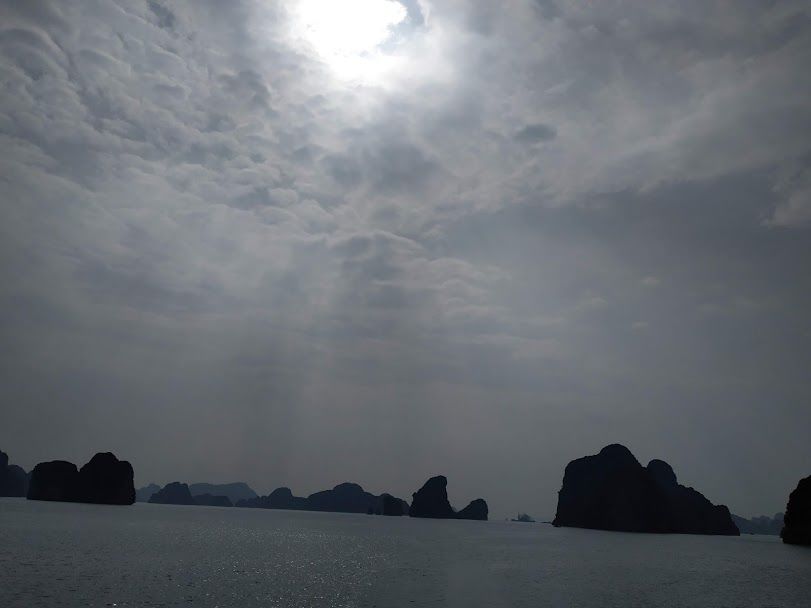 The next day, since Quest festival had got abruptly cancelled, was an aimless one. I had absolutely no idea how to consume it. So I got up late in the afternoon, visited few attractions, went for this lovely Long Water Puppet Theatre, roamed around the Hoan Kiem Lake and witnessed a never-before seen vibe there. It was unending and various street performances by musicians and artist and dancers, etc. The entire area was musically-driven and had a kind of romance in it.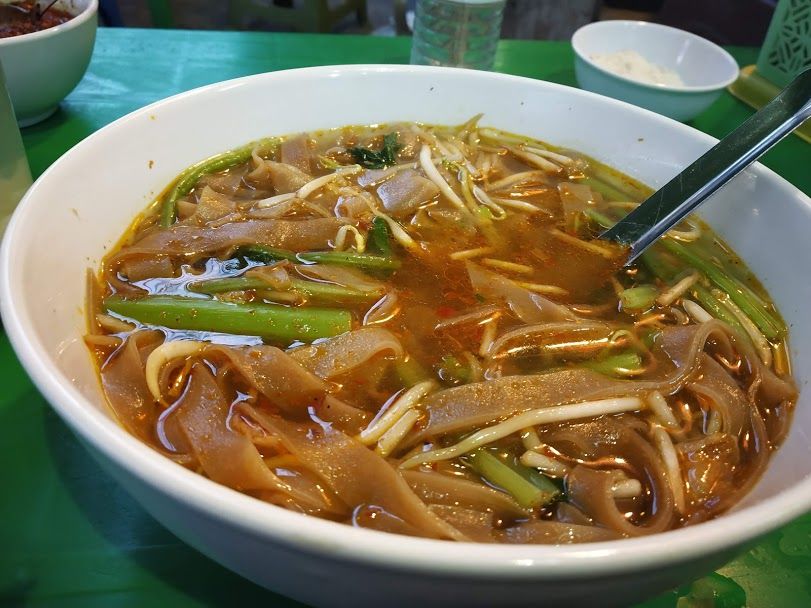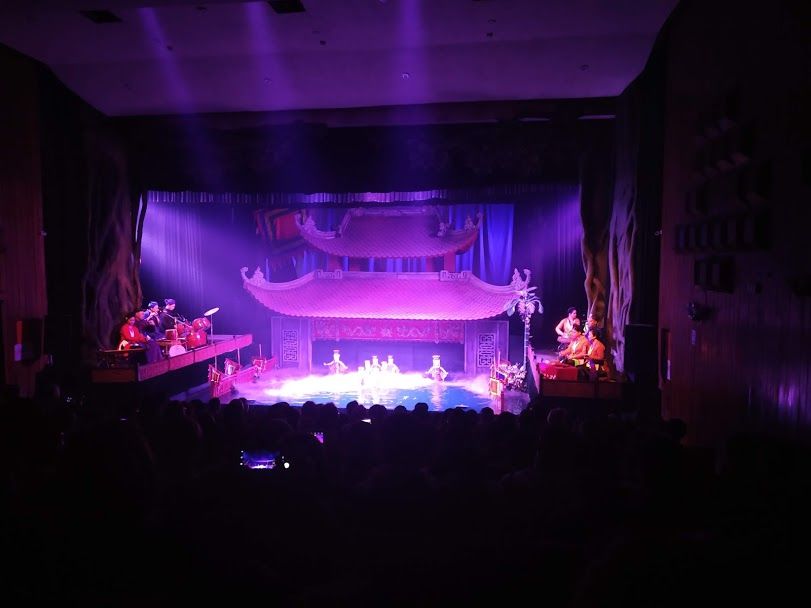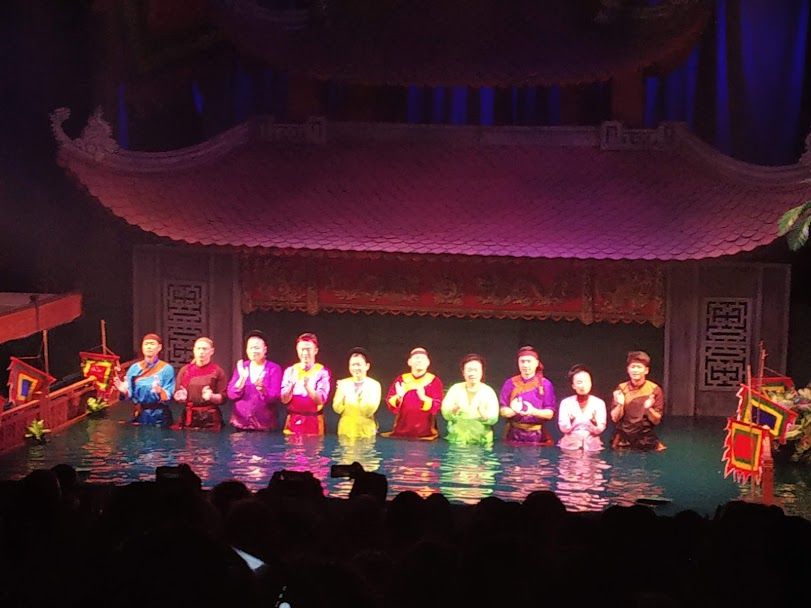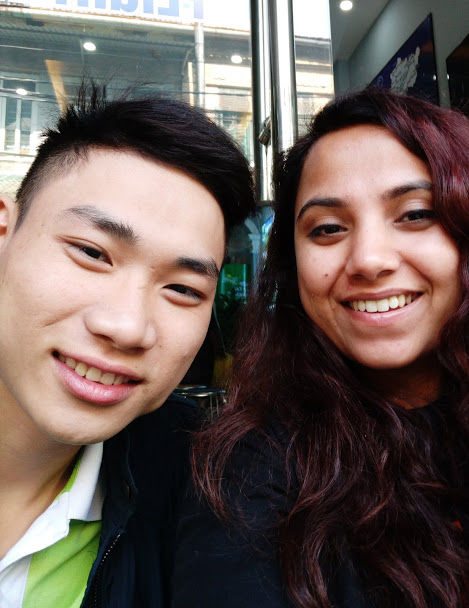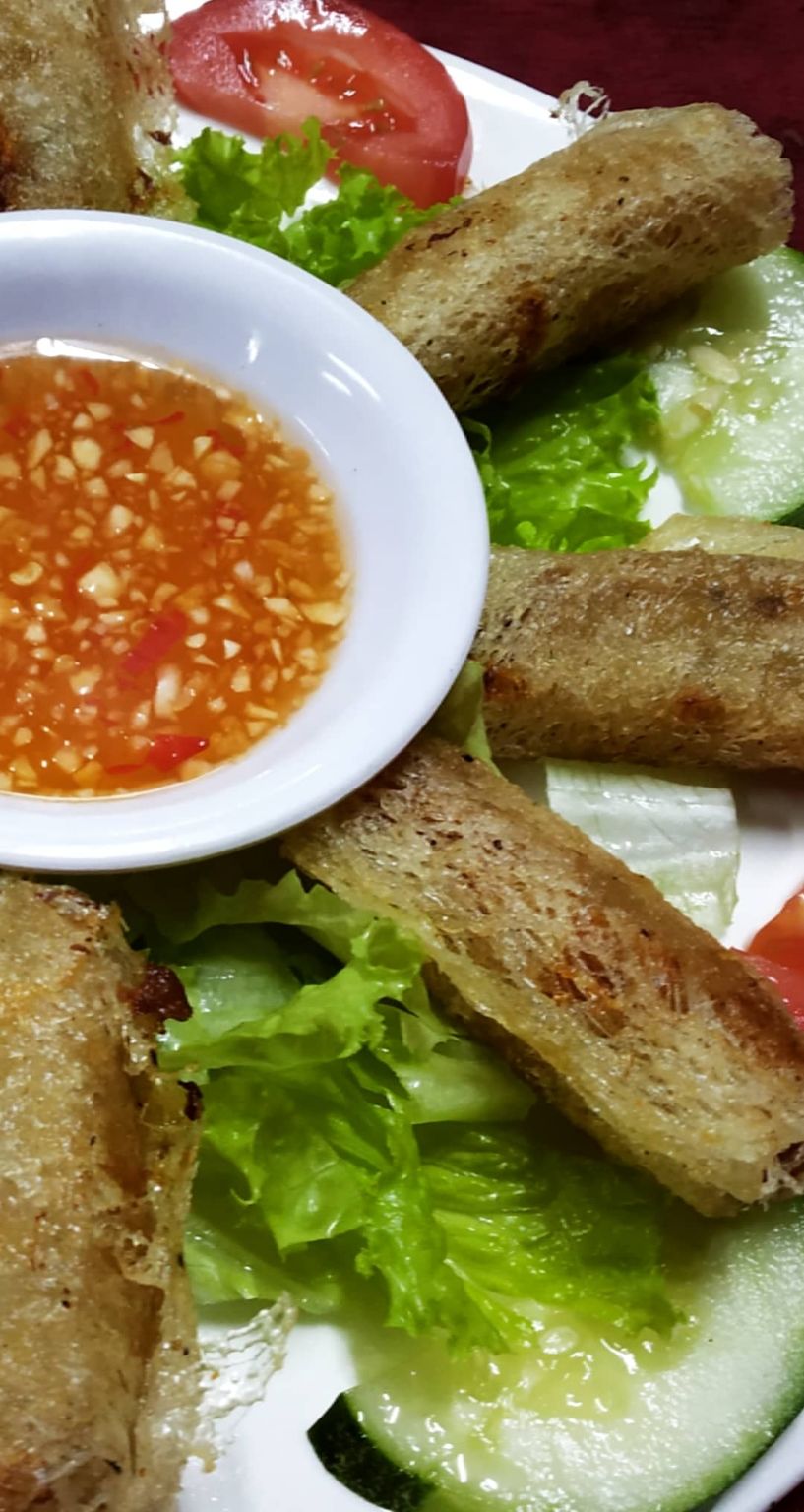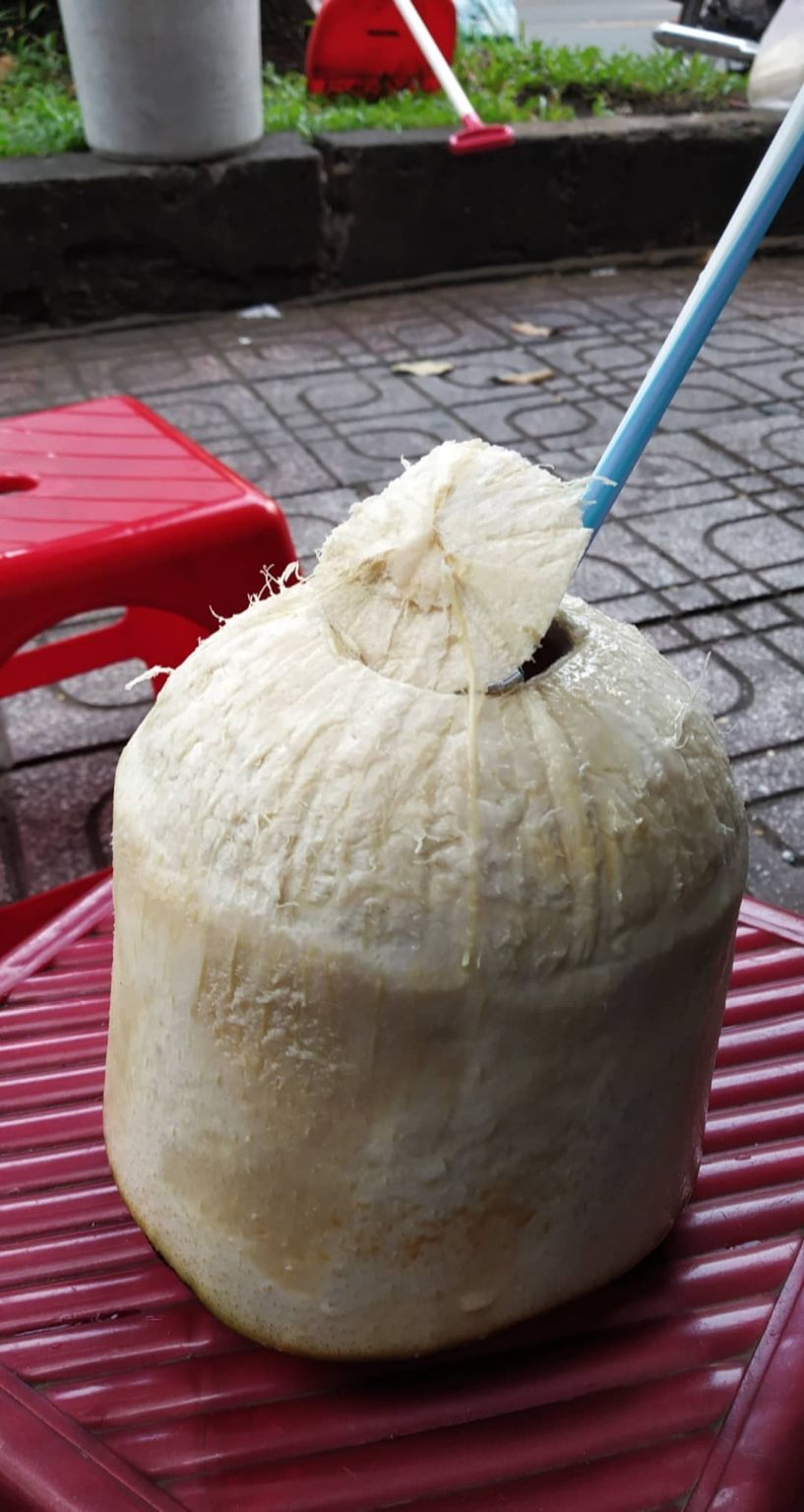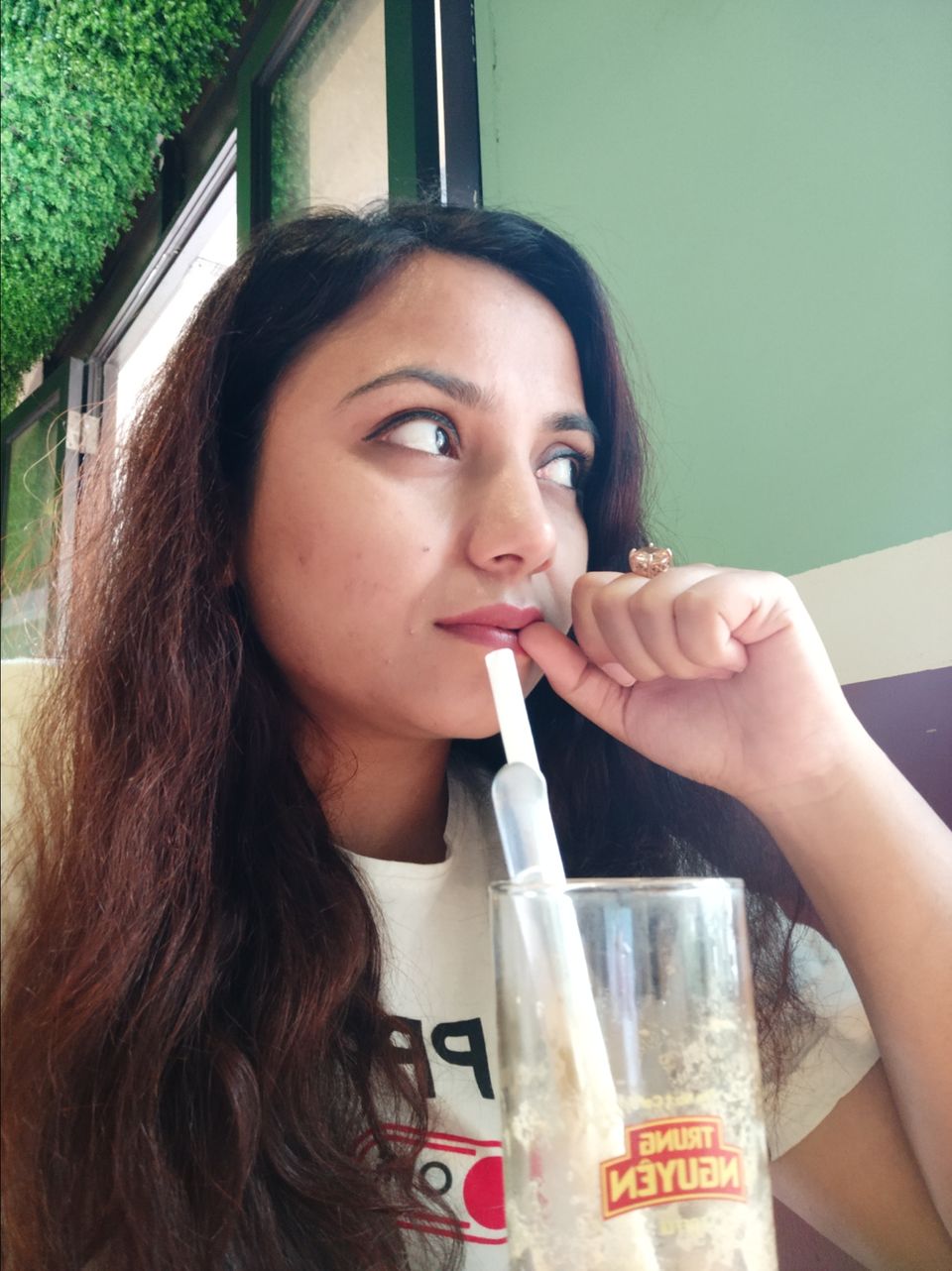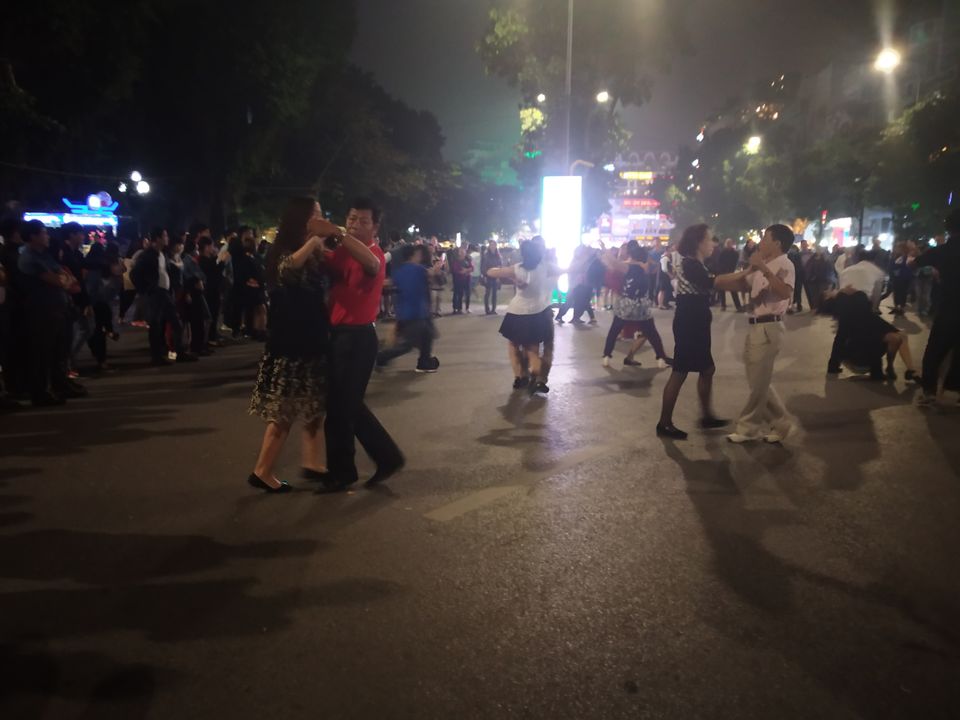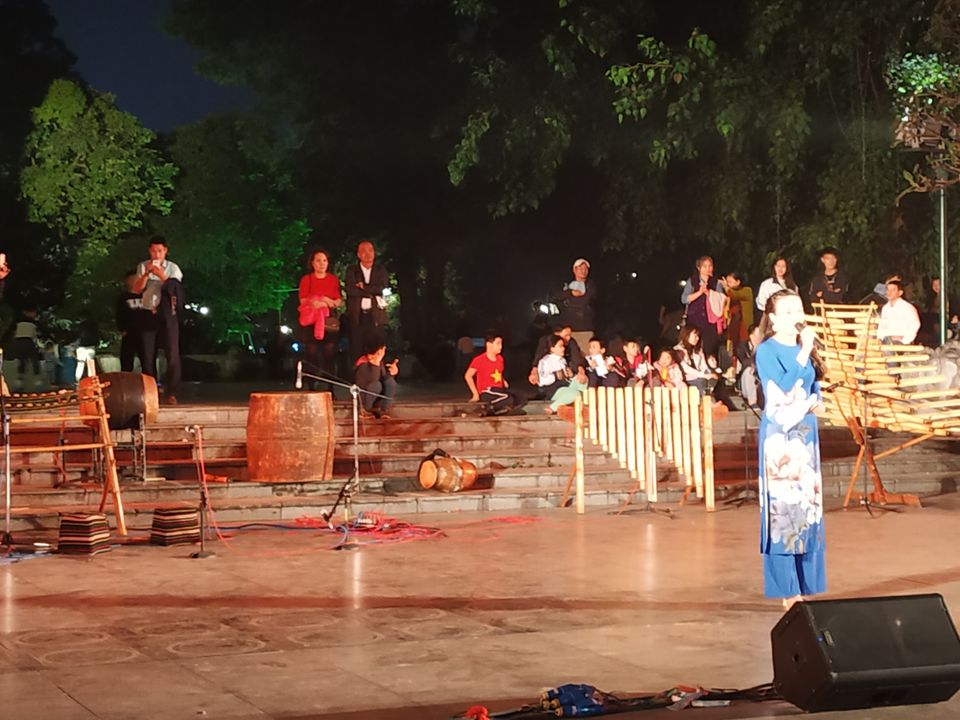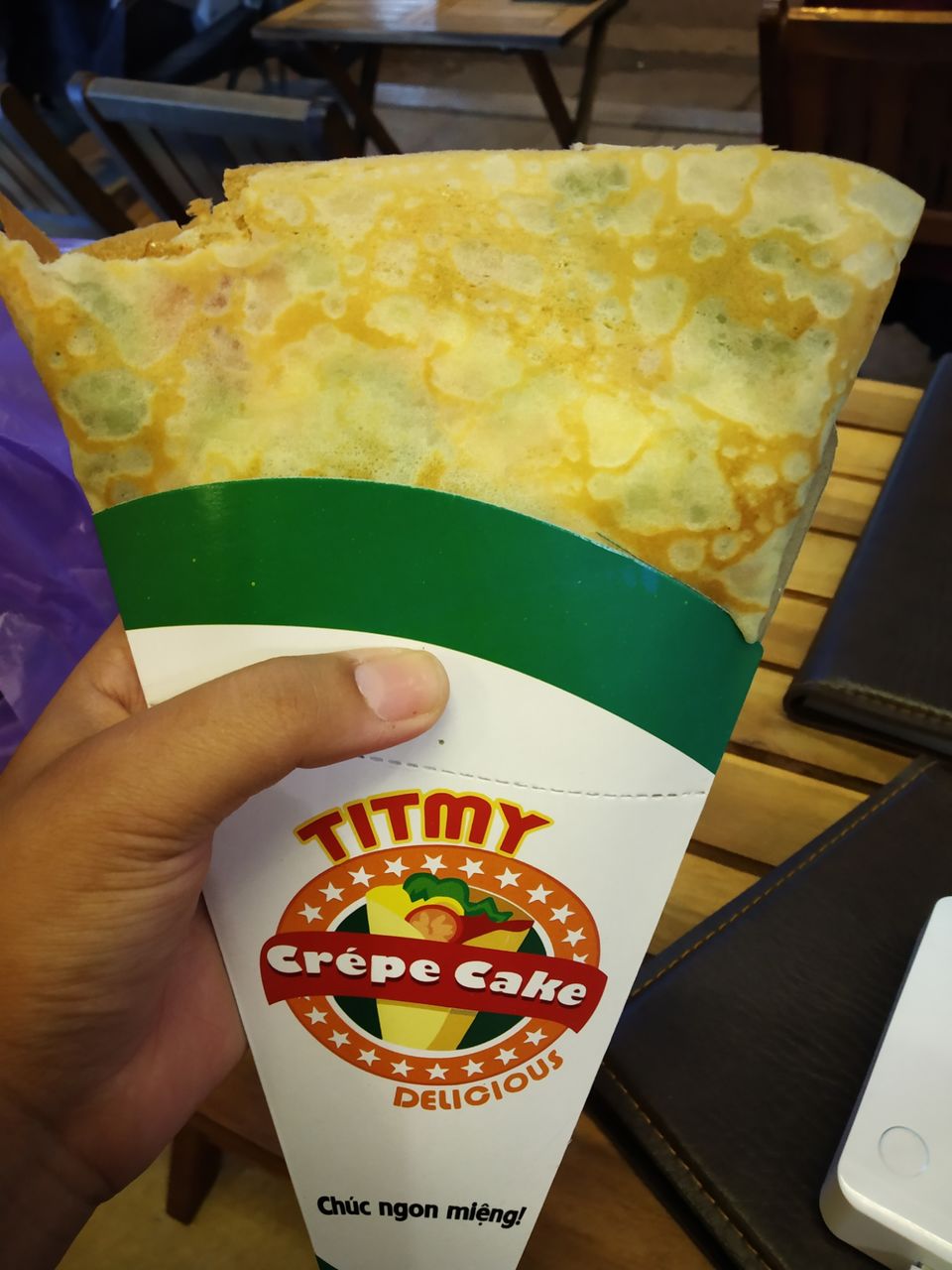 Next day I had dedicated completely to explore the popular places around the city. I skipped Cu Chi tunnels and Mekong Delta, because they didn't really serve my interest plus demanded time which I was running short of. Working people blues ya!!
I first of all got my entire currency exchanged from USD to Dongs from this popular jewellery shop called Ha Tam jewellery which give the best rates there. Then I was off to Binh Tay Market, Notre Dam Cathedral, the Central Post Office, the Independence Palace & the popular War Remnant Museum. Out of these, it was only the War Museum which was captivating and worth my time. Extremely informative & moving! I concluded my day with a quick meal at the Bui Vien Street, again trying to absorb the place's vibe, as I had a flight to Da Nang to catch 2 hours later. And to my dismay, here goes my first travel adventure. Viet Jet Flight to Da Nang delayed for three hours!! Like facepalm!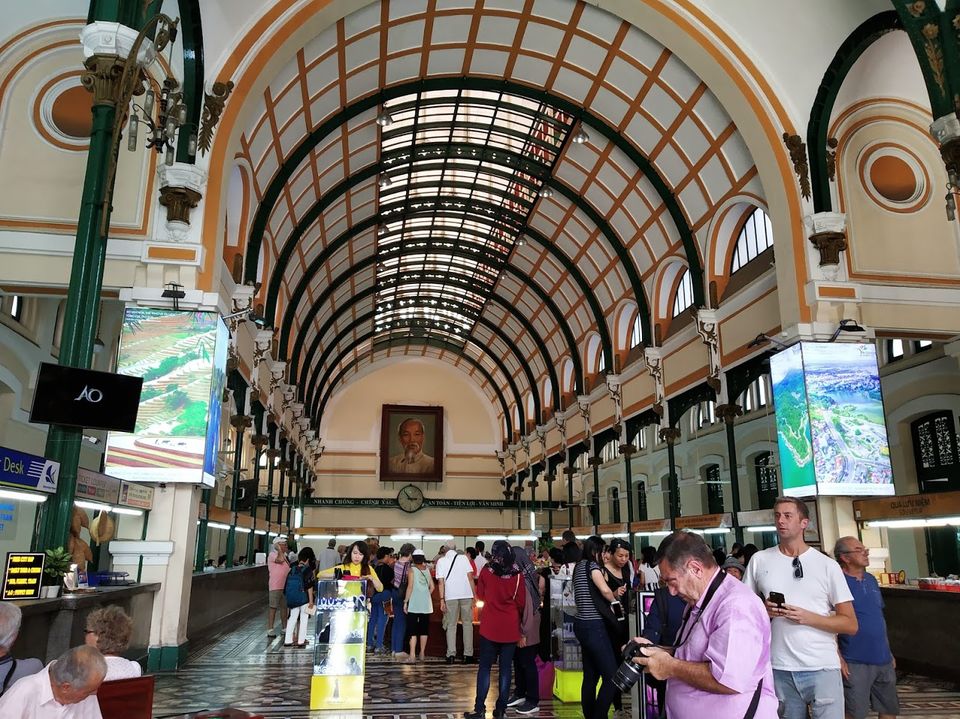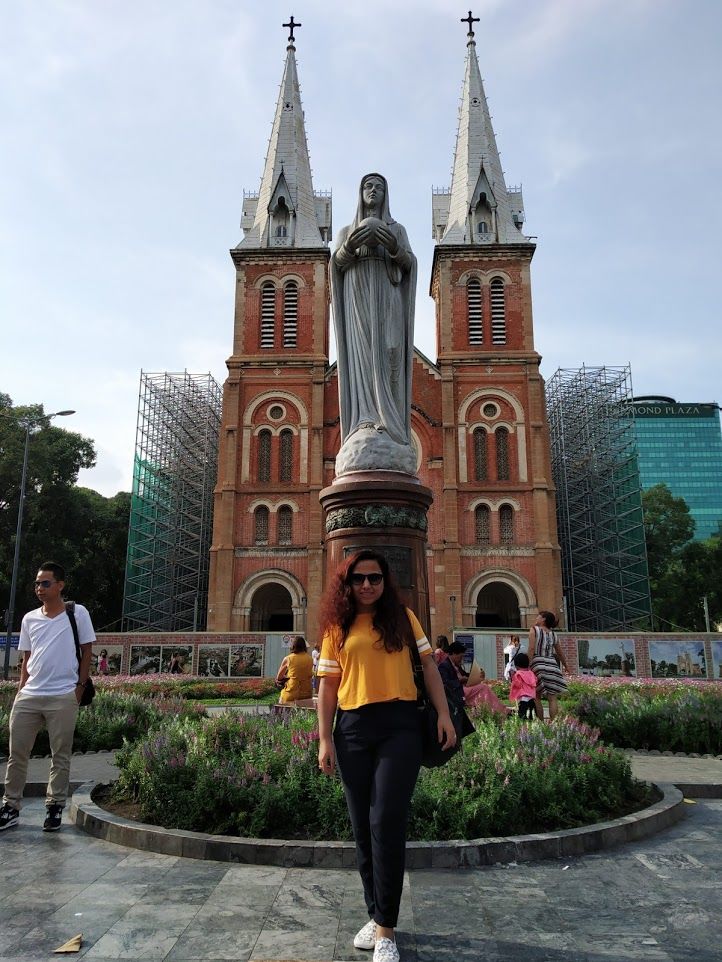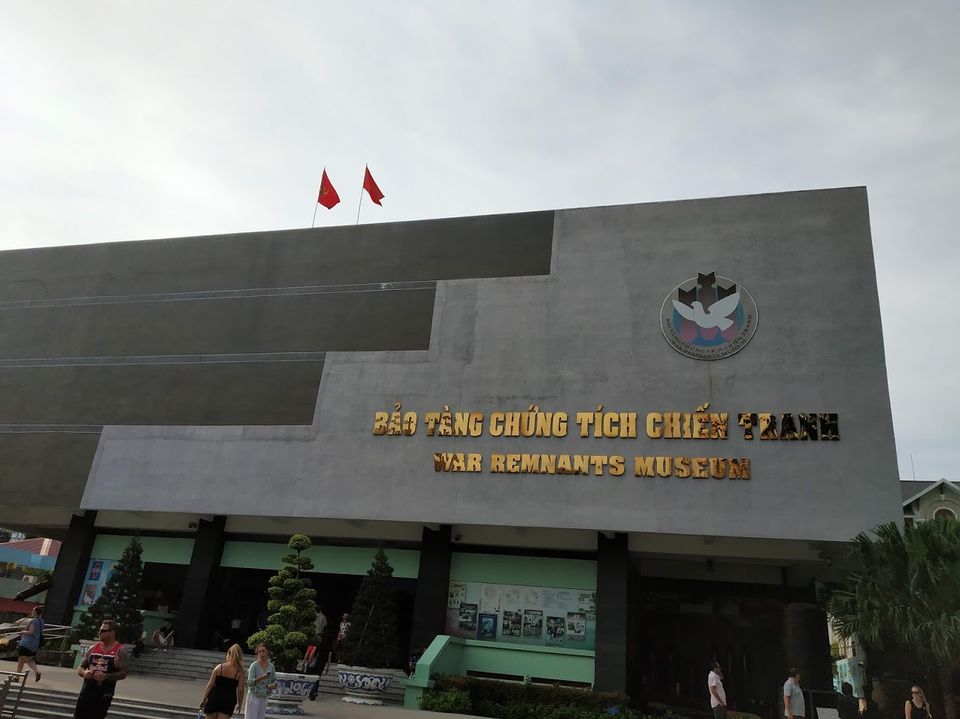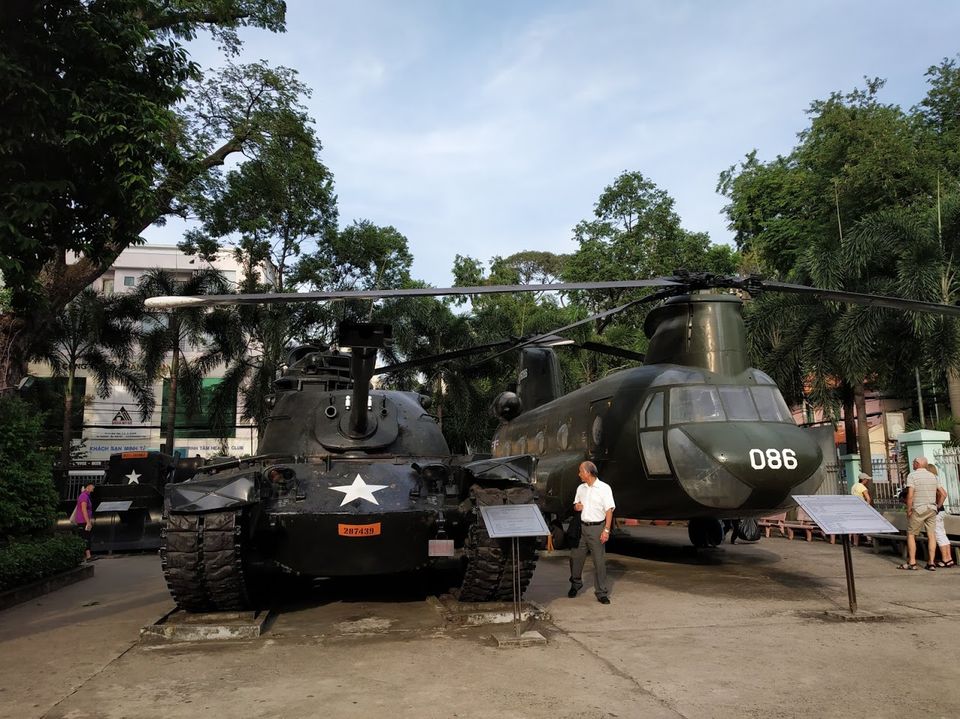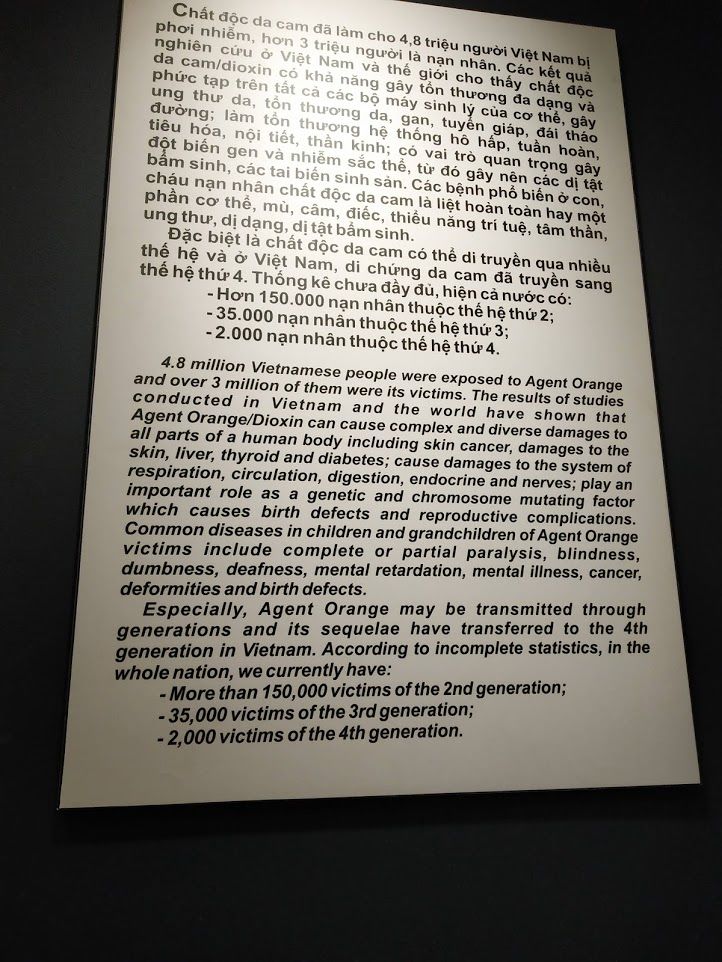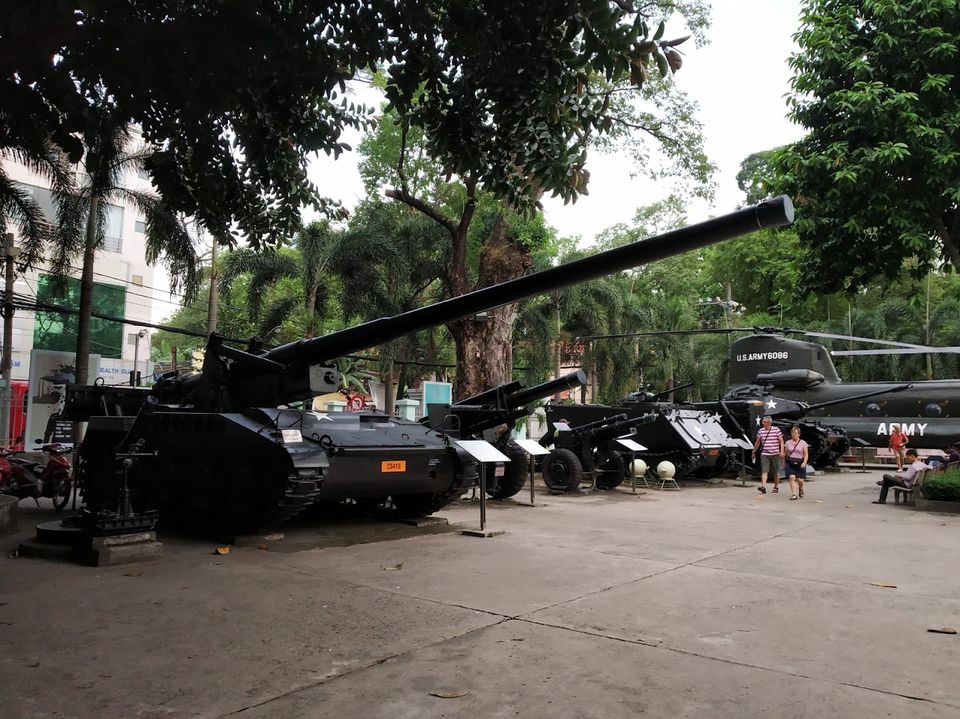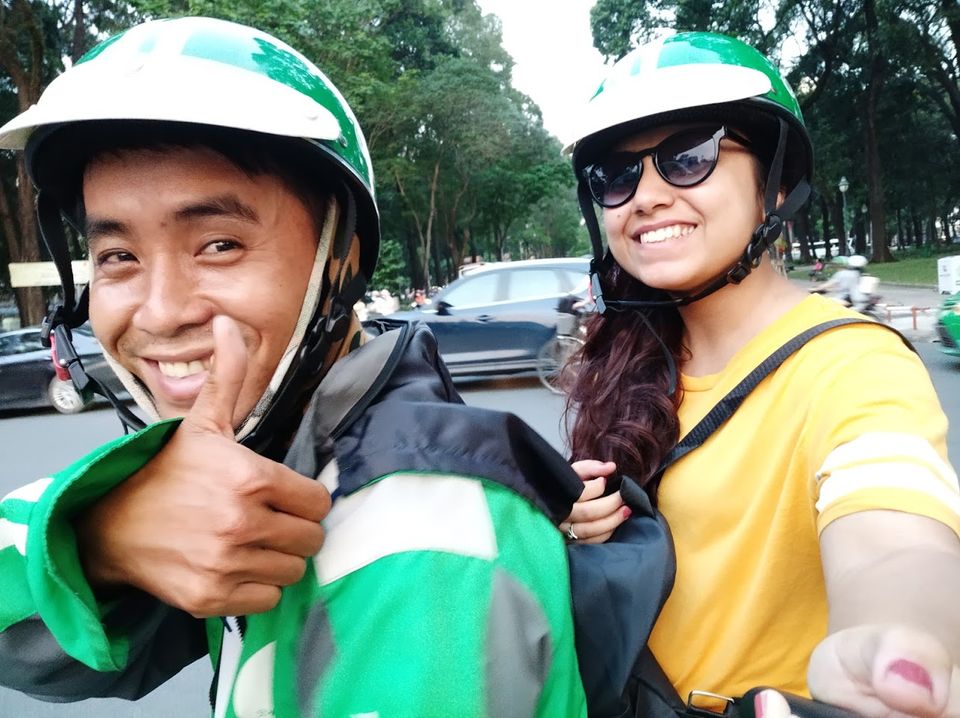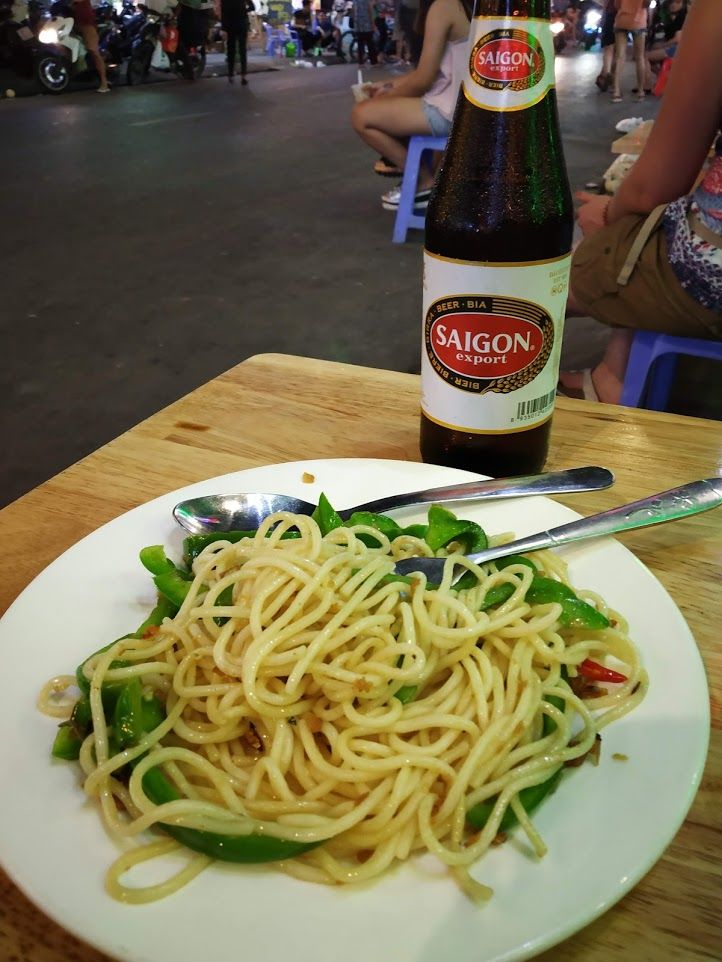 Finally, I made it to the date for which I put all my Earned leaves from a new job at stake. And why not, it was supposed to be my pending Birthday trip! Let's start with this documentation of the gorgeous two weeks I spent in various cities of Vietnam. I started from South to North of the country.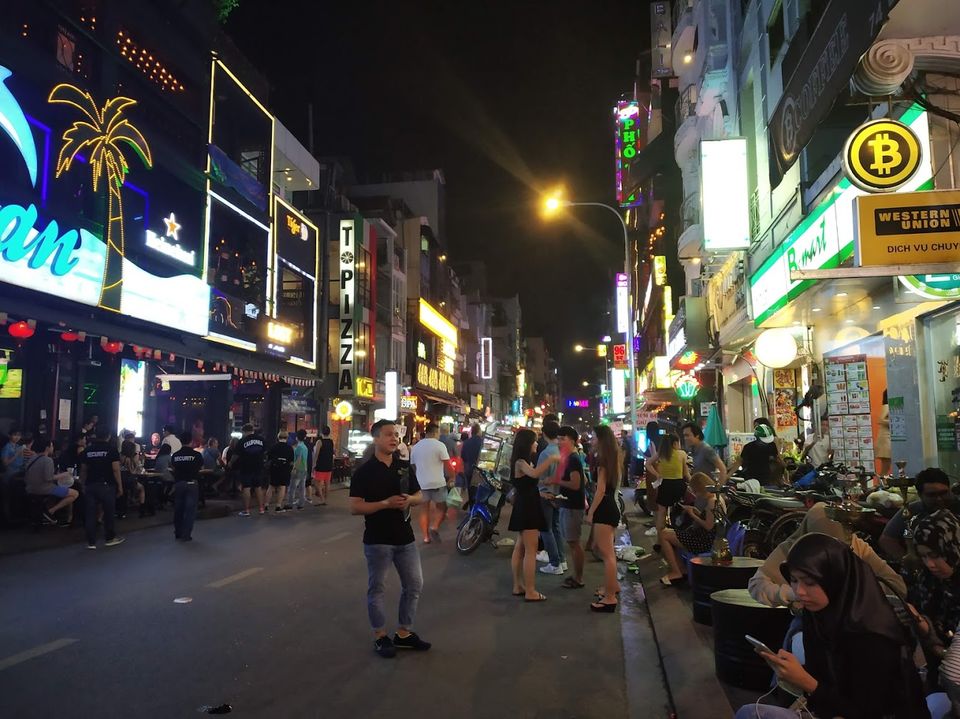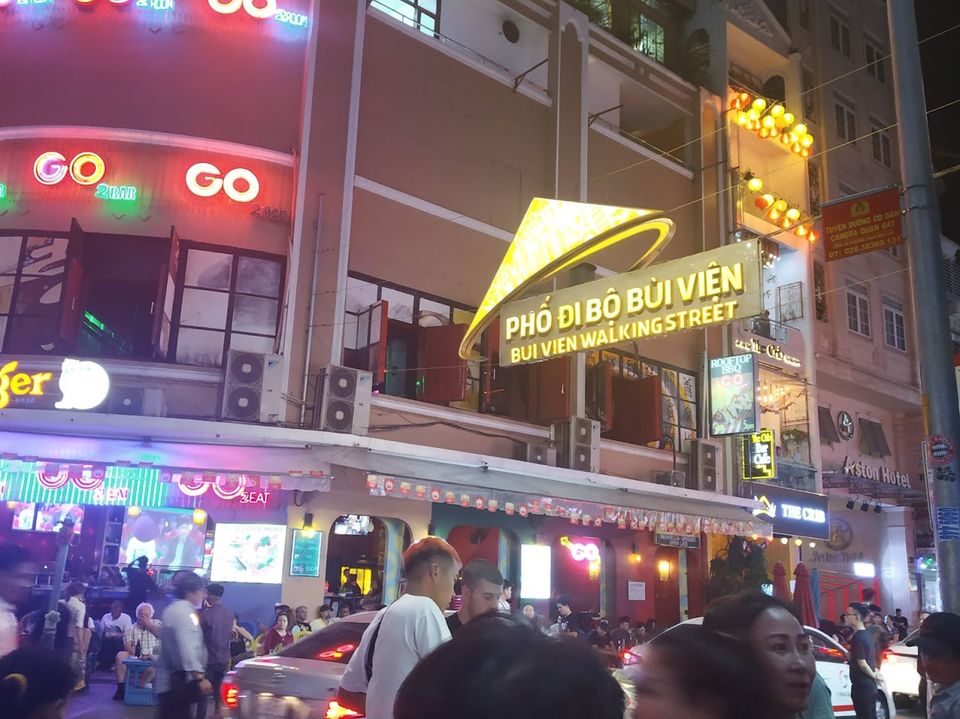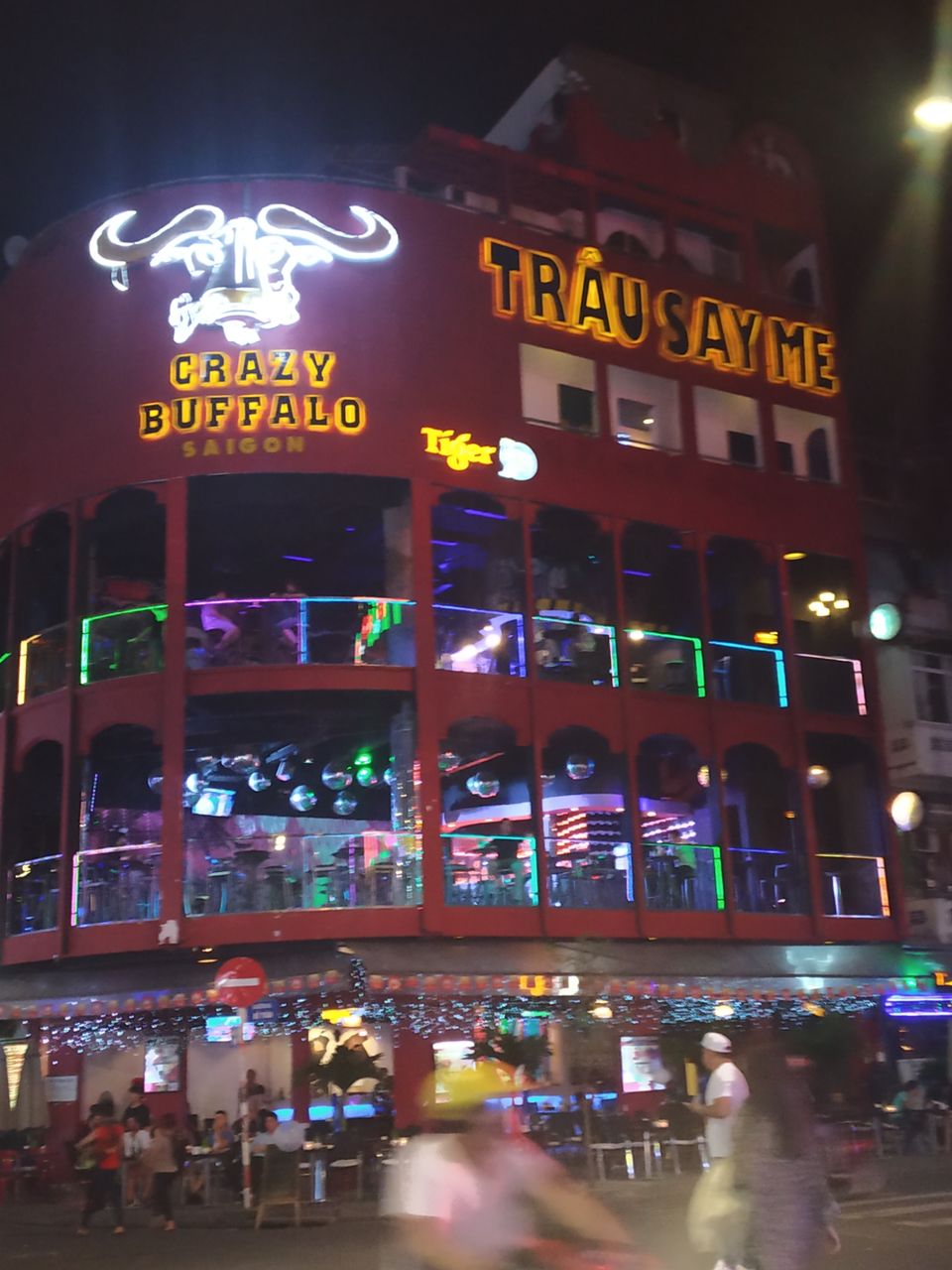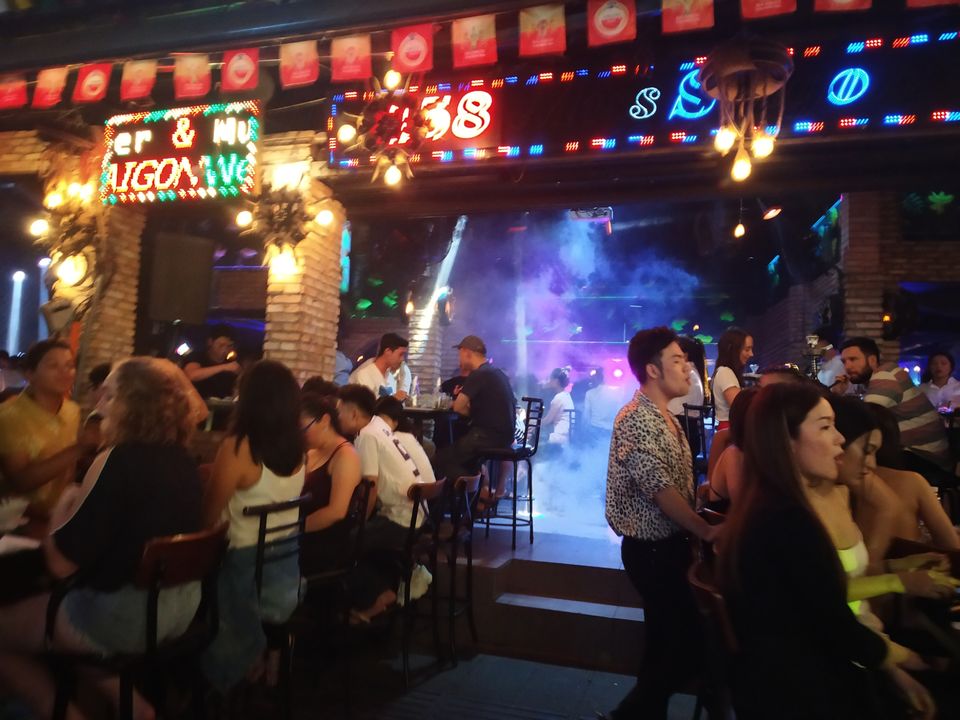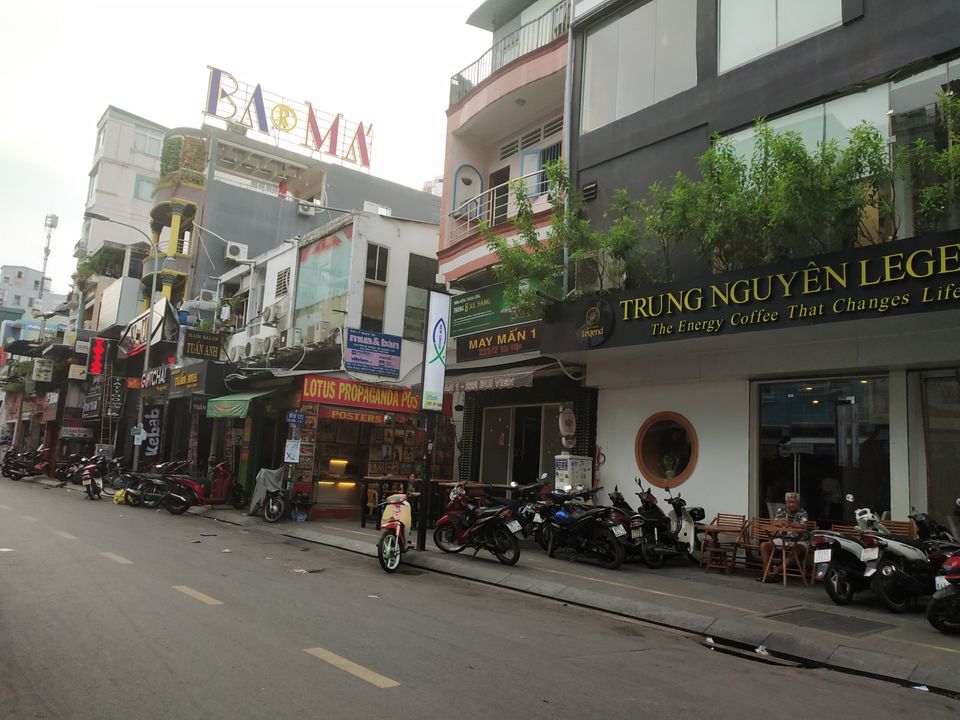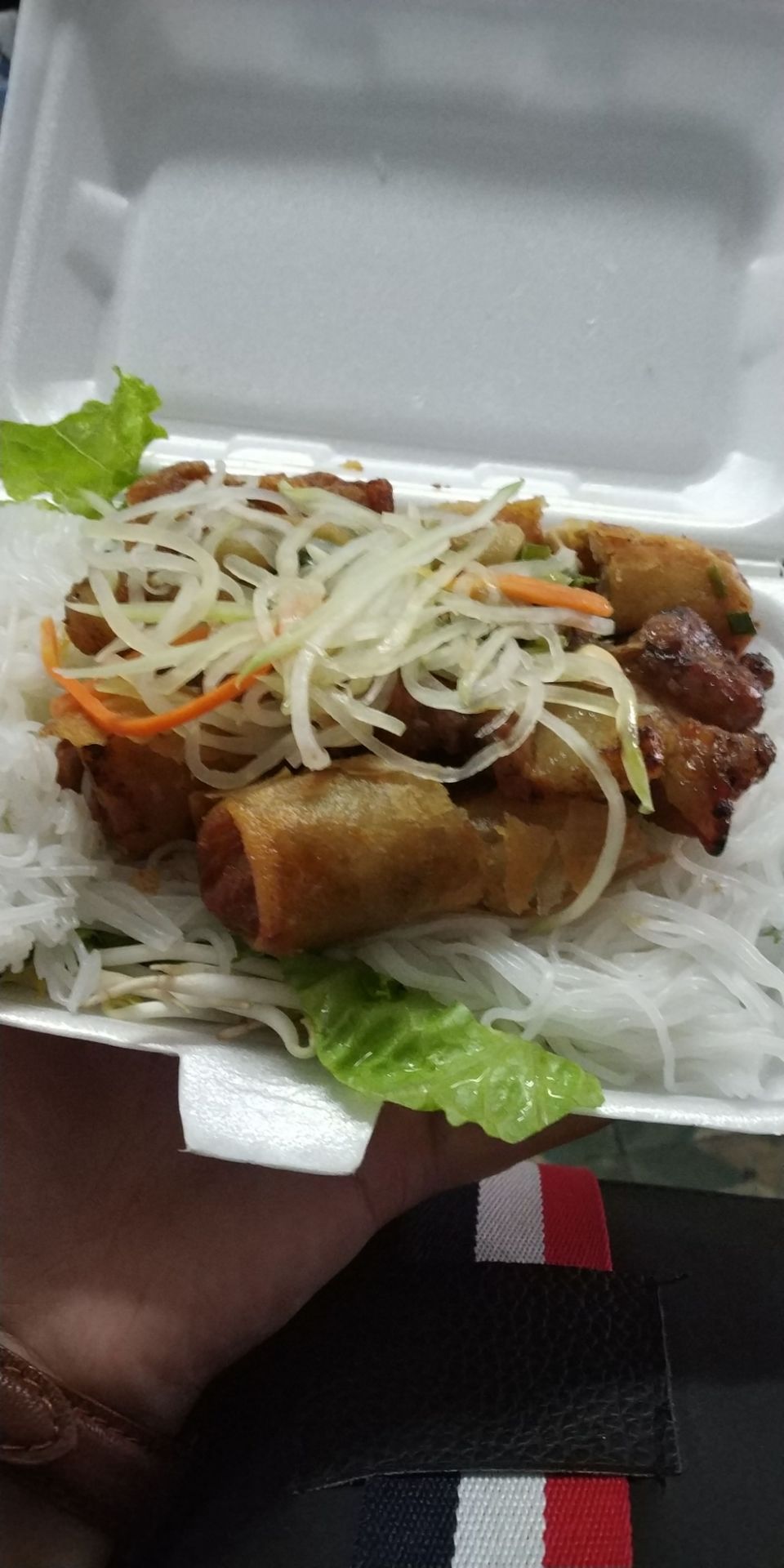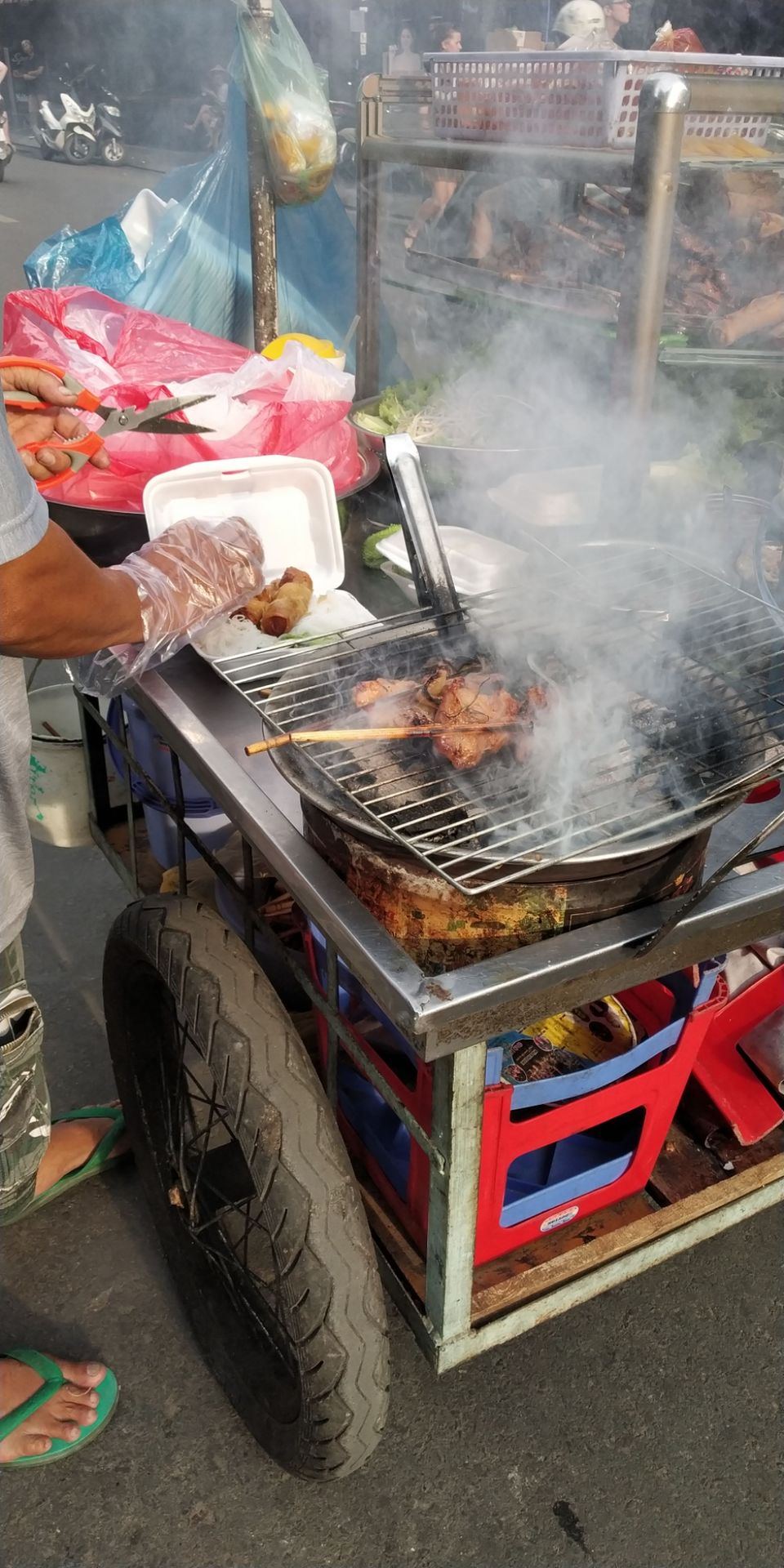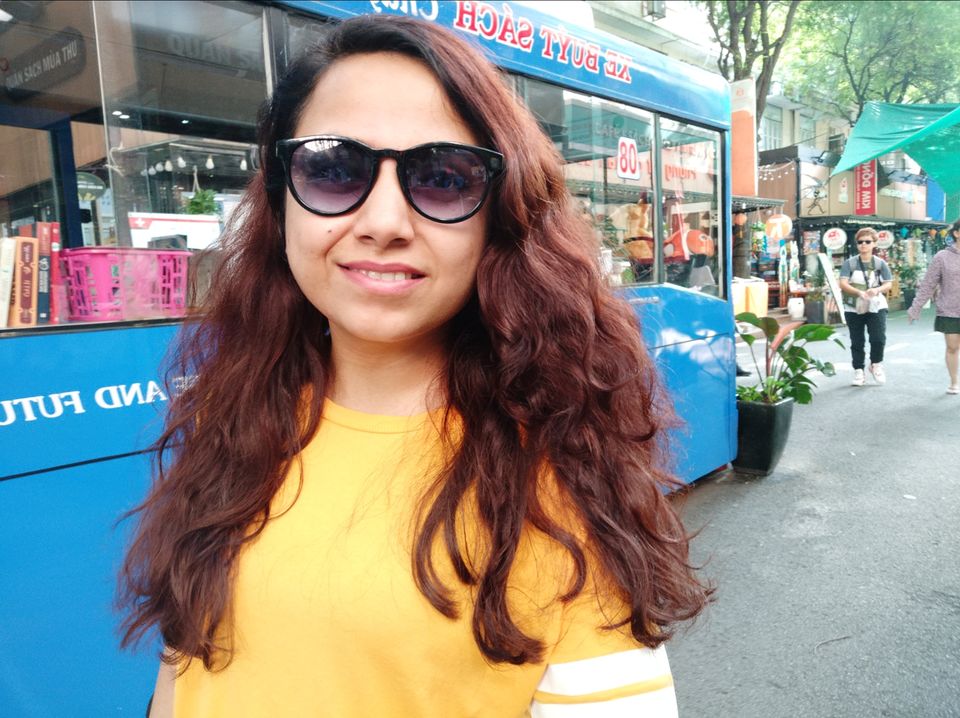 Next early morning, I packed my bags for another destination Hue. It's a 3-4 hour journey from Hoi An by bus. So, I had my stay planned at this stunning place called Beach Bar Cafe, almost 45 minutes to an hour away from the centre. This place except for its aesthetics and a super private beach had huge disadvantages. Firstly, it wasn't distance friendly at all, then I personally feel the amenities were bad over there. I was lucky to have the entire dorm to myself as there were no bookings then. That dorm was claustrophobic and very uncomfortable. It only makes sense staying here if you're in a group or with someone, or are all up with all the problems that come with staying at such a far-off place. I compensated all that with the sheer beauty and a terrific solitude at the great beach outside this property. I spent the entire day chilling at Beach Bar.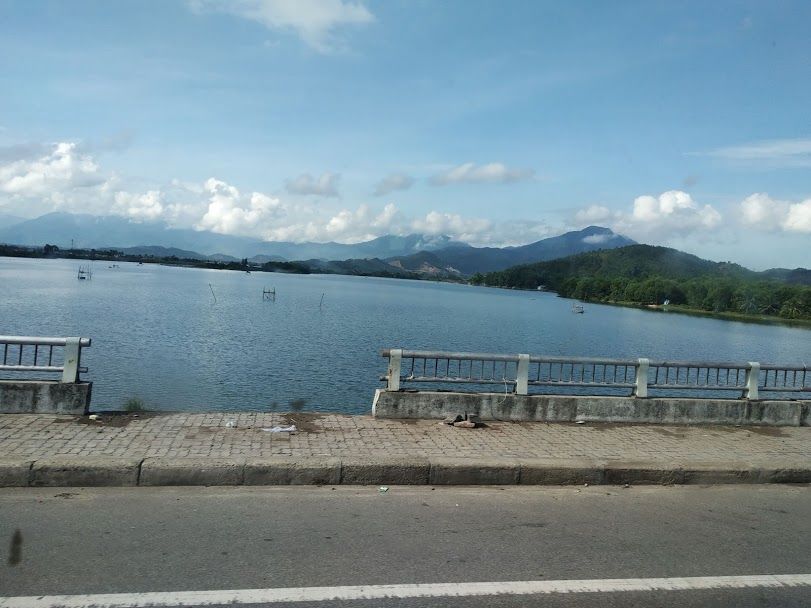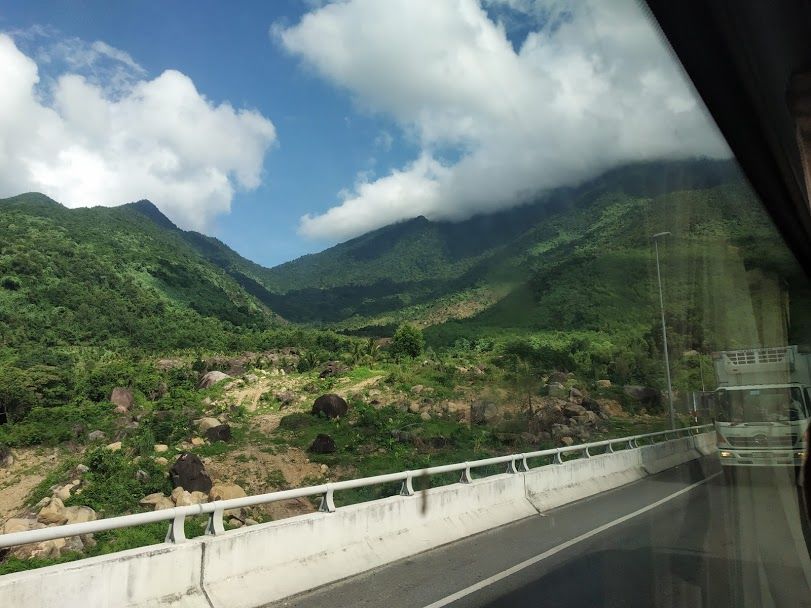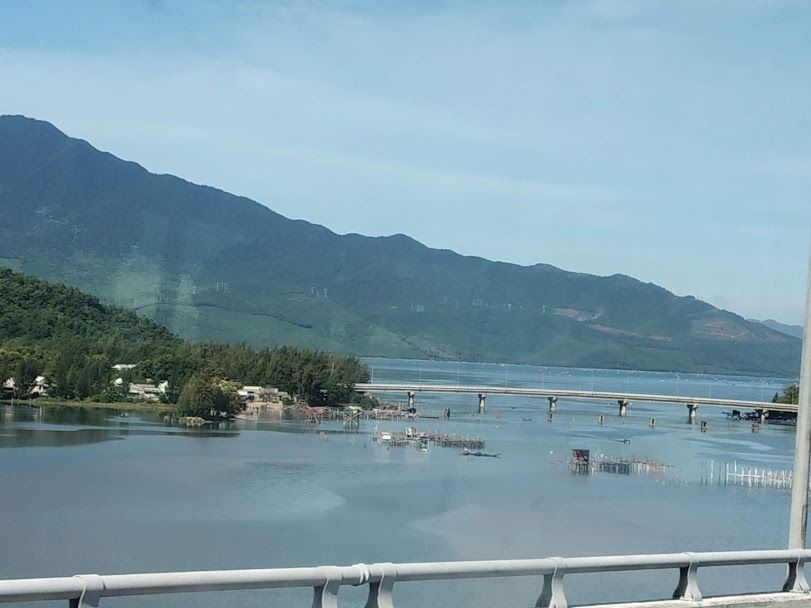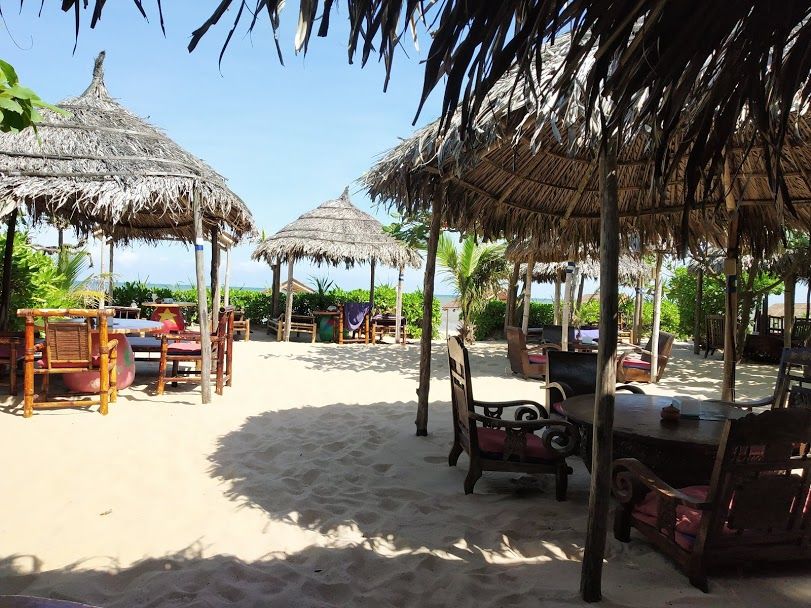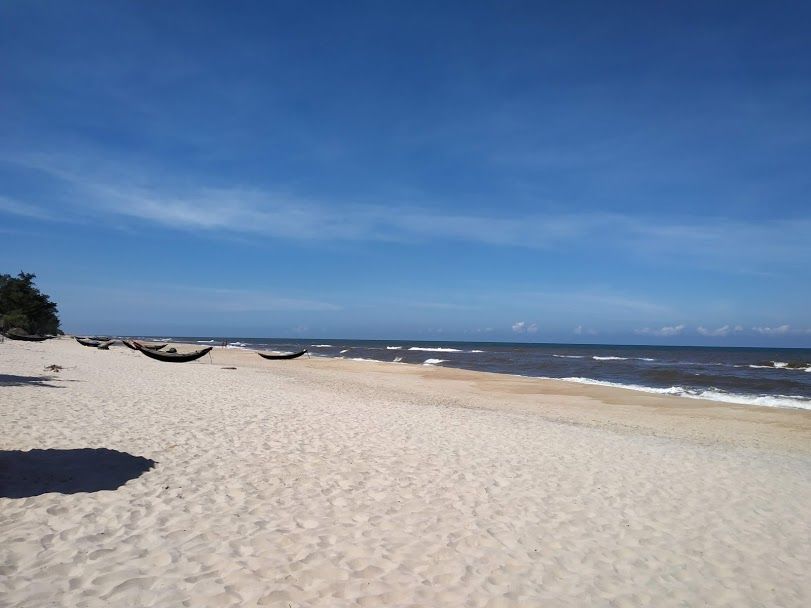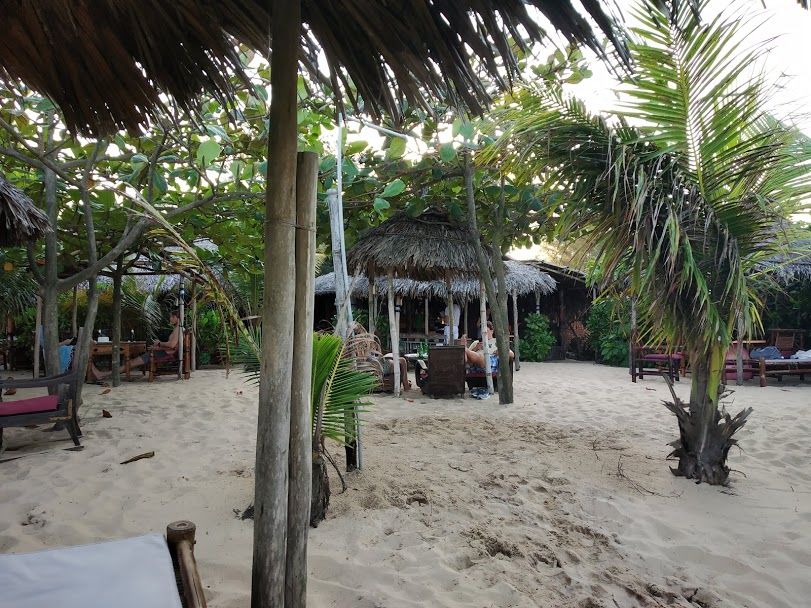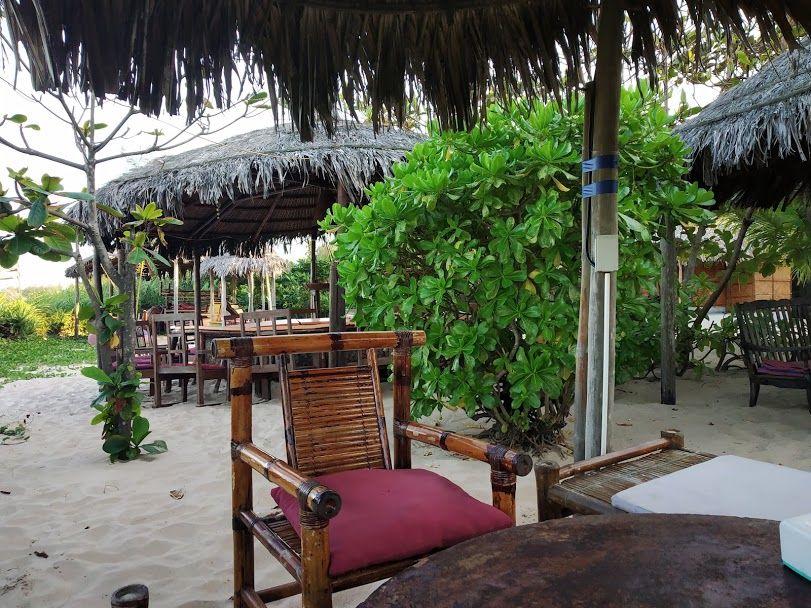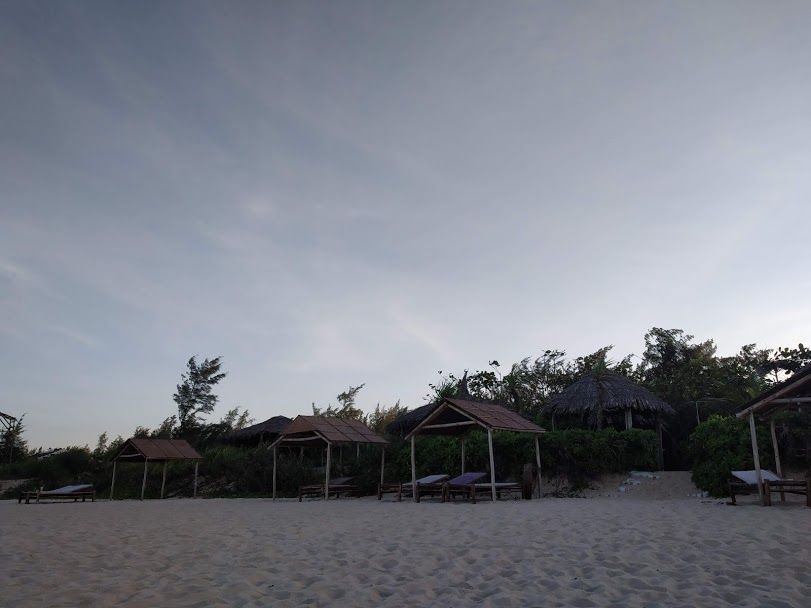 This was my last day in Vietnam. I had my flight back to Delhi at 8 in the evening. So, I strategically planned the day and did some quick shopping with the remaining money, went to a local market Dong Xuan, had a nice Veg Pho (noodle soup) for lunch and boarded a bus for the airport. This is an air-conditioned Bus no. 86 which can be taken from the Hanoi railway station for just 30,000 VND. It takes almost 50 minutes to reach Noi Bai international airport.
I did miss going to many more stunning places like Dalat, Sapa, Mui Ne because of time constraint. I do feel 2 weeks is not enough to explore the entire Vietnam. Well, I guess I managed well being solo and took back a massive photo album and more than that many unforgettable memories. Vietnam, you were breathtaking :)
Few important tips I'd like to share:
1. In all honesty, avoid the South completely. It has nothing great to offer unless you have way too much time. Ho Chi Minh is boring!
2. Since the denominations of VND is very high and suffixed with three zeroes, be very cautious while spending money. 1 INR is equal to around 320 VND. Don't get confused with the similar color of few notes. Always see your zeroes well.
3. If you are a vegetarian, you can face issues in smaller places and just be able to eat noodles, veg pizza or sandwich etc. Not many options in short. You can go to Indian restaurants around. Ganesh Restaurant at Hoi An is a must-visit. Super delicious Dal Rice!!
4. If you can carry a bit of more luggage, try shopping at Hoi An as I found the rates comparatively lower there. The night market is great too.
5. You won't be able to cover the entire Vietnam in two weeks. It needs atleast a month. I had to miss out on few places. So plan strategically so that you are not really rushing all the time. It's always better to enjoy one place rather than rushing to 10 places.
6. Learn few words like Hello, Thank you, Sorry, Yes, No in Vietnamese. Always helps with locals. Plus wear a smile and be polite with people. Good luck!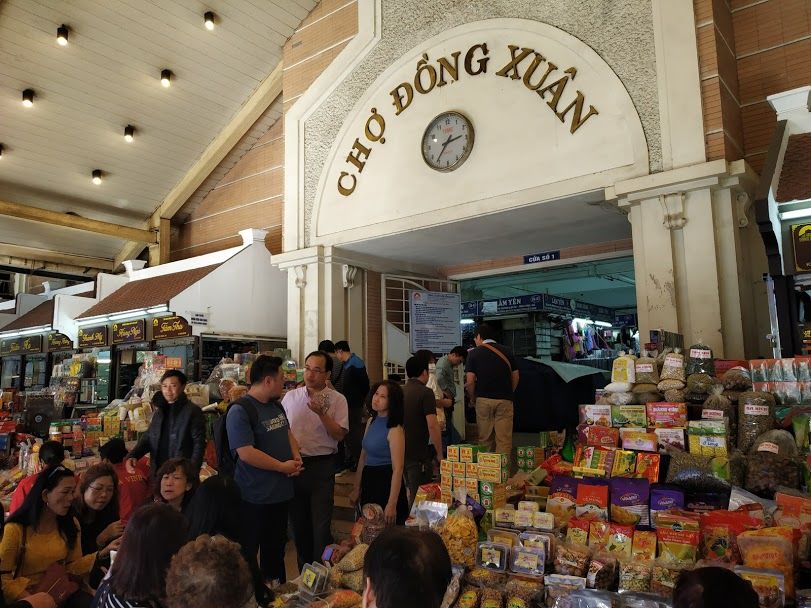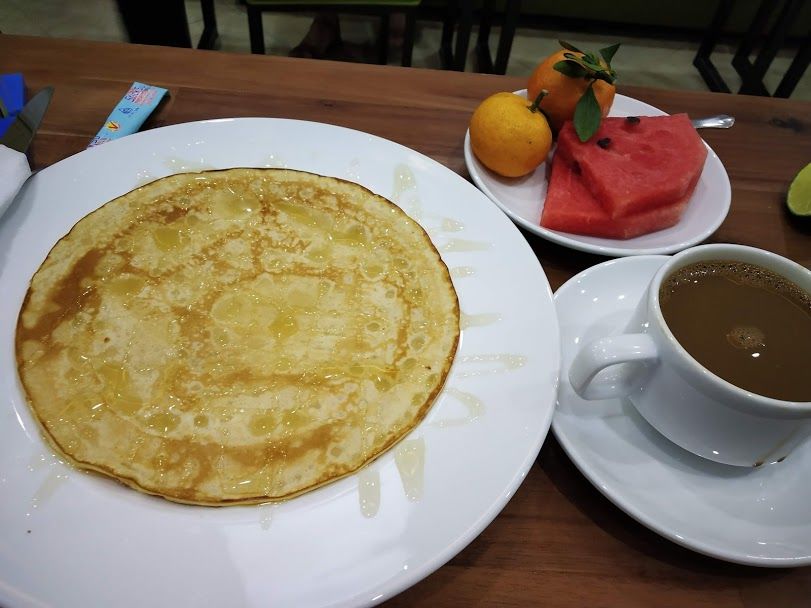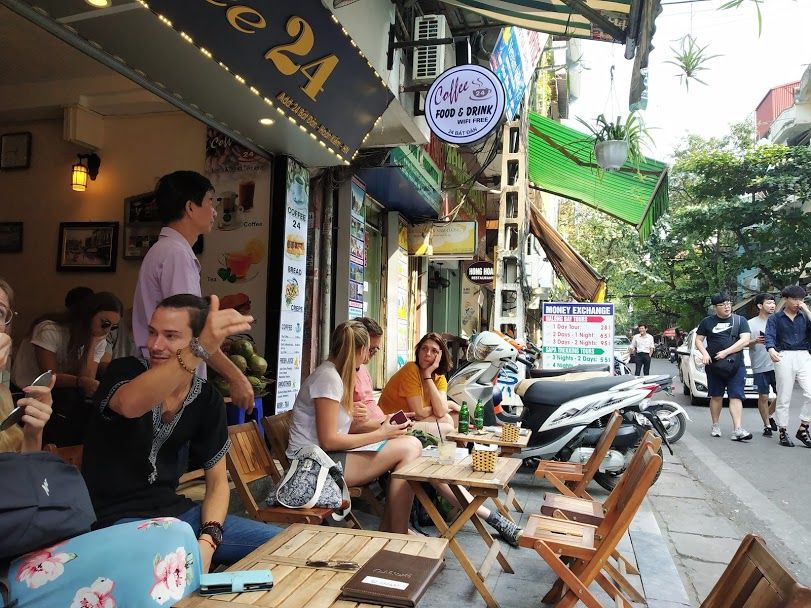 I started off from New Delhi at midnight and landed to Ho Chi Minh City via Bangkok. Well, certainly I didn't expect that much heat as it was there in the month of November. I had researched prior regarding cabs in Vietnam and the 'Grab' app is a Godsend over there. Simply download the app and keep all your commutation worries at bay. Pick a car or a motorbike according to your need and you're good to go! It comes with a translation interface because most of the Vietnamese drivers I came across knew very little English. The translation feature is quite a help in that case! I reached my hotel at 10 AM which was at this super bustling area of HCM City, known as Bui Vien Street or the Walking Street. Great vibe, economical accommodation, plethora of choices in food/ cuisines, full with pubs and places to chill- it's majorly a backpackers area or if it doesn't suit you, one can always book hotels or homestays from Booking.com or Airbnb. After checking-in, I rested for a while and then stepped out to grab a bite of the local delicacies. Somehow, I tried sticking to vegetarian, because of which I did face issues at the less popular places in Vietnam. Hanoi & HCM can serve you with good options. I literally survived on Banh Mi (the Vietnamese baguette) and iced Vietnamese coffee. Just loved them! The first day I simply walked around the city aimlessly and tried getting a flavour of the place. The highlight of the day was the night life at the Bui Vien Street. Sensational, bustling & super blaring!
Frequent Searches Leading To This Page:-
India To Vietnam Flight Cost, Hyd To Vietnam Tour Package, Vietnam Travel Package Deals, Northern Vietnam Tour Package, Cheapest Vietnam Tour Package From India, Vietnam Tour Package From Kerala, Vietnam Tour Package For 3 Days