When you spend 8 hours in office, 3 hours in traffic, 2 hours in gym, 5 hours for studying; day after day , week after week the only one word floats in your mind "BREAK". And marriage anniversary gave us perfect excuse to take some days off from our hectic life. Its been a while for us to move to South India but God's Own country Kerala was yet to visit. And the last trip was to beach so this one ought to be in hills. We have only 3 days in hand so zeroed into Wayanad. Kalpetta is the district HQ of Wayanad and has lot of hotels but we wanted to stay in more off the crowd places and amidst nature. I called Aranyakam Homestay and checked availability and transferred the advance at once. Aranyakam is rated, as one of the top homestays in India and getting their famous Tree huts can be difficult. But I was lucky to get one. Stay at Aranyakam was the star attraction of the tour.
The plan was to start 4.30 but with a delay of 30 minutes we started at 5. Driving through the empty roads of Bangalore was fun! In 40 minutes we hit Bangalore-Mysore highway and continued the drive. It was pitch dark and cold and not much traffic on road and I was crushing and nice speed. We crossed busy towns like Chennapatana, Mandhur, Srirangapatana without any problem. Our plan was to have breakfast once we reach Mysore so only stopped for having tea in between.
The breakfast at Kamat was tasty and fulfilling, we spent some good time there before resuming the journey.
Once you reach Mysore, Wayanad is pretty easy to reach. Some stretches of road between Mysore and Sulthan Bathery , specially in Nanjangud was pathetic! Some road construction was in full swing resulting bare surface and dust storms. It was a bad drive !
From Gundlupet we took right diversion towards Sulthan Bathery (interesting name isn't it ? History says Tipu Sultan had his cannon shell storage here so the place was called "Sulthan's Battery") . The road beyond this point was simply fabulous! I was cruising at nice speed. After few kilometers we crossed the forest check post and entered Molehole National Forest. I reduced the speed below the prescribed limit and stopped the car audio; we wanted to feel the jungle.
It was winter so the trees were leaner and thinner leaving a good visibility through the forest. But it was 10.30 and not the time for animals to show up yet we wanted to try our luck. After a sudden turn we saw this biggie was crossing the road.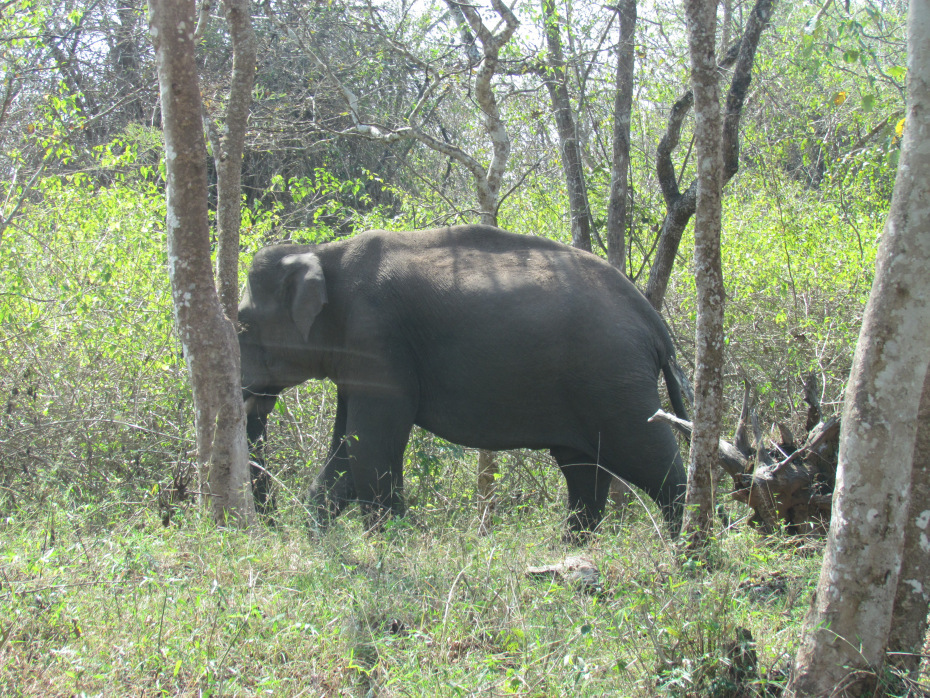 I stopped my car at a safe distance and watched its movement. In one of such earlier occasion in Chapramari Range, our driver cautioned "Herd of elephants is a serious threat and single male elephant is a danger specially during mating season " (well men will be men ). So I was in no mood to mess up with him. But it appeared the animal was there to have his branch and not in a bad mood. We carefully and slowly passed that spot and continued our drive.
Rest of the stretch was uneventful. After Molehole I was stopped at the border by police to check papers but the process was like a breeze . I do not know why but whenever cars are stopped at any state border in India ; the cops definitely look check the pollution certificate thoroughly. May be that's the thing most of the people forget to renew and then gotcha !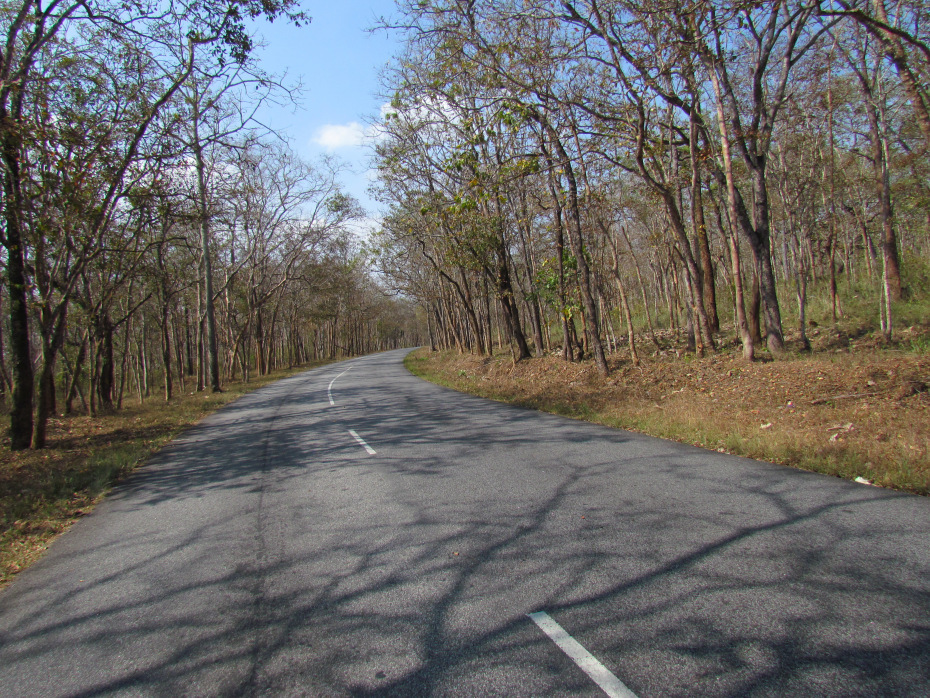 After Molehole we entered Muthanga Wildlife Sanctuary. Its all the same, all part of Nilgiri Biosphere region one is in Karnataka side other one in Kerala. The entire drive through the jungle was mind blowing! There are uncountable numbers of speed breakers on the road to stop speed junkies to run over the animals. Otherwise the road is fabulous; winding through the dense forest.
Kerala is dry state now so carrying alcohol inside the state is prohibited. And there is excise dept check post to search incoming vehicles but my car was not stopped.
The roads afterwards were also very good and we crossed Sulthan Bathery by 11.30. We had time in hand so instead of going directly to the home-stay, decided to visit Edekkal Cave. We followed the instructions of Gmaps and reached Edekkal around 12.30.
Edekkal is point of attraction for many historians and archeologists. One can see huge numbers of cave arts (not painting rather engraved on stone) which dates back to the stone age. Humans had inhibited this place at different period of history. And there are some inscriptions which resembles to very old form ( 2000+ years) of Tamil language.
There are hundreds of arts engraved on the stone walls but the most astonishing ones are some motifs that are signature of Indus Valley civilization ! Can you believe? All the known sites of Indus Valley civilizations are thousands of miles far! So some group travelled all the way from western part of the country through dense forest and inhospitable terrains and reached a cave, on top of a hill at down south ? Or there must be some kind of contact between two civilizations! Interesting!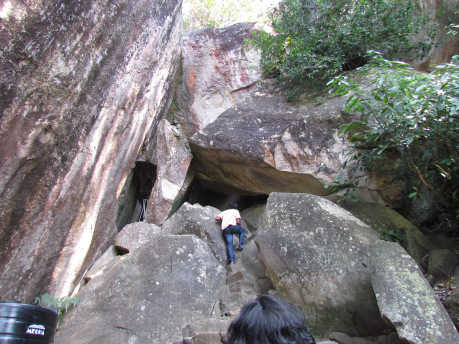 The climb to the actual cave is not tough but challenging for sure. The big stone steps are quite steep and after a certain point there is no coming down, one needs to go all the way up. Govt. has built some guarded stairs but that's only for descending. We went inside the cave and watched all the cave arts with great astonishment. The place was very crowded but good to see some guards restricting people to touch the arts.
After coming down we felt hungry upto the core. There was not much option so we entered a small time local eatery and had wonderful traditional Kerala food.It was already 2.30 and we called our homestay to inform about our late arrival.
We took around 1 hour and 30 mins (due to my confident selection of wrong diversion) to reach Meppadi. The winding roads passing trough lush green tree gardens was awesome to drive. We stopped at few places to click some snaps. Aranyakam Homestay is a little bit far from the main road but the owner Nima guided us well. The approach road from the main road was in pathetic shape but I was able to manage with care.
Aranyakam is situated inside a huge coffee and tree plantation that spreads over a valley. They have some normal rooms in the house where the owners themselves stay plus two tree huts. These tree huts are highly rated in Tripadvisor and I was excited to stay in one of those. Man , I was flabbergasted as soon as I stepped in our hut! Beautifully designed and created with woods, bamboos, canes and all natural materials the hut is literally hanging over the valley! And even though its in the woods they still managed to have a decent toilet with geyser.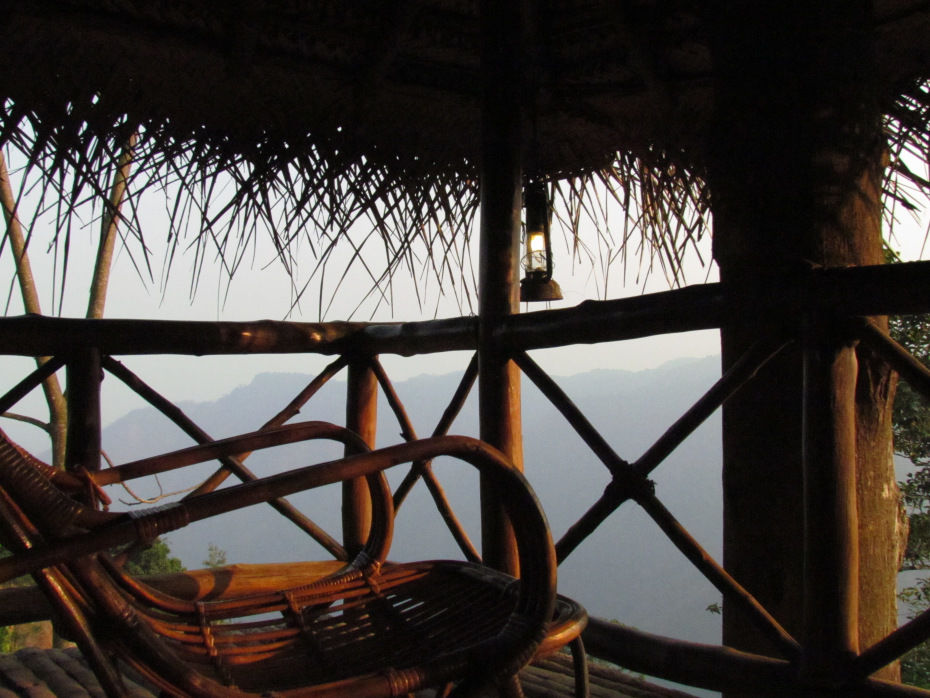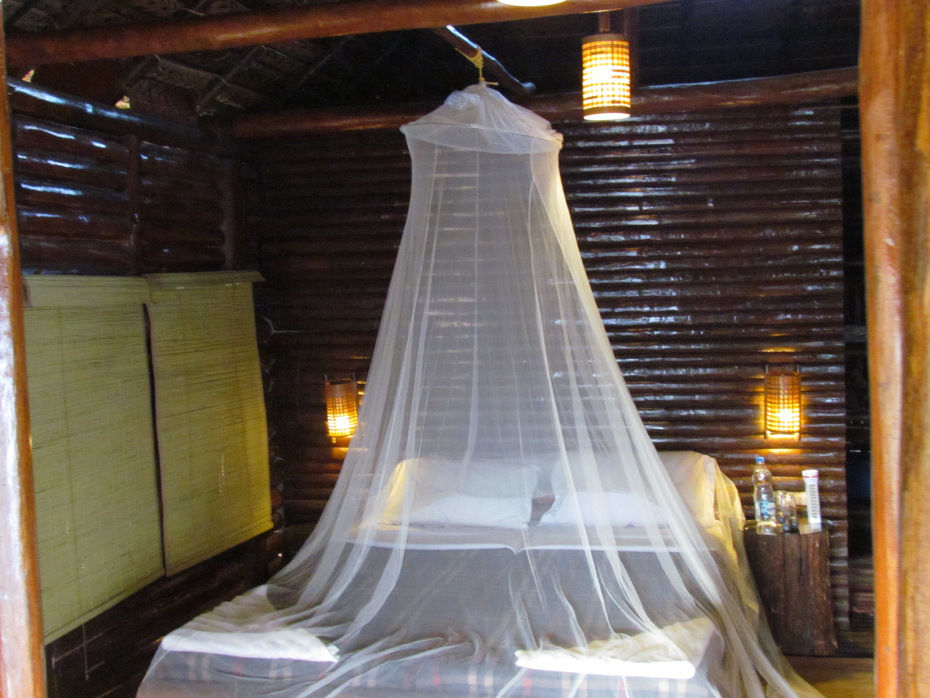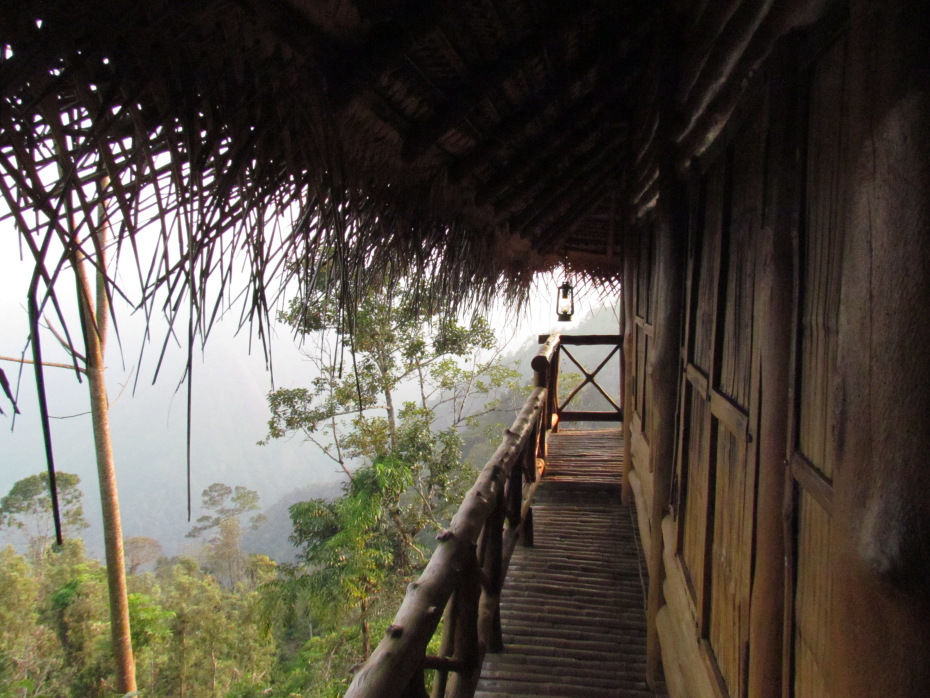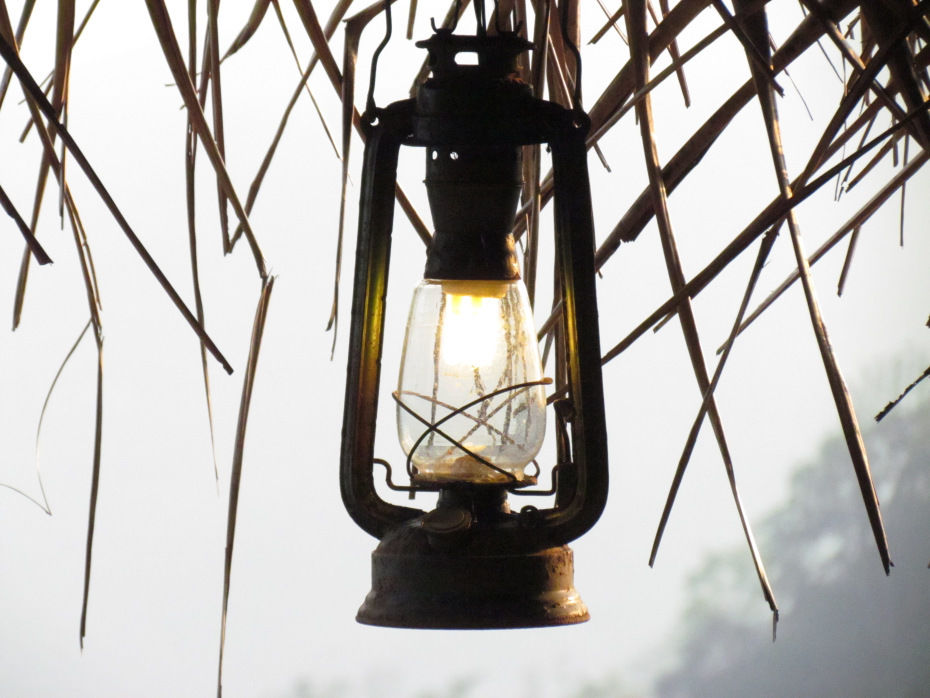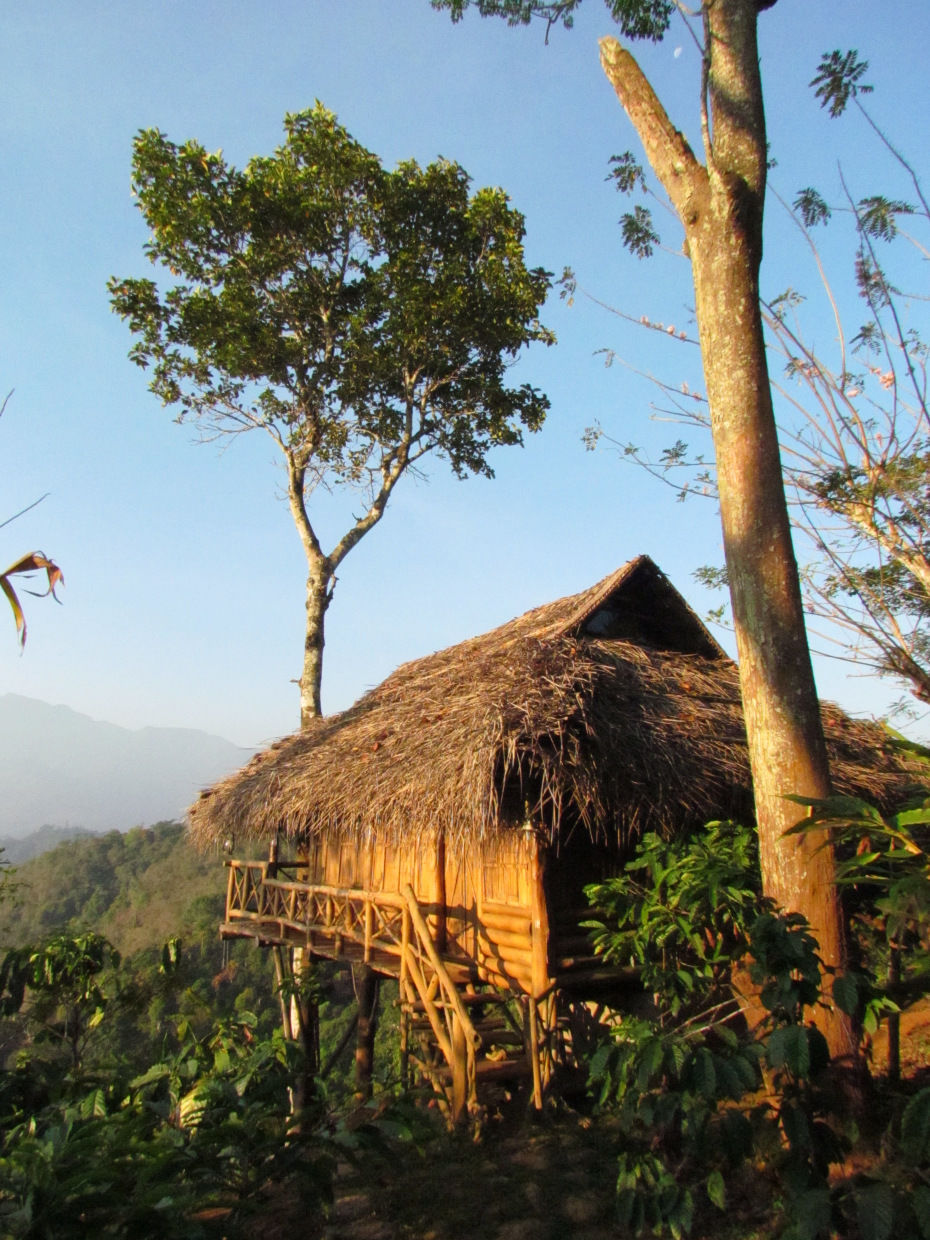 The balcony of the hut is really out of the world. One can sit entire day over there doing nothing but soaking into the nature. But we were advised not to keep the balcony lights on as it attracts insects.
We unpacked our stuffs, had some little rest and then sat in the balcony to watch the sunset. It was a surreal experience! As the daylight was dimming, the temperature dropped and the entire atmosphere changed! It was like loosing track of time; so damn magical!
We met the owners Rajesh and Nima over our dinner. They were very cordial and friendly. Both of them were enthusiastic to talk about local food, culture, politics and what not. They are nice people with whom you can have good conversations.
The food served was traditional Kerala cuisine and everything was very tasty. Hosts paid attention so that guests are treated well. Their helping hand Zafar is also a very decent guy and was ready to help for everything.
After dinner we sat in their courtyard for some time to gaze thousands of stars. I asked Nima if we can have a night walk though the plantation but she advised not to do so as animal movements are not uncommon.
This was one of those rare days when I am in vacation and wake up early without snoozing the alarm. How could I miss the sunrise from the tree hut! It was still dark and pretty cold. I sat in the armchair with my camera and leisurely witnessed dawn's breaking. There is no word or expression to describe the experience, I was totally taken aback! The first ray of sun was not able to penetrate the dense jungle and so the bottom of the valley was still dark. Don't know why the view gave me goose bumps! May be the pictures can tell more!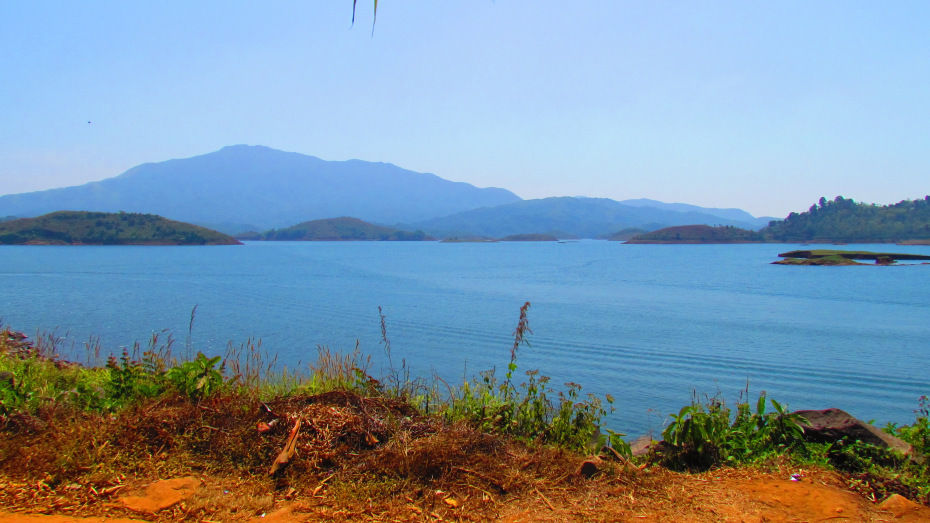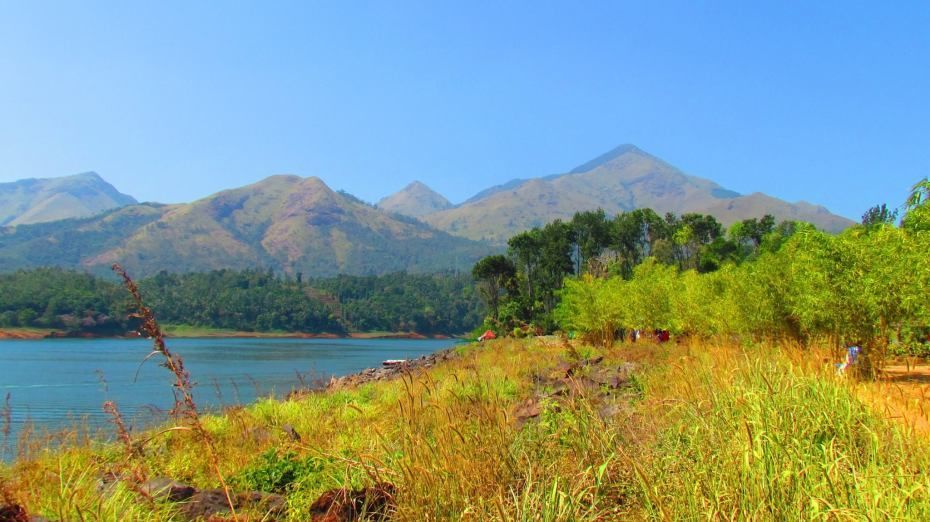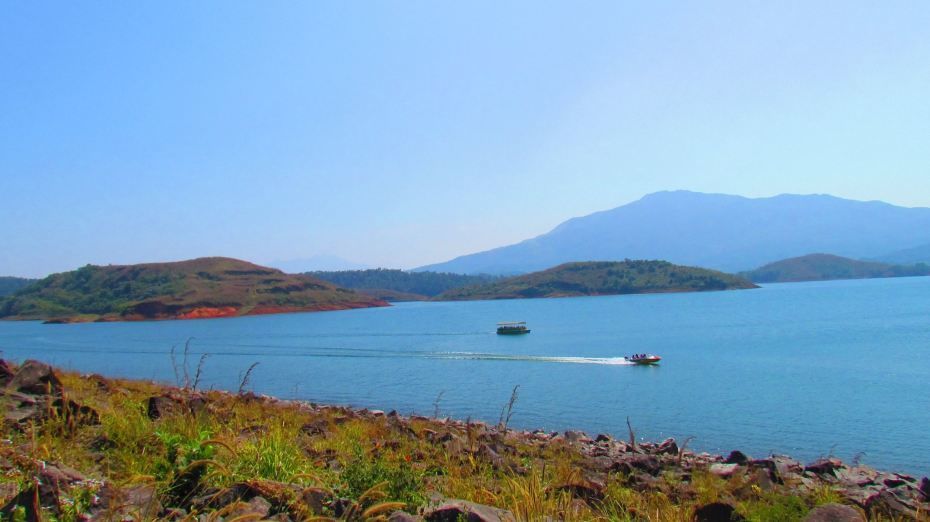 We had sumptuous breakfast, which was complimentary with stay and headed for Banasura Sagar dam. This is largest earth dam in India and second largest in Asia.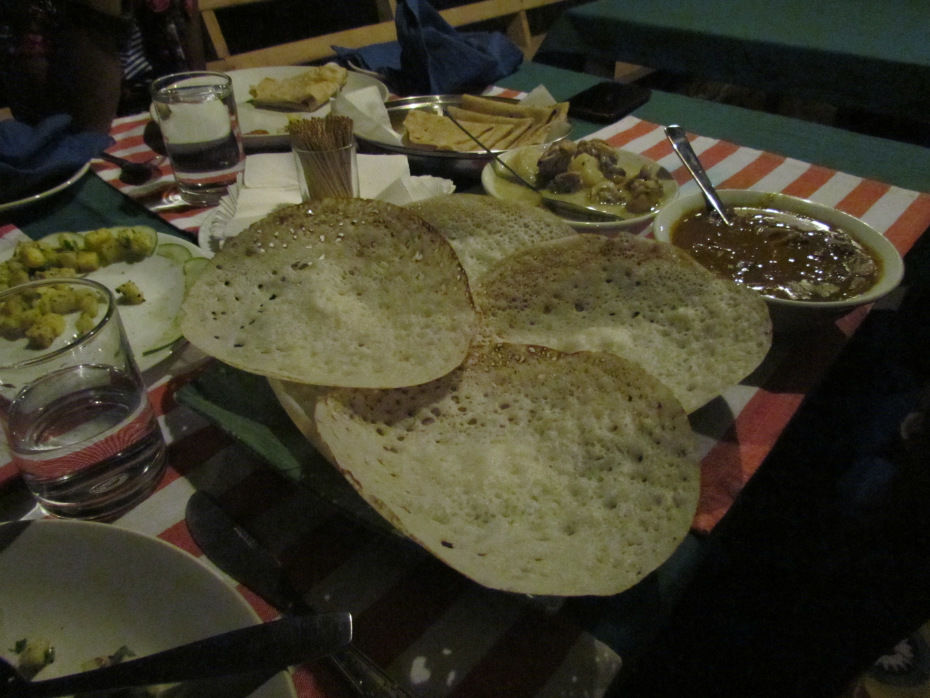 The drive was pretty awesome and passed through uncountable number of tea estates and villages with greeneries.
After parking the car we found its pretty hot outside so decided not to walk though to the top by our own. The place was pretty much crowded and the there was no order for shared jeep lines. After much struggle we literally jumped into one to get our seats.
But once we reached the top of the dam the beauty of the lake stunned us! Huge lake of blue water and green hills in the backdrop! The landscape was just mind blowing!
Banasura Sagar is a MUST place to visit in Wayanad. We roamed around and sat under trees, took tons of snaps. Wanted to go for a boat ride (they have speed boats and pontoon boats) ; but the ticket counter was closed and the queue was huge. So we decided to head back to Aranyakam.
On our way we had good lunch with Malabar Biriyani, Kerala parota (yes not paratha or parantha but parota) and some spicy mutton curries. I just love the abundance of spices in local foods here in down south.
After coming back we had a short nap and then sat in the balcony to watch the sunset. Nima prepared some excellent authentic Kereala dinner with many options and we tried everything.
Before coming to our hut, we sat sometimes in their open and calm front yard and the atmosphere was awesome.
After previous days experience the Sunrise was definitely not be missed, so we woke up really early to see breaking of dawn. As usual we were glued to the balcony. None of us were feeling to get up and start packing. We just wanted to hold onto the moment.
But as they say every good thing must come to an end. After sumptuous breakfast we bid adieu to Aranyakam and its great hosts and support staffs.
The motto of this trip was mainly to relax and we did not cover much of the famous tourist spots. Nima suggested visiting Kantipara falls on our way back should be real worth. Especially so as the falls is just 3 km from the home stay. I asked how is the road on which she said "good". Later I learned when a 4×4 owner tells the road is good don't take it literally specially if you are driving a small hatchback.
The road that leads to falls is horrendous ! Narrow, broken all along ( no pitch at all but stones at some stretches ), steep, and curvious ; it had everything to challenge my car. In one stretch the gradient is so steep one cant even see vehicle coming from other direction and the road is so narrow that only one vehicle may pass. So imagine a situation when two cars lock their horns in the middle of a steep road and one has to go reverse to get a wider stretch to allow other one to pass! Anyway my humble alto scored very well there.
The waterfall was not very big one but nice and serene. As it was early morning time there was only few people and we enjoyed the calm and pristine nature before stating back.
On our way back we took the same route till Gundlupet and then decide to take Kanakpura road instead of Mysoor road to avoid weekend traffics. Only challenge is to find good pit stops. However this time we found a decent new restaurant ( Jhoys's) at T Narasipura opposite to IOCL ( or BP ??!!) petrol bunk. Not a classy or top notch but considering my previous experience on Kanakpura Road it is like an oasis.
After having lunch we continued and took NICE road to enter Bangalore. Reached home around 8 with driving time of nearly 7 hours.
From next day we again went back to our regular hassles of life but this time with the energy this trip replenished.
About Aranyakam
==============
If one is coming to Wayanad , Aranyakam ( their tree huts to be precise ) are must try. Or else you may come to Wayanad just to stay here. Words would fall short to describe the experience! Those wooden huts hanging from the hill amidst the jungle gives ample opportunity to be lost in nature! I would have missed something in life if did not stay at Aranyakam!
This post was originally published on The Urban Nomad.
Frequent searches leading to this page:-
wayanad tree house tour package, kerala tourist spots, wayanad kerala tourism resorts