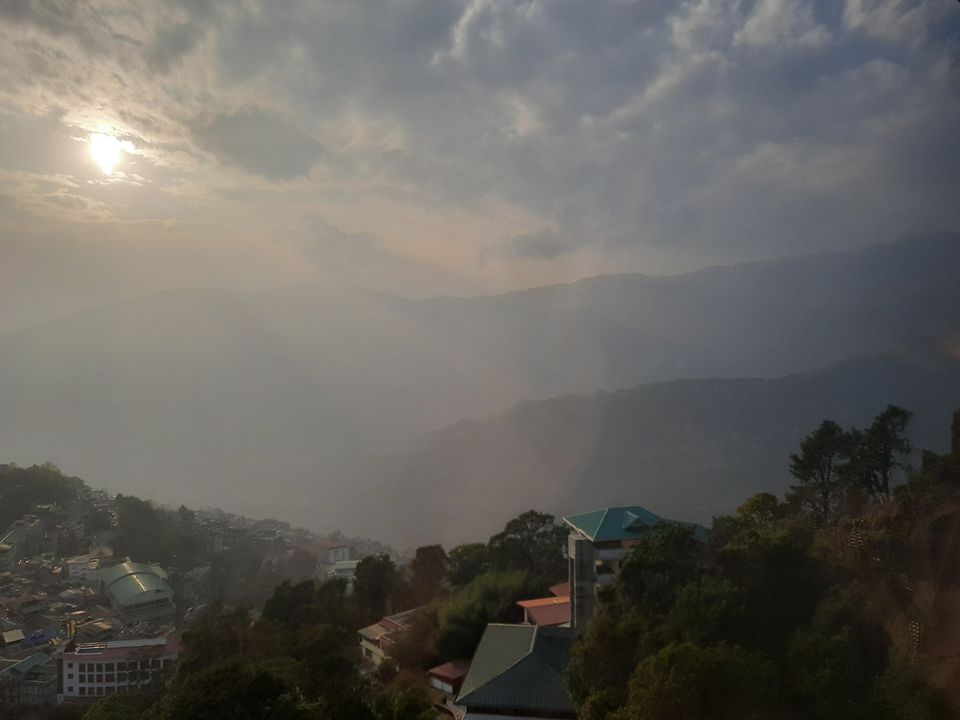 What happens when you have an early flight, deprived of sleep and add a pinch of 2 hr waiting time at the security check....tada!! A sleepy flight. I woke up due to some turbulence in the middle of my flight and guess what I found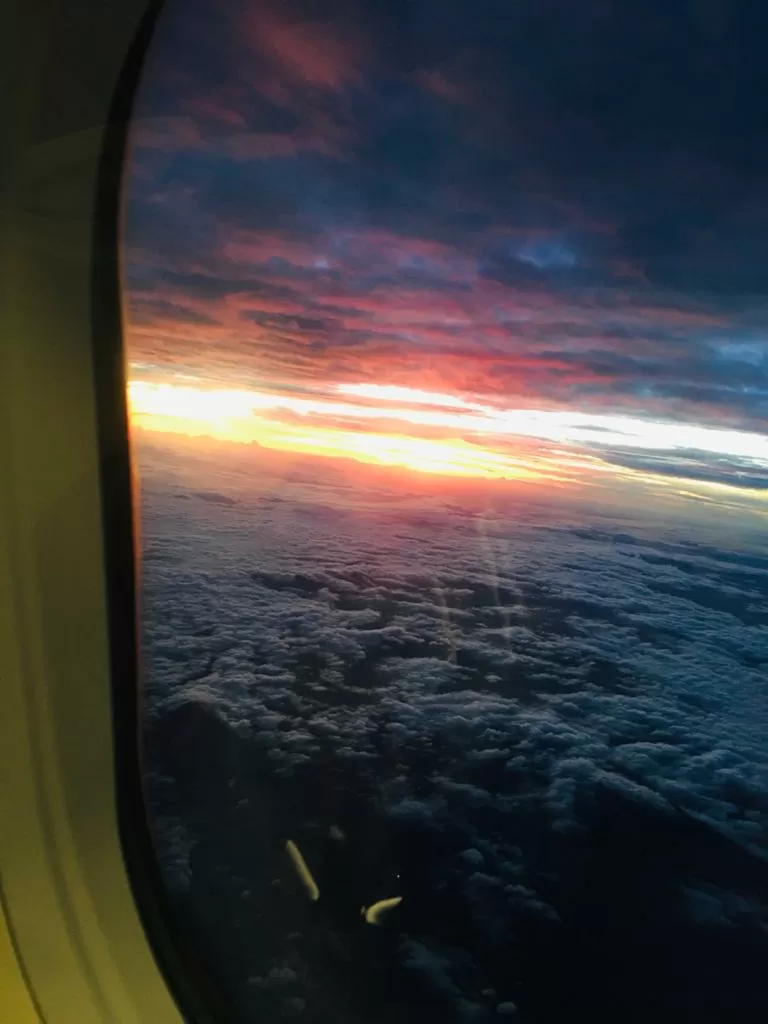 A stunning view of the sun sandwiched between 2 layers of clouds. That's when I started getting into the holiday groove. Then the flight reached the destinaion where the trip starts. Bagdogra!
I then met the group outside the airport and we started to the first location of our itenary, Kalimpong. We came across some scenic and stunning locations on the hilly terains from Siliguri to Kalimpong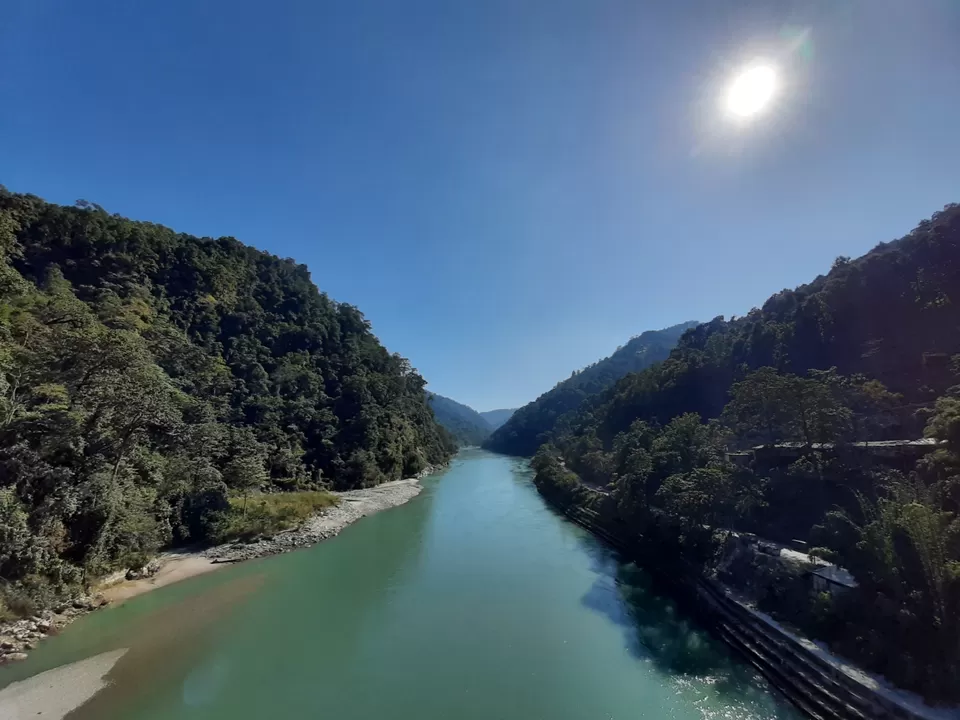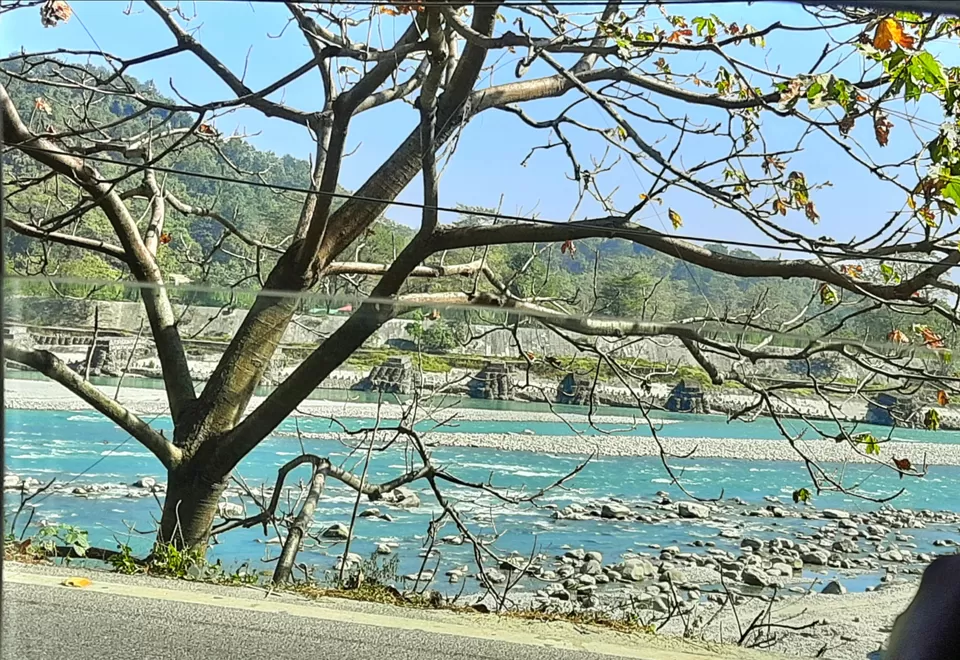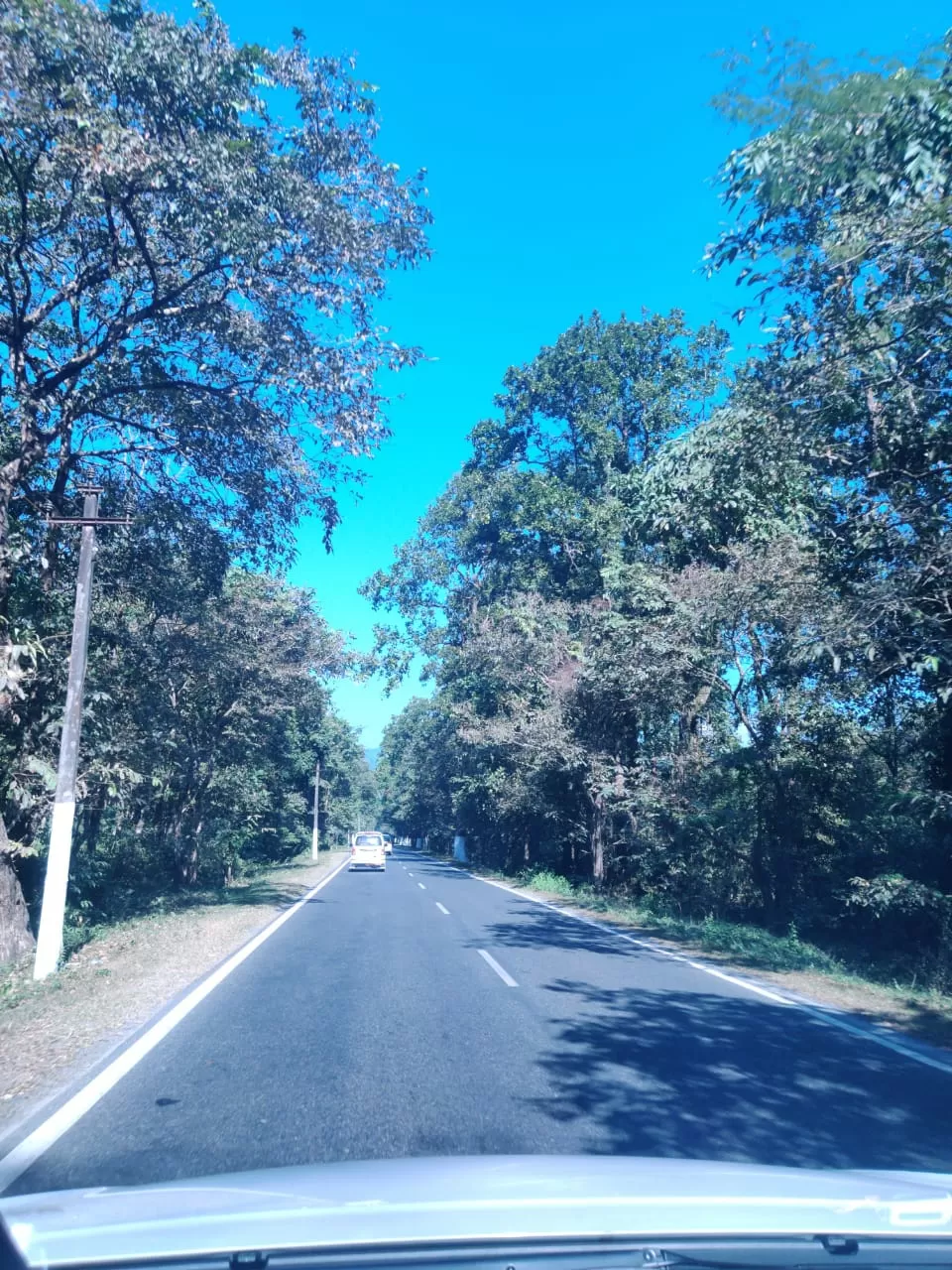 then we entered the town of Kalimpong and we were dropped to our resort(Silver Oaks) and this was the view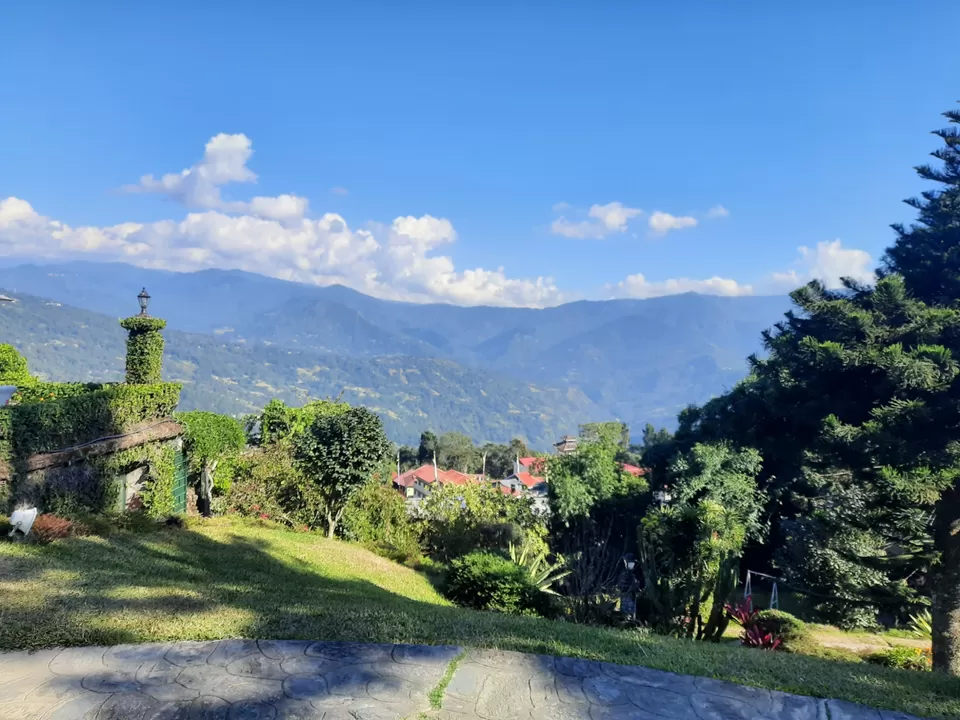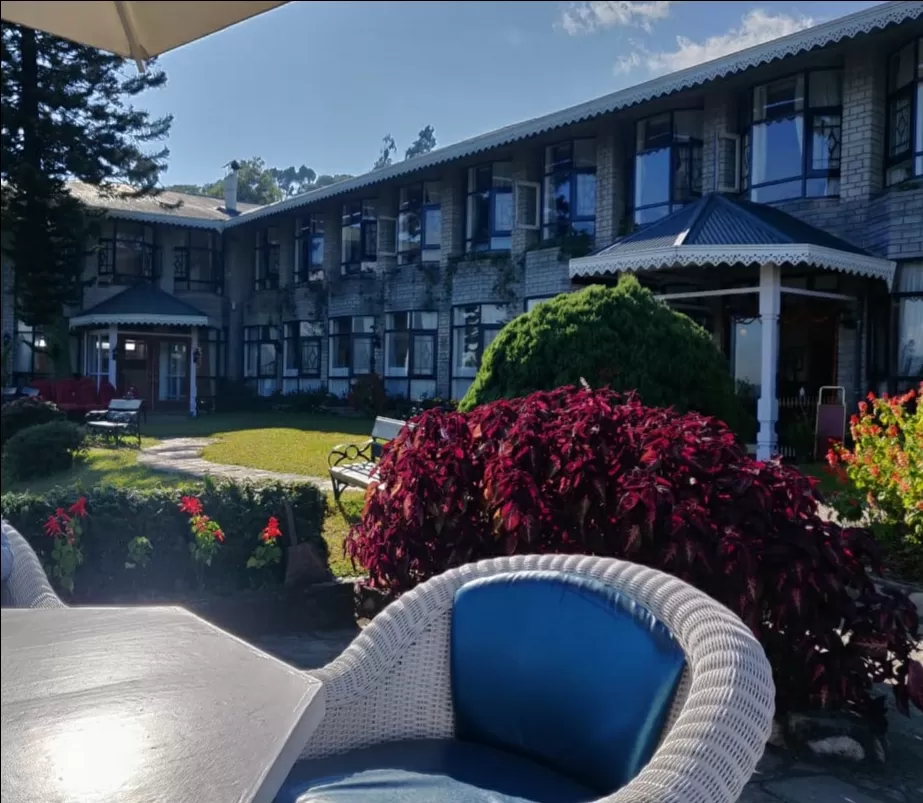 there was only one question in my mind, Are we in Scotland? We relaxed and explored the locality for the rest of the day.

We visited a number of cafes and restaurants, one common and interesting thing that we observed was the art, it was really good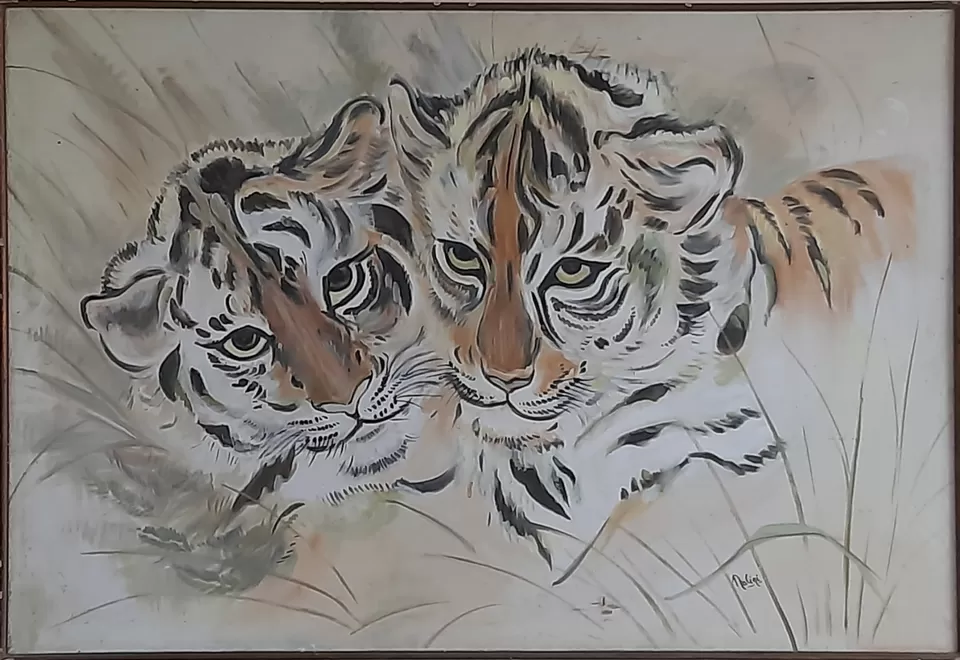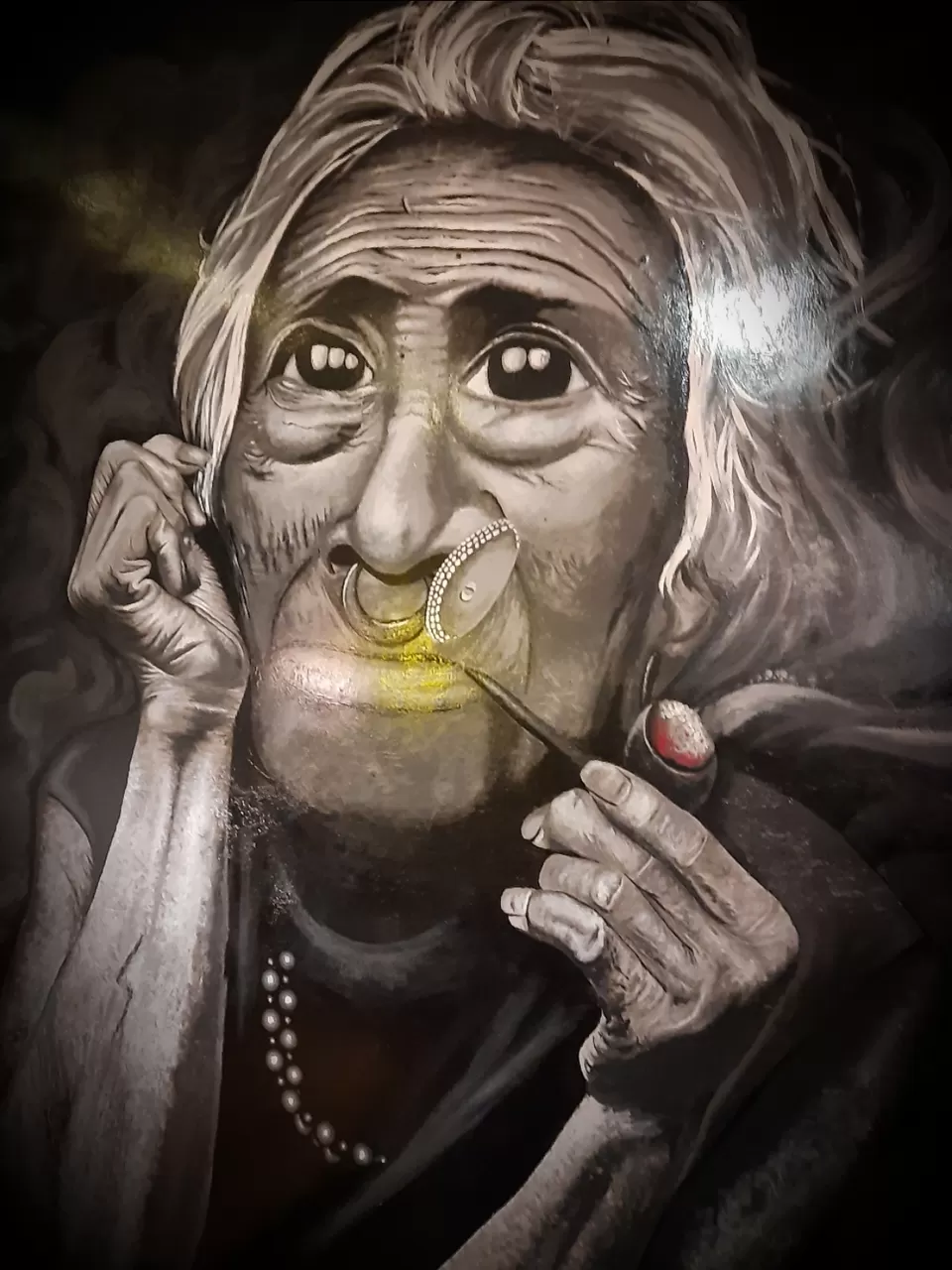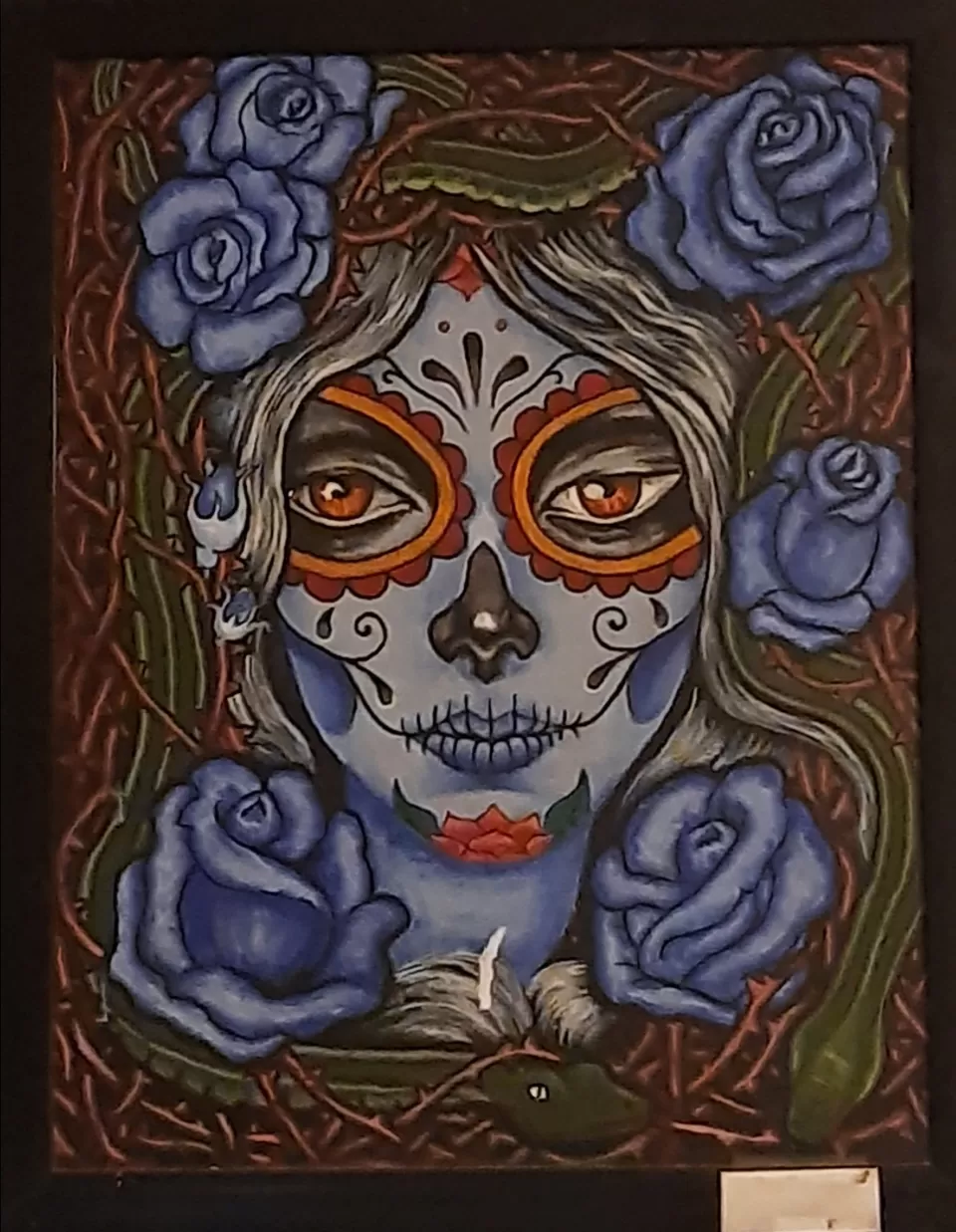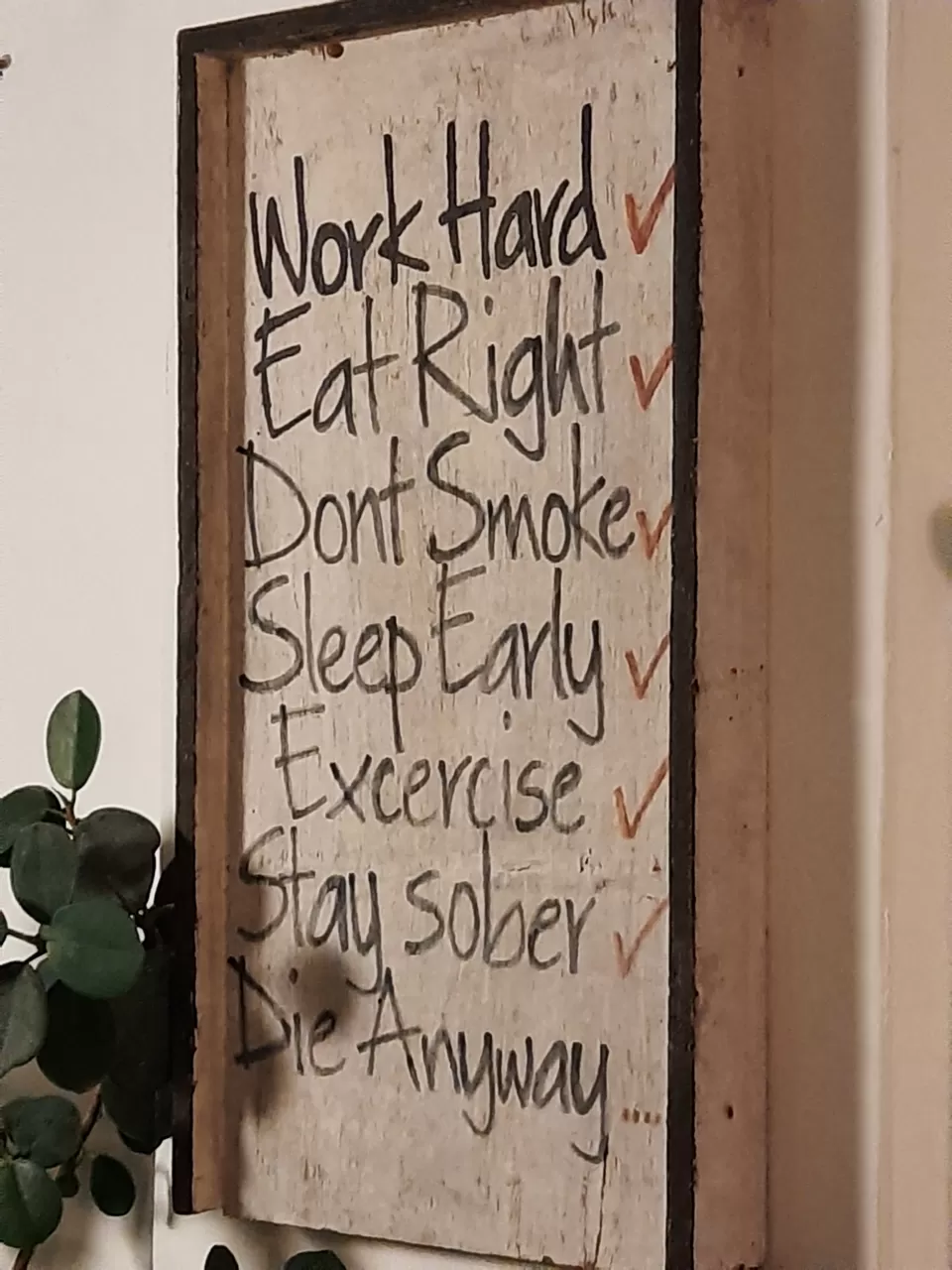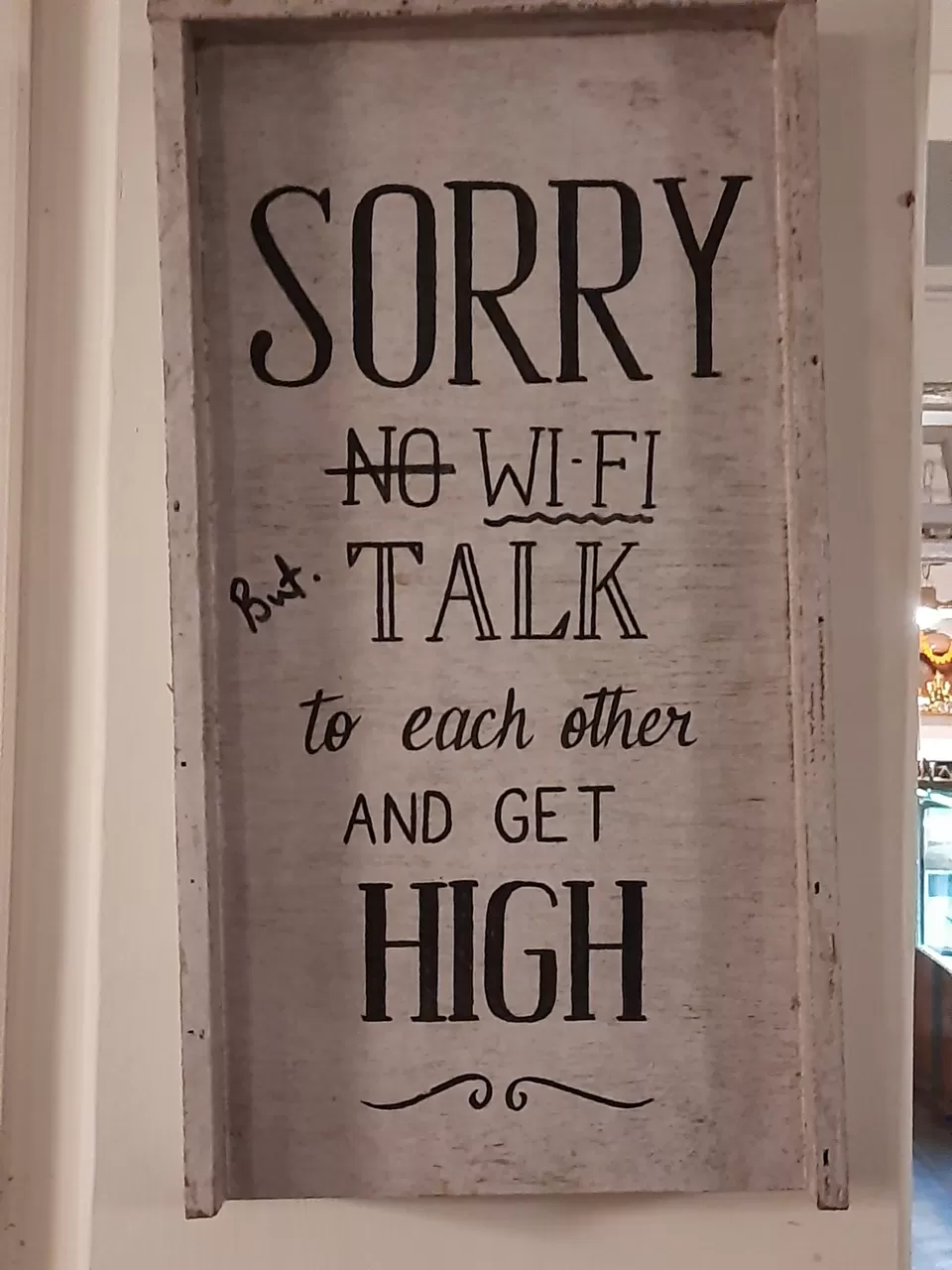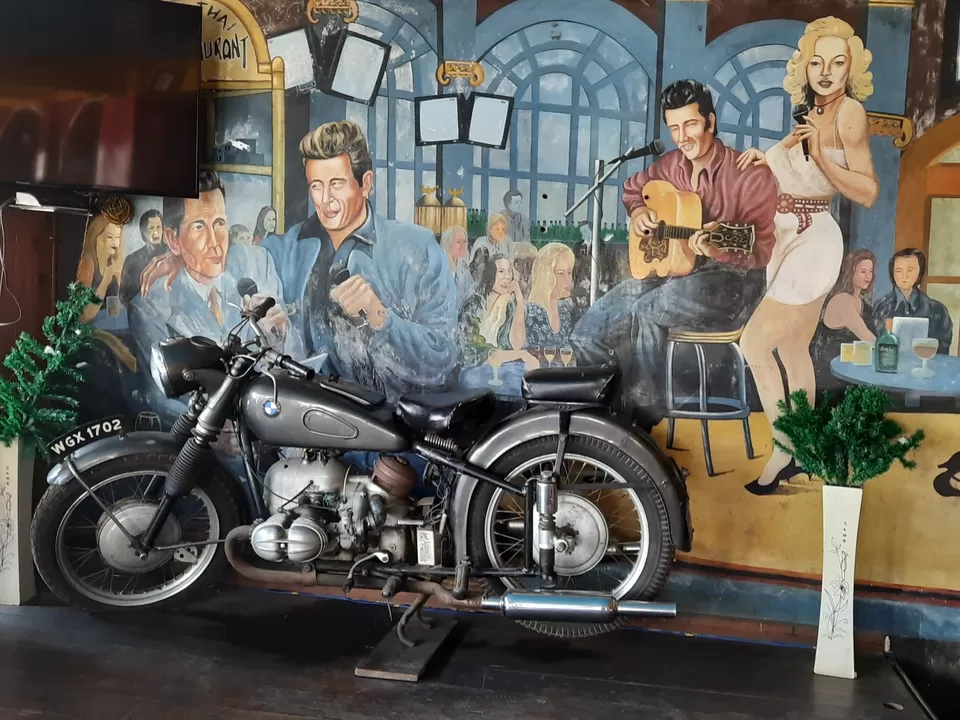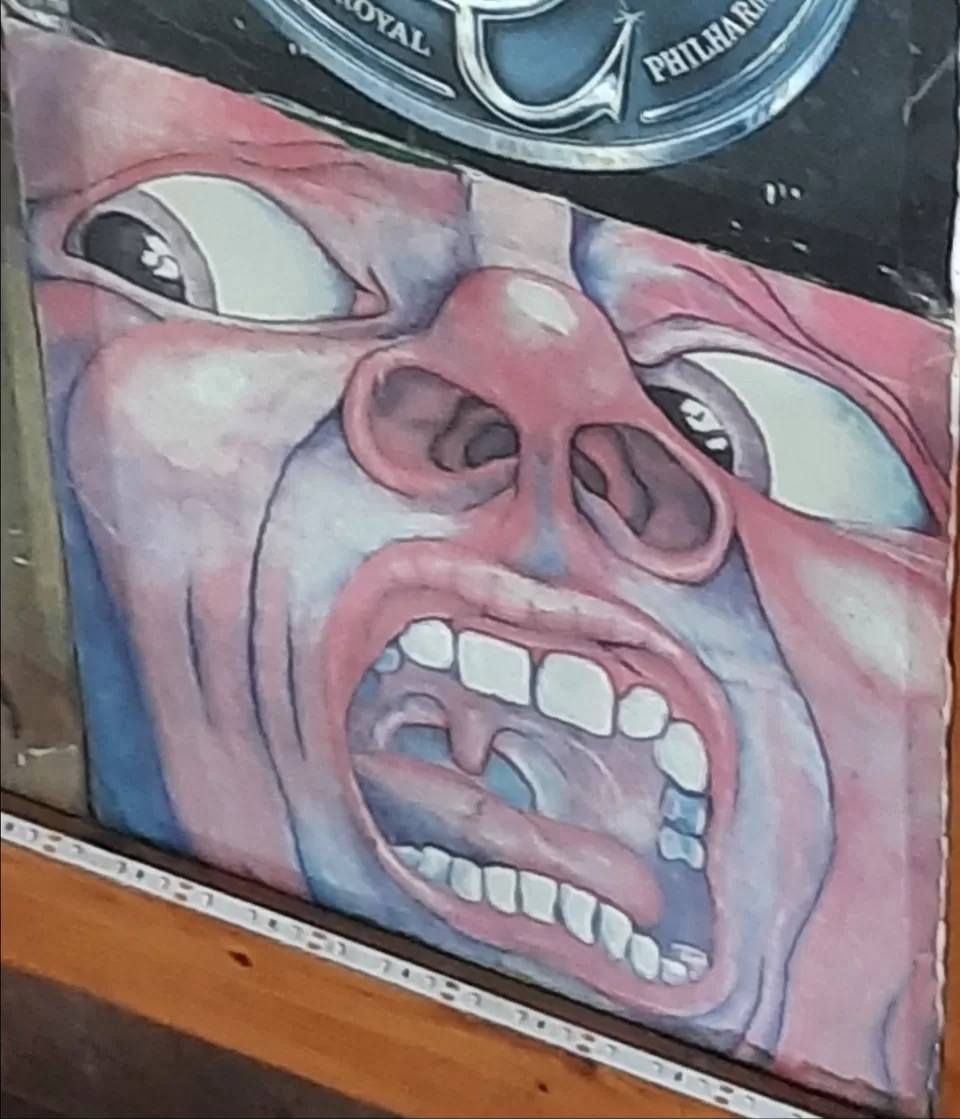 Then we went for local sightseeing and checked a few interesting places like Dalio hills, pine view nursery, etc...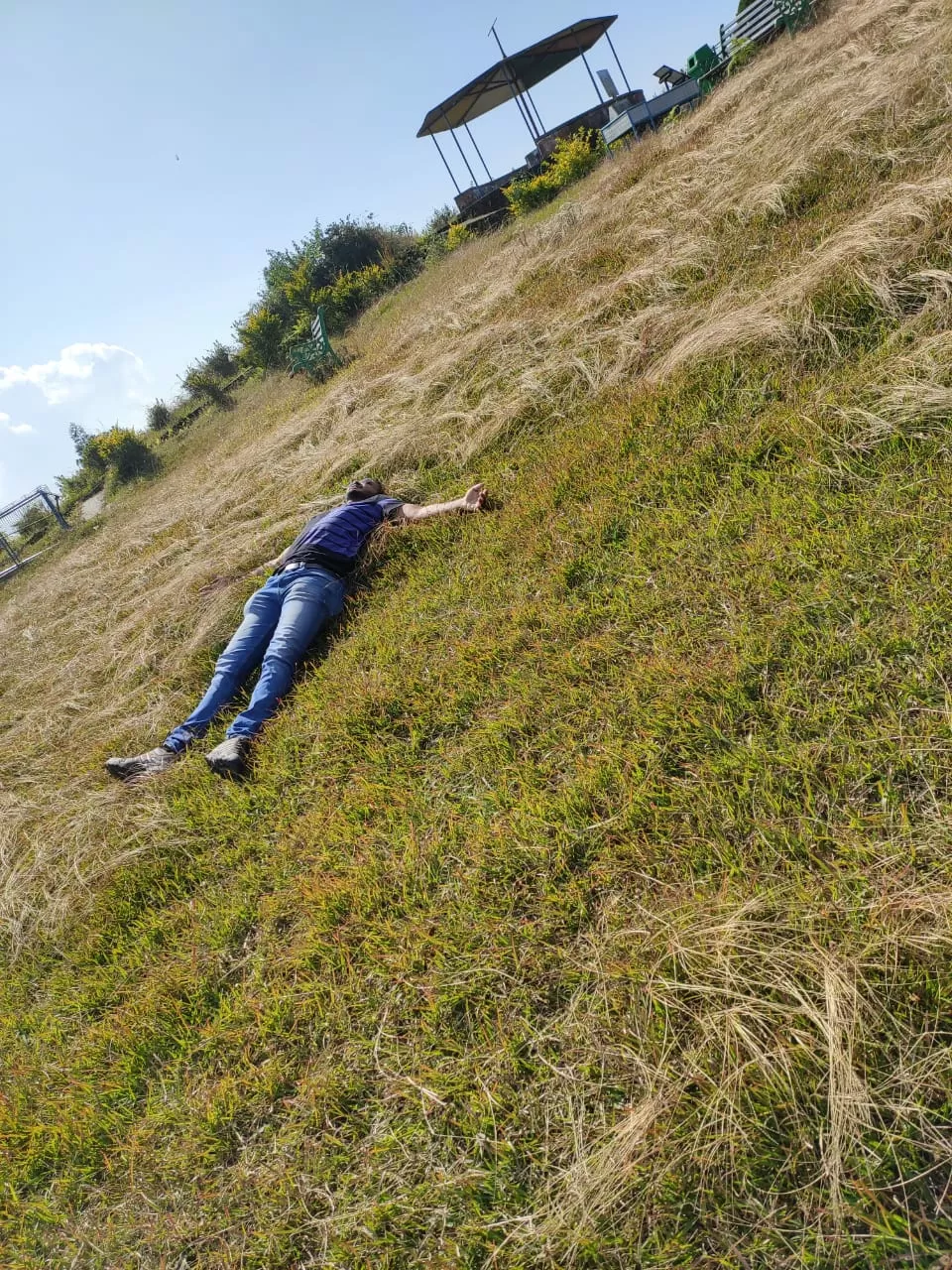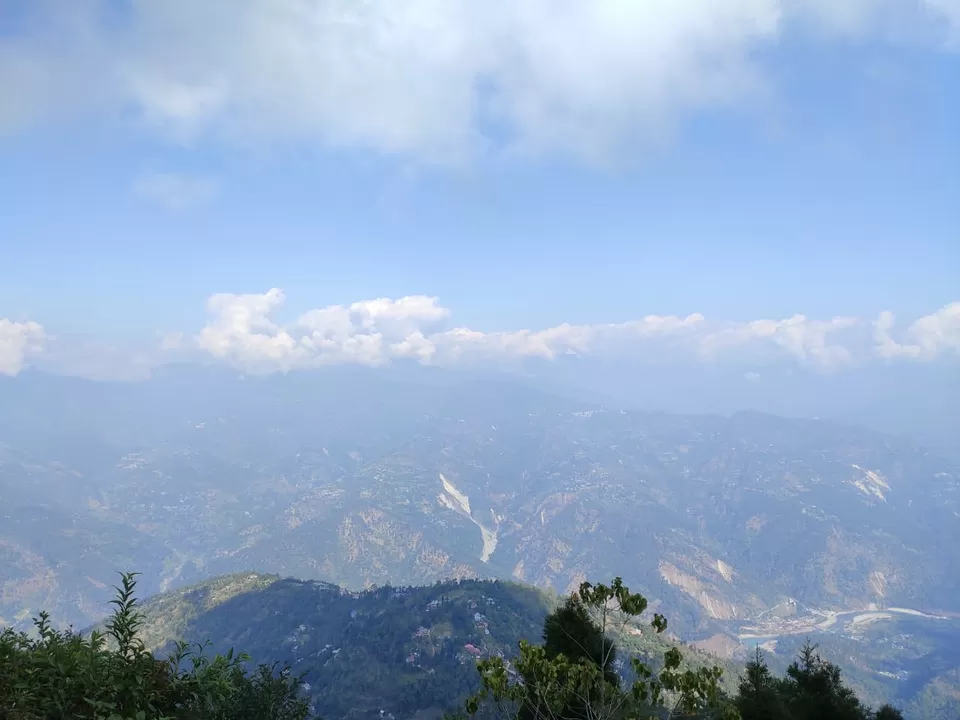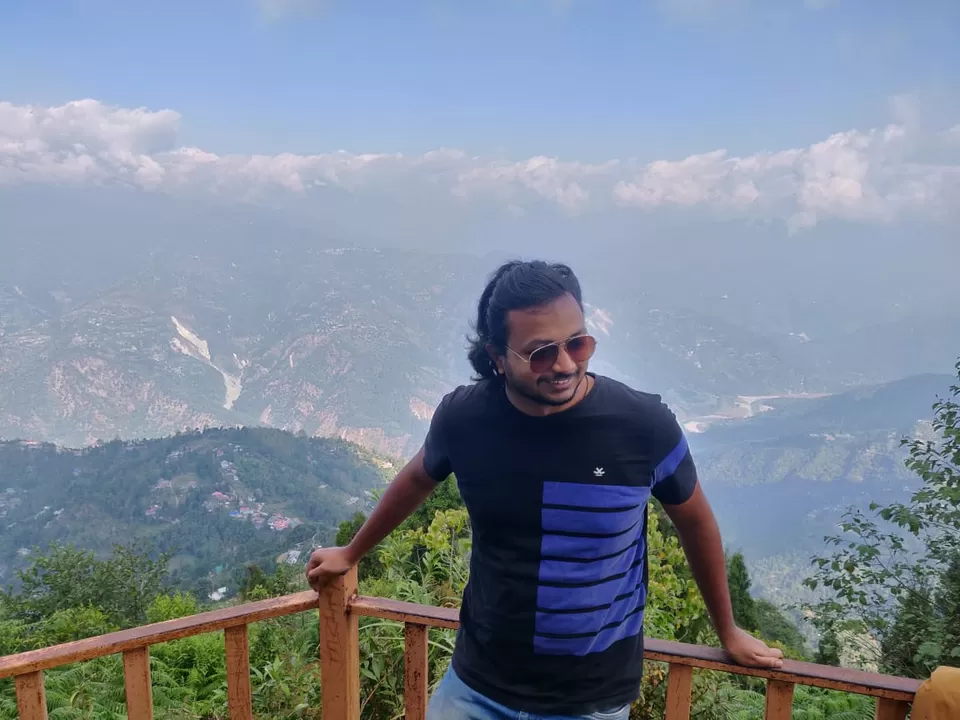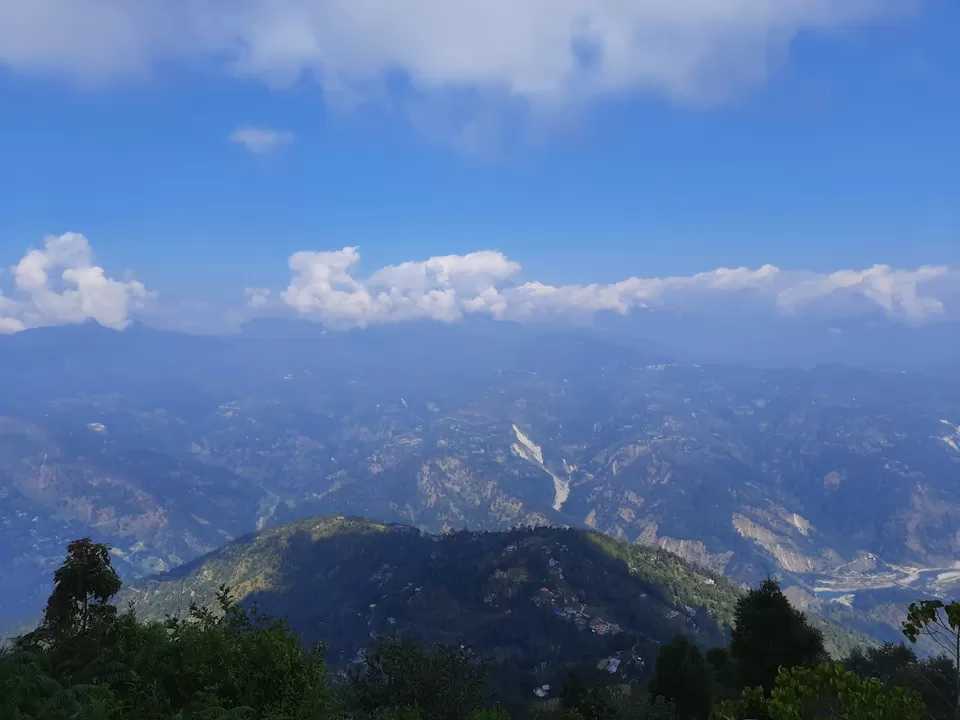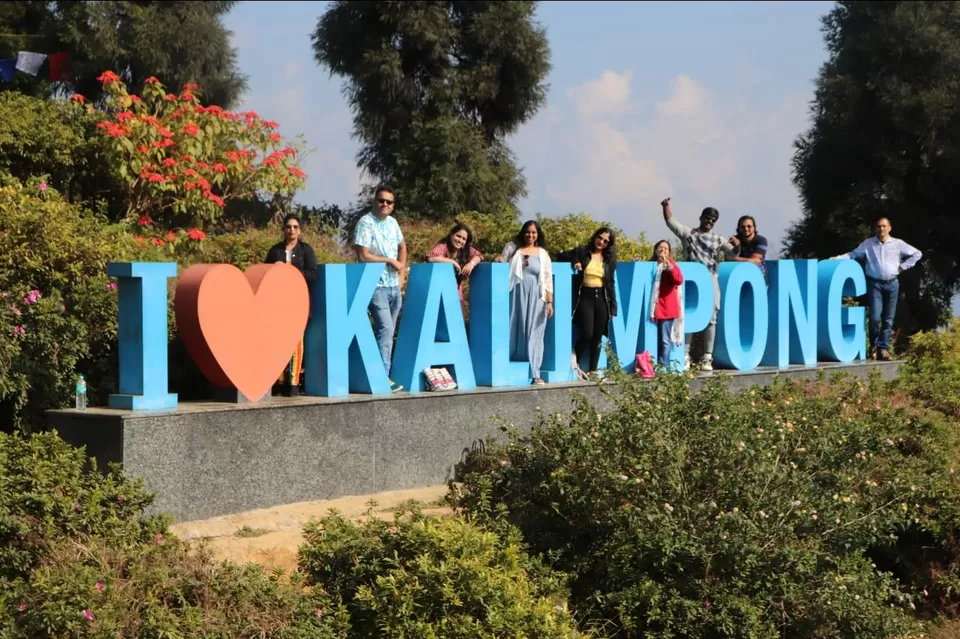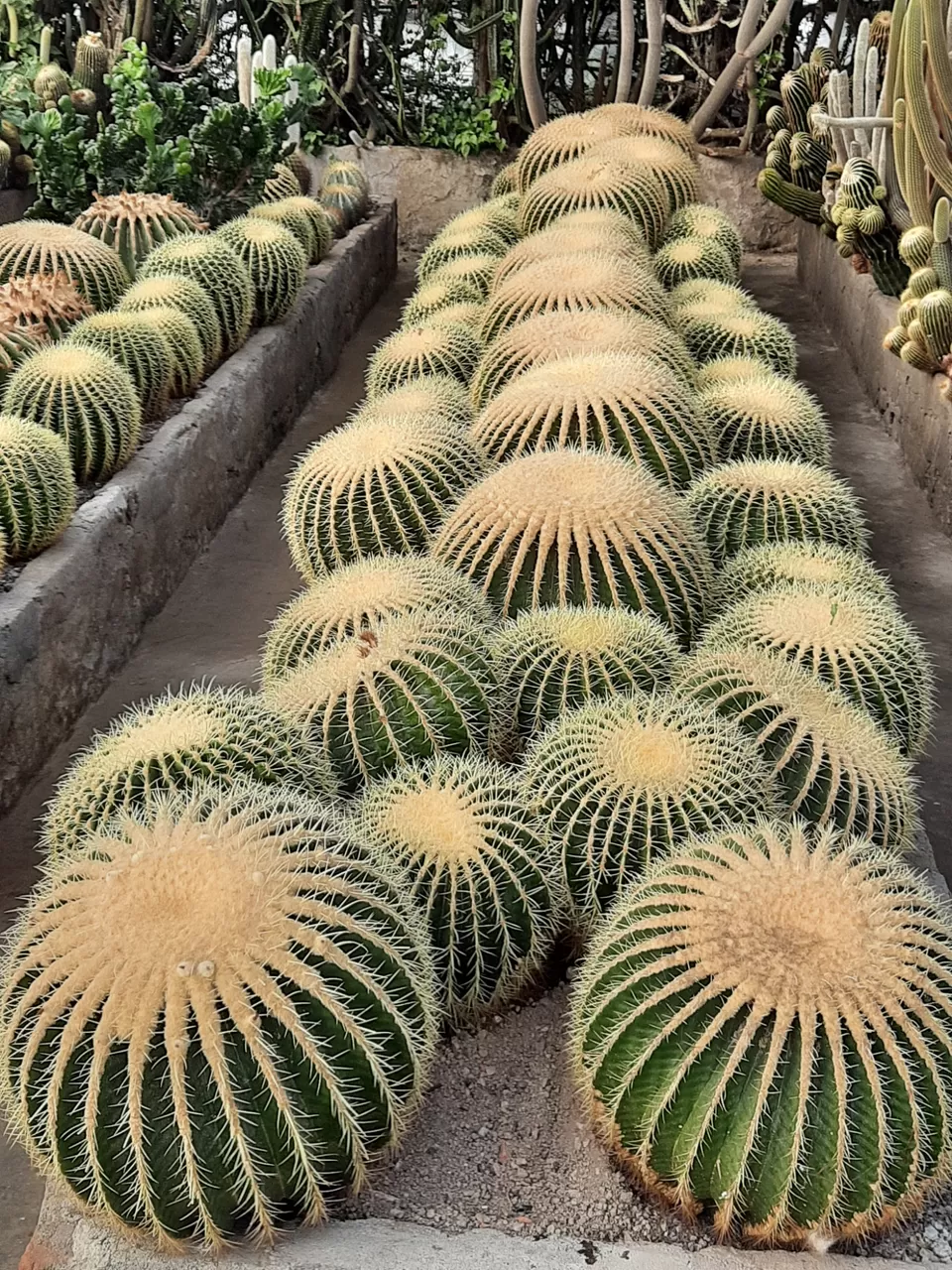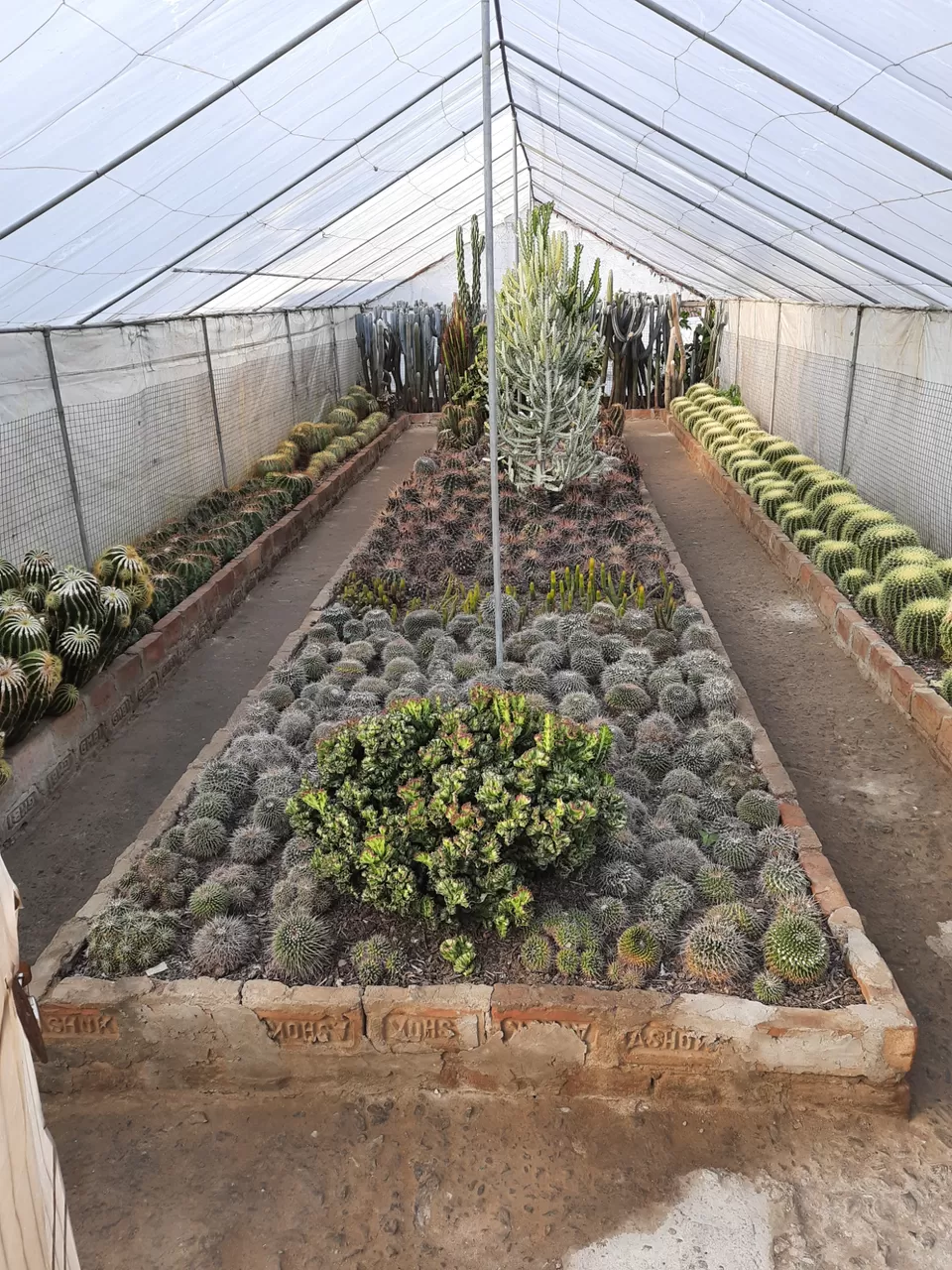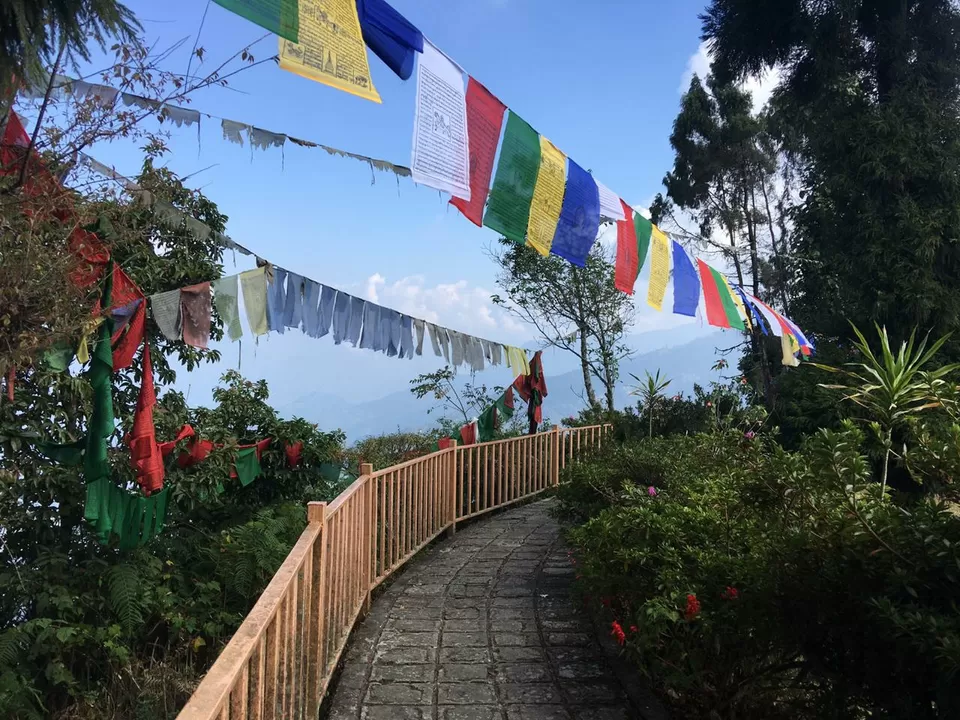 the day was eventful and we are leaving Kaljmpong the next morning
The day started with meeting a dog from my favourite breed, samoyed 😁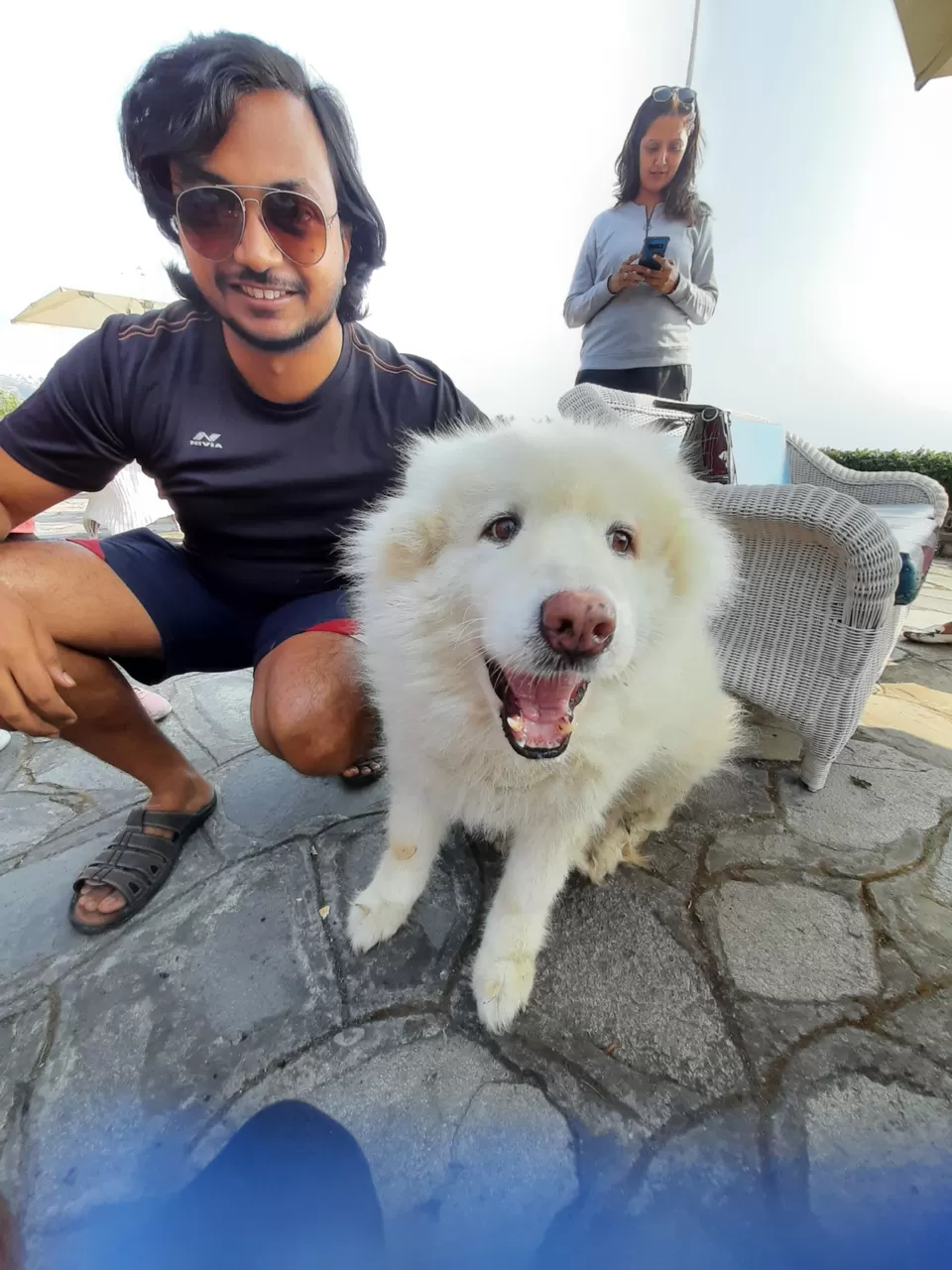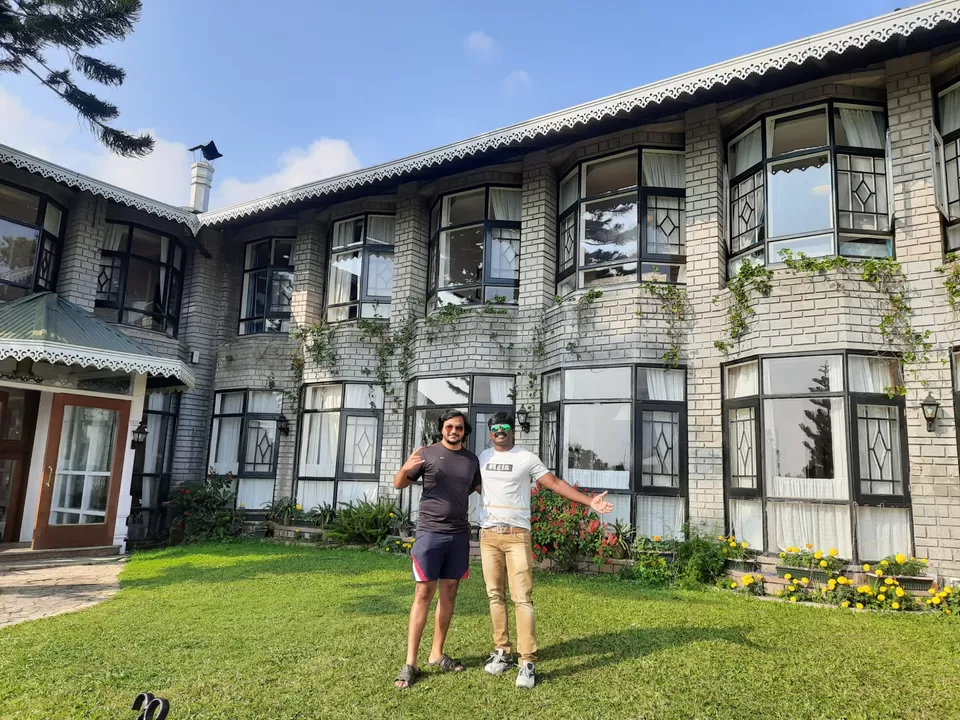 If you are feeling that something is not okay in the first image, don't worry you're not high, its just that the first picture above has been clicked while the photographer is falling down. Now you should be having a question, why is this guy wearing shorts in such a cold weather? Try guessing from the pic below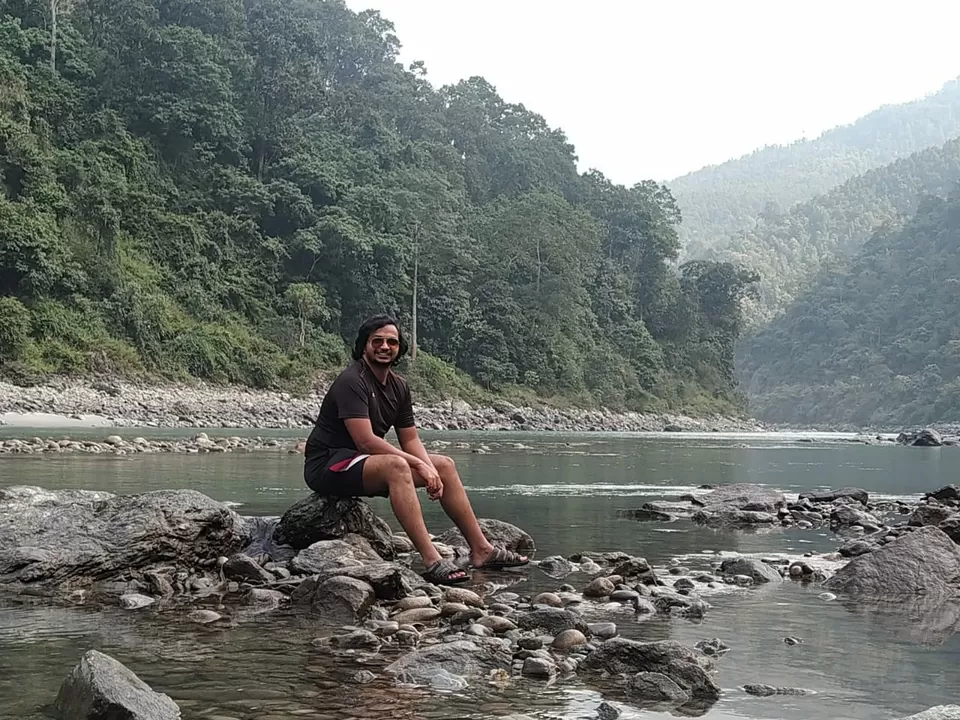 still no clue? River rafting!!!!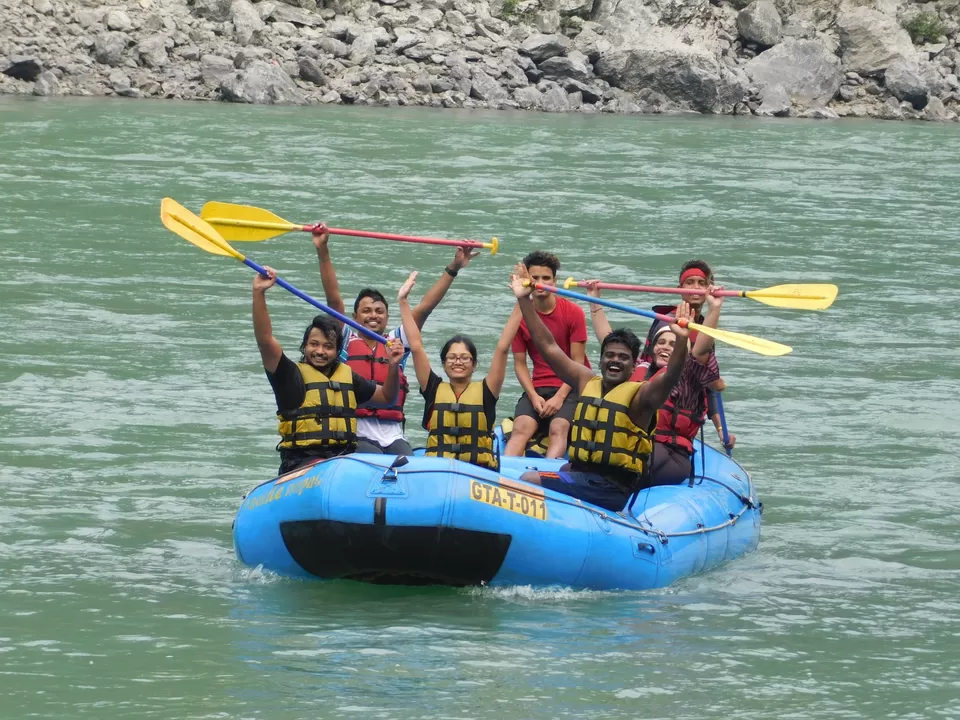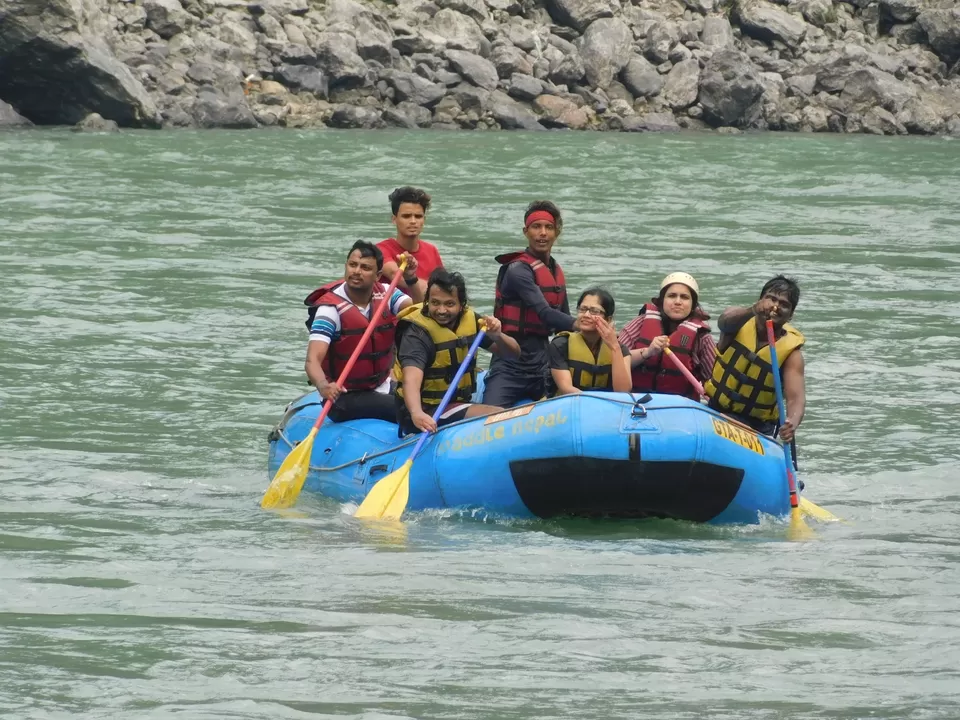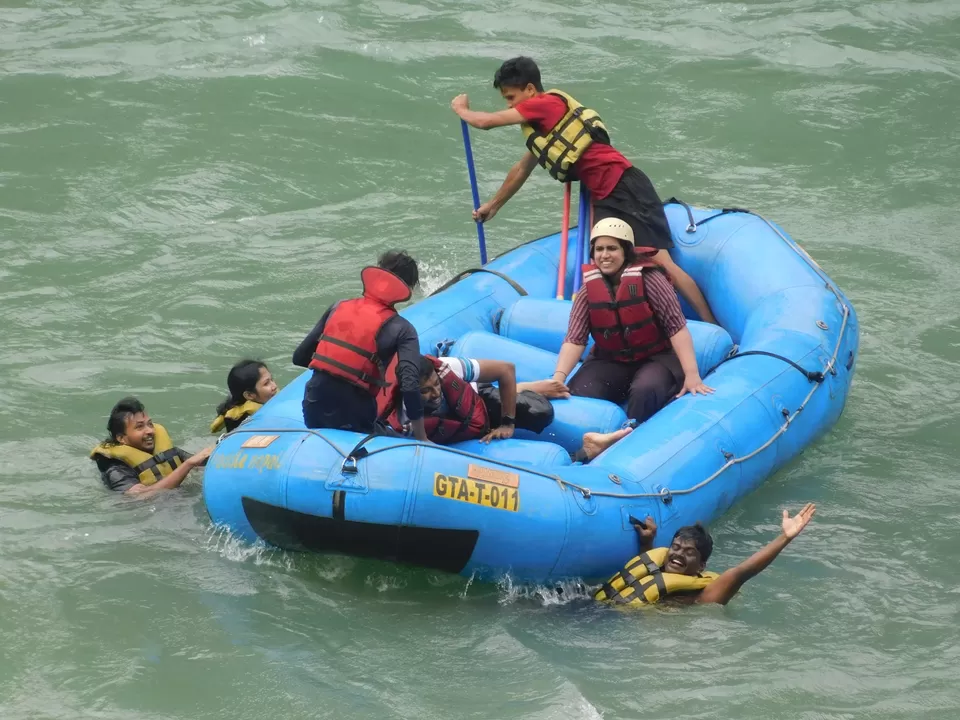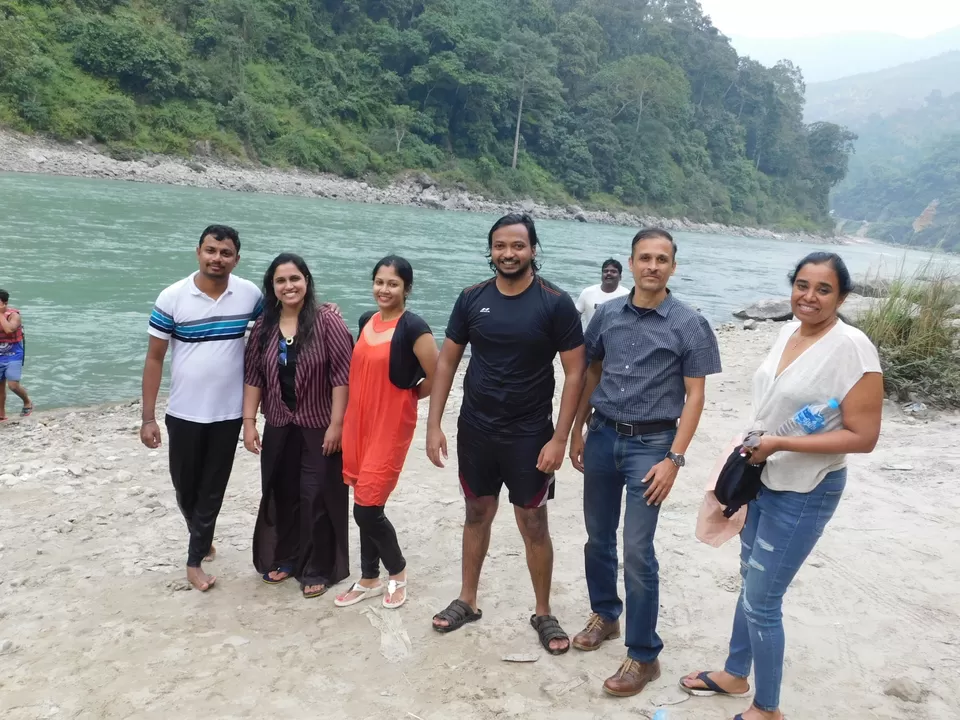 If you think that the climate was cold, the temperature of the water was even worse, we even confirmed it by toppling the boat and jumping inside the water but it was the best part and a lot of fun. Eventually we came out and teased the rest of the crew who chose a less exciting route to raft.
PS : they deserved it 😛
That was the end of the rafting part and now we were on our way to Peling and we stopped at a dhaba for lunch. There I realized that I was glowing from the water of teestha river where we rafted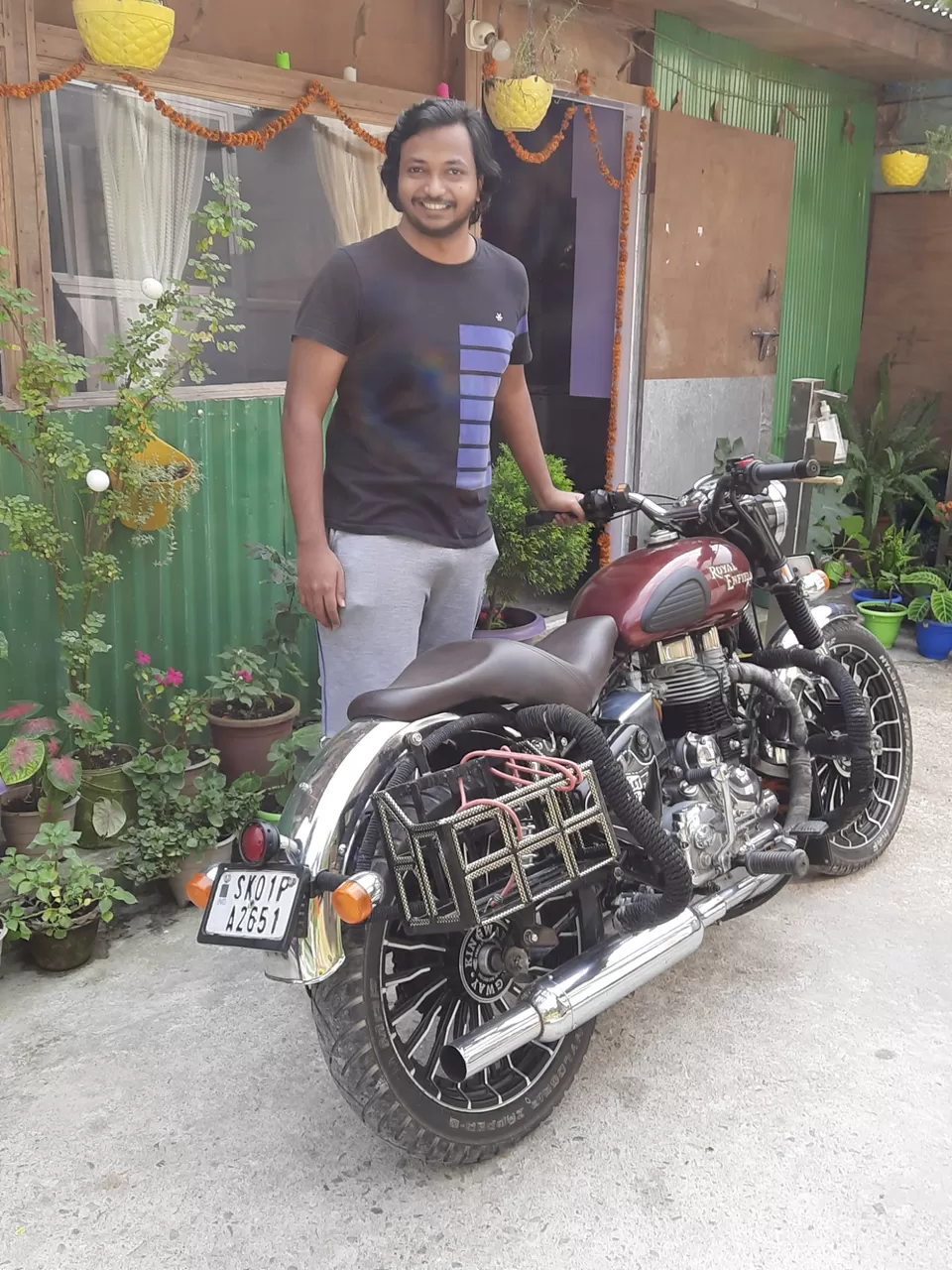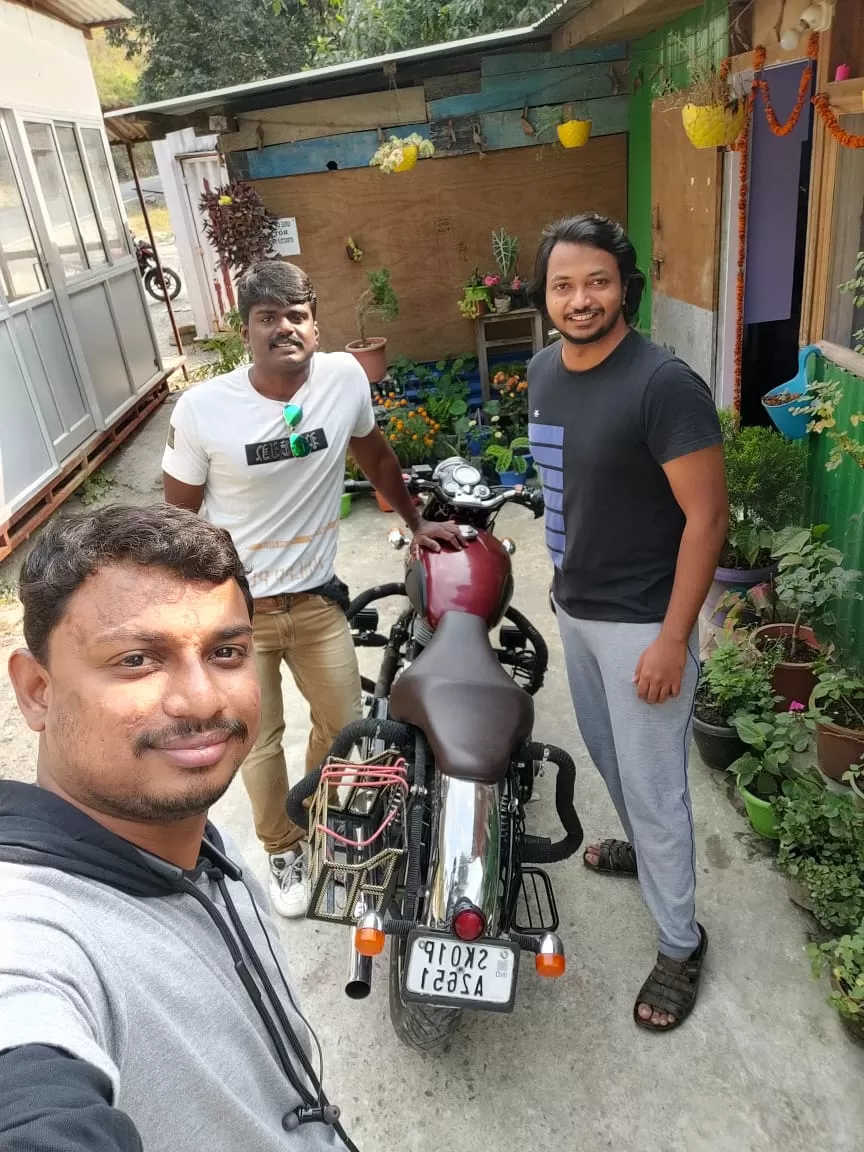 the bike was very nicely modified so we posed with it. Few interesting facts about the dhaba we stopped was the view from its washroom, the sheer number of German Shepherds they had along with Danny Denzongpa's beer, don't know whom he is? Google madi.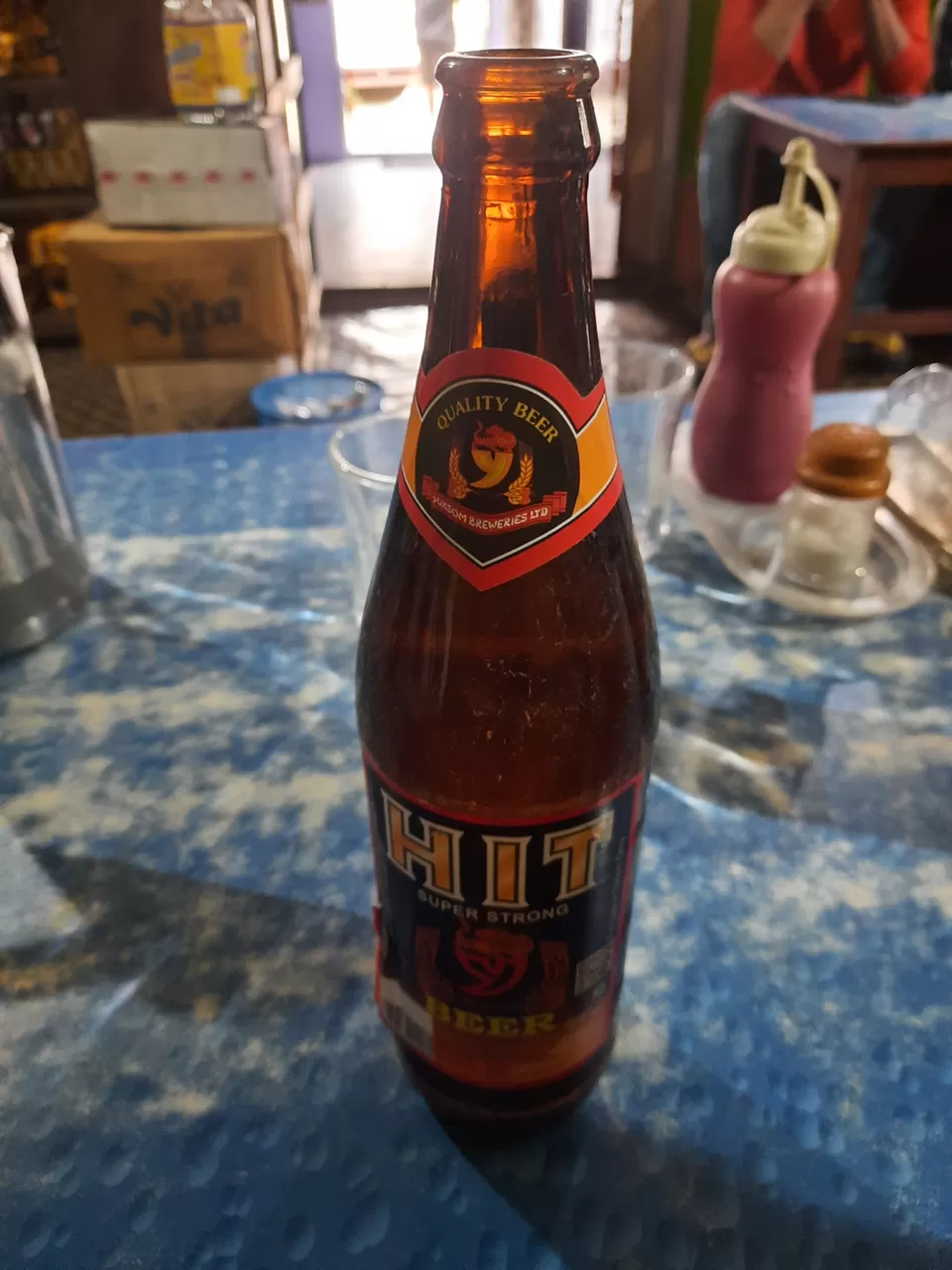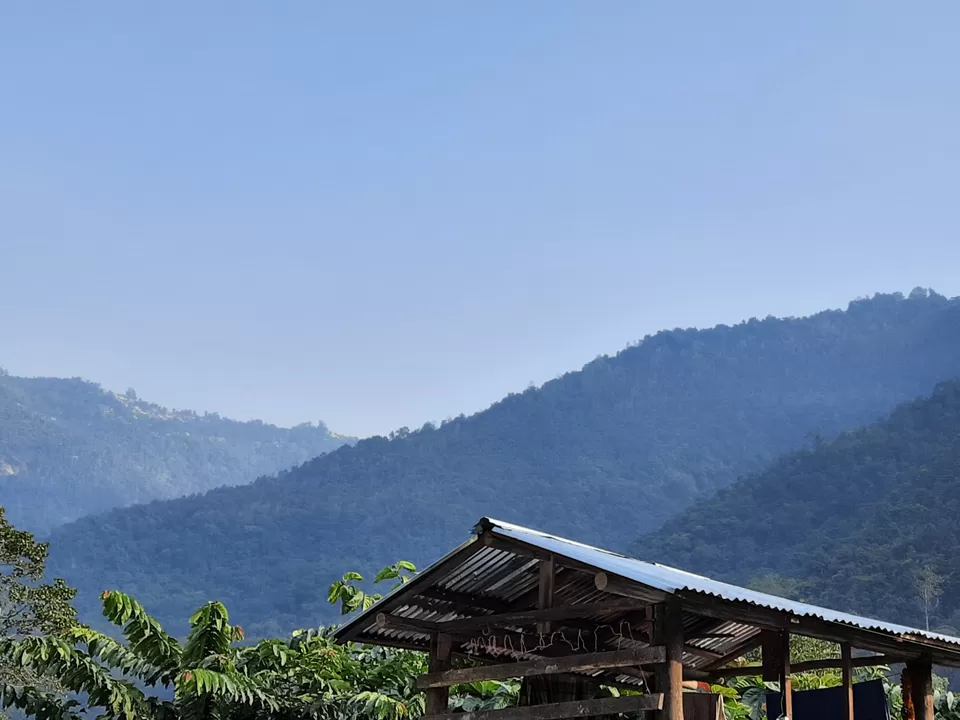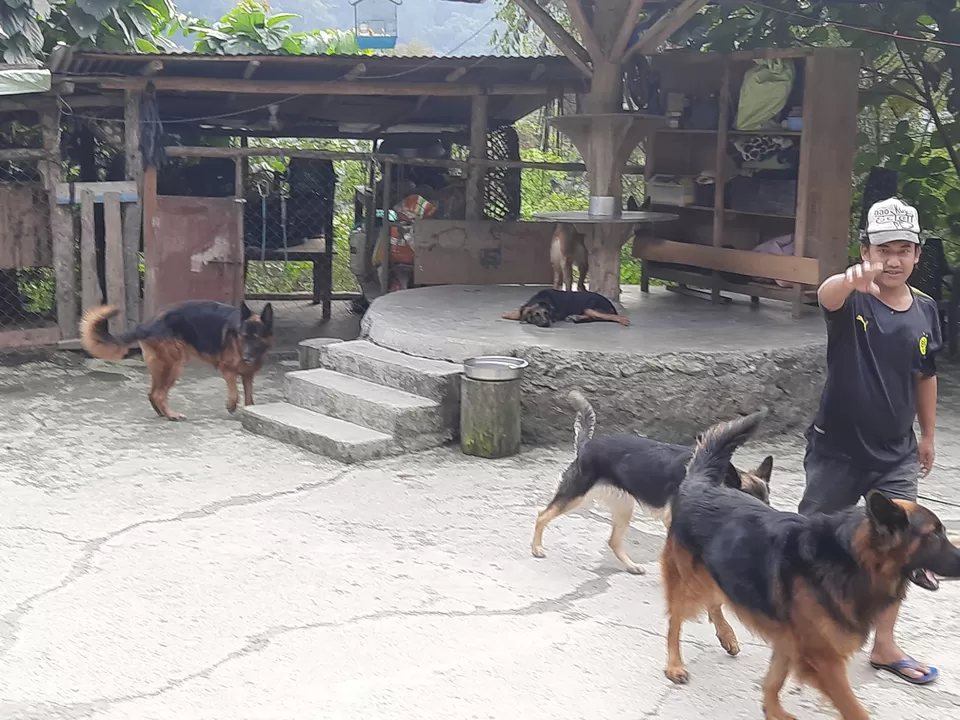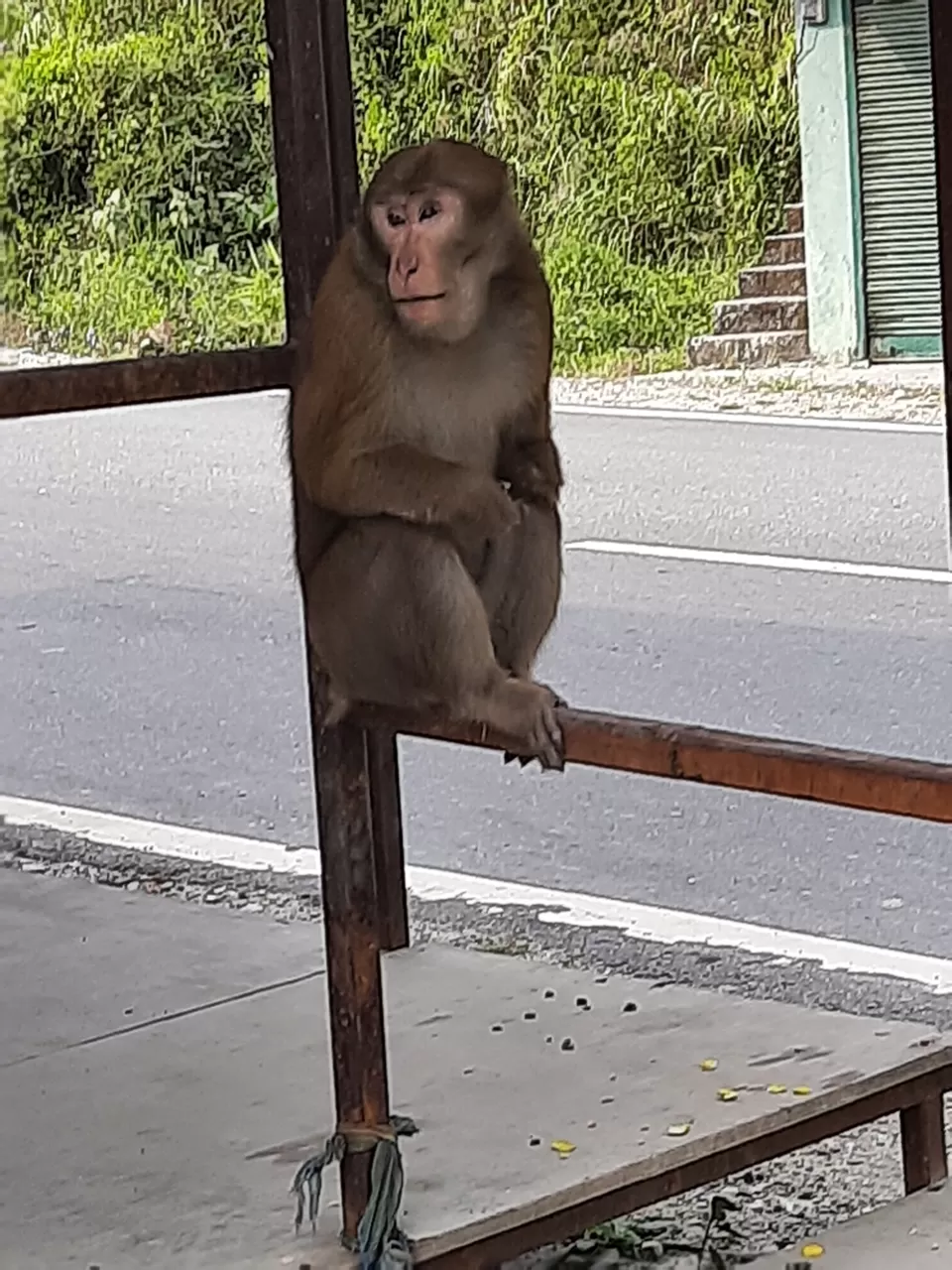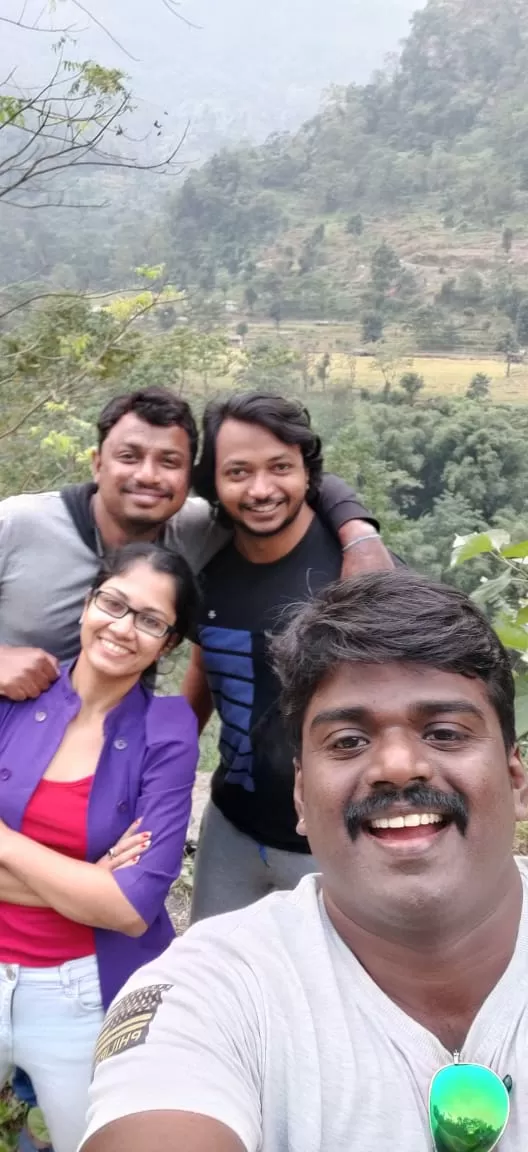 the 4th picture above was a special guest appearance by a monkey who wanted to try out Danny's beer. If you want to know what happens when a monkey drinks beer? Check the link below
https://youtu.be/JJZmZwr0i2Q
After the break we continued to Peling with nice music in the car and beer in the belly.
Reached Peling, rested for the night. Apparently negative temperatures are their room temperatures during winters. Got to flex my leather jacket and we headed out for exploration.
The day started out to be a tad spiritual as we covered khechioplari lake(holy lake for buddhists), chenrezig monestary. From there we visited kanchanaganga waterfalls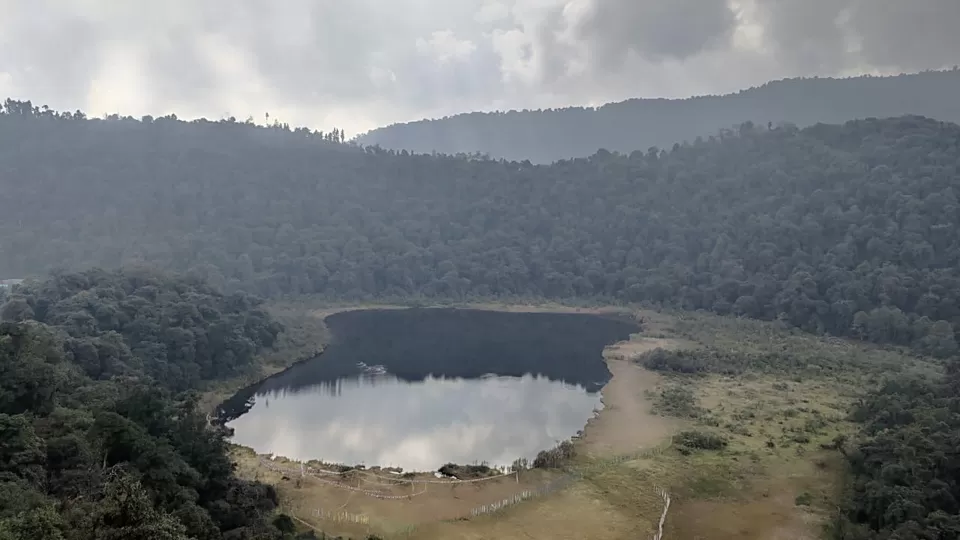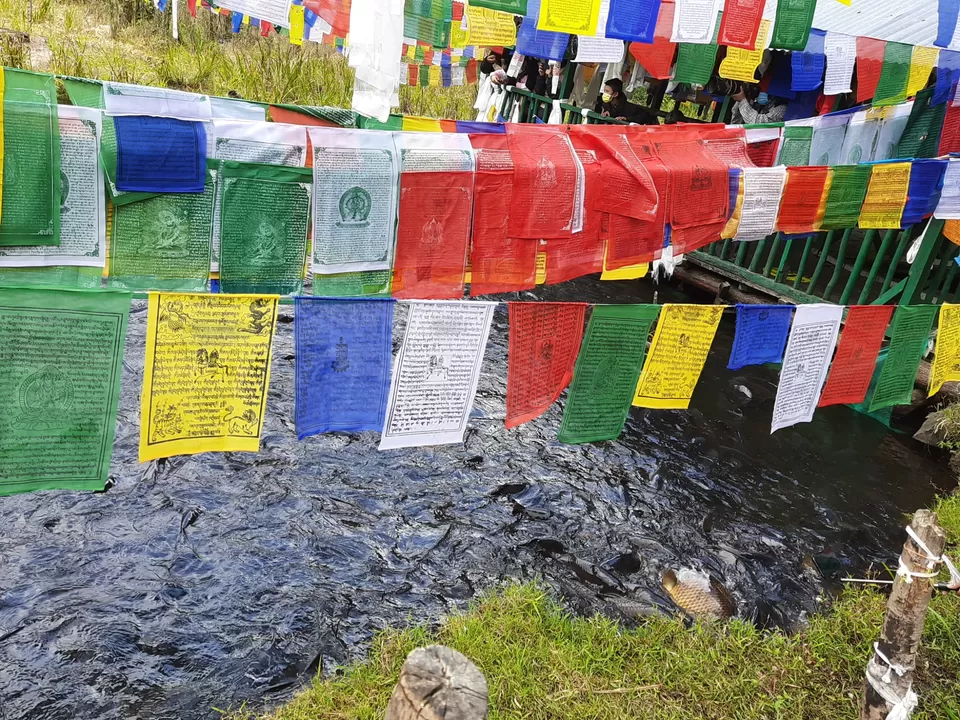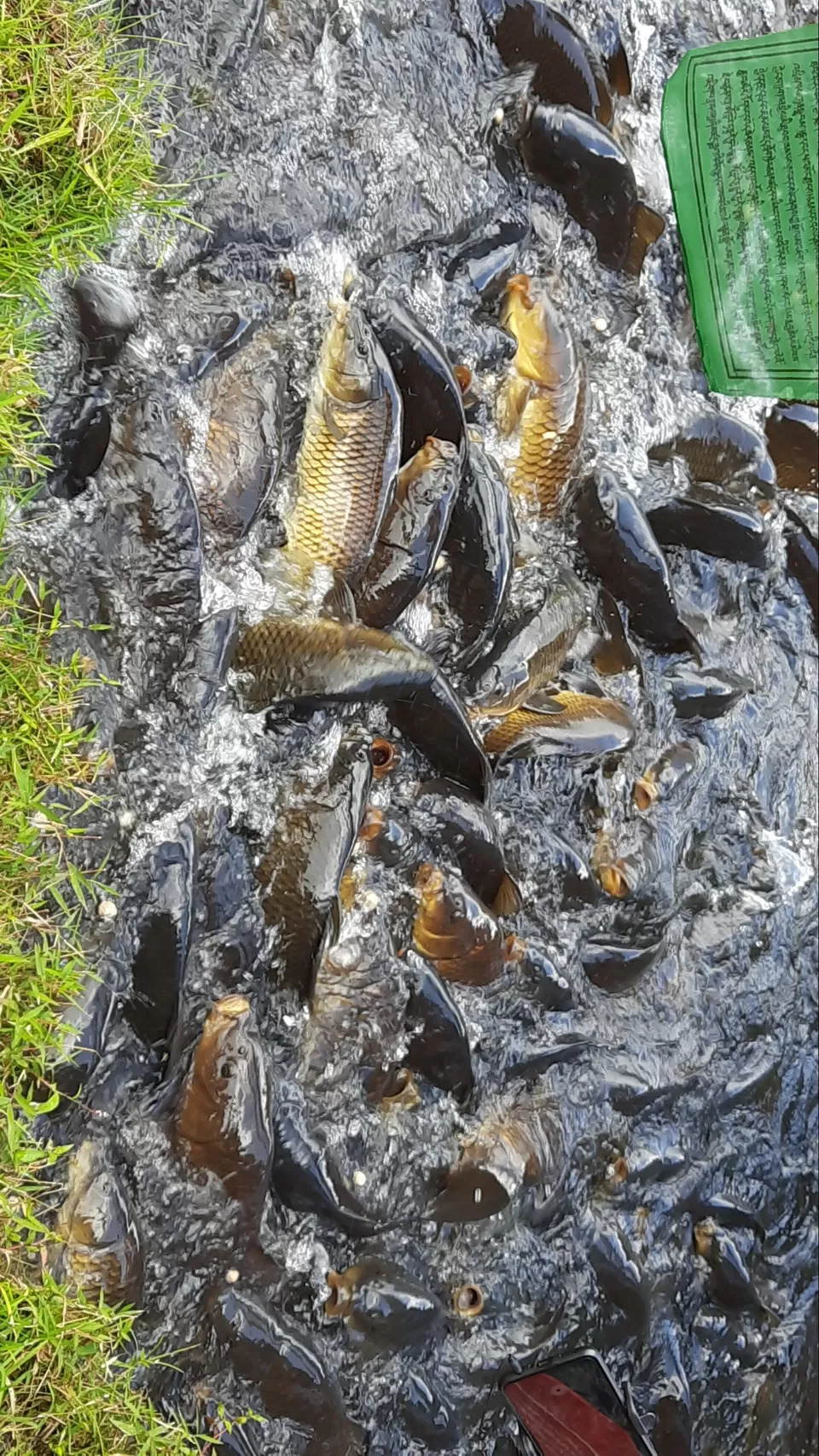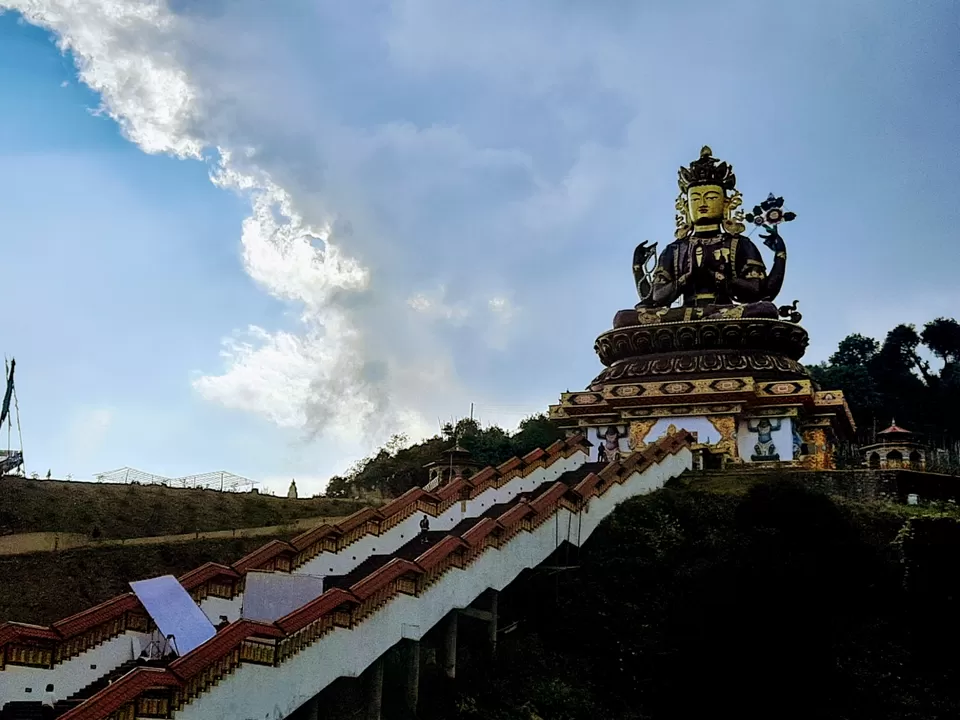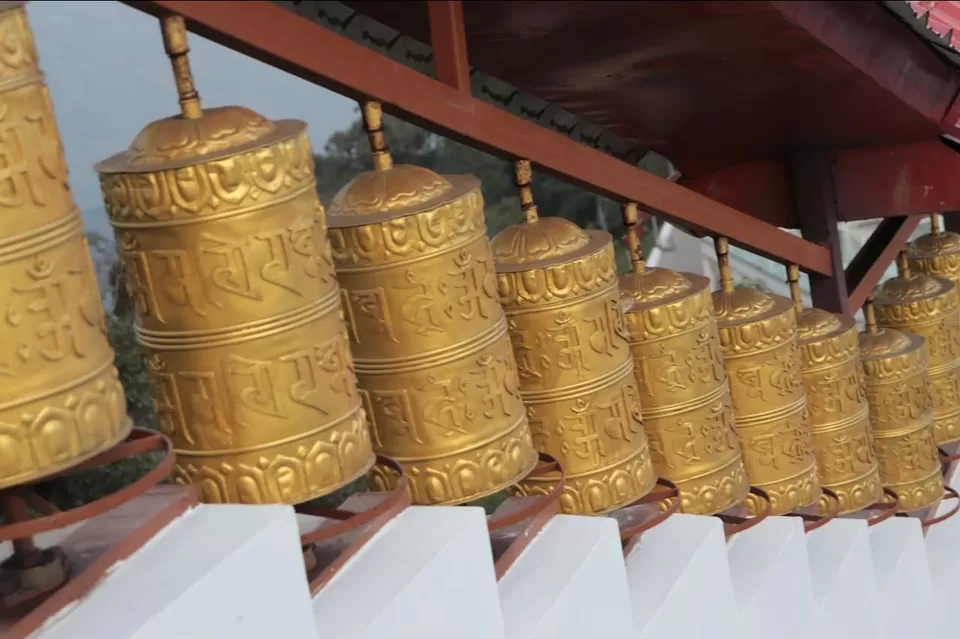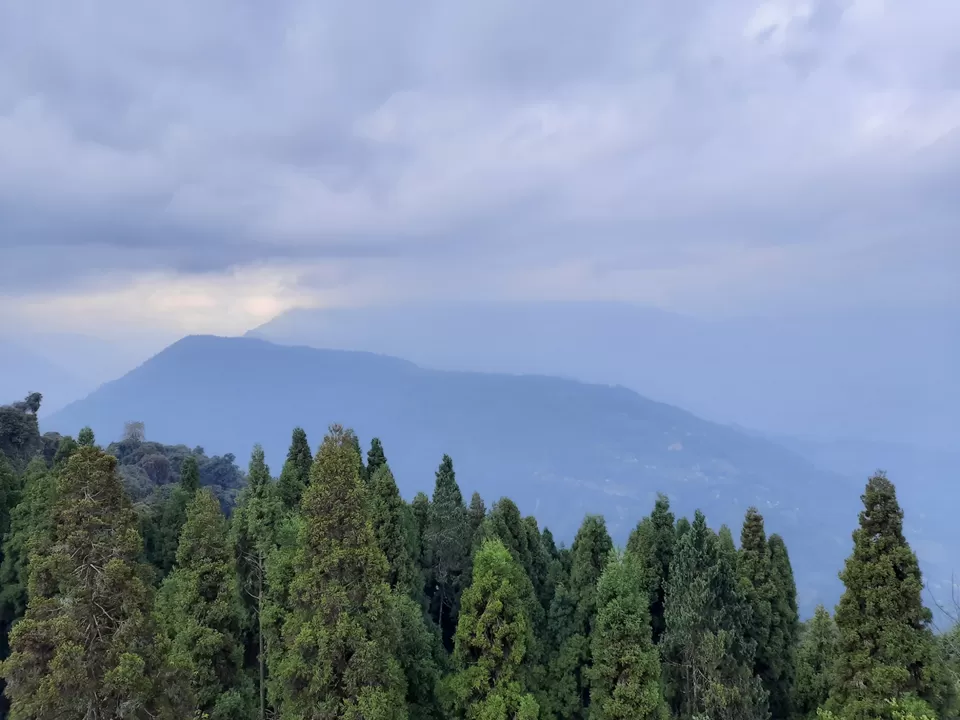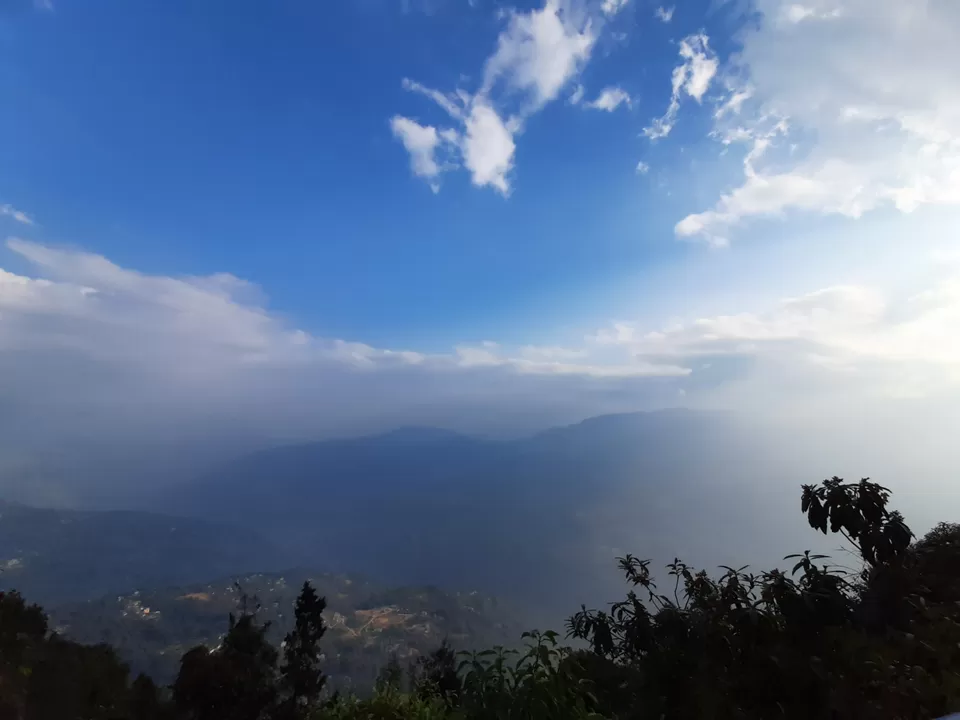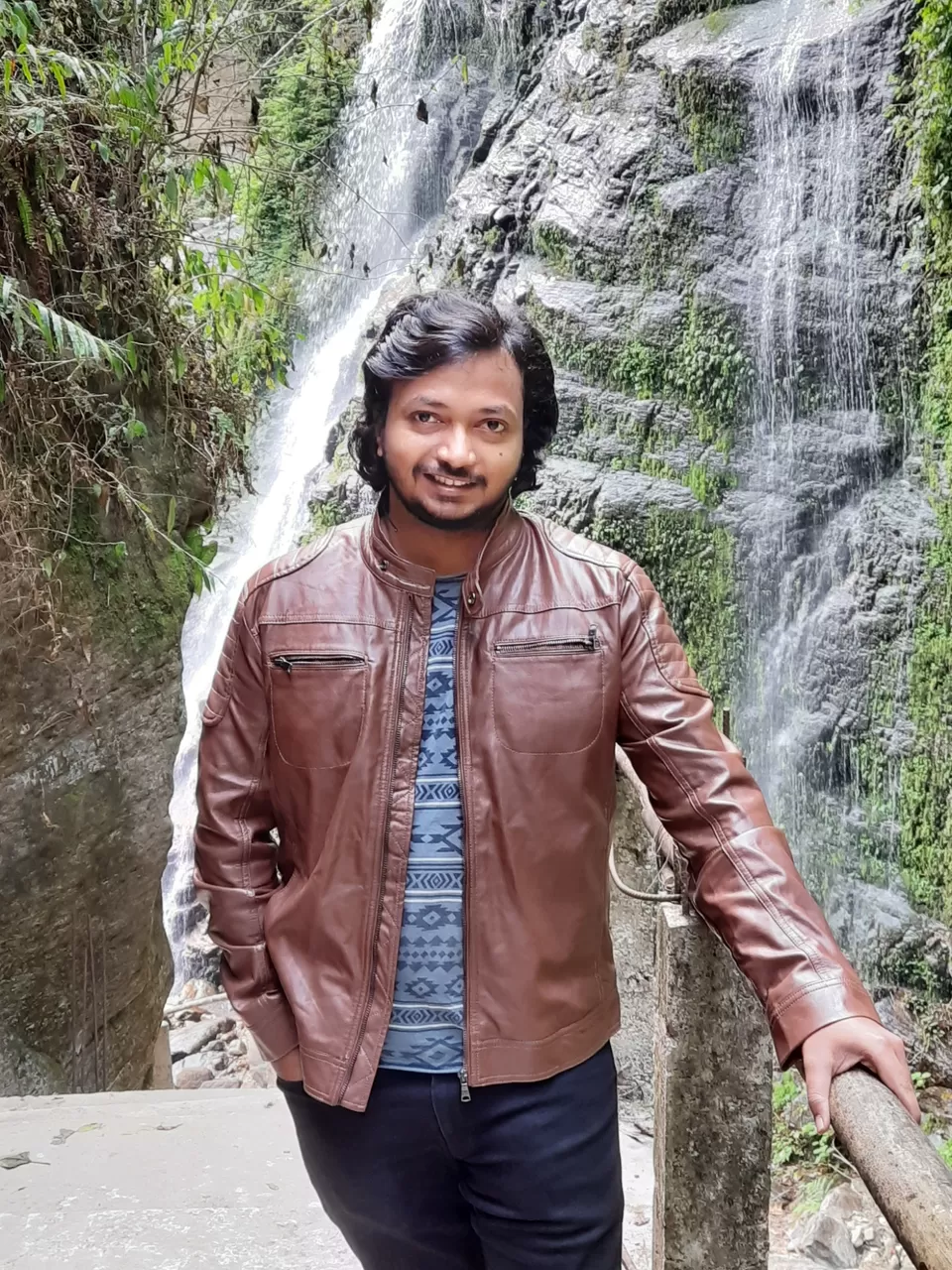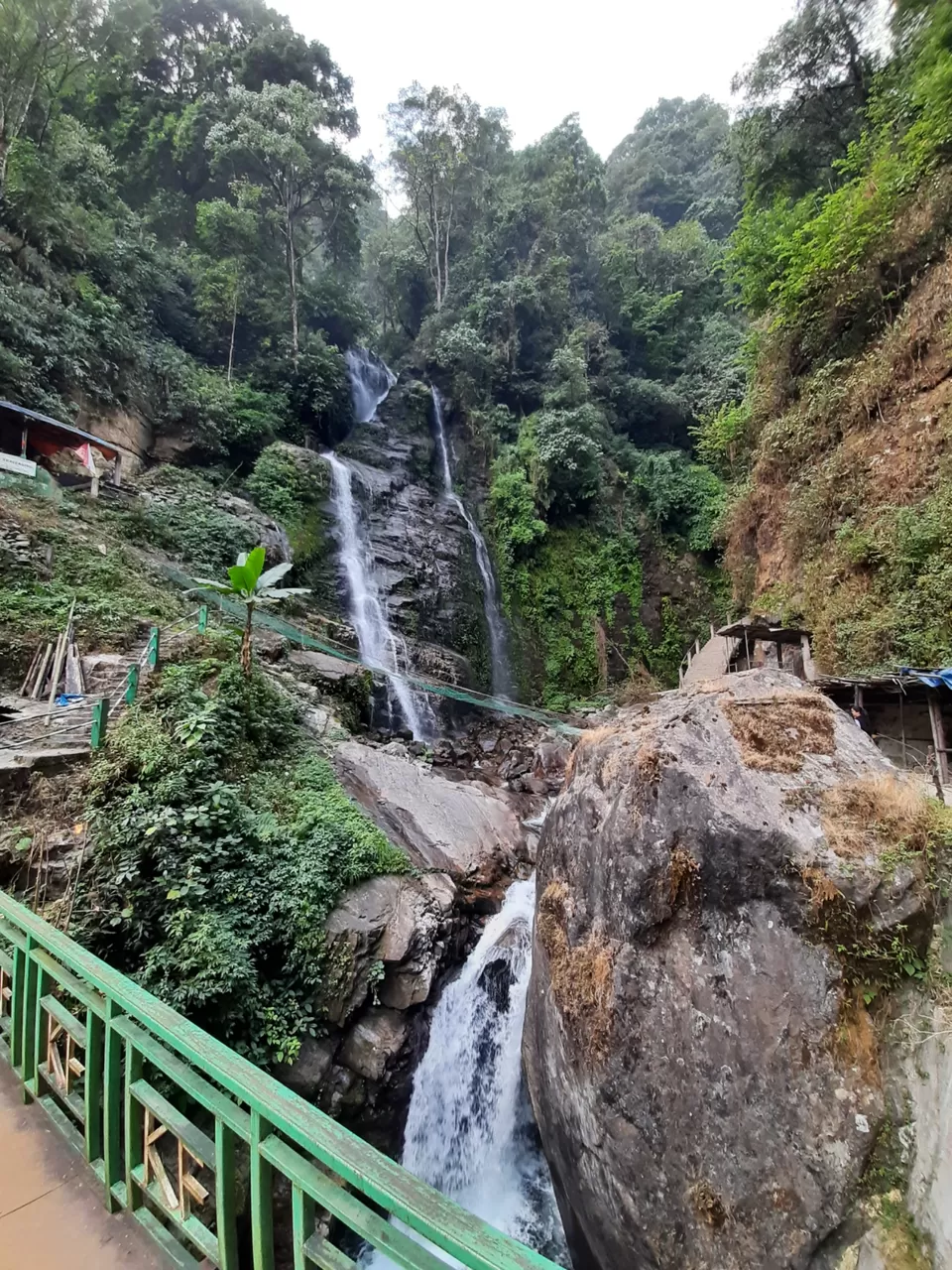 kanchanaganga falls turned out to be a slight disappointment dur to the lack of water but atleast we got to visit it. We were done with the day, went back to the resort and rested.
The day started early only for 4 members out of the 15 members crew as only we dared to face the bridge's height (happened to wake up early) of the 2nd highest bridge in Asia, the Singshore bridge. My pants were slipping during the entire time as I didn't had a chance to wear my belt as I was rushed to the car right after I woke up to visit the bridge, I couldn't take many pics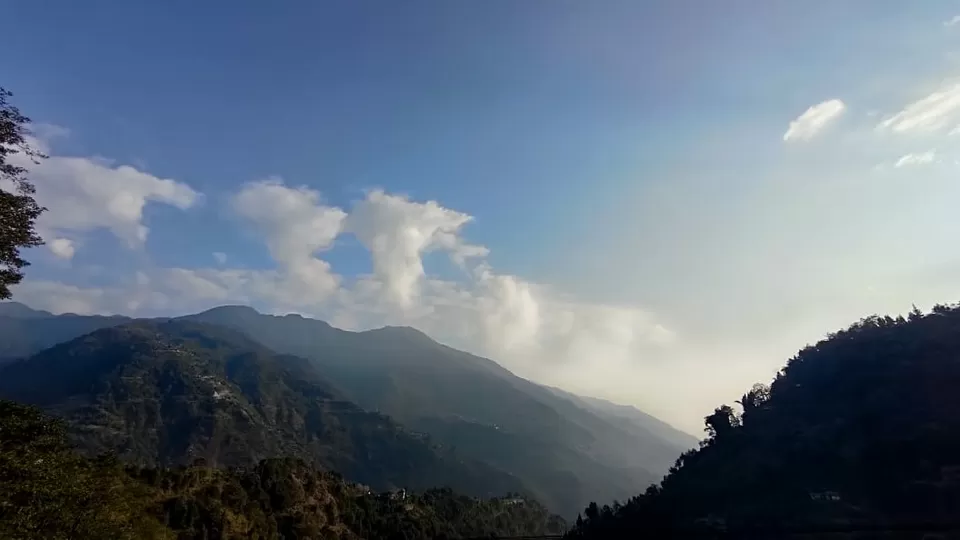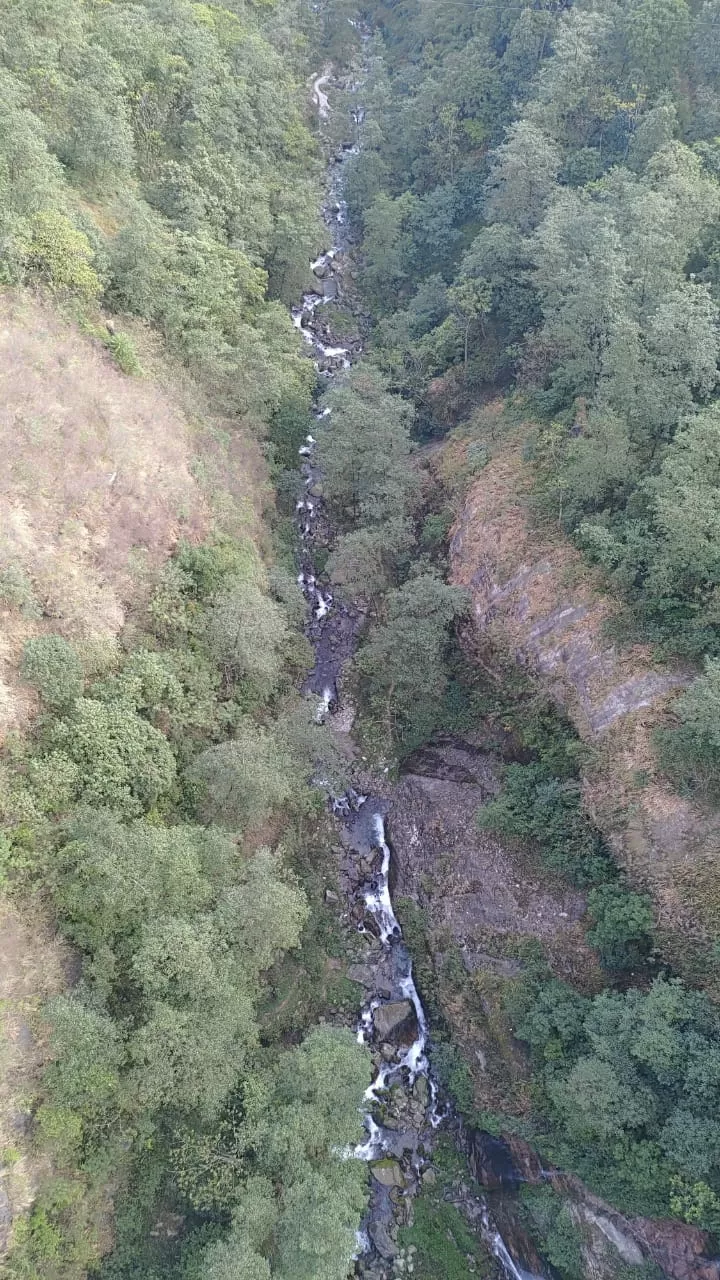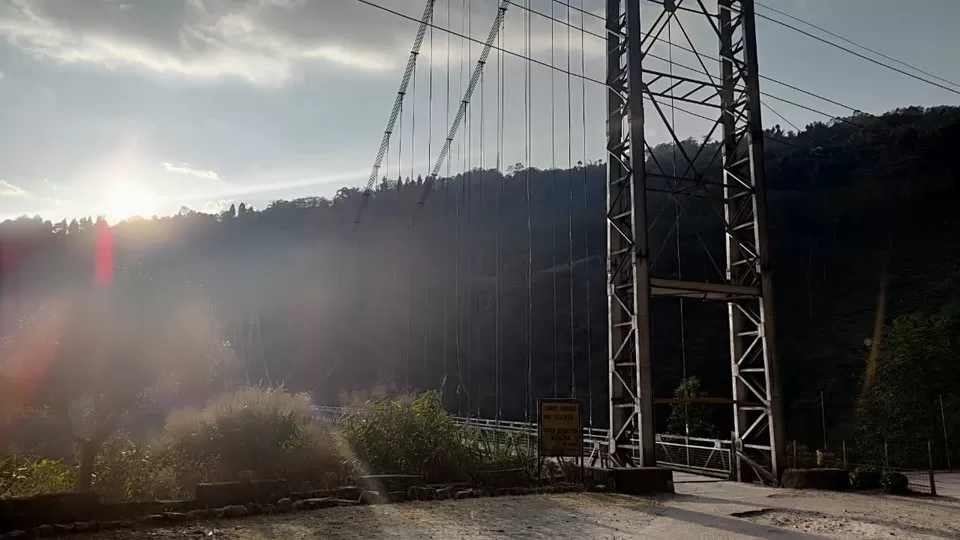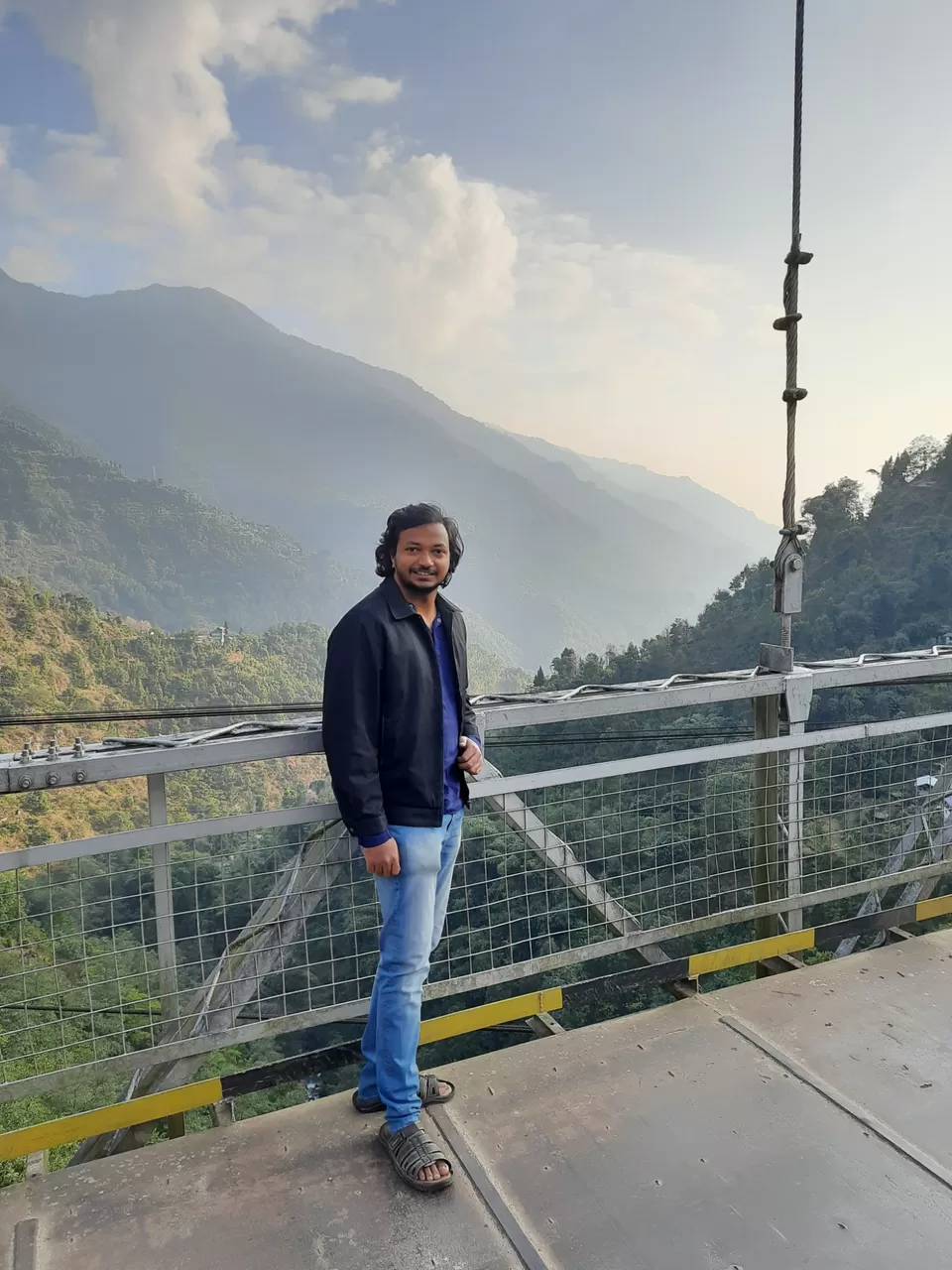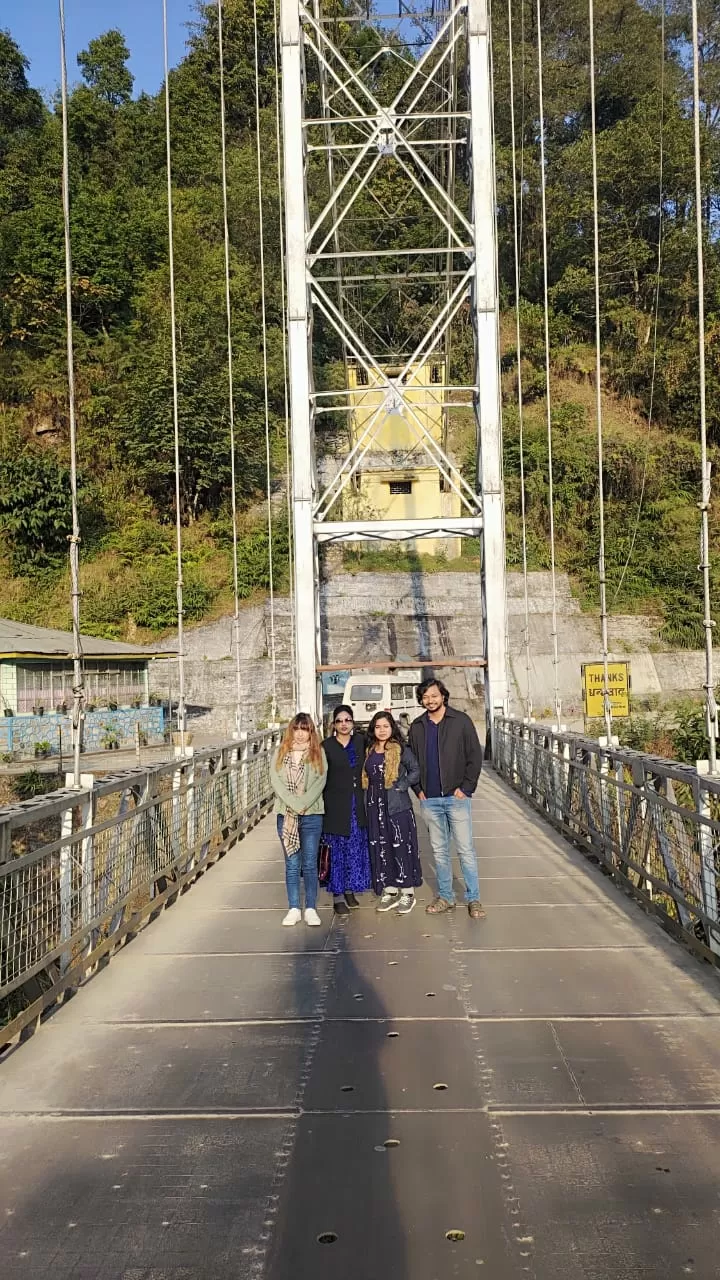 then we went back to the hotel, I got to wear my belt (yay!) And continued te rest of the journey. There is apparently a miniature version of Chardham which we visited and buddha park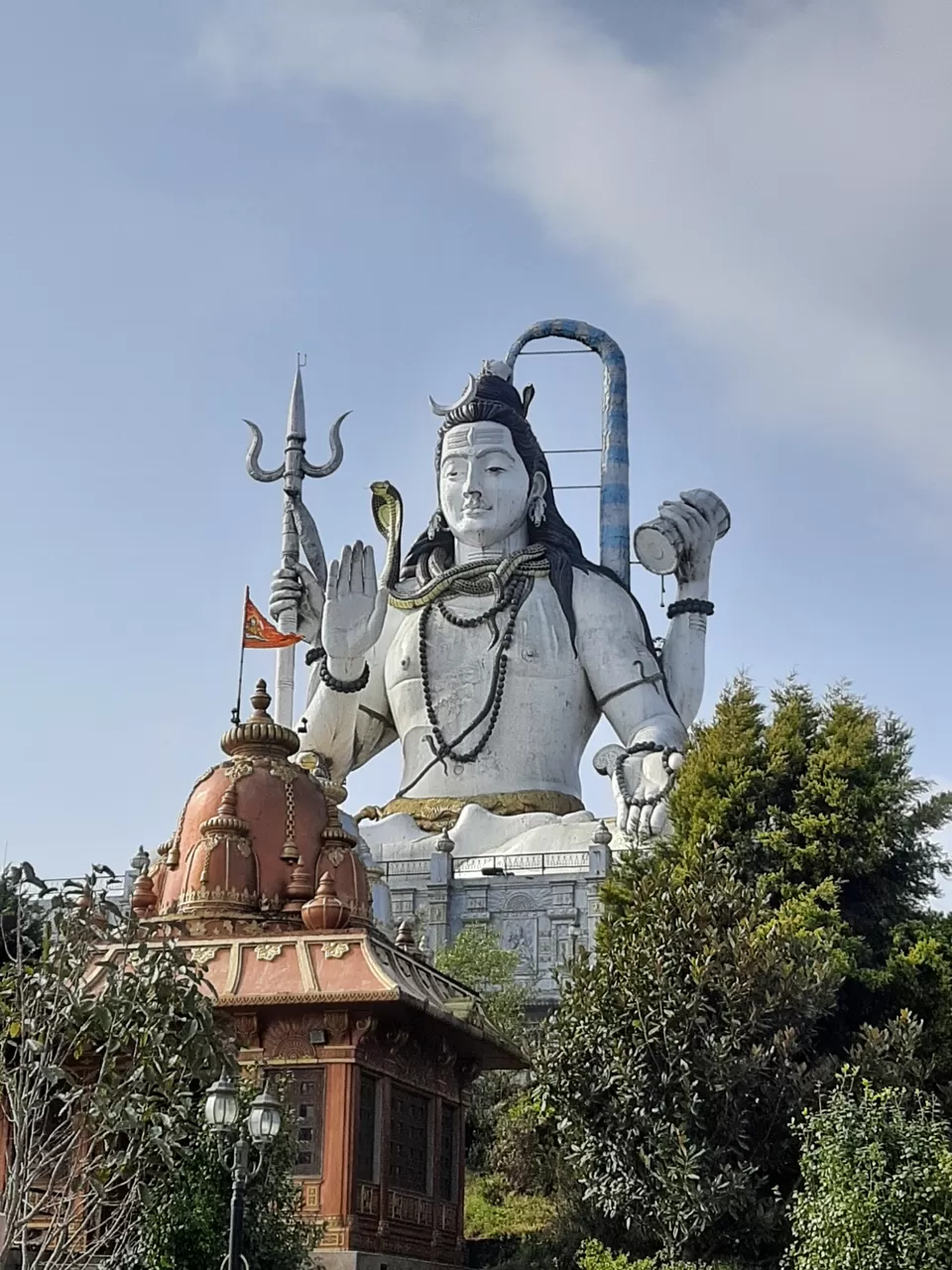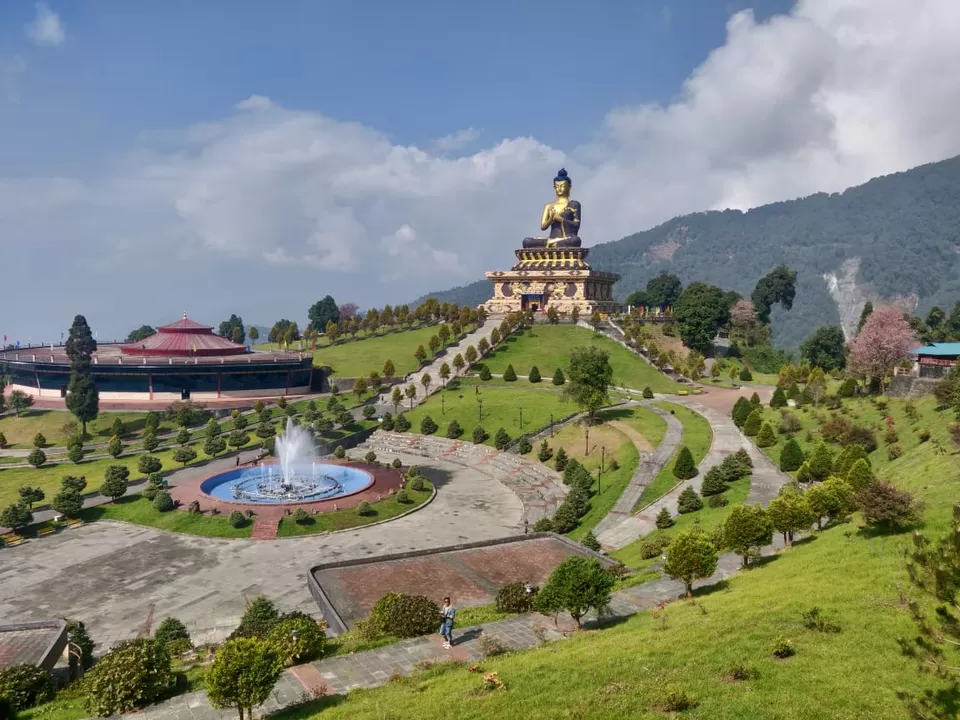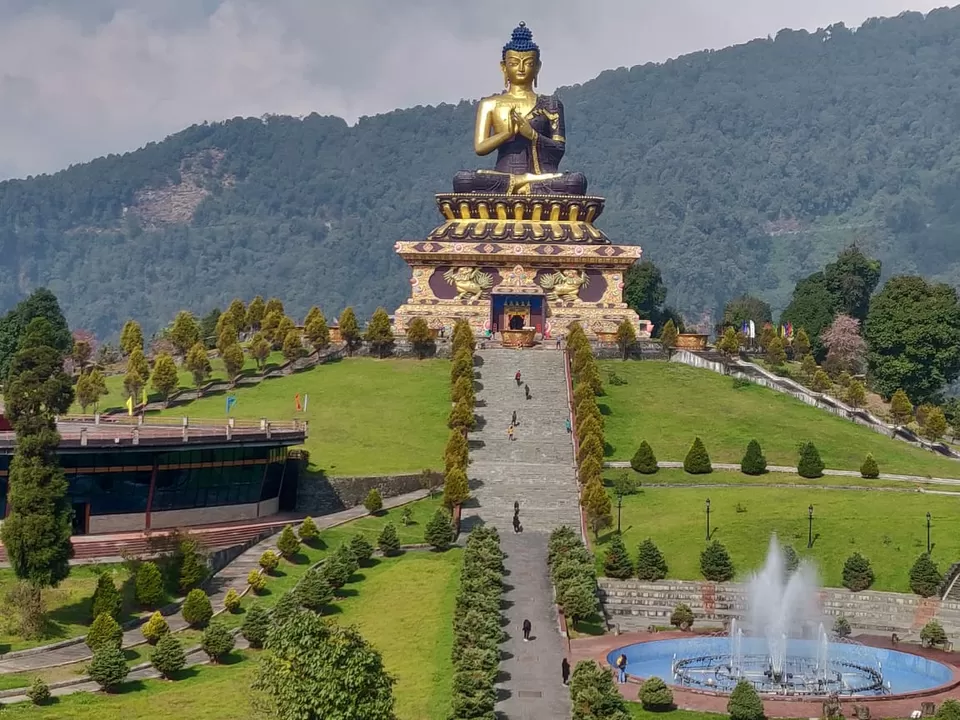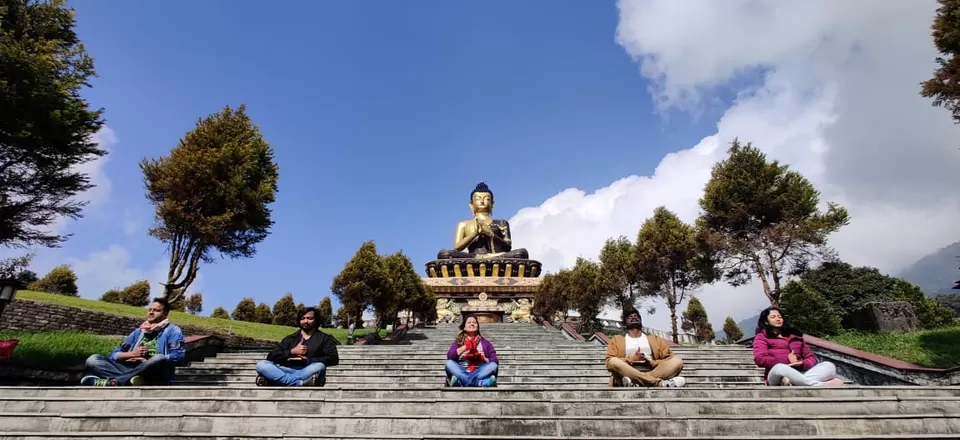 done and dusted for the day, its time for Gangtok
The first day of Gangtok trip was filled with serenity, sub zero serenity to be precise. We were gonna check out Tsomgo lake, Baba mandir and Nathung la pass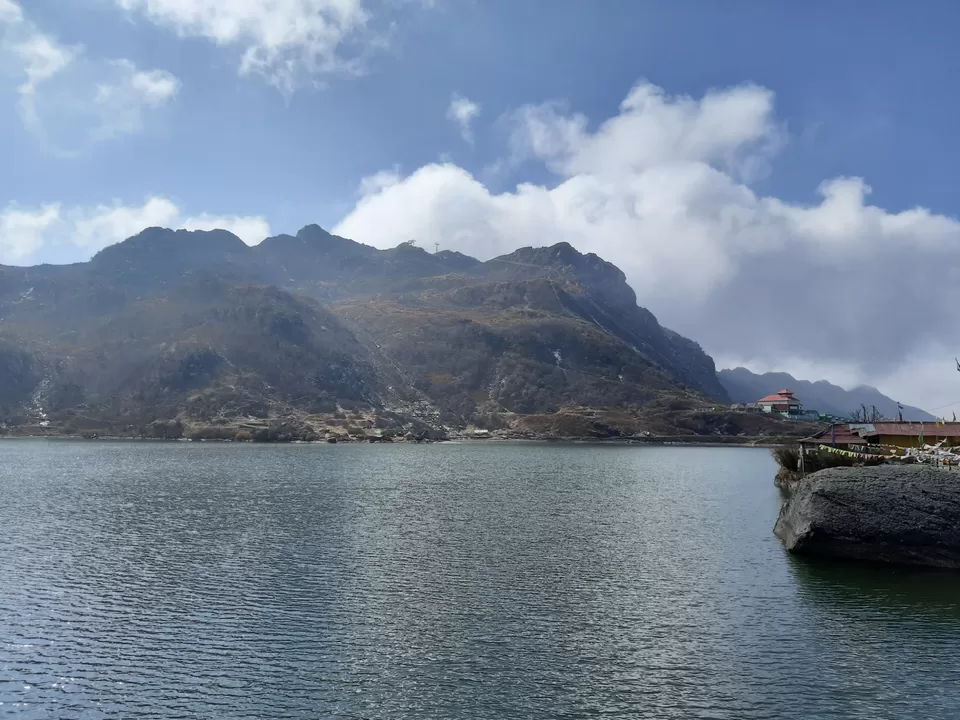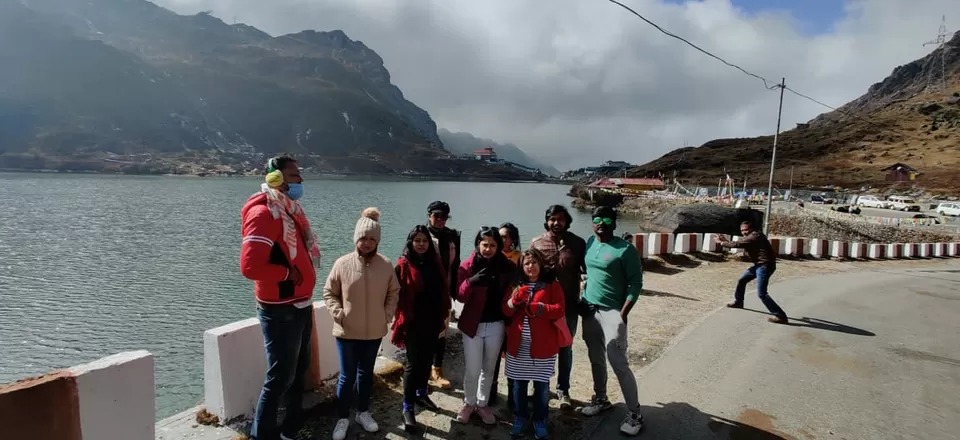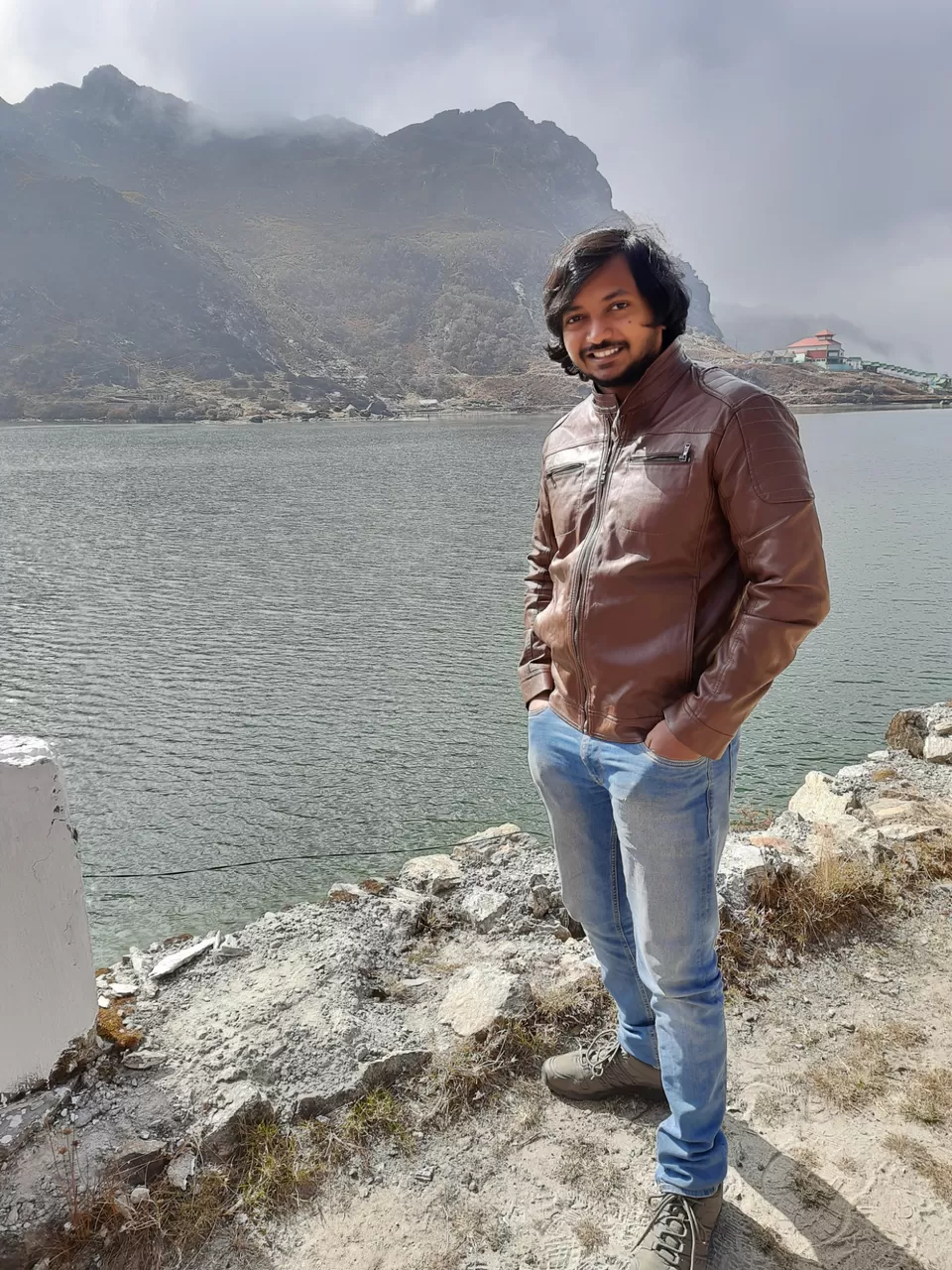 after Tsomgo lake, we got to see a series of views of valleys, mountains and passes after a long time which are nothing less than magical, which can guaranteed bring atleast some amount peace to the most disturbed minds and broken hearts.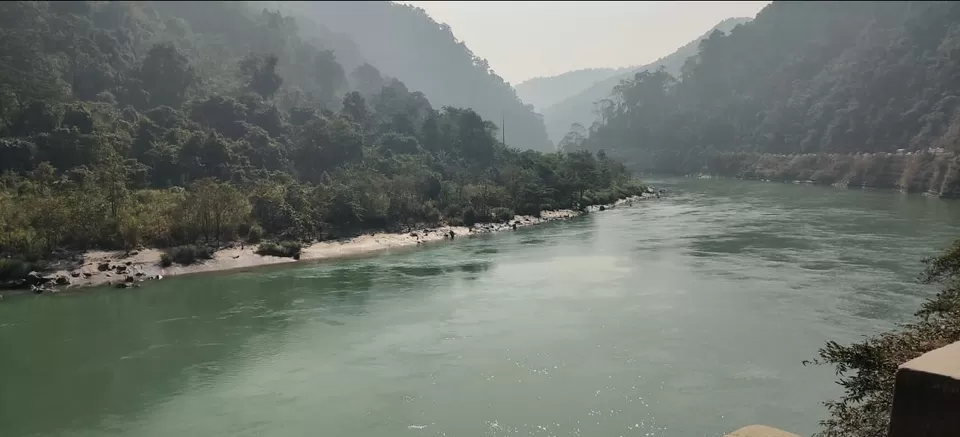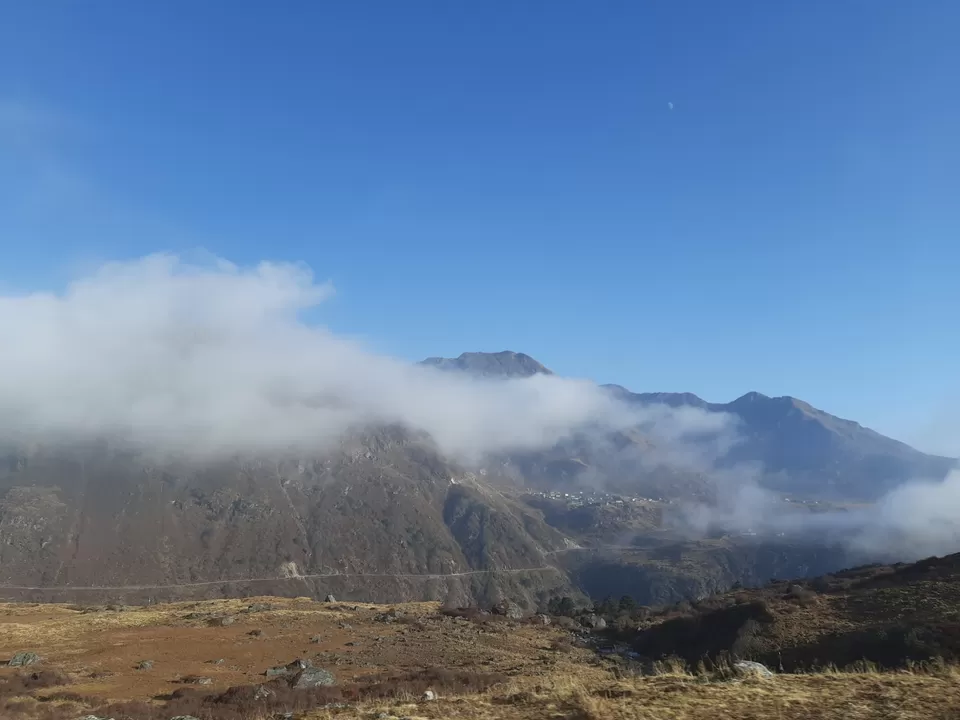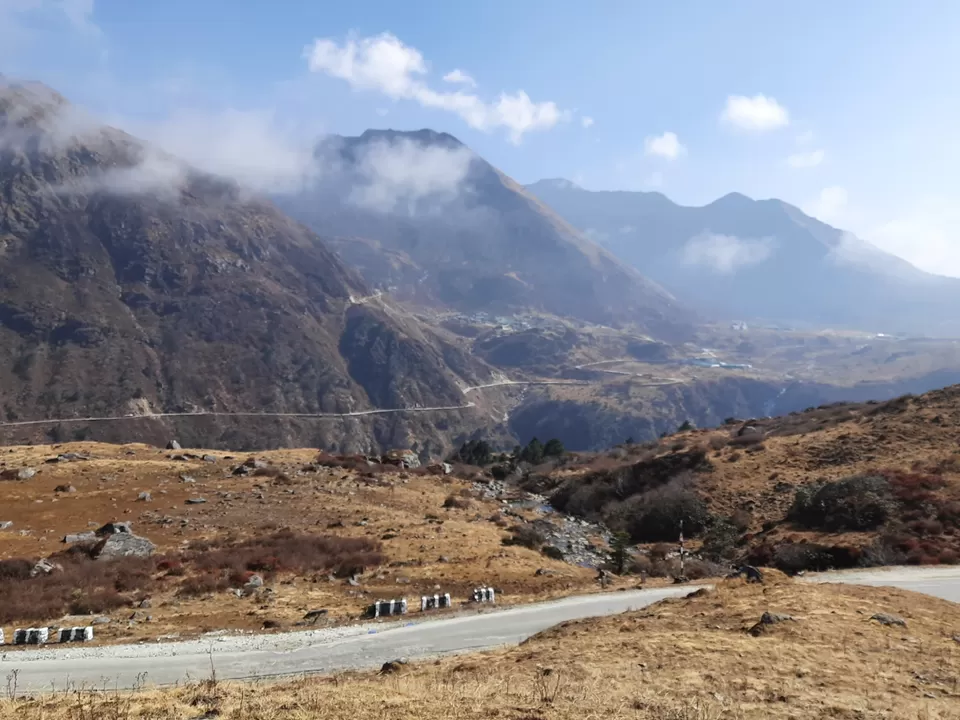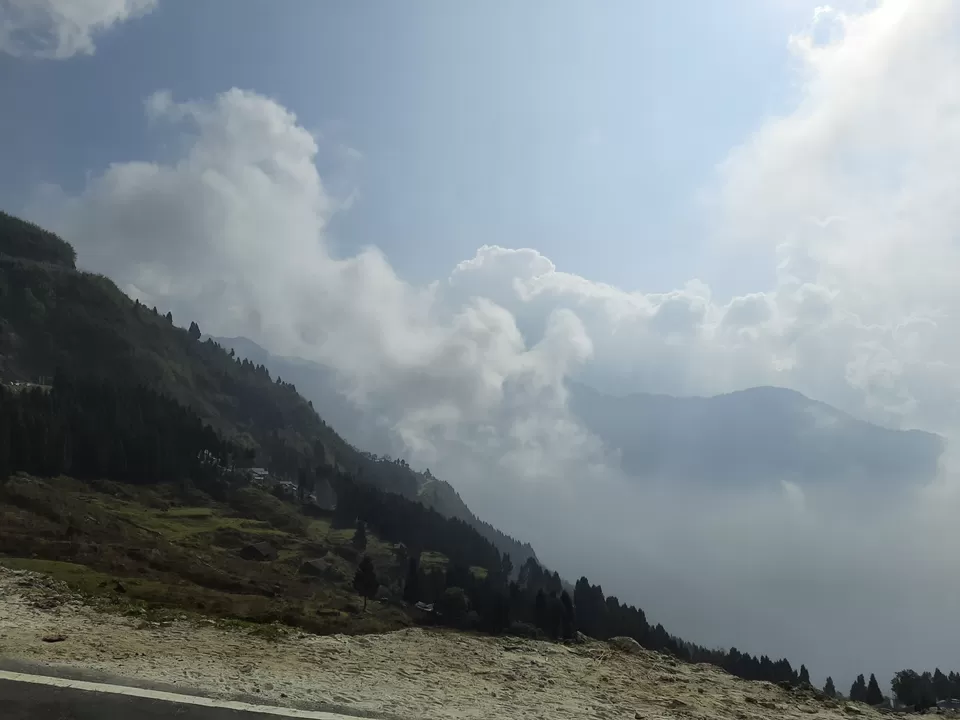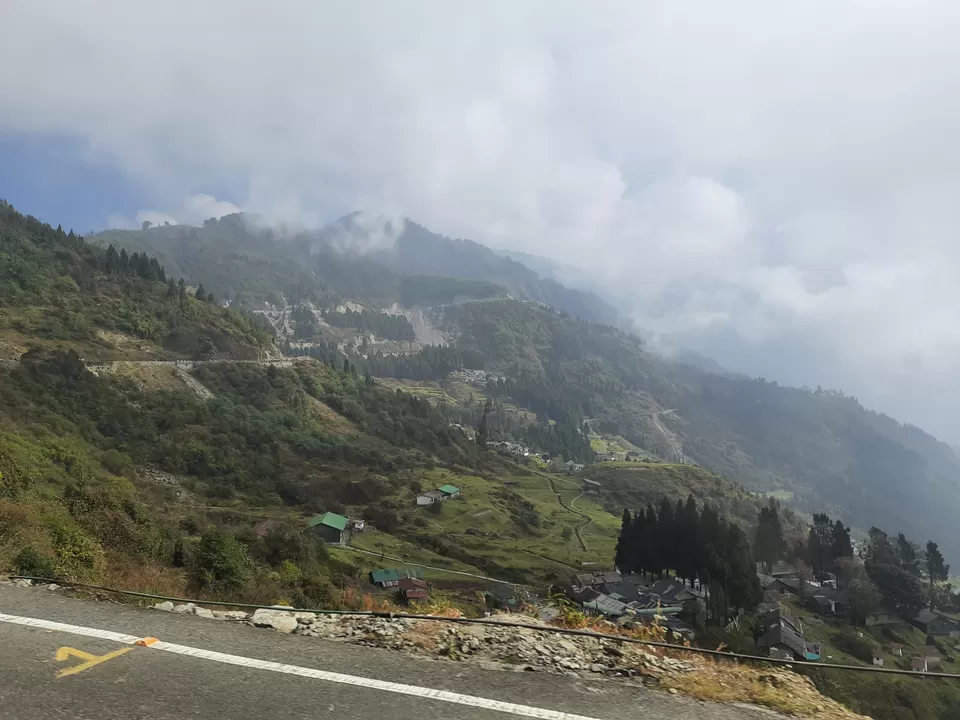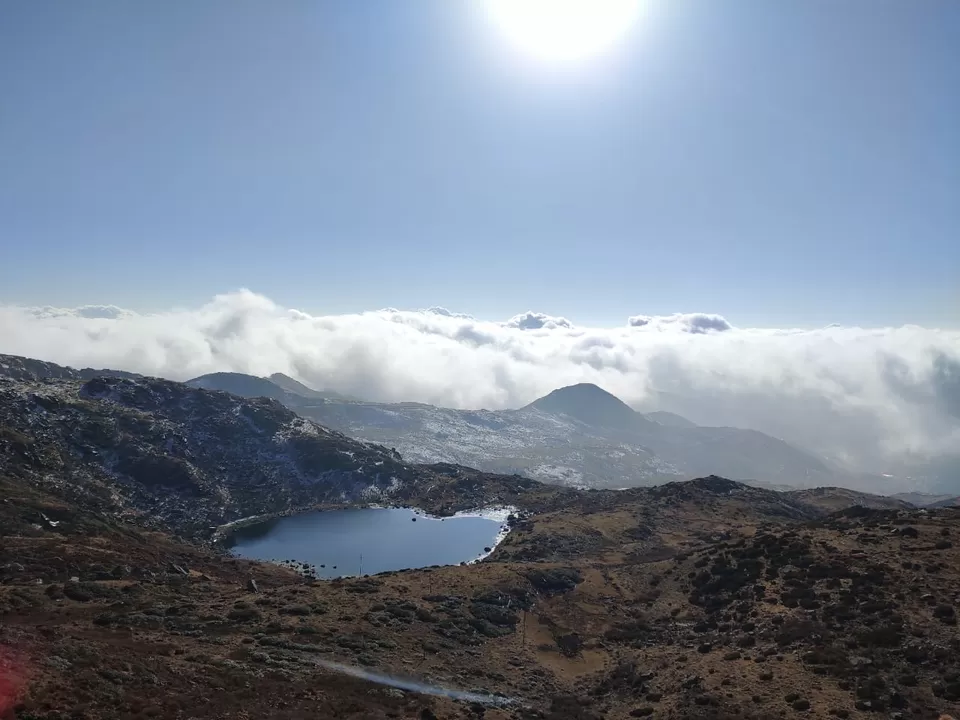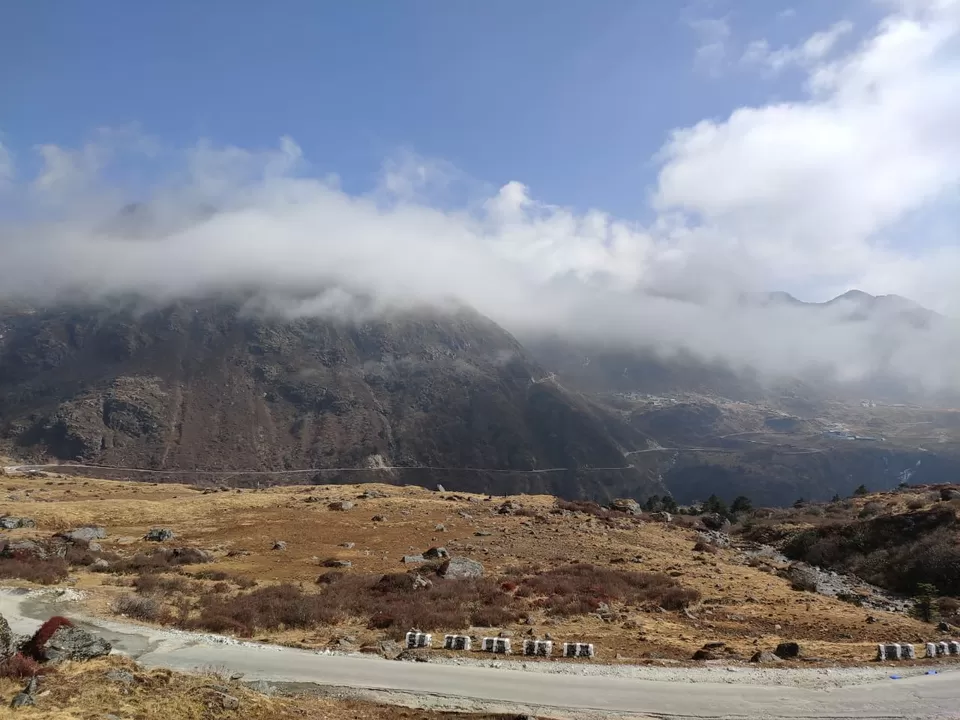 poetic isn't it? Wish I couldve captured more and better, but given the excessive amount of fog, military bases(can't click pictures there), jerky roads and sub zero temperatures this is what I could capture. Talking about sub zero temperatures, I think the dense fog mixed with extreme cold had brought upon a chemical imbalance in my brain and I started posing for cameras. I'm basically the kinda guy who has a tough time smiling for cameras, let alone pose in front of em. Have a look at this paranormal activity 😂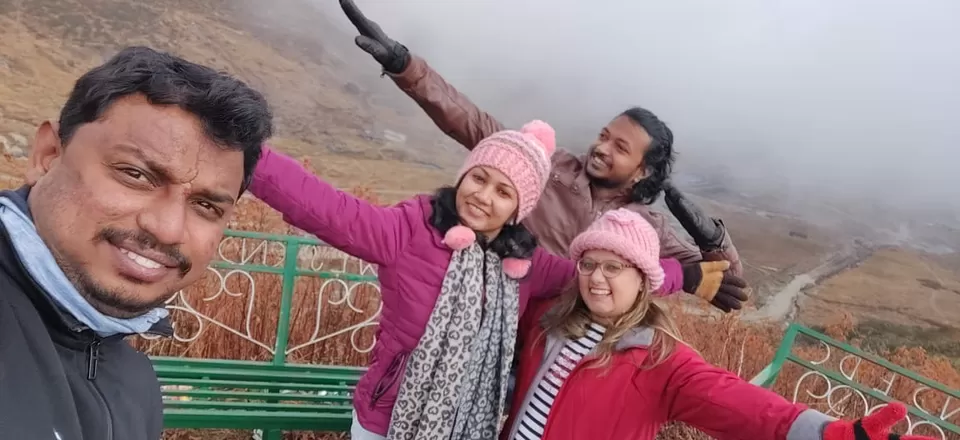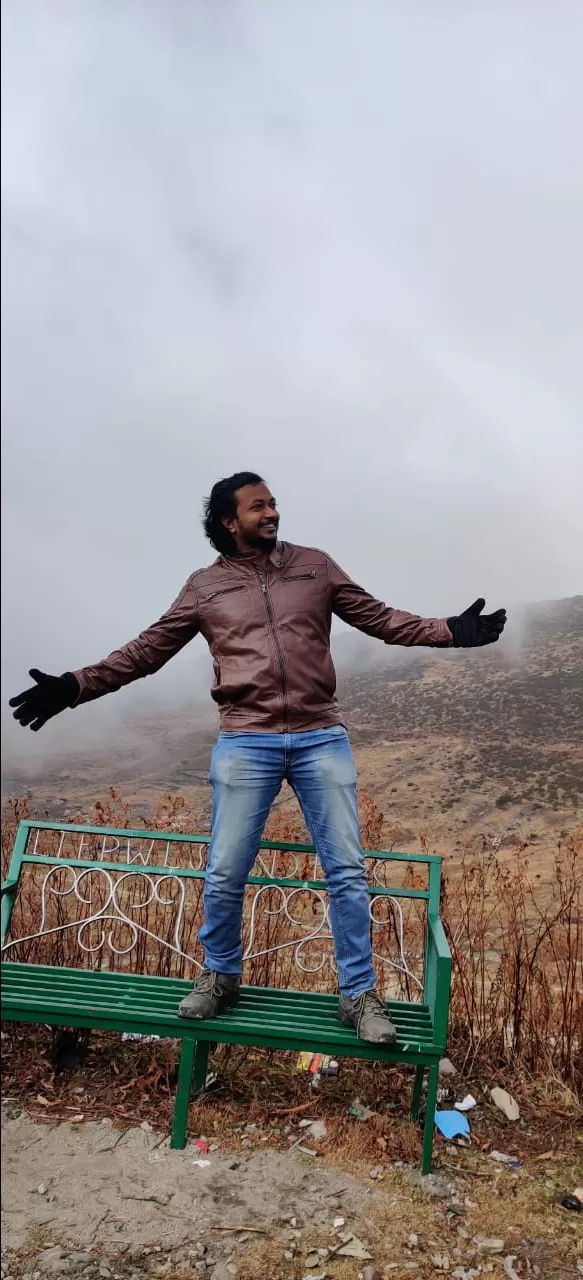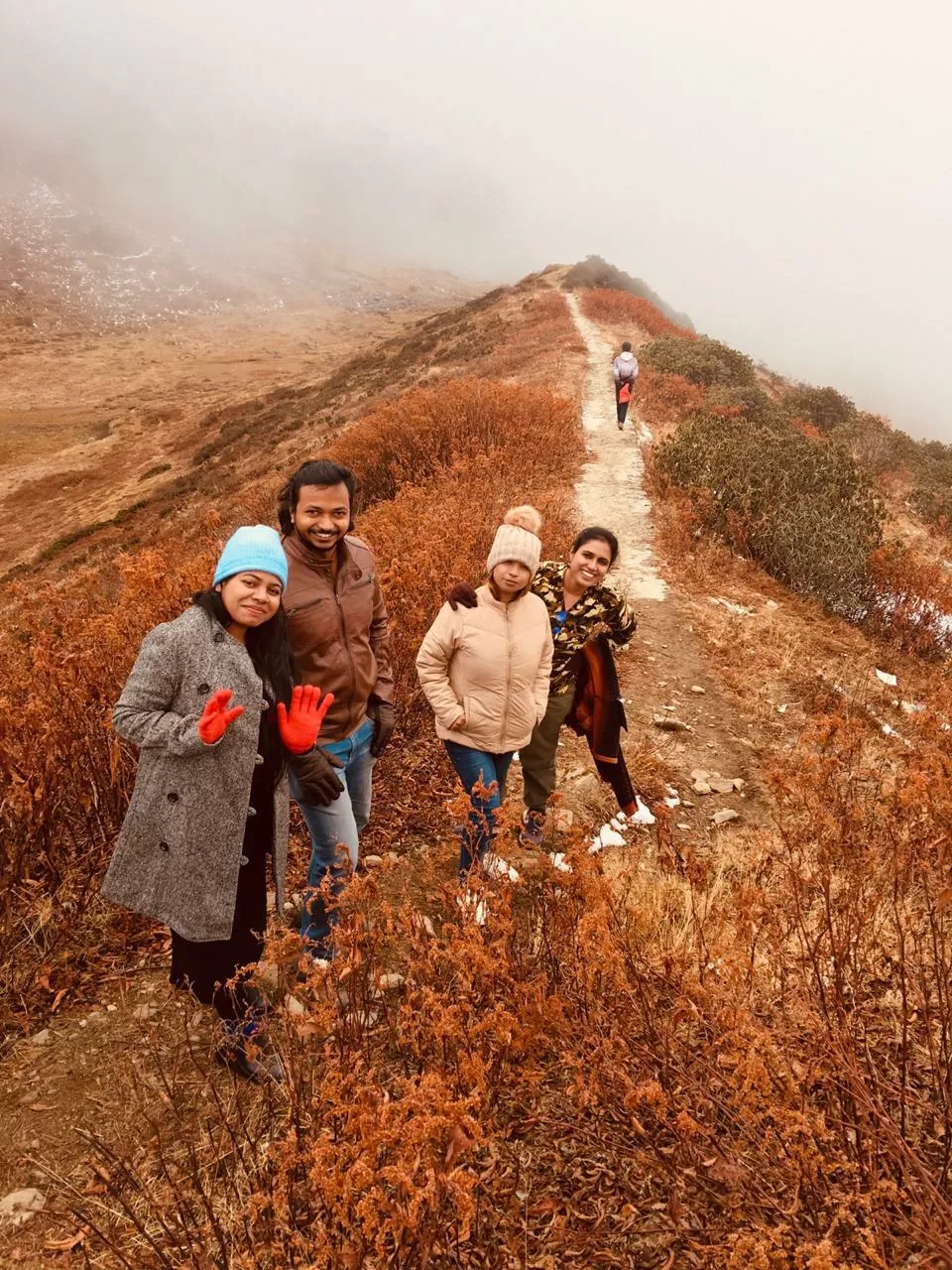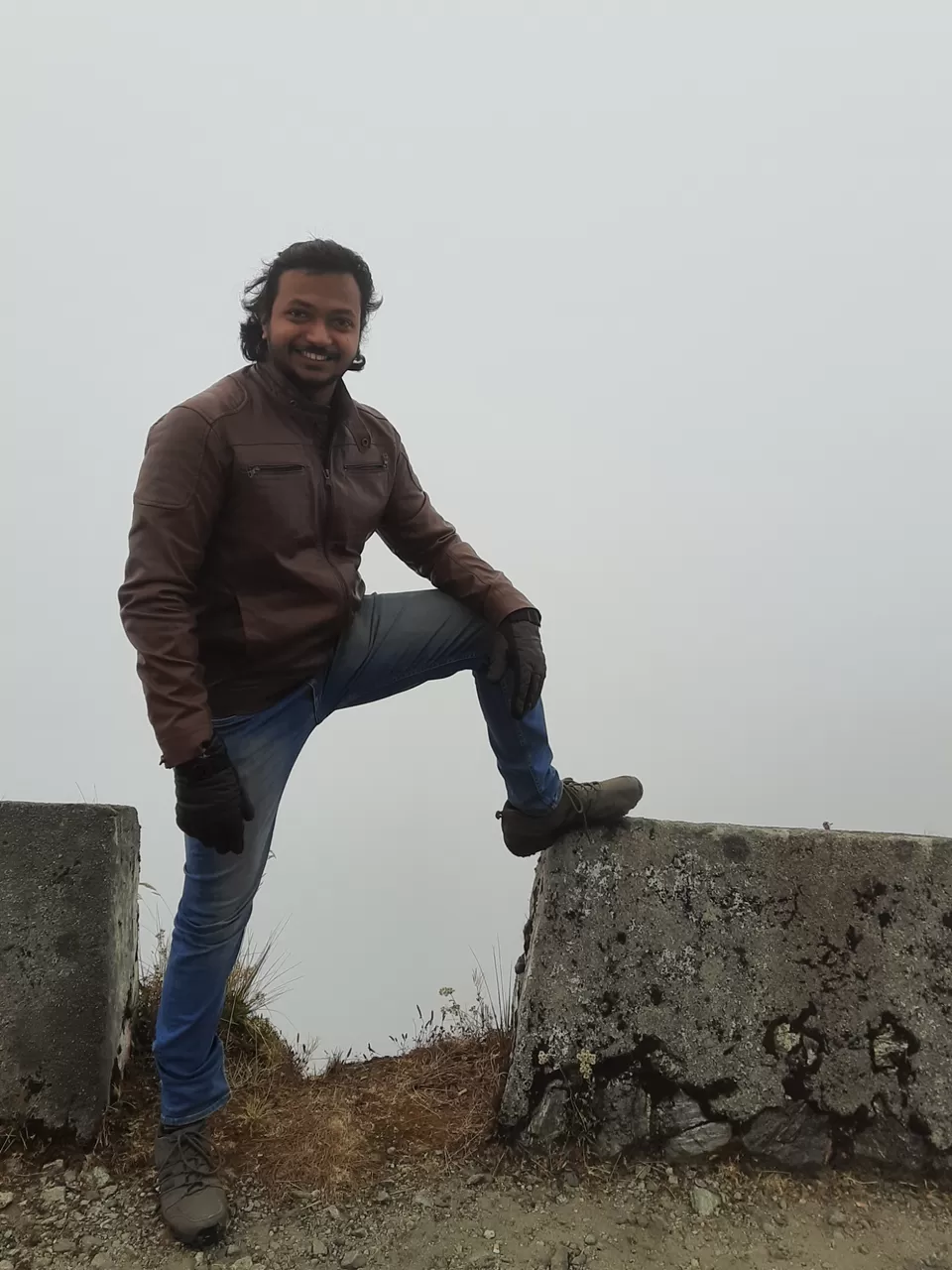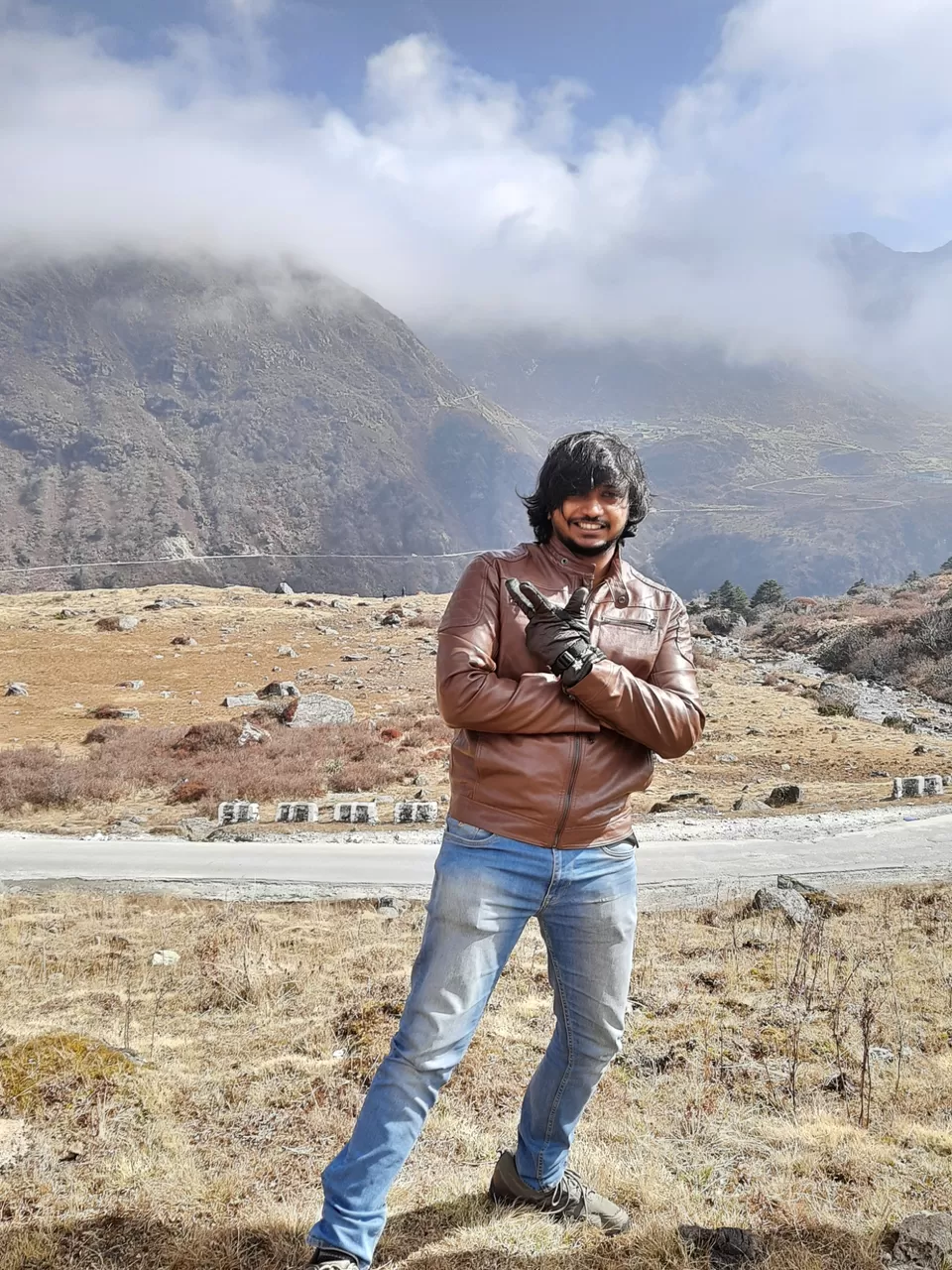 jokes apart, on the way back my phone recieved a very inappropriate and controversial message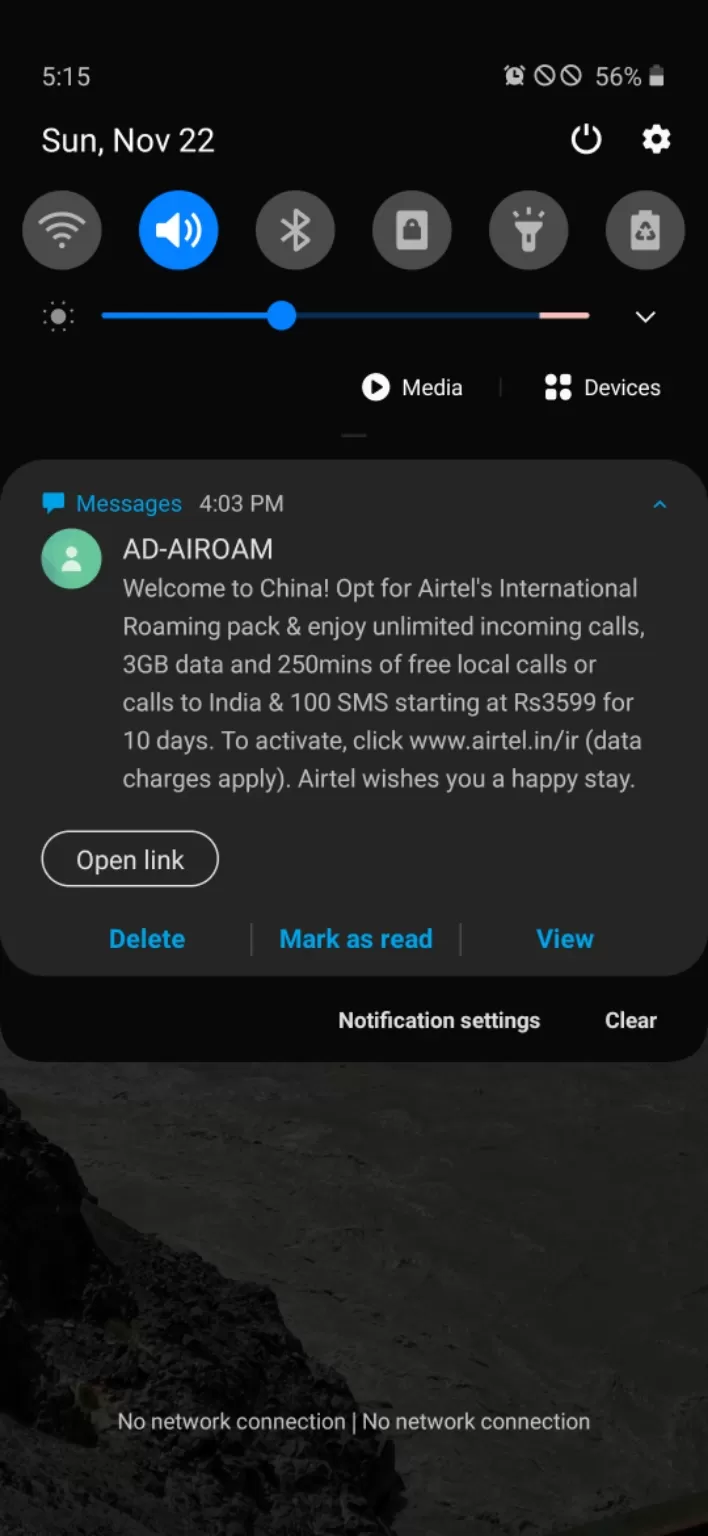 anyhow, on the way back we visited the baba mandir which had an interesting tale. Read it below :
https://en.wikipedia.org/wiki/Baba_Harbhajan_Singh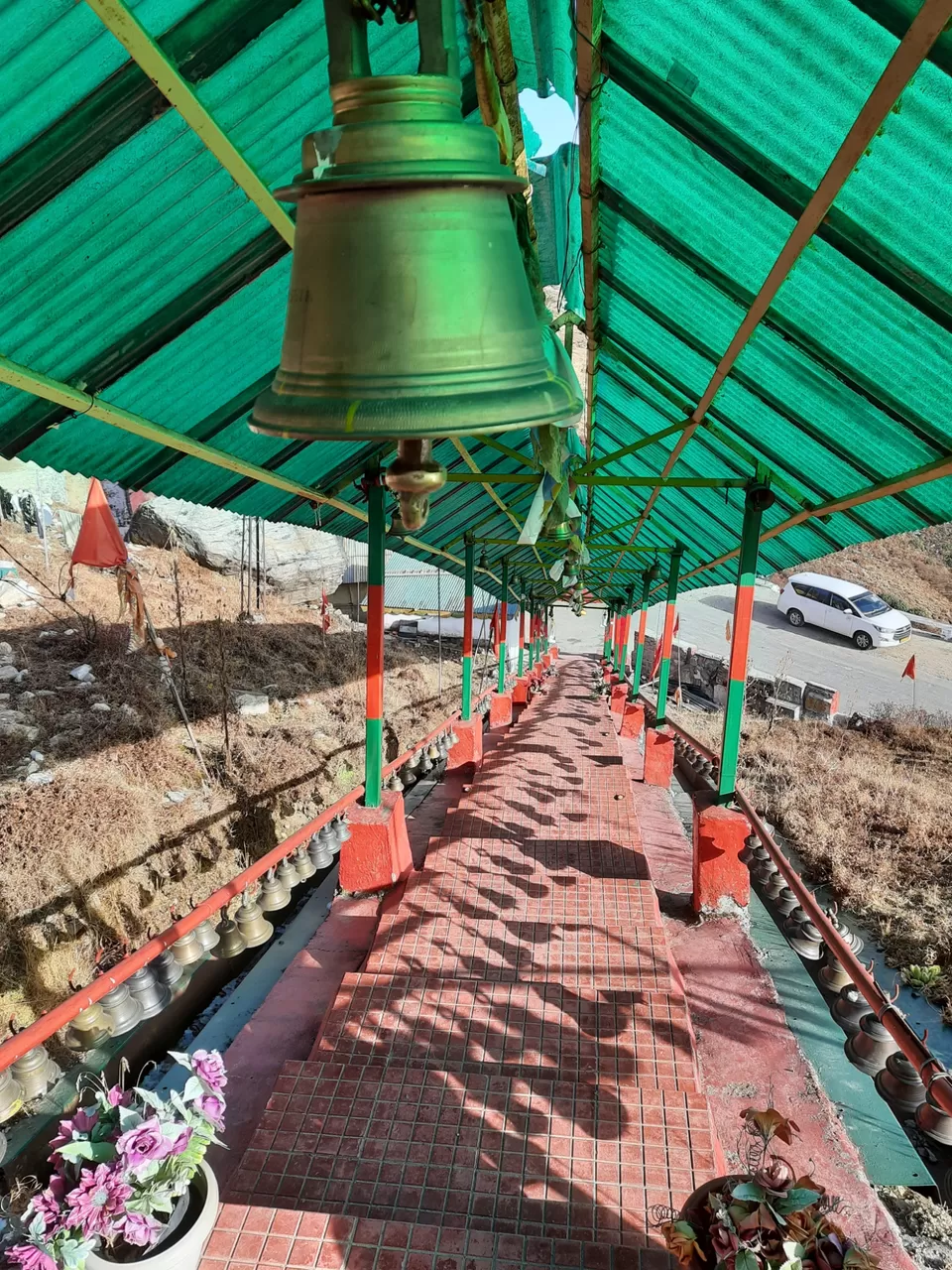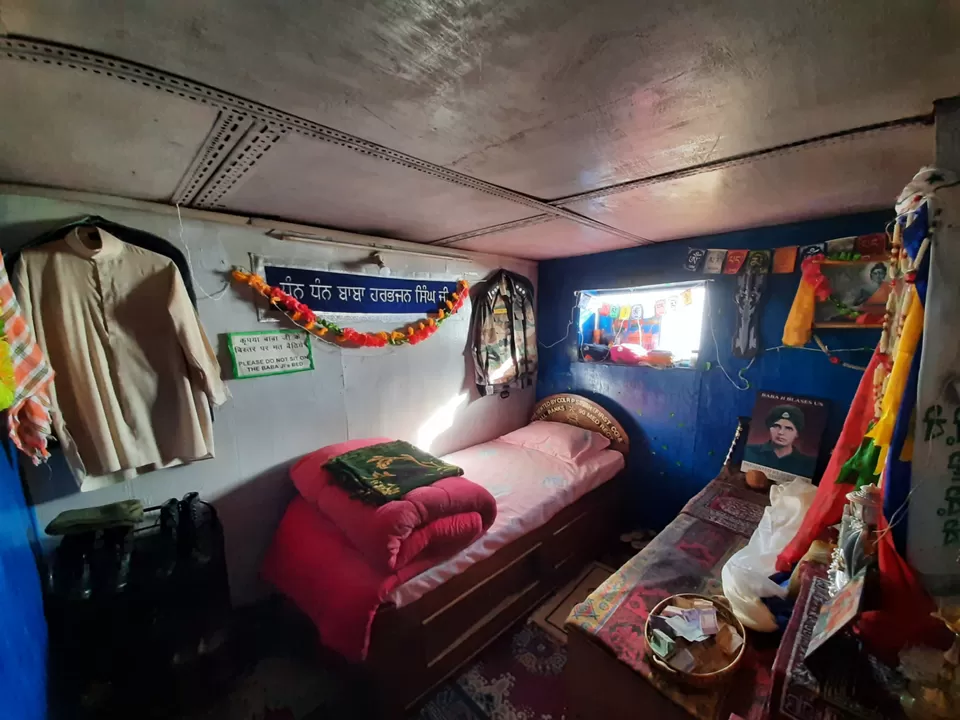 It has been an amazing day and we returned back to Gangtok. However, some of us didn't want the day to end even after coming back. The night was still young so we set off to explore MG marg. As we were exploring MG marg, there was a local "delicacy" that we were craving to have since we begun our journey. Its called the TONGBA, Which we finally caught hold of.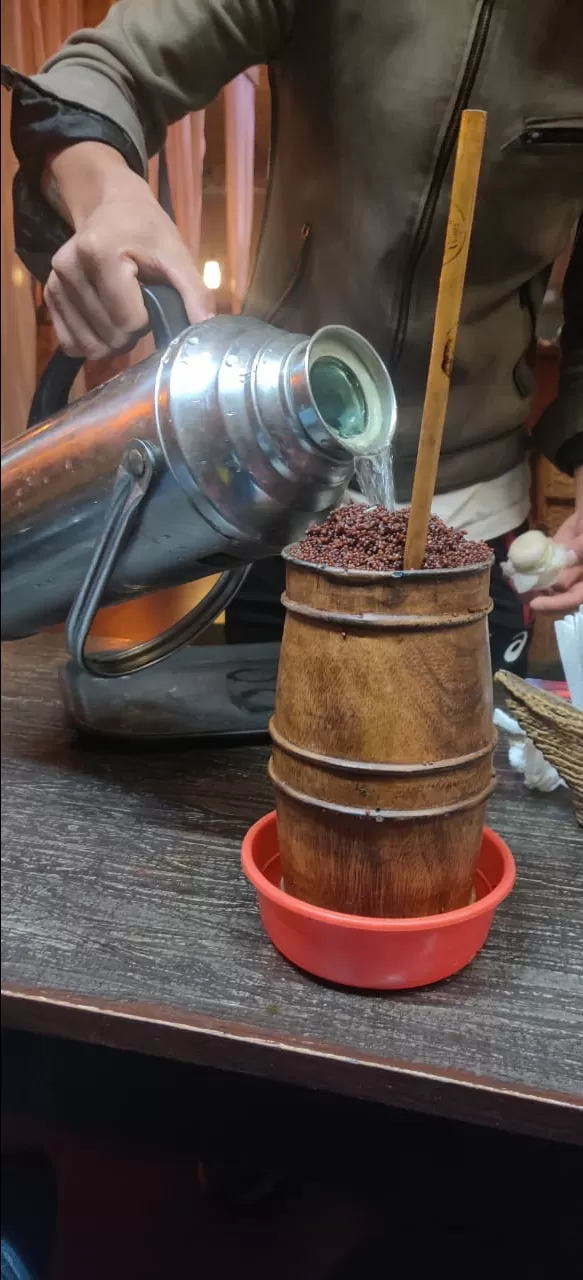 tongba can be considered the golden goose of drinks, just add hot water and let it brew for 2 minutes and repeat as much as you want. The day ended after we booked a stuffed cab back to our resort and called it a night.
Last day of the trip for exploration, we were gonna check out a few places for sightseeing and spend the rest of the evening in MG marg. Some of us were down with bittersweet emotions as the end of the trip was approaching. Me, apparently haven't reached there yet as the new found poser inside me wasn't gone yet. So we set out to our first viewpoint and I started enjoying the view and it suddenly clicked! Both metaphorically and physically. Metaphorically it clicked that I'm not gonna catch a view again like this for a while. Physically, a fellow traveller of mine clicked the below picture behind me.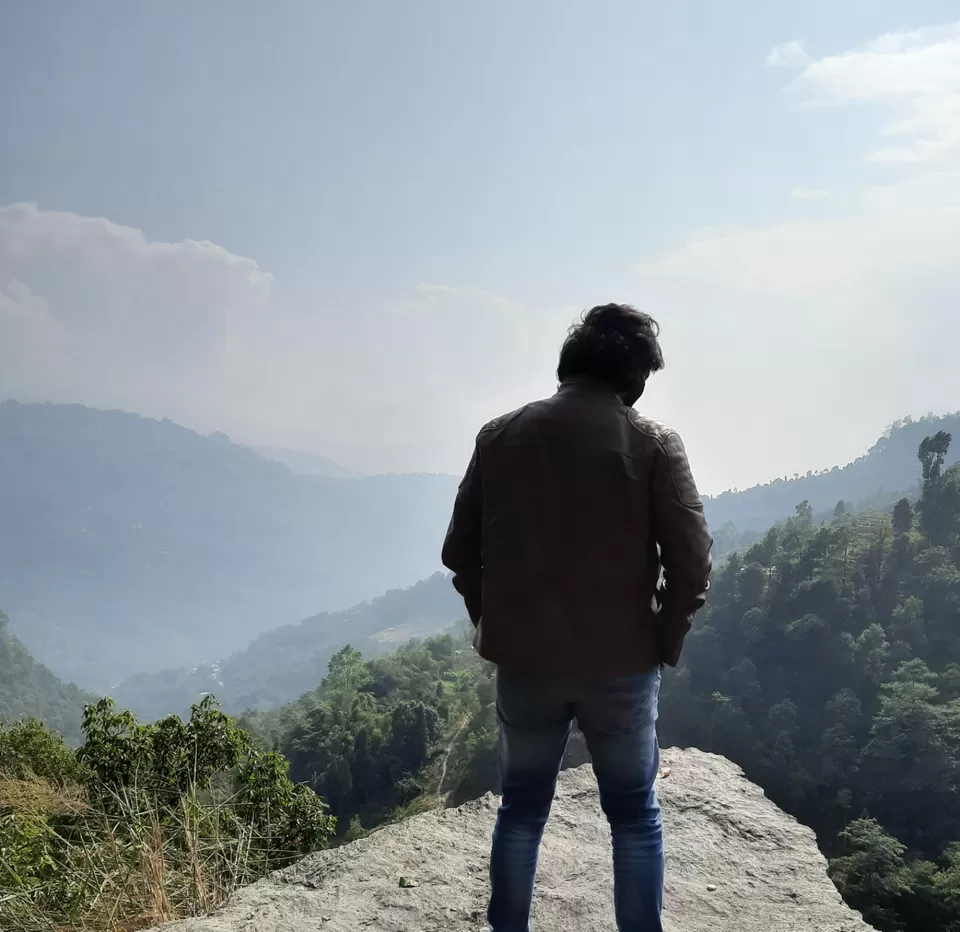 But from the inside, this is how the click felt like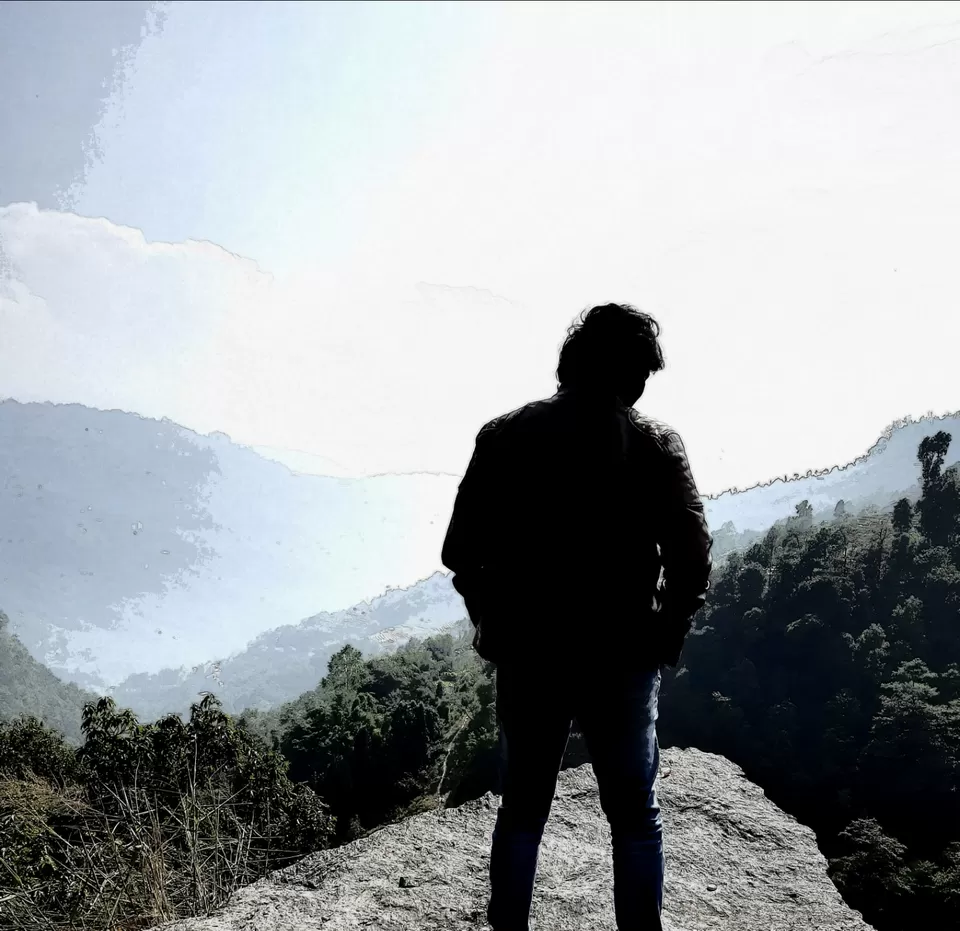 tried my luck with editing...hope you like it. Now moving on to the other places we visited for local sightseeing, I'm skipping a few places as they weren't that interesting like Ganesh tok, Tashi viewpoint, etc.
Now the interesting places that we visited are Gangtok ropeway, ban jhakri waterfall, institute of tibetology and plant conservatory. Institute of tibetology does not allow photography but it had a lot of paintings scriptures and books related to Vajrayana buddhism. Fascinating place if you are into buddhism. As far as other places are concerned, check the pics below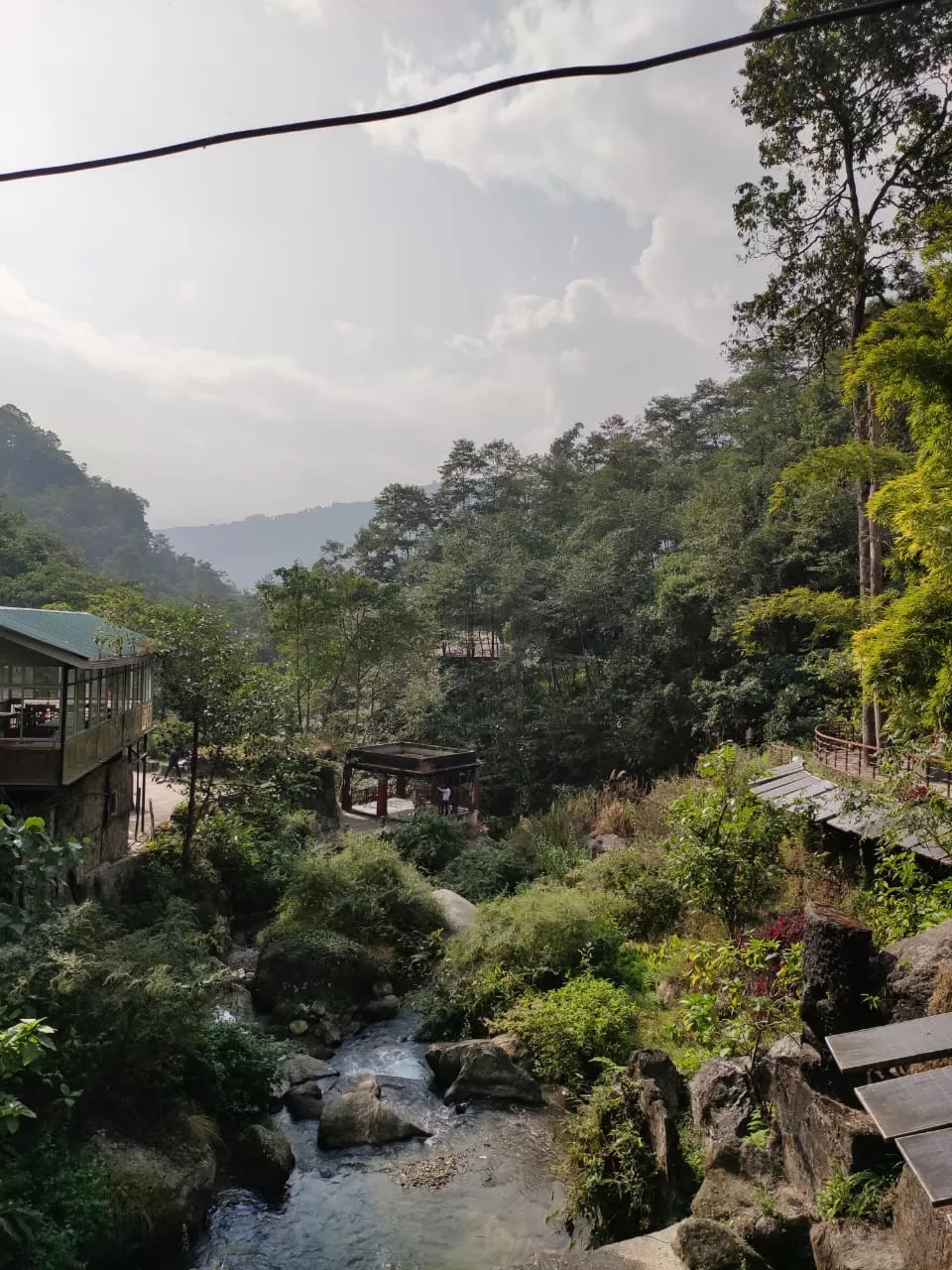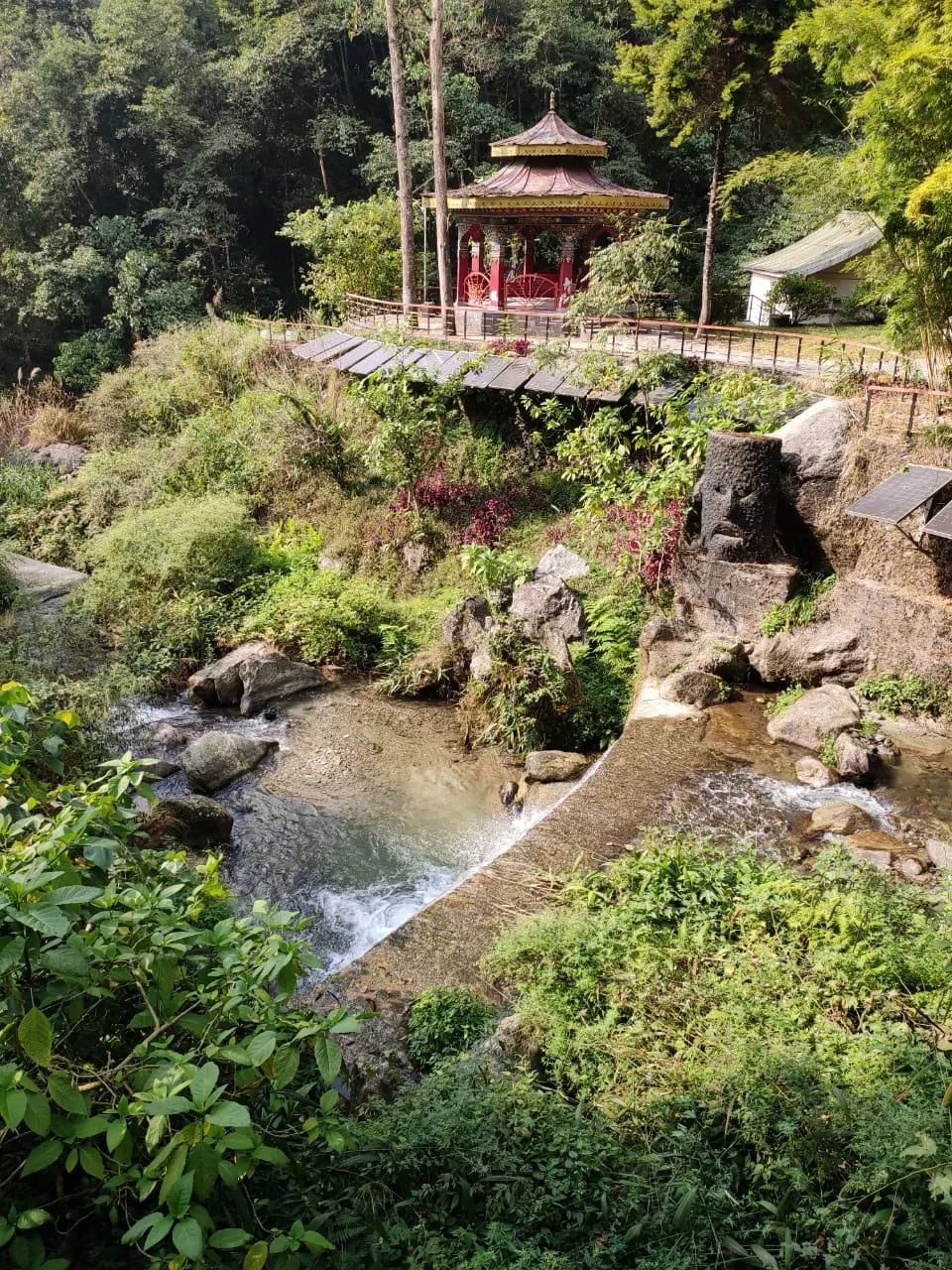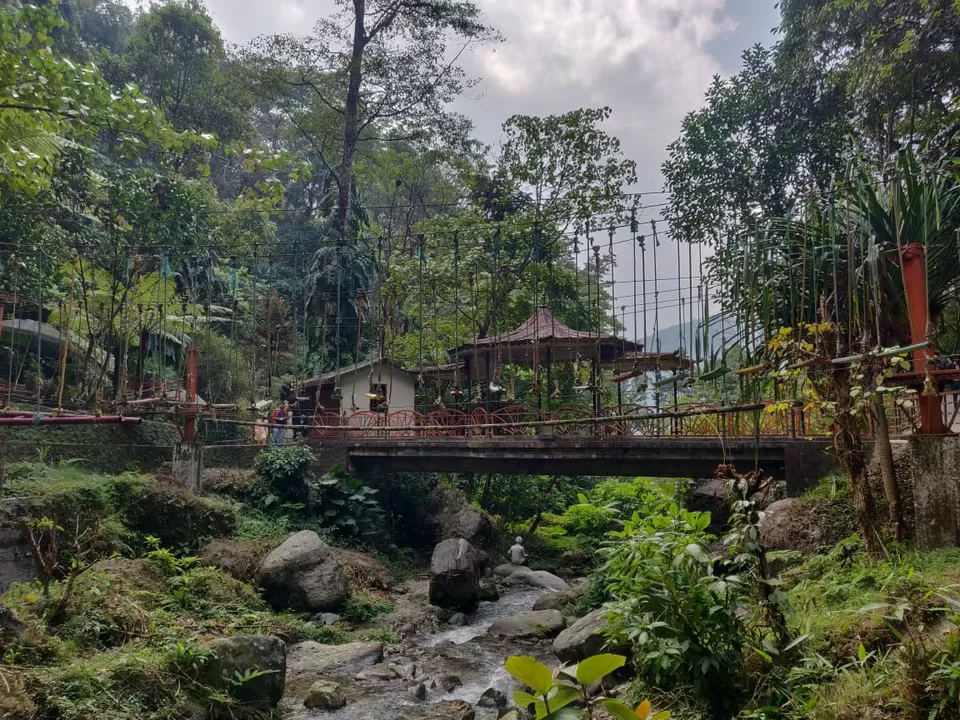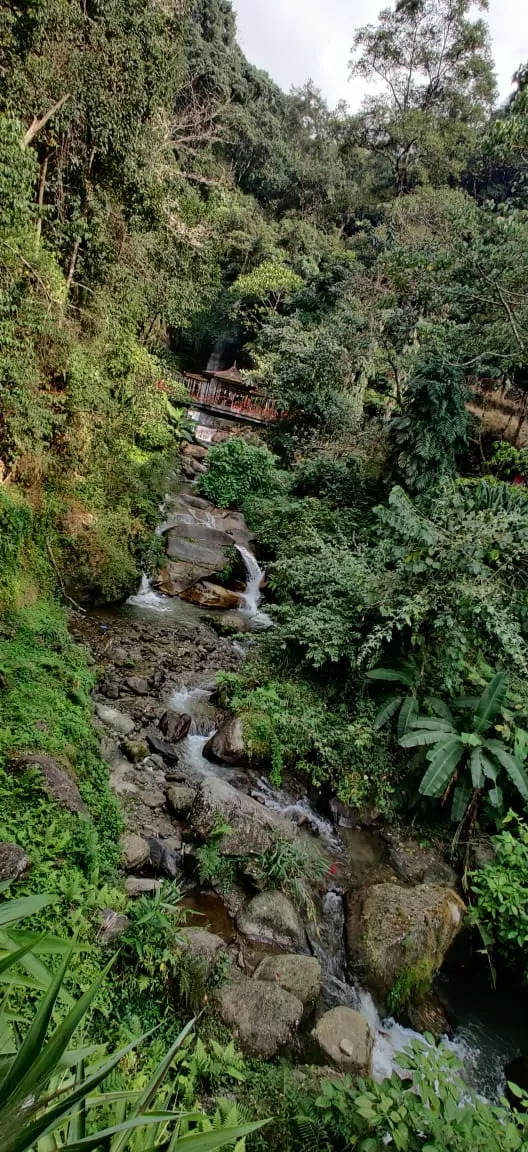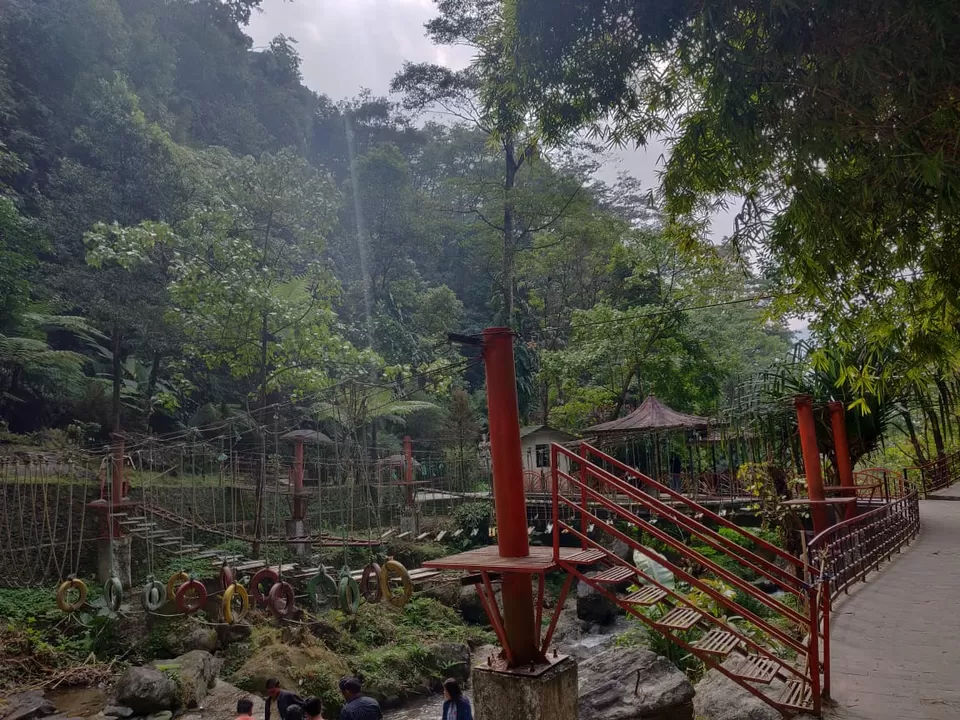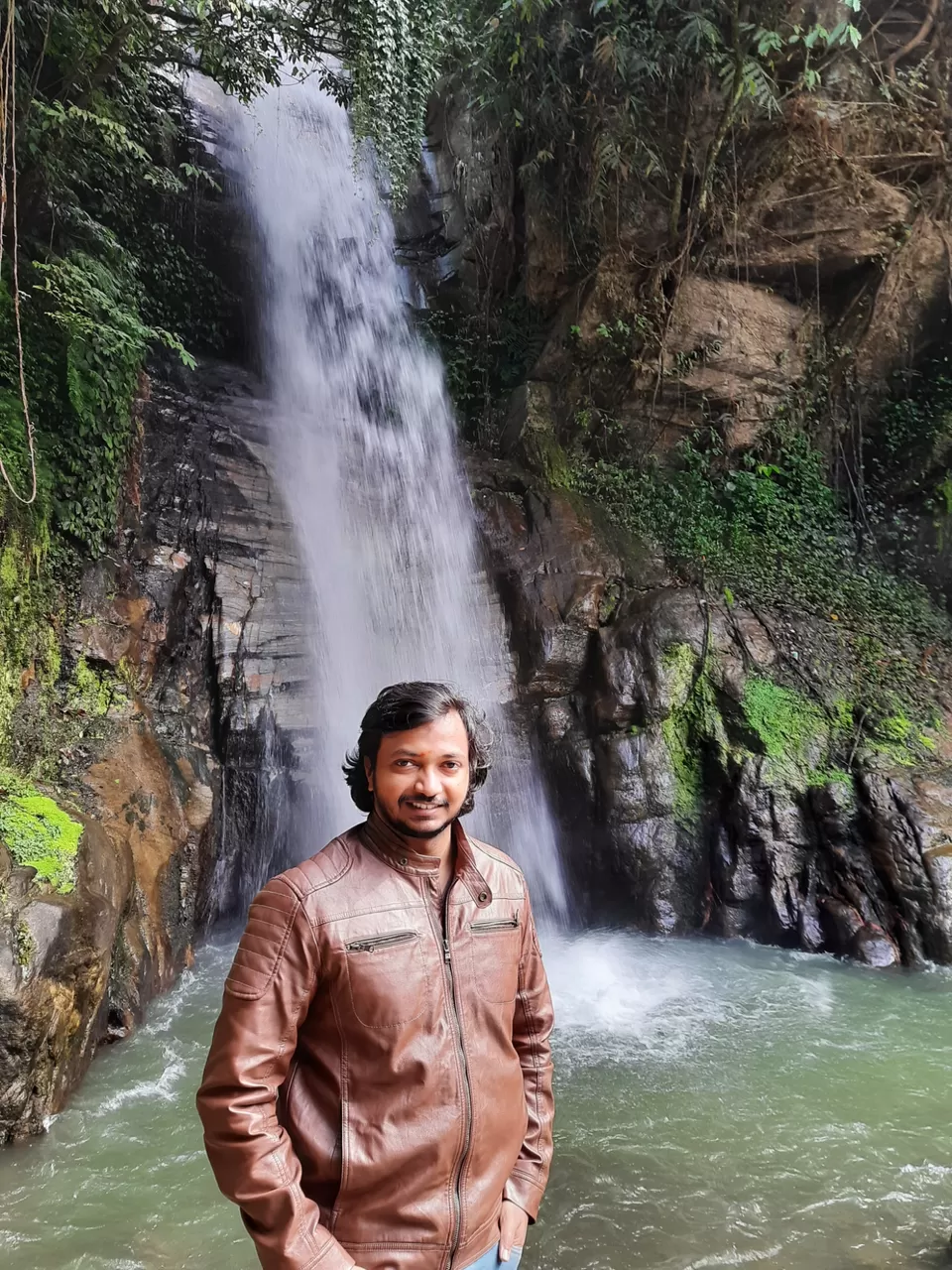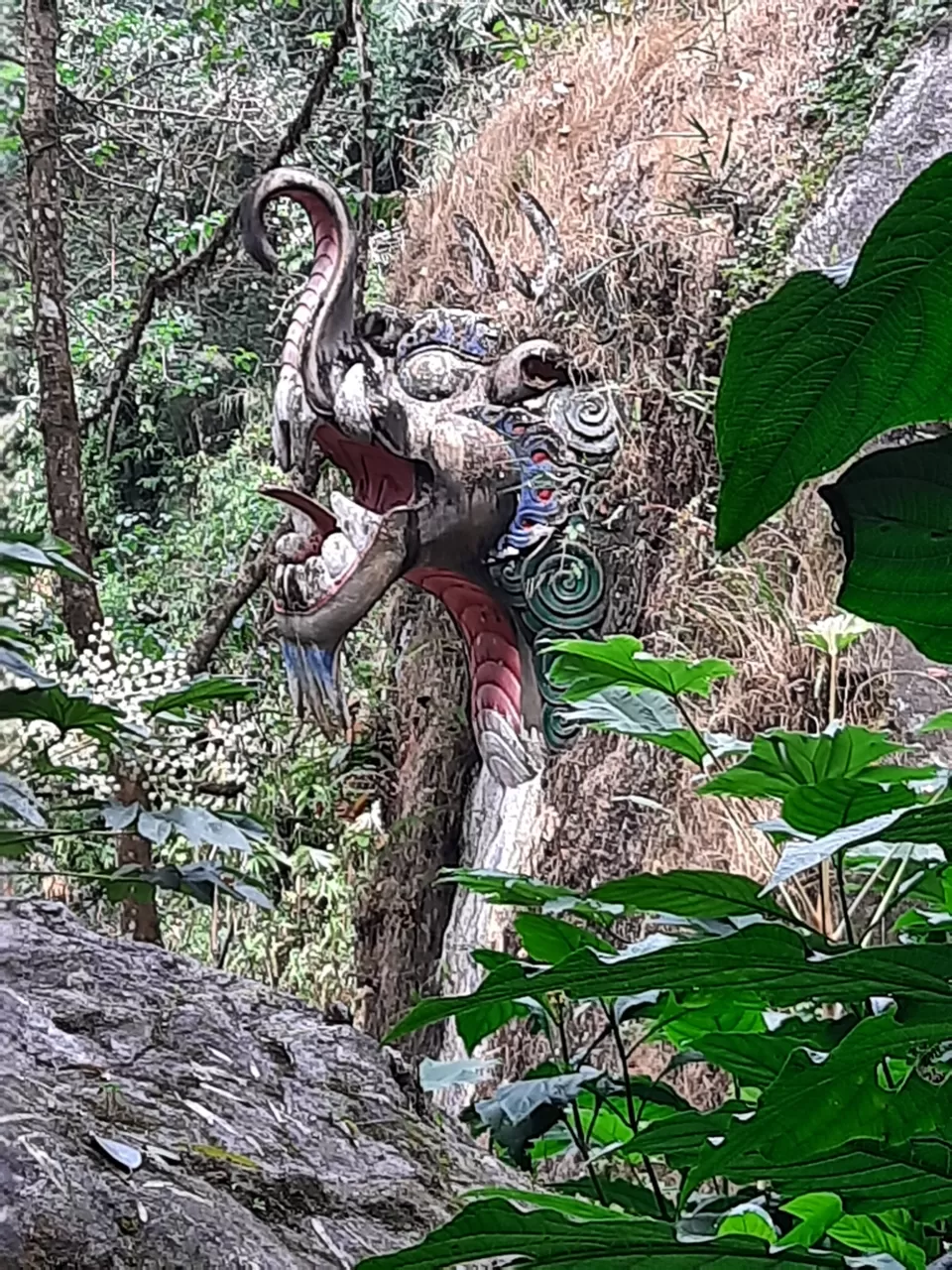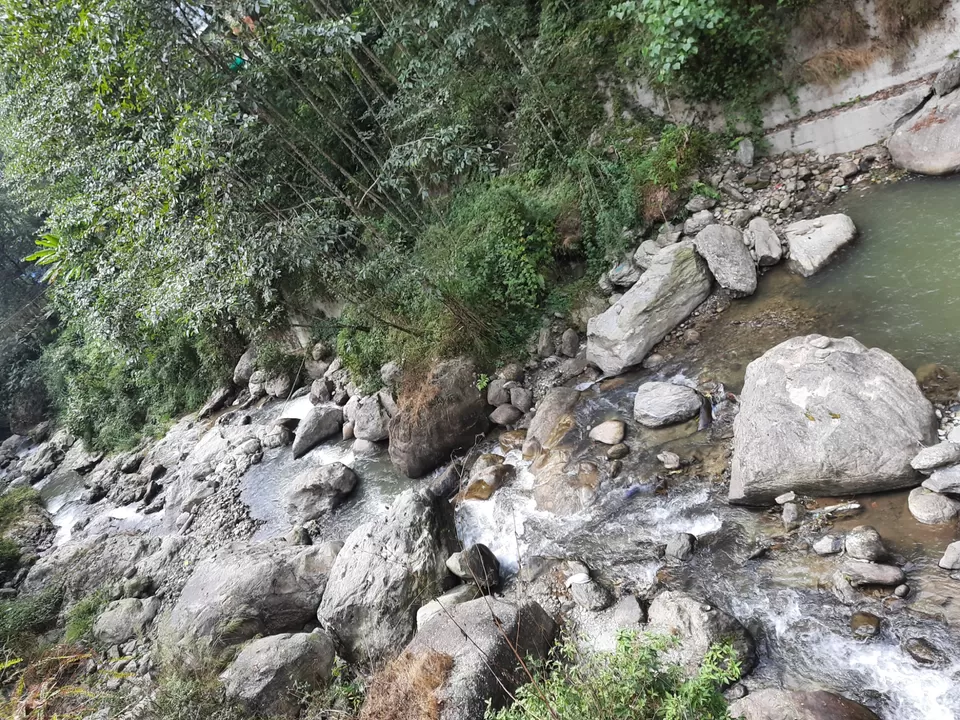 plant conservatory and Gangtok ropeway views: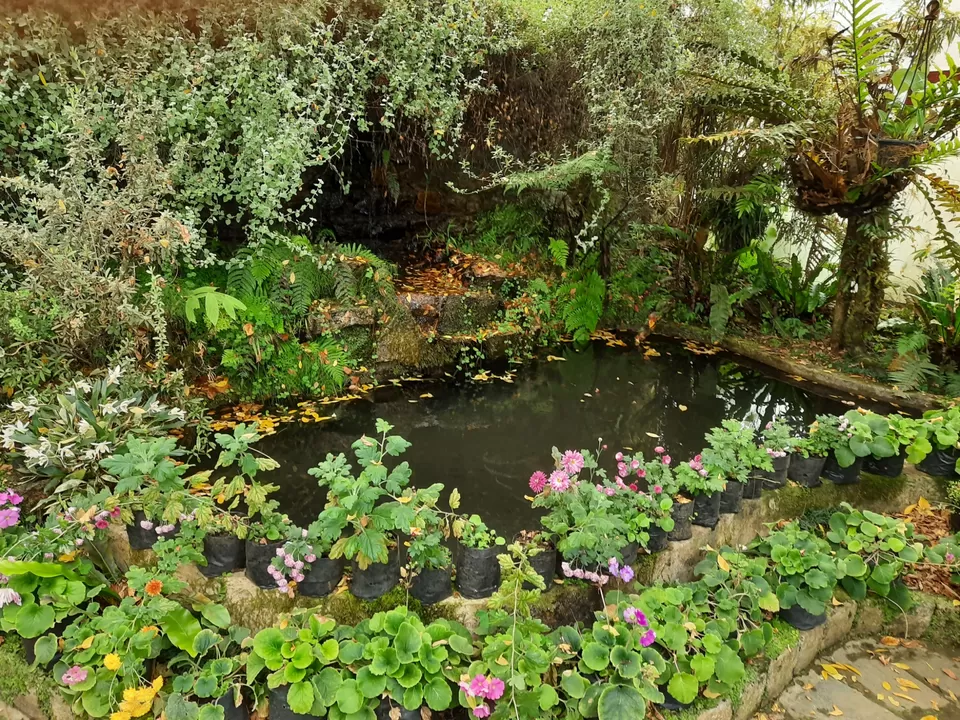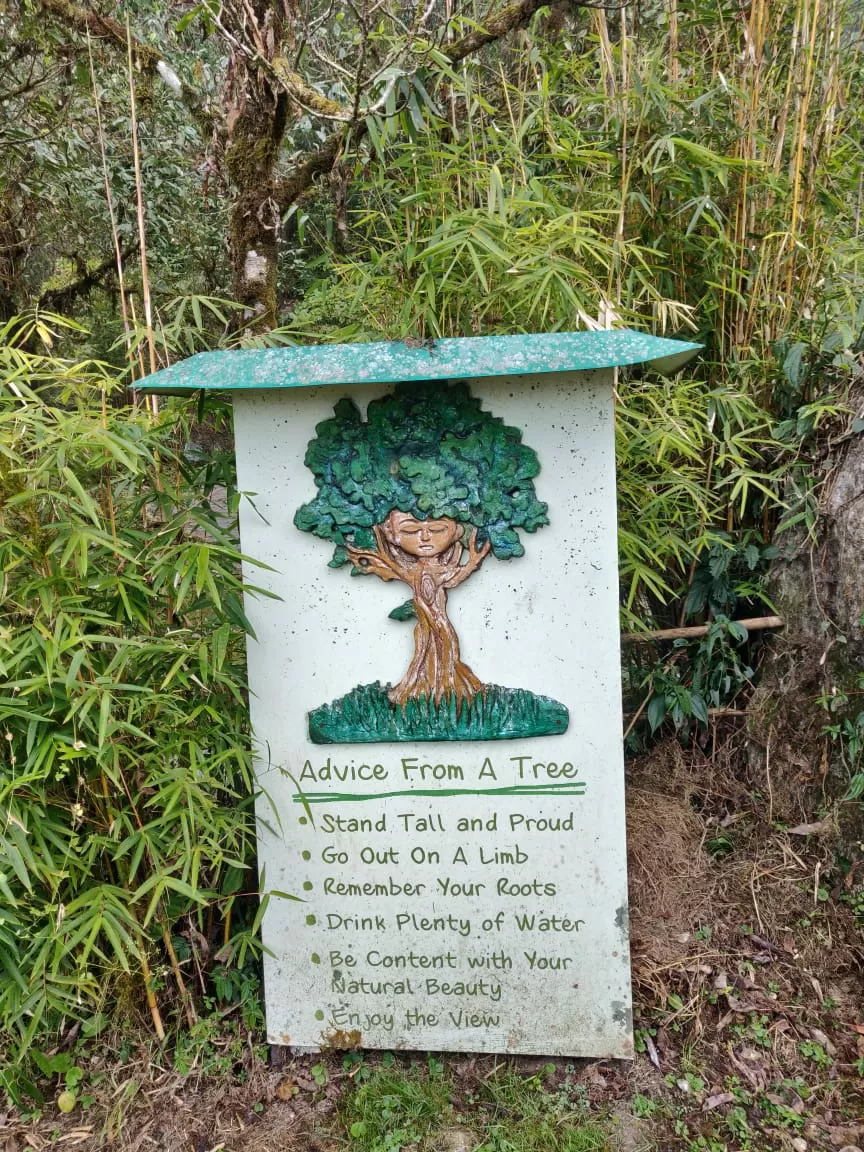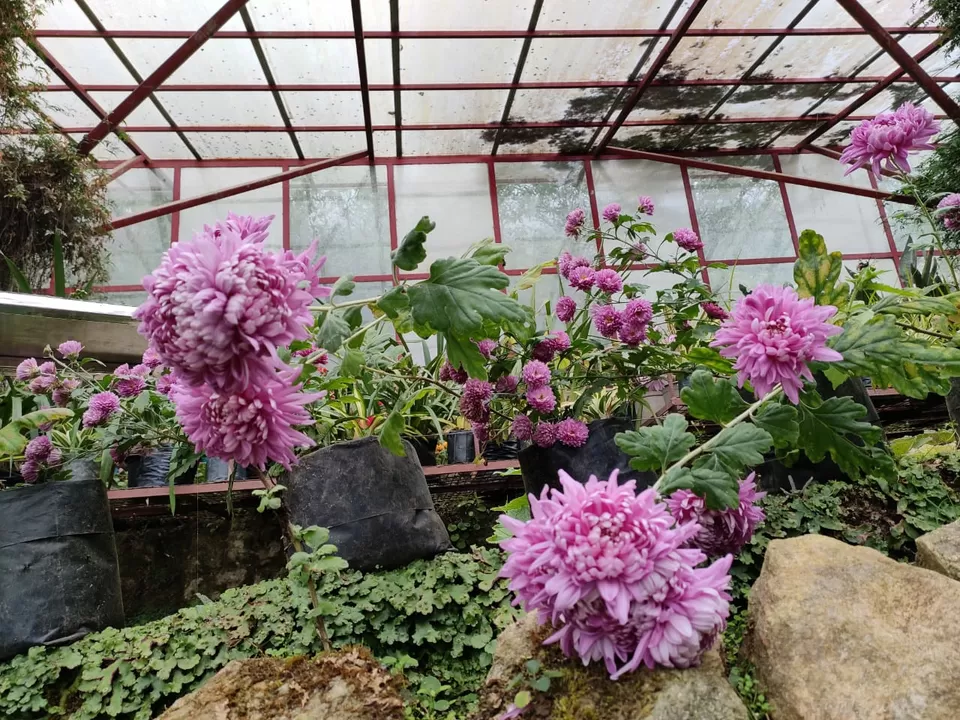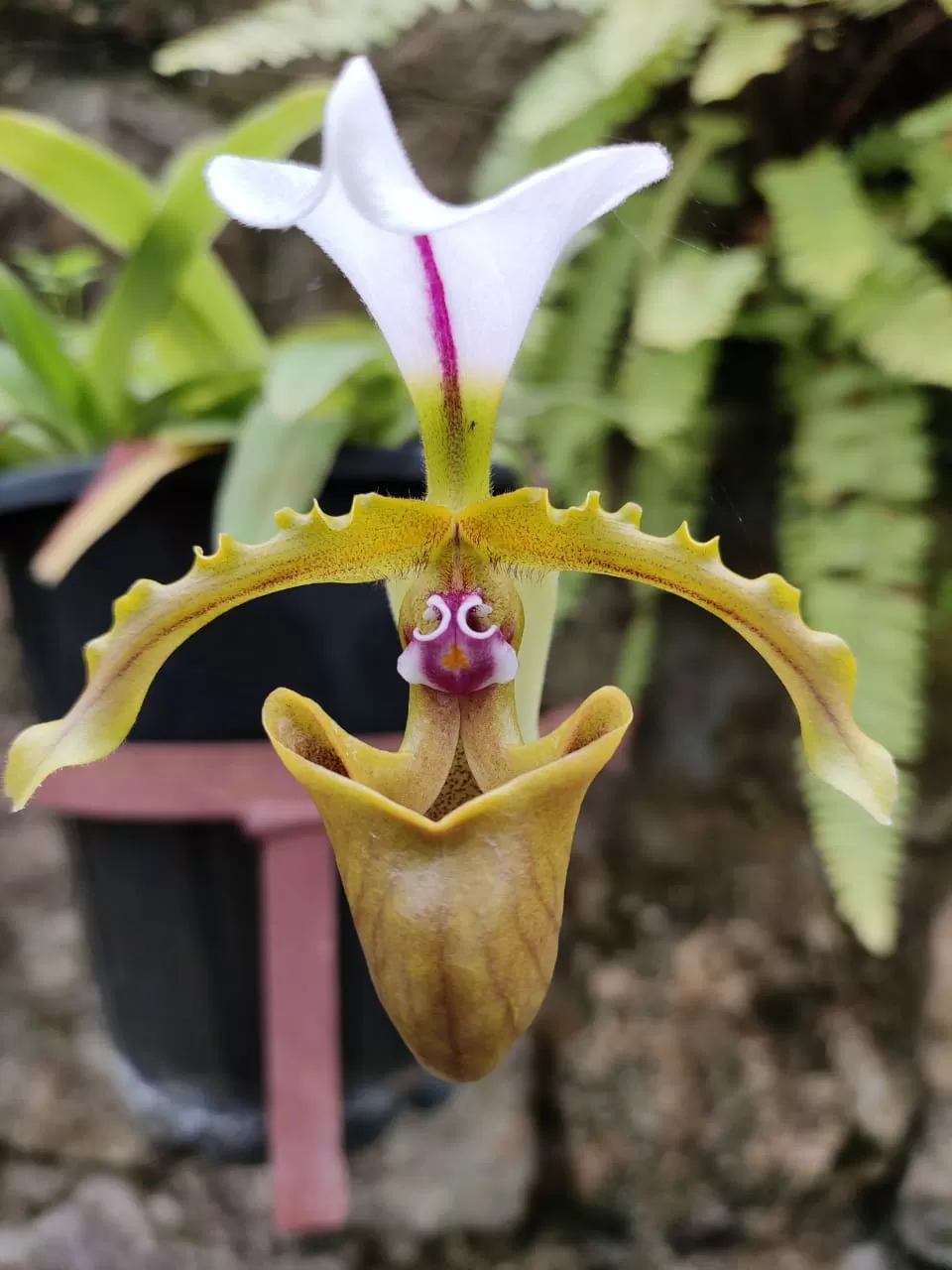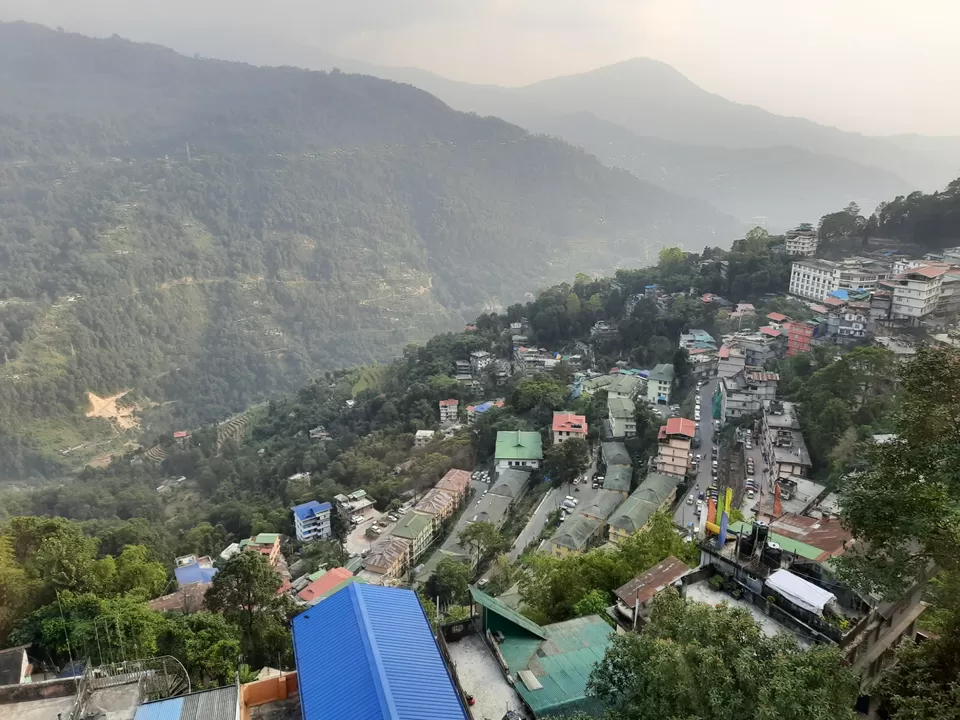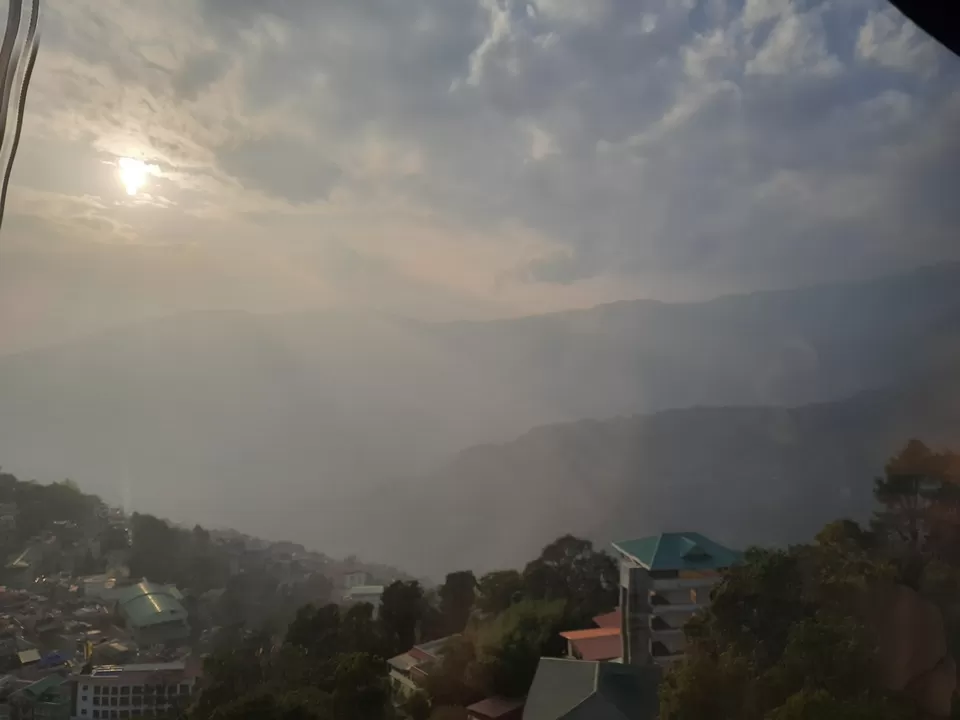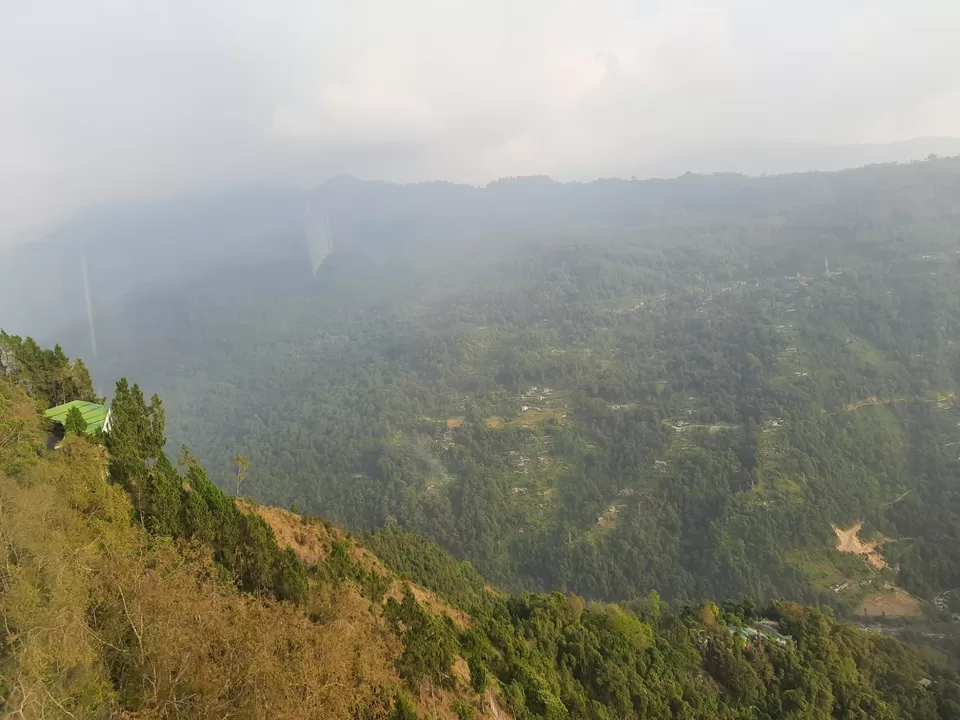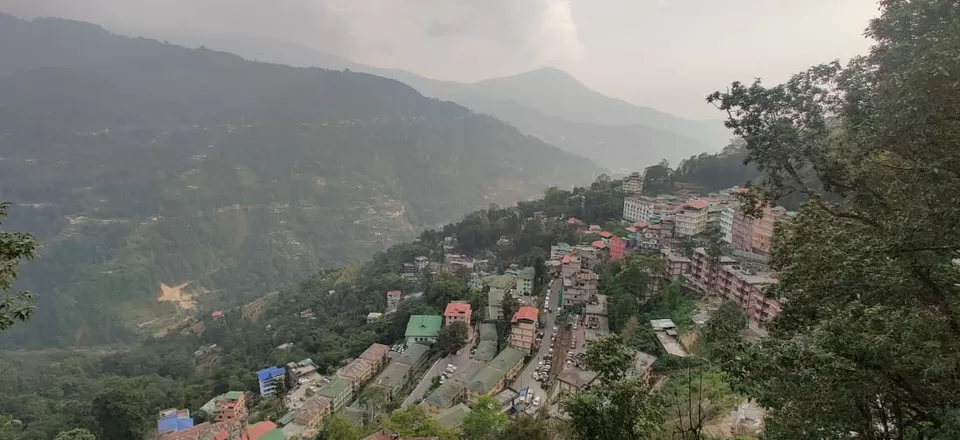 after a busy day of sightseeing we sat back, relaxed and spent together our last night of the trip, roamed the streets of MG marg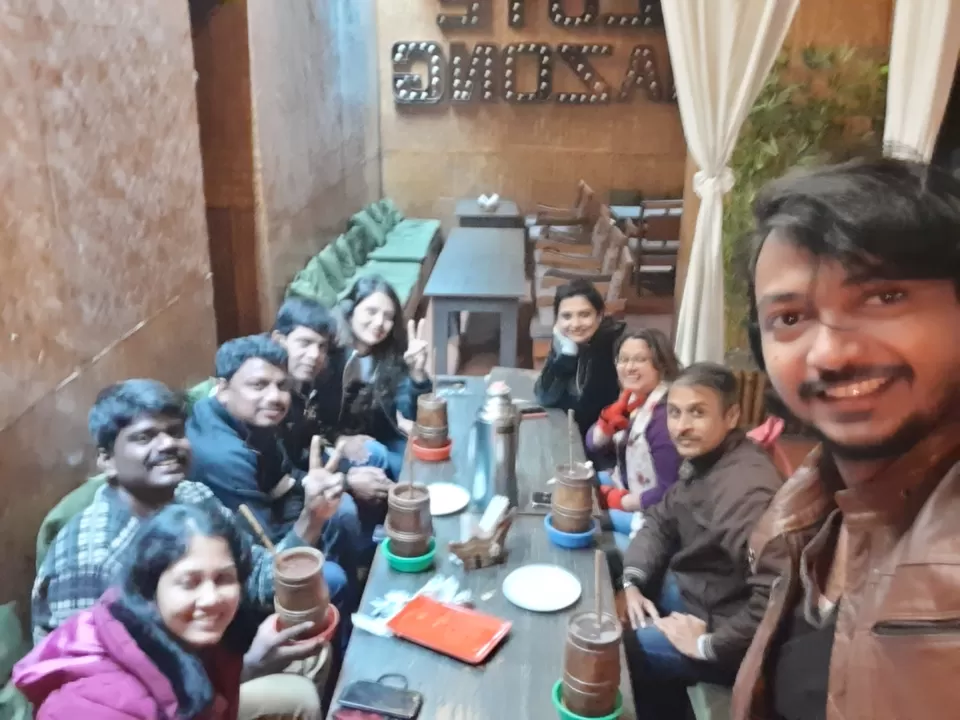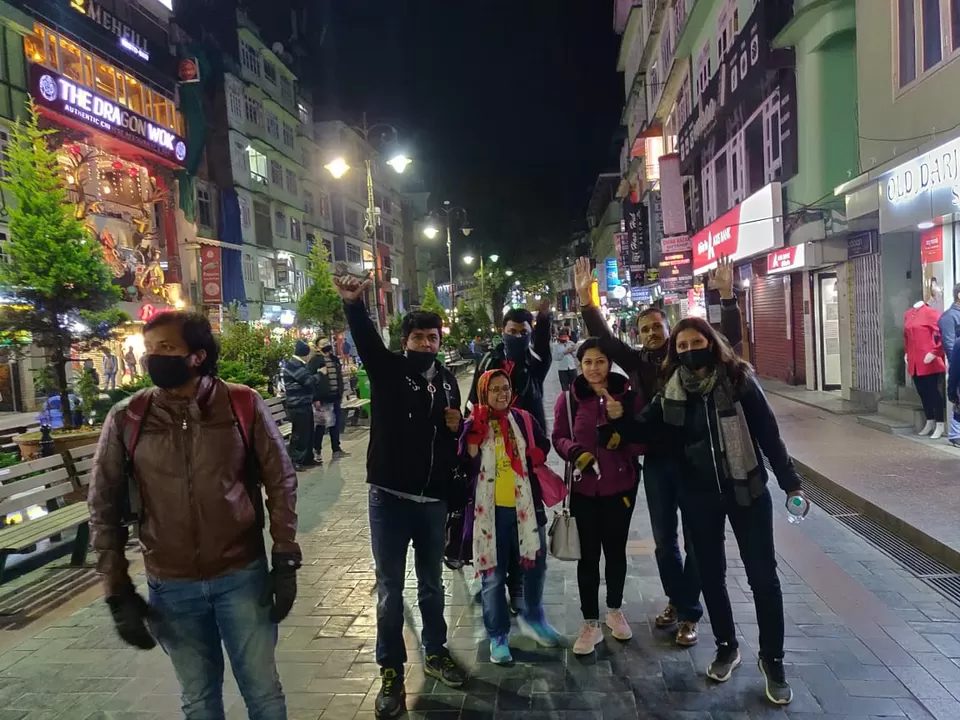 I wish everyone could've joined, but we had an early day the next morning...so some couldn't make it
In conclusion...The places, people, bonding, conversations and experiences, I loved it...and its a feeling I havent had in a long time because the last 10 days I got to live the life I've only dreamt for the past 1 year given the grief, sorrow and pain in 2020.
Lots of people to thank, starting with the amazing group we had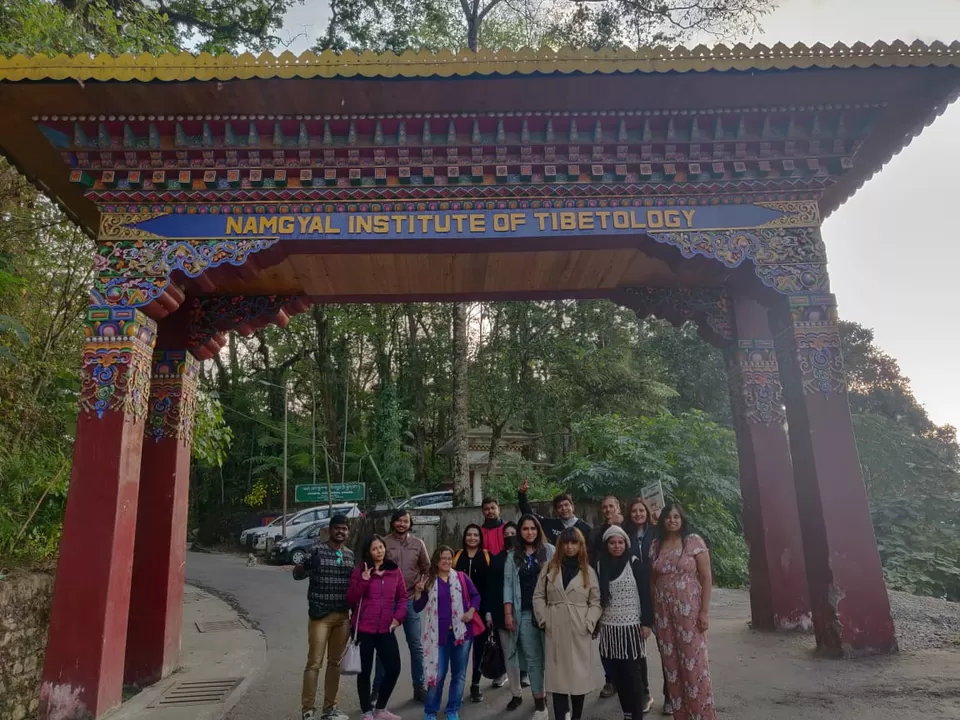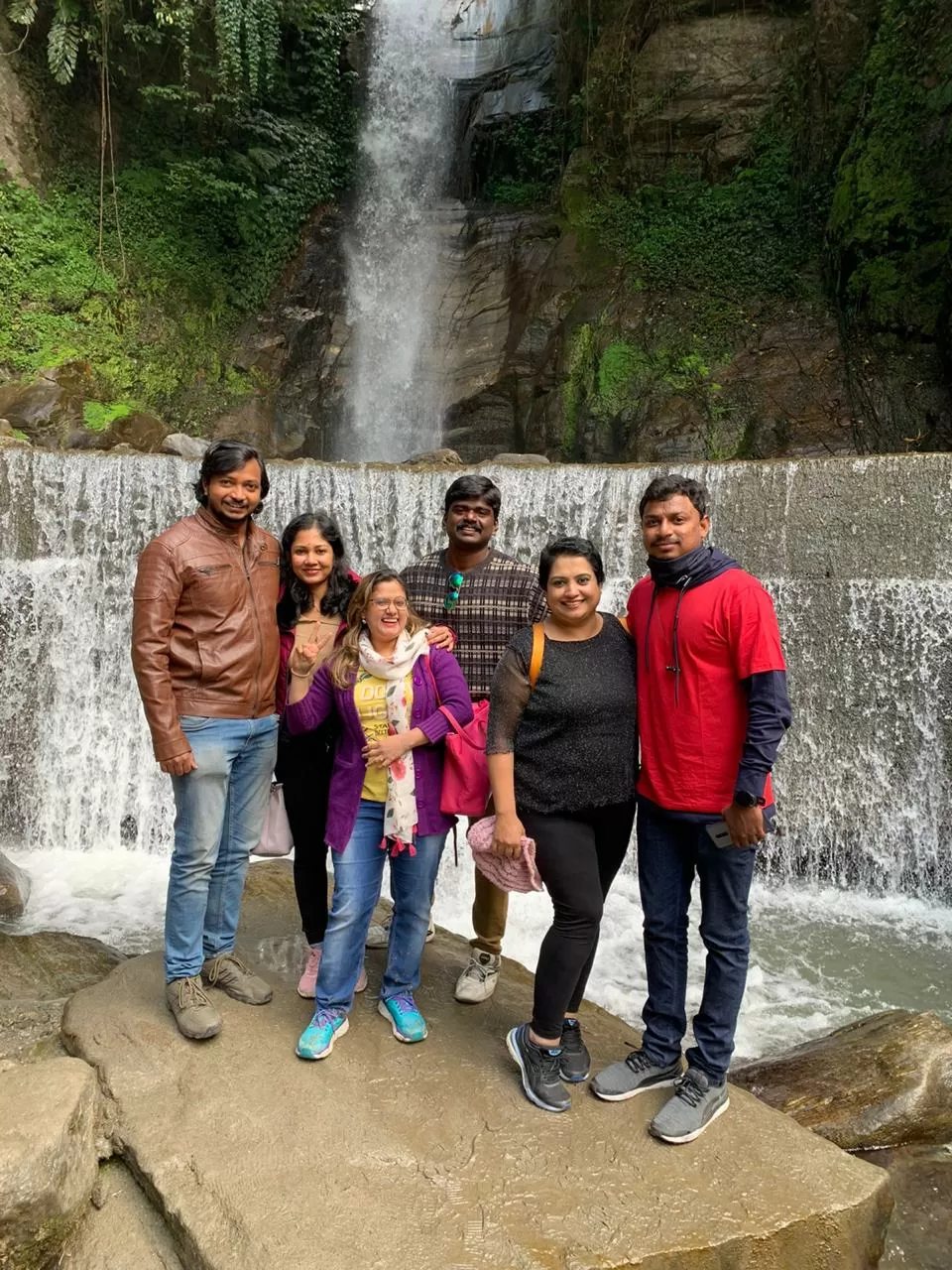 Shout out to to Neha and the travel khiladi team for having the guts to plan this trip.
Shout out to out trip leader Manish for carrying the responsibility on his shoulders as seen in the pic below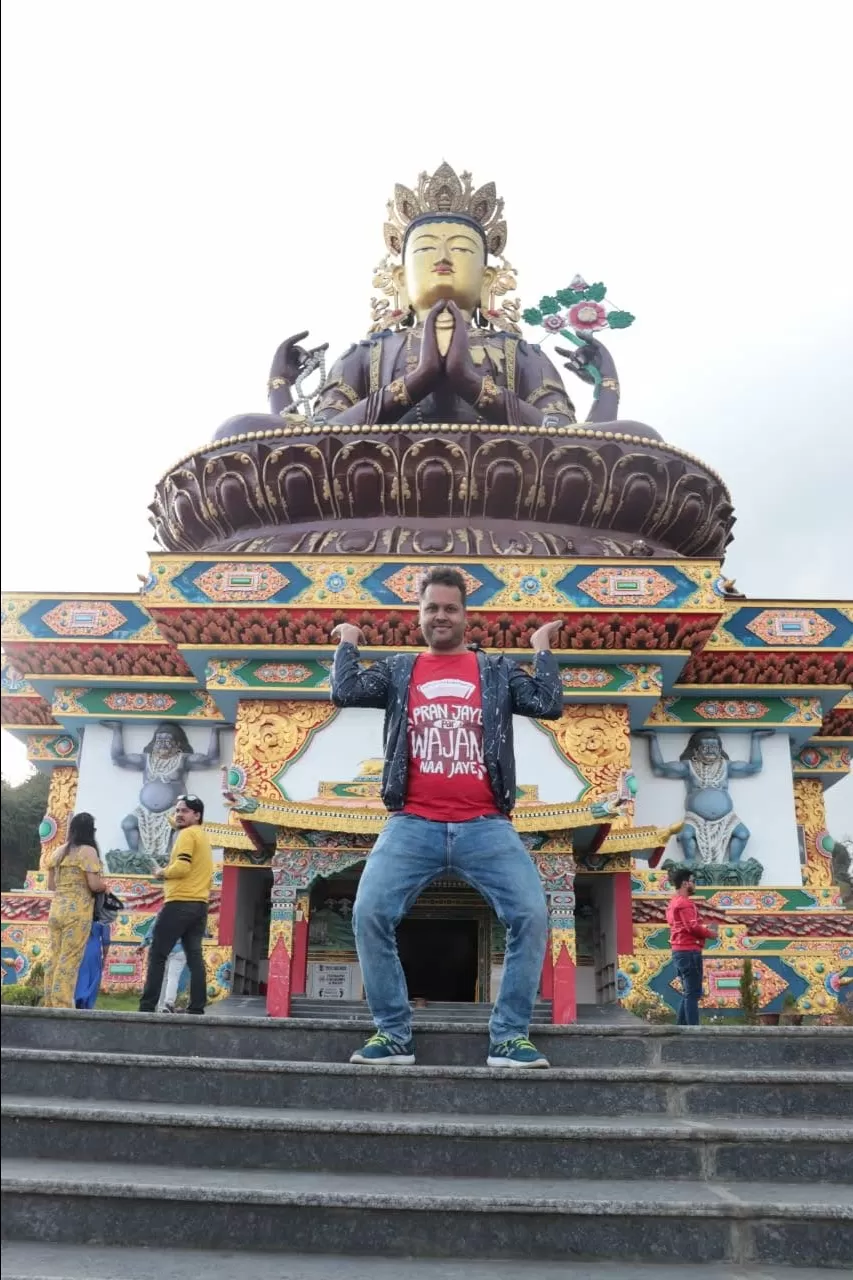 Thanks for reading 🙏
Note : for or all those who are worried about me regarding the covid risk due to trip...its been a week since I've quarantined myself after I tested negative at AP border while coming back home and everyone around me is fine. I appreciate the concern.
Special note : for all the judgemental self righteous holy samaritans for whom the earth revolves around them instead of the other way round, please read the note above once again.