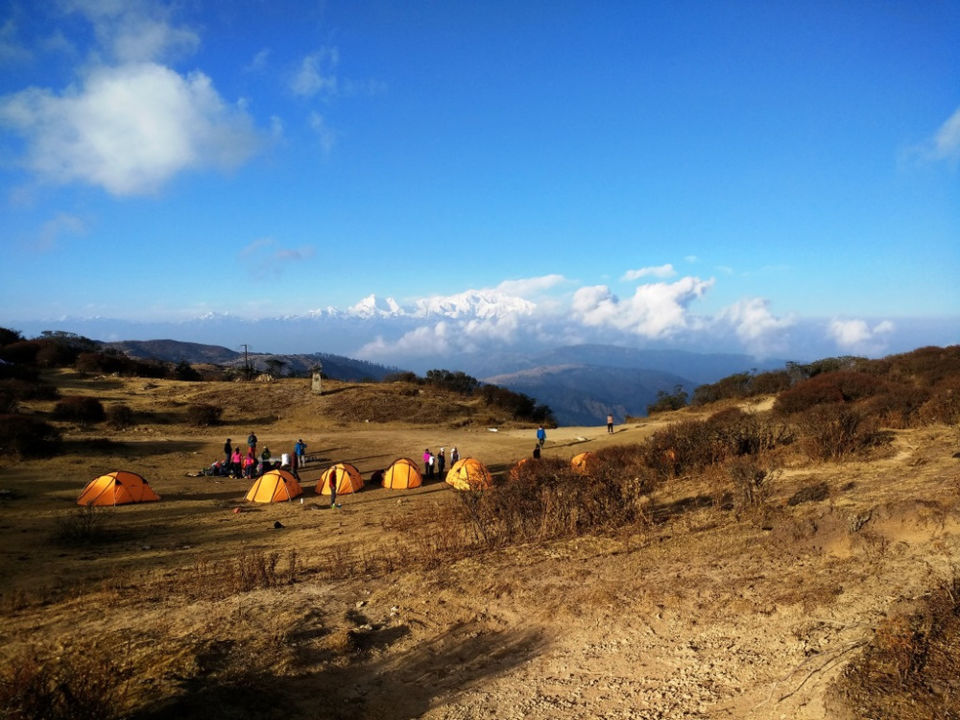 Trekking in the Himalayas is not a sport, leisure, or a passion. It's a full blown addiction. Once you've stepped into the gardens of Himalayas there's no walking back. You only return to go back to those verdant, sun kissed mountains.
And that's why I decided to attempt my 2nd Himalayan trek in 2016. Sandakphu Phalut is where I zeroed down, after realizing Goecha La in Nov will not be possible. So, here I am, lurking with the possibility of my 4th Himalayan trek and my 1st Winter trek, this time in the Eastern foothills of Himalayas.
But it was not going to be a run in the park. Trek dates were of 25th Dec, and I hadn't booked my tickets until now, the 3rd week of Dec. Leaves were unplanned. Plus I was on the wait list with Indiahikes. And I don't even want to discuss the airfares going through the roof. So, just like my trek to Kashmir Great Lakes I booked this one on 21st Dec, for a travel itinerary on 23rd. Air tickets cost me 25K to and fro Kolkata. I was already broke.
So here's the plan; take an afternoon flight to Kolkata and reach by evening, then hop on a bus from Kolkata to Siliguri, alight at NJP and meet-up with the fellow trekkers and then go in a shared cab to Jaubhari, our base camp. Since I had the complete gear with me I didn't need to buy anything. All decked up, Himalayas here I come, AGAIN!
About the Trek
Sandakphu is a relatively known and well laid out trek. It is one of the only treks in the world where one can get grand views of some of the tallest mountains in the world, including Mt. Everest, Mt. Kanchenjunga, Mt. Pandim, Lhotse, Nuptse and others alike. In fact the mountain range that is there on the back of the Rs. 100 note can be easily spotted here. Also known as the Sleeping Buddha, the Kanchendzonga range resembles a person reclining. The mountains that form this range are Janno, Koktang, Ratong, Kabru north and south, Mt kanchendzonga, Simvo, Japuno, and Pandim from left to right.There are 2 ways of completing the trek; the easier way is to get down to Gurdum from Sandakphu. The other one is the longer and more difficult terrain that takes you further till Phalut before getting down at Gorkhey. Indiahikes conducts the Phalut trail, which also offers closer views of the Kanchenjunga and Everest range, albeit with more efforts (and walking).
Day 0: To the City of Joy
I took a 2.30pm flight to Kolkata with Jet Airways. It was a festive season so needless to say Bengaluru airport was swarming with people going to their respective holiday destinations. On board, and I will be in Kolkata in less than 2.5 hours. The flight was houseful.
There's a different vibe to Kolkata. There is a different warmth to the city. The people, the old rickety city buses, trams, hand pulled rickshaws, and the ever colorful Bengali junta. Although a hustling bustling metro city, it feels the city has decided not to keep pace with time.
I reached Esplanade no sooner and located the bus. To my surprise I met some college friends in the bus who were also on their way to NJP. Talking of fate. Oh well, at least I will have some company from the otherwise boring 12 hour bus ride.
Day 1: A Never Ending Day; To Jaubhari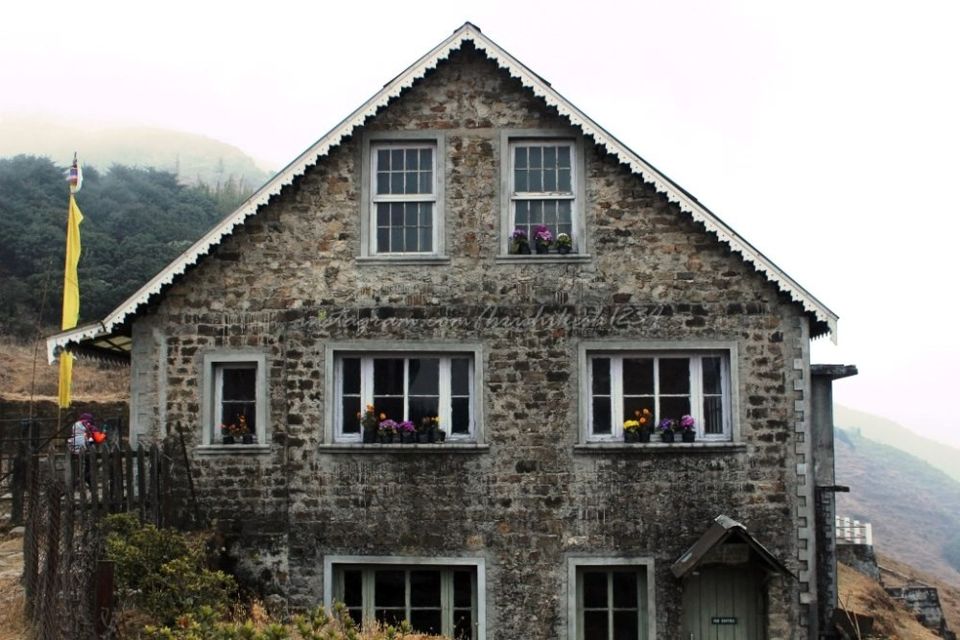 Day 3: Wake up, Sleeping Buddha!
If I remember well I woke up at around 5 thanks to the loo call. Few others were also up. Guides were waking all of us by now, and we just sat there on the beds hoping it was still a dream of waking up. Just when we were rubbing our eyes Kashi exclaimed from outside, "Arey Sleeping Buddha dikh raha hai" (Hey, Sleeping Buddha is visible now)!!! In no time, and I repeat, in no time, whatever we were wearing we just sprinted outside to have our first view. And there it was, the Sleeping Buddha all in its glory, and still sleeping!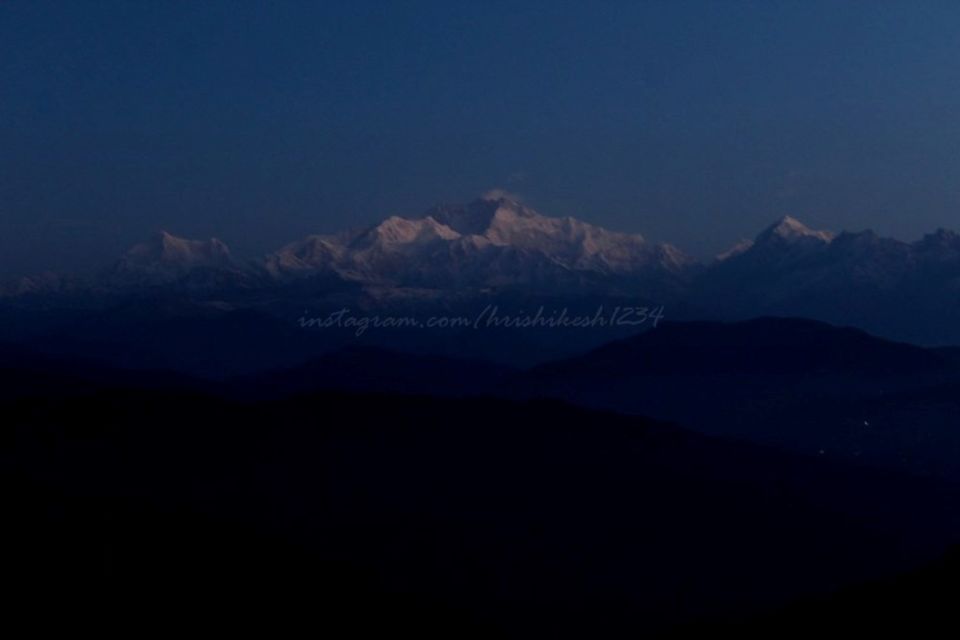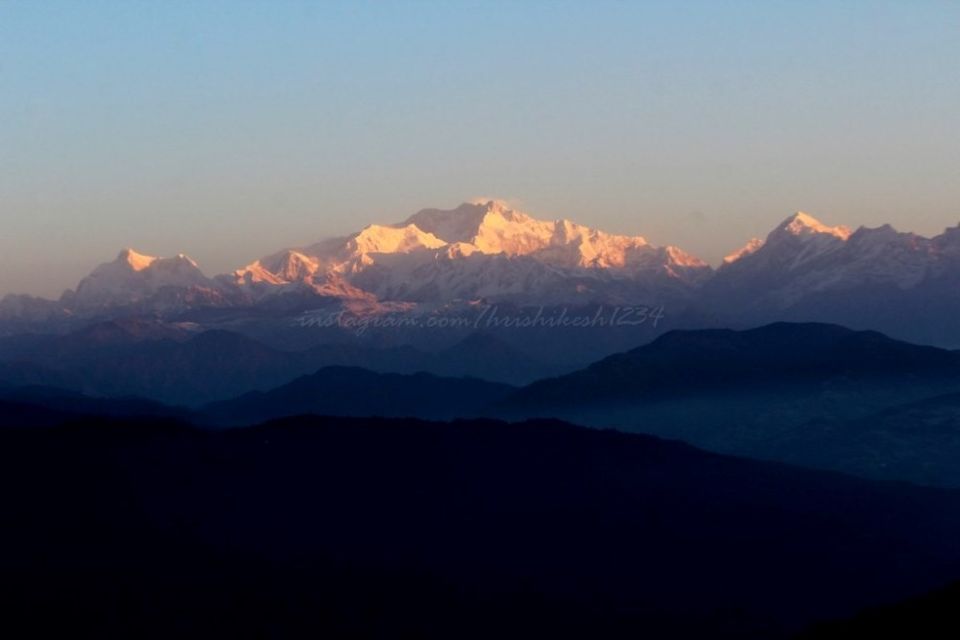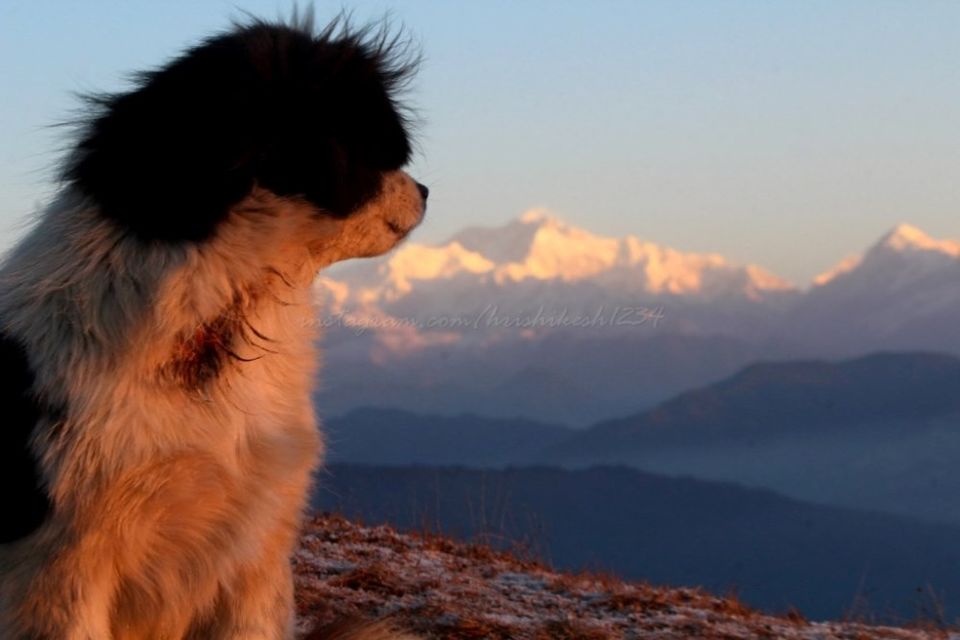 Today we trek to Kalipokhri, through the Singalila National Park. By the time we got ready it was all sunny, and Mt. Kanchenjunga shone bright. We started merrily, posing for our first group pic in front of the mighty range. Once inside the Singalila National Park you trek till Gairibas under thick foliage. Fallen nuts from trees litter the motorable road. I kept a constant glare towards my left for possible Red Panda sighting.
After walking for around 6 kms, chit-chatting we reached Gairibas for a break. Apart from tea we also got steamed momos here. What luxury! We need to refill our bodies well as the next half of the trek was to be gruelling with a steep ascend on a hot, sultry day. The hot weather along with the steepness of the road slowed us down considerably, sapping out energy faster.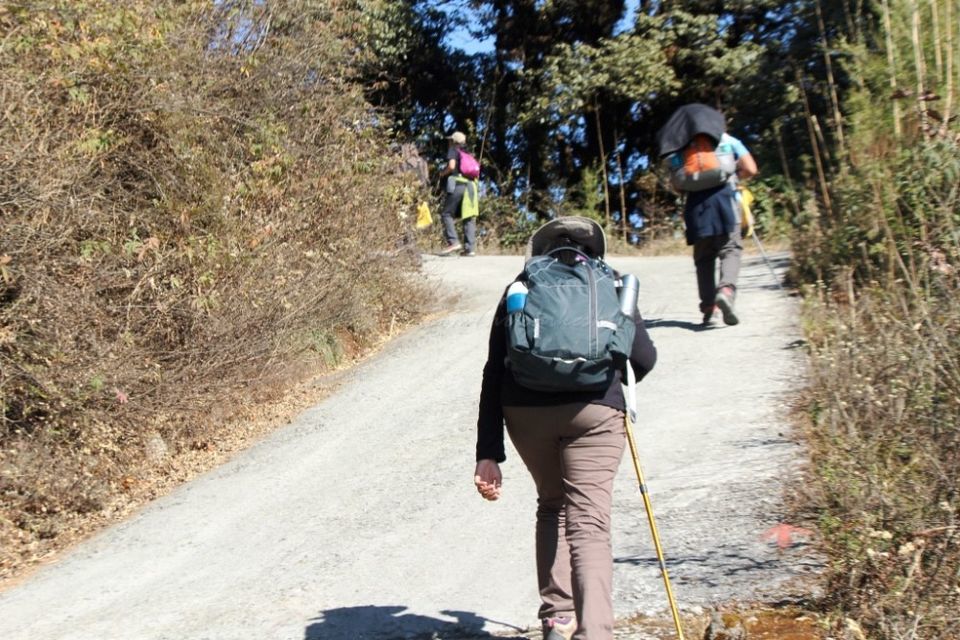 I was awakened with the repair sounds to our bus at around 7:30am. While they were fixing it up I realized it's not going to be just 12 hours before I reach NJP. In fact I spoke to Bhaskar, one of our fellow trekker and realised it will take atleast 4 hours more to my destination. My back and bums were already stiff thanks to some not-so-good roads. I also realised there was no point going to NJP now since it will be late by the time I reach and the cab with the other trekkers will be already off. Instead, I decided to get down at Bagdogra and rendezvous with the other trekkers coming by flight.
Bagdogra is a quaint little town with the only airport in north Bengal and a good presence of defence personnel. The airport is nestled amidst tea gardens. Quickly rang up Bhaskar, and in no time he showed up. The 1st trekker of the group that I met. Quick rounds of introduction, past treks, and alike before the IH pickup cab picked us up to the airport. One by one all showed up, and we headed our way to Jaubhari in 2 cabs.
The drive to Jaubhari is a picturesque as well as refreshing one. You go via numerous tea gardens, snaking your way through small villages. Pavitra, who was in our cab, also shared her knowledge and expertise on tea tasting. It's not as simple as taking a sip of it looks. We decided to let ourselves loose on some steaming momos and thukpas before being cut off from civilization. Momos were good, Thukpa was not.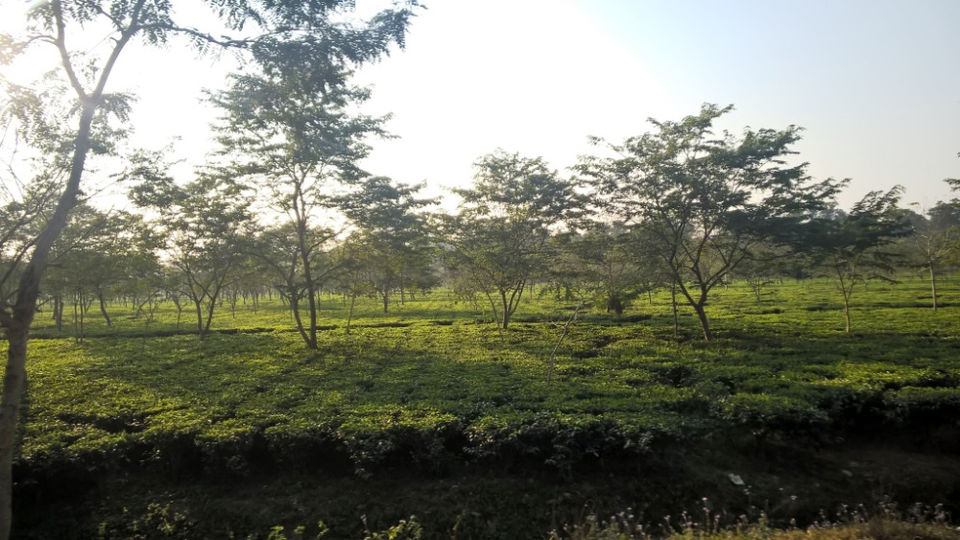 Day 4: Standing on the highest peak of West Bengal, with a Grand View in front: To Sandakphu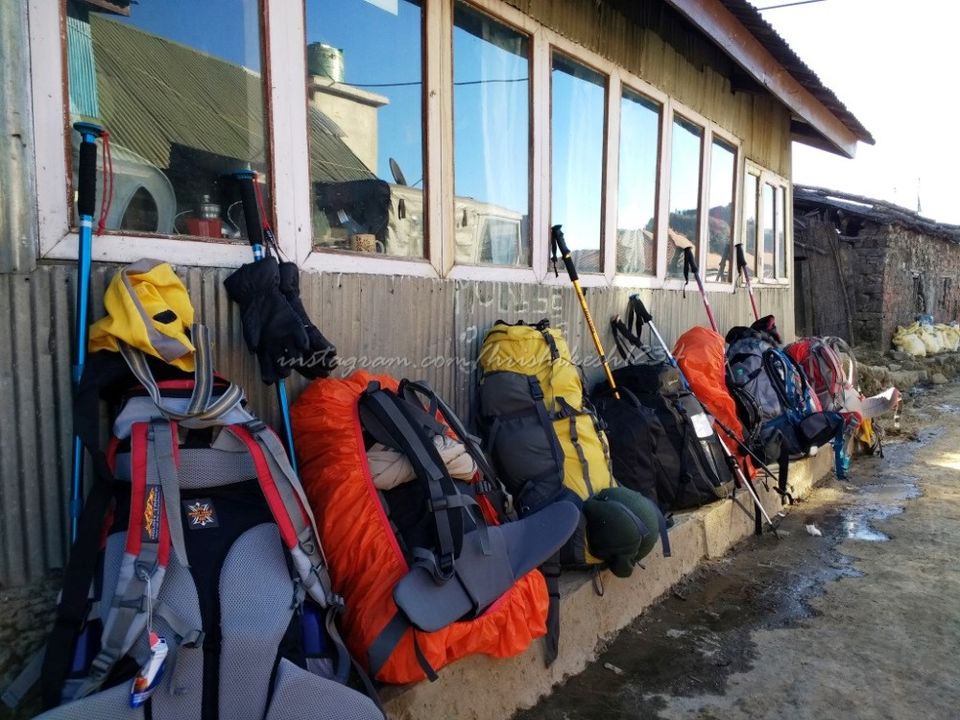 Day 6: Where are you Red Panda?
Today's trek takes us to Phalut, from where we will get the closest views of the Sleeping Buddha and the Everest range, and then to our campsite Gorkhey. There were no traces of snowfall happening soon now. Got up early to capture the sunrise on Kanchenjunga.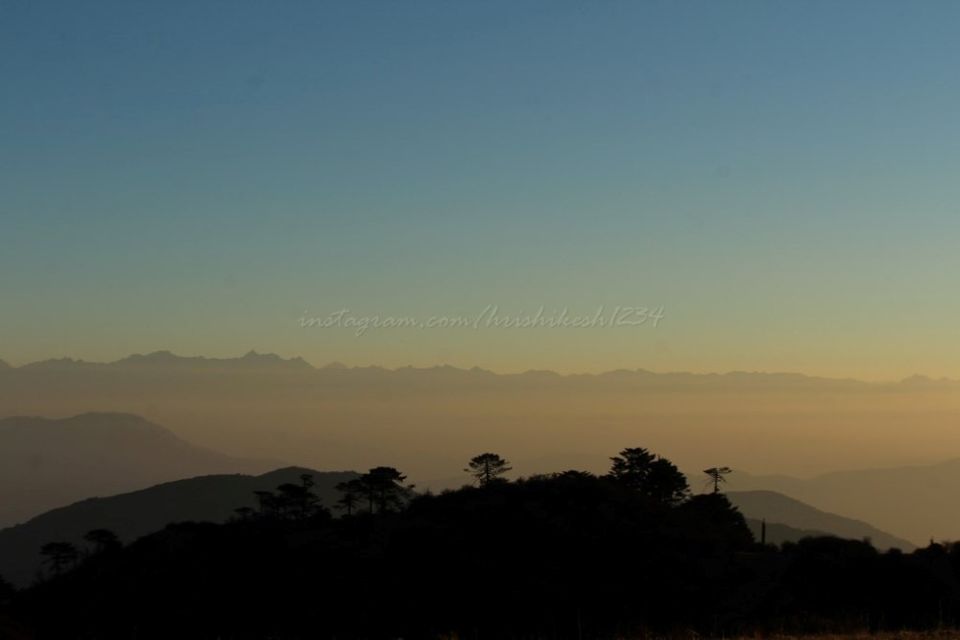 Day 7: Back to Civilization; To Sepi
Honestly, I don't want to leave Gorkhey. It was too pretty a village. And frankly, a lot of locals were bemused thinking I was a Nepali due to our similar attributes in terms of looks. Today we walk for another 15 kms. My knees couldn't curse me more. The initial half of the trek will be through a dense canopy, followed by small villages once we cross Rammam.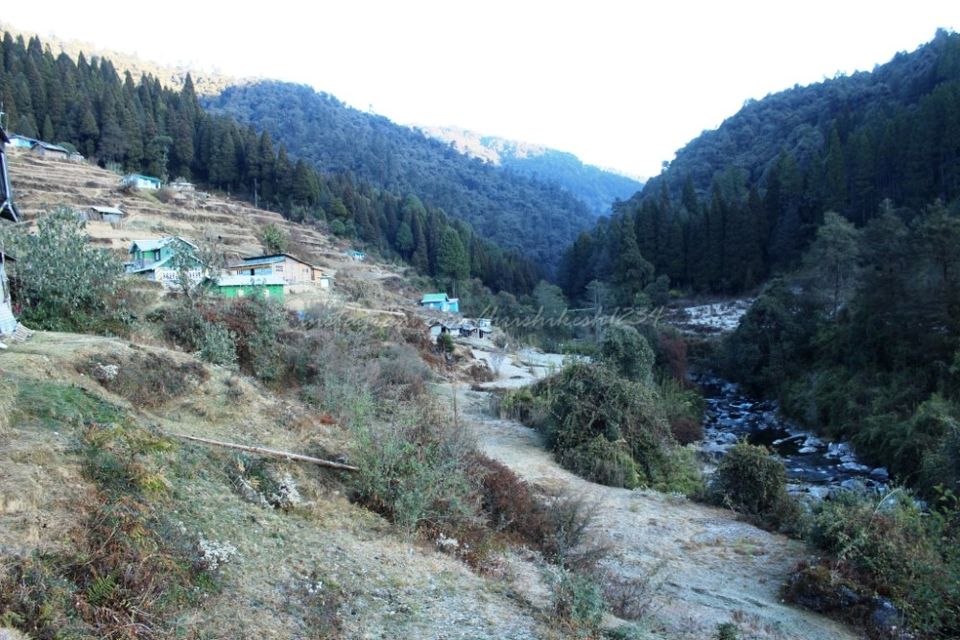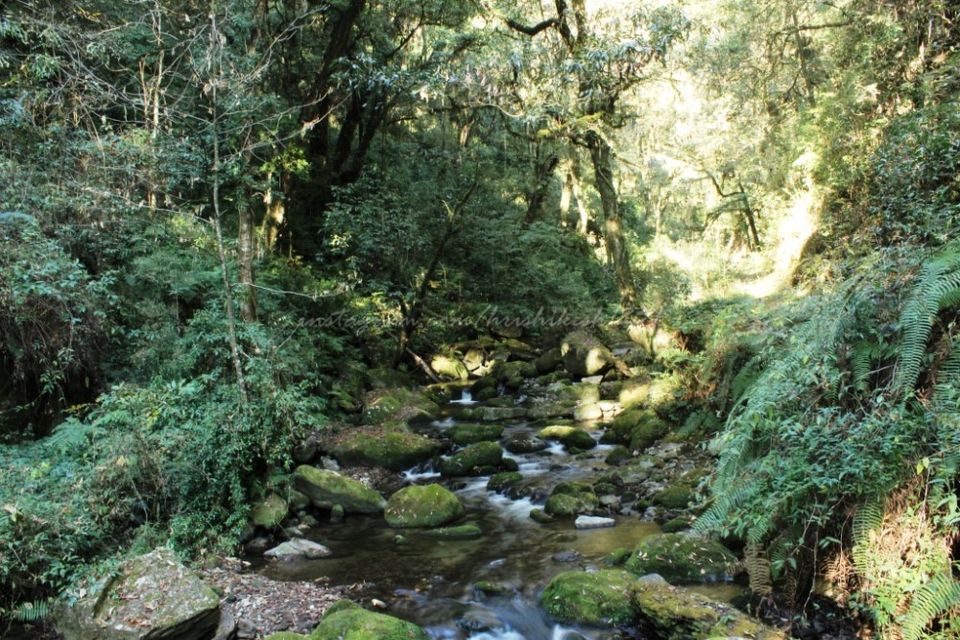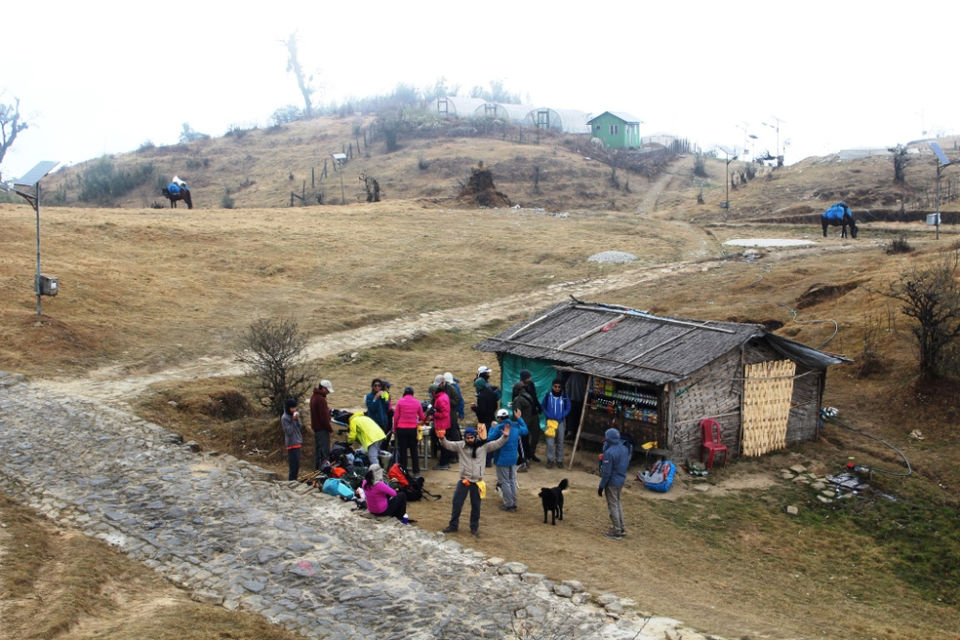 It was dark by the time we hit the road again. I was astonished to see the level of cleanliness on the roads and the numerous small villages that dotted the route. We were literally driving on the India-Nepal border. And the people know how to fashion up. We reached Jaubhari at around 8pm. Out of the cab and the warmth inside the cab was replaced with chill winds running past our shirt. Quick walk to our tea house and here's where we met the entire entourage. Bonfire, hot soup, and some really cosy rooms with some really warm quilt; this is joy!
Dinner was served sooner than we expected. Once done our trek leader Geet summoned us all to be in the dining hall for briefing and medical checkup. What really psyched me up was the mandatory 4 Litres of water per person, every day. Make it 5L if you're on Diamox since you'll be visiting the loo more often. I mean that's the amount of water I drink in a week maybe. But did we have a choice in the mountains? Our pulse, BP, oxygen, and weight were jotted down. Geet did the ice breaking with the whole group and laid down the important dos and don'ts. We had a father-son duo as well from Mumbai. The session was long but important before we hit the sack. One thing was clear; the trek is around 80kms long, so every day is going to be long and painful on the knees. Lights out.
Day 2: A day to Tired Shoulders, Snowfall: To Tumling
Mornings in the mountains happens early. Much early, in fact. You have to complete all the daily chores and be trek ready by 8am. A few of us had trouble sleeping at night. No surprises here as the body is not used to this altitude, plus the cold effect. Me had a grand sleep though; maybe even snored a bit!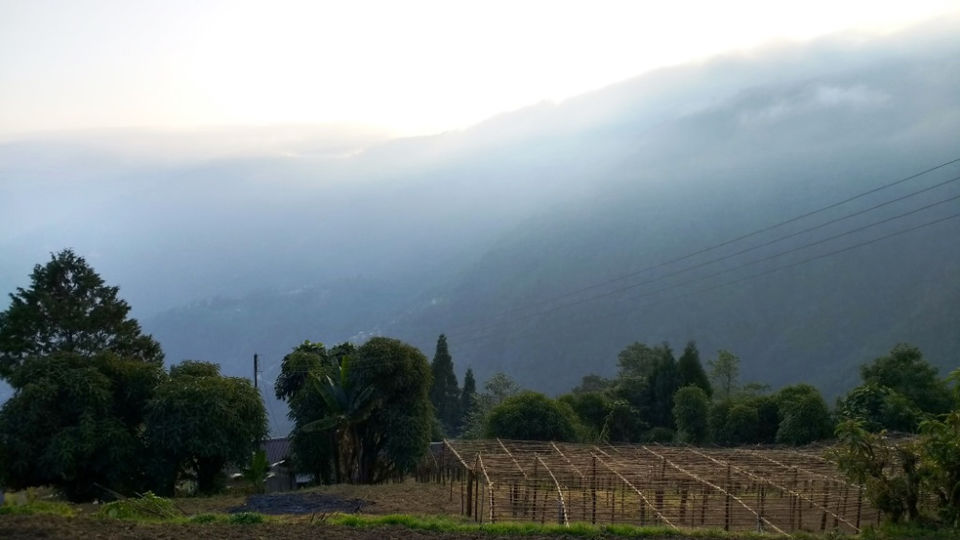 And what a lovely morning! We had an amazing landscape right in front of us, apart from breakfast. We also met our trek guides today; Sange daju, who will be leading from the front, Subhash daju in the middle, and Gopal daju sweeping at the back. Tsering was responsible for luggage and other trekking stuff like tents and utensils. As is the case with me I always prefer to stay at the back, which means Gopal daju will see more of me than anyone else.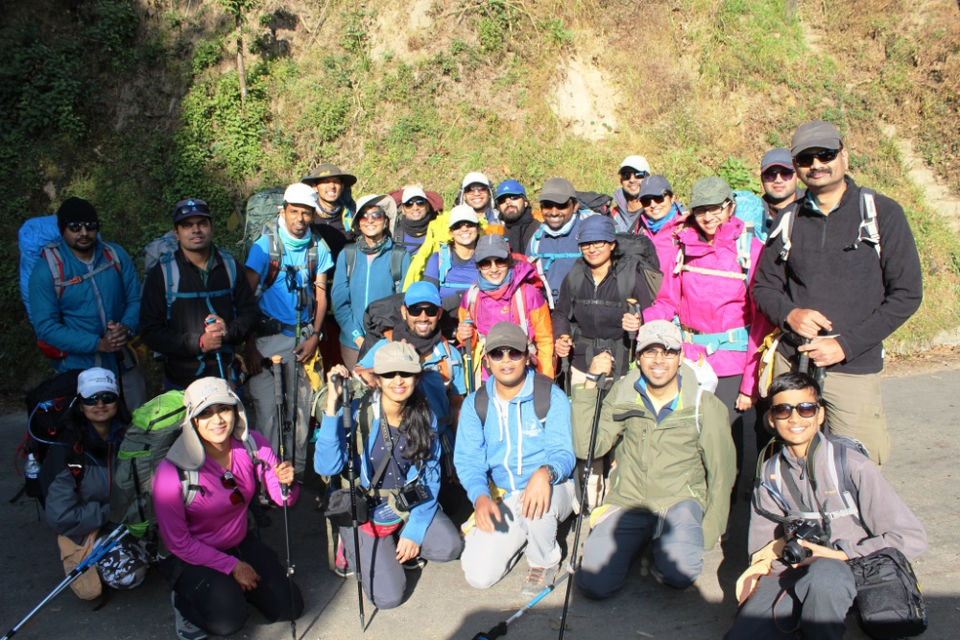 All ready to take off we hit the trail in no time, after a group pic. The 1st day on a trek is always a difficult one, mainly due to our body not used to the rigor and altitude. The initial climb took us through some nice, dense pine forest before opening up to the motorable road that goes straight up to Sandakphu.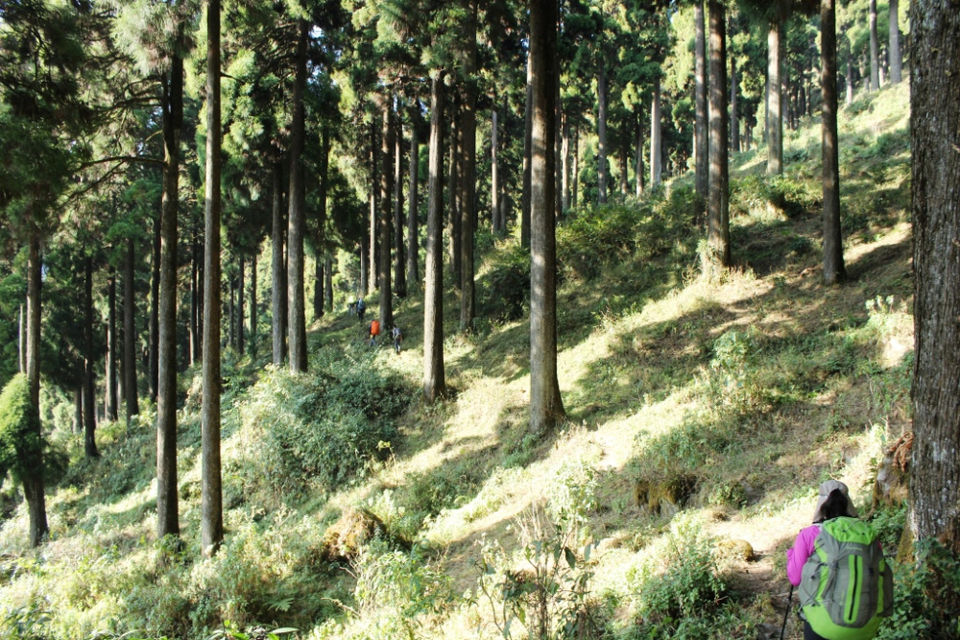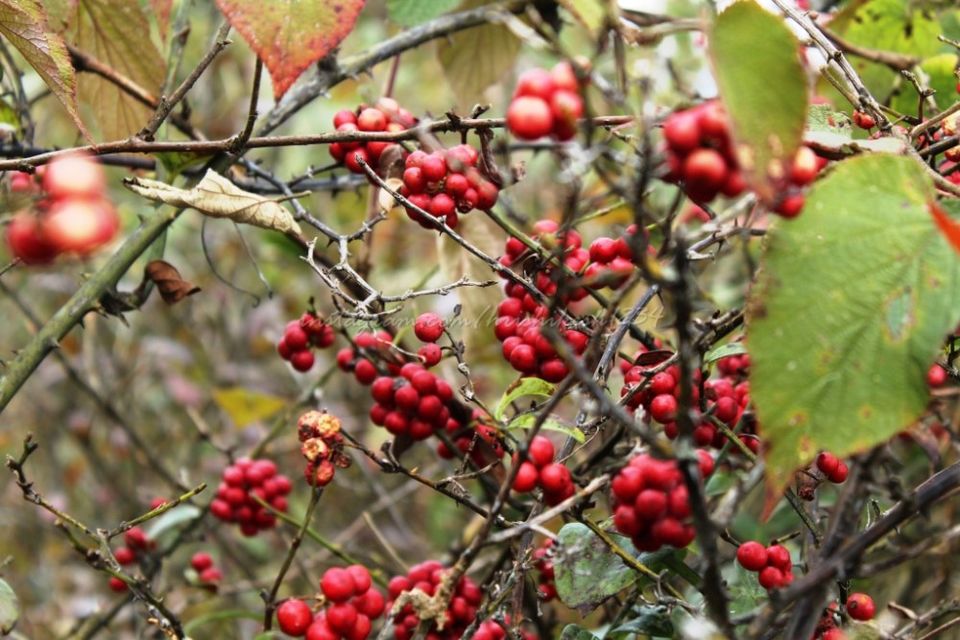 Time for a tea break. This is one trek wherein there's plenty of tea, albeit black tea mostly. While tea gets prepared we walked up to notice prayer flags and some Buddhist constructions. Turns out it is a Buddhist cemetery. Back on the trail and now Land Rovers can be seen going up to Sandakphu, spewing black smoke on our faces.
Soon we were spiraling between open, mystified meadows and jungles. Few had 3 layers on them, others braved with a single jacket/fleece layer. We reached Meghma by noon, where we would stop for a hot meal and a registration at the SSB checkpost. Beauty of this trek is you'll be trekking in and out of Nepal consistently.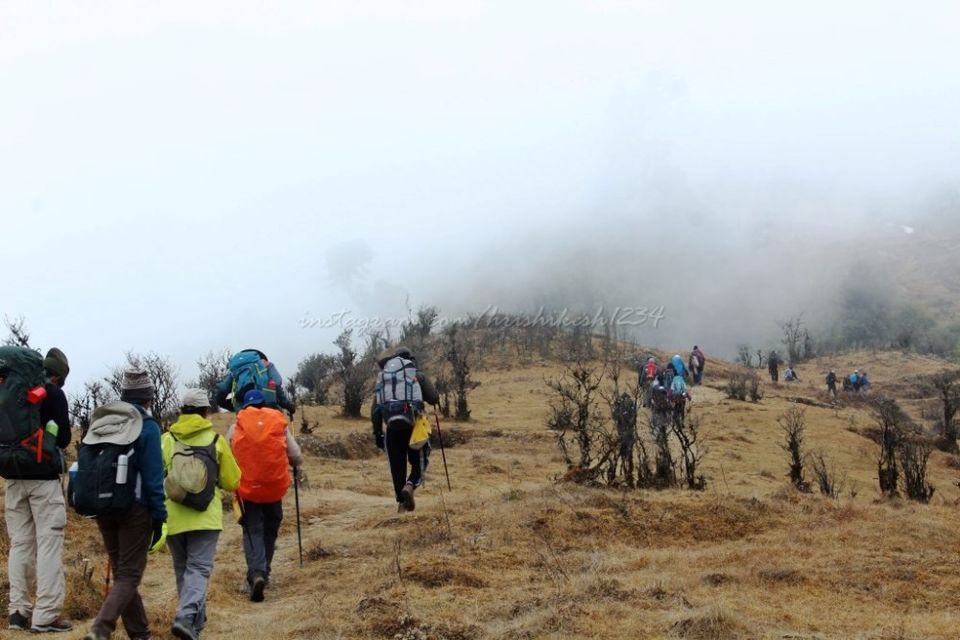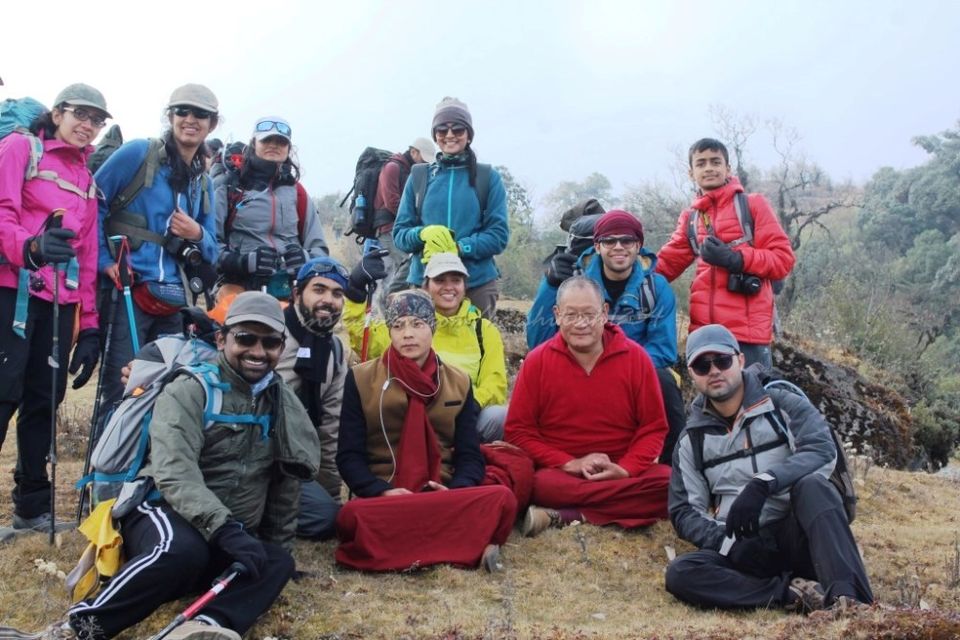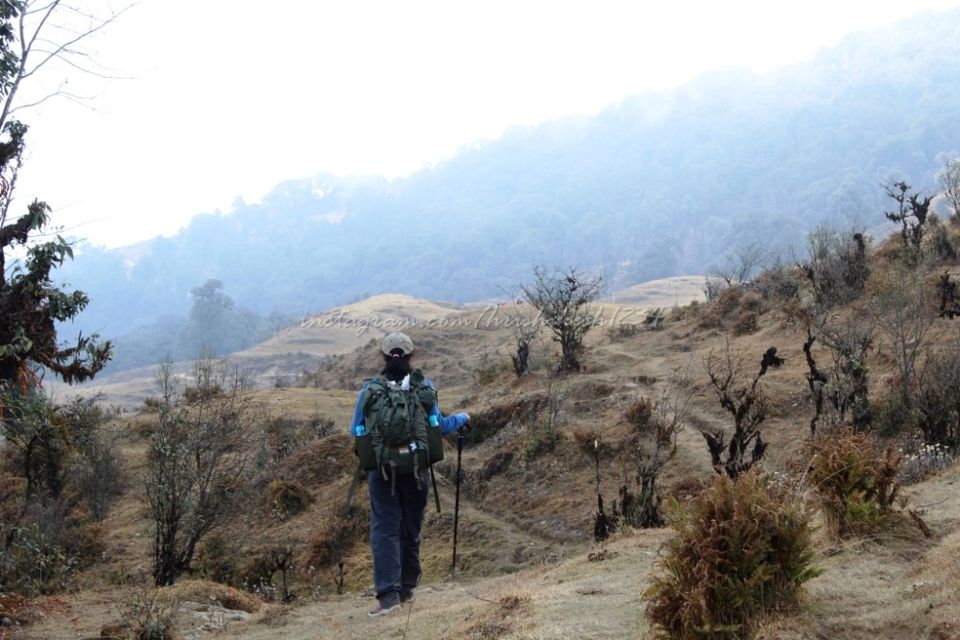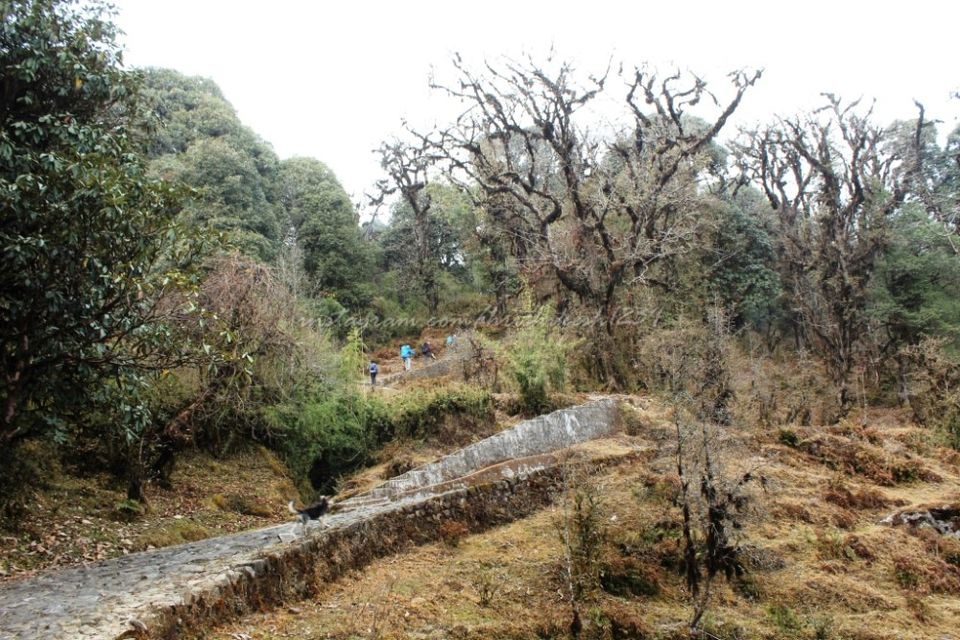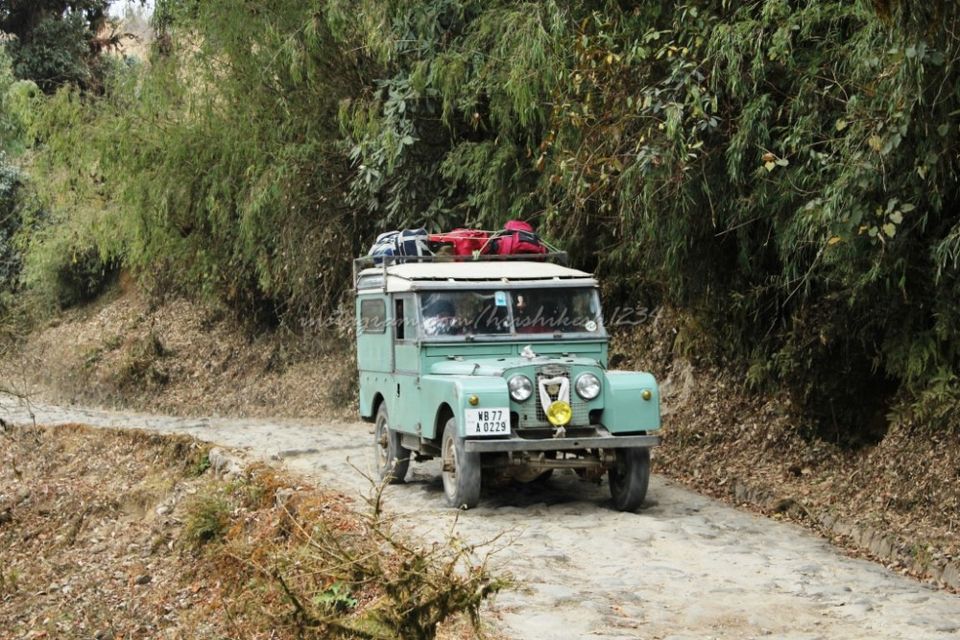 SNOWWWWWWW!!! Small flakes of snow started falling on us. Even before we realized it was a hailstorm. We quickly took refuge in a homestay where we were served one of the best lunches I ever had. Special mention to the chilli pickle which literally made me cry and nose watery.
The hailstorm lasted for more than 2 hours I think. By the time it stopped we had a white cover till our eyes could see. Actually, we couldn't see far since the entire valley was engulfed in fog! Nevertheless, the journey must continue. So we added extra layers to our body and on we march to Tumling. The route was slushy now, and the visibility reduced. Also, we came to know Kailas was unable to walk due to an excruciatingly painful knee. So he and his son Atharv decided to go back. It was sad to see them return when the trek has just started off. We finally reached Tumling after a long day, and also saw the bunch of trekkers from YHAI who have already reached here on Land Rovers. Our teahouse was on the Nepal side, just a foot away from the border. My first foreign trip!!!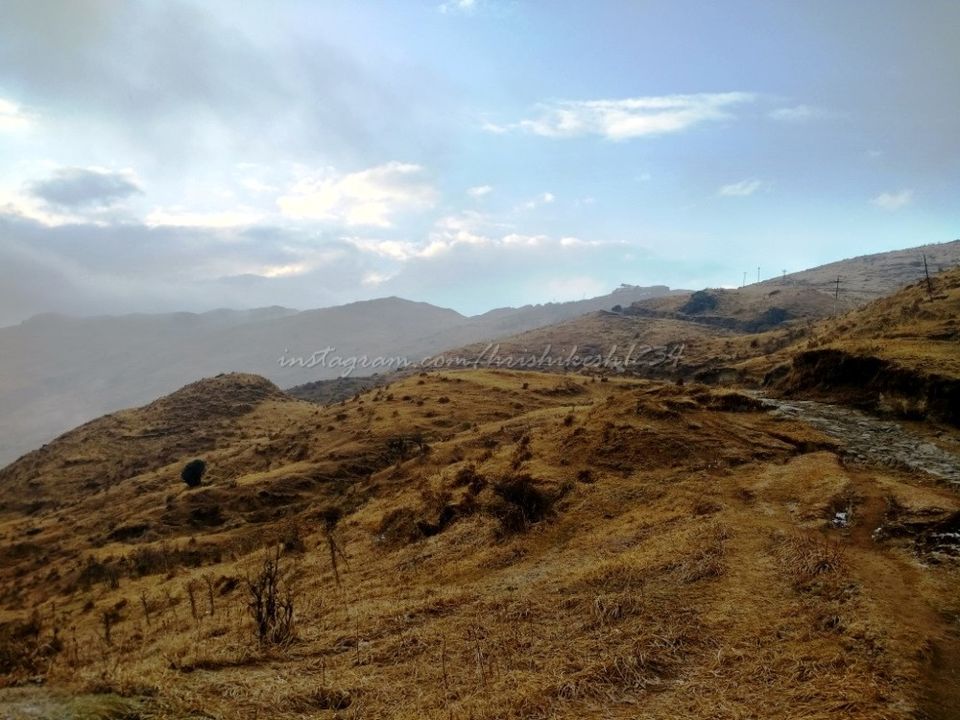 We covered almost 12 kms today. That's a lot of walking on 1st day. The first sight of the Sleeping Buddha can be had from here. But not today. It was completely shrouded by black clouds. We hoped and waited, but we will have to wait for another day to have our first glimpse. It got dark, cold. Quickly inside the teahouse and fun session started. We got to know each other much better thanks to quirky name game. Shivering bodies were replaced with laughter filled commotions.
After winding up with dinner we were told to be ready early morning, for if the sky cleared we can see the sun lighting up the Kanchendzonga range. We just cocooned ourselves inside the blanket for some eternal sleep. Damn, it felt nice and cozy!
It was numb inducing cold. And I ventured out in socks and Bermuda! Of course I'm an idiot! I was shivering right down to my last bone. I still remember how I struggled to take out my hands of my jacket to click pics. But I dared. For the Kanchendzonga range was slowly getting lit. A sight to behold, indeed. We just stood there, enchanted, awed by what was unfolding in front of us. We clicked, and clicked to our hearts content. Good for us we will have this view for the next 5 days with us.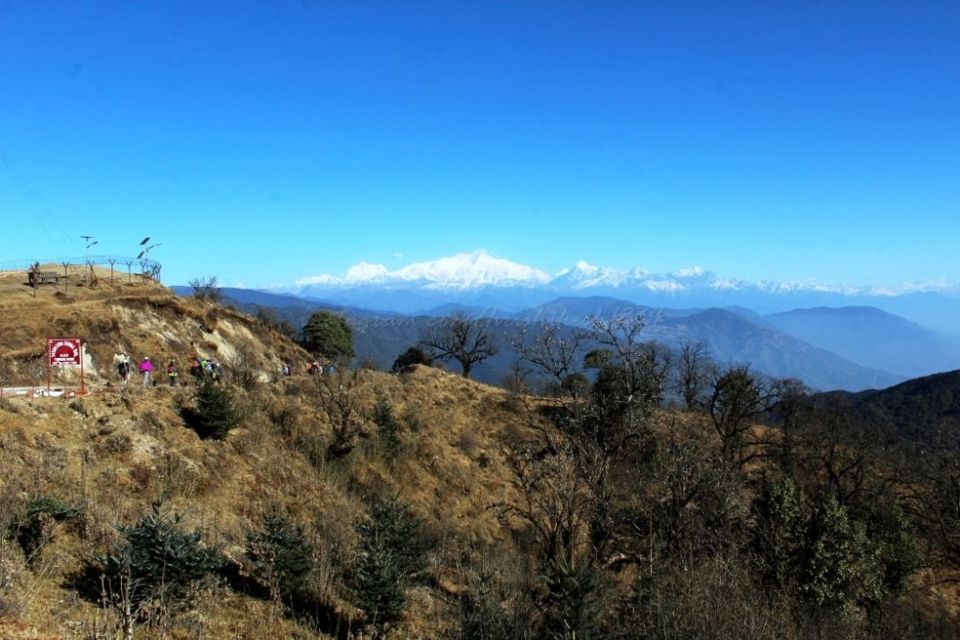 By the time we reached Kaiyakatta we were exhausted. A simple, hot meal couldn't have brought more joy. We lazed around, chillaxed; we were in no hurry! The trail from here was gentle and we walked in the shade of the mountain on our left. The frost on the vegetation was visible. Nights must be cold out here.
No sooner we reached Kalipokhri. Kalipokhri means Black Pond. It is said the water of the lake never freezes regardless of the temperature. The pond is considered holy by the local Nepali people, and no one is supposed to touch or swim in the waters. We had to go a little ahead for our today's homestay. And what a homestay that was! Absolute beauty! Just look at the pic below.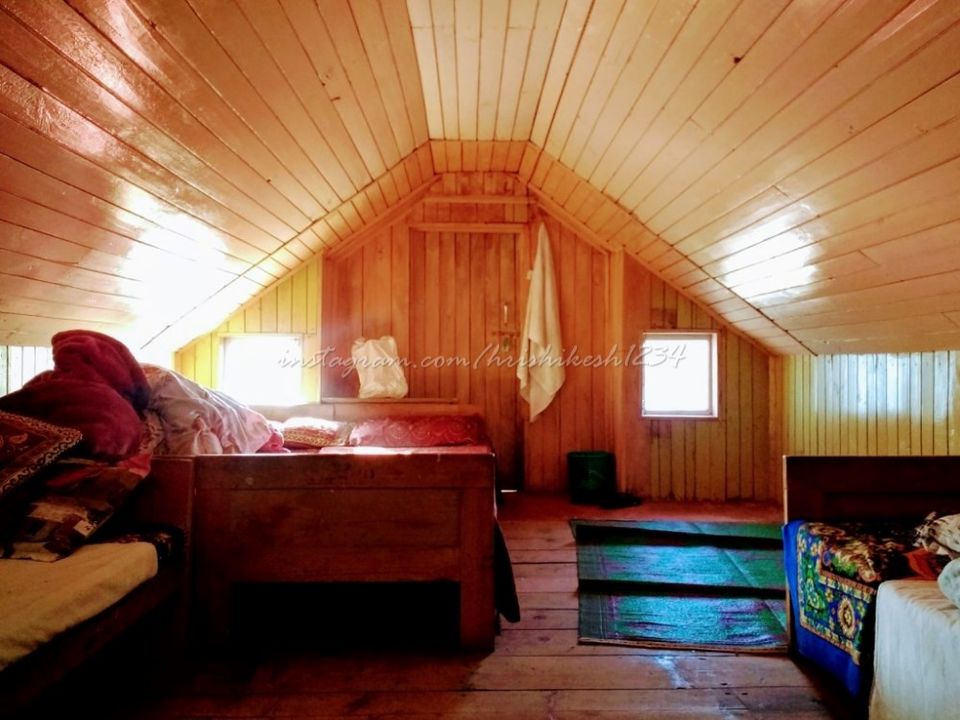 Quickly dumped our rucksacks, got hold of our cameras and rushed back to Kalipokhri to catch the sunset.
And that was a sunset to talk about. The clouds were below us, and it looked like we were floating on it. We were literally above the clouds now. Talking of walking in the clouds to a whole new level, eh? The most beautiful sunset, ever…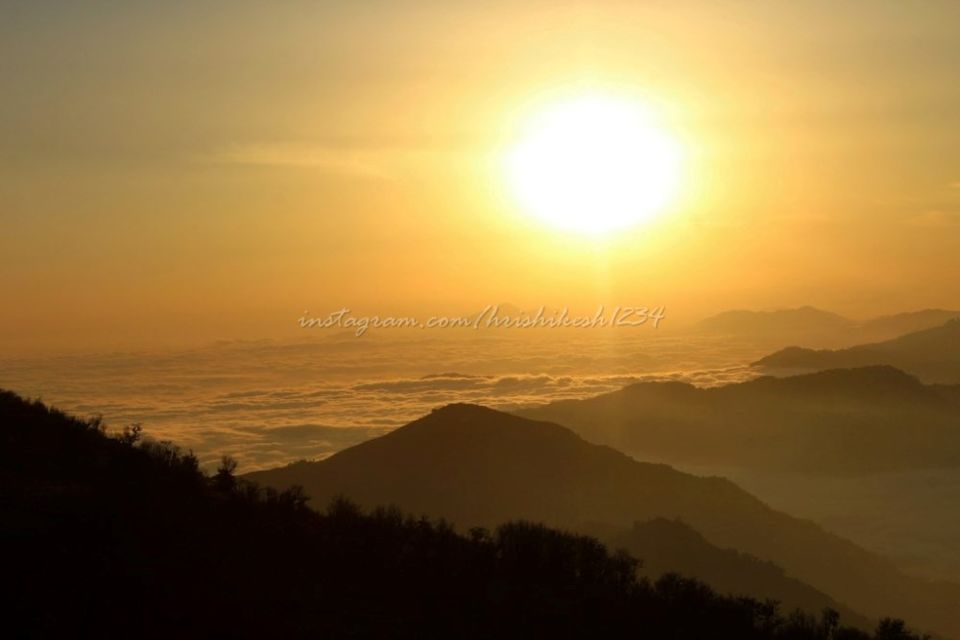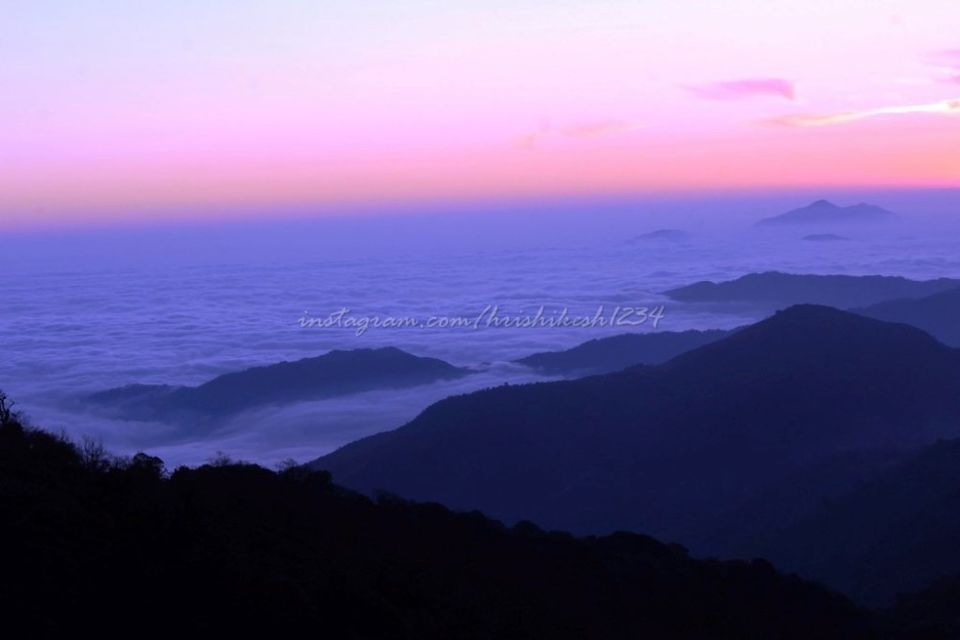 Its 7 pm and time to regroup. That means hot soup, munchies, and play session. And of course, a coal heater in the middle of the hall. Here we also met Lucy, the adorable Pom. One good thing about this trek is you get to meet a lot of dogs, and I mean lot of them. They are full of warmth, and they just wanna play with you. So Lucy will just go from one person to the other, snuggling on your feet.
Tomorrow is the all-important summit day and needless to say another tough day. Lights out.
Last night was cold, very cold. Even the water in the tap has frozen. Though we don't cover more than 6-7 kms today, the trail was uneven with steep hikes involved.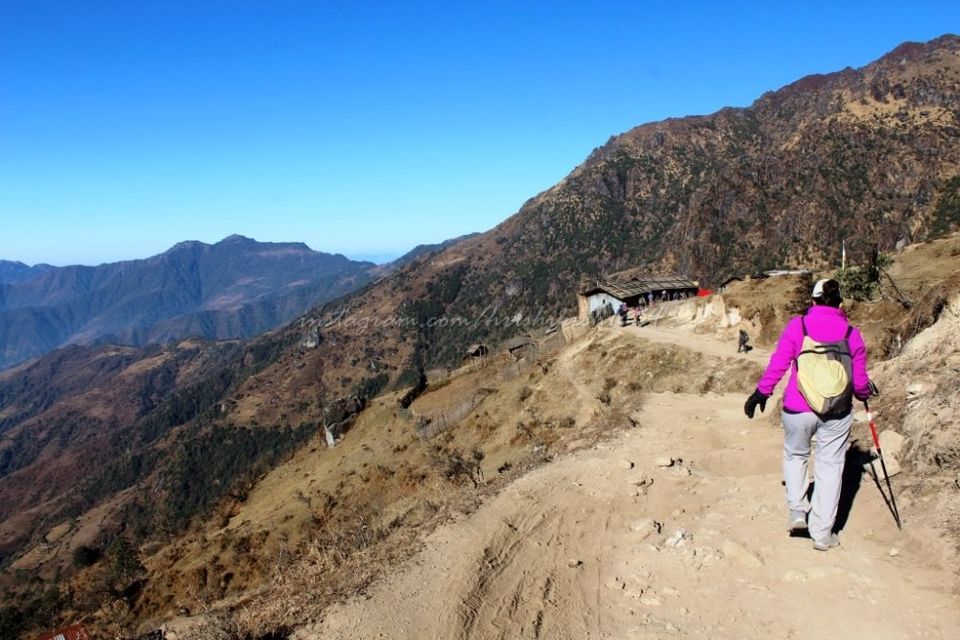 Till Bikeybhanjang the trail is more or less even. But the actual climb starts from here. Due to the trail being dusty and the sun full out we had a tough day to negotiate. Water, dry fruits, chocolates, candies all helped in keeping us pumped up. Me, Bhavika, Ashwin and Venky kept a slow but steady pace. The last 2 kms were damning steep. Few more steps and here we are, standing on the highest point of West Bengal. We made it to Sandakphu! Guest houses, tea stalls galore here. I turned around, and there it was; the best possible view of the Sleeping Buddha range, right in front. It was a sight to behold. There were a lot of trekkers around, most of which will get down to Gurdum from here. Not only the Kanchendzonga range, but the entire mountain range was basking for our attention, till Bhutan. But where's the elusive Everest range. Turns out we have to trek a little ahead to our actual campsite. We will also spot Mt. Everest for the first time in the middle.
Gobbled some biscuits and tea, and headed out to our actual campsite. Not even 1 km to our walk, there it was the Everest range far on the left, with Makalu and Lhotse flanking it on left and right respectively. The tallest mountain peak in the world is right in front of my eyes. We were delighted! Numerous photo-shoots ensued. All the poses that we can think of were offered right in front of the mountain ranges!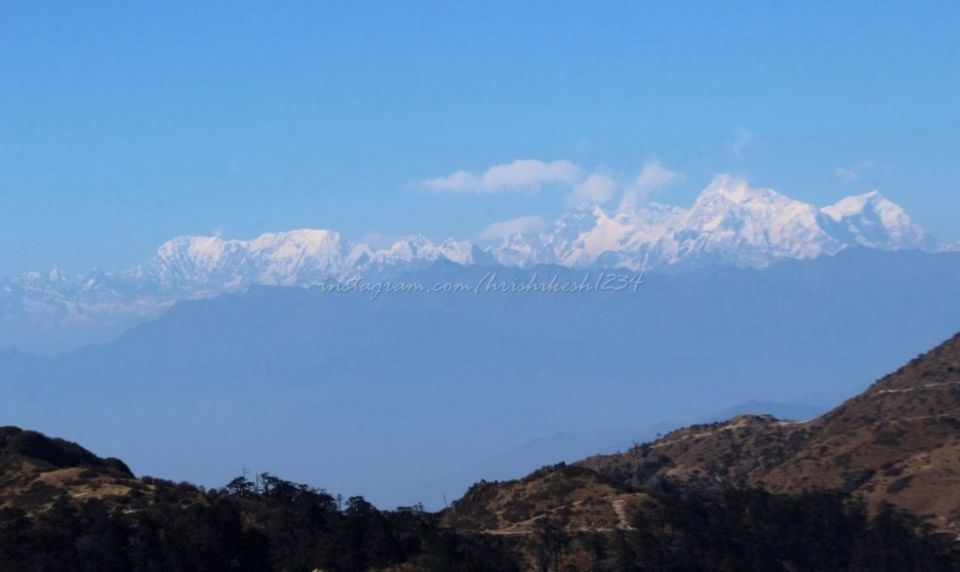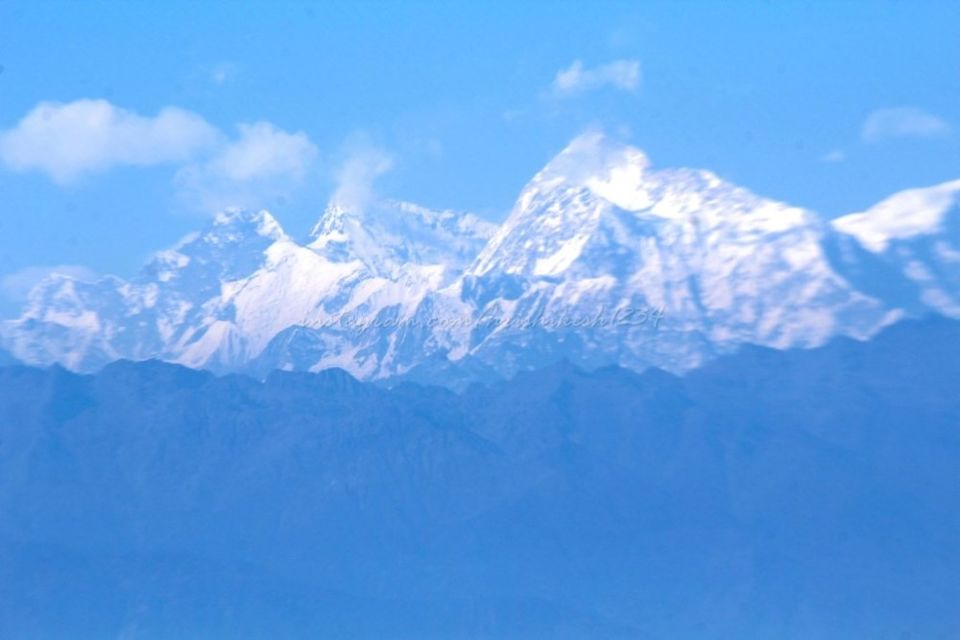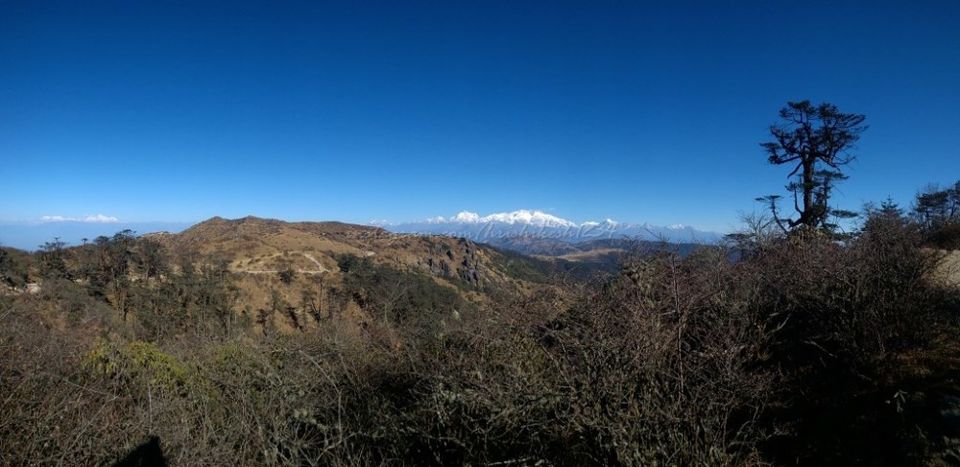 We reached our campsite no sooner, and it was a barren meadow with couple of tea houses. It was good to be alone there, with lot of empty spaces all around. And of course, the Kanchendzonga range right out of our tents. Did I say tents? Oh yeah, sorry I forgot. We had to pitch our own tents as well. Sounds exciting? Not exactly when it comes to actually putting it up! I knew how to pitch a Quechua tent, but these Hillman tents were a tad different. We also had noodles for lunch today to everyone's happy faces. How can a trip to East India be complete without a plate of noodles!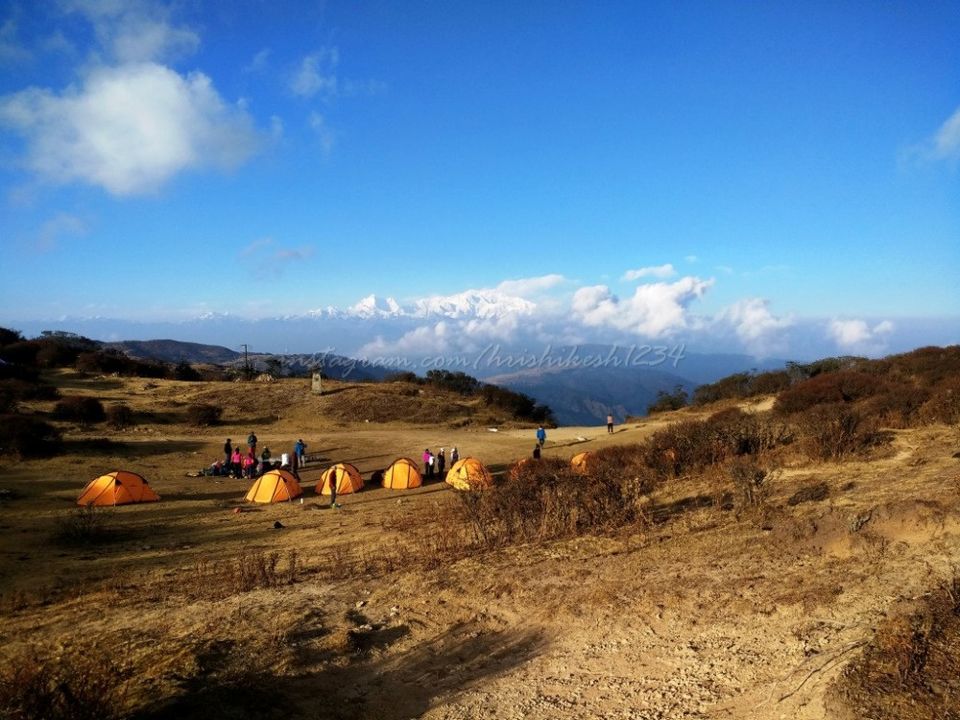 The rest of the day was spent in leisurely fashion, some roaming around, others clicking whatever they could find artistic.
The sunset from here was to be even more epic than from Kalipokhri. Now we also had the Everest range in far Nepal falling to sleep now. The horizon wore a pink robe, and the mountain ranges bid their adieus. And the uninterrupted wind was piercing our body. Your fingers go numb even if you take them out for few seconds. Frostbite is easy to get here.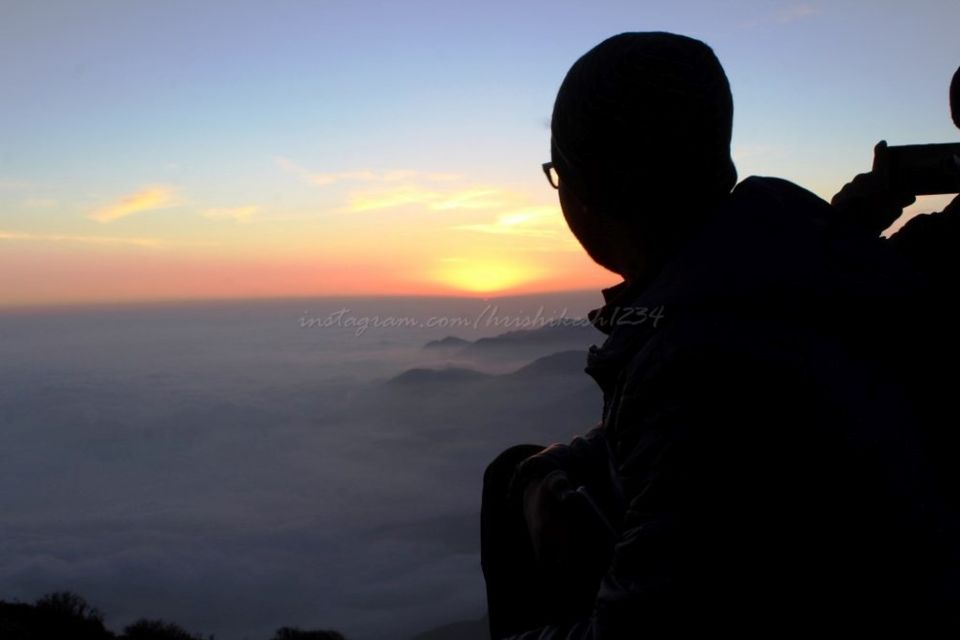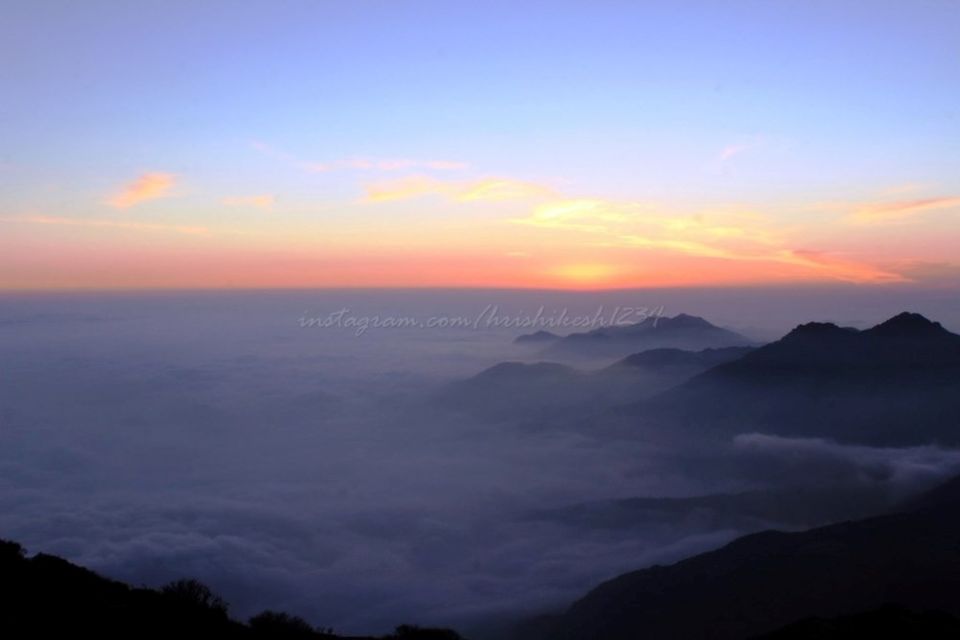 We quickly huddled in the kitchen hall where bonfire was put up. Divya had a Bluetooth speaker, so we had a sort of a "mountain party" inside the kitchen. Tomorrow we trek to Sabargram, which gets us very close to the Sleeping Buddha. The temperature was barely liveable. Touching water was like punishment. It was a starry sky and the Sleeping Buddha was glowing at the distant. While everyone called it a day me, Ashwin, and Venky decided to take on the cold and engage in night photography. It takes a lot of patience and skills to get good snaps in the dark. Ashwin's One Plus 3 was rocking it. I too had some decent ones, albeit with noises around. Take a look.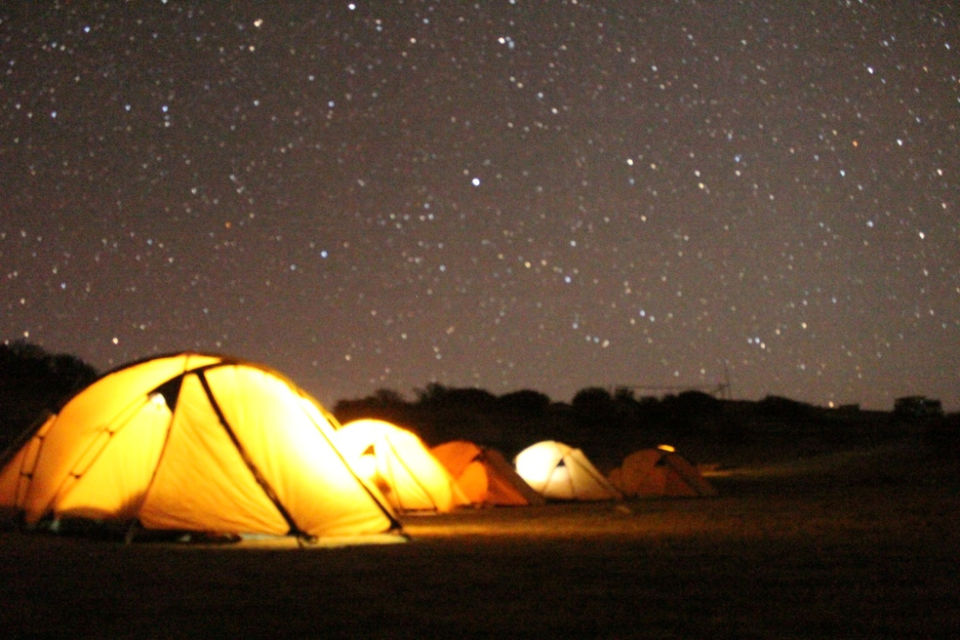 Day 5: The Windiest Campsite Yet: Sabargram
We woke up to a clear blue sky, and a welcoming sunrise. Rise and shine, Sleeping Buddha! Today's trek is 15km long, and an early start was crucial. But we didn't start early as planned. We didn't even unpitch and pack our tents. Geet was clearly miffed, and scolded us. We left at 9am finally. We had crystal clear views of the entire panorama in front of us. Also got to know that few batches before ours didn't get any clear views of the mountains at all.
Today's trek will be through lot of open meadows. We got some delightful views throughout. The Sleeping Buddha was constantly eyeing all our movements as we inched closer. I had a field day with the camera though.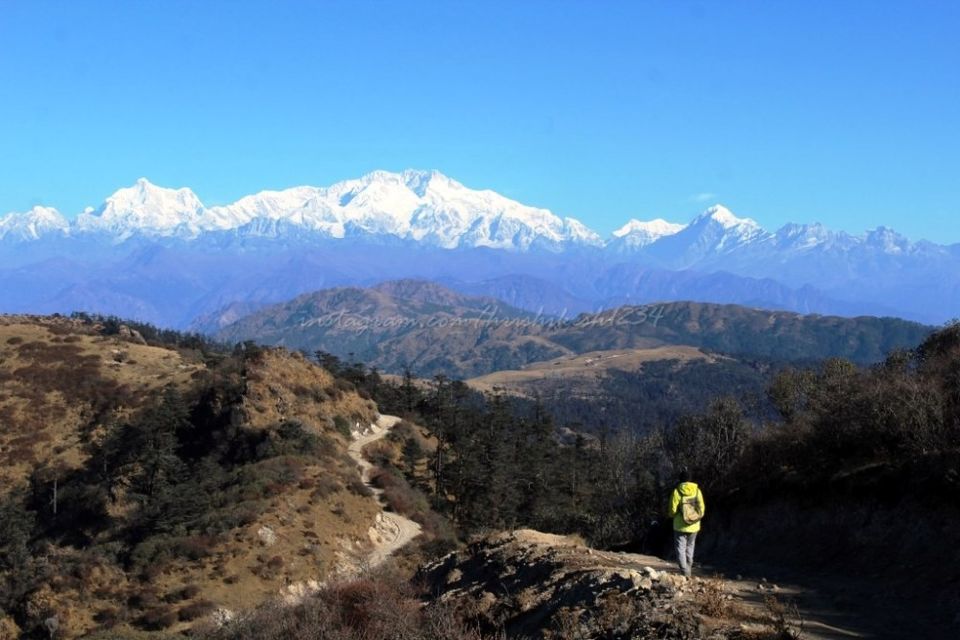 Its a day wherein we had plenty of mesmerizing views of the mountains uninterrupted. I'll let you go through the pics below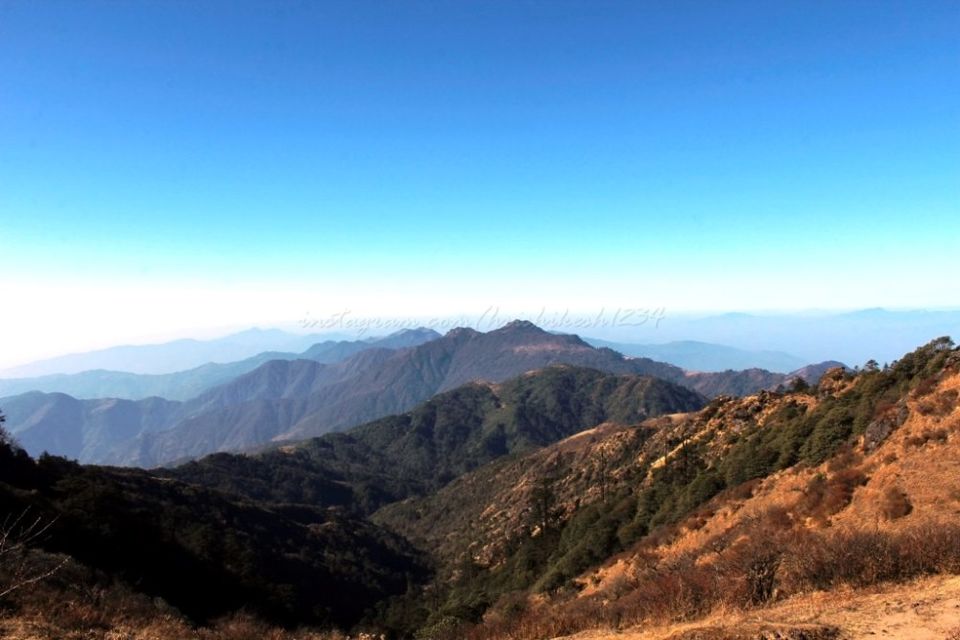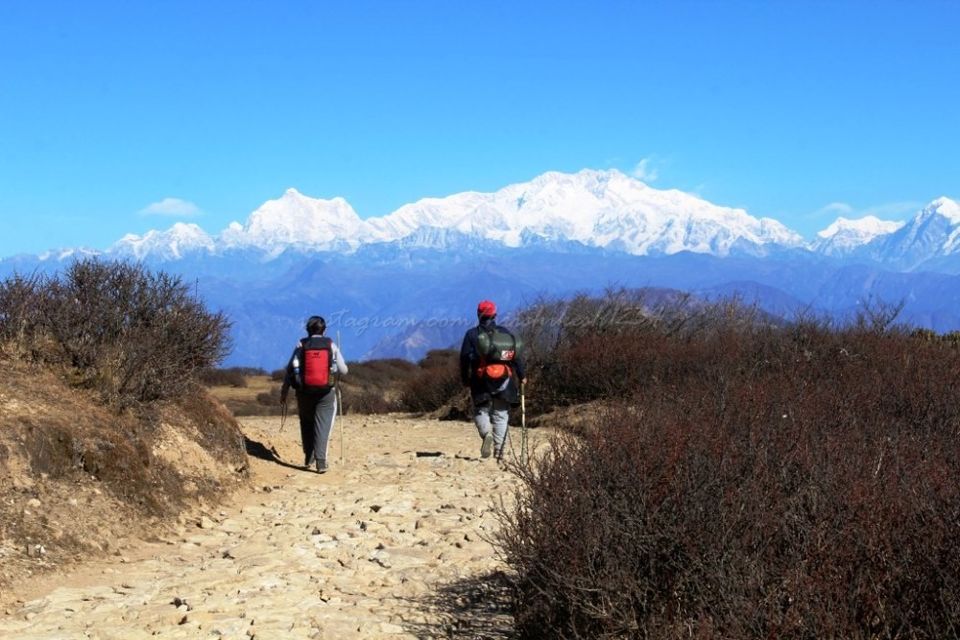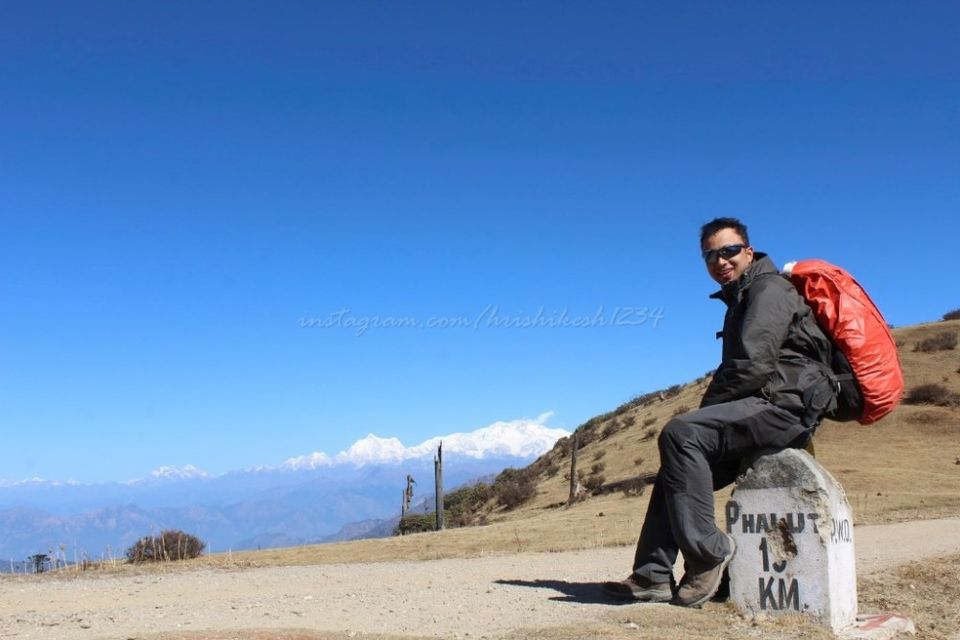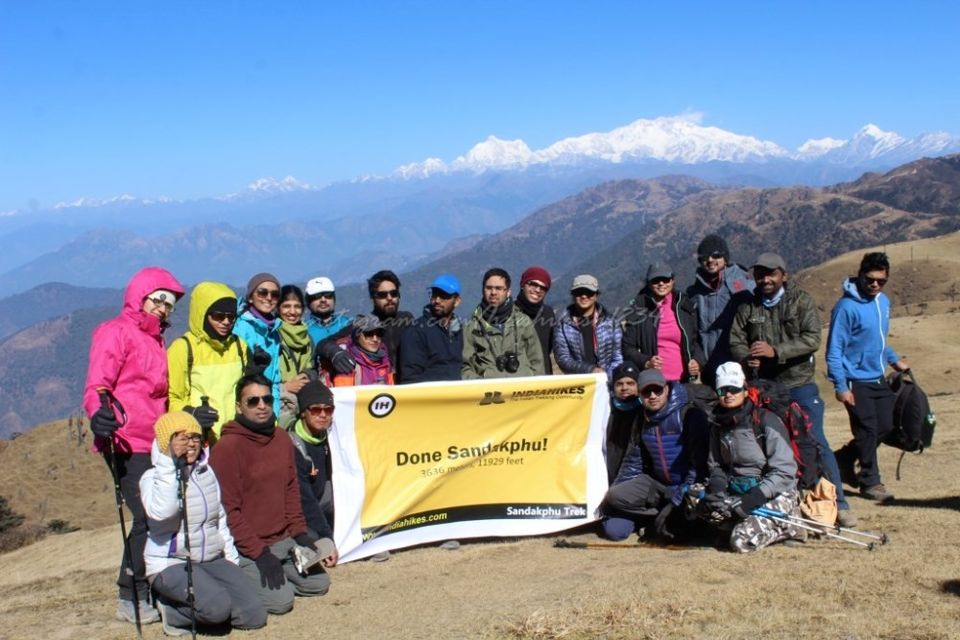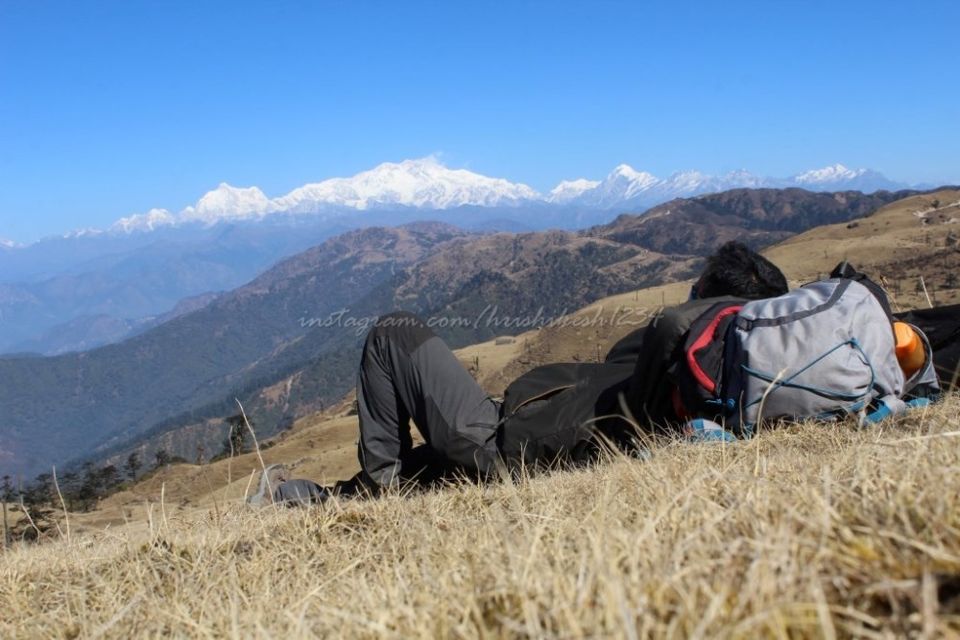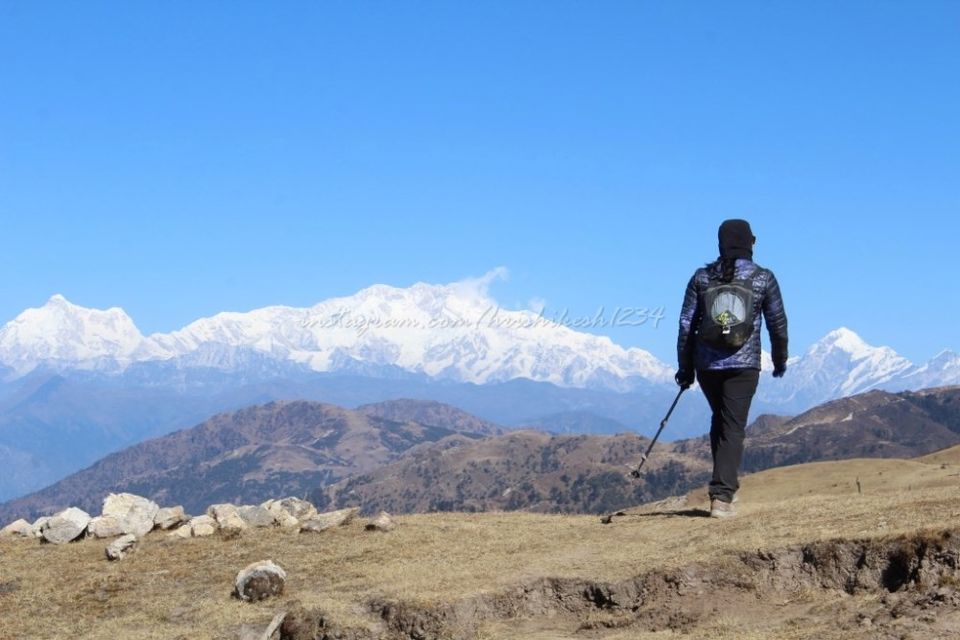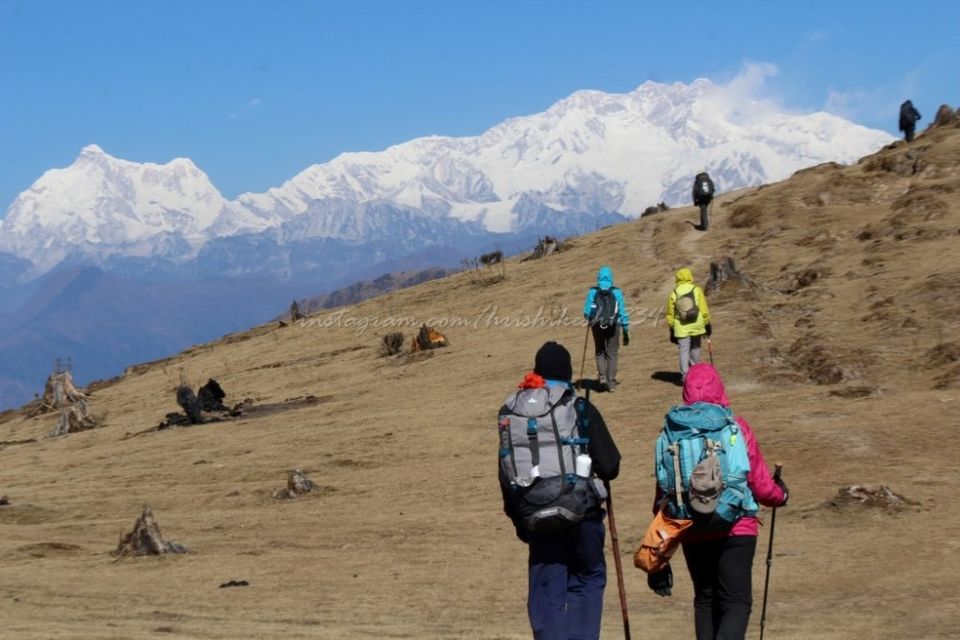 We reached Sabargram by 4, and it was already getting chilly. Mobile networks were back at random points. Realization set in the trek will be over in 2 days. But we will not be staying in the forest hut today as we sat there. Instead, we carry our tents to a nearby hill and set our campsite there. I definitely didn't want to camp here. This place was too windy and cold to even take your hands out of your pocket, let alone take the pain of setting up the tents. We still did though, with plenty of struggle. Even the tent had frost on it when we unpacked it.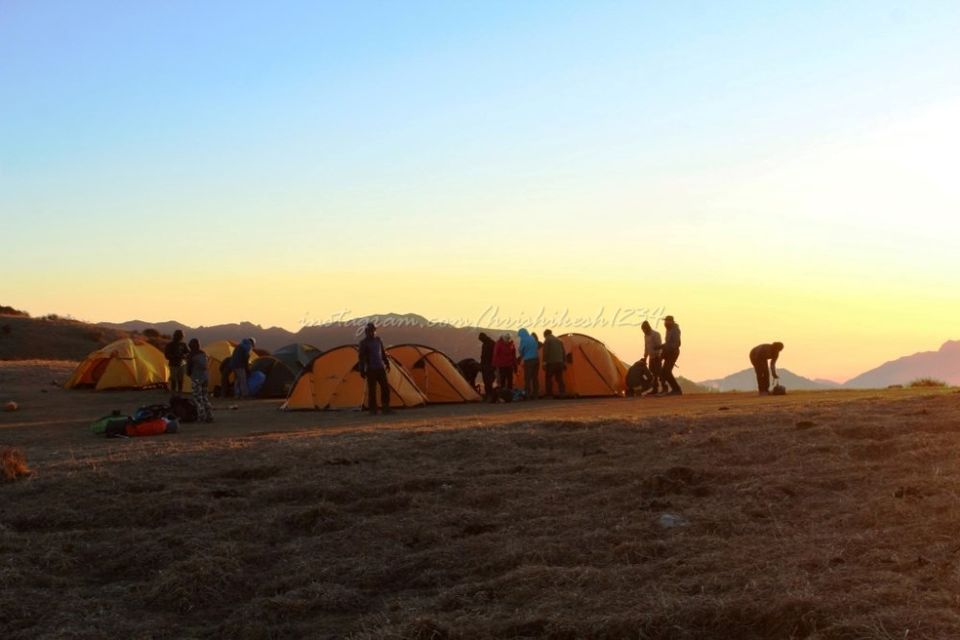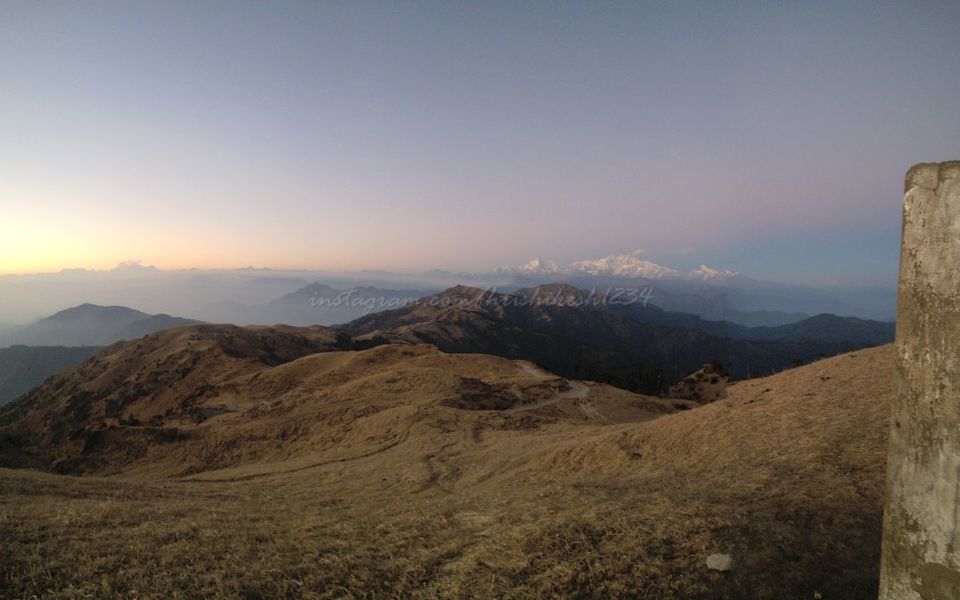 We rushed down to the forest hut for dinner and to keep ourselves warm. Someone said let's play Mafia. I knew things will get loud and mad from here on! Indrajit decided to orchestrate the game, along with advises from Soma. Accusations, defences, politics all kicked in. Amidst dinner came along. The water outside in the barrel was so cold that it had formed a layer of ice on top. Most of us decided to not even do our dishes. We will do it tomorrow morning! Back to our campsite and the wind was lashing at our tents. No way I'm gonna venture out tonight although the views were even more clear not to click. We immediately wrapped ourselves inside our sleeping bags for a much needed sleep.
We will have to carry packed lunchboxes (something I hate). It's not going to be an easy day; we will be trekking 21kms today. My mind raced with thoughts of 21km. Today's trail will be a mix of meadows and forests. Quickly on our trail-head and we gained momentum as the trail was more or less even. No matter how many times you capture the Sleeping Buddha and the Everest range there's something new and different every time you look at it.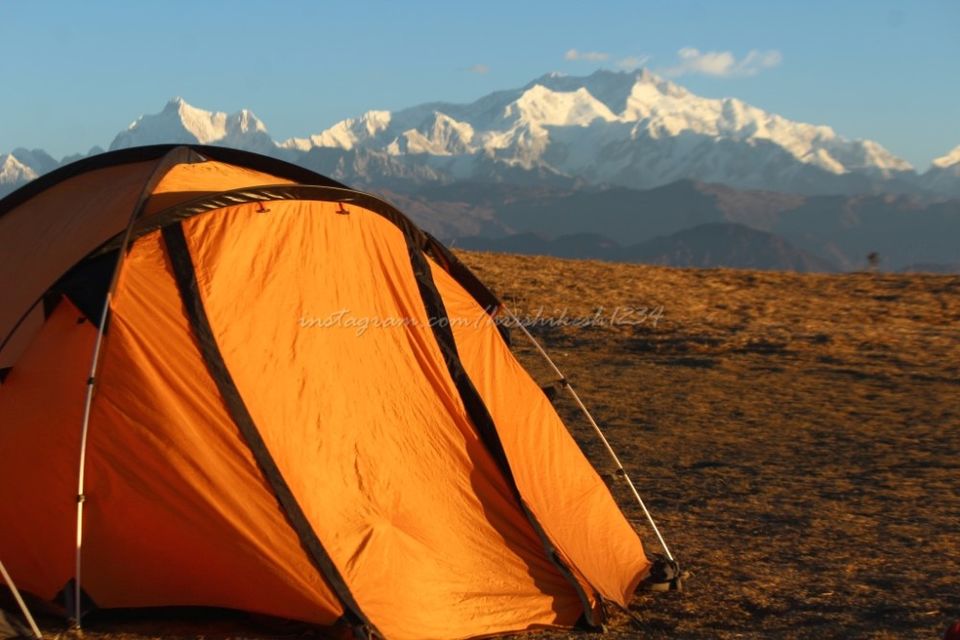 We could see the Phalut trekkers hut from a distance beaming in front of the Kumbhakarna. Once at Phalut we were served with black tea and biscuits. The Phalut Trekkers Hut is big and seemed like a perfect resting point. We had to hike up on the hill adjacent to the hut to reach the Phalut top.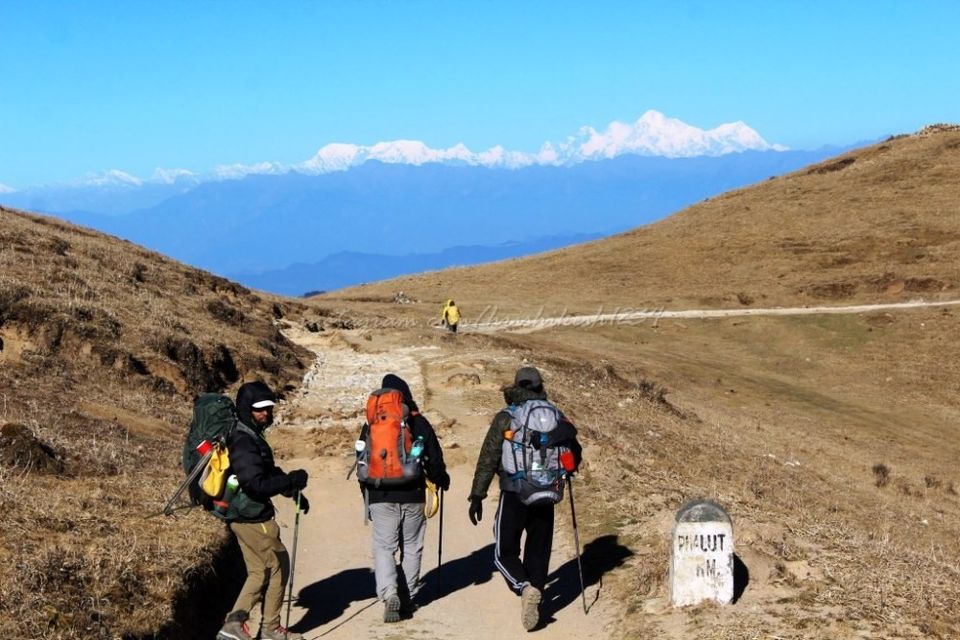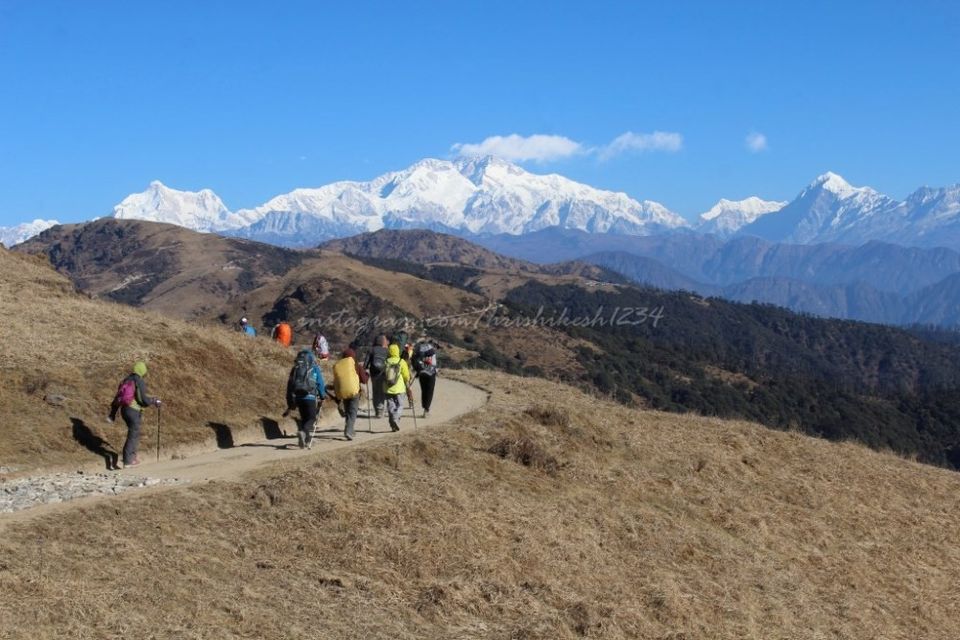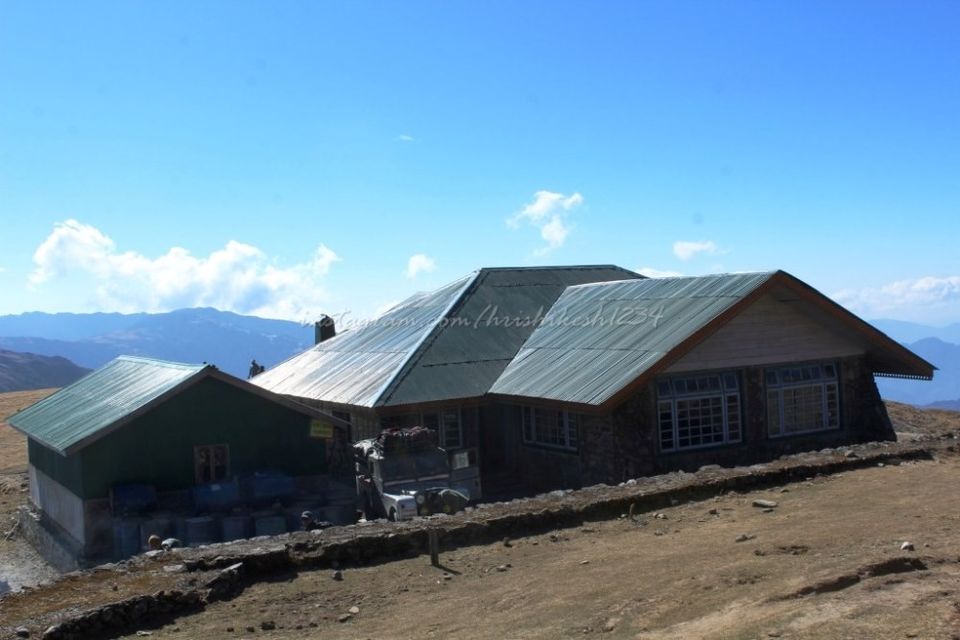 Once there we raced ahead to get even grander views. To our disappointment Sleeping Buddha was engulfed in a ball of clouds. But I could imagine how majestic it looks as I felt the hugeness of the mountain ranges from there. We were not that disappointed though for we had some amazing clear views of the ranges throughout the trek. We spent considerable time here before heading back on the trail. This will be the last time we will be getting the views of Everest and Sleeping Buddha before we re-enter Singalila National Park.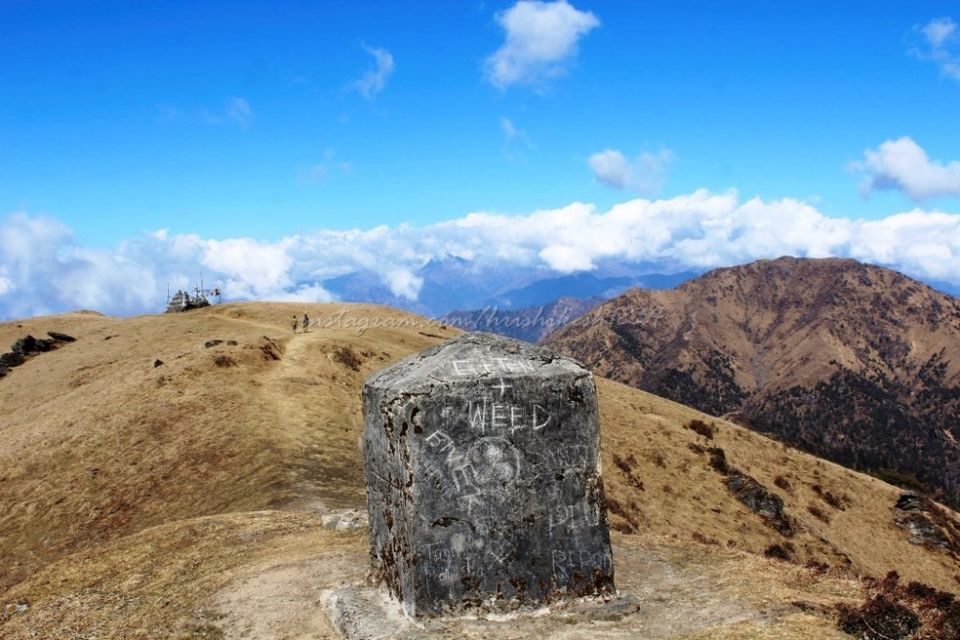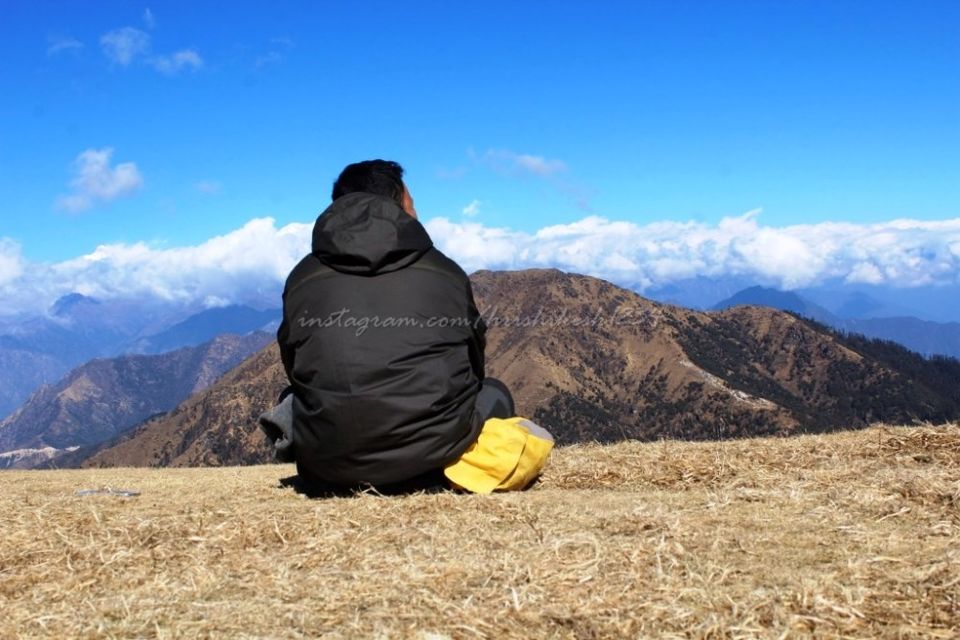 Once inside the forest we were walking in shade as the mighty oak and pine trees has taken over. Everything had gone according to plan till now; we got snow, crisp views of the mountains. Only thing now left was to spot a Red Panda. And I mean we all just prayed we can somehow spot one. Red Panda is an endangered animal, and not more than 25-30 inhabits the national park. So a chance of spotting one is next to impossible. But on the other hand a batch of IH had spotted one in Oct. I kept my eyes glued, left-right.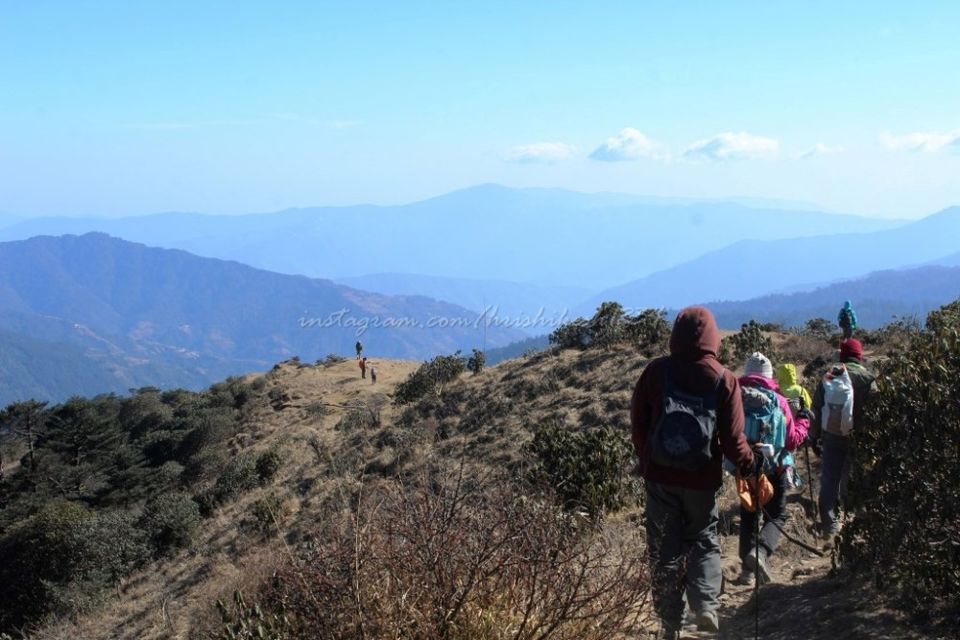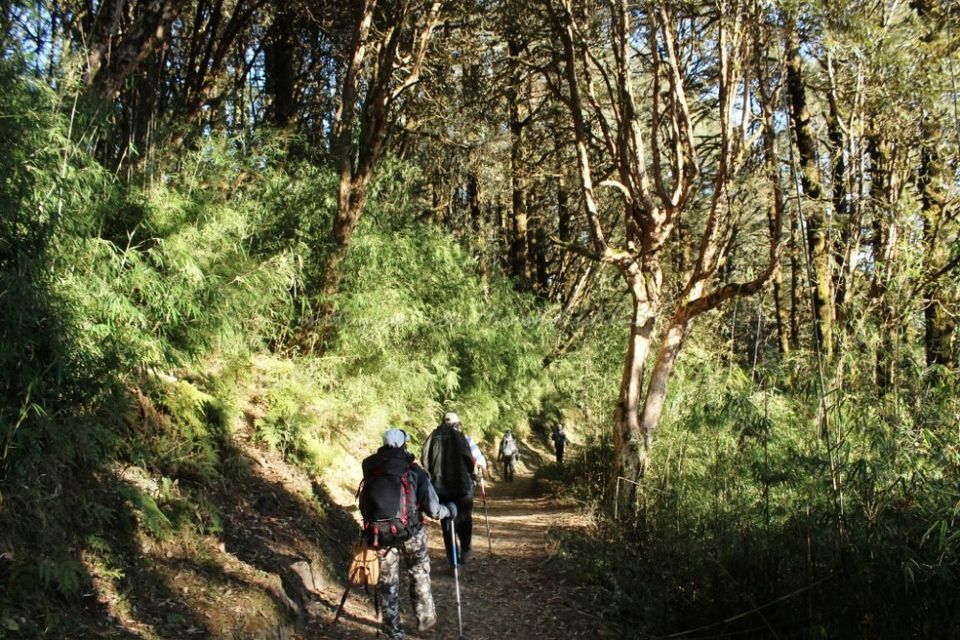 On the other side my right knee was slowly developing the pain I got 2 weeks back during a marathon. I knew it will only get intense with every step. I had to 'drag' my right knee so as to relieve it off pressure. It was a long day. We trekked amidst lush woods and bamboos that dwarfed us. Still no sight of Red Panda, I accepted defeat here. We reached Gorkhey by almost 5pm, much to everyone's respite. What a pretty little hamlet Gorkhey is!
Macaroni was served much to everyone's surprise. We just belted it! Technically the trek was over today. Geet promised us chicken today. What luxury! That too at a cost of 250 bucks per head! Geet initiated the certificate distribution to all. We all praised Geet, Sange daju, Gopal daju, Subhash daju, and Tsering for their humbleness and the exemplary support they gave us. Thanks to Hari for his puns and jokes we were all in splits. It was indeed a trek that we all relished, not because of the grand views but also thanks to all the like-minded trekkers that we met. Tomorrow's trek will be the last leg of this entire adventure. Good night.
Mobile network was back and so was the indication of civilization. We descended quite quickly though. Kashi also bought some local pork to take back to Mumbai from a local shop! Sepi was visible from the top and so was the main road which will take us to our respective destinations. We reached a point wherein we had to cross a river. Once done the trek has officially come to an end. I was the last one to reach the hotel where everyone was busy drinking Tongba (a local drink made of millets I think). It was bitter, wack! The lunch though was amazing; local veggies, rice, dal, paneer. All of us rejoiced for finishing the trek successfully.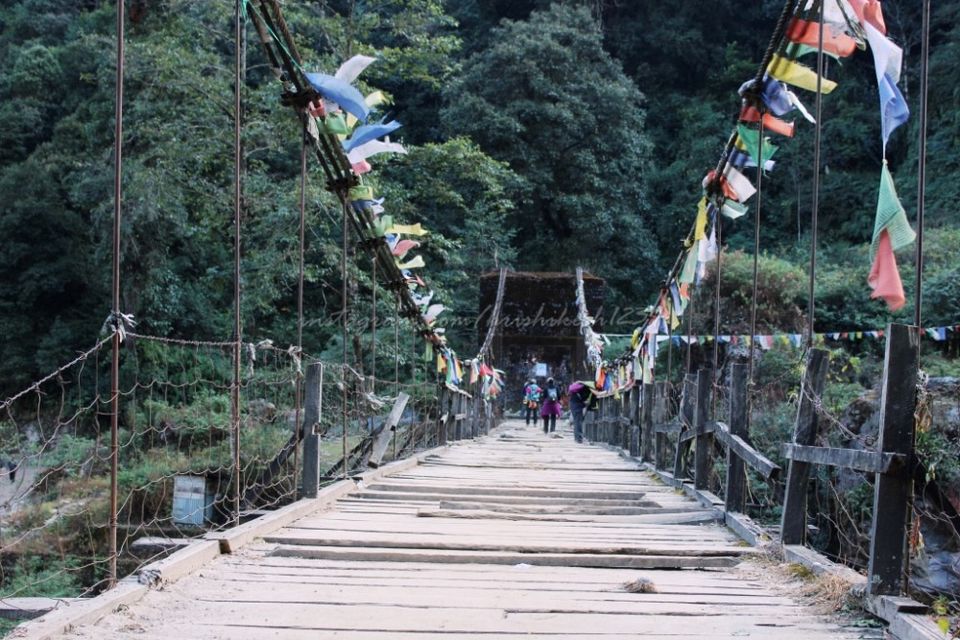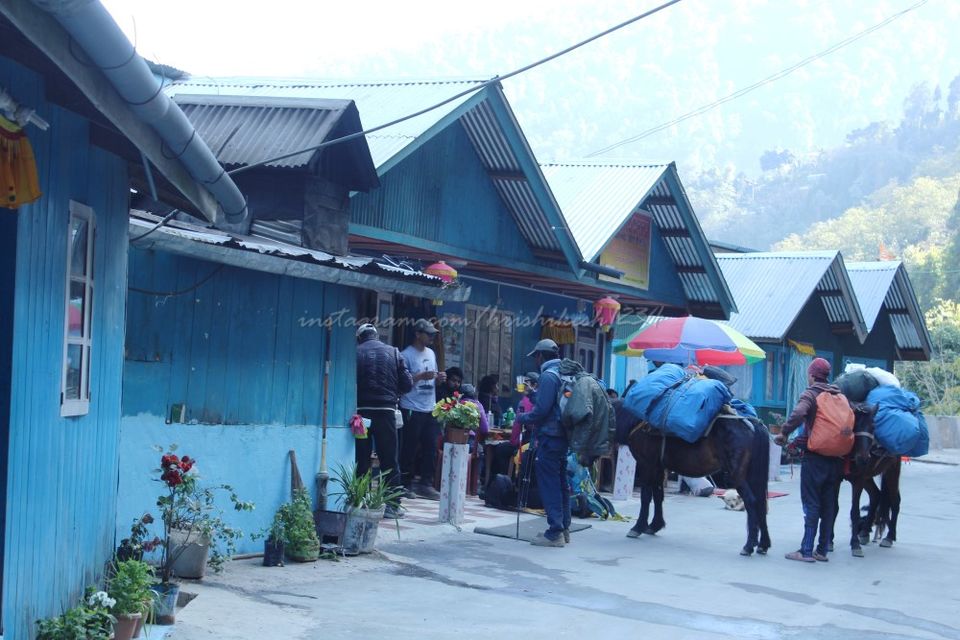 And it was time to go now. A lot of them were staying back in Darjeeling to welcome the New Year. I couldn't as I had a flight back tomorrow from Kolkata, 1st Jan. Our pickup cabs were already waiting for us. The goodbyes had to be said. I left with Khushboo, Divya, Saagar, Rohit, and Valmick in the same cab as we had early departures.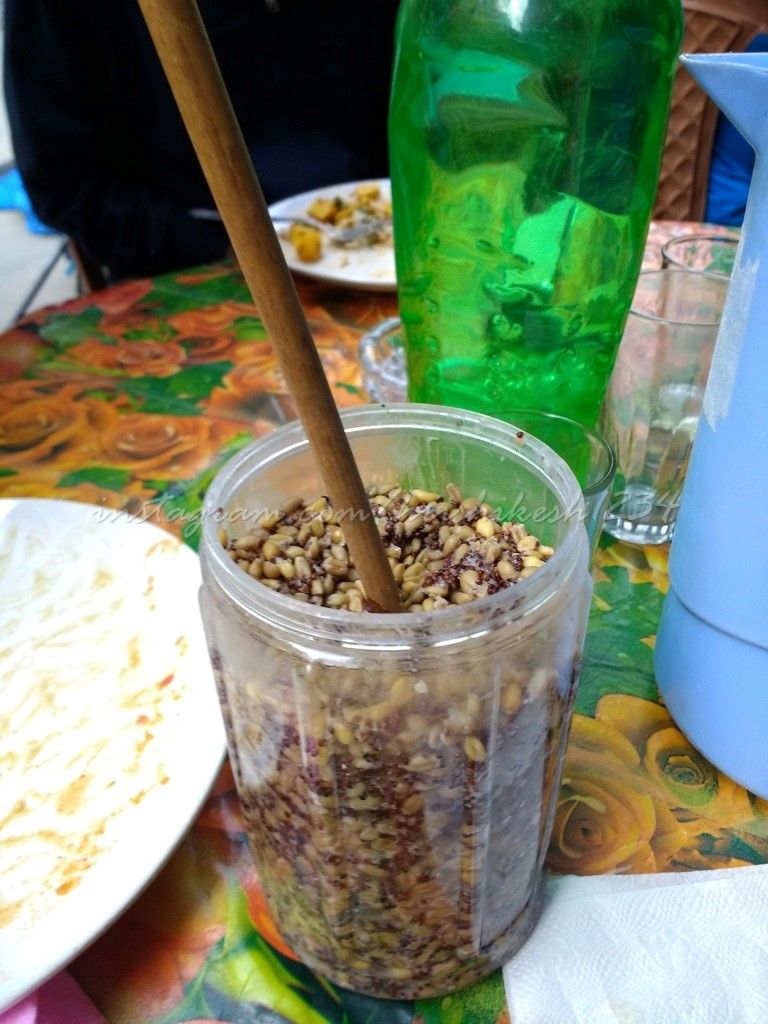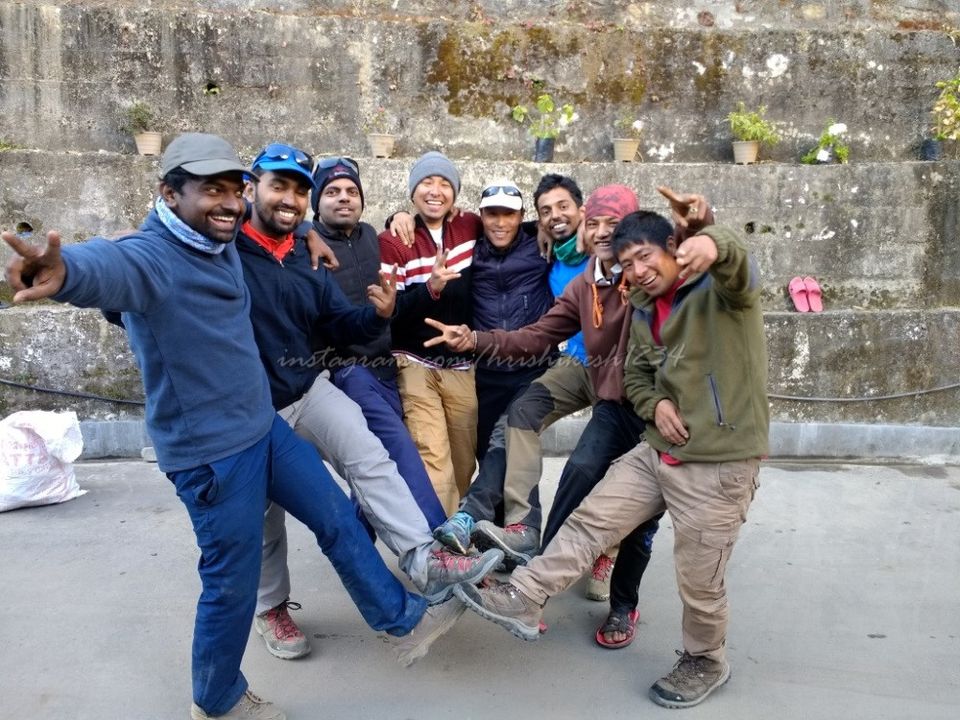 The road was bumpy, and we all reached by 7:30pm at Siliguri. I quickly boarded a bus to Kolkata at 8pm; I wished my byes to the other 5 of our cab and on my way to Kolkata. I sat back with a sense of pride and achievement.
I reached Kolkata by 11am. My flight was at 5:50pm. I had lot of time. To kill time I wandered here and there and checked into The National Museum. I came out at 1:30 and still had ample time. Not taking any chances booked a cab to the airport. All seemed to be OK till that time when the driver decided to take the detour, citing it will be clear and will reach earlier. Clearly with no idea I nodded with approval. Biggest mistake of my life. The moment we entered the bypass stretch we were stuck. Stuck to the point we couldn't move more than few inches. Suddenly anxiety of missing the flight set in. It was 4 and we hardly made any improvements. Turned out there was an Eco park ahead where the entire Kolkata thronged, leading to a massive traffic jam. I felt like crying. I'm going to miss my flight today. We reached the airport at 6pm. There were no alternate flights as all airlines were running full. I will be spending the night in the airport. Ranjit helped me in booking a next day early morning flight. 11K gone there. Total flight expenses stands at a whopping 46K now! What a sad ending to an otherwise adventurous and memorable journey.
Apart from the last segment of my trip I had an enriching experience in the eastern Himalayas. The ever smiling Nepali folks, larger than life mountains, warm tea-houses, jaw dropping sunrises and sunsets, or the numerous dogs that we befriended; everything about my winter trek to Sandakphu-Phalut was memorable. And I'm already eager planning for my next Himalayan outing now ????
Frequent Searches Leading To This Page:-
best time to visit sandakphu phalut, sandakphu gurdum winter trek, west bengal tourism sandakphu, sandakphu-phalut trek, sandakphu in west bengal