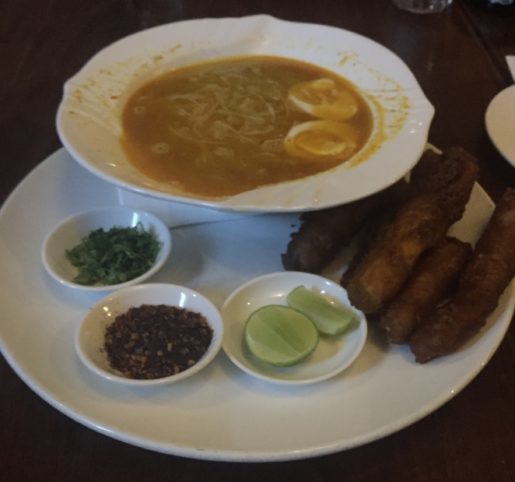 We were keen to try a local dish but the menu was mainly Western. Luckily one of their specials that day was Mohinga, a traditional Myanmar dish. Many people consider this to be the national dish of Myanmar. It's usually served on a smaller scale for breakfast. It was a delicious fish broth ladled over rice noodles and slices of hard boiled egg. It was served with a side of deep fried gourd sticks, and condiments such as chilli flakes, coriander and lime, to add to taste.
We got chatting to a couple of Aussie blokes in the bar. This gave Andy some much needed male conversation after three weeks of meeting no other travellers. Knowing the bar closed at midnight we consumed several 'Myanmar' beers in quick succession. The Aussies knew of another bar that was likely to still be open, so we all wandered a bit further down 50th street to the Fat Ox. It was difficult to find as the sign lights were off and the windows tinted. A British expat ran the bar and it was pretty dead, but fine for a late drink. We all had several more before calling it a night at about 3 a.m. and wobbling back to our B&B, tired and tipsy.
After we'd had another yummy Mohinga for breakfast at the B&B, one of the staff gave us a map and pointed out some key sights for us. For the third country on this adventure it was 'integration and assimilation' time. We needed to find our bearings and get into the swing of things. As always this would involve wandering around, to see what we could find and to familiarise ourselves with this new country and how things work.
We set out on foot to explore, the first thing we noticed was it was much quieter than India and Dhaka. It became clear this was because there were no motorised auto-rickshaws constantly meeping their horns. The drivers of most vehicles here seemed to have much more decorum. There was still some scary driving about but they were much less liberal with their horns!
The only modes of public transport in Yangon seemed to be taxis that could be hailed from the street, buses that had seen better days, and tri-shaws. Tri-shaws are three wheeler cycle-rickshaws, designed to take two passengers sitting in opposite directions. They seemed to have been built for small people though so I think one person per tri-shaw would be much more comfy.
Thanaka, Longyis and Paan
As we strolled down the busy streets we noticed many of the women and some children had some sort of goldy/ white paint on their faces and occasionally arms. I wondered if it was for religious reasons but soon discovered it was actually Thanaka - a cosmetic paste made from ground Thanaka tree bark mixed with water.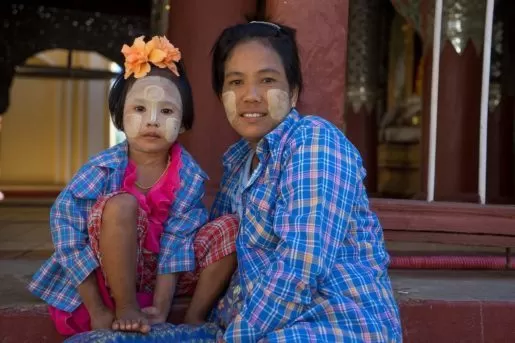 It is considered to enhance the beauty of those wearing it and also protects from the sun. We saw cuttings of the bark on sale on the roadside and on market stalls.
Most locals wore longyis made from a tube of fabric and fastened in different styles for men and women.. The women's were made of pretty, colourful fabric, tied at the side and worn with a close fitting matching top. They were quite flattering. The mens longyis were darker colours, patterned with checks, stripes or plaid. They were tied in a big knot at the front and worn with button down shirts or t-shirts. We also noticed many people were using umbrellas as sun parasols, a good idea as the hot sun was beating down.
Something else that was obvious was that the habit of chewing betal nut or paan was widespread here. Red spit spattered the paths and roads and many of the friendly smiles contained red stained teeth.
Sule Pagoda and Luck Birds
First stop was Sule Pagoda, a golden Buddhist stupa which doubles up as a roundabout. We had a quick look round, removing our shoes first and ensuring my shoulders and knees were covered. This is the norm when visiting temples in Asia. There were signs up everywhere displaying images of the clothing rules for the pagoda.
Sule Pagoda's location was central and a perfect start to our exploration. We spent a while after that just wandering looking at sights and soaking up the atmosphere. On some corners we noticed street vendors selling tiny birds in cages, these were 'luck birds', a Buddist tradition. From what I could gather the belief is freeing these birds earns 'merit'. I couldn't see the logic of trapping and caging birds to then release them, but then who am I to question another's tradition. We also passed several colonial style buildings, such as the Independence Monument and the City Hall.
All that walking in the heat had made us peckish so we popped into Lucky Seven Tea-shop near Independence Monument for a quick snack. I had a tasty bowl of Shan Noodles, whilst Andy went for vegetable soup, they were both great.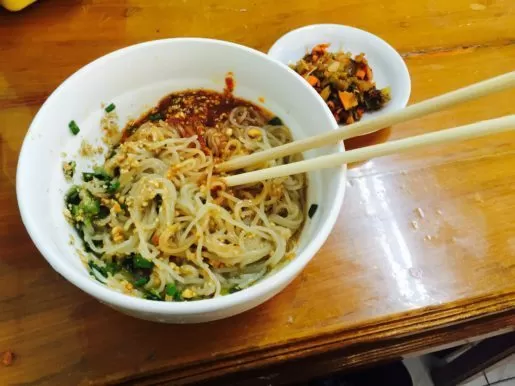 Next up was Bogyoke Aung San Market in Central Yangon. It was a sprawling under-cover market selling just about everything you can imagine. The main focus though appeared to be traditional arts and handicrafts. If you're in a shopping mood or are after some souvenirs then you could lose yourself here for several hours. Unfortunately I wasn't feeling it that day. Much as I love markets I just wasn't in a shopping haggling mood so we only had a quick look. I'd like to come back another time to spend more time browsing.
The sky looked as if it was threatening rain so we bought an umbrella each. We'd been thinking about getting some for a couple of weeks but kept deciding against it. Everyone seemed to have them here though so we gave in, by the end of the day we were pleased we had.
We pottered around the street's a bit longer looking at roadside vendors and stalls selling all-sorts. Tables overflowed with phone accessories, chargers and adapters, colourful fruit and vegetables, fish, dried fish and prawns. There were also several tea stations dotted about with with locals sitting sipping steaming glasses of green tea.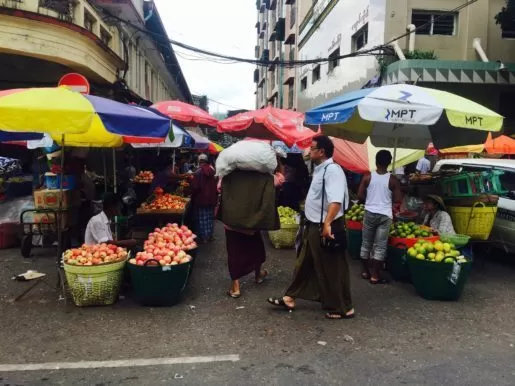 I took over the map reading and we set out in the direction of Shwedagon Pagoda (or so I thought). After a while it became apparent my map reading skills weren't up to scratch that day. I'd taken us in completely the wrong direction...oops!
Despite using our umbrellas as parasols we were too hot to keep walking so we hailed a taxi. Twenty minutes later we'd moved all of about 100 metres, lesson learned, rush hour in Yangon is not the time to be getting a taxi anywhere. We got out and continued on foot.
Shwedagon Pagoda
I took over the map reading and we set out in the direction of Shwedagon Pagoda (or so I thought). After a while it was clear my map reading skills weren't up to scratch that day. I'd taken us in completely the wrong direction...oops!
Despite using our umbrellas as parasols we were too hot to keep walking so we hailed a taxi. Twenty minutes later we'd only moved about 100 metres. Lesson learned, rush hour in Yangon is not the time to be getting a taxi anywhere. We got out and continued on foot.
The sky behind Shwedagon Pagoda became black and angry as we approached, this just emphasised the gold even more. I managed to get just one photo before my phone died on me, annoying as there were some great photo opportunities inside the pagoda.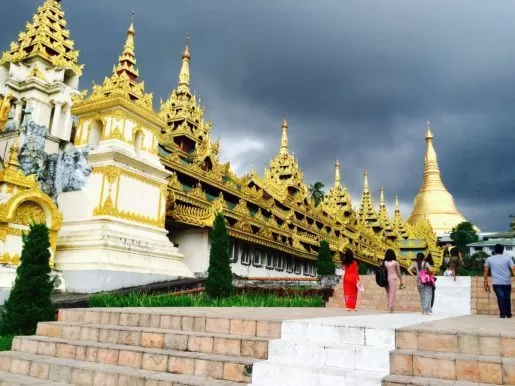 At the entrance to the pagoda, shoes had to come off and I had to cover up with a shawl again. Andy was wearing shorts so he rented a longyi to wear.There were signs up everywhere with pictures depicting the clothing restrictions in place.
At that point those black storm clouds opened and dumped buckets of rain down on the pagoda and us. Out came the brollies again, we were so glad we'd bought them! There were non-slip plastic mesh runners rolled out over the main walkways, which was good as the tiled floors were treacherous in the rain. Both of us nearly went flying a few times when we veered off the non-slip parts. I'm sure there must have been some nasty slips and trips there over the years.
Admission to the pagoda is 5,000 kyat (3.20 GBP) for foreigners, but free for locals. Despite the rain the pagoda was full of locals milling about, meditating and praying, including lots of monks and some nuns. There were also a few other Western tourists. Despite the large numbers of people there it didn't feel crowded as it was massive. We only stayed about an hour because of the rain, but you could kill a good couple of hours or so exploring all the different parts to it.
China Town and 19th Street
After a quick freshen up back at the B&B - we set out for the evening. We wanted to check out China Town, in particular 19th Street where we'd heard there was lots of barbeque street food stalls and beer stations. It was supposed to be pretty lively in the evenings. Barbeque all sorts (check description) also buskers and beer stations.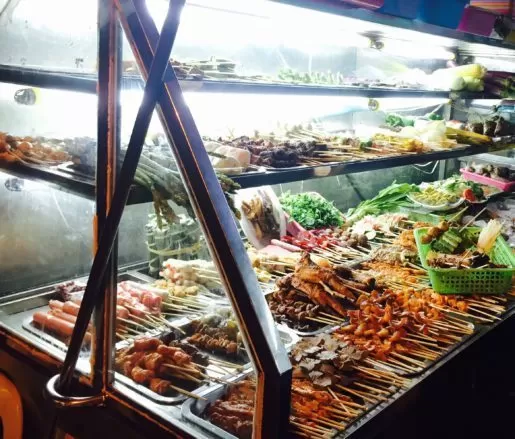 The entrance to the 19th Street was pretty much surrounded and hidden by a night market. The colourfully dressed vendors were selling all types of food. There were lobsters, crabs, fish, herbs, and fruit and vegetables, some things neither of us had seen before.
To be honest we enjoyed watching wandering around the market stalls more than 19th Street. We had a quick walk up and down it, and stopped at one beer station for a quick beer, but for us we just didn't find it that impressive. I think we'd been spoilt by our visit a few years earlier to Jalan Alor, the famous street food market in Kuala Lumpar. 19th Street, just couldn't live up to it!
We finished the evening back in the Fat Ox as it was Sunday and not much else going on. We also had to a pizza craving to satisfy.
I had planned to do the circular train the next day. However the owner of The Fat Ox and another expat said it was nothing special, so I decided against it and opted for a lie in instead. I later regretted missing it though as generally I do like to form my own opinions. I'll save that one for our next visited, along with the self guided colonial walking tour.
This post was originally published on Can Travel Will Travel.