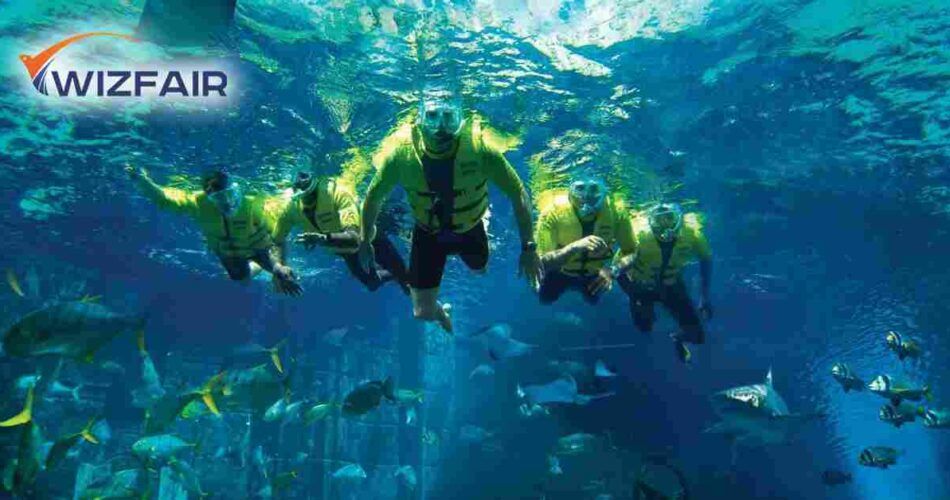 Dubai is a marvelous city in the United Arab Emirates. It provides its visitors with numerous travel opportunities, such as a variety of aquatic recreation events. Snorkeling, scuba diving, sailing, and more are part of the above. Start exploring some of the famous areas for scuba diving and snorkeling in Dubai. Book now Dubai Tour Packages with Wizfair Travel & get exciting deals & offers.
Top 3 Places For Snorkeling In Dubai
1. Ambassador's Lagoon
Under the supervision of professional professionals, you swim alongside thousands of lively marine fish, sharks, and rays. The Palm is the biggest sandy islands ever constructed. The legend of the submerged landmass "Atlantis" was the foundation of the region. Sections of the sandy mainland are the Ambassador, the 'Lost Chambers', and the luxurious resort with its own amusement park ('Aquaventure'). The Ambassador Lagoon, with a capacity of 11 million liters of water and a distance of 10 meters, is the largest global aquarium ever built. You get the chance to glimpse the sea monsters of the Arabian Gulf at a relatively close distance on your trip to the 'Ambassador Lagoon'. Appreciate different species such as grouper and sunfish population, for example.
2. Dubai Aquarium & Underwater Zoo

Uncover the Arabian Gulf aquatic experiences with one of the pioneering UAE dive locations. Al Boom Diving has enthusiastic experts who are keen to share with you their visions of navigating the ocean waters of the UAE. For both learners and those interested in advancing their abilities, classes are necessary. The diving classes are often kept limited, making sure that the atmosphere of diving is always secure and controlled. You can discover abundant marine life and interesting ruins to discover on your guided underwater journey. At the Dubai Aquarium & Aquatic Zoo, the facility also offers a special Shark Tank diving opportunity. For more read...