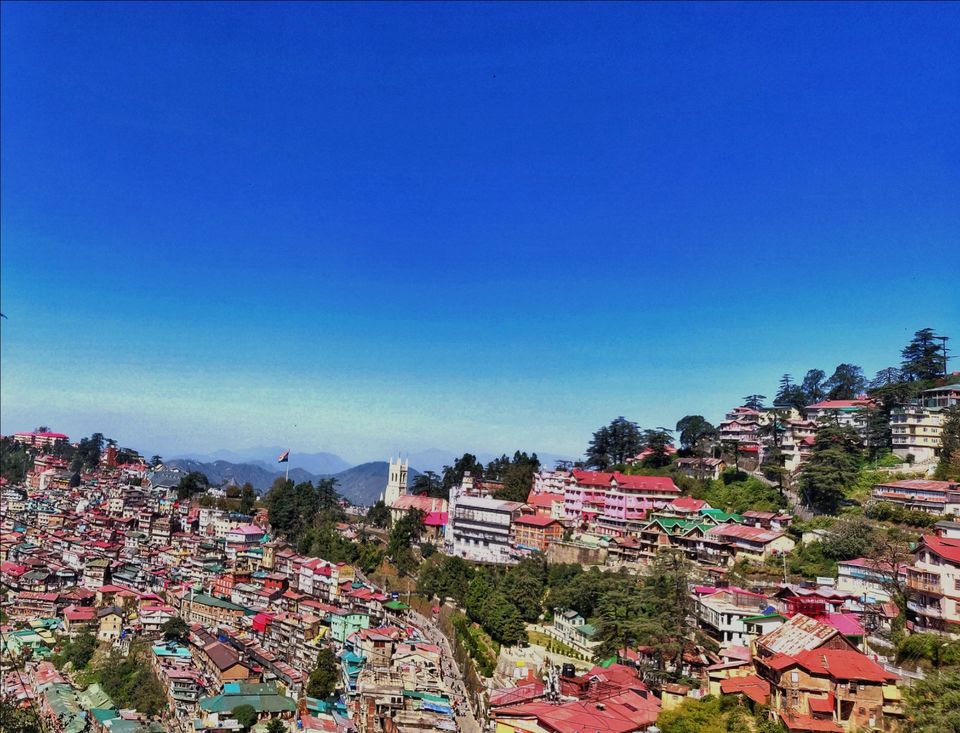 Shimla – city of adventure, fun and love, everyone once in lifetime wishes to visit Shimla so was me. It was always in my bucket list and I wanted to visit. I am fond of looking for adventurous places, searching in and out about the place on the internet. My cramming about Shimla was already with me.
The best time to visit Shimla is from March to June but we had planned our trip in October to experience winters of Shimla. It was a sudden trip; Shimla is not so far away from Delhi so thought to rule out that plan on a road trip.
Next morning, after breakfast we went to Jakhoo temple. The temple belongs to Hanuman ji. There were two ways to reach there, one can hire a taxi or take the stairs but be careful it's quite inclined so people with heart diseases are advised not to take the stairs. We hired a taxi and were there in 15 minutes.
The view which we had was astounding, it was one of the most heighted places in Shimla from where we had the best aerial view of high peaks of Himalayas covered with snow.
If you have days in hand, you can plan for Kufri during snowfall. After spending a few hours clicking so many pictures, we returned to our hotel and did check out from the hotel and straight towards Delhi. We reach around midnight.
Shimla is worth seeing, even though it is the capital of Himachal Pradesh and crowded but still it carries its essence of being surrounded by Himalayas. It is one of the best weekend getaway from Delhi to enjoy the surreal nature.
Suddenly on a Friday night, me and my friend, both were sitting casually thinking of doing something adventurous. In a flash of second, we had a thought of going to Shimla. The name itself has chills, excitement and thunder.
With full of adrenaline rush, at around 1 am, we both left for Shimla, bit skeptical about the roads, at a speed of 100km/hr on our pulsar crossing heavy traffic (due to ongoing road construction) were in full swing.
We reached Kalka at around 7 in the morning. Had tea, which made our morning, a perfect morning. It's often said, tea is the cure for everything and so it did for us, as we were exhausted after unceasingly riding for 200kms in a hilly terrain. we asked for one more round of tea, checked the google map which shows 140km still we had to go to reach our destination and started our journey.
At around 10am, we reached Shimla – the land of adventure. As we reached there, we forgot our tiredness lost in its scenic beauty. Later in a minute, our stomach made us feel that rats are popping up kudos. We searched for a restaurant to have our breakfast and found a nice one to fill our tummies. After brunch we looked out for some shopping in the local market and clicked a few pictures.
It's October and we can feel the pink frost. We searched for a budgeted hotel and freshened up. The very first place we thought of visiting was Mall road and headed for it which was just around 1 km far away from our hotel.
Mall road is the heart of Shimla, which gives a magnificent view of Christ Church. One can relate it, as it was picturized in many Bollywood movies like 3 idiots, Jab we met and many more. The Himalayan Mountainous range was visible all around and it was a spectacular moment for us. Besides the road, there are numerous shops where one can buy traditional things. After hopping in and out, we came to the hotel by evening and we're extremely tired so slept quite early.