This is the continuation of my last post of Jalori Pass.
A stay which is on the way to two renowned areas of the Himalayas for their beauty .
A corridor between The Great Himalayan National Park & Kinnaur.
We reached Jalori from Ghushaini in the noon. The climate was very cool and heavy due to moisture in the air. Now from the top of Jalori we started descending in the Gypsy. The drive was better than the climbing up. It was past 2.00 p.m. So I thought of eating and Rahul stopped at a roadside small food joint which served us the Maggi and omelette. Eating place was an extended flat roof which treated us best view of the valley. I wished to stay there for more time. But as usual one has to move even though the landscape is surreal.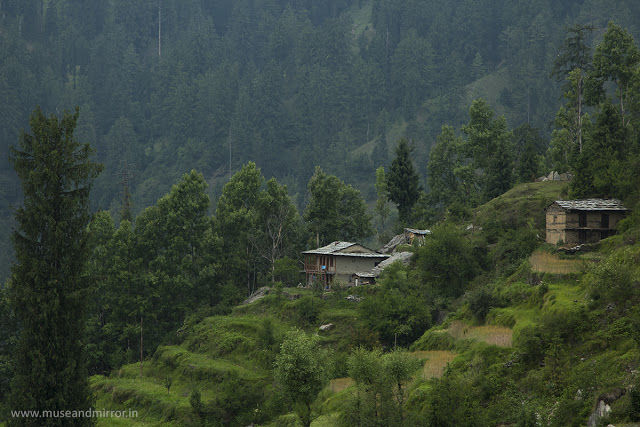 Typical farms and houses coming down from Jalori pass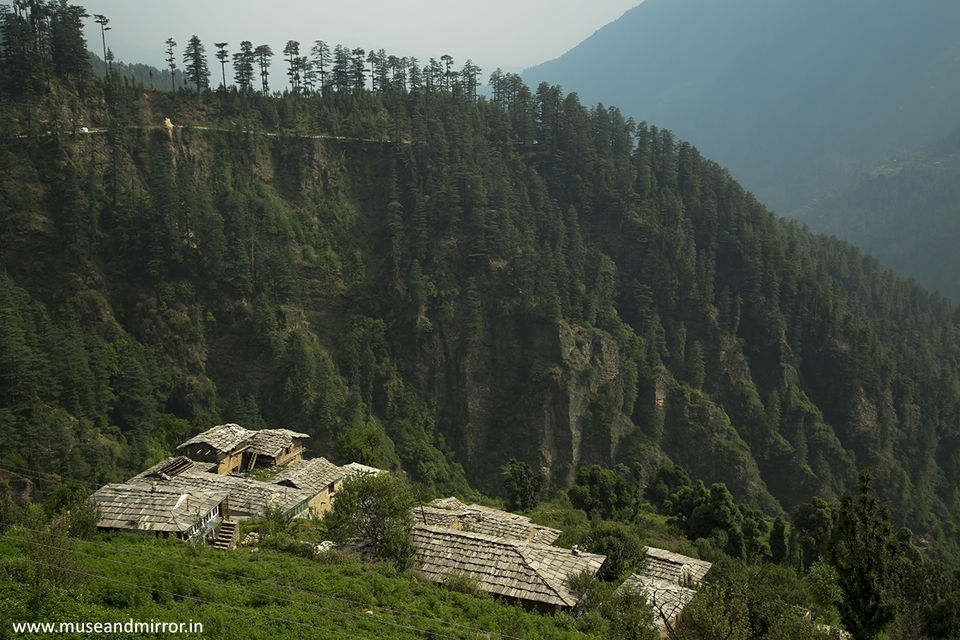 This is the view which made my lunch memorable. An Avatar like valley.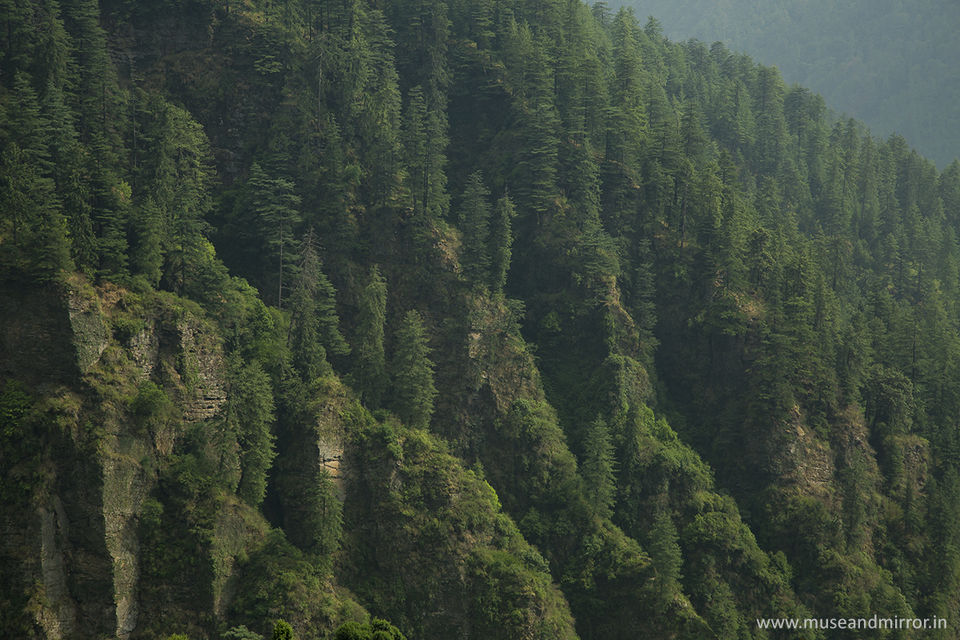 The close up of the same valley.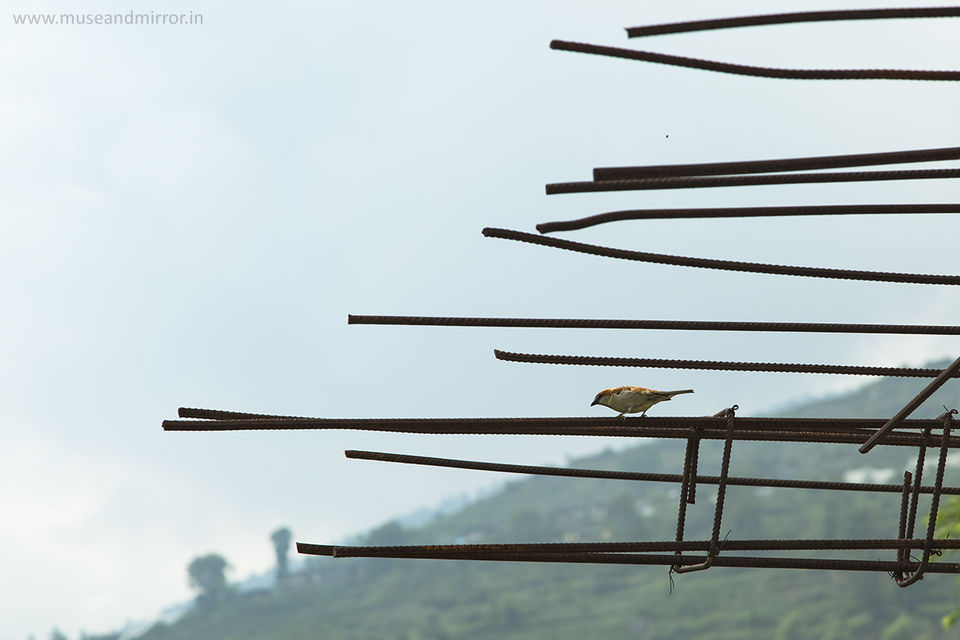 A visitor at my lunch place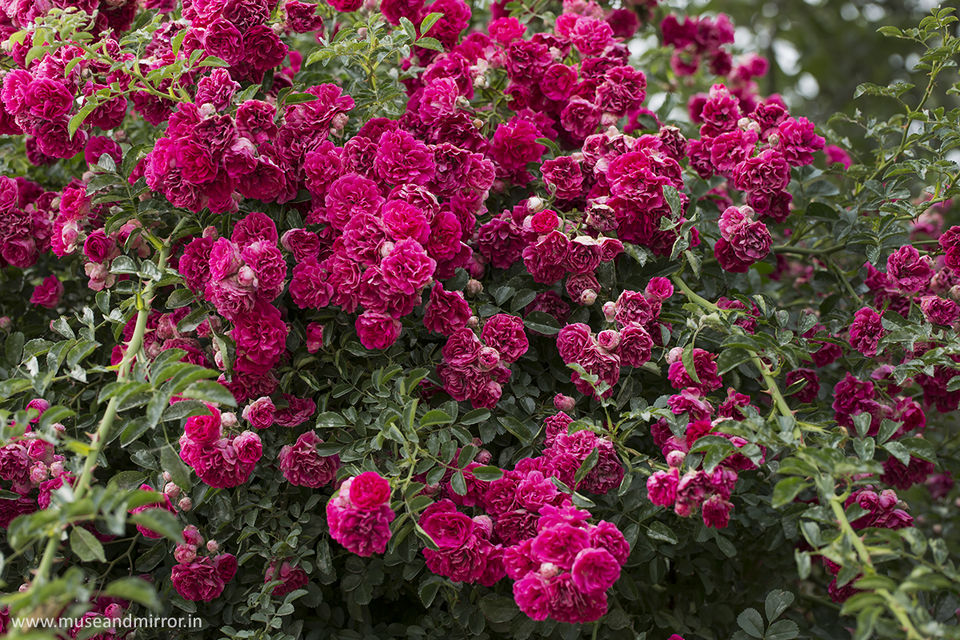 Going down was not eventful but treated my eyes with beautiful vistas and flowers like these. Super gathering of roses in the valley on a single plant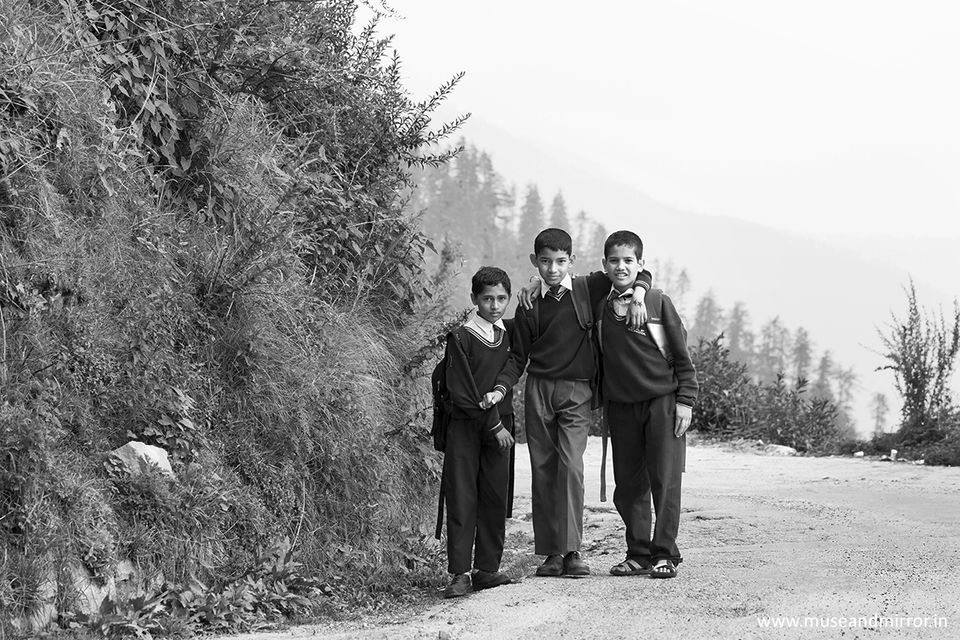 A moment before going to home
These three boys were happy going together to home. I asked them for a picture and they willingly obliged to pose for my camera. A rare privilege for kids to walk from school to home in the hills safely without honking traffic. The season was not started so apple were green and small. Yet I spotted one which was turning red.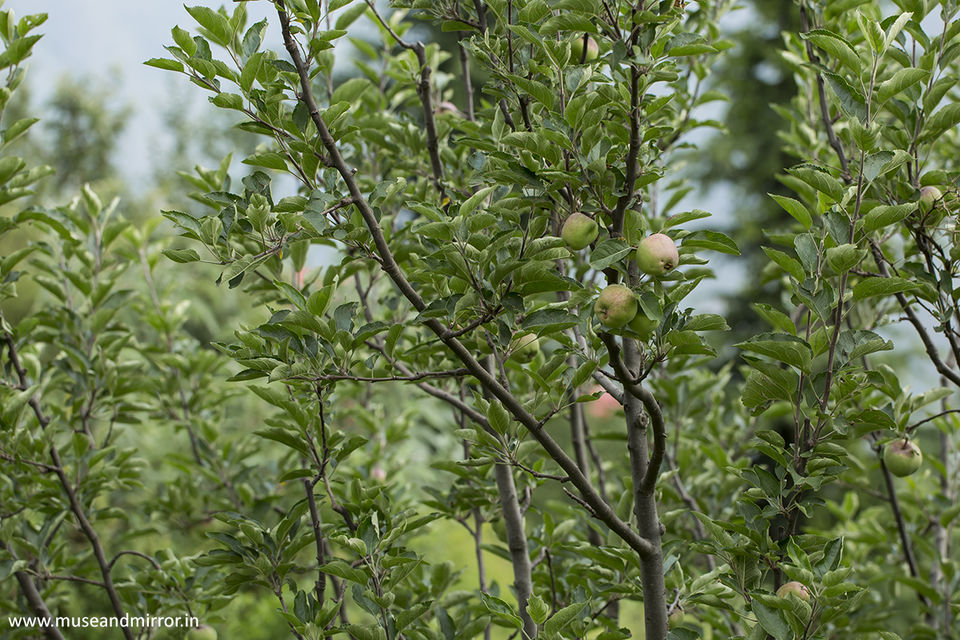 Wait we are going to blush soon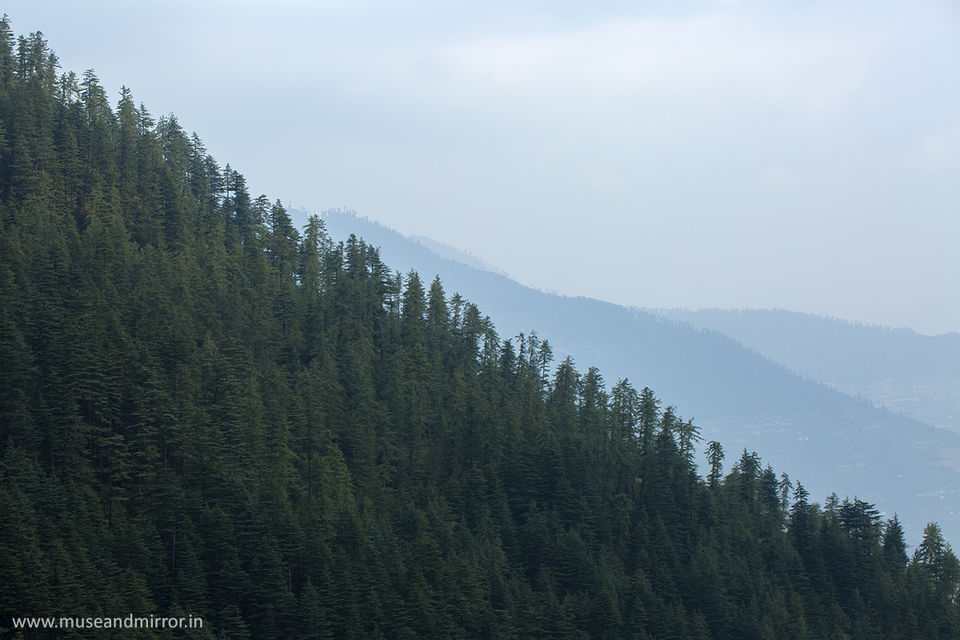 Dense pines sharp marching on the hill.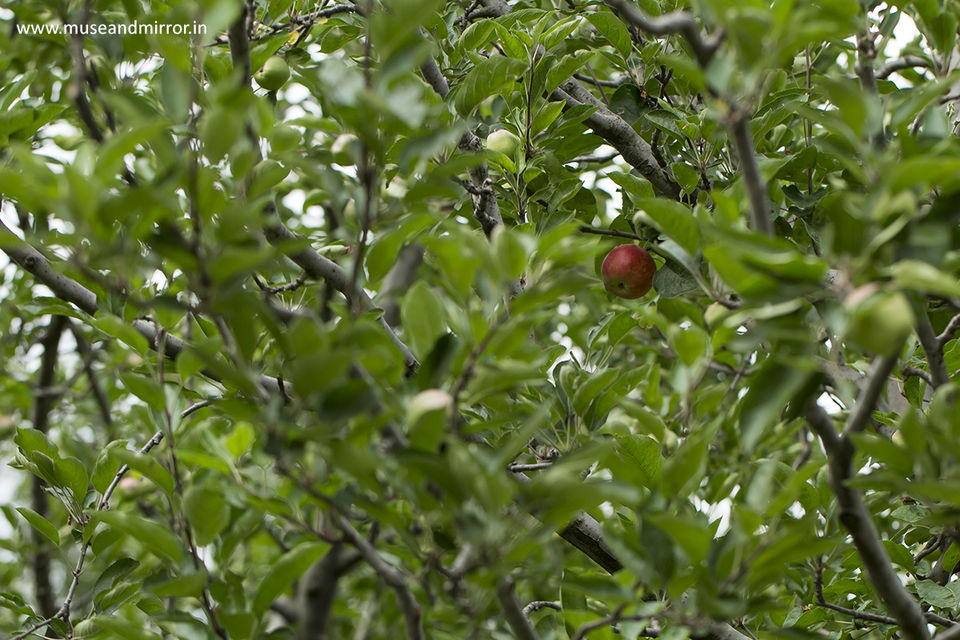 The first one before the season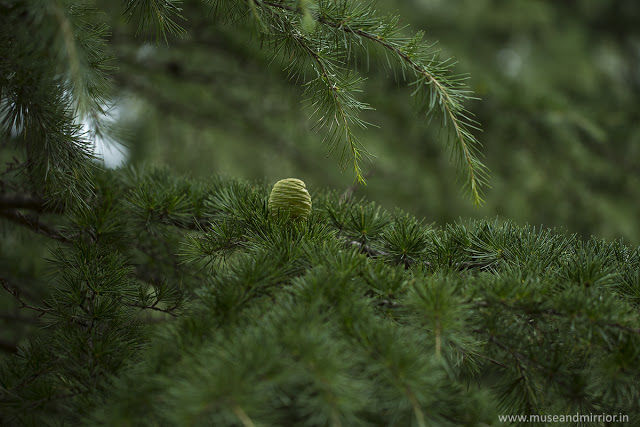 Encased the seed
After an hour we were really close to the valley end and saw a long stretch of identical huge trees and last light of the day spilling through their leaves. Suddenly road became very smooth and rain washed the road before our arrival.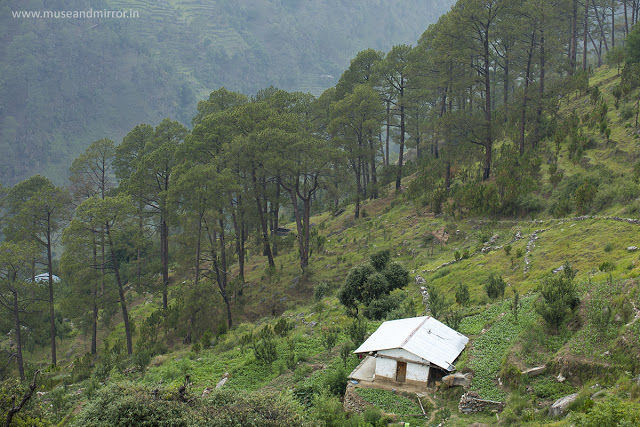 A house on the slope.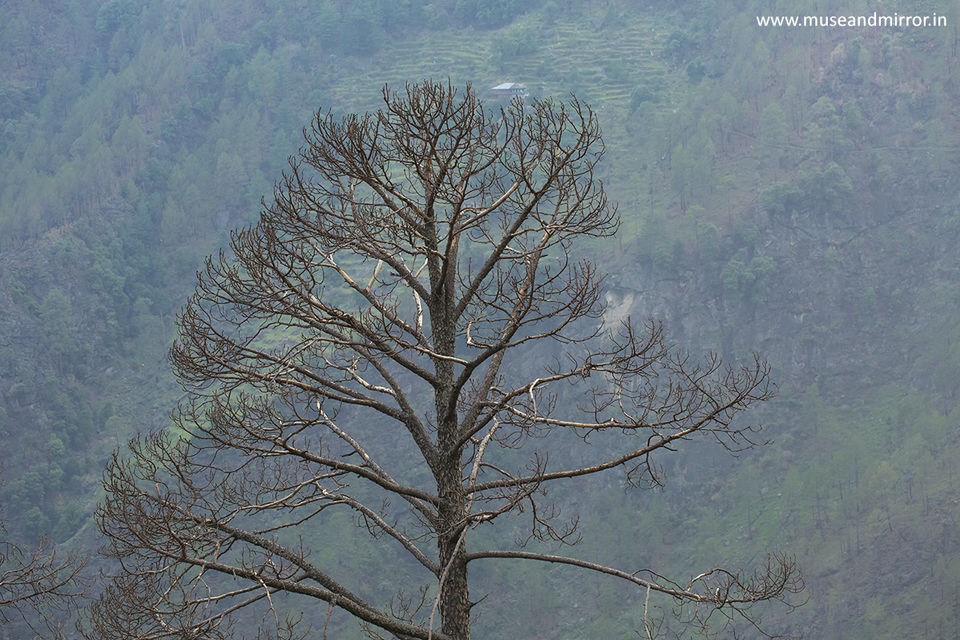 A lightweight grand old tree.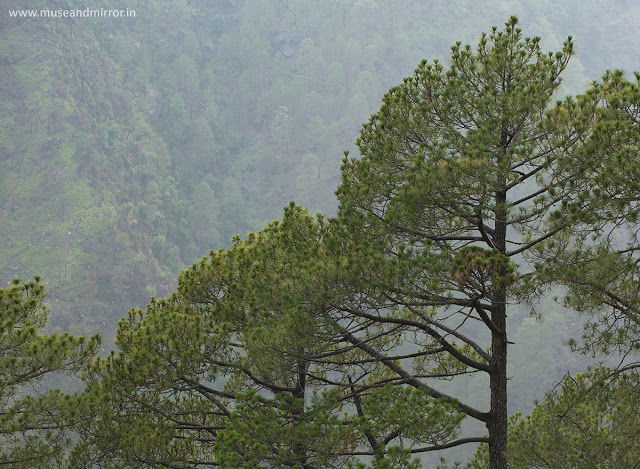 The light touching the top of trees.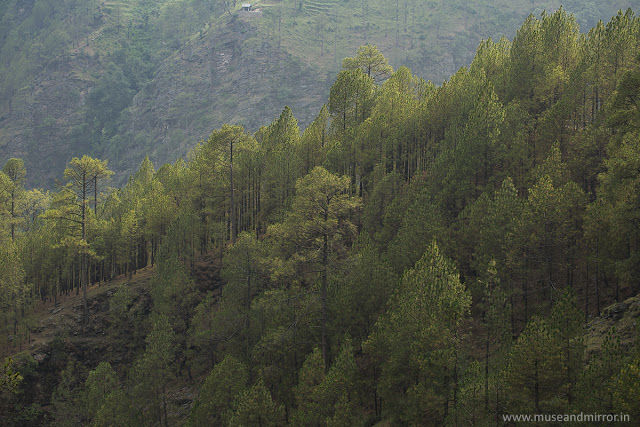 Descending last rays of light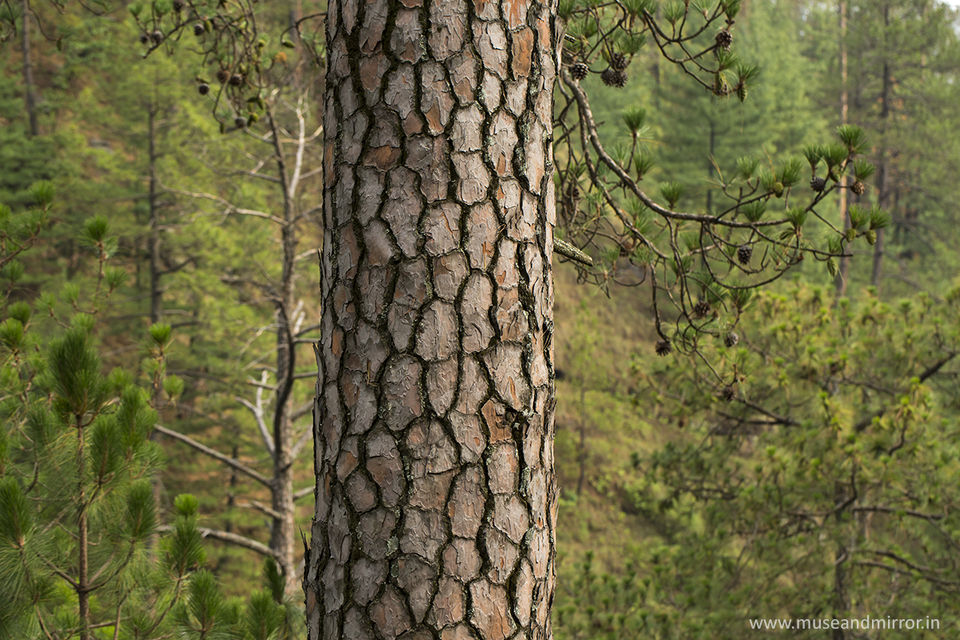 The cracked crocodile back on the tree !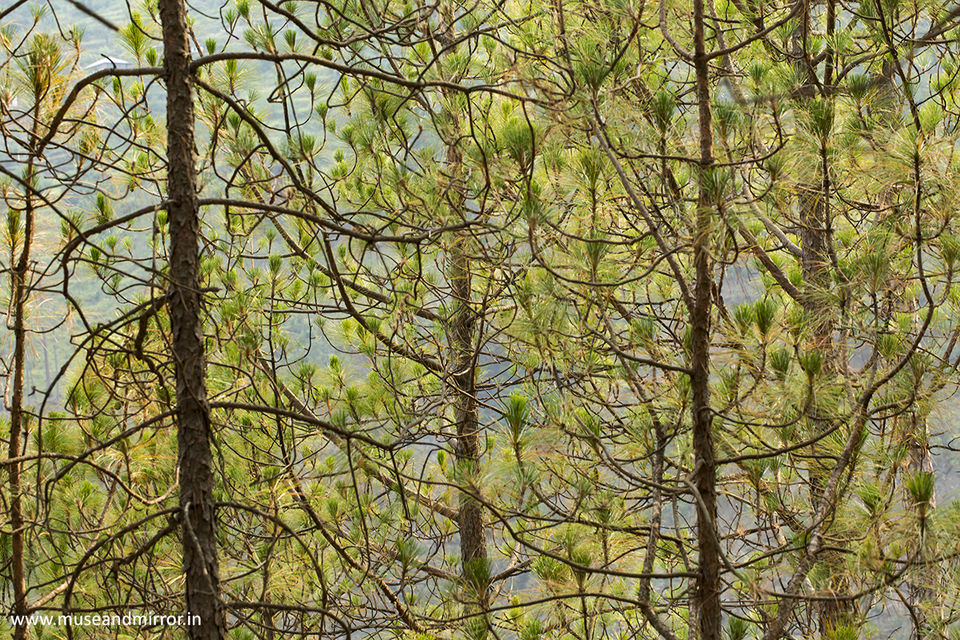 Translucent light filters through the needle leaves.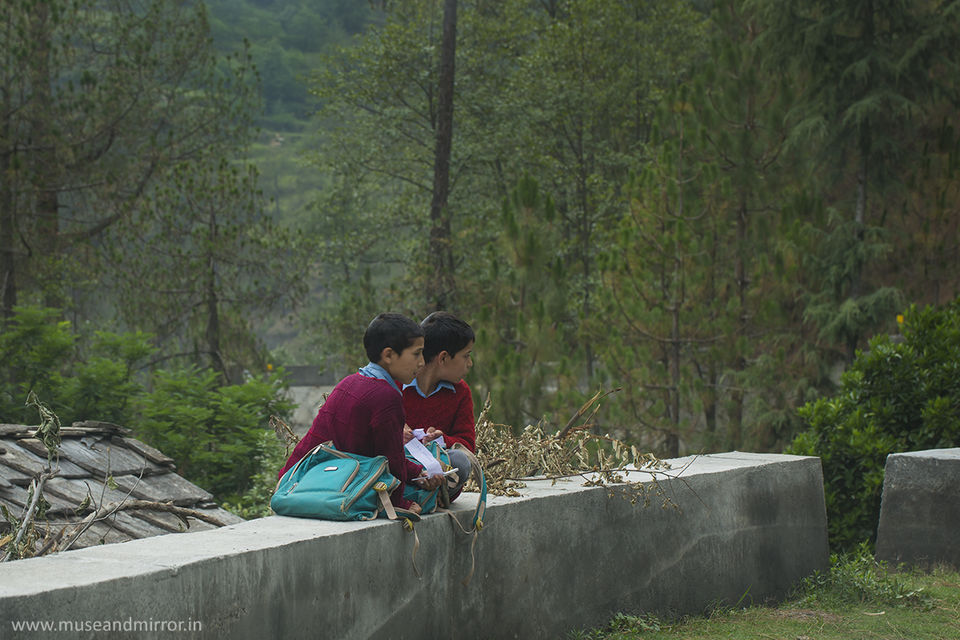 The best place to study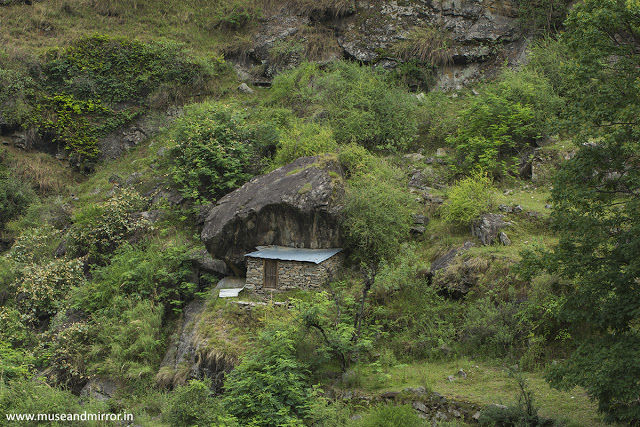 Our needs are really small and nature's hands are big enough to support them.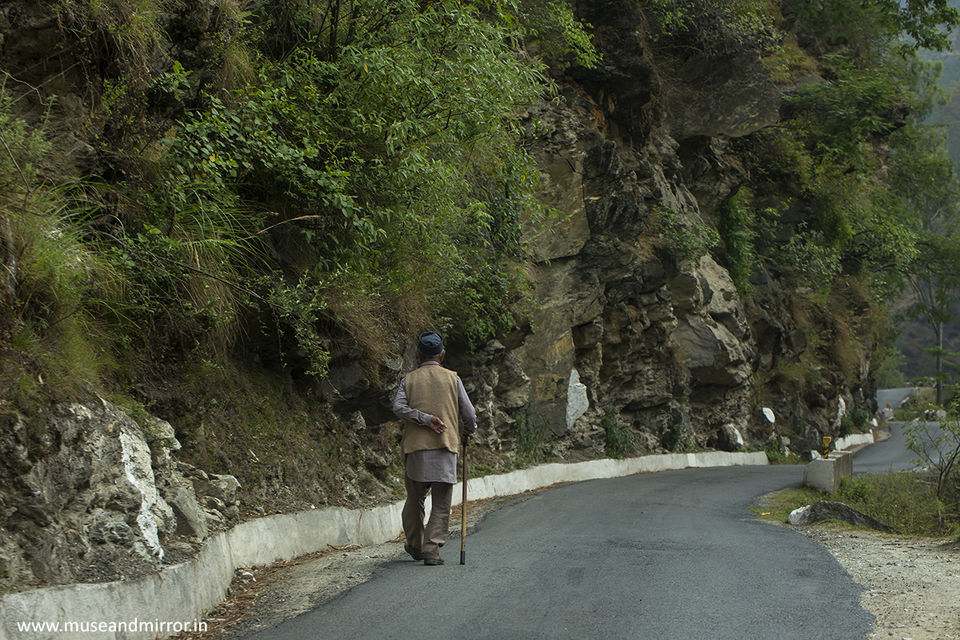 Lucky man deserves the evening walk like this everyday
We passed the bustling town of Anni and came to Rahul's Mama's home. A rustic three storey home with a valley view. They live here and do farming , own a fish farm and a shop by the river. Basic amenities yet rare for city dwellers. We had a small party in the evening on their shop's terrace by the river. Such evenings you cannot forget. Cool wind , slowly flowing river , birds around , delicious food & talking on anything to everything. Even after having the party they made sumptuous dinner. A true home stay.
I slept on the top floor balcony with the one eyed cat besides me. Stars hovering the valley sky. I was tired a lot so didn't clicked a pic in the night.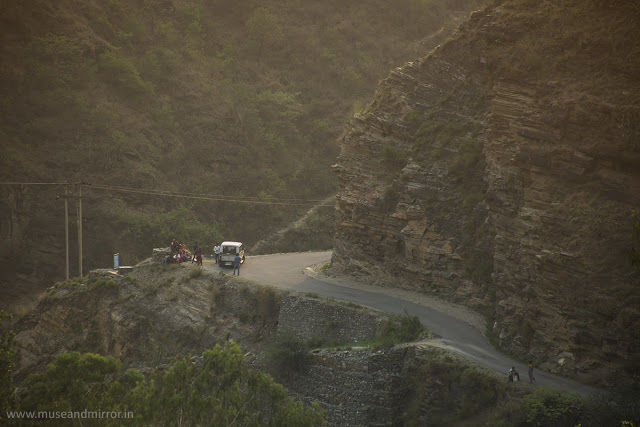 A view from my Homestay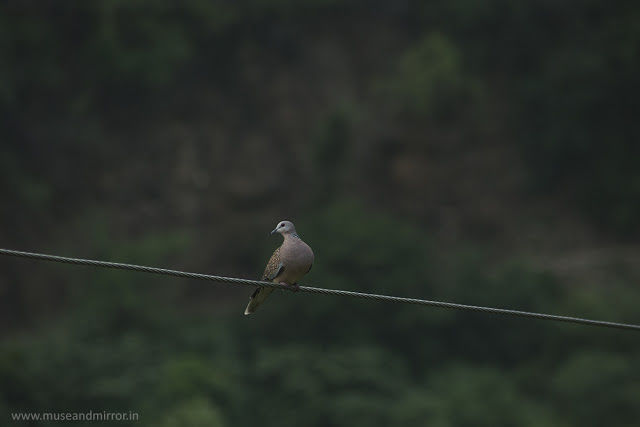 A Himalayan bird on the wire in front of my balcony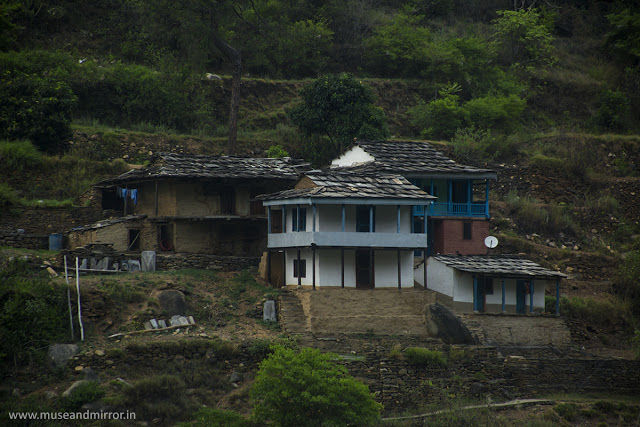 Houses on the slope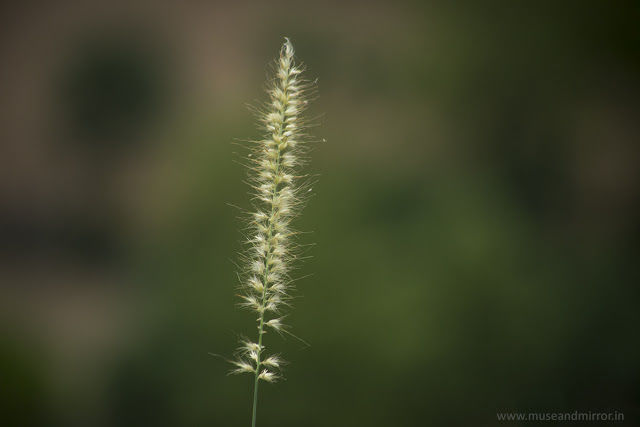 A little bit of grass
Next day I woke up with the greetings of Grandma. After warm welcome and morning coffee she started asking me about from where I came from, family, profession ..... just like my grandma. A caring person indeed. I also come to know a lot about the Anni valley which is completely different from the evergreen Teerthan or Jalori. Here I saw mango trees and apples together. Due to the height drop the climate is warmer compare to other Himachal places eventhough it is very close to famous hill stations. She also gifted me a Dhatu (scarf for head protection ) to my wife. And asked me to come again with family not alone. We took a walk in the farm later & heavy breakfast ; the time has come to say goodbye . I had very little time yet most memorable moments of this place. The journey was started with full of new acquaintances. I said goodbye to them and proceeded to meet the mighty roaring Satluj.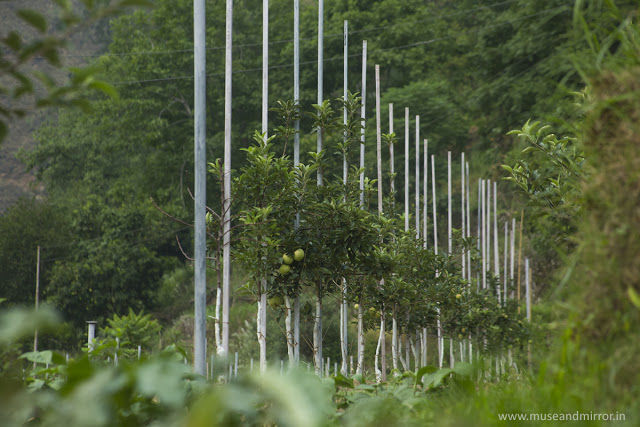 An apple orchard of the homestay owner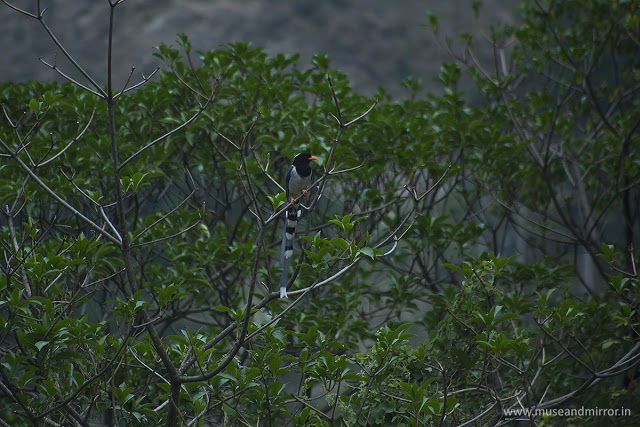 Commonly found himalayan beauty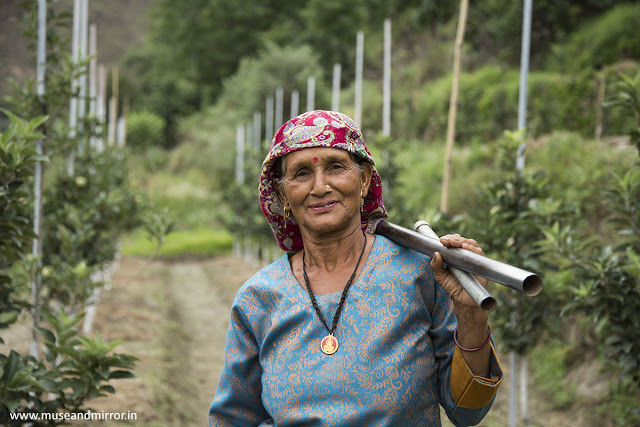 Granny in the farm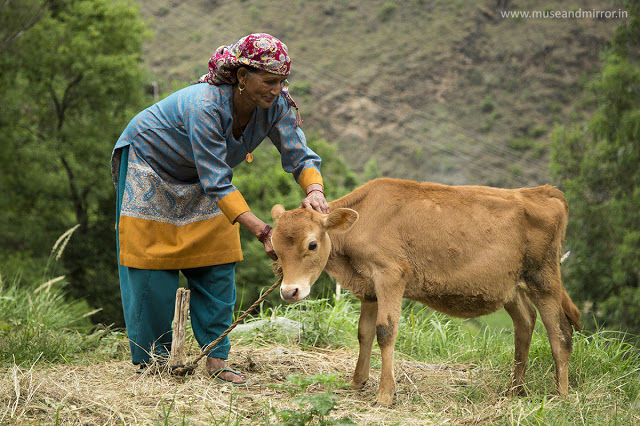 Granny near the cow shed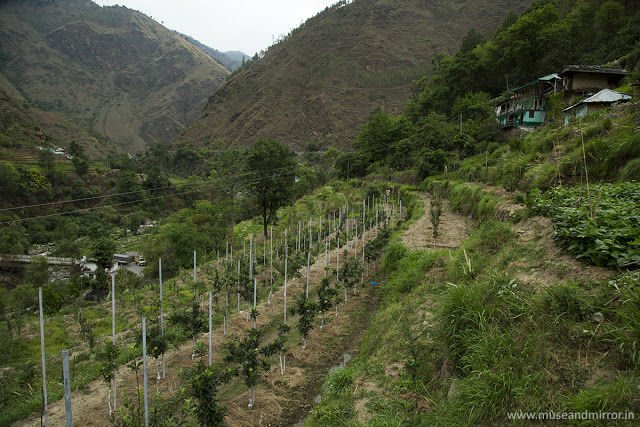 The beautiful apple orchard view and the homestay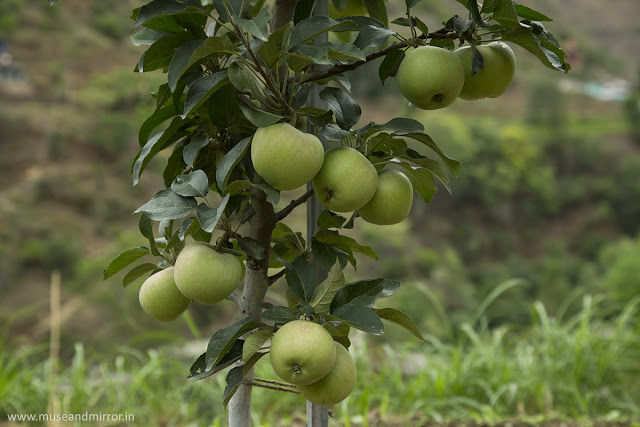 Apples in making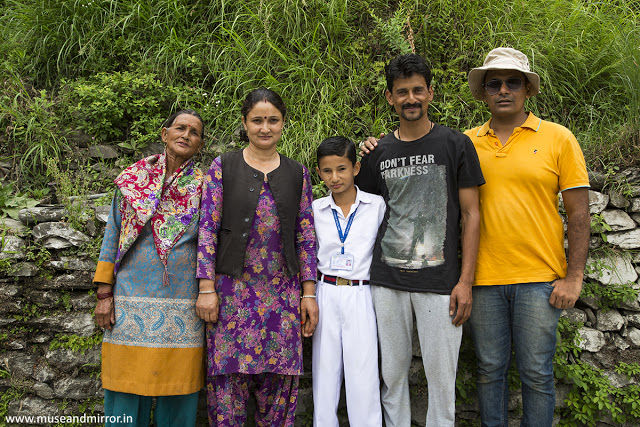 I stayed with this great family in their home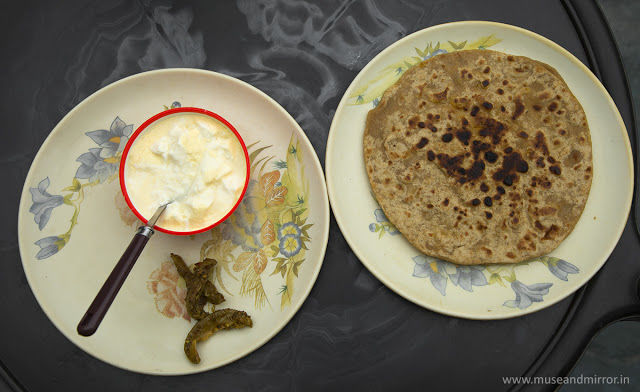 My delicious parathas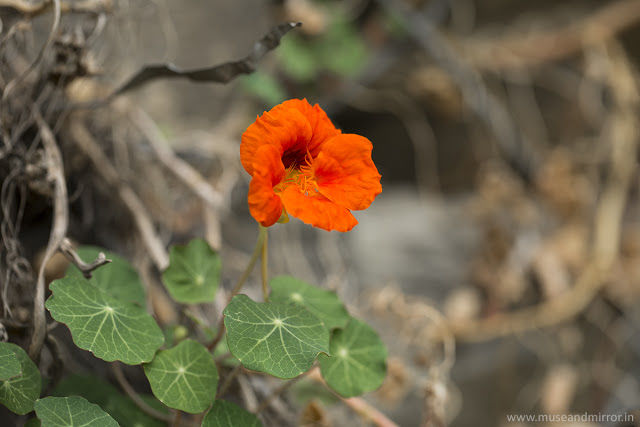 A parting gift
This valley is full of different birds and plant life is different compared to the high mountains. But definitely a place to explore which is not on the tourist map.
Anni is between Kullu and Shimla.
From here you can either go to Kinnaur to enter into the high mountain treacherous trail.
You can reach to this place from : Kullu to Anni : 103 kms
Anni to Rampur 53 kms ( towards Kinnaur )
or Shimla (111kms )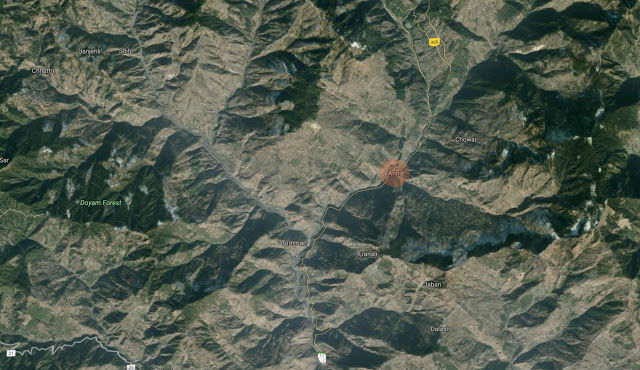 This blog was oirginally published on 'Himalayan Whispers'
.