When you are lucky enough and blessed from the mighty mountains, then you have friends who are always ready to accompany you in your travelling plans. It doesn't matter how unplanned your trips are, those friends are always up for travelling. Yes, I am that lucky one who has the gift of such friends.
I have been wanting to visit the Parashar Lake for quite some time now, but it wasn't working out. One fine morning while I was talking to my friend, we planned a trek to Prashar Lake, which is approximately 45 kms from Mandi and 70 kms from Kullu in Himachal Pradesh. The Lake is located at a height of 2730 m (9000 ft) above sea level.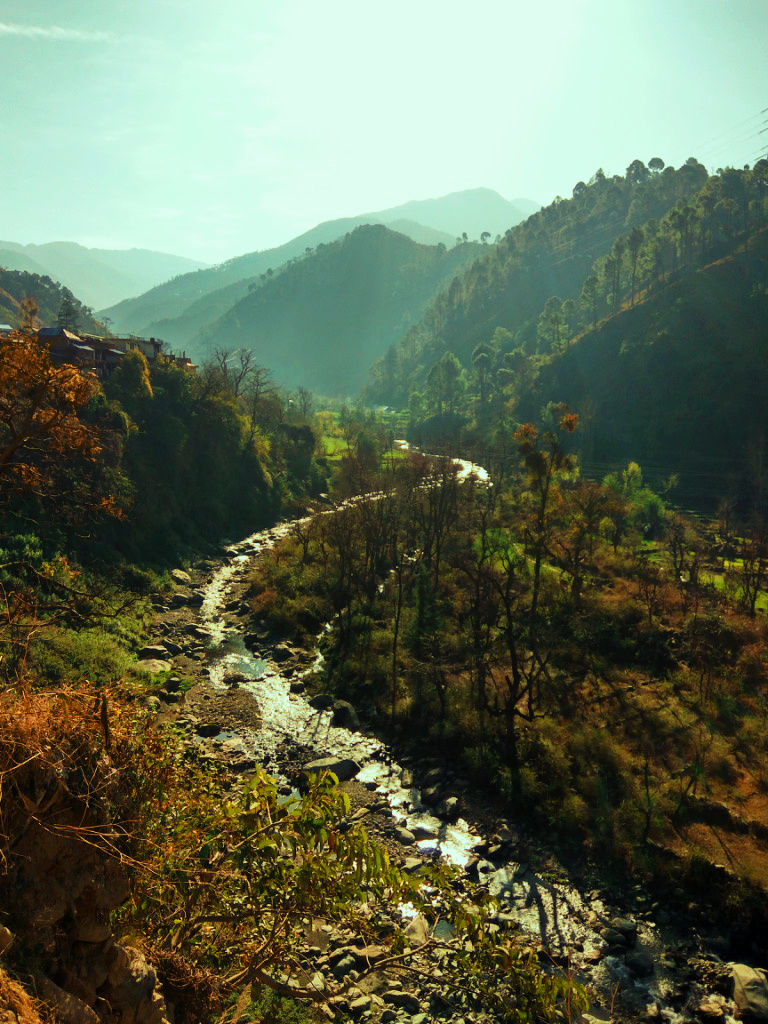 We left in the end of february, the time when Delhi had almost packed its winter clothes but the mountains still witnessed cold and freezing winds. We packed our bags, said goodbye to our city to corroborate one of the beautiful places of Himachal Pradesh. We reached Mandi at 3am in the morning and we roamed around the roads enjoying the cold weather there. The atmosphere and the ambience makes you feel at home. I felt guarded by the mountains, content and liberated.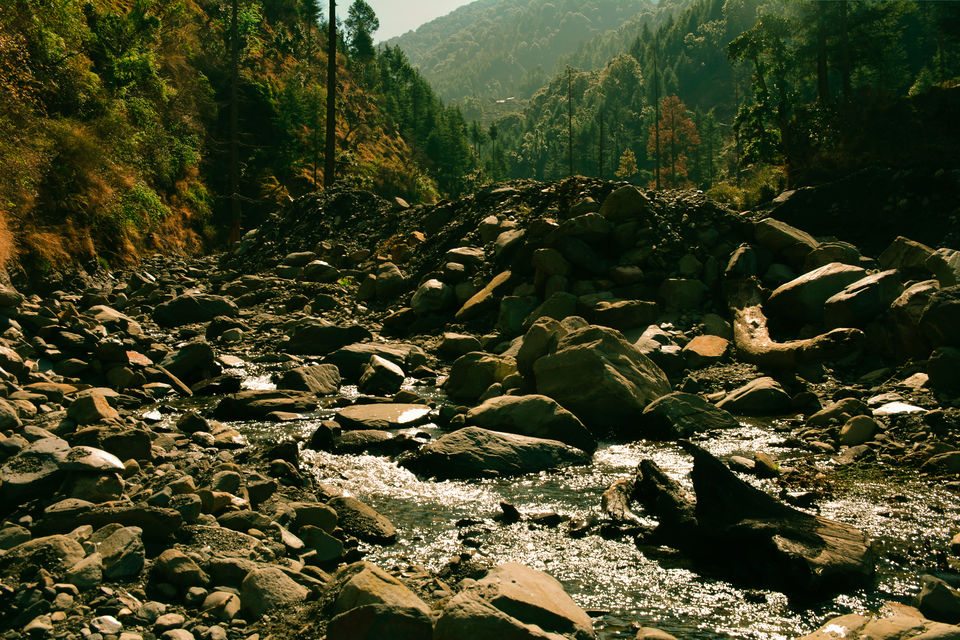 Strangers becomes friends!
It is possible to reach Parashar directly from Mandi in a HRTC bus which is sadly the only bus that runs to Parashar for the whole day and it starts at 8 am. We got down at Bagi village and started the trek to Parashar Lake. There is no public transport to Bagi there after till late afternoon. At 11am we reached there and had breakfast. One can book tents and other camping equipments from there at a very minimal cost of 600 bucks per person or 1200 for tent, two sleeping bags, mat, bonfire. At Bagi village, we met four people there who were also going on the trek, so we teamed up and decided to move together.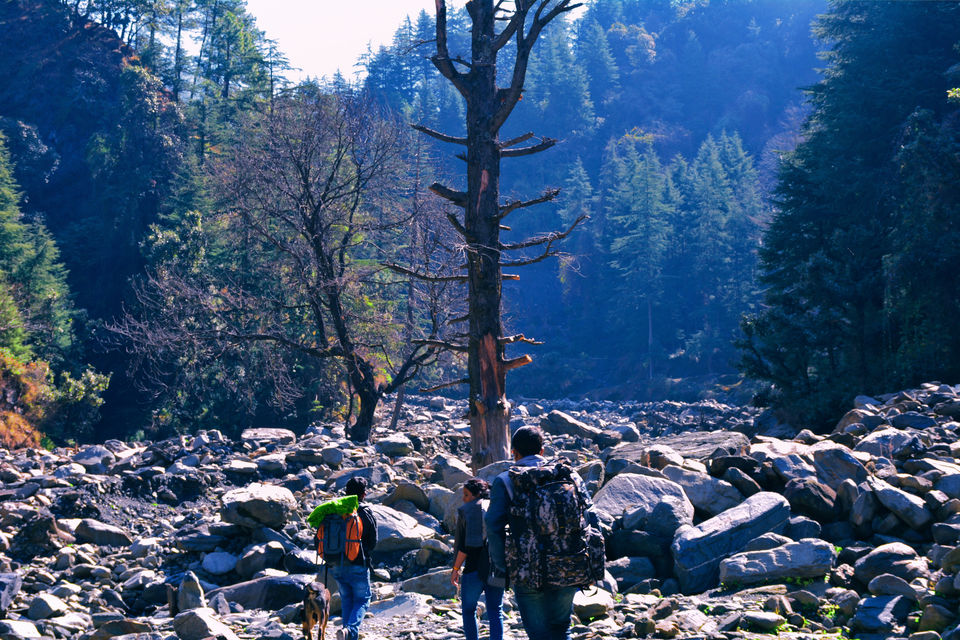 Walking tirelessly!
So now there were six of us on our way to Prashar Lake. There was a small stream across the road few metres ahead of a place from where we get down from the bus. After crossing the stream there was an earthy road going across inside the forest valley. The stream was at our left and we followed the road, after going on the trail for 15 minutes you will see a mountain stream at the right side of the road.
Walk for another half an hour on this trail and we witnessed a little stream coming down from right. We get off the jeep trail, take a right and hike upto the first ridge.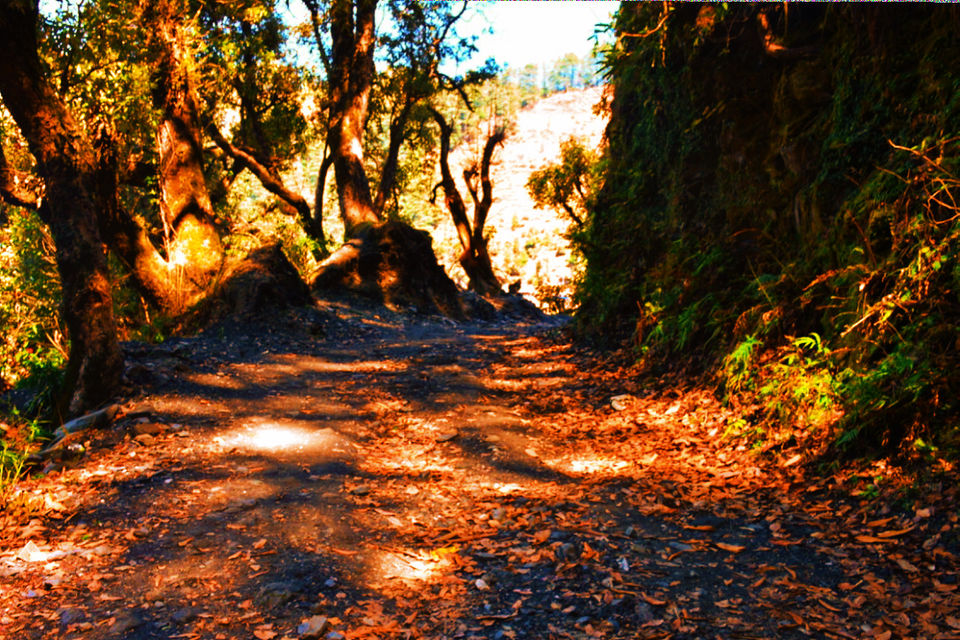 Into the Wild!
We started following the jungle trail which passed through dense forest and the trail is bifurcated in many places, we started following the well defined trail (I know everyone advises to follow the less travelled road in life, but in mountains, less travelled road should not be taken, otherwise you will be lost in the trail). After another hour of steep uphill climb, the forest will be relatively thin. In the middle of this climb we witnessed the Dhauladhar range for the first time. After walking for another 10-15 minutes uphill we find some stones are stacked together inside the jungle. We walked through the jungle for 10-15minutes, now you will find a make shift water pipe from Prashar lake to village. After climbing and walking for 40 minutes we find the first clearing. While walking the entire time, the view is breathtaking when you see yourself surrounded by nature. The forest full of life playing happy tunes with the winds surrounded by mountains. Take some time out and give yourself this amazing experience.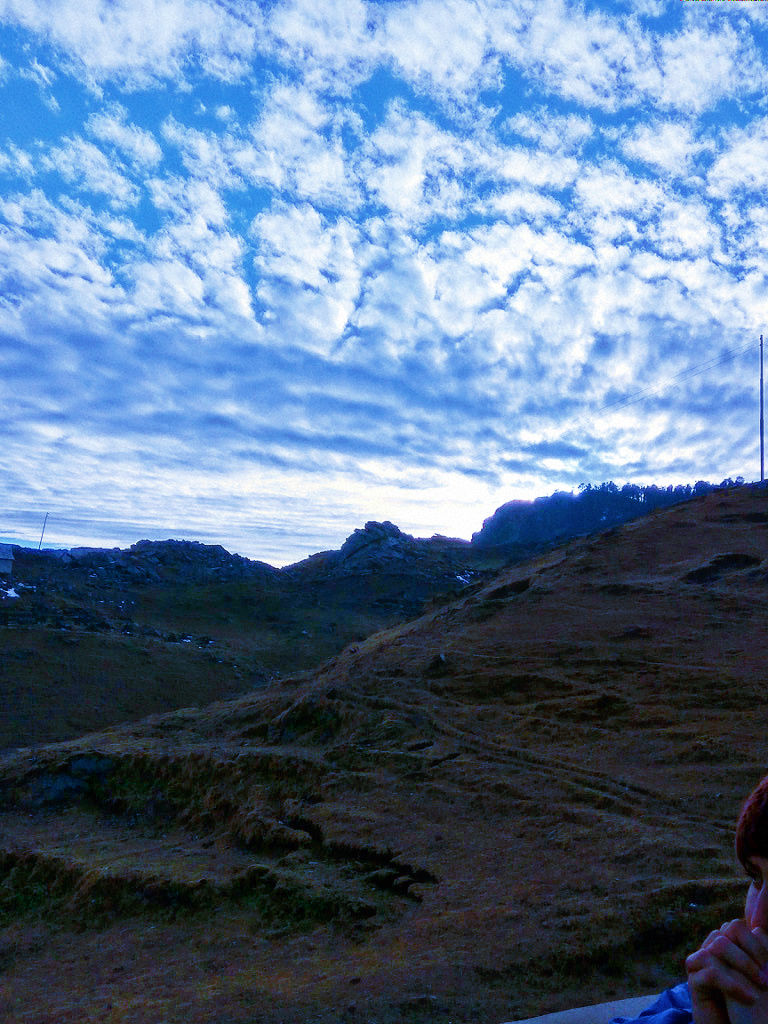 Grumpy Grubby Us!
We came across an electric post and started following the electric wires upward. This led us to another forest, after walking for 15-20 minutes and we were at another clearing. Trekking can bring you some amazing instances as well as enhance the patience in you.
In winter the whole area is snow covered. But at that time, a little bit of snow was there. Another 40-50 minutes walk brings us to an open source from where you will find a Shepherd huts uphill.
After crossing shepherd huts all we saw was snow all around and now we climbed the steep trails through the snow very carefully. Mind your step while trekking, because snow can make the route slippery. We climbed upto the PWD guest house through the snowy path. After reaching there, we took a left and there was a ridge from where we can reach to Parashar Lake.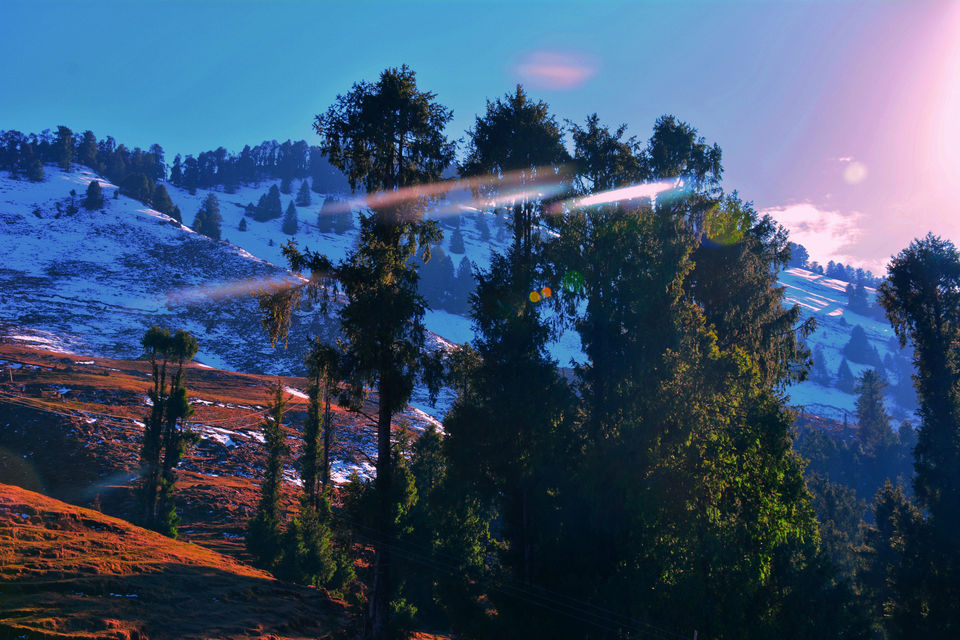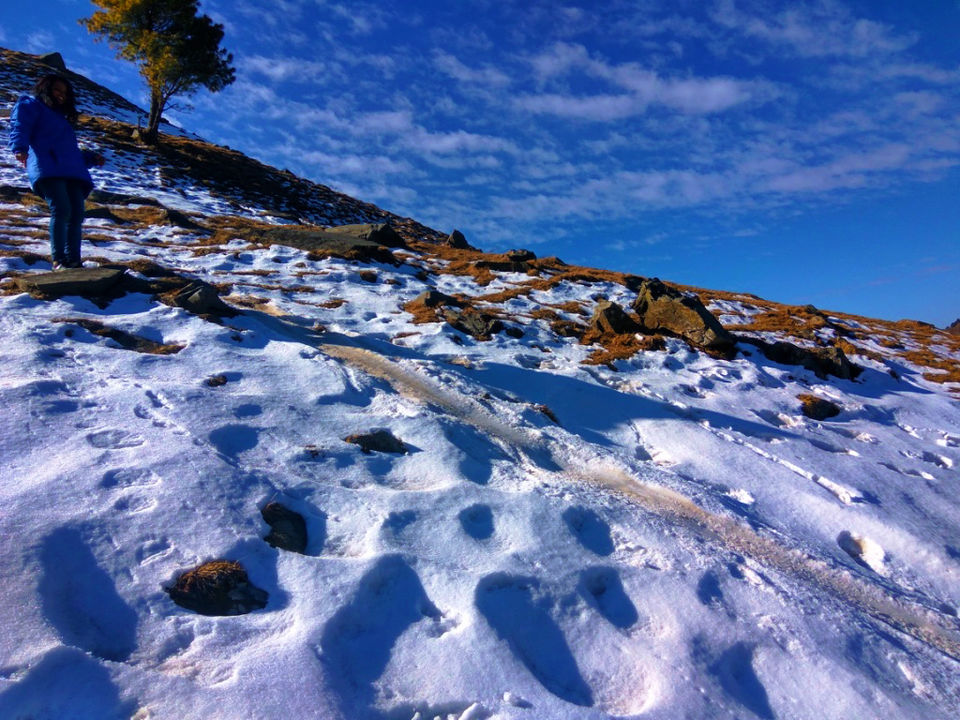 Oh Himalayas!
Half an hour into the trek, our happiness knew no bounds because we could now see the perimeter fence of Prashar Lake. Perched at an altitude of approximately 9000 ft. above sea level, pristine Prashar lake boasts of a stunning 180 degree view of mighty Dhauladhar, Kinnaur and Pir Panjal ranges of the greater Himalaya. In winters, surrounded by snowcapped mountains, this place turns into what looks no less than white heaven (if there is one!), whereas in summer, the meadows are in full bloom with wild flowers galore.H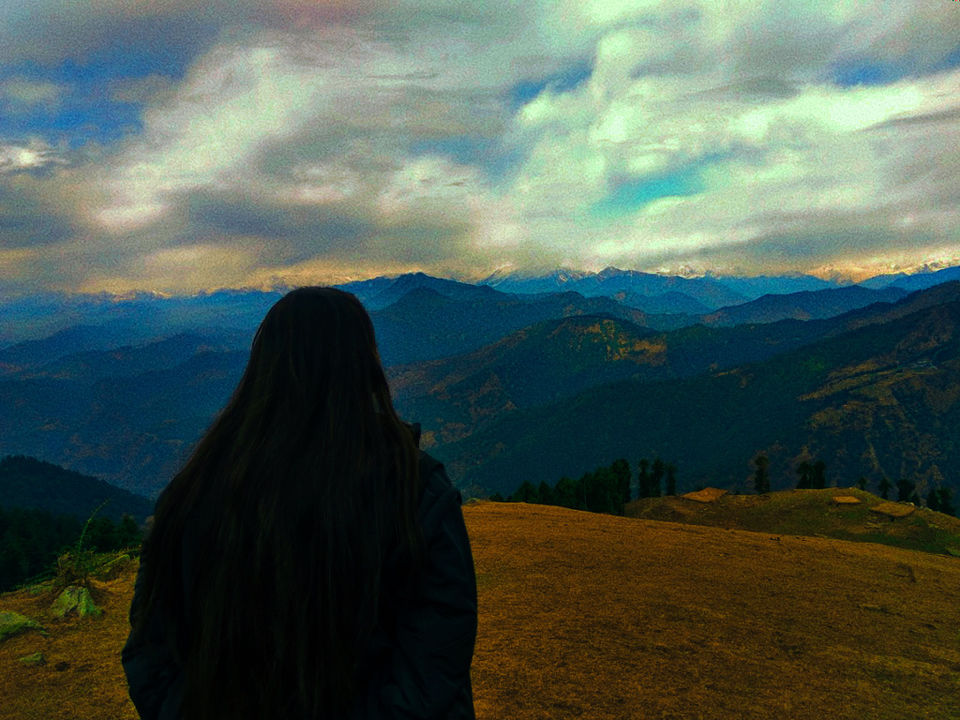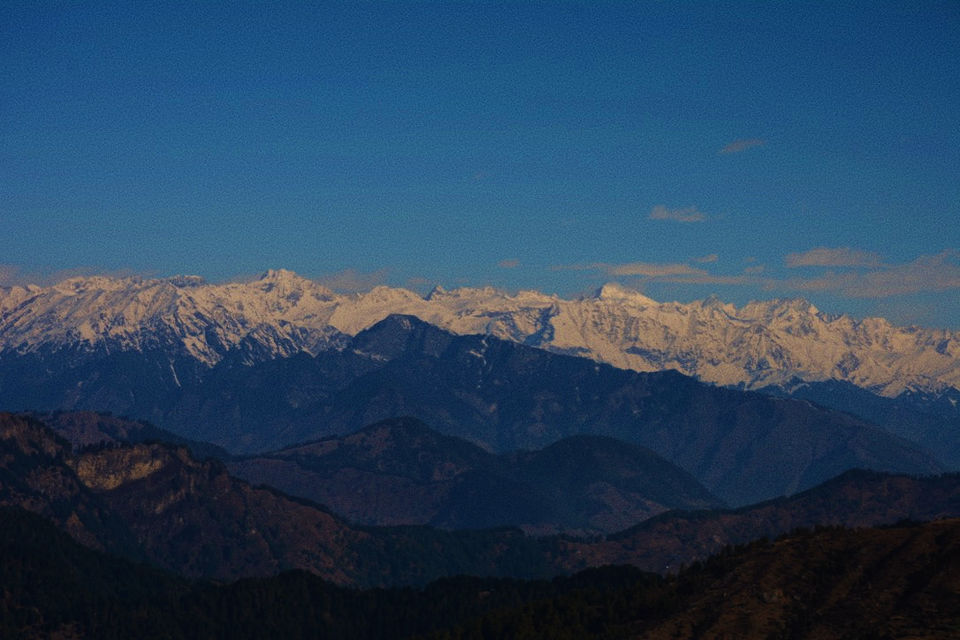 Perimeter fence of Prashar Lake!
The moment we entered the fenced region and climbed the ridge, we were enchanted by the grand view of the Prashar Lake with the floating island in it.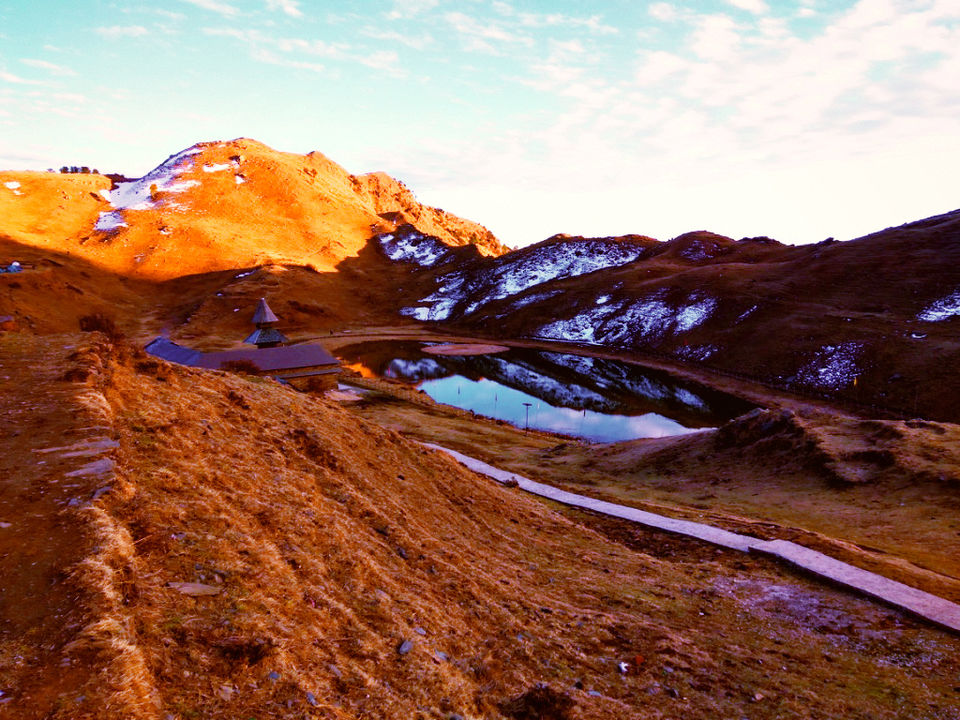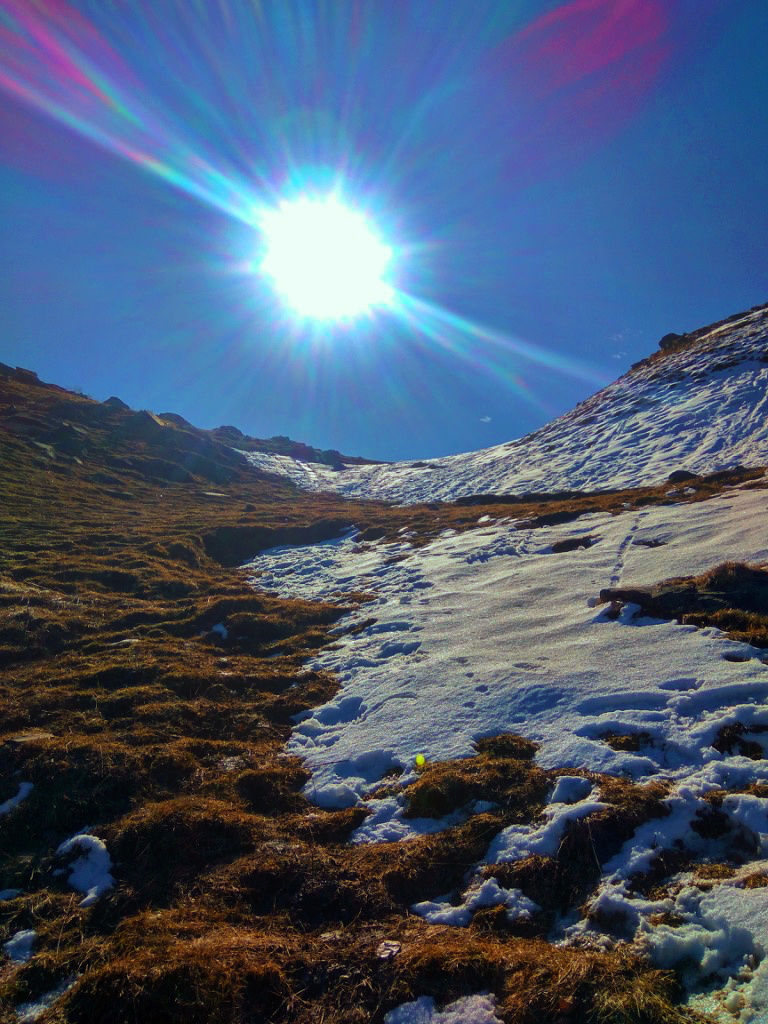 The temple by the lake side reflected the indigenous Himachali architecture. Its three storey pagoda-like structure is the proof of ancient Kath-Khuni style of building prevalent in Himachal Pradesh. There were many wooden huts inside the temple premises apparently belonging to the local shepherds. These huts are also used in religious ceremonies. The floating island in the lake keeps changing its direction with time. According to the legends, this floating island once was the seat of the great sage Parashara, sitting on which he meditated for centuries and it keeps moving even when the lake is fully frozen. Another interesting fact about the lake is that the depth of it is still unclear with many divers returning unsuccessfully from underwater.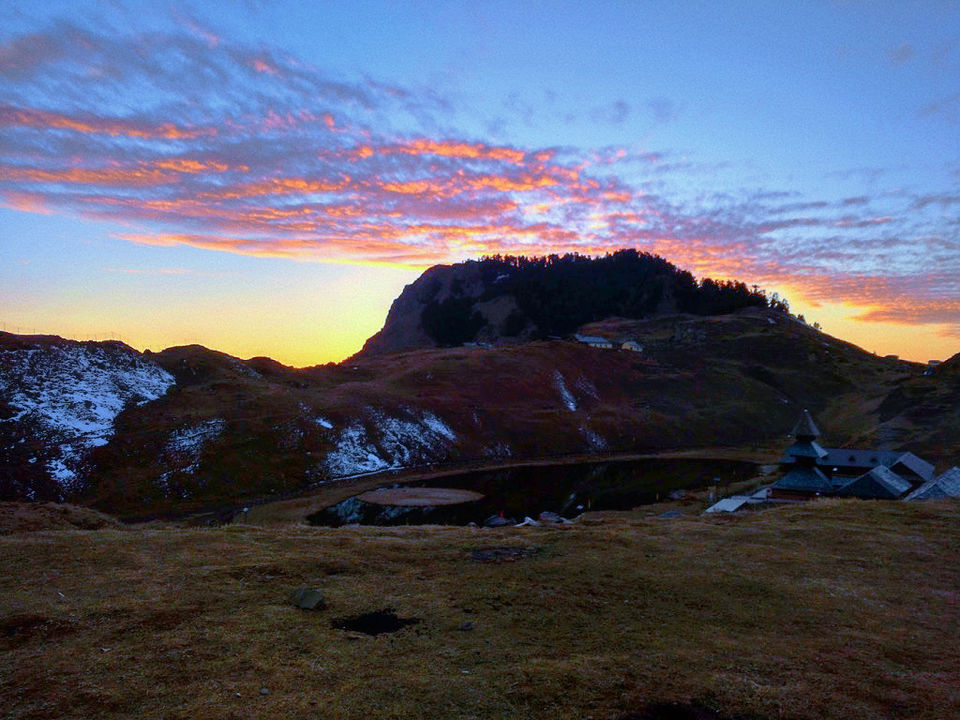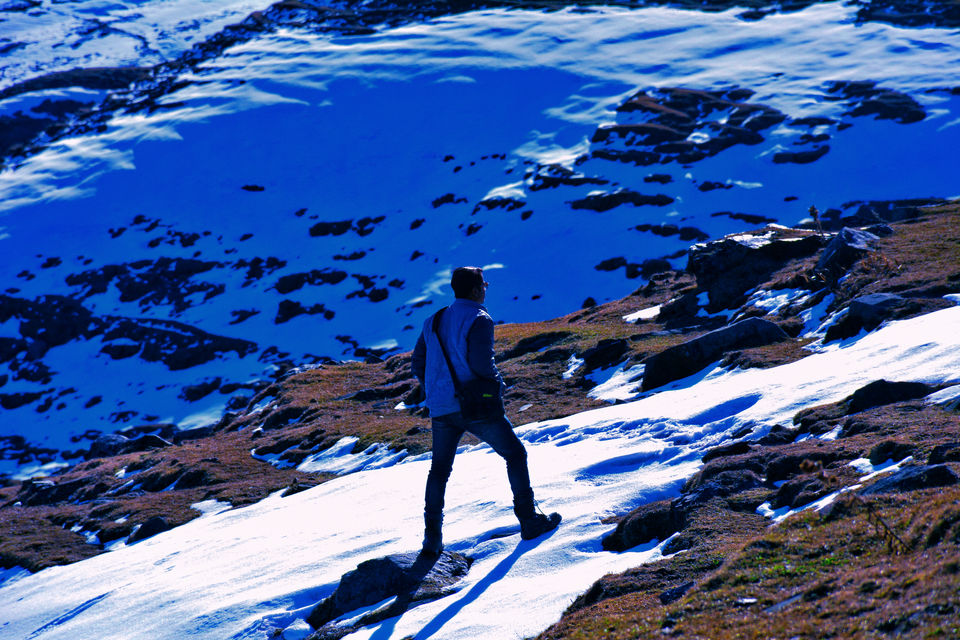 Starry night!
We stay in our tents under millions of stars and I must say, there may be a lot of comforts in five star hotel but when you can get an experience of staying in a million star tent, where else would you go!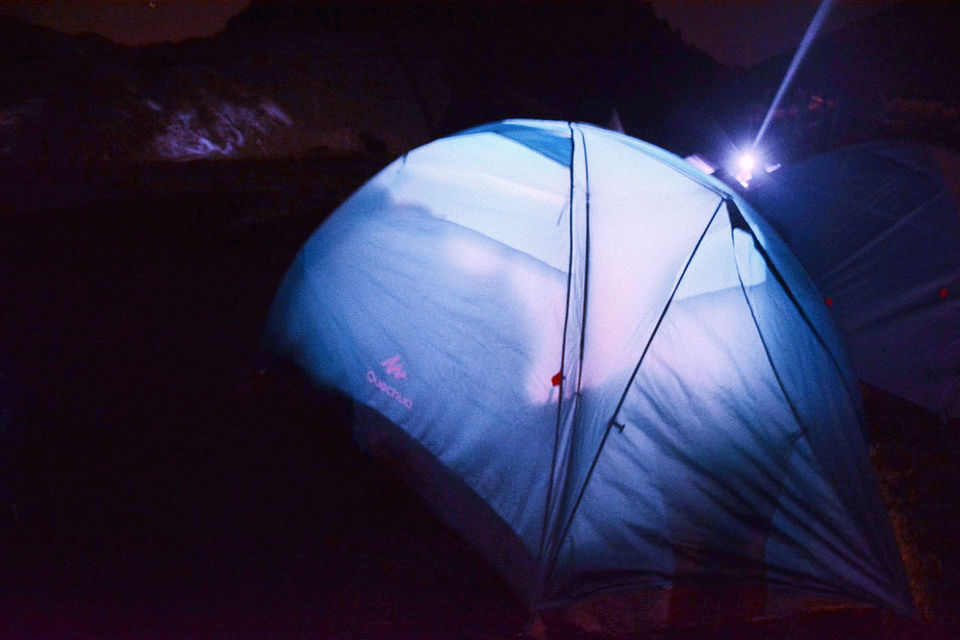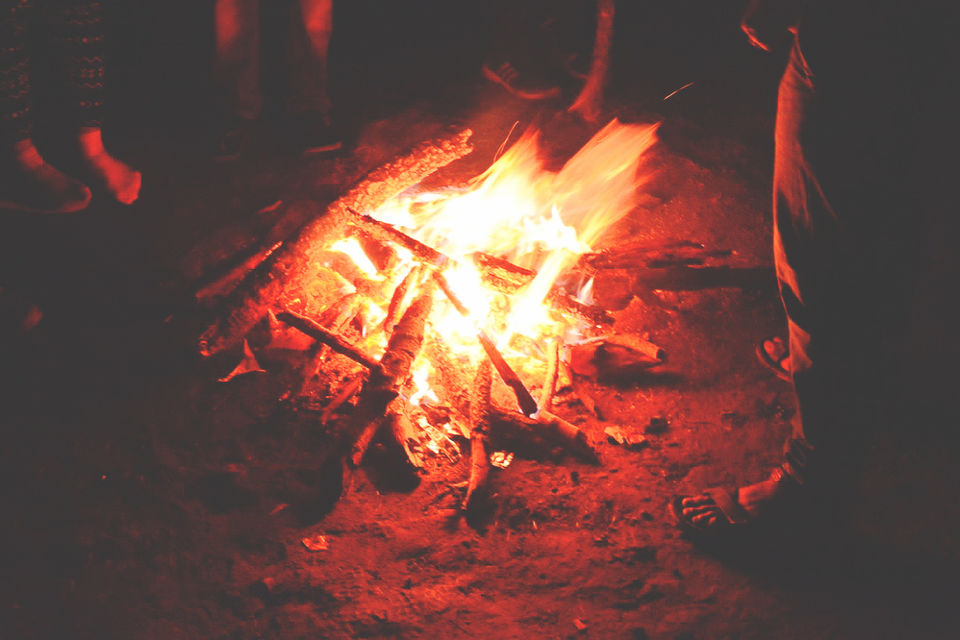 Thinking of the highly adventurous journey to this gem of a place, we decided to return to Baghi village next morning. Each of us giggled and knew that all of us will have a story to tell to our folks back home!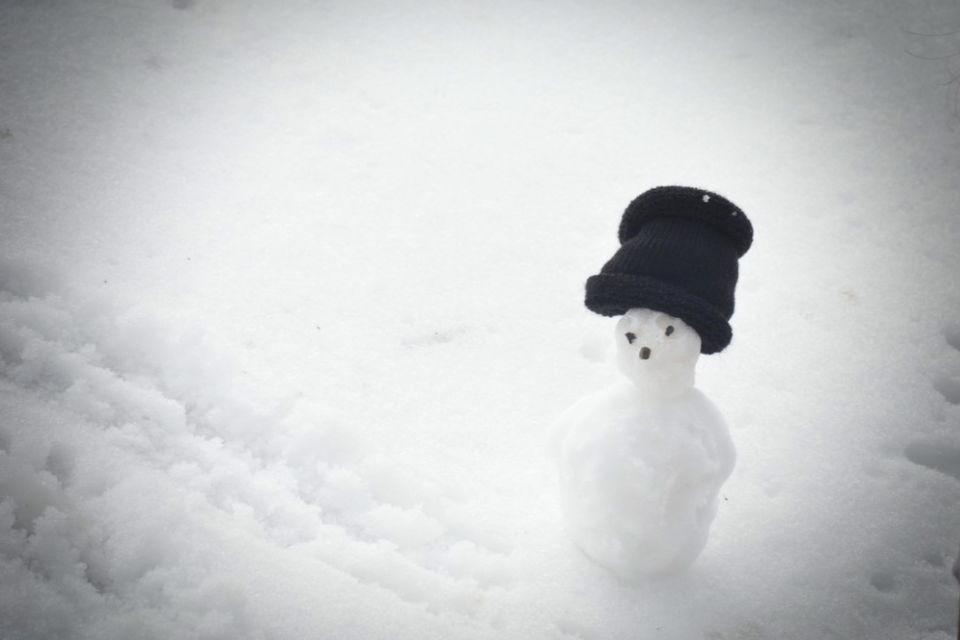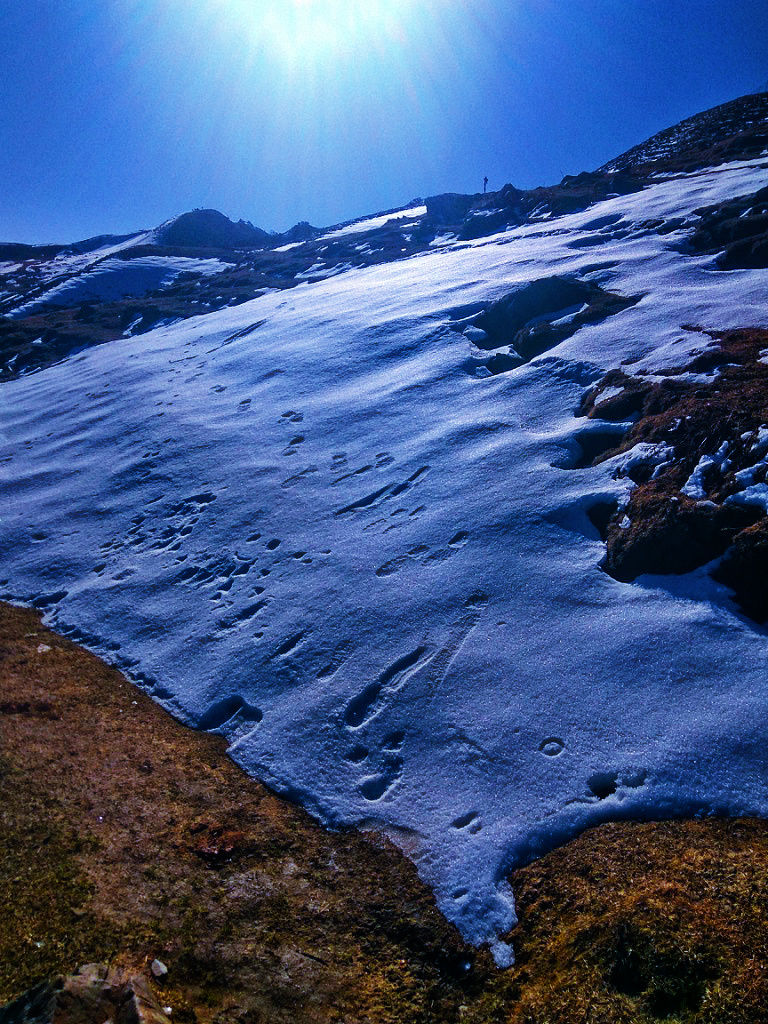 Note:
Accommodation and Food
There are PWD rest house, Forest rest house and Camping options are available easily. For food there are 4-5 dhabas from where one can have lunch, dinner and breakfast without any problems. Just keep yourself equipped with enough food and water in the starting of trek for 4-5 hours from Bagi.
Tip:
If ever you will lost your way in the mountains, then try to find human traces. Humans are the one who definately spoil everything (no offence! but it is my experience), they throw wrappers everywhere they go. Try to find out the human traces like wrappers, their shoe marks and follow that path.