Before starting any trip I get butterflies in my stomach and the same happened with this trip also. After experiencing a solo trip to Narkanda I planned to have an all-girls trip and decided to go to Nahan- an unknown, unexplored and less travelled place. We, three of us, started at 5 O'clock in morning and with our driver being professional we reached our destination by 11.00 am.

I love road journeys. There are so many things, so many views one encounter during the journey. They are difficult to capture in photos and difficult to express in words. They are the moments which could only be felt- Early morning white birds sitting on a tree, a couple doing Surya Namaskar, a group of boys playing football in fog, farmers doing their daily course, a dog tied to a horse cart, a sadhu baba (saint) walking and laughing on road and a little girl in a truck with her mother and probably brother or servant carrying all their household stuff, even a two-wheeler in a truck.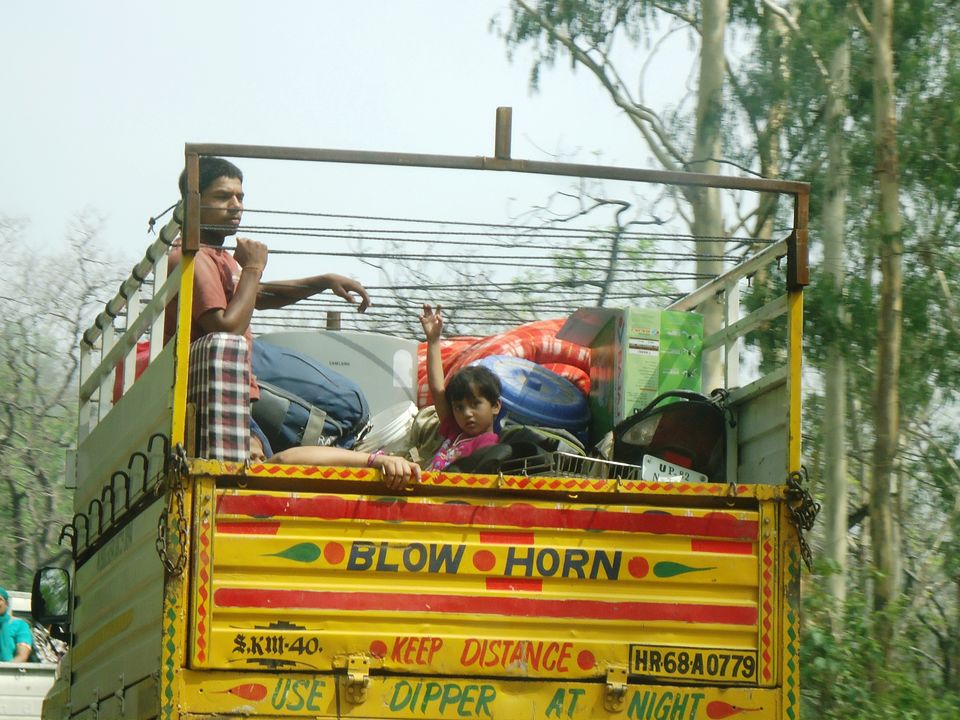 We chose Writershill, 300 kms from Delhi, as our shelter- beautiful, serene, calm and a perfect place for reading and writing.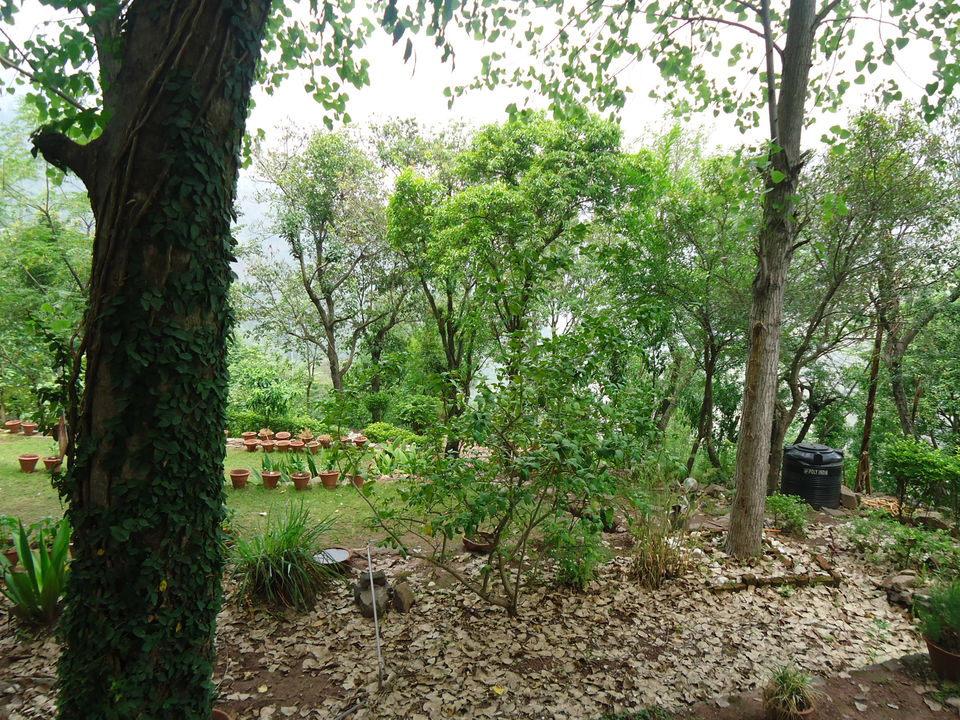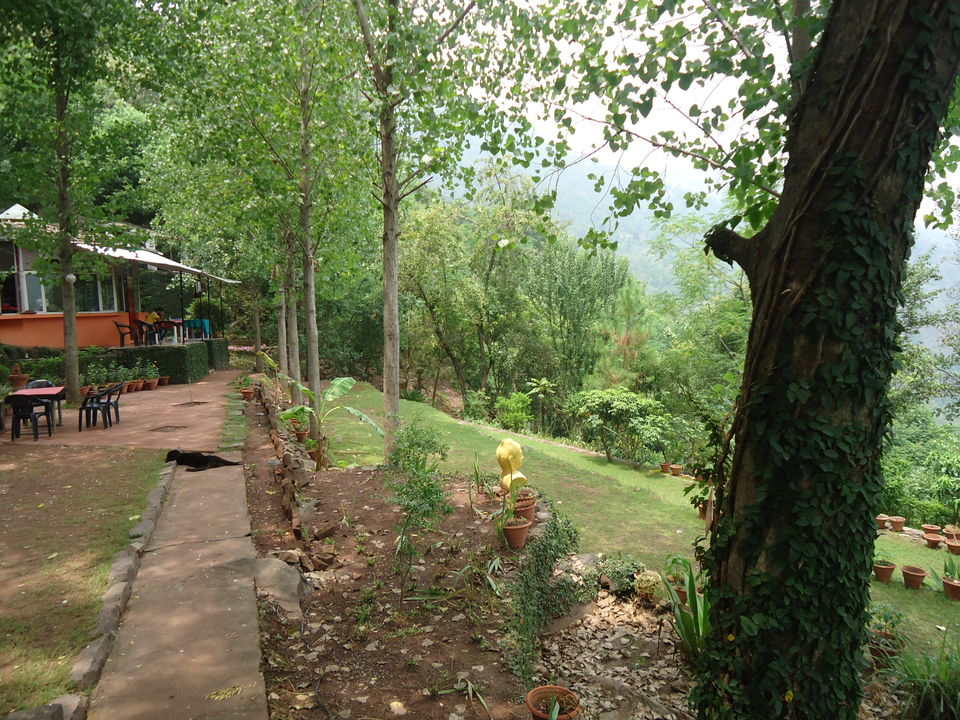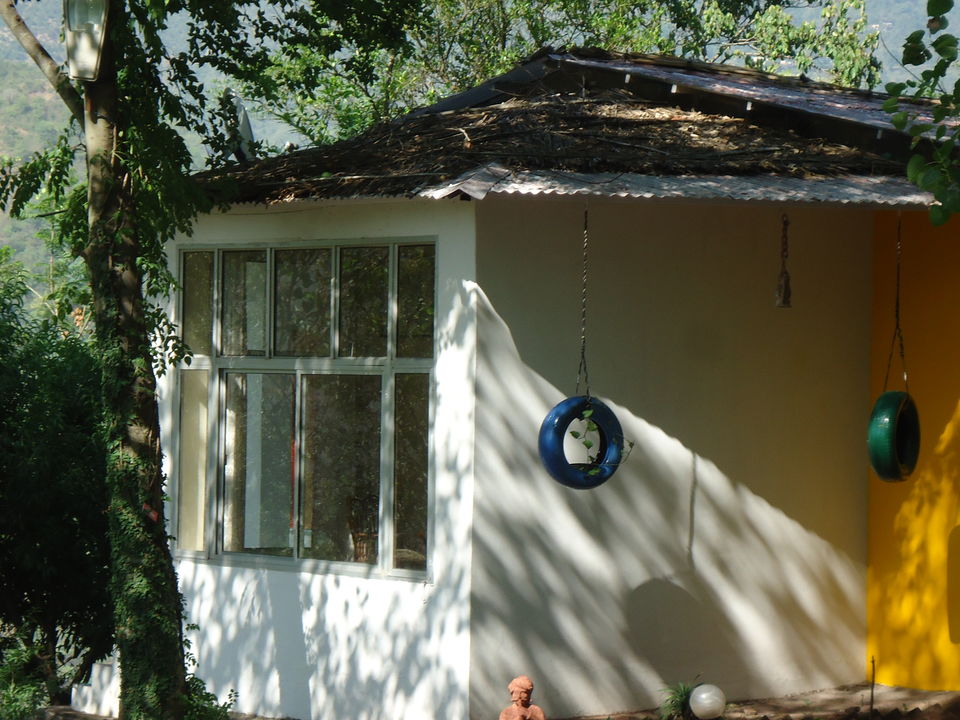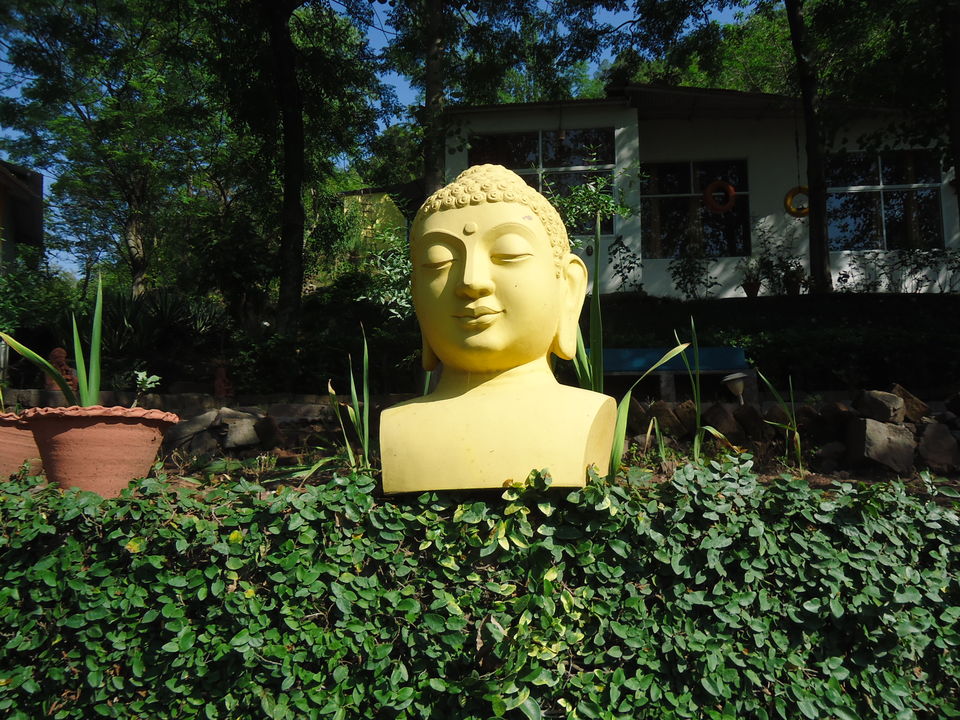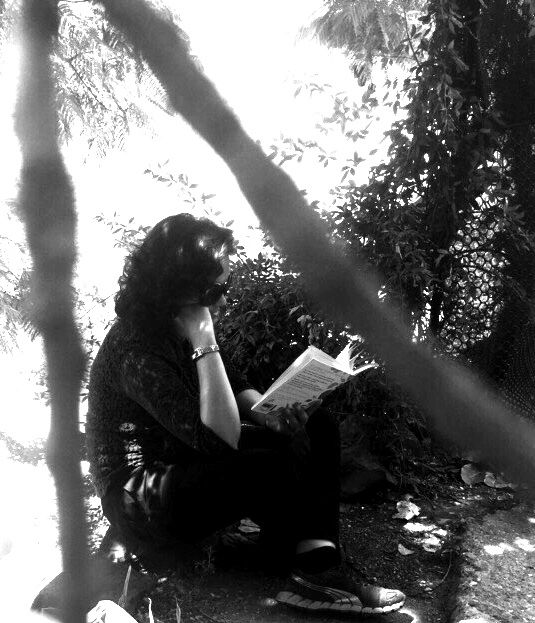 BADHOLIA TEMPLE AND WATERFALL
A mere km away from Writershill, Badholia temple looks like a small triangle in between the hills. Standing alone amidst the mountains and waterfall it was all silent. We climbed till the temple, there was a man (pujari) who stays there. While we were enjoying the view we saw that pujari has climbed a mountain and is offering makka (maize) to the monkeys. And while we were still looking at him in few seconds many monkeys from nowhere suddenly came to him. The sight was breathtaking. For almost 15 minutes I kept gazing at the sight, sometimes looking at pujari and sometimes at the way monkeys were eating. Supposedly monkeys were his best friends. He came down to the temple and pointing towards his bed he told us that he stays there and sometimes when the rains are very heavy he gets stuck for days and could not move out of the temple. I asked him for a picture and he happily agreed. While clicking I told him to smile and he laughed loudly.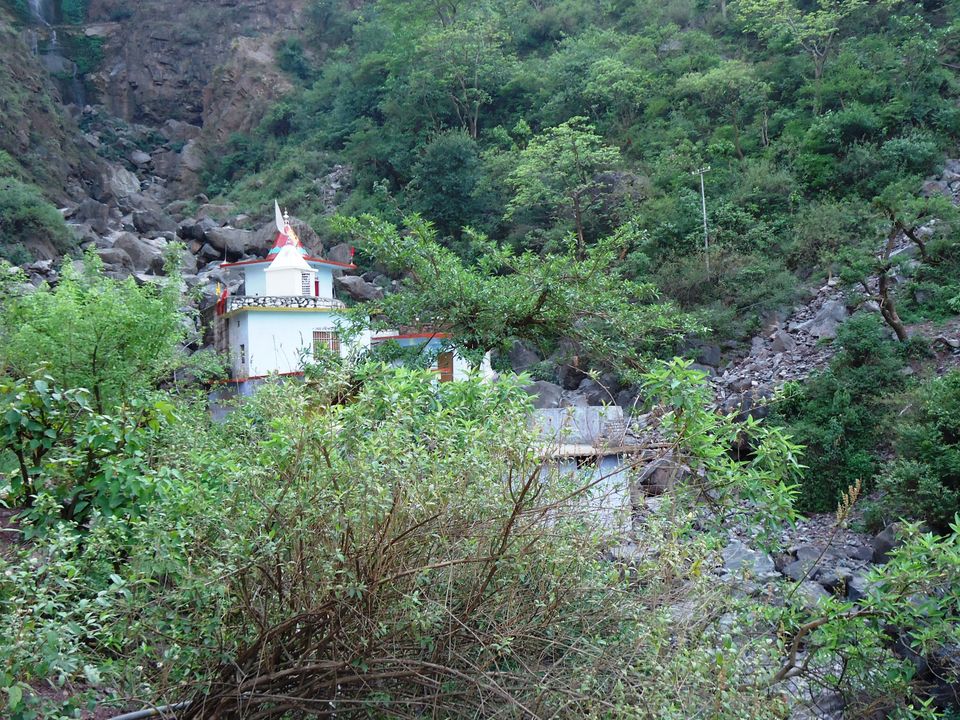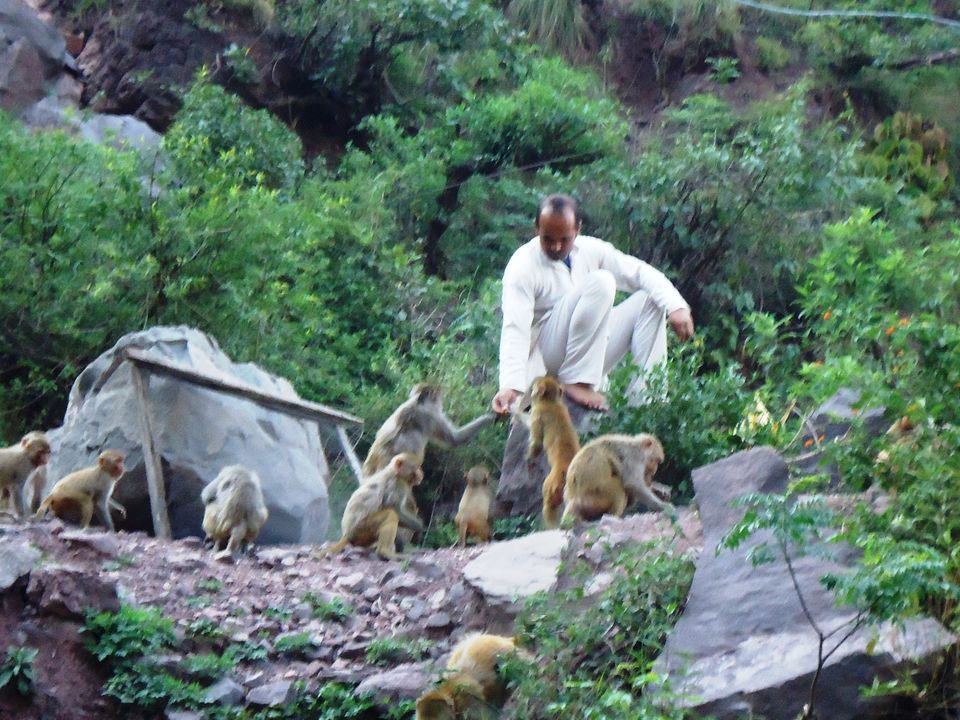 JALAL RIVER
While coming back from Badholia Temple we found a stop for us- Jalal River bed. Jalal river flows through Nahan. There was no one in the vicinity and we jumped in the river. The tiredness of whole day was vanished in few seconds and we spent almost two hours enjoying the river water.
I am like the river, shallow in the start.
But once you know me well, I am much intense.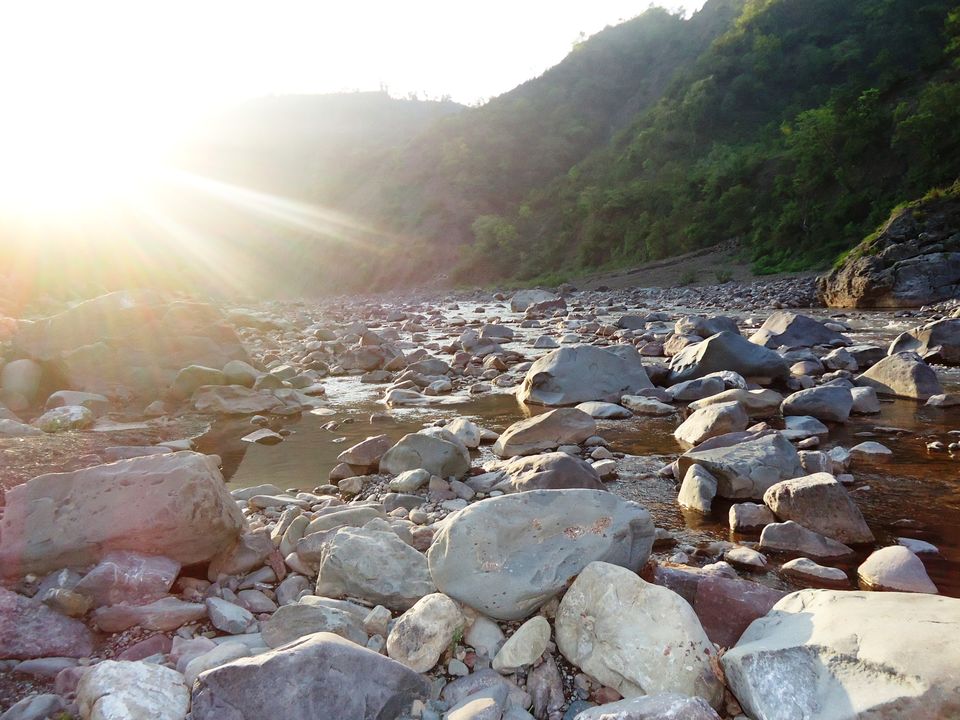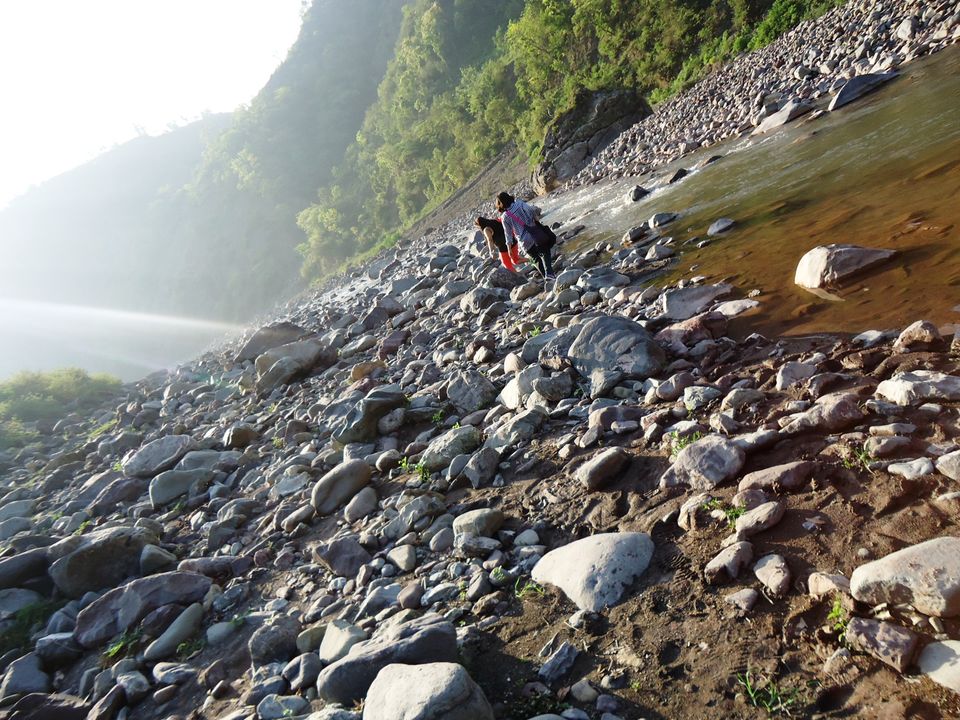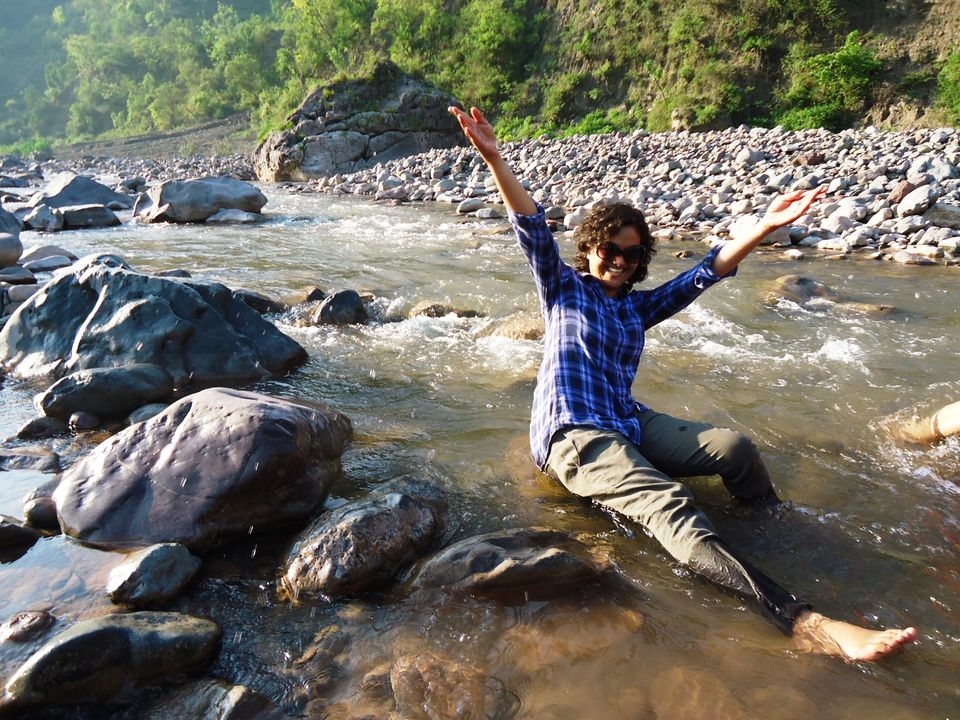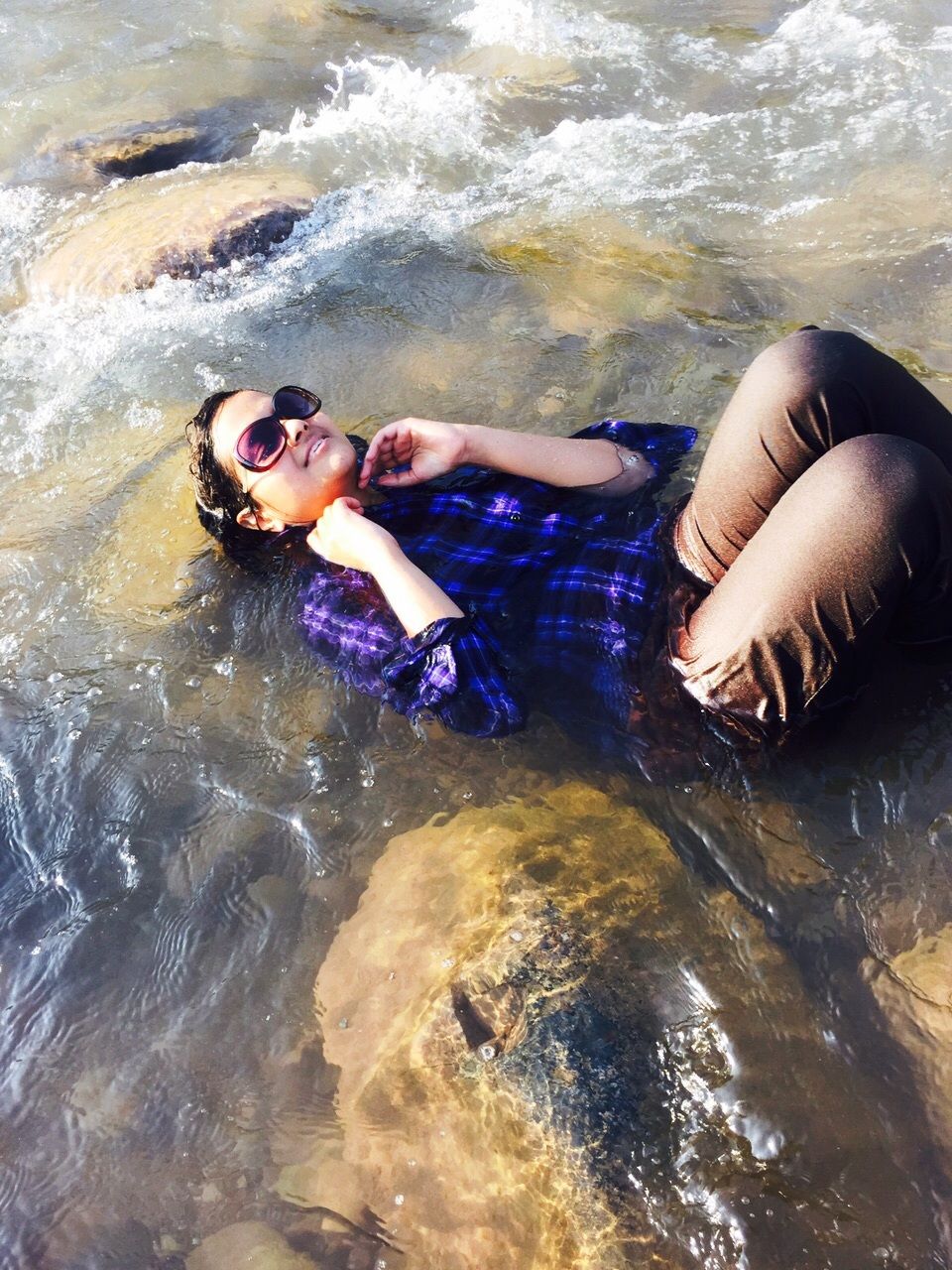 At night looking at the stars, listening to the music with Love Story by Erich Segal in my hand, I realised that lovers are like the stars in those constellations, apart but still always together.
Looking towards the mountains
I looked towards her and smiled
With tears in her eyes she smiled back
I knew that was catharsis for her.
If laughter is healing, crying also is no less a medicine.Cry- Cry with your heart out, let those tears rolled down your cheeks and travel to your heart. Allow yourself to taste that salt.
Reading and thinking I didn't realise when I went into dreams.
Day 2 & 3
I woke up the next day when the sun was above my head. Sitting under the sun sipping tea, I got a feeling that I am devoid of any existence, that I don't have mind or heart of my own. I fall for everything and I ignore everything. I am just flowing with the flow, experiencing life the way it is coming.
We had delicious breakfast at our home (by this time Writershill was more of a home for us) and headed for Renuka Ji Temple.
RENUKAJI TEMPLE, RENUKA LAKE AND PARSHURAM TAL

Before visiting Nahan, we had no idea that it was more of a religious place than a hill station. Renuka Ji is Parshuram's mother and Nahan has one big temple in name of Goddess Renuka.Around the vicinity of the temple there was Parshuram Tal and Renuka Lake. To my amazement Renuka lake is the largest lake (and probably the most beautiful) in Himachal with 2.5 km of circumference. Around the lake there was a mini zoo where we could see bears, monkeys and leopards and lots of fishes. We drove around the lake with water on one side and animals on the other. Though I don't like to see animals in cages but the beauty of this safari was marvellous.
The voice in the surroundings was as if a live orchestra is playing.
Sounds of leaves moving with the wind like a violin,
Sounds of fish in the water like a piano playing
Chirping of the birds like a flute
Sounds of our footsteps like drums
and the silence of the water as if leading all of them.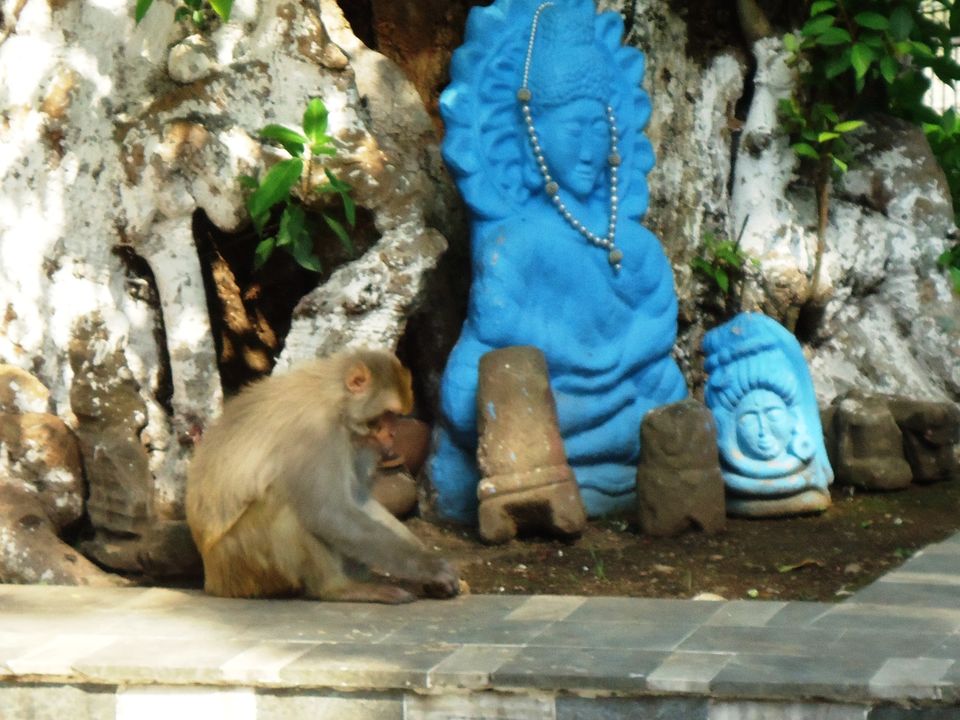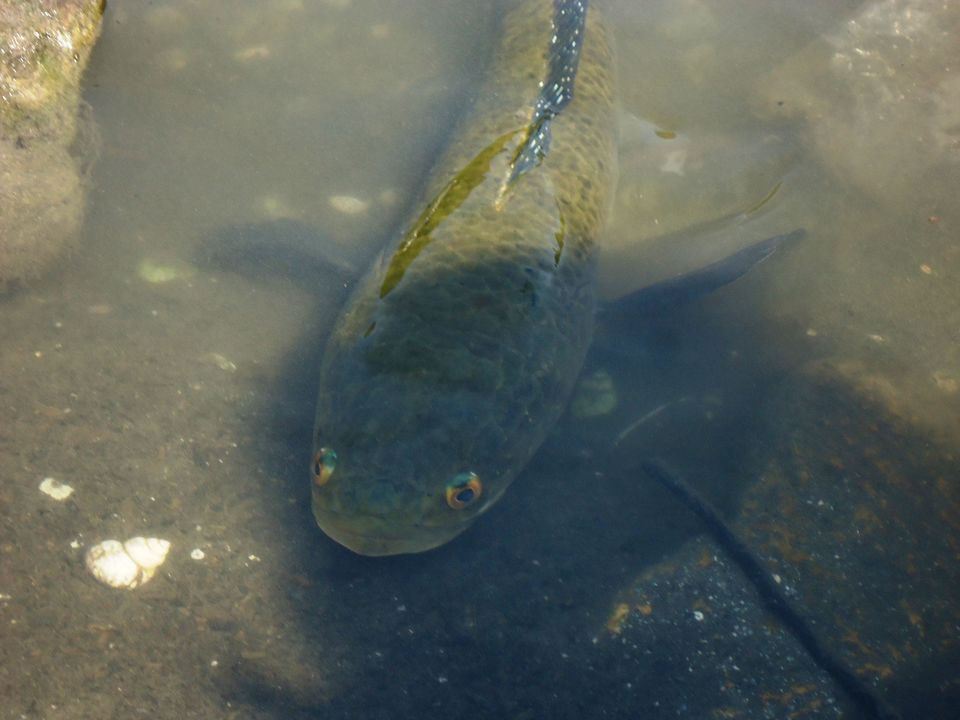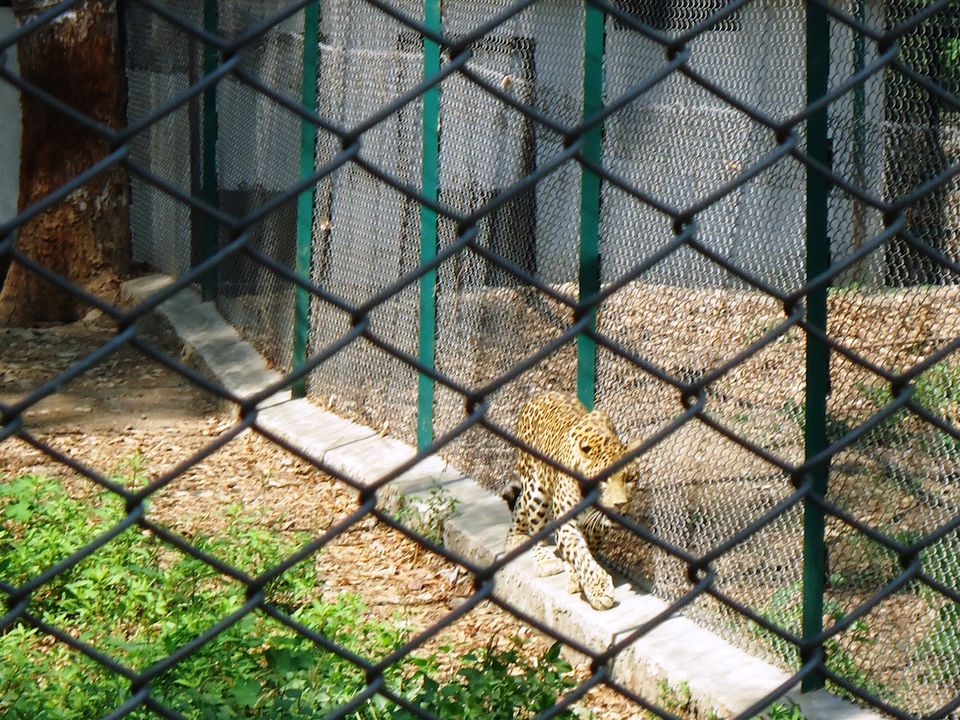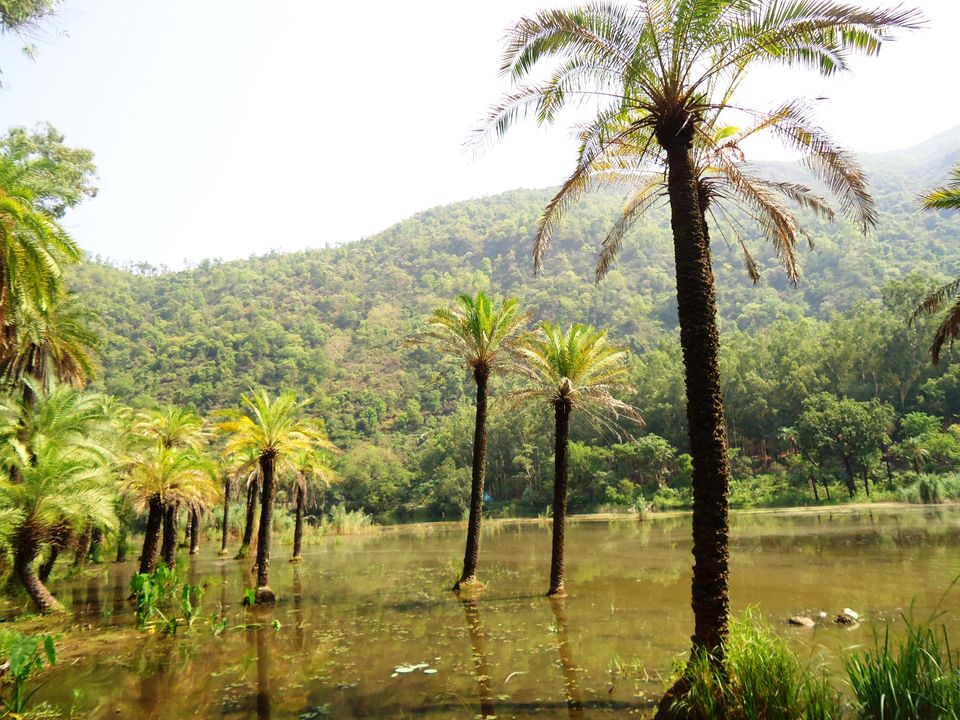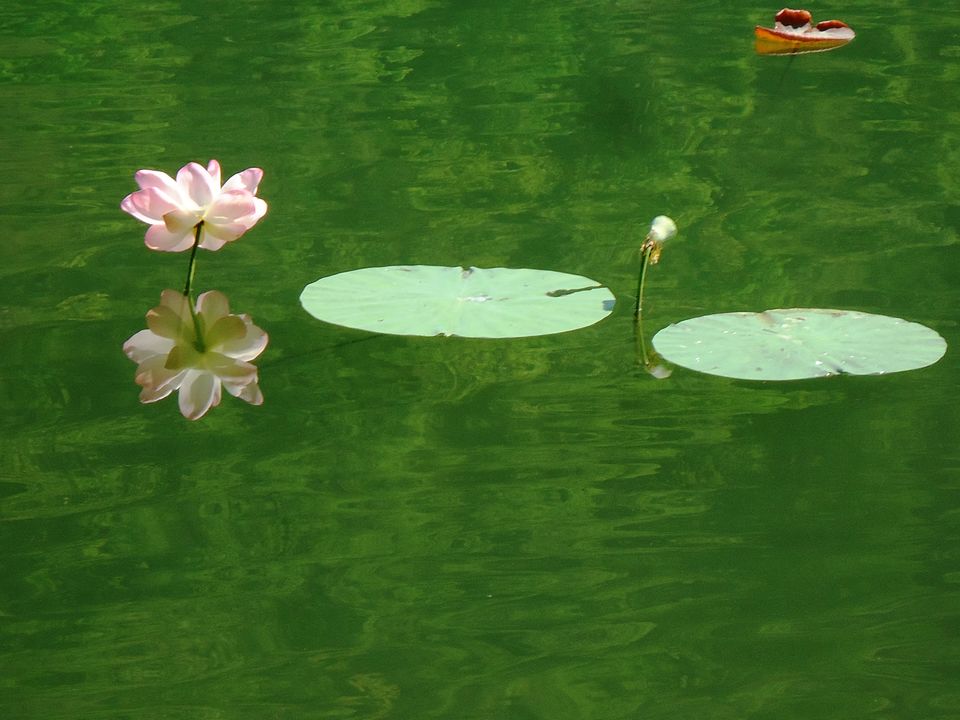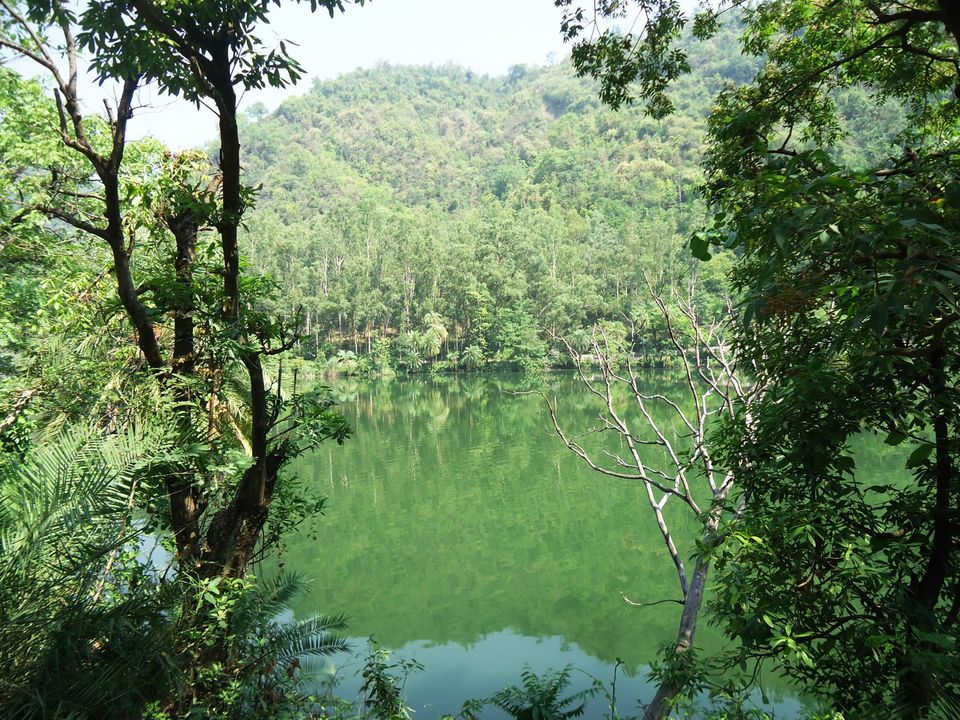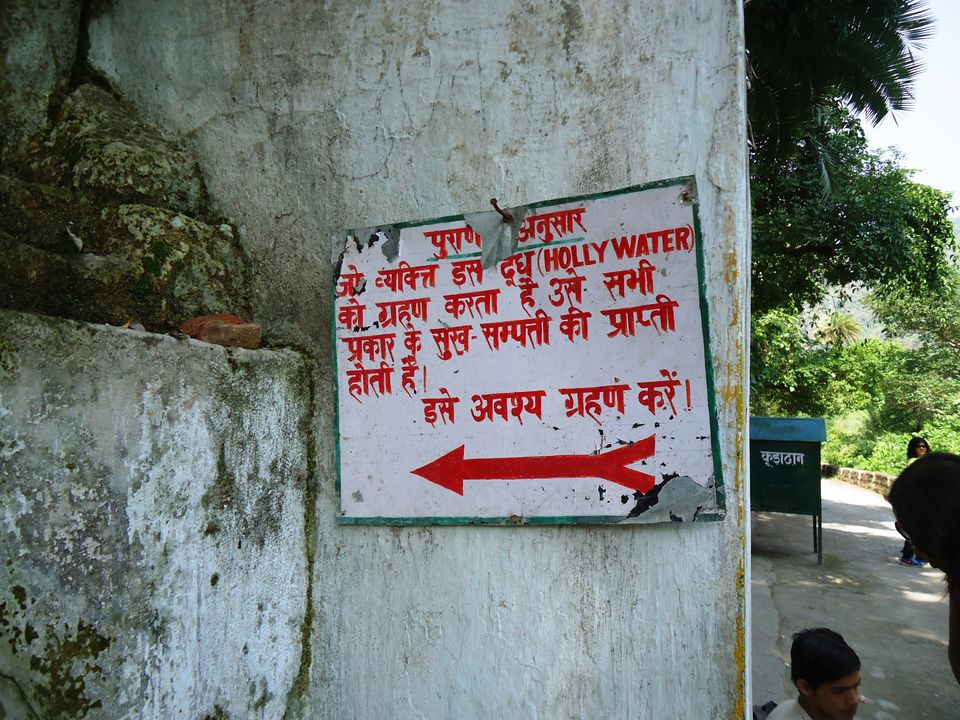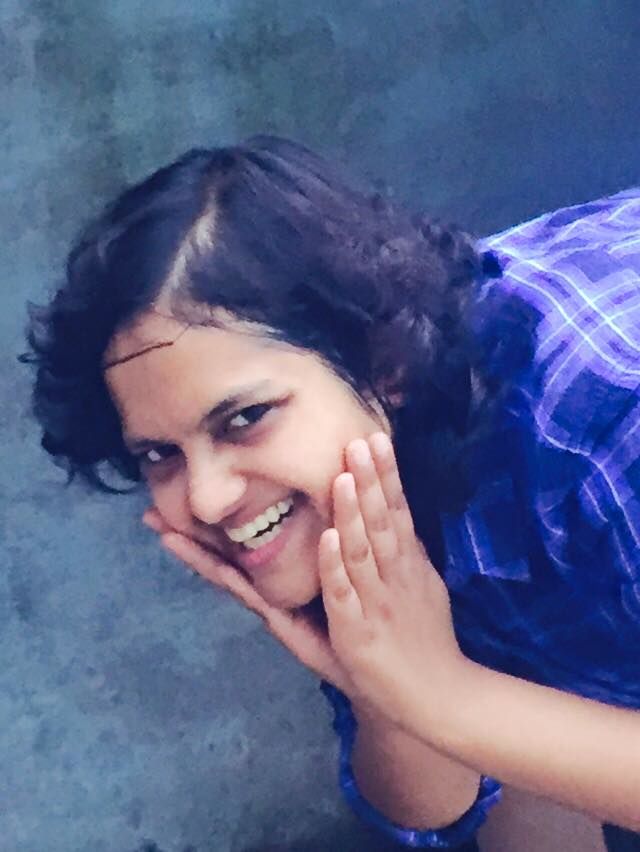 JAMU PEAK
Not aware about the terrain and the road we decided to go to Jamu Peak some 8 kms from the lake. Well, it turned out to be 14 kms away with all kacha road. We stopped at a point where we saw two-three cars. We get down of the car and started descending the mountain. There were tiny houses. The trip was becoming adventurous now. We found a small temple where we could not enter without our heads being hurt. We entered in a small wood tent and from there we climbed 2-3 stairs (all this while we could not stand straight as we would have hurt our heads). There we found the God Parshuram. I could not believe my eyes as to how a temple could exist in such a small place. The pujari there was a smiling 22 or 23 years old boy and he welcomed us. There was an old couple sitting outside the temple and the man was having hookah. He asked me where we had come from. Then with his eyes wide opened he said "By your own car? Can you drive?" I said "I can drive but we have come through taxi." While going I folded my hands and told them "Namaste" and in reply they waved their hands and said "Bye."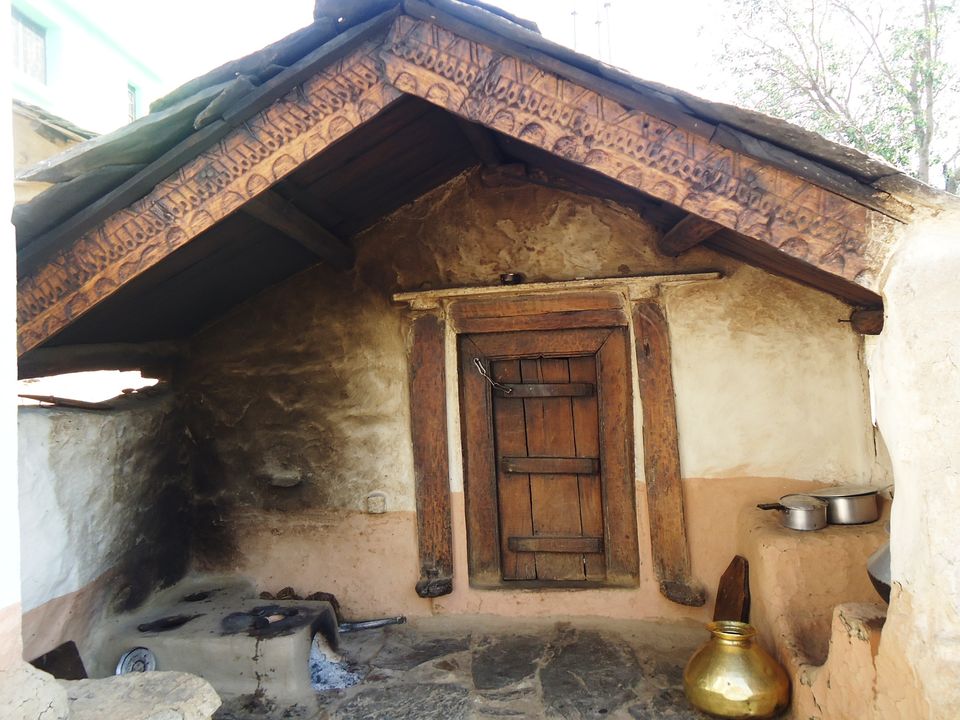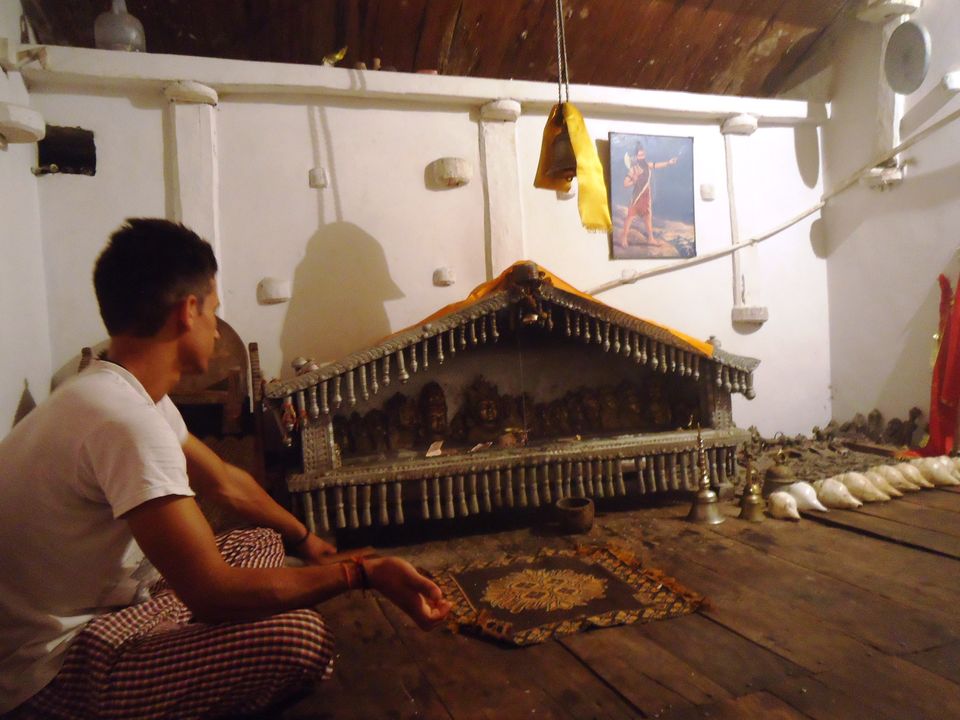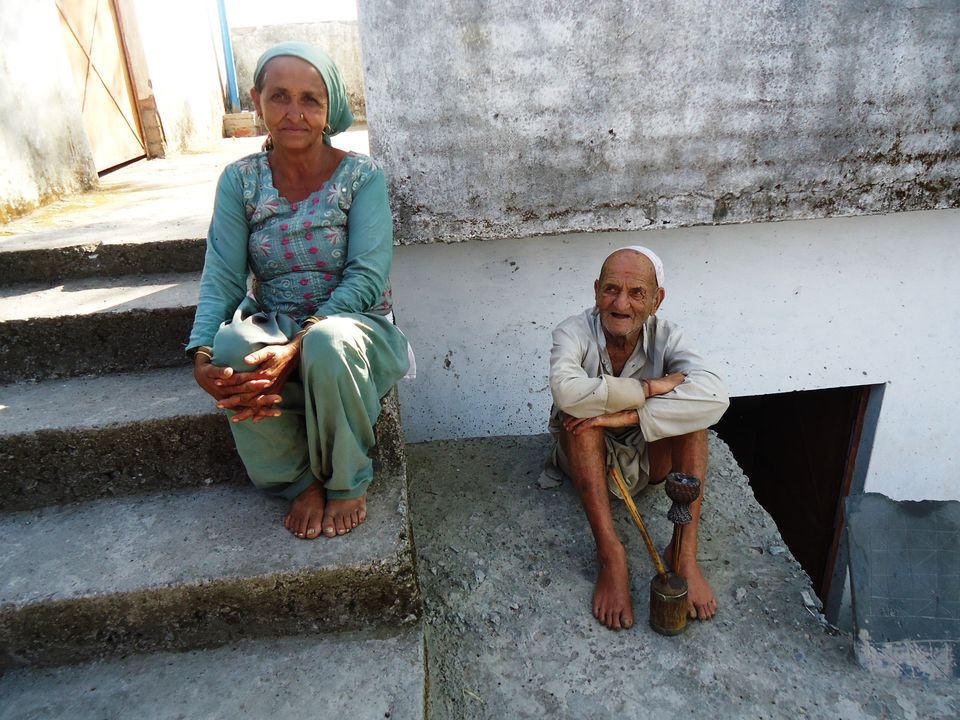 We went to our car and saw that the other cars are going further. We asked them were they were going and they informed that there was a temple of Jamdagini, Parshuram's father some 3-4 kms away and they pointed at a peak. The roads were bad and the height was increasing. Our driver somehow got convinced to take the car in that terrain. We reached the spot and realised that there is steep trek of 250-300 mtrs to reach the temple. That group of around 15 people had come with a lady saint. They asked us how come we were there and we said "Just like that." One of the uncles then told us that only blessed people could reach the temple and they had been trying to do the same since 3 years. After listening to him there was no looking back. Even our driver also joined us. The sons were holding hands of their mothers and were helping them to climb the mountain and daughters were holding bags of their fathers. We were at the top of the mountain and the words are less to describe the view. The same boy who was at the Parshuram temple was there also and I asked him whether he had a twin brother. He laughed loudly at this and said that it was him only and he came by climbing various other mountains.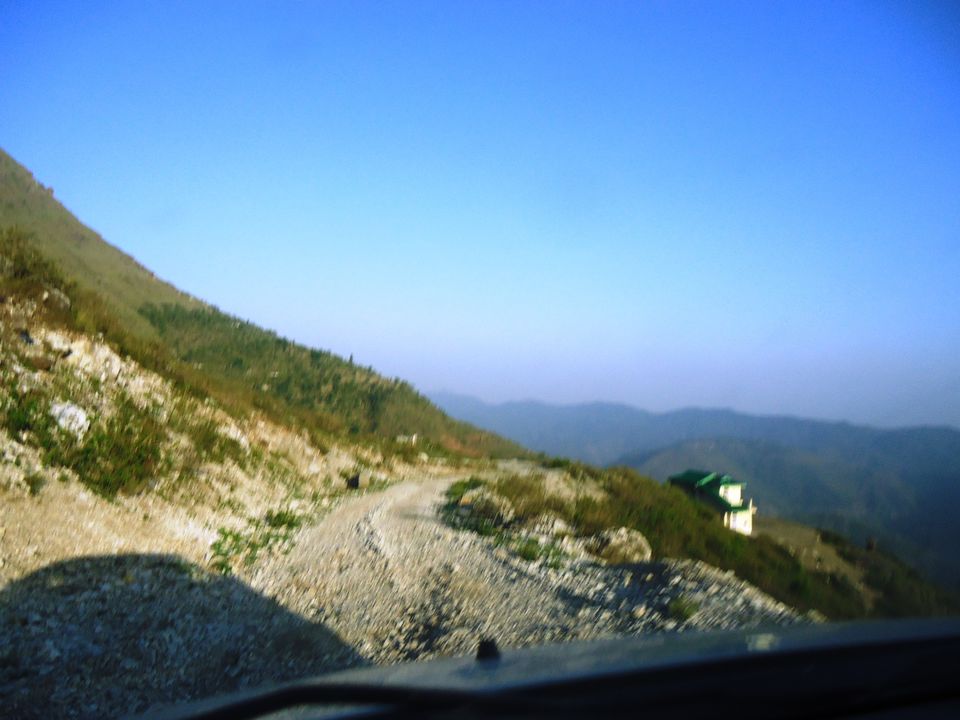 Roads on which we travelled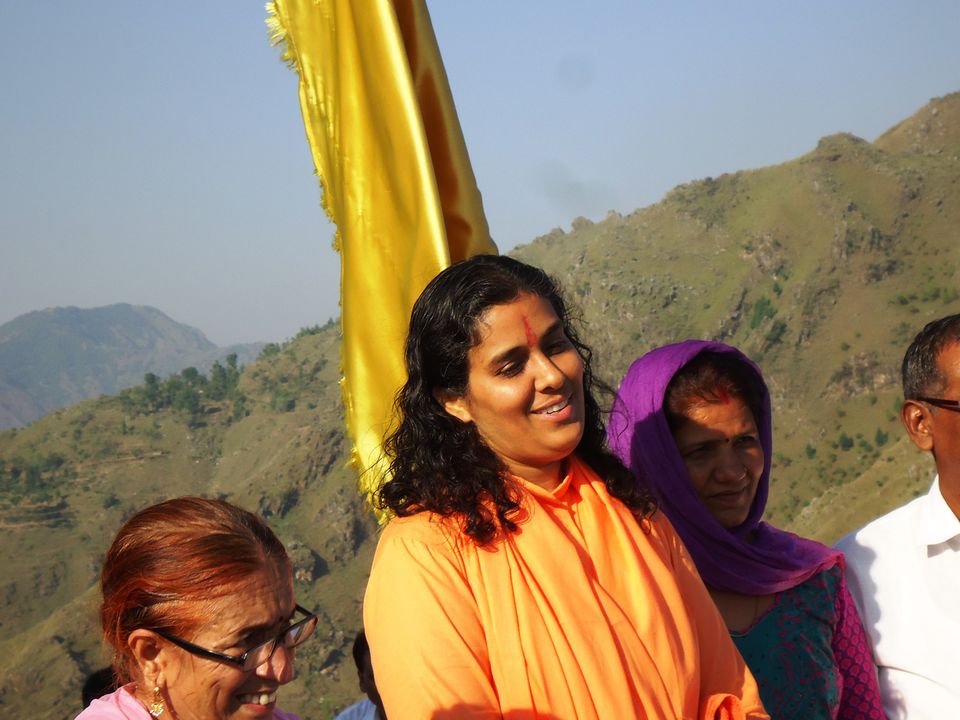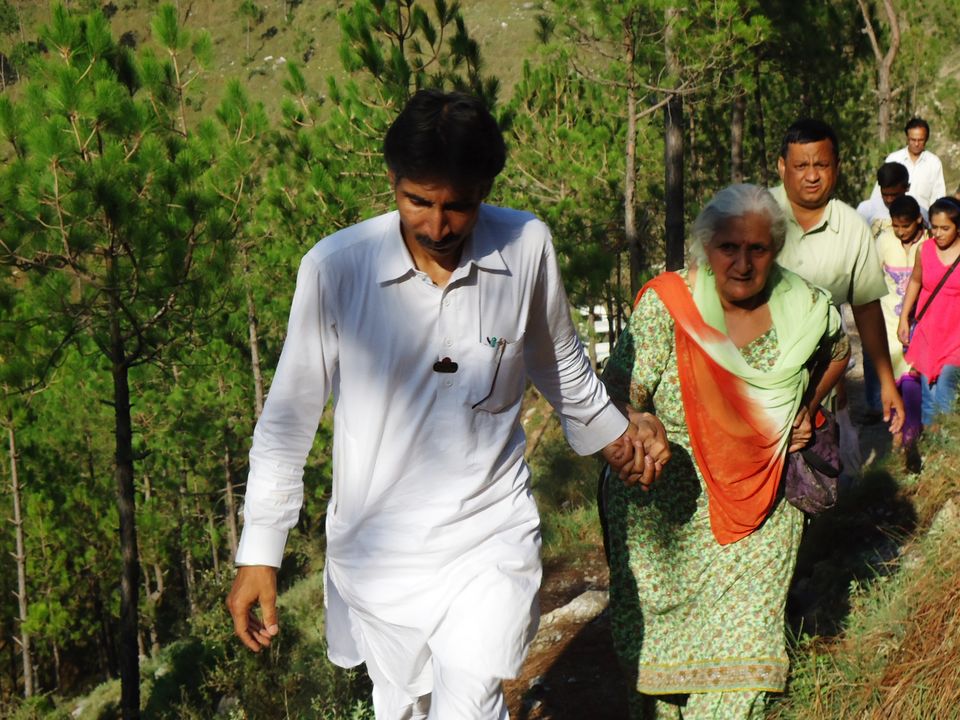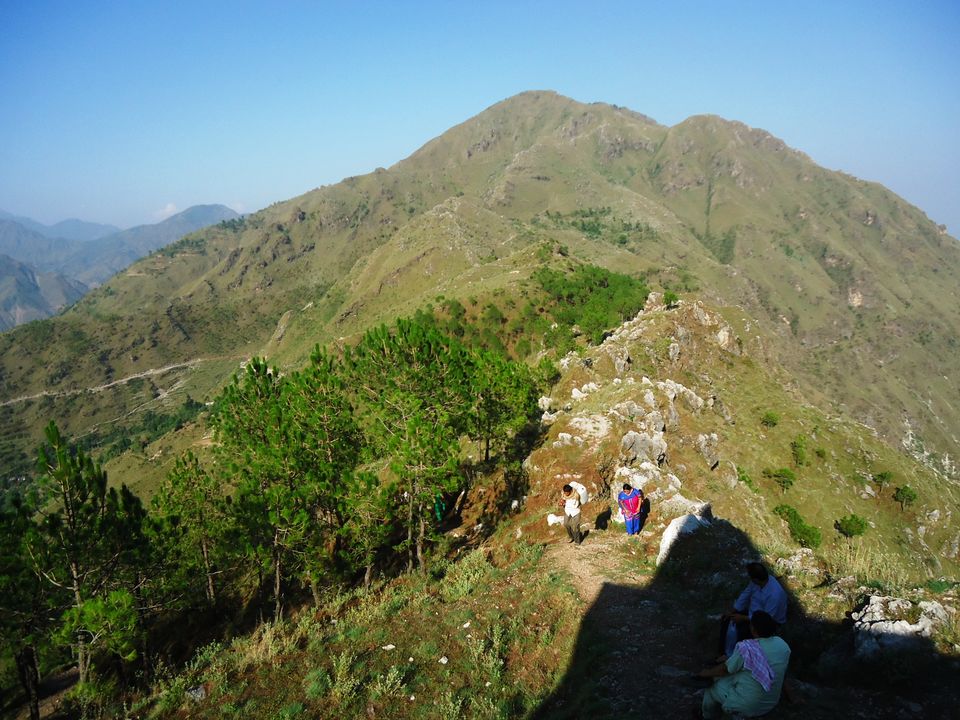 Trek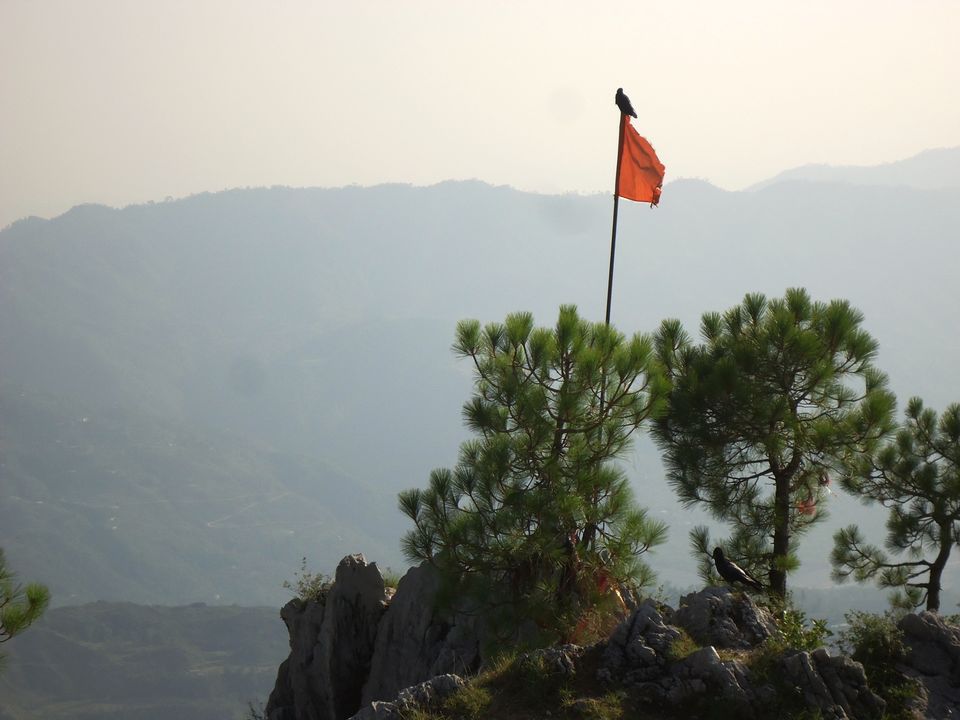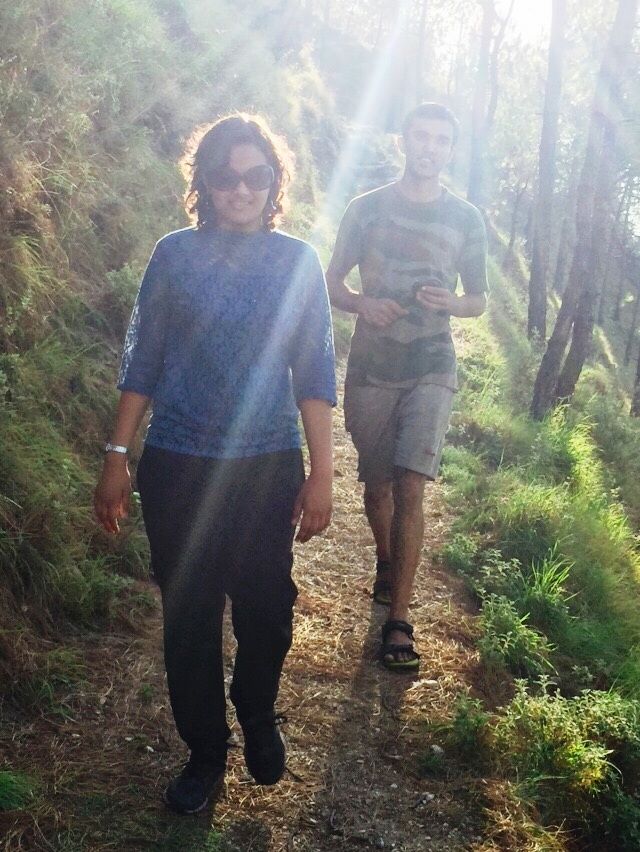 The guy, preparing for police, who helped me descending the mountain
While coming back we were all tanned. I just love the tan on my body- the mark of watch on my wrist, mark of those sleepers on my feet, mark of that lace on my shoulders.
We again stopped our car at our very own Jalal river bed and were surprised at our recent revelation- River water removes tan from the body.
My diary and the Camera