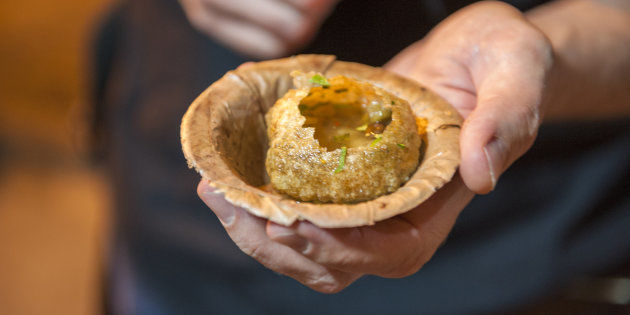 From fiery Macher Jhol to the heavenly rosogullas, Bengali cuisine will take you on an extraordinary gastronomical adventure. What makes this cuisine more special, are the festive seasons. Everybody knows how Bengalis celebrate their Pujas and every year travellers from around the world visit West Bengal to experience the spirited festival of Durga Puja throughout the state.
Having spent two decades of my life in Kolkata, I have had numerous opportunities to enjoy the festive season and indulge myself in some of the best street food and local dishes of Bengal. This four-day celebration is a great way to explore the culture and cuisine of this imperial state. Here is a list of 10 must have Bengali dishes during this Durga Puja season, whether you are in or not in Bengal.
Kathi Rolls
Soft flour bread rolled in your favourite stuffing with just the right amount of lemon juice makes a great snack for anyone. Kathi Rolls are a go-to food for anyone who is looking for a filling snack, but also cheap. Almost every food joint in Bengal serves these lip-smacking rolls. These rolls come in various options, which will confuse you every time you order a roll. Plus, Kathi rolls also have vegetarian options!
Lucchi with Alur dum OR Cholar Dal
When in Bengal, never think twice to try your hands on some deep fried flatbread along with some alur dum, a potato-based thick gravy dish. The simplicity of the lucchi beautifully balances the Bengali spices in alur dum, making it a complete meal. This dish also comes with an option; you can choose between alur dum or cholar dal, a split chickpeas dish. A Bengali breakfast is incomplete without this dish.
Telebhaja
Think of any food ingredient and Bengalis will have a way to make it palatable. Telebhaja is Bengali style fritters. It literally means fried in oil! Any vegetable or protein source can be easily modified into fried fritters by just wrapping them up in a batter and then deep frying it. They are mostly made from brinjal, onions, potatoes, fish, meat and egg. This savoury dish is the essence of Bengali snack and is a side dish to multiple other dishes.
Puchka, Ghooghni and Muri
Street food is a must, when in Bengal. It will hit your taste buds with a wave of flavours. Puchkas, fried puff pastries filled with mashed potatoes dipped in spiced tamarind water, are famously known by different names all across the country. It has a special place in Bengali cuisine too.
Ghugni is another local Bengali dish not defined by time. One can eat it at any time of the day. Made with black grams, dried yellow and white peas, Ghugni is a thick gravy dish which becomes a showstopper when topped with chopped onions and coriander.
Jhal Muri or spicy puffed rice is one such speciality of Bengal which is close to all our hearts. In its natural form, muri are bland and crunchy. However, it can prove to be one of the tangiest, spiciest and crunchiest snack ever when mixed with spices.
Biryani
Biryani can be claimed to have originated from Lucknow or Hyderabad, but biryani with one full piece of boiled potato hidden inside the heap of rice is what Bengali Biryani is all about. Dinner time during the Pujas mostly means biryani time and anyone thinking anything else should not have dinner.
Khicudi with Labra
To make your next day's dinner much lighter, but no less tempting, we recommend Khichudi with Labra. Khichudi, also known as khichdi in other parts of India, is a semi-solid dish made with rice and lentils and is heavenly to taste when eaten with labra (sorted mixed vegetable in Bengali spices). Khichudi is also used as an offering (bhog) to worshippers at many places.
Macher Jhol
Fish intake is comparatively higher than others in an average Bengali diet. It is more than just an ingredient for Bengalis. It plays a significant role in Bengali culture altogether. Fish and Bengal have a historical connection which is celebrated every time a fish curry is cooked in any household. If you plan to go to Bengal, do not miss Ilish Mach (Hilsa) dish cooked in mustard oil and served on the traditional banana leaf. Don't let those bones come in your way.
Shukto
Sukhto is a festival special dish which does hide the natural bitterness of vegetables with spices, rather, it enhances the intense flavour of vegetables by keeping the spice level minimum.
Generally, shukto is served in the first round of a meal, as its bitterness is considered to help cleanse the palate and prepare your body for more food (what else do we need!). This dish includes all seasonal vegetables like bitter gourd, broad beans, drumstick, pointed gourd, ridge gourd and white pumpkin.
Mishi Doi and Sandesh
The state with the sweetest language is also home to some of the best desserts; Few of them without which any Bengali cannot live without are Mishti Doi and Sandesh. Mishti Doi is a form of yoghurt mixed with jaggery and is a morning Bengali delicacy. Mishti Doi tastes best when consumed fresh in the morning. Sandesh is a sweet made with date jaggery and cottage cheese, which is so light that one is never enough. It comes in all forms and flavours. Both of these desserts can be found in any local sweet shop.
Rosogulla
Rosogulla deserves a special section. It is a cottage cheese ball handsomely dipped in sugar syrup. Make sure to pop one or two of them in between meals just to maintain your sugar levels, while you travel around and enjoy Durga Puja in Bengali style.
Share your state's ten must try dishes with us here.