Despite the little scare, our social media profiles (our virtual lifelines) are active, the cyclones have passed, and the moon has come very close to the earth and gone back. A lot has happened in the week gone by, and yet we are all here. Doesn't that call for a moment of gratitude and happiness? Yes, even though movement restrictions are still in place, and news of loss and despair have not ceased yet, what we need to keep us going is that one smile that spreads across our faces as we read some heartwarming stories – stories of 19-20 year olds who are making life easier for our Covid warriors, stories of kindness for humanity and nature, and stories of people helping other's in need.
The fourth edition of A Little Dose of Joy, brings to you a few such stories that will uplift your spirits, and give you that little nudge towards a positive outlook and a happier week! Take a look:
A story of compassionate travel all the way from Britain!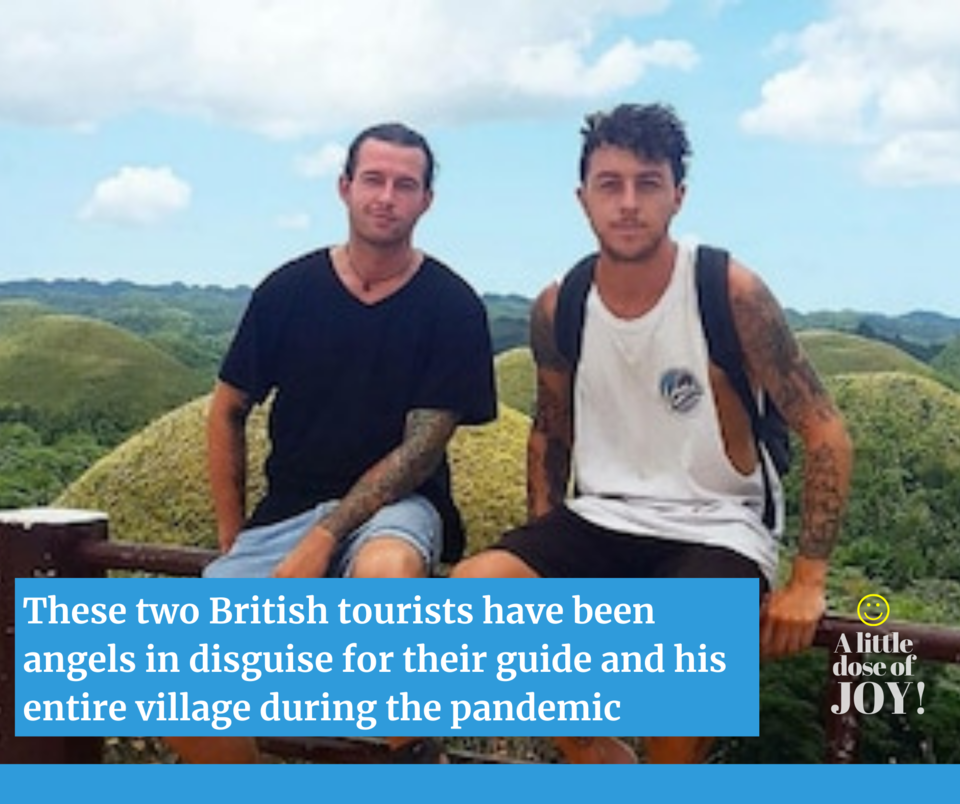 Responsible travel is all about giving back and helping the community. So, when Ross and Liam, two British boys who've been visiting Hampi on their biennial India trip for several years, learnt about the plight of their regular guide due to the pandemic, they stepped up. Virupaksha has been their guide in Hampi whenever they visit, and the boys keep in touch with him post their travels. The pandemic shut down the guest house that employed the guide, and it left him without any income. The boys learnt about this and not only did they collect and send help to Virupaksha, but also supported a whole month's groceries and other essential kits to 100 other villagers of Hanumanahalli.
Such compassionate travellers truly are a dose of joy for the entire travel community.
A "Cool PPE Kit"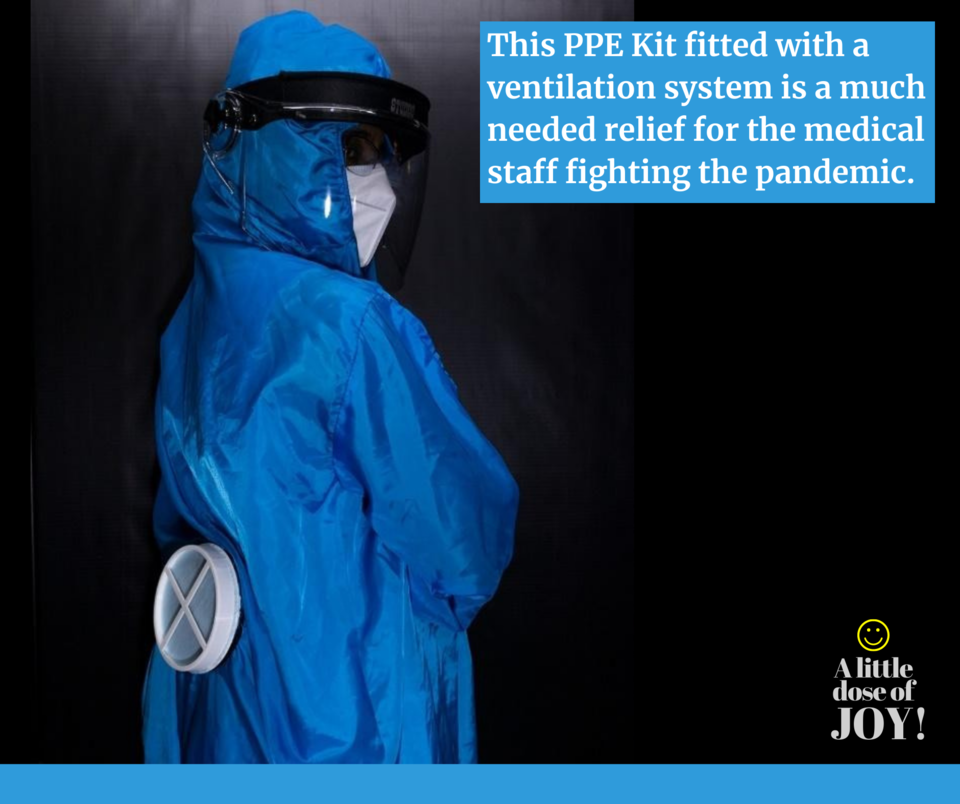 Young innovators are what this country needs in this hour. 19 year-old Nihaal Singh Adarsh, a second year engineering student in Mumbai, observed his mom (a doctor) spending several hours in a day within the confines of a PPE kit, which left her sweating and extremely uncomfortable. His innovation, the Cov-Tech Ventilation System, gives the wearer a feeling that they are sitting under the fan even while they are inside the PPE suit. It takes the surrounding air, filters it and pushes it into the PPE suit, and runs with a lithium ion battery which has a life of ~8-10 hours.
Such innovations by bright young minds is the joy that all Covid warriors need at this time.
A robot may be the answer to take off a little pressure from the doctors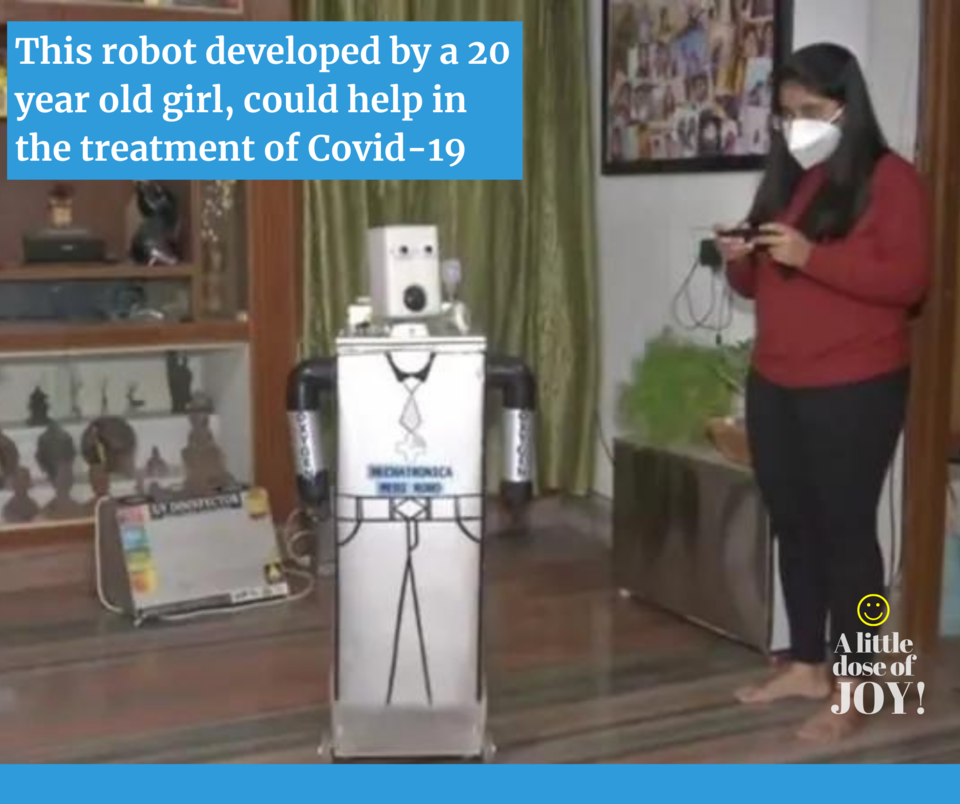 The country is grappling with the shortage of medical staff to battle the pandemic. At such times, innovations like this may just be the answer. Akansha Kumar, a 23 year old engineering student from Bihar has created a robot that can perform a basic medical examination of any infected patient, and provide real time data. Also, the robot is equipped with a wireless stethoscope that can check the blood oxygen levels, heart rates, BP, weight, blood glucose and can also take an ECG. The robot can also perform nursing duties like giving medicines, food, water, nebuliser and oxygen etc to the infected person.
Heartening tales of young innovators gives the country immense joy, with a hope of a brighter future.
A young boy is spreading smiles to the Covid patients in his little hometown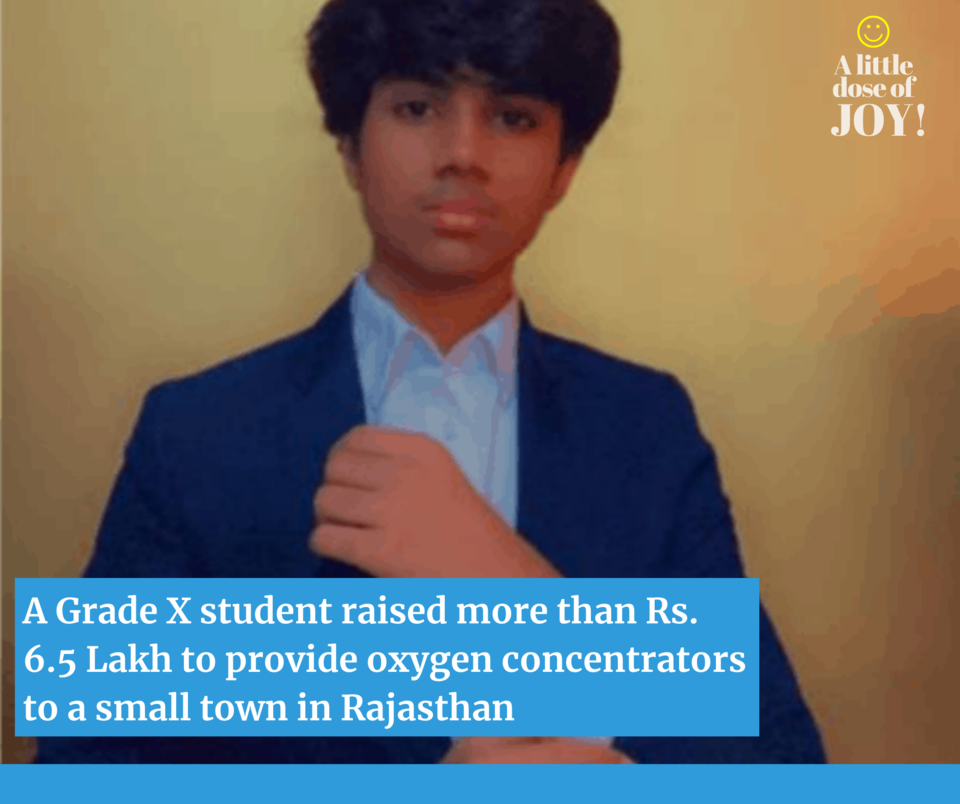 When Dhruv Mantri, a Grade 10 student at The Shri Ram School, Gurugram, came to know about the dearth of oxygen cylinders in his hometown, Kuchaman, he decided to do something about it. With a single minded aim to help the town people with oxygen concentrators, he ran a fundraiser online to raise Rs 5 Lakh. What started out with contribution from family and friends, soon became viral with anonymous donors pitching in. In less than two week, Dhruv was able to raise 6.5 Lakh. He has delivered fifty five oxygen concentrators, along with oximeters and face masks, and four more concentrators will be delivered by next week.
This dose of joy is something that the people of Kuchaman shall always treasure.
From stories of Covid Warriors to Green Warriors.
This 82 YO shepherd has something to teach us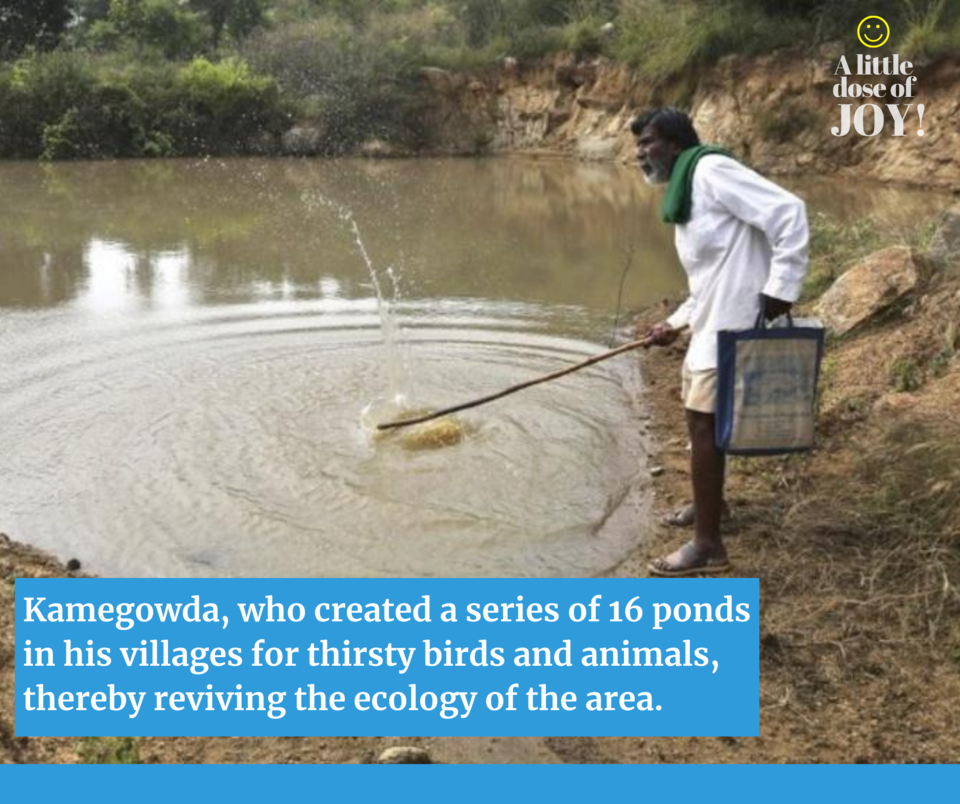 An 82 year old illiterate shepherd had done what most of us, people with resources, wouldn't dream of. Kamegowda, who never attended school, says he's spent more than Rs 10 Lakh from his and his son's earnings, mainly through selling sheep he tended over the years to dig a chain of 16 ponds on a picturesque hill near his village in the Mandya district of Karnataka. Why, you'd ask? To address the problem of water scarcity in the area. The ponds are built such that they don't dry in the scorching summer. Birds and wild animals such as bears, leopards, deer and foxes use the ponds to quench their thirst, apart from the livestock in the area
With warriors like these, the Earth surely gets her dose of joy.
The Parvati Valley gets respite!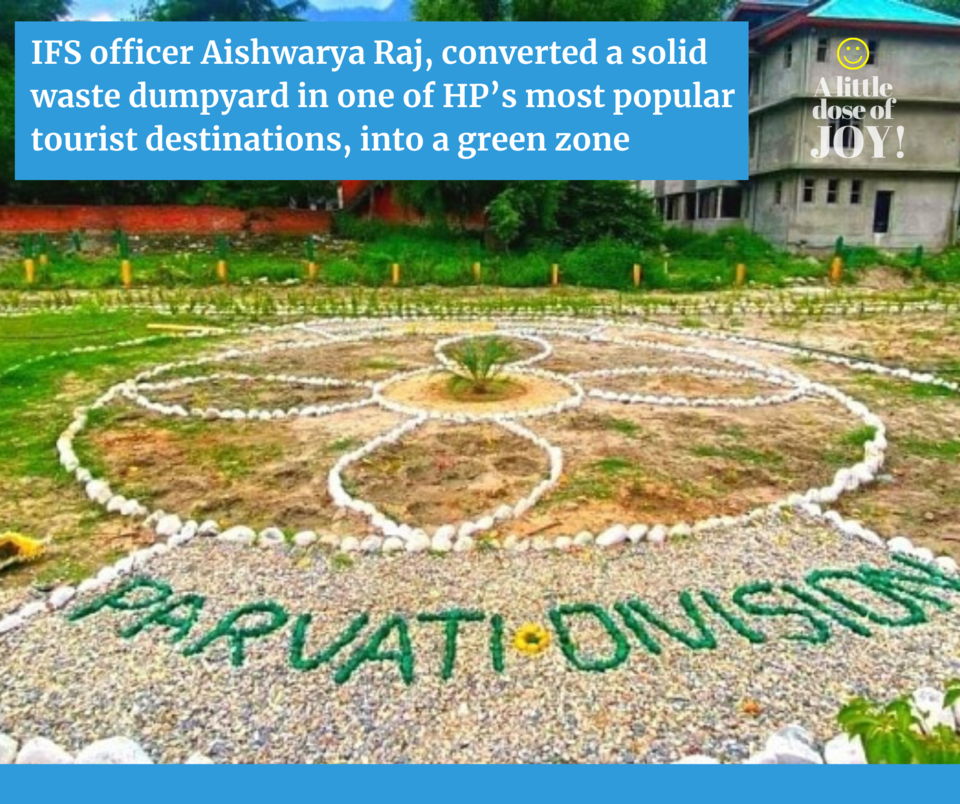 While the confluence of the Parvati and Beas rivers in Himachal Pradesh is one pristine sight, just a 100 metres away the ill effects of tourism was evident, till about a couple of months back. Located at a stone's throw from the confluence was a dump yard, piled with all sorts of waste generated as a result of the heavy tourist footfall over the years. Newly posted IFS officer, Aishwarya Raj, took it on him, to turn this into a green haven. In a massive transformation program that started in February 2021, the waste was removed from this dumpyard and sent to recycling plants. In its place were plants 400 trees and plants of local species, to convert this 2.5 acre land parcel into a green paradise. And results have already started showing, with Himalayan bird species making a return.
This dose of joy was much needed for one of the most beautiful places in the country.
The world's most romantic city plans to go greener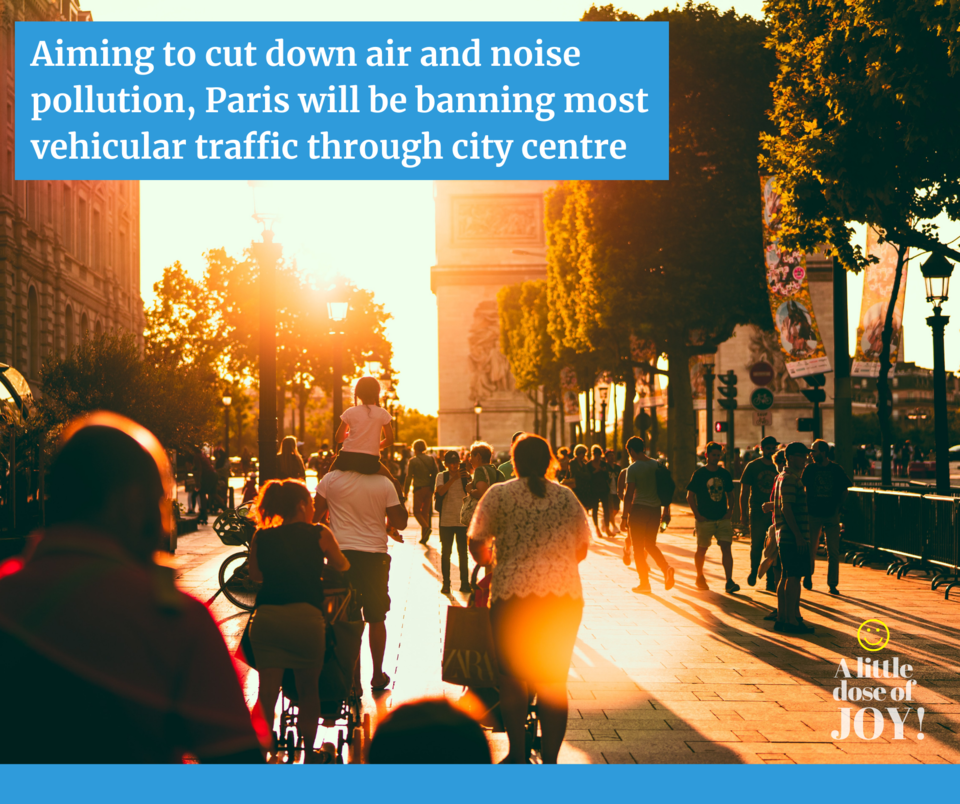 The mayor of Paris plans to ban most vehicles by next year. The plan is to cover most of Paris's prime city center, and restrict traffic in that region. This plan would alone eliminate more than half of the total traffic passing through the heart of the city. With an aim to control climate change and make the already stunning city even more beautiful, the mayor expects to create more space for trees, pedestrian-only regions, and bicycle lanes.
You may just be able to enjoy your bicycle joyride in the heart of the city of love, on your next visit.
Onto some that are so heartwarming, it is bound to make you smile.
Whoever said being an influencer is only for youngsters. This septuagenarian granny and octogenarian grandpa, have taken the Gram by fire, and can teach the "influencers" of today, a lesson or two on "living life to the fullest"
Hope this curation made you smile just a little, just enough to offer some respite during these times. See you next Monday with more such doses of Joy!
If you have any such positive, inspiring pandemic stories to share, you could tell us in the comments or send a DM on the Tripoto chat.
Earn credits and redeem them on Tripoto's weekend getaways, hotel stays and vacation packages after the pandemic is over!