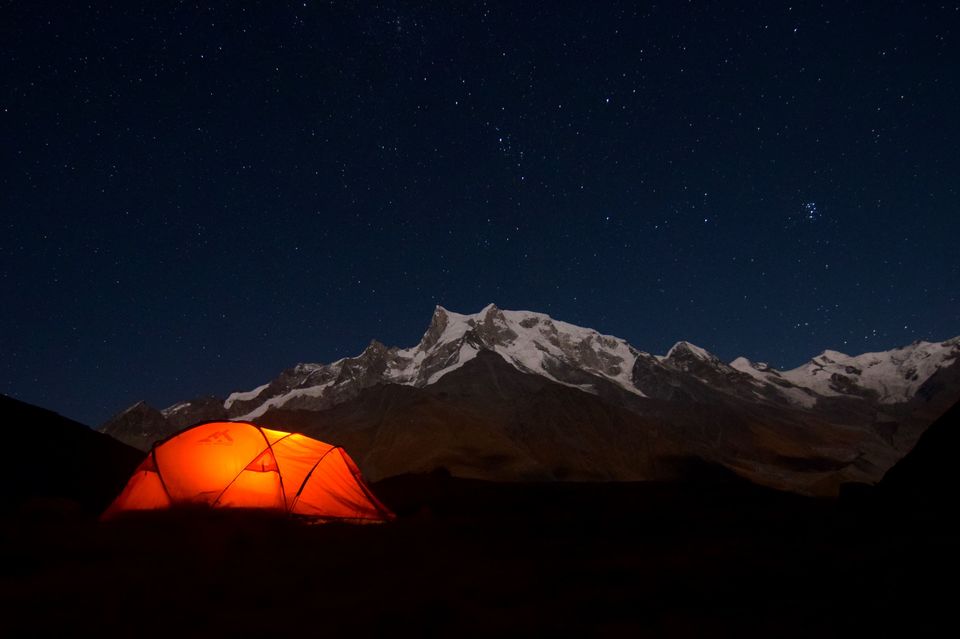 Dehradun to Sankri -
(Stay at hotel in sankri )
First things first, have your gear and prepare for atleast two weeks before attempting Bali pass. If you consider trekking i.e a non technical way of hiking through mountains ,then definitely Bali pass trek is a difficult trek. You should have enough stamina to trek continuously for 8 to 11 hours at altitudes of over 14,000 ft. If you are not confident then do not attempt it.
We arrived at Dehradun early in the morning of 9th October, our team had 16 trekkers, everyone was a complete stranger to me. I booked this trek with a company named "Trek the Himalayas " . In our batch the youngest one was 21 and the oldest has seen 59 summer. All booming with confidence boarded two vehicles to reach Sankri . Sankri is a small town about 190 km from Dehradun, it is the starting point of your trek to Bali pass. We reached Sankri at around 5 pm. A beautiful village with a panoramic view of mountains.
There are no mobile connectivity here only seldom you will get BSNL connection. The residents here use satellite dish to provide WiFi connection. I paid Rs. 50 for 15 mins of WiFi. This is also not very stable as clouds and others issues regularly disrupts the satellite connection. The accommodation and food was all arranged by our trekking company. The accommodation was nice and food was not delicious but palatable. Don't expect much over the food ,mostly it is just to fill your stomach with carbs 😉.
After dinner our trek leader Harvindar Chauhan brifed us about the trek. He is a fine gentleman from Shimla and have a lot of experience in trekking, he lead teams and sumitted Stok Kangri 28 to 30 times .
Out of 16 members 14 had good experience of multiday himalayan trekking. Only 2 were complete novice, so much so that one of them was denied by two other major companies for this trek .
Sankri to Gangar village via Taluka village-
Today we started our trek from Sankri , initially the plan was to drive 15km from Sankri to Taluka village and then trek about 14 km from Taluka to Gangar village . But to our bad luck the road was closed just after 4 km from Snakri,so we had to walk an extra 11 km.
We were supposed to camp at Seema village ,but we had to stop at Gangar village for camping, we hiked around 23 km today. At 6 pm in the evening we reached our campsite, at Gangar village.Gangar is a very small village and can only be reached by hiking. There are a few homestay available here.
At night after dinner like every other day our trek leader brifed use abut tomorrow's trek.
Gangar village to Rainbasera camp (10,200ft) site
Today we started our journey at 8 am, breakfast was served at 7 am. After breakfast we had a little group meeting and then we stared our journey. We are supposed to reach Rainbasera camp via osla village and Seema village.
As we are gaining altitude our trek leader advised us to drink plenty of water and food when feeling hungry.
Today's trek follows a trail beside Sepin River, it is mostly in village area . We had to trek about 12 km today. You will cross Osla village and Seema village enroute Rainbasera camp.
The road is not difficult to trek , just walk inna rythym and in such a way that doesn't increase your heart beat.
The view is beautiful, your trail will follow the tree line between forrest areas.
Our camp site was beside Sepin River at Rainbasera .
We had a packed lunch and our dinner was served at 7 pm in the evening. Don't expect much on food, it was palatable. Eat well, you need strength and stamina.
In our team we had 16 trekkers ,4 kitchen staff 9 mule with 3 handlers and 2 trek leaders.
Harvindar and Sachin was our trek leader ,Harvindar being the senior one.
Rainbasera to Ruinsar(11,800ft) lake
At this point you are completely away from civilization ,there are no villages and no villagers nearby. Our trek leader told us to stay together for about 2 km after starting from Rainbasera camp due Bears. There are some reports of Bear attack on lone trekkers, so he cautioned us not hike alone.
The path is beautiful ,you will have a view of several snowcapped mountains along the way.
And one inreating thing is that you will cross areas filled with Bhurja Patra trees. It is a tree whose bark was used as paper in ancient times. Collect some of it as souvenir. As the altitude increases you will see the tree লাইন fading and meadow ( high altitude grass land) gaining hold.
Today we had packed lunch again,it was good. We reached our campsite at 3 pm. Sachin our trek leader told us that after tea at 4 pm we will go for an acclimatisation walk at higher altitude than our camp site.
Ruinsar lake is a tiny lake situated at the foothill of a mountain ,and at other side it was blankated by a ridge. The whole area around Ruinsar lake is a holy place, and one camps at the vicinity of it.
Our campsite was about 300 m away from it , there was a wooden bridge and a small river separating our campsite and Ruinsar lake. Our kitchen staff surprised us by serving panipuri,so pleasant surprise 😮.
We went for a walk at the high ridges beside the Ruisar lake. Truly it was a beautiful sight ,with the clouds playing at sky and distant snow capped mountains.
Acclimatisation walk is important for you to get accustomed with low pressure and it greatly prevents the chance of you getting AMS.
Ruinsar lake to Odari (13100) Base camp.
We started our trek today at 9 am, initiallythe trail was through tree line, after 2 hrs of trek meadows started. We left the river and followed a perpendicular path with the Swargarohini mountaineering. Our trial through meadows was shrines with rhododendron trees on both sides at some places. There path was beautiful, although in october the grass is yellow, but with the clear blue sky ,white clouds and snow capped mountains the scenic beauty was captivating.
We reached odari at 3 pm, Sachin told us not to take rest and be active. Being active makes acclamitasation easy. We had an acclamation walk at 5 pm .It was little cloudy , I was feaful,but anyway at night the weather was clear.
At night I had an unforgettable 😌 view of the Swargarohini mountains. In the star light the snowcapped peaks were looking magical, no words can describe the view. I shall never forget this experience, so enriching and fulfilling.
Odari to Bali col(15100).
Upto Odari camp we hade mules, our team had 2 trek leaders, 9 mules with 3 handlers and 4 kitchen staff.
From Odari our mules returned ,they cannot go to higher altitudes as there is no grass as food for them ,from Odari moraine starts. So from odari we have 18 porters 2 trek leaders and 4 kitchen staff.
Today morning I woke to a disappointing news, one of our fellow trekkers was felling ill,and wishes to return. He was extremely weak and out trek leader arranged one porter to guide him all the way to Osla village. (He was OK after he got down )
The path Odari to Bali col camp is mostly through ridges , there a a total 5 ridges to cross. This the place where the poster picture is taken for Bali pass, 😄 not at the Bali pass itself. If you want to see scenery as the poster picture advertised by trek companies, co.e in May or June not in october. In October there is no snow .
We reached Bali col at 4 pm, again after reaching there we had a acclamitasation walk. There was a little white out ( due to white fog you won't see beyond 5 or 10 m) but cleared away in the evening. From here you can clearly see the Bali pass,it is just a 1.5 hr trek from here. As there is snow there is a need to use microspikes and gaiters, Sachin handed each pair of microspikes and gaiter to every trekkers.
We about 12 trekkers slept inside the dining tent ,our campsite was at 15100 ft, and it was cold ,so to keep us warm we foresaked the small 3 man tent and made a group. I was a little tensed ,like a day before exam hahaha 😅😆 ,tomorrow is the pass crossing day and we all should cross it successfully.
Bali col to Yamunotri via Bali pass(16200).
Today is arguably the most important day of the whole trek. We shall cross the Bali pass and reach Yamunotri, almost 16 km trek and shall take about 10 to 11 hours.
We all woke up around 4.30 am, we are about to start at 5.30.
My bad,the breakfast was not good today, 😐, or I was a little stressed. When you will be stressed food won't look delicious. Any way after a group gathering we started our trek. Every one was following the same line ,same patch. Jmohan ( He was the local guide along with 2 trek leaders hired for this day only) was leading . I was really busy to take pictures 😄 rather than enjoying the trek, I shouod have enjoyed the trek more.
We reached the summit of the pass at around 7 am, and our trek leader Harvindar congratulated for this success. That was joy ,pure joy, I hugged them. I was very 😊happy, my last 3 treks failed due to one or more reasons but this is a success and I am happy.
We spent about 30 minutes at the summit of the pass, then we started climbing down. There are two dangerous patch during your climb down from Bali pass summit to Lower Dhamni ( a place enroute Yamunotri) . The first patch starts directly after the summit of Bali pass, it is step vertical descent of about 70 degrees and 500 m. Full with soil and rock it ends in a moraine . Sachin ,Harvindar and Jmohan helped many of us to traverse this path. I didn't need any help here as I was almost crawling down 😆.
The second patch was much difficult and different than this. It was a trail beside a steep hill of 60 to 65 degree inclination, We had to walk about 600 to 700 m. The trail was just 6 inches in width. Sachin told me to grab the hand of one porter for balance and support. At first I had my ego preventing me to take any sort of help.We had to walk about 8 km downhill to reach the 2nd patch. By then my legs were paining and I lost a but of confidence in them. So I thought I should swallow my ego and must do the needful. I grab the hand of a porter ( later I came to know his name was Ujjal Singh) . Ujjal really helped to cover this patch.
After this the trek was uneventful, and we reached Yamunotri at about 5 pm.
The Trek companies here operating in Himachal, Ladakh and Uttranchal make most of the profit ,porters local guides just make some bucks ,but still it is there lively hood, what ever they make is important for them. All of them were really very friendly, and I really wish to meet them again.
Yamunotri to Dehradun .
Not much action today. My knee ,toes,thing muscle virtually all the lower body parts were paining . We had a small hike of 6 km from Yamunotri to janki chati.
Before starting our hike to Janki chatti our organisers organised a valedictory function to distribute our certificates. It was a pleasant surprise 😮, and everyone gave a small speech. As usual I made a mess, I said helpless instead of selfless ,when describing the role of porters 😄🤣. Any way everyone cheered for everyone,,such a team spirit.
But I still had the pain in knees and other lower parts, and I was struggling to walk actually. Fellow trekkers and Sachin advised to take a mule. But I had my ego 🤣, instead of pain I decided to walk and although last I completed by walking . I reached Jankichatti at 12.30 pm.
Folks,keep travelling, this the most rewarding and enriching thing you can experience in life.