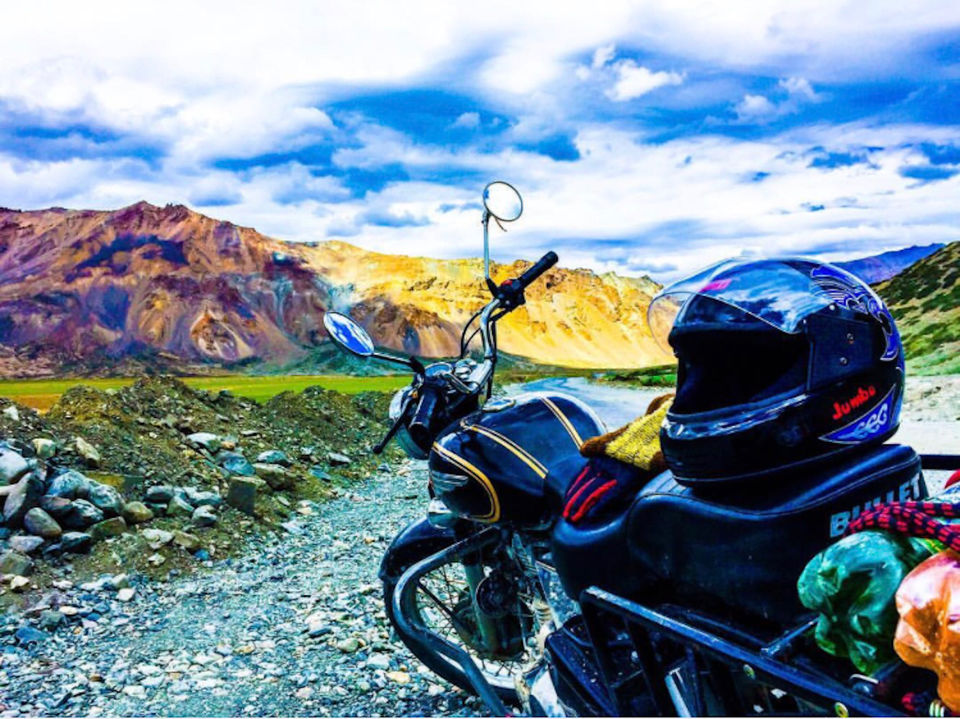 Here is another Ladakh blog post. I bet a lot of you might be rolling your eyes going,"I've read enough of these for a lifetime,I don't need to read another one ."But I urge you to read on because this is a budget blog. Most travellers keep a minimum budget of 30-40k for a bike trip to Ladakh,but being a college student I had many constraints , and did this in just 15k. So if this interests you , please read on!
If like me you yearn to travel , then i am sure you have dreamt of going to Ladakh at least once in your life . Exploring Ladakh has been a dream of mine for as long as i can remember .I spent hours going through these amazing travel blogs where people posted such breathtaking photos of the place .I remember feeling the need to go to this place like my well-being depended on me going.And the only thing that was holding me back was money. I was a second year college student at the time , and as you can imagine , money was an abstract commodity. But the only thing i knew that i had to go, and i had to do it now. So with all the odds against me , i embarked upon this beautiful journey with a friend of mine .
One piece of advice for all my travel hungry friends out there , always carry some dehydrated food for eating on the go .
The thing about having limited money is that the things that seem to be basic rights , feel like luxury. Taking a Volvo bus to Manali would have been the most sensible thing to do, when its 42degrees outside but it was way out of our budget . Hence we took a Himachal Pradesh State Bus from ISBT Kashmere Gate and since we had booked it through redBus.in we got ₹200 discount/ ticket . Guys always check the prices of tickets on redBus.in , it always cheaper there.
Hence we took the bus , and it was an unpleasant ride , but we got there , and that is all that mattered.
Expenses for the day :
Bus :₹484
It was a bright sunny morning in Manali. After de boarding the bus our search for a hotel began . Staying wise we opted for a cheap hotel in a little out of the main Manali area , simply because it was cheaper . After freshening up we went to look out for a bike . The thing is, this wasn't supposed to be a bike trip , we knew we couldn't afford one , but the traveller in me was not satisfied with taking a bus to Leh . Still we sought out to look for a bike , in hopes the prices would not fit in our budget and we would atleast know that we can't afford one .But after asking around here and there we landed in a garage across the Manali bridge .The garage offered us Royal Enfield 350 , with a J&K number plate for a rent of ₹1300/day. We knew that this would eat a lot into our budget , but passing up on an opportunity like this would have been stupidity. So we rented the bike , did the whole deal , got a permit and everything . When i look back i realise how lucky we had been, because renting a bike with a J&K number plate meant that we didn't have to ride the bike back to Manali,we could ride to Leh, explore the area around and leave the bike there . This saved us a good amount of money. I would recommend all budget travellers to do the same . Another advantage having a J&K number plate meant we could do a lot of local sightseeing like Pangong Tso and Nubra Valley which you can't do if you have a HP commercial number plate .
Another thing i would recommend you to do is to take a bike that has a good kilometre/litre value.Fuel is scarce in a place like Ladhak , so you will be paying a lot of money for it. Mine had a mileage of 20-25 km/litre.
The next thing we did was shop for some supplies . There were a lot of things we needed to get , like boots , AMS medicine, raincoats and some basic bike gear.I can't stress enough on how much you would need a good pair of boots and a raincoat on this trip . If you are biking from Manali to Leh there are many patches where water bodies flows across roads . And that is when boots will come in handy. If you are on such a long trip you would definitely want your feet to stay dry the entire situation.
And also, Ladakh is very unpredictable , it maybe sunny one moment , and snowing or raining the next . So having a raincoat is a good idea.
Expenses :
Bike rent for 8 days:5200/head
Bike fuel cost for the entire trip:2500/head
Manali hotel:₹200/head
Food :200/head
The next day is when the fun began . I was finally about to do what i had dreamt of doing for so long. It was a mixture of joy, nerves , adrenaline and downright fear. So with boots on, raincoat at standby and permit at hand we started this trip . I drive a pulsar back home , so it took some getting used to this beast of a bike i was handling . Nevertheless, i managed to make friends with the Royal Enfield and off we went .
The ride on the first day wasn't that great . The road was rough and i still needed time to adjust to the bike . Another thing that added to our misery was the weather . It was nice and sunny when we started , but midway torrential rain
began. Drenching our poor little souls ,can you imagine the horror ,two 19 year old guys on the first day of a daunting trip , spirits being washed down with the rain. So the entire route from Rohtang La to Keylong was under heavy downpour with horrendous roads. There were many moments when i thought of giving up , the roads were dangerous , I was completely drenched and there was an impending fear that something will go wrong and all this would end .It was quiet dramatic . But with the passion of travel burning in our hearts , we tread on . I would say this though, that the journey is beautiful.All the fear and worry was gone when i looked around . I knew that Manali-Leh bike trip was beautiful , but it is one thing ,looking up photos on the internet , and another experiencing it yourself. It really is magnificent.
We halted for the night at Jispa . So the food situation in the area is okay , its cheap , but do not expect anything lavish . We had rajma chawal and chai .
Note : Between Rohtang La and Keylong there are no eateries .
Expenses:
Tent:₹500/head
Food :₹80+₹40(4 cups chai )
I had a rough start the next morning . Previous day's events caught up to me , and i seemed to be catching a cold . The plan was to travel from Jispa to Pang, where we would halt for the night . Staying in Pang was a gamble . It is at a very high altitude (15100ft) and has an extreme weather . But our aim to go there was because it provides extremely cheap accommodation. A tent costs only ₹100/night . The ride from Jispah to Pang was pretty smooth sailing , the roads were great and the weather cooperated . We reached Pang in about 5 hours . An important thing is to keep your permit handy at all times . You will be asked for your permit time and
again , so make sure you get one while renting a bike and keep it safe .
The tent we took for the night was not the ideal place to sleep in , but it did the job .Dinner consisted of a plate of maggi and chai . That is the thing with travelling in the mountains , you really need to love your noodles , else you won't survive .
Another key point is that there is no mobile network in Pang , but there is an army base nearby where they have satellite phones and you can make a call back at home for ₹5/min .
Timing : 7:00-8:00pm
Expenses :
Tent :₹100
Food :₹50+₹20(2cups chai)
The third day's plan was to reach Leh. The road from Pang to Leh is a bikers dream. Paved concrete roads made the ride a pleasure. What added to our joy was the sheer beauty that surrounded us. It was like looking into a kaleidoscope. Mountains kept changing colours. These changes were obviously due to the mineralogy of them, but you're a traveller not a geologist, you don't need to know all this. Unlike the routes before, there are many places to have pit stops where you can sit and have a cup of chai. And in no time we were in Leh. It is a beauty. There is no place like Leh! I truly have no words to describe it.
The problem we faced when we reached Leh, was to set up base. There are a ton of hotels and paying guest options in Leh. But being on a budget they were out of our reach. So after looking around for some time we reached a modest hotel near Leh taxi stand where they offered accommodation for ₹700 per night. The great thing about this place was, they gave us a place to park our bike and they served Thukpa. So if you are unaware of what Thukpa is, it is a
a noodle soup that is made from a lot of amazing ingredients. It is cheap, fills you up and gives you a ton of energy. So Thukpa is all I consumed once we were in Leh. Half a plate cost just Rs. 50, I ate two half plates a day, one for lunch and one for dinner. So I had a total expenditure of just Rs. 100 per day on food.
Expenses :
Hotel:₹350/head
Food:₹100+₹40(chai).
Next day we planned on not being very adventurous and decided to take a trip not too far from town. Our destination was Khardungla Pass; "The Highest Motorable Road in the World(18380 ft )".The road to Khardungla is pretty rough, so beware of that. It took us about 2 hours to reach. The view from up there is breathtaking, as I have implied before, you really have to be there to know what it is like. It is truly something else. The only thing is the air at Khardungla is very thin, so if you have a breathing problem then take proper medication. I am a healthy male, still I could feel slight dizziness . Also, do not even think of smoking there, it could be dangerous. We spent some time there, ate at the Army canteen. The ride back was very pleasant, since we were doing downhill, so it took us lesser time to reach back to our hotel.
We still had some time on our hands so we went to see the magnetic hill. Magnetic hill is something I have never witnessed before, vehicles seem to be pulled uphill be some magical magnetic force. Some say it's an optical
illusion, some say the hills there are magnetic. But whatever it is, it is something worth experiencing.
Expenses :
Food:₹140
Hotel:₹350
The next day the locals led us to a place known as Sangam. Sangam is the confluence of the river Indus and Zanskar, and it is a sight to behold. You reach here by following the road that connects Leh to Srinagar, about 130km from Leh. We spent a good amount of time just lounging about at Sangam. Talking around here and there, we found out that the first inhabitants, or the pure race Ladhakis lived near this area. So a short ride of 10km landed us in a village of pure Ladhakis. It was a treat interacting with them. They were the kindest people, and bless their souls, they offered us lunch for free. We left their village quite late and reached Leh at around 10. Now if you are in Leh, make it a point to reach you hotel or a restaurant at proper dinner time, else you'll have to sleep on an empty stomach. That was exactly our fate that night. All we ate that night was some packaged food we had brought along with us.
Expenses :
Hotel:₹350
Food : ₹40(maggi)+₹20(chai).
The next day we had a 2 day trip in mind that started with us riding to Nubra valley, spending the night there. Then riding to Pangong Tso, spending the night there, and then riding back to Leh.
I hate to sound repetitive, but when in Ladhak, everywhere you look you will be amazed by the beauty. It is something else, something that can only be experienced. The ride to Nubra was great.Now once you reach Nubra you will be transported somewhere else. The valley is something truly extraordinary. You have a desert, then you have Shyok river flowing right through the sands and then you have lush greens. I have never seen such drastic change in topography anywhere. And you also have Camels in Nubra, yes you read right, freaking camels. Fair warning, Nubra is slightly expensive, so you can give it a miss if you are on a very tight budget, but if you have even a slightest bit of room to fit this in, please do, for it is magical. We crashed in a tent that we rented for not too cheap for the night, and feasted on
the standard Thukpa and chai.
Expenses :
Tent :₹500/head
Food: ₹60+₹30
The next day began with an early morning start to Pangong Tso. Pangong, if you do not know, is a land locked salt water lake, whose origins are a great mystery. It is huge, and by huge I mean HUGE. It is located very close to the Indo-Chinese border so you will see a lot of Army in the area. The ride to panging was not smooth, we came across many roadblocks. So landslides are a common sight in Ladhak, and on our ride to Pangong, we happened to find ourselves stranded because of one. So to avoid the traffic, we decided to take a shorter route, which meant that we'll have to ride a small distance off road. Now it all sounded fool proof in my brain, but in actuality it was not. What seemed to be the best idea I had in a while, turned out to be a horrible mistake. So whilst off-roading, my rear wheel managed to get stuck in a pothole. So it might seem harmless in text, but it really is not when you can see a thousand feet deep trench right next to you. It was a scary experience. But with a little push, a little nudge and lot of courage, we managed to get out of there in one piece. So please, do not make such a decision if you are ever biking in a place like Ladhak. So we reached Pangong in one piece (thank the heavens!), and it was magnificent. The lake is blue, so blue it looks like ocean, each ripple glistens like it is made of precious gems, it is a sight to behold. I don't remember how long I spent just staring at the beauty of that lake.
Accommodation at Pangong are a costly affair, so if you have money for that, great! Knock yourself out, get a deluxe Swiss tent. We on the other hand were slowly losing all our supply, so opted for a cheap tent a walk away from the main market(the place where 3 idiots shooting
took place).It cost Rs. 800 per night, and was an okay place to spend the night in .
Expenses:
Tent :₹400/head
Food:₹180/head .
So, the next day we rode back to Leh . We reached Leh at around 2 in the afternoon. Had lunch . After lunch ,we visited the Shanti Stupa and following it the HALL OF FAME , gave our bike back to its owner and took a traveller back to Manali which cost us ₹1800/head .
This ended our wonderful trip .
Note : Liquor is banned in Ladakh . Cigarettes are not easily available and are overpriced .
Expenses :
Misc:₹100
Food:₹250
Traveller:₹1800
Total cost :₹14084+₹890(Volvo bus back to Delhi)=₹14974.
I went to Ladakh in July 2016.
Thanks for reading through my adventure.
If you liked what you read, give me a follow.
http://instagram.com/thesouvikgupta
Thanks!