Day1
There are two routes for Munnar from Bangalore.
1) Bangalore => Salem => Dindigul => Theni =>Bodhighat => Munnar
2) Bangalore => Salem => Avinashi => Palladam => Munnar
2nd option is shorter if one is going to Munnar town itself. But for other side of Idukki 1st option is better. Infact later I found although route though Theni is longer but it takes much lesser time owing to the fact it has longer NH and well maintained Tamilnadu SH stretches.
I decided to take route 1 while going and 2 for coming back.
We started at 3.30 from home and there were 550+ off Kilometers to cover. Very soon we crossed the Bangalore city limit and cruising well. Heavy trucks were impedance but I was able to maintain a steady speed. Toll gates were not congested during early hours. Had a couple of bio and chai breaks and reached Dindigul by 9.30; 380 kilometers in 6 hours.
Dindigul Thalapakatty Biriyani is very famous and many recommended it. Now a true Bong cannot deny call of a good Biriyani so we decided to have it. But the shop was just opening its shutters and we waited patiently for 45 minutes to get our family pack mutton Biriyani.
More than one and half hours were lost for this exploration as we had to enter Dindigul city through its narrow and congested road. After some loathly drive we hit the highway and I was cruising well.
My experiences say when it comes to state highways; Tamilnadu beats its other neighbors with huge margin. And I was able to hit 130 in one of those stretches.
We stopped the car under a big banyan tree and had our lunch under its shade. Thalapakatti Biriyani was good not nothing to be that praiseworthy. For Rs 2200 it was not a value for money deal as well. Nevertheless we don't get to have lunch by the road under shade of tree very often; so it was a great experience.
As we moved ahead Nilgiri Mountain ranges started appearing in the horizon and we were excited! Before climbing the hills I had to go down at the check post and enter our details, but they did not search our vehicle; may be as we were family.
We started climbing after that. The road was good and I was doing well. There are numbers of hairpins and blind bends but with careful driving those are nothing to worry about. Elevation was changing fast as we could see thin layer of mist surrounding us. This ghat section is (in)famous for thick fogs in the morning and evening hours during winter and monsoon; but I was surprised to see the mist during a hot summer afternoon. The road was very scenic and we stopped at once to take some snaps.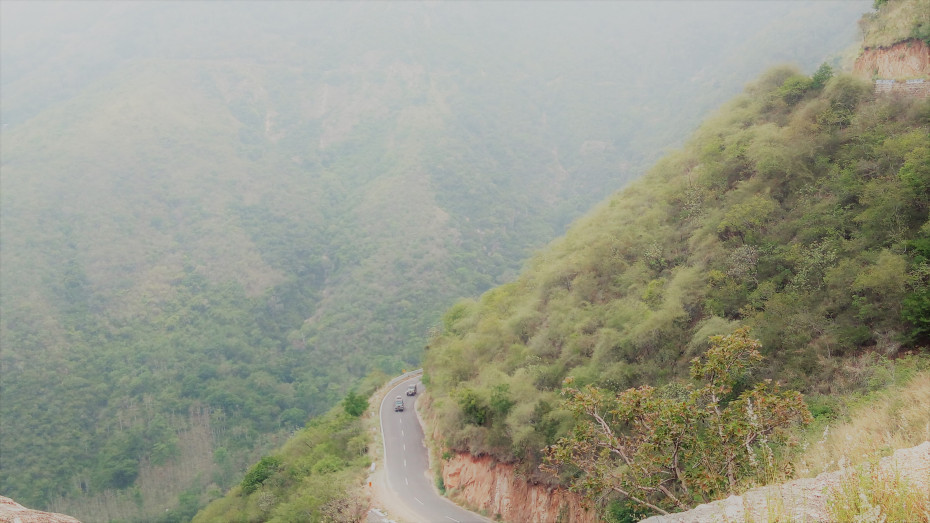 Once we left the ghat roads and entered narrow Kerala state highways maintaining speed was a challenge due to curves and careless drivers coming from other direction.
We passed stretches of forests and at times condition of road was very bad. I booked Tulsi Village Retreat through AirBnB for our stay which is at Adimali; 30 KM from Munnar. At some point I got confused if Google Map is showing me correct path because we were crossing some sections with thick vegetation and no other car or soul at site.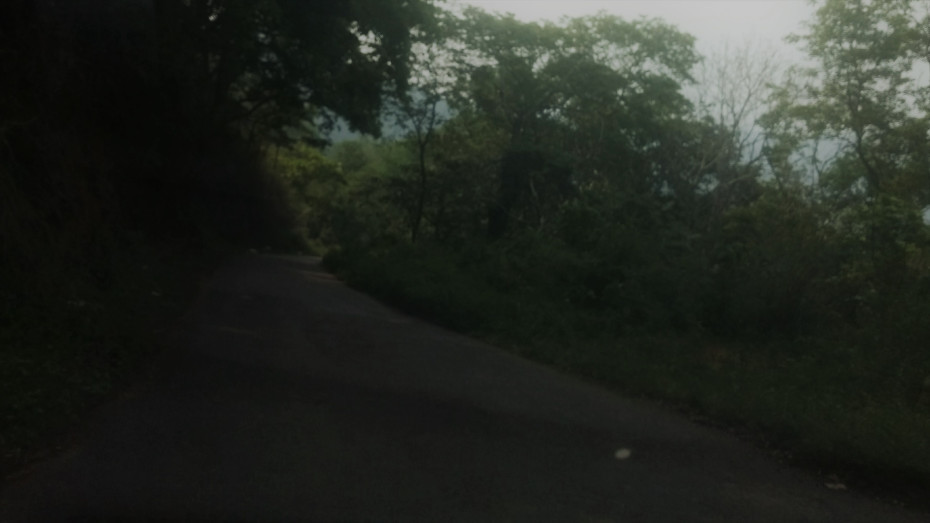 We called the owner of the accommodation and he confirmed that's the correct road. After driving for an hour we again got a call back from him saying there are many approach roads to their place and depending on the direction from which we are coming he can guide us. There were lots of confusion and eventually his partner came and guided.
The accommodation was basic traditional village hut but location was superb. It is inside remote village far from the urban chaos and surrounded by lots of trees.

After settling down we sat outside, in the courtyard, overlooking the valley Kallarkutty lake. Kailash , owner cum caretaker of the place made some nice coffee and snacks for us. Slowly it became dark as we continued to enjoy our time. The ambiance was too good. There was complete silence expect our voices, complete darkness except the lights of lock gates on Kallarkutty lake. It was very relaxing , the kind I was looking for after driving for nearly 12 hours.
We had our dinner here as Kailash set up dining table and chairs in the courtyard. Post dinner we went to bed as all were very tired and next day we had some plans.
Day 2
We woke up with chirping of birds and came outside. The view was awesome. Everything was covered by mist as you find in most of the hill stations during early morning. It was day of Vishu ; Malayalam New Year and Kailash arranged some special activity for us. It was good to be part of the celebration of the host. Advantage of AirBnB is one gets to know about local culture and customs.
After having a fulsome breakfast we started for Eravikulam National park; home of endangered Nilgiri Tahr . The first half of the journey was really bad . through narrow, broken, steep and curvy interior roads before we hit the highway. As we approached near Munnar town beautiful Tea gardens started to show up. Drive through the roads cutting across such tea plantations was really nice.
As we entered the town we encountered horrible traffic in many parts much anticipated in a popular hill station during long weekends. The road was free once we crossed the town limits and we reached the national park in no time.
Private vehicles are not allowed inside it so one has to park the car and take buses but before that buying ticket is necessary. Remember it will be long queue for tickets and again for riding into bus especially during holidays. And they allow only 2250 visitors per day so you may run out of luck to get an entry. As per my homework I bought online tickets from Eravikulam National Park website well in advance so that was not a problem for me. However they need to validate the printout of the booking and put entry seal from a separate counter. There was some confusion but we got our entry approved. The queue for bus was also much lesser for online tickets, so there was not much struggle for us.
The bus ride through steadily ascending road was fun. The view was superb and so as the thrill. Once reaching top we had to hike for two kilometers and on our way we spotted our host ; the Tahr. Other than that we could not spot any other animal though this hill range is natural habitat of many species. The information center has some nice details and pictorial displays to know more about the biodiversity.
Views from the top were awesome and hide and seek of clouds were adding beauty to the scene. We spent some nice time there and clicked loads of pictures before coming back.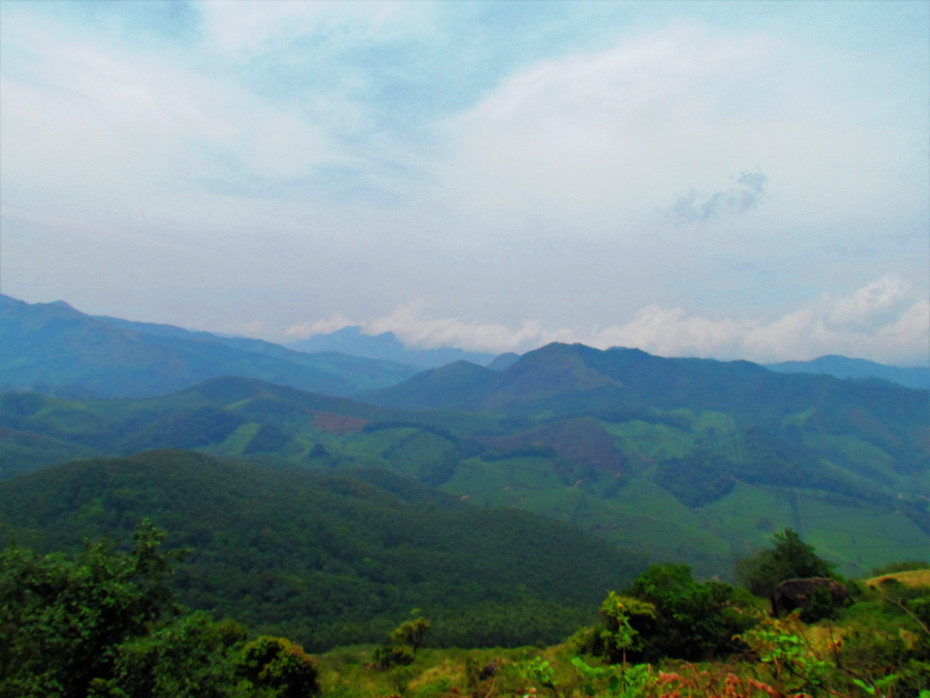 As per the plan the next hop was Mettupatty Lake. It was close to 45 minutes drive. But by the time we reached all boat ride tickets were over. The only option was high speed boat with wait period of 4 hours! No way we could wait in such heat for a boat ride. By this time I was totally disappointed by the heat; come on isn't this supposed to be summer vacation in a hill station! The mercury was above the levels we get in Bangalore at this time !
All disappointed, we decided to spend some time there and see the views of lake. The lake is protected from all sides so there was no scope of going near the water. But we found a nice lawn of grass just on the bank of the lake and spend some real good time there. From this place one could see 270 degree view of water. Only thing bothering us was scorching heat!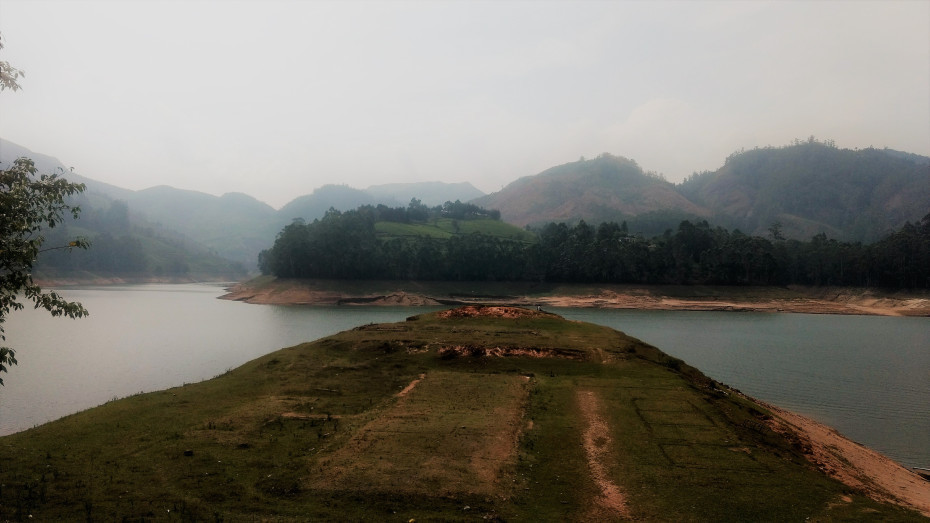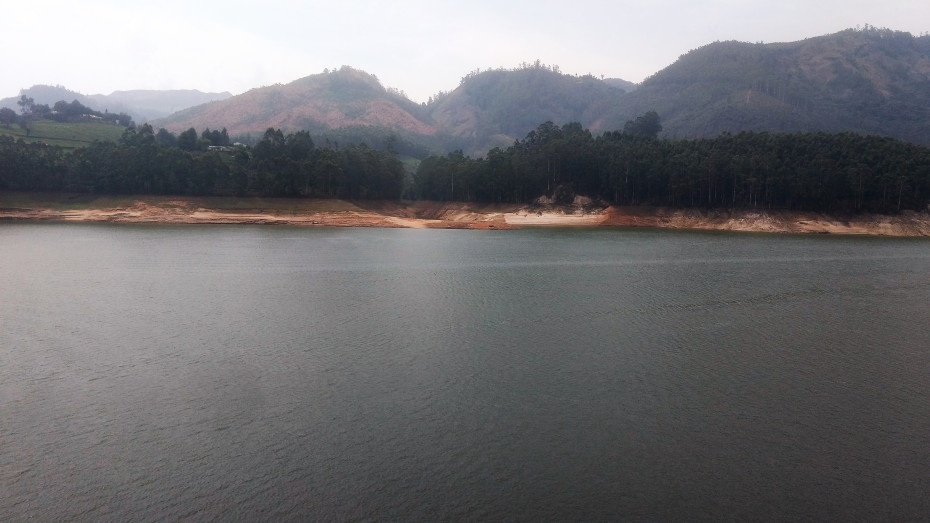 On our way back to the accommodation we decided to stop at Munnar town for lunch. We landed in Rapsy Restaurant, which is right in the market area. The food was awesome and the price was reasonable. Highly recommended if you are looking for restaurants in Munnar.
Day-3
We spent a very peaceful evening in courtyard of Tulsi Village Retreat. Boozed under open sky with lip smacking pakodas Kailash made for us. It was a relaxing time!
This will be our last day at Munnar and we wanted to spend more time here in the cottage and enjoy the nature. There are lots of attractions still remain unseen but purpose of this trip was to relax and not hop, stop site seeing. But Kailash told Idukki dam is just 45 minutes away and we should not miss that spectacular arch dam. Little bit of quick reading of Wiki made us interested and we decided to go.
The road was superb till Cheruthoni town. Nice and winding well marked and tarred road passing though the greeneries and villages. Google Maps again played some trick to me. Basically the dam is between two hills and entry is allowed only from one side. From the Cheruthoni junction one needs to take right but Google map guided us towards left , i.e. other side of the damn. As we were about to leave the main road and ascend through the hill, we met some locals and they said we cannot enter from that side. We took U turn and again had to drive for 7 extra kilometers.
Once we started climbing up though the hills, the road became patchy and full of big sized pot holes. Moreover it was narrow and very difficult to allow big tourist buses coming from opposite direction to pass. Once we reached top there was another struggle for parking the car. Anyway we proceeded for the dam after depositing our mobiles , cameras etc. Any major dam in India is a high security zone these days and photography is strictly restricted. That's why we could not take any pictures.
After security check we entered and found a big barrage. The view from the top of it is mind blowing! One has to cross this long barrage and continue to walk for another 3 or so kilometers across the hill to reach the actual dam. We mistook the barrage as dam and came back from half way as the weather was damn hot and very uncomfortable. But suddenly I thought "Wait a minute , this supposed to be an arch dam ; but this is damn straight !" We asked some people coming from the other direction and they said you have to walk a long way to reach the actual one. By the time we were exhausted but decided to go again. No way we will miss that engineering marvel and make ourselves look like fools after coming this far. This time the walk was cruel but we continued with high spirits.
The arch dam is spectacular indeed and the view of the lake from top is fantastic. Wish I could click some pictures! We had ice cold lemon-soda from the refreshment shop and there we came to know this is the other hill side to which GMaps guided us initially. One cannot make entry from this side, but exit is allowed. People who are coming by cab get drooped at the entry point and ask cab drivers to drive and wait at this exit point. They don't have to walk all the way back. And that is a wise thing to do I must say but we had no options.
We stopped at Cheruthoni for lunch. It was not plush place but we could savor some local non-veg delicacies.
Idukki dam was the only place in literary and post lunch we drove back to Tulsi Village Retreat.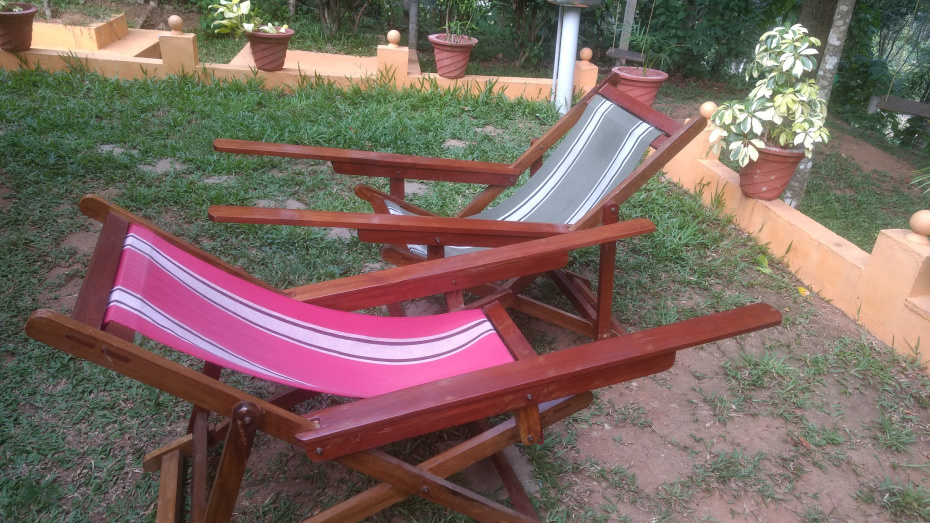 Day-4
This was our last evening here and we spent the time sitting in courtyard; gazing stars, chatting, drinking and absorbing the wonderful ambience.
My idea was to start as early as possible as I wanted to try the other route via Avinashi > Bhawani > Salem to reach Bangalore. Though short it takes longer time as told by many in team-bhp. But like always I wanted to try different return route, after all exploring new roads is quite exciting.
We started by 8.00 and soon reached Munnar town. We stopped at the Kannan Devan Factory outlet to buy teas, and spices. Whenever we visit Kerala , try to buy fresh spices. The quality is really good in this part.
After the stop we continued our drive. The road passes via Eravikulum National park and exactly that's the point from which driving became really painful. It was a Sunday and thousands of tourists were heading towards the national park. Big Buses were parked by the narrow road side in unorganized manner, small cars were trying to overtake from any direction. It was utter chaos and we spent more than 1 hour to come out of the mess.
Next stretch of journey was better, though the winding roads cutting across the tea gardens. I could not drive at higher speeds as the road was curvy and not in best quality however I like the drive. We made a pit stop for tea and snack took some nice snaps.
Once we entered Marayoor Reserve Forest, the road became ok to bad and then bad to pathetic. All the national parks in India have speed breaks every few hundreds of yards to save the animals from speed junkies, but this was real turn off here. Roads were winding, surface was broken like anything and those endless humps! I started regretting to select this road as no way I could maintain a decent speed.
The jungle was dry and there was no animal at sight. After making entry at the exit gate we left Kerala and entered Tamilnadu. This time we crossed Chinnar Wildlife Sanctuary and road was better.
After coming down to plain we got reasonably good road I could manage to drive at decent speed. Due to all unaccounted delays we were running behind the schedule and I wanted to make that up.
We stopped at Mathuraa Biryani Hotel at Palladam for lunch. It is a nice and clean hotel with well-maintained restrooms. I liked the food. In my opinion the biryani was better than Thalapakatty.
Post lunch we continued our journey. Before Avinashi we hit NH544 and there after I was going full throttle. It was already late afternoon as we approached Salem and weekend return traffic already had already piled-up. Within the city limits of Salem it was like weekday evening on Bangalore ORR! Post this stretch there traffic was thick on NH44 and driving was not fun. Soon heavy rain started which made things more difficult.
I have heard lot about infamous queues of Krishnagiri toll booth during weekend evenings and always made sure to cross it before late afternoon. But this time we could not escape it. When my car stopped at the line there was a signboard displaying "Toll plaza ahead in 2 KMs". Hell ya , 2 KM long queue in toll plaza! It took almost 45 minutes to clear the toll gates!
We all were tired, hungry and frustrated up to the core and stopped at Melumalai for nice cups of teas and some snacks. As we already realized we are well off our schedule stopped worrying about it.
As we started from Melumalai, heavy rain followed us all along till we reached our home at Whitefield.
The clock said 10.30; so 14 hours on road and much due to the conditions we had no control over. This journey was tiresome, nevertheless over all trip was amazing. The beast thing I learned from the trip is " You need to disconnect to reconnect"
Please click below to see my travel vlogs here and subscribe to my Youtube channel.