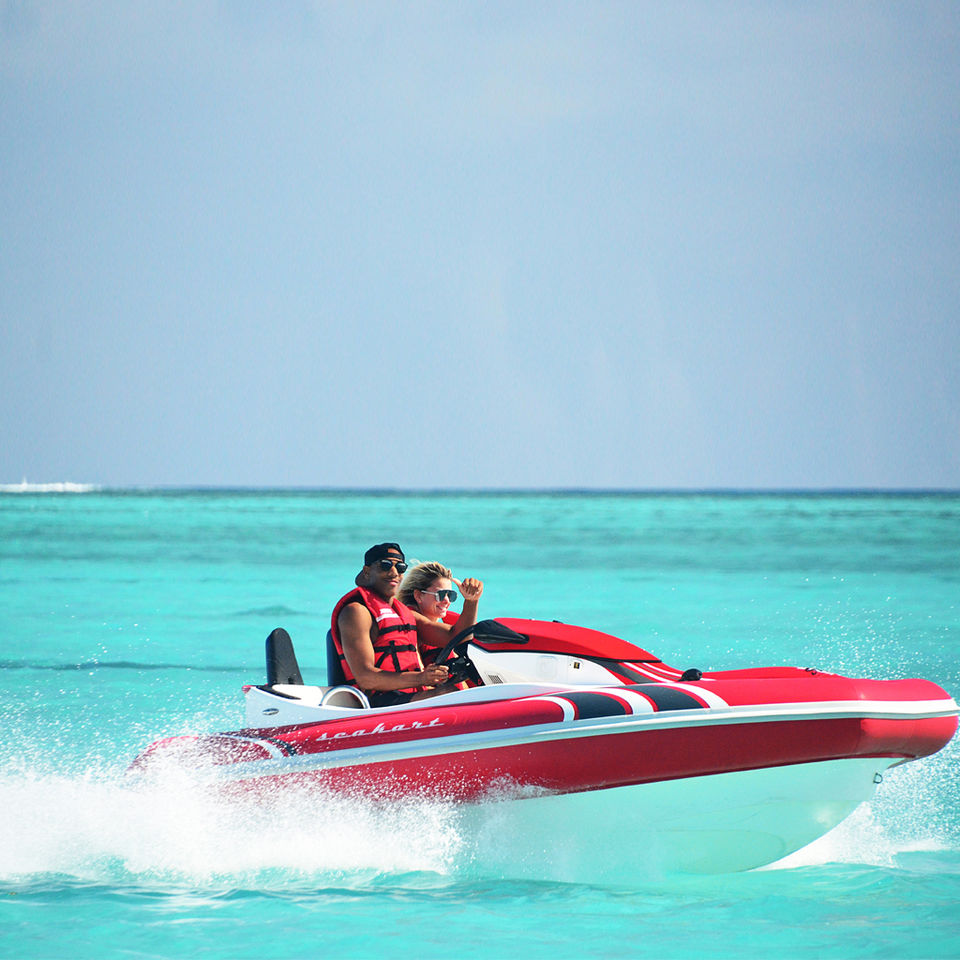 The cool sea breeze rustling through your hair, air filled with mist and azure blue waters as far as the eyes can see–this is what every water baby dreams of. If you're someone who lives for the beach and trying out new water sports, you've landed at just the right place! Brace yourself, because the hottest and trendiest water sport of 2020 has finally arrived in India–and believe us, it is the most fulfilling experience you can have on your next beach holiday!
Corbyn's Cove Beach, Port Blair
After an overwhelming response in Dubai and Mauritius, Seakart has found its way to the beaches of Andamans. Yes, you read that right. Travellers heading to Andaman can now explore its pristine coastline by hopping on a futuristic Seakart and zipping into the Andaman Sea. So bring those swimsuits out, pack your beach baskets and start planning a trip already!
What is Seakart?
A next-generation water sport, Seakart is a unique state of the art watercraft and gives you the experience of self-driving the Seakart at sea. These futuristic karts have a distinct, wide design which makes them practically unsinkable and extremely safe. Not to be confused for a jet ski or a speed boat, Seakarts are essentially designed like go-karts, which also gives the sport its rather interesting name. These mean machines come with a push-button start/stop, paddle acceleration on the right hand and a comfortable steering wheel which makes driving for a thrilling but safe experience.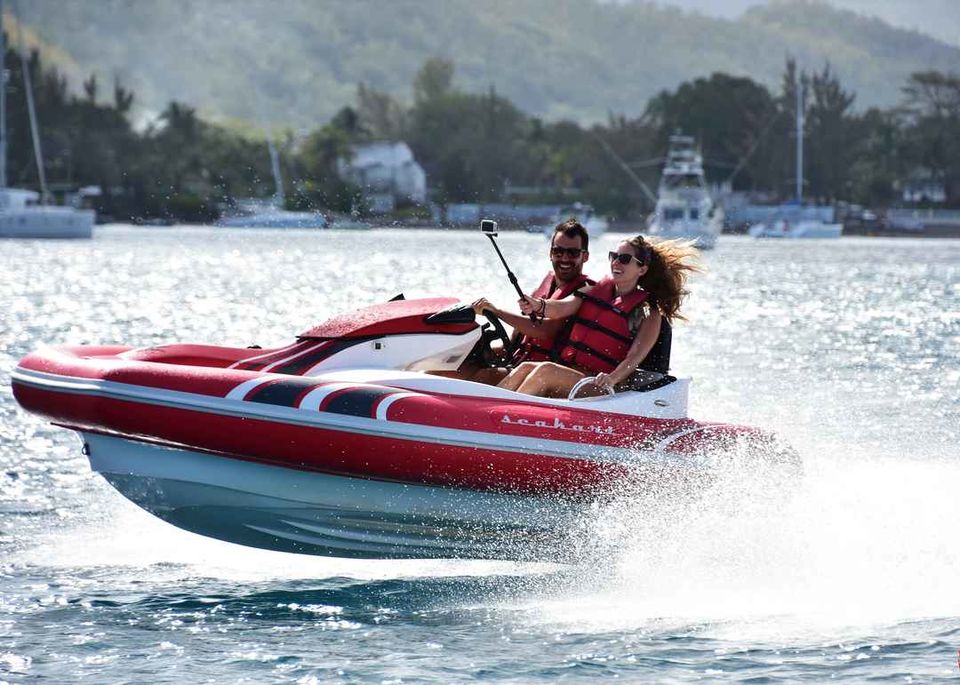 Ever since it was first introduced in Mauritius and Dubai, Seakart has taken the world of water sports by storm. And as soon as you get on one, you realise why! Zipping away into the endless waters, without a care in the world and your friends, family or special someone to keep you company–there's nothing more you could ask for!
Why Andamans!
Unlike other popular beach destinations in India, the Andamans still has a very limited and controlled tourism scene. As a result, this group of islands remains far away from the horrors of excessive tourism. Of all the seaside destinations in the country, Andamans is undoubtedly the most untouched–the air is cleaner, the water is clear and the people are so warm that you'll feel just at home. If that doesn't sound like a place to try your hands at Seakarting, we don't know what will!
Tell me about Seakarting in India!
Since the sport is very new to India, Port Blair based Seakart Adventure is currently the only licensed Seakart company in the country and the third in the whole world! The folks over at Seakart Adventure offer a once-in-a-lifetime experience to venture out in the sea under the supervision of trained professionals. Seakart is located conveniently at Corbyn's Cove Beach, the only beach in Port Blair city limits.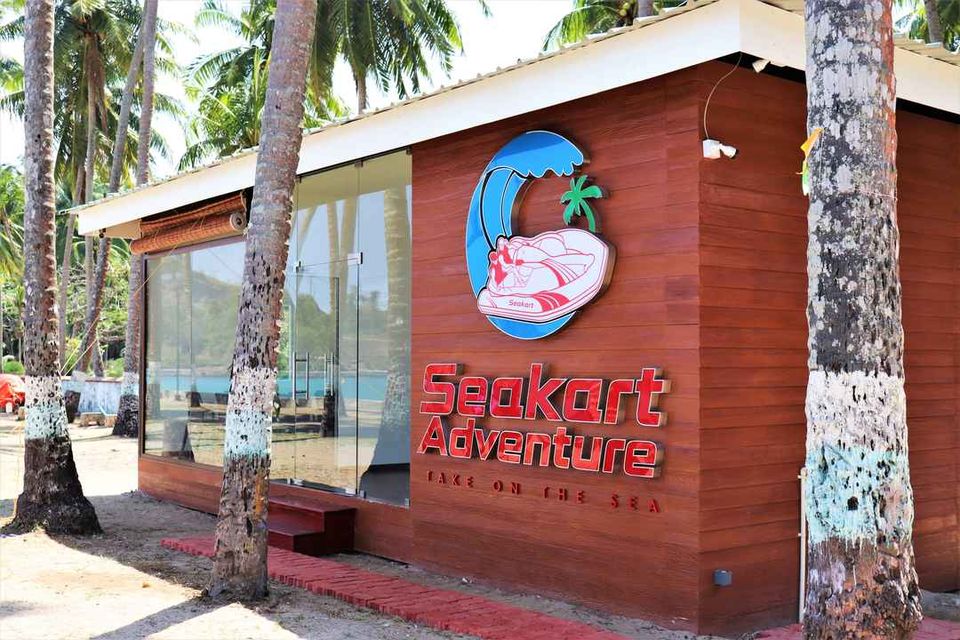 Upon signing up for the experience, guests are welcomed at the company's beachside lounge. The well-equipped centre is managed by a friendly staff and offers changing rooms, shower areas, lounging area and lockers. The experience starts with a 15-minute mandatory safety briefing session that will give you a complete lowdown of Seakarting.
This is followed by a thrilling 30-minute Seakart drive starting from Corbyn's Cove Beach till near Netaji Island (formerly Ross Island) and back. With a licensed instructor seated beside you on each Seakart, you're always in safe hands. Don't forget to put your best smile as the excursion includes photography too for you to take home happy memories. Seakart Adventure, with its fleet of six Seakarts, runs as many as 10 daily excursions–making it convenient for thrill-seekers to pick a slot as per their choice.
Cost, age restrictions and other details
Each Seakart can accommodate a maximum of two people at once, in addition to the licensed instructor. Individuals aged between 18 and 60 are allowed to take the steering. On the other hand, 6 to 17-year-olds can also experience a Seakart ride, provided they are in the company of a legal guardian. Seakarting in the Andamans will cost you Rs 3,499 per person on a twin sharing basis and Rs 4,999 per person for a solo drive.
How can I book a Seakart experience?
Booking a Seakart ride is simply a click away! Head over to www.seakartadventure.in to get started and treat yourself to an experience you will never forget.
What is the craziest water sport you've ever tried? Where was it and what was the experience like? Click here to share your travel stories with the Tripoto Community and win Tripoto Credits.
In association with Seakart Adventure Andamans