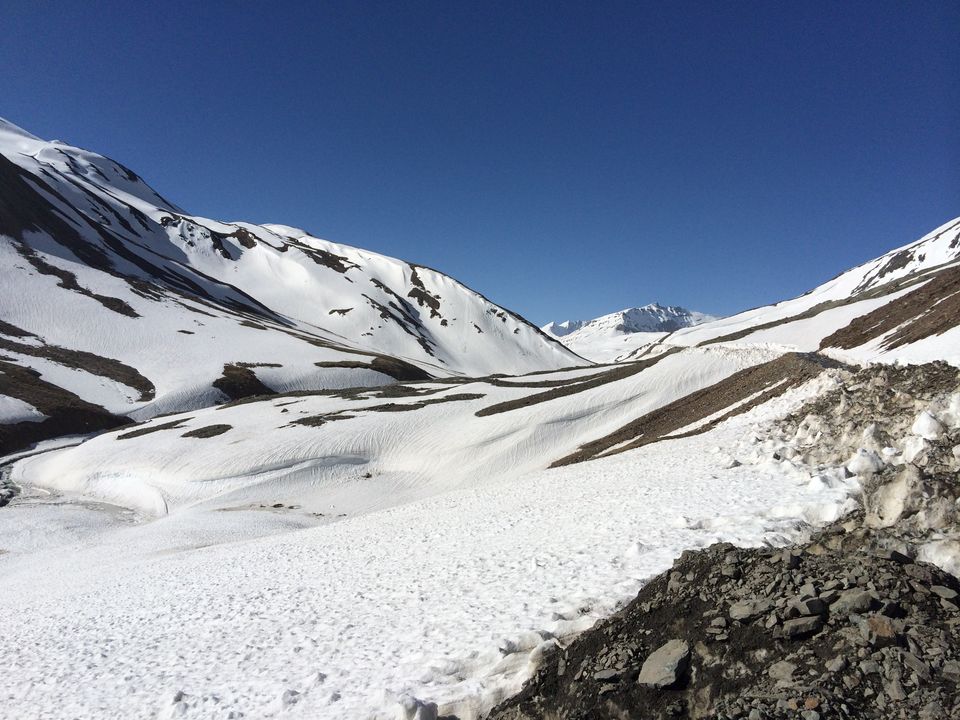 10 friends + 15 days + Ladakh = Life at its best.
After working on our itineraries for months, we decided on a road trip .
Mumbai – Srinagar – Sonamrg – Kargil – Leh – Pangong Tso – Leh – Nubra Valley – Leh – Sarchu – Manali – Chandigarh – Mumbai
Detailed Plan
Day 1 – Mumbai – Srinagar via Delhi – 1 Night
By afternoon we were at Dal Lake. Had made accommodation bookings through a local agent. Stayed in a beautiful carved four bed room houseboat for a night. Food is average. Major electricity problems. To people who believe in exploring a new place, putting up in a houseboat isn't a good choice as you are at the mercy of ferry ( shikara ) guys. Last ferry is at 8-9 PM. Personally, i would not recommend a houseboat stay. Dal lake is filthy, filled with microscopic flies and stinks. Stay in a hotel and go for a shikara ride if you want.
Day 2 – Srinagar – Sonmarg – 1 Night
Start post breakfast. Route to Sonmarg is very scenic. Mountains, rivers, snow clad peaks, chilling air and freshness of a far away land awakens man living in the concrete jungle.
There is no much sightseeing around, but the snow clad mountains. So you have all the tourists in one place which converts crystal white snow to brown muddy snow. Our cabs dropped us to the point and we decided to trek ahead to the mountains which sparkled. Personally, i love less explored regions. 45 mins trek from the tourist spot, lies the actual snow clad beauties. Rainbow added to our joy post trekking. Maggi and cup of tea are definite savior when it gets freezing.( hut to the left felt like heaven when it rained after trekking)
Day 3 – Sonmarg – Kargil – 1 night
Its a long run comparatively, advised to start early. Just a night halt to ease our journey ahead.
Day 4  – Kargil – Leh – 2 nights
Mind you to check if the kargil – leh road is open before you plan your trip. Its scenic and extremely well made/maintained. Started post breakfast, stopped over at Kargil war memorial, Lamayaru Monastery, Sangam and Magnetic hill.We climbed up the Hill to experience the vastness. Reached Leh in thevening. 
Do not plan any kind of activity after reaching Leh. Rest to acclimatize to have a good trip.
The next day marks a beginning of exploring Leh. Shanti Stupa and other monasteries around. Head to Cafe Gesmo for all your meals. Food is delicious and freshly made.They also provide packed lunch/dinner for further travel.
Day 6 – Leh – Pangong – 1Night
Start early for Pangong Tso. Keep good amount of buffer time.Roads towards Pangong are ok. Crossing Changla pass is a bit of a trouble. Avalanche and accidents are quite common. Military might shut the road for hours or days depending on the condition.
But all the wait is worth it to witness the beauty of Pangong. Shades of blue,green and violet makes its magnificence magical. Dont miss the morning sunrise. Lot of tour operators plan a day visit to Pangong, AVOID! Its just not a lake, its one of his Miracles, one need not just see but experience it!
Book your tents in advance.Food is reasonable good.
Day 7 – Pangong – Leh – 1 Night
Resting Hault.
Day 8 – Leh – Nubra Valley – 2 Nights
Its while travelling to Nubra, you cross Khadungla pass ( highest motorable raod ). All you can witness is snow clad peaks around. Oxygen levels are low, so be cautious. Carry required medication.
One night stay at Nubra Valley is also enough, we added a day to enjoy the heat post freezing days. Nubra valley is knows for its sand dunes. 
Enjoy the warmth while you lie beneath the infiinite sky.
Day 10 – Nubra Valley – Leh
We booked cycles at Leh, which were bought to Khardungla pass (remember, highest motorable road). We cycled downhill through the rocky terrain, twist and turns of a mountain bearing the low tempretures. What a thrilling experience it was, i would definitely recommend it to all adventure lovers.
Day 11 – Leh – Tso Moriri – 1 Night
Its quite like Pangong Tso. Less frequented by tourist though. Quite secluded! You can give it a miss if have limited travel days. Personally, I loved the Pangong lake!
Day 12 – Leh – Sarchu – 1 Night
Sarchu is isolated. Amongst the snow clad mountains and barren streches are your tents. Highly ok tents with poor sanitary conditions. There is no water supply. Food is cooked in mineral water. It is undoutedly very scenic with millions of sparkling stars being your ceiling. Tempretures are extreme. Sarchu is an essential hault enroute Manali.
Day 12 – Sarchu – Manali – 1 Night
It was the longest day ever. We left Sarchu at 6 in the Morning and reached Manali at 11 in the night.On the way to Manali is Barachala pass, the mountains look like scoops of vanilla Ice cream topped with crumbled cookies. Heavenly!!
It gets crazy once you enter Manali. Maddening traffic at Rohtang pass. Cars get stuck for 5-6 hours. Its a one way road, where military manages the flow of traffic. Most of the taxis dont follow single lane causing unending jam. Once you are out of Rohtang ruckus, internal Manali traffic kills you. After all the serenity and tranquility, i would not advise Manali. Its commercialised, losing its charm.
Day 13 – Manali – Chandigarh -1 night
Getting closer to home.Chandigarh is quite a planned state. Known for fabrics and embroidery, sector 17 is a place to shop.Amritsar is 6 hours from Chandigarh, if you wish to visit The Golden temple and Wagah Border.
Day 14 – Chadigarh – Mumbai.