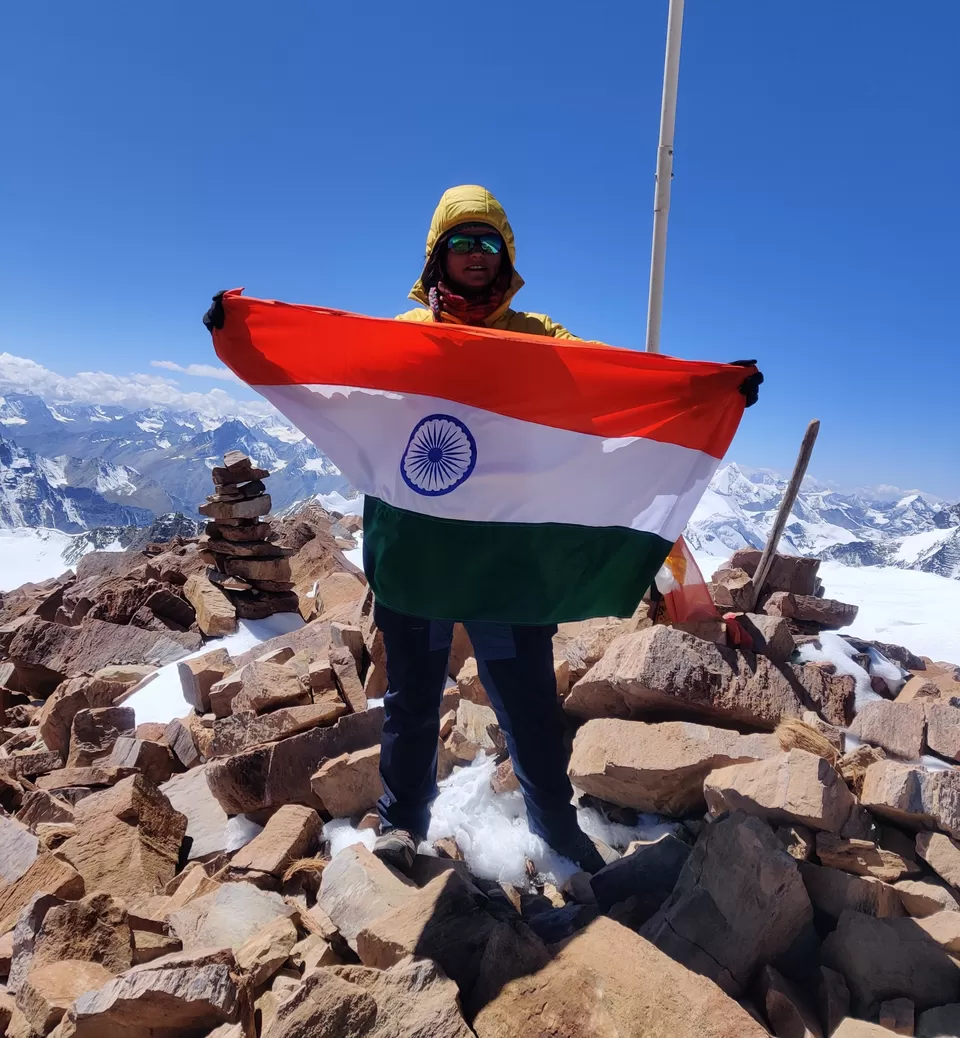 It was around 8 in the evening; I was sitting in my room in Pune after a day hike at Andharban Forest. So many things were there in my mind and then I was like what next now? Don't know what came to my mind and I started looking for tickets to Chandigarh. In next 15 minutes my tickets to Chandigarh was done. I called up my mountain buddy that boss "We are going to Mount Yunam, and you are meeting me at Manali day after." Just get the tent and sleeping bag for yourself and a rope for just in case situation. He said - Shalini are you out of mind. You don't do expeditions like this. I said exactly that's what we do now like this, and this peak is not even technical. We just go, summit and back to home. The best part about having these best people called mountaineers with you is that they will never let you do crazy things all alone. He said "Akele marne nahi dunga aa raha hu. Manali me mil. Bike pe aunga" Hahaha... I only had 8 hours to pack all my stuff.
One of my friends who was in Pune dropped me to the airport next morning. Reached Chandigarh in the afternoon. The bus to Manali was in the evening. Met one of my MTB mates and then left for Manali.
After 11 hours journey from Chandigarh finally reached Manali in the morning. It was raining crazy, and I wondered if Lahaul was in same condition what all would we need to prepare from here so that our ascend to 6000er would go smooth. I had entire day till my buddy made it to Manali on his Enfield. I walked down to the apple farms, ate few there, hiked few trails nearby to get acclimatised. It was evening when my teammate was there all drenched up who came all the way 500kms to climb one non-technical peak just for me. Felt so grateful to have amazing crazy friends who make you feel alive and an adventure.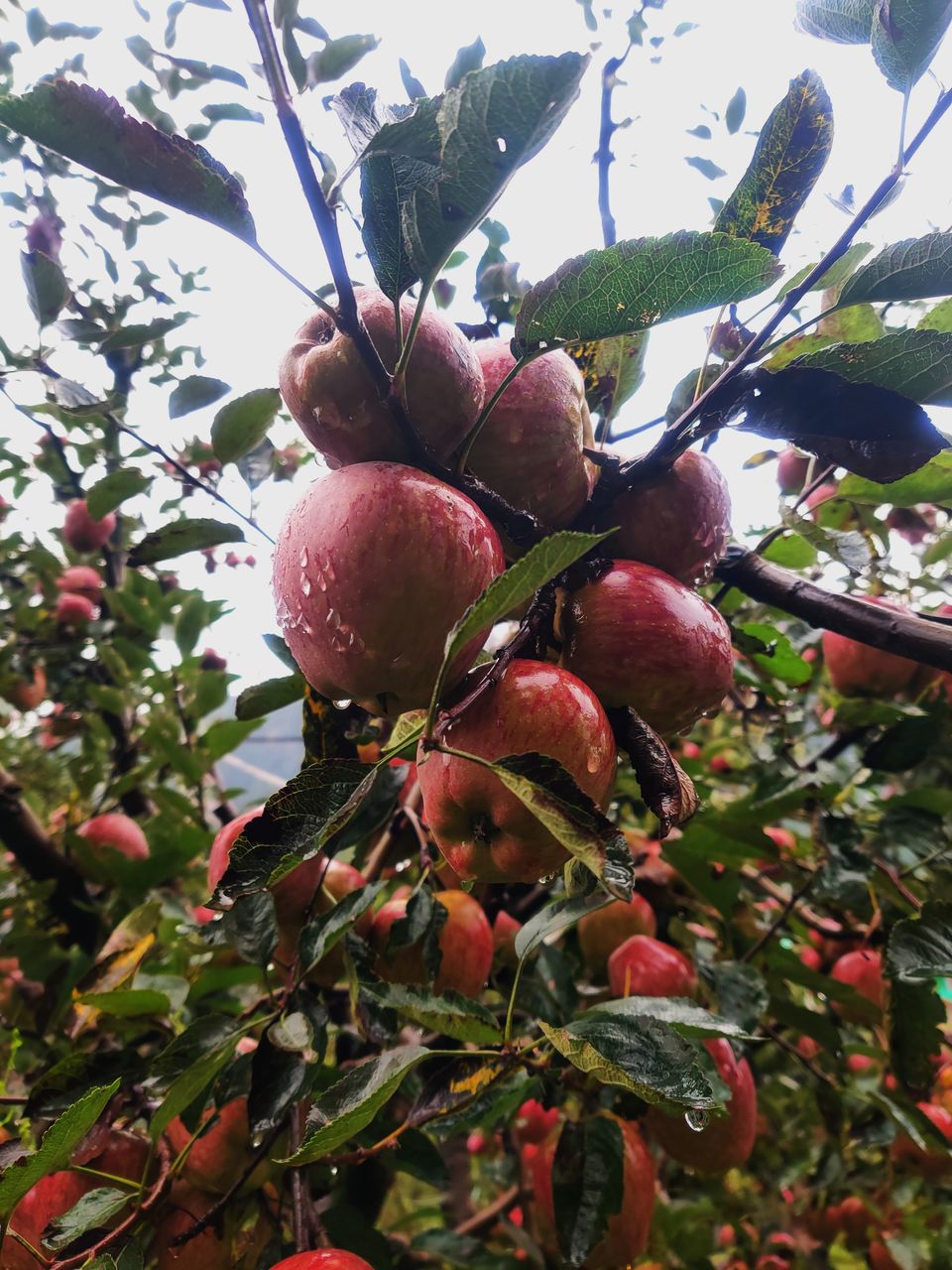 We went to the market and bought all necessary items for next few days. We were all set and prepared for the next day.
Started early from Manali the next day. We had our lunch somewhere near Jispa which had Broccoli farms nearby.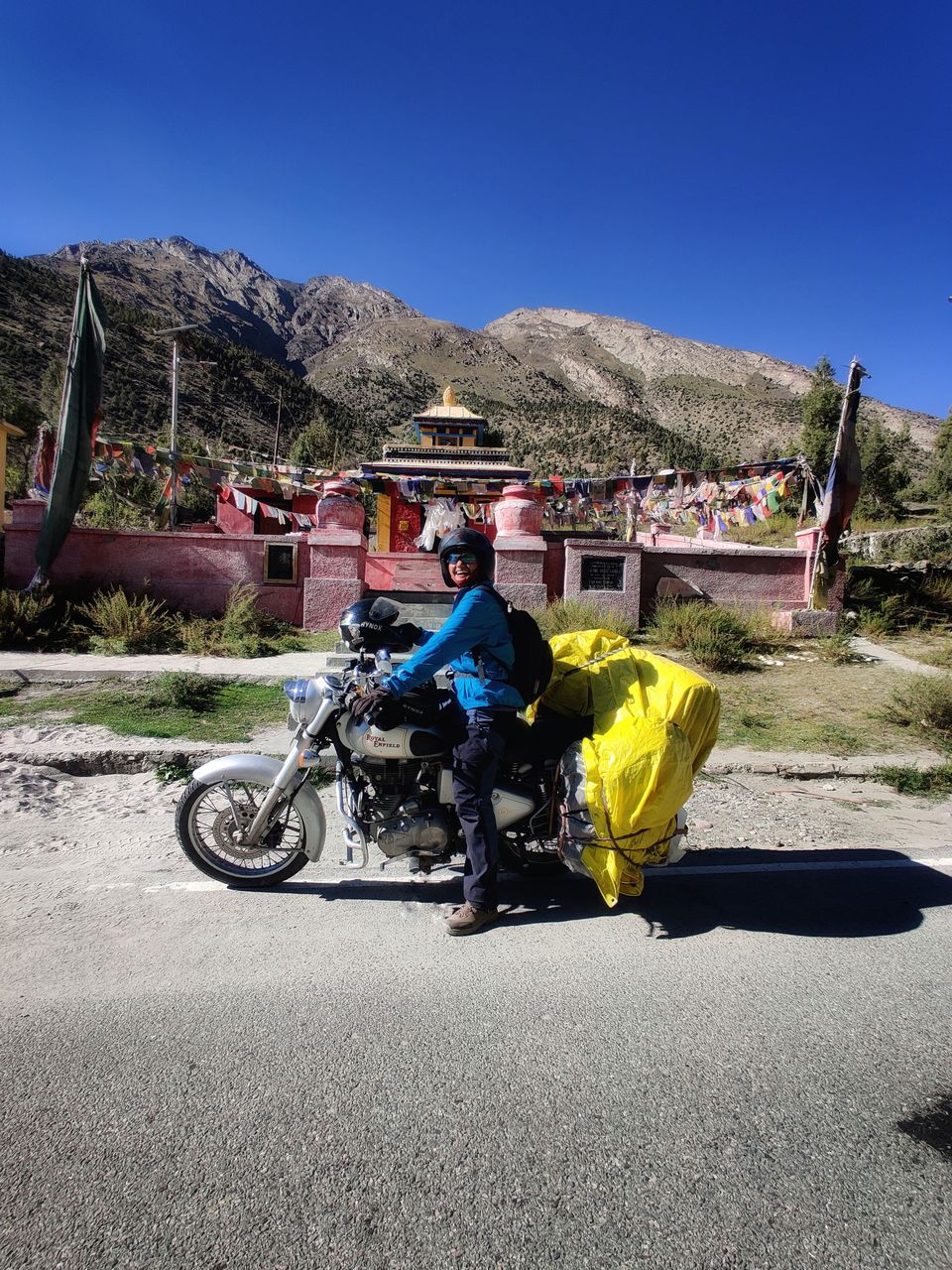 While we were having our meal the locals asked whether we were heading for Leh on our bike. We said no. We are here for Mount Yunam near Bharatpur. The locals said it is difficult currently as few teams were not able to make it to the top due to heavy snowfall last week. To keep us with good nutrition they offered us fresh Broccoli from their farm. Met an army battalion which was moving from Leh to Kaza for their new post. They were happy to see us with all our load on bike and doing it in a rugged way. Like who goes on an expedition on a bike (reminds me of motorcycle diaries movie). People generally take rest before leaving for an expedition. But we are we. Chose extreme and pushed all our limits. As we started ascending towards Baralacha La Pass the temperature started dropping. We had handful days left till BRO (Border Roads Organisation) was there for any emergency irrespective on road or on field. Generally, BRO (Border Roads Organisation) at this place is up there till 25th of September. So, if I count, we only had 4-5 days in our hand to reach back to Manali. As we crossed Baralacha La Pass along with Suraj Tal and Deepak Tal we reached the base i.e., Bharatpur at an altitude of 4500 metres around in the evening.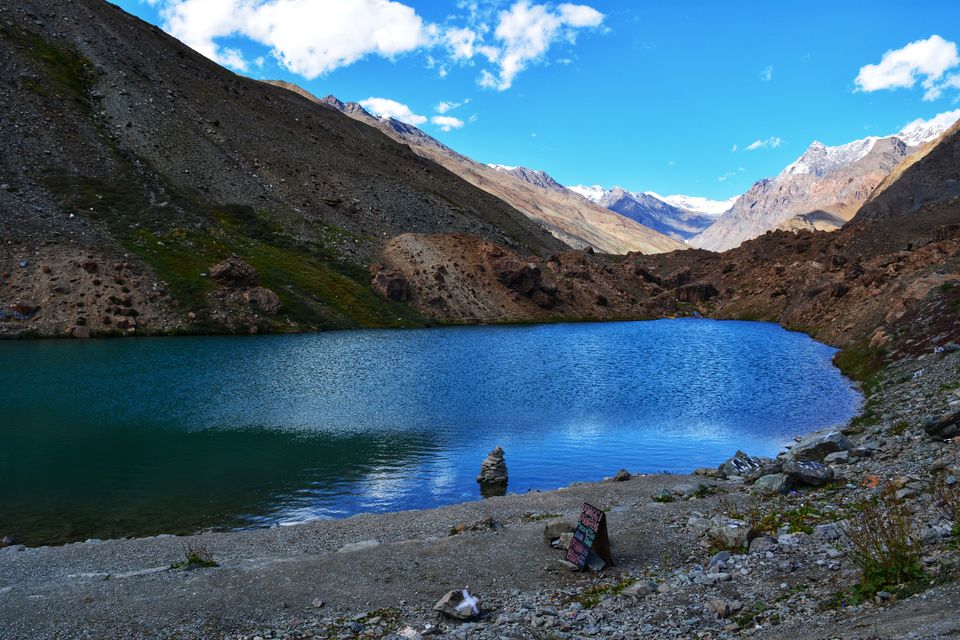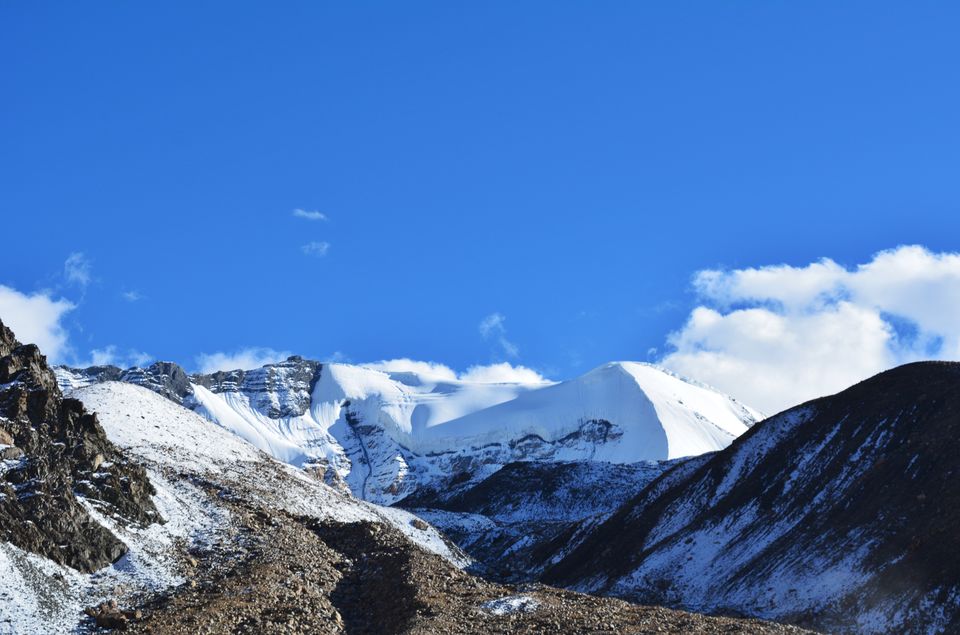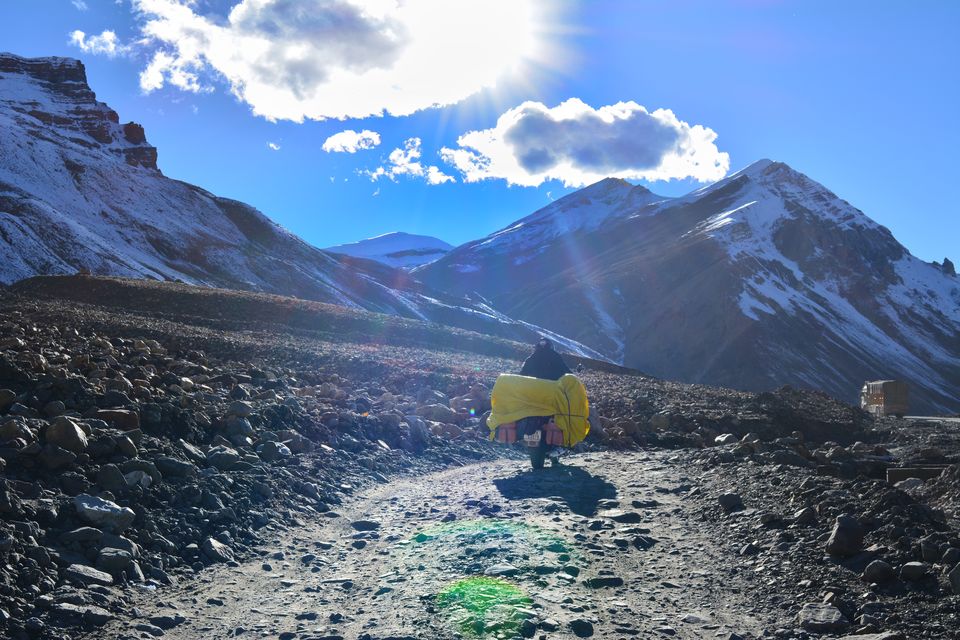 It was quite windy. We set up our base near the shops for the day. Met last few riders of the season who were heading to Leh. After dinner which was around 7 in the evening we called off for the day. Next day plan was to reach base camp at an altitude of 5200 metres.
We started around 0900 hours in the morning from Bharatpur after packing all essentials and leaving rest behind.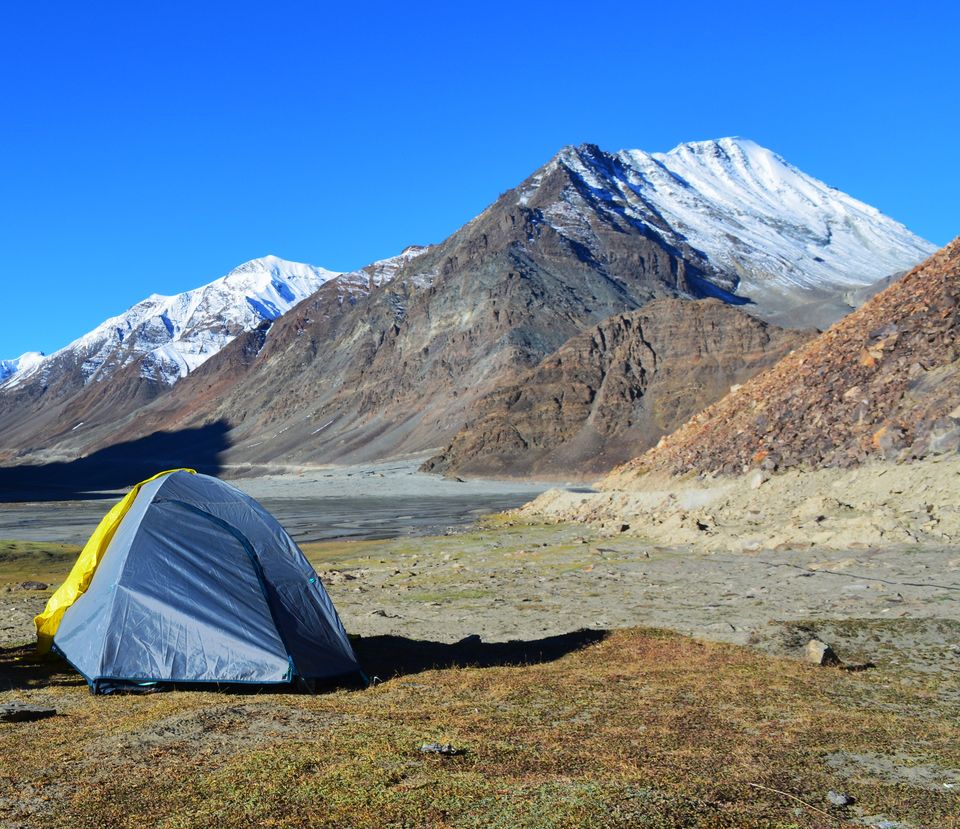 To reach the base camp one has to go back again around 500 metres from Bharatpur base near the shops. There are two ways to reach the base camp. One is through nallah and the other is through the moraine.
We chose latter and regretted later. hahaha.... If you want to make an easy way to the base camp, I recommend you go through the nallah. The water flow in the month of September was less so one can easily cross it. The moraine made us dance left right and centre. We reached the base in the afternoon and set up our tent. We cooked our meal and then went for recce to nearby glaciers and gully from where we were supposed to make the ascend mid-night.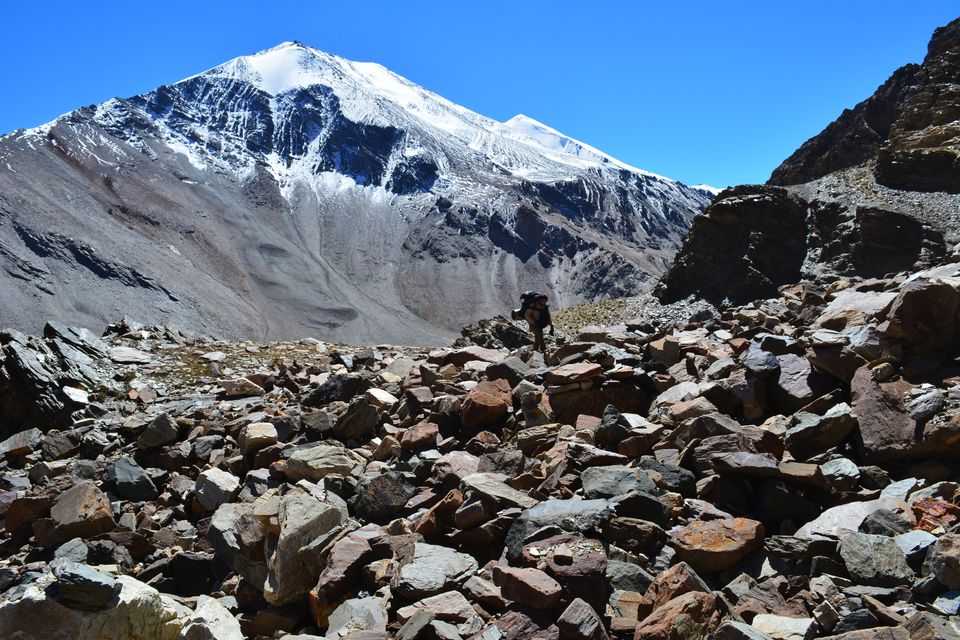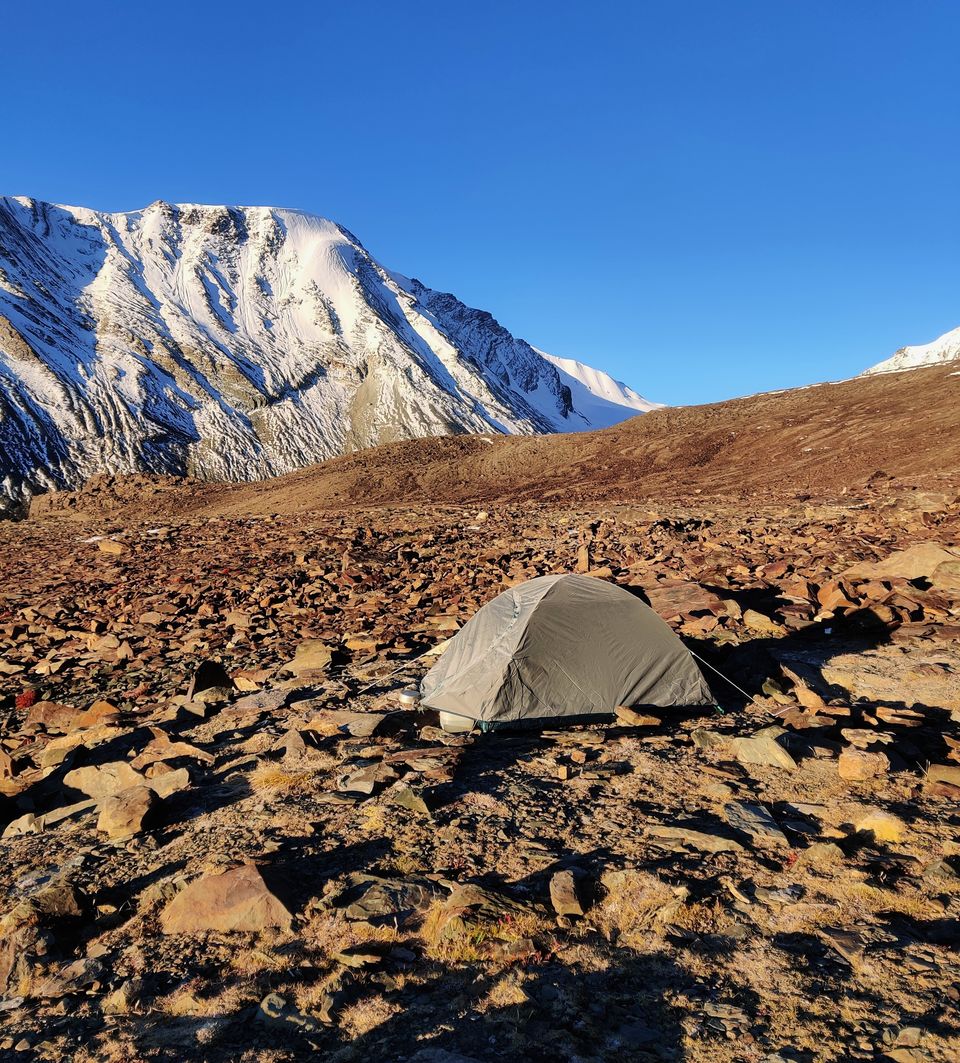 Came back to the base camp before evening and saw two more fellow trekkers have camped near our tent. We were glad to see the company. We prepared our meals both for the evening and summit push and packed a small bag with essentials i.e., medical kit, protein bars, food, and water for the summit. So now we were four who were attempting the summit same night.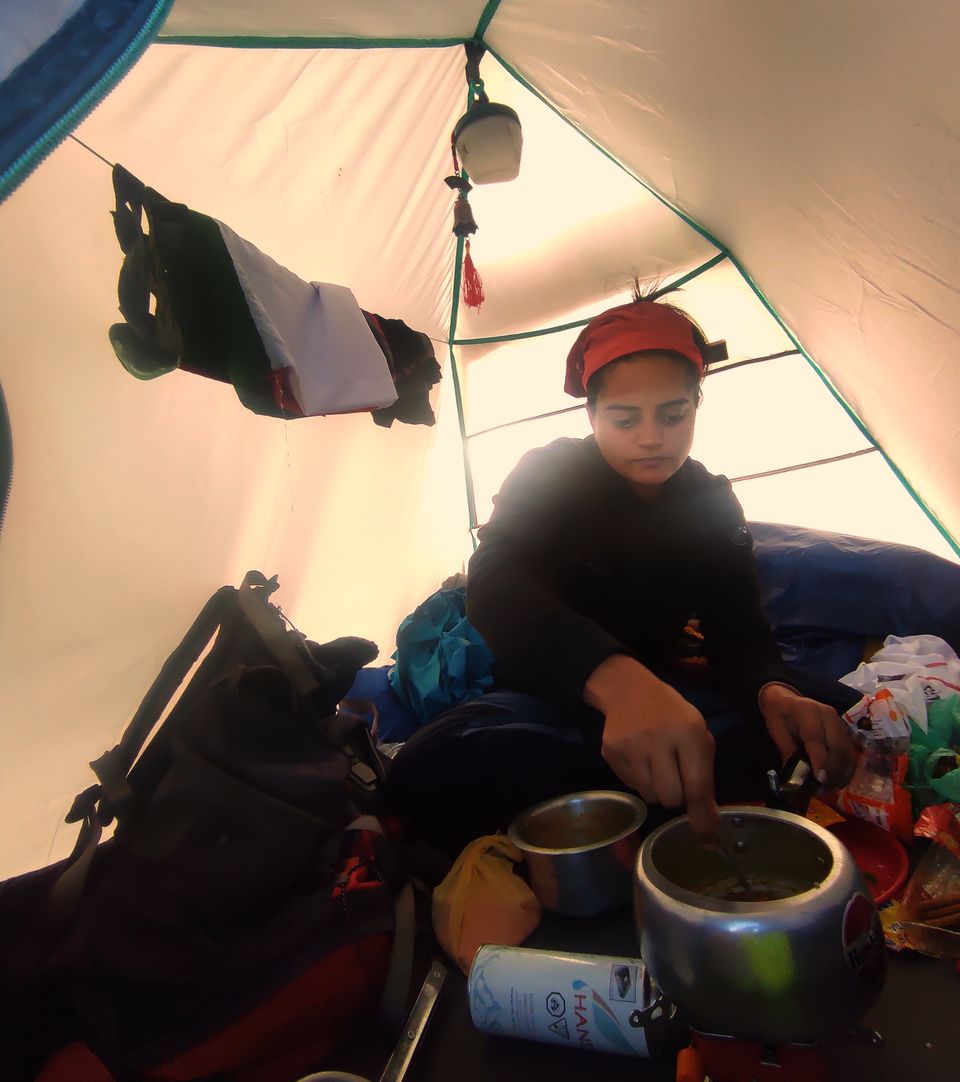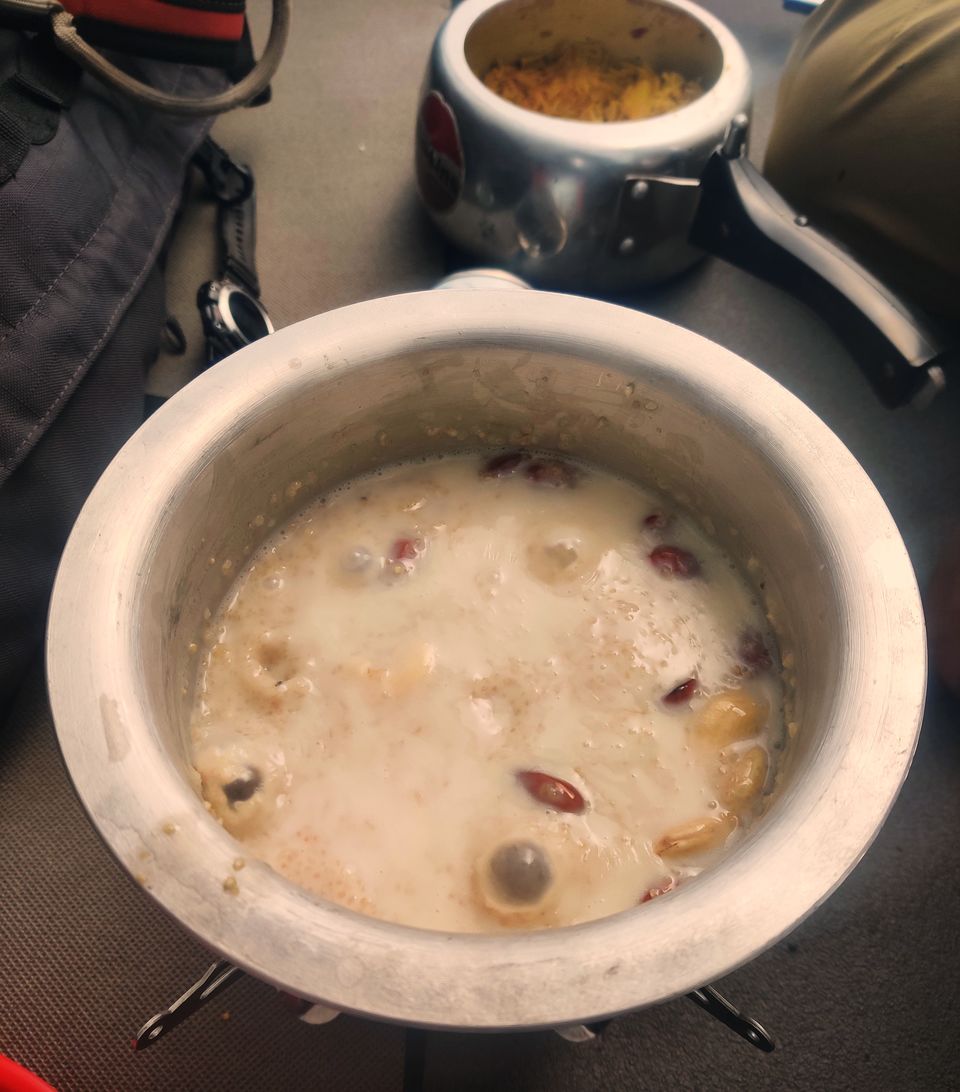 We woke up around 0100 hours in the night, freshened up, ate little and geared up for the summit push. For safety we were carrying 30 metres semi-dynamic rope along with carabiners, harness, slings, and descender. As we moved out of the tent our new fellow trekkers said they will not be able to make it for the summit as one of them was not feeling well and was hit by AMS. It was around 2 in the morning. We were in dilemma whether to leave them alone here in such medical condition or should we go ahead. The other trekker who was in fine condition said we will make our move down to Bharatpur base as soon as the light comes up. After getting enough confidence from the boy we started for the summit at 0300 hours. Before making our move, we prayed to the mountain god to allow us for the summit. My buddy chanted some mantras and I only had one prayer which I always do to my mountain god – Do whatever you feel is good for us just keep us strong enough to handle/tackle the situation. We were already late by an hour. The gully to reach the Advance Camp of Mount Yunam was interesting. Loose rocks, moraine, and scree. Though we were heading for the summit, but our mind was on the light so that the guys behind could make a move.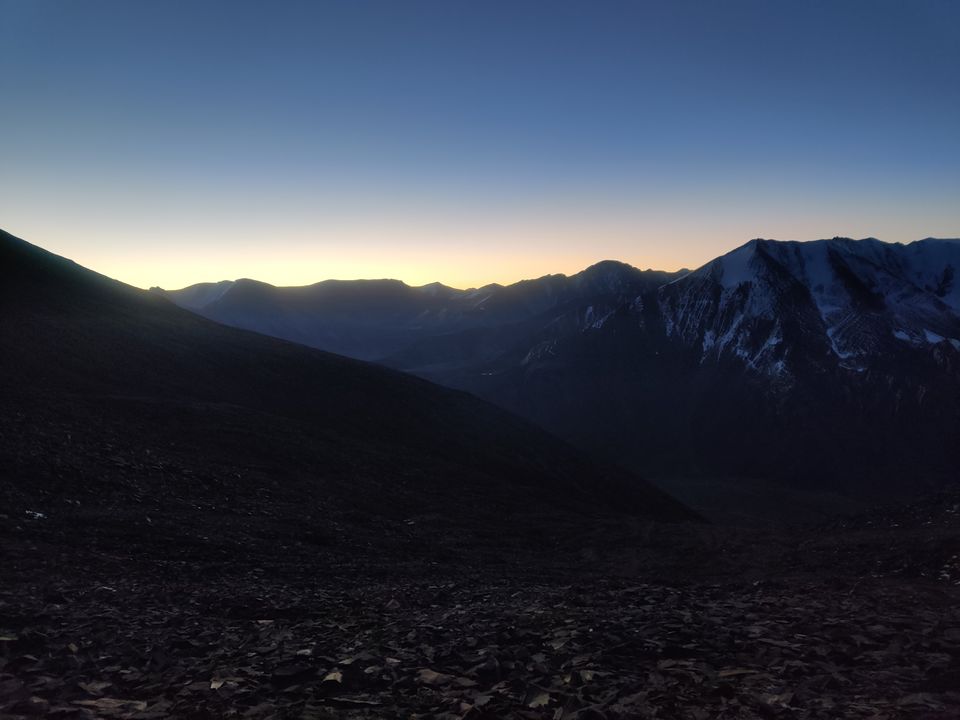 As we reached Advance base camp around 0415 hours, we could see first light making its way. Many groups shift their camp from the Base camp (5200 metres) to Advance Base Camp (5500 metres) for better acclimatisation. We kept on moving with the same pace along with the altitude gain. It was around 0530 hours when we were left with last 300 metres ascend to reach the top. The terrain for last 300 metres is different than the rest. The rocks here are looser. You take one step and come down two due to loose scree.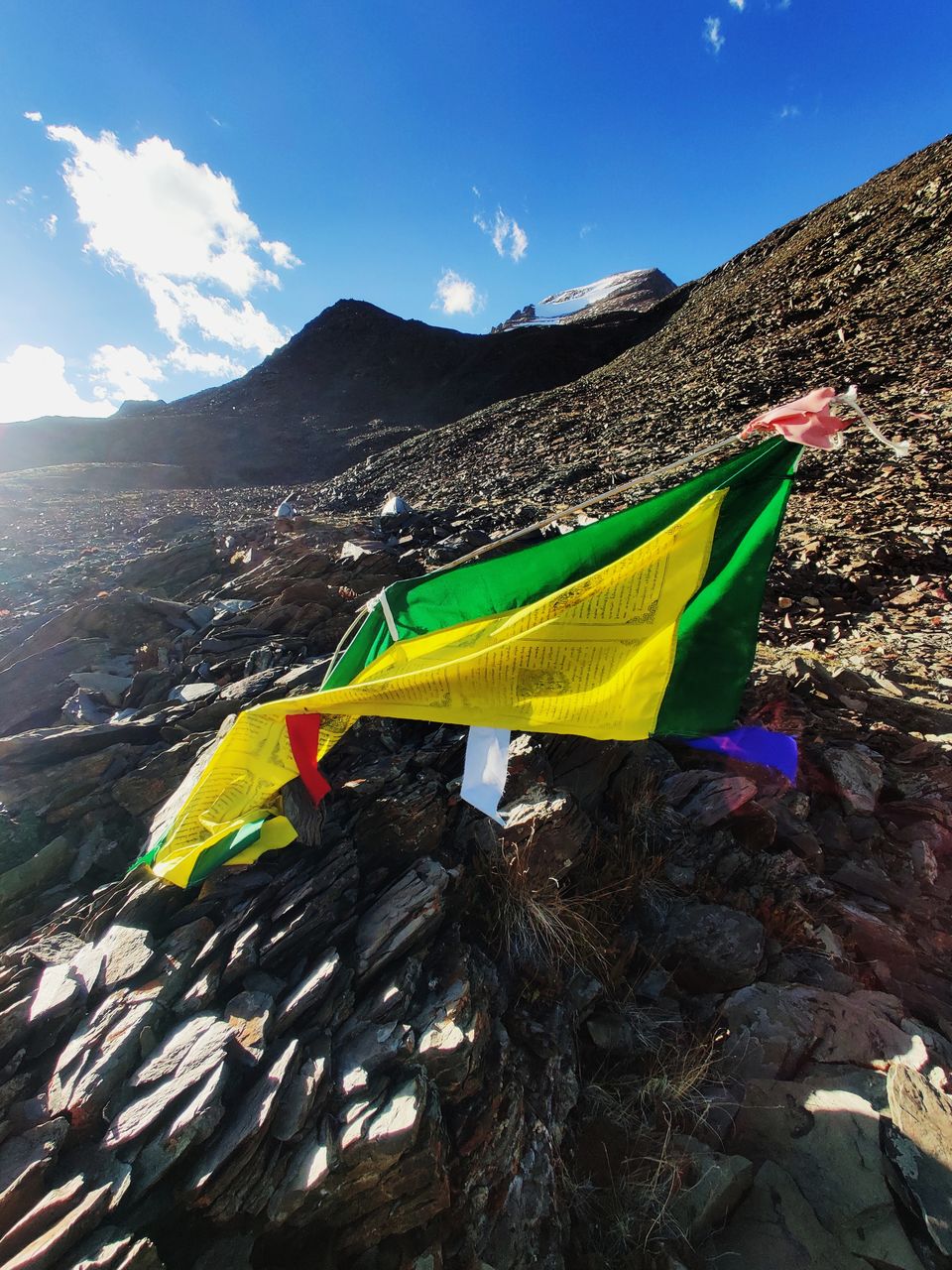 We placed each step very smoothly to avoid this. I still remember last 20 metres I could see the pole and each step I walked towards the pole was like walking 100 steps at one single time. This was all due to the excess exertion done in past four days. That was flying all the way from Pune to Chandigarh, then 11 hours bus journey to Manali and the next day ride to Bharatpur on our bike and exploring lakes in between along with passes at 5000 metres. The thought only gave me like Wooaahhh that's too much, boss you are reaching 6150 metres in just total four days from an altitude of 560 metres i.e., Pune. We made it to the summit exact at sunrise time and sat there for 15-20 minutes.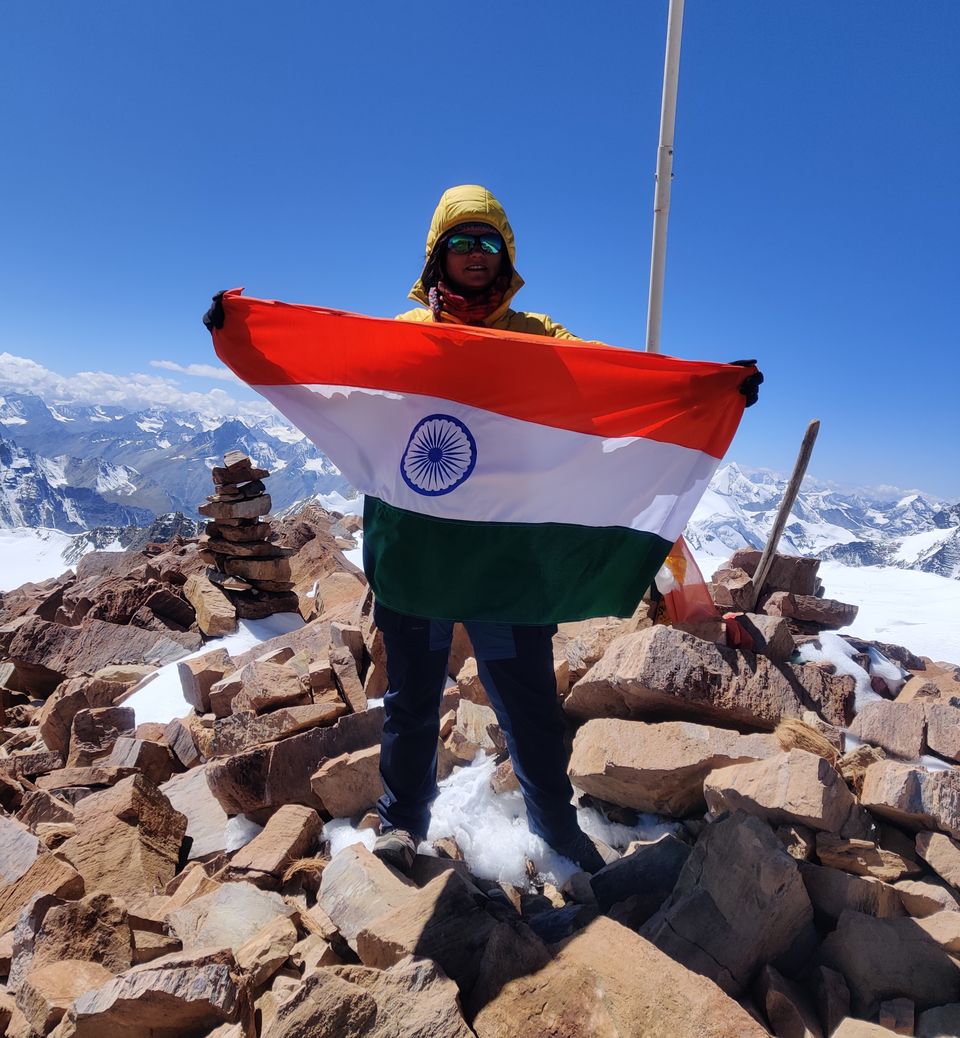 Saw beautiful ranges and peaks of Ladakh and Lahaul. The summit has a cornice so if you are planning to go for it, please be careful. We made back to the base before afternoon and after munching, packed up our tent and descended to Bharatpur base camp. As we reached Bharatpur the locals said no one in past two weeks was able to make it to the top. Would like to see your pictures if you guys really made it to the top. We said weather god and mountain god blessed us and gave us the permission, which made it possible for us. After our meal we tied our bags to the bike and made our move to the next adventure.
After this did 3 more 6000 metres for the year which will be penning down in my next write ups. Till then stay safe, keep exploring. Adventure is out there.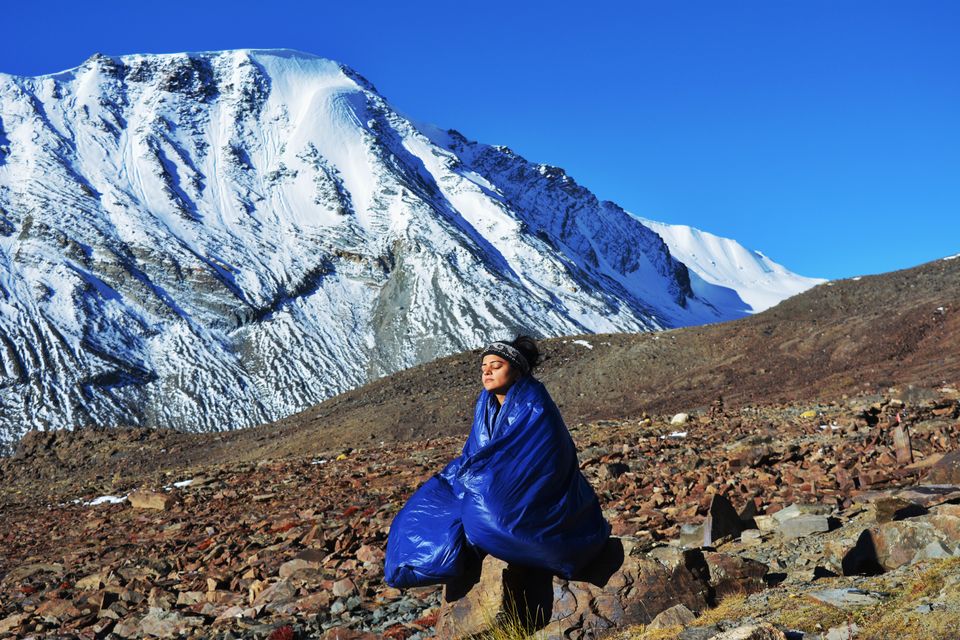 Have been using this ultralight quilt for my expeditions and trekking across The Himalayas. Click on the above image or reach out on www.blueboltgear.com if you need one or ultralight gear for your next adventure.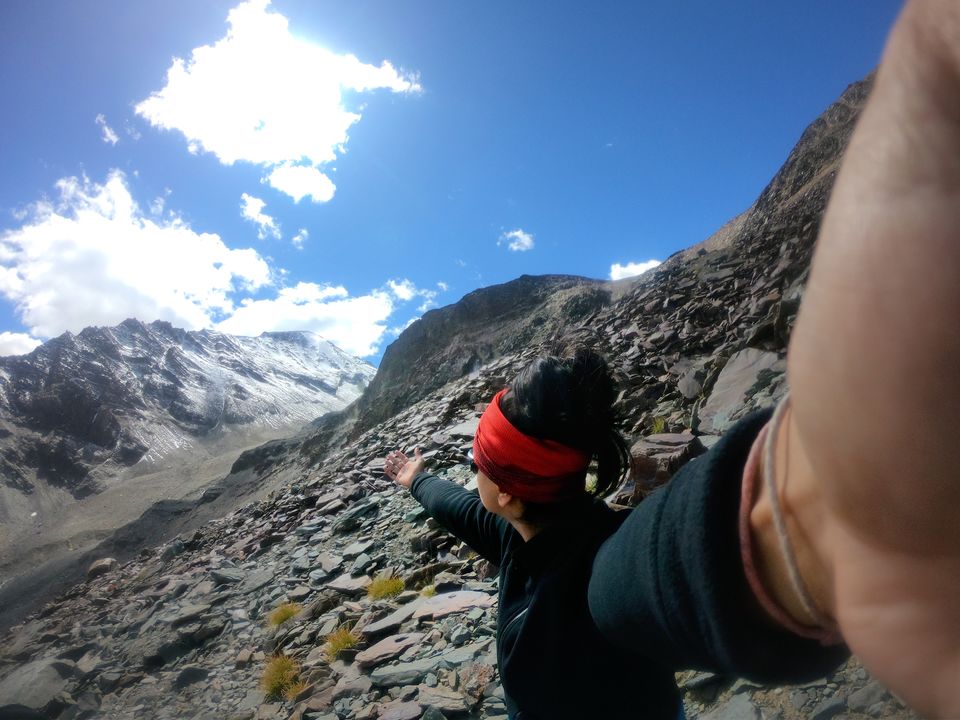 To follow me on instagram and facebook click on the above image.
Thank you!