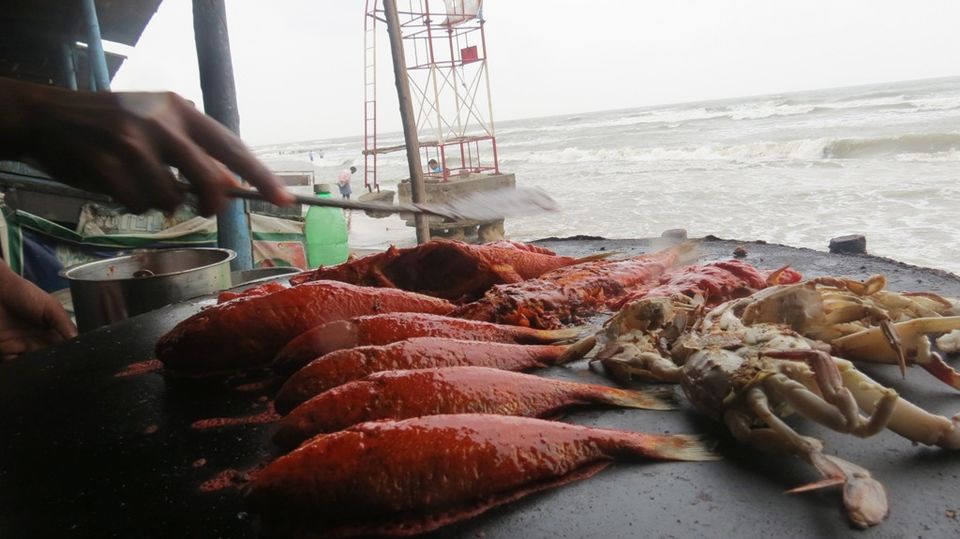 I still remember him — slathering vermillion red spices generously onto the fish, as winds roared off the coast of Velanganni.
'People like it this way,' he replied to a question I never actually asked.
I was astonished at the young man before me who spoke comfortably in Hindi — something I wasn't used to in all my time spent in Tamil Nadu and Pondicherry. Then it struck me — we were in Velanganni, South India's most famous pilgrimage town for devotees of Mary. Worshippers arrive here from across India, many Hindi-speaking. He probably picked it from them. In any case, not too many words flowed from this lone wolf, but the few that did, stay with me till date. I never asked his name so I'll just call him, 'he'.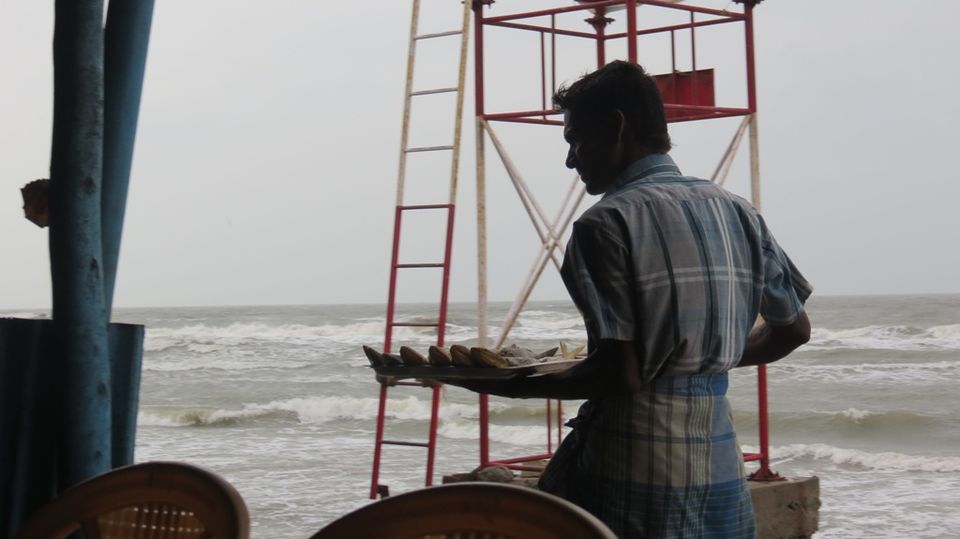 That morning, Velanganni's iconic seafood stalls wore a deserted look as vendors called out frantically to passing pilgrims to come eat at their stalls — except for this young man who watched quietly as we walked by, continuing to tend to his fish. If this was reverse psychology, it certainly worked. We entered, selected our fish and sat at the tables.
'Don't add more spices Sir,' I called out to him.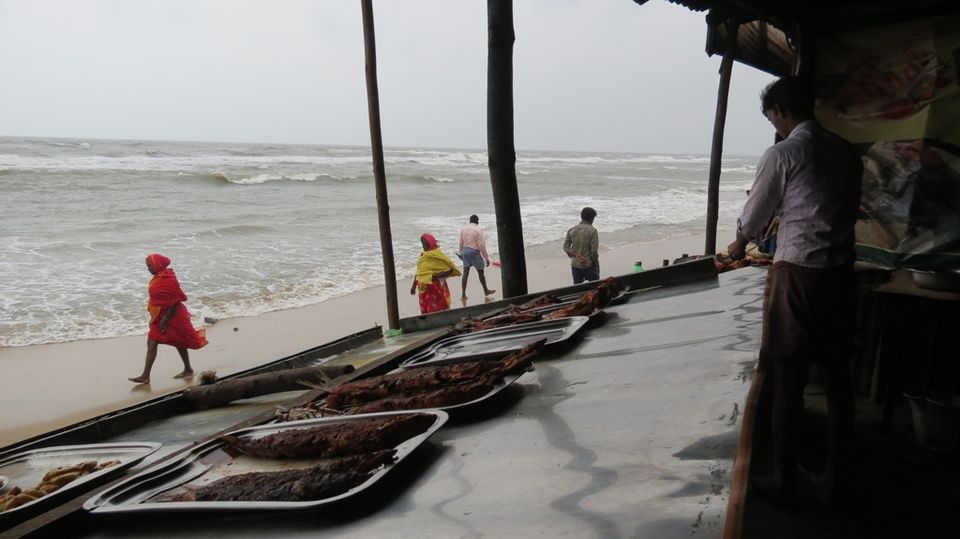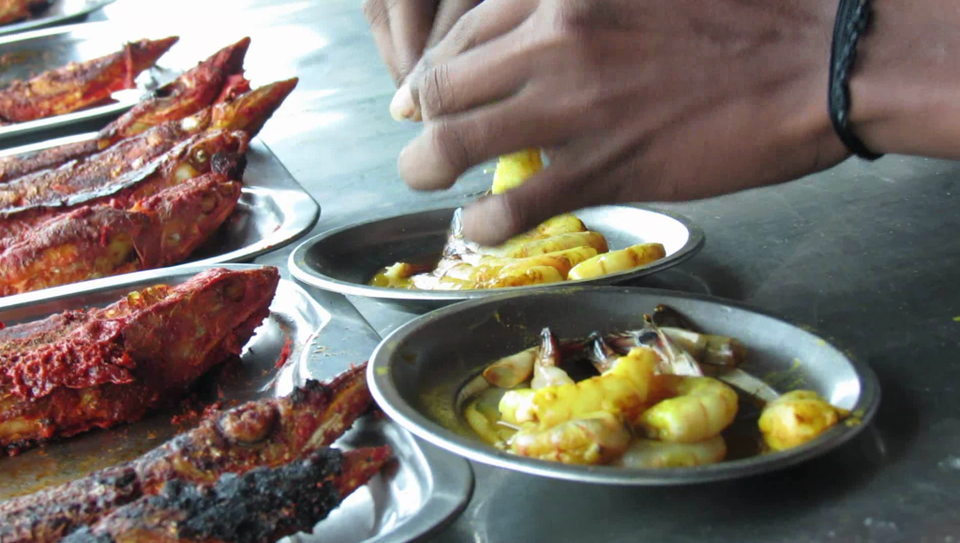 It was early January, and cyclone warnings were out the week before, cautioning fishermen from going out to sea.

'So where has this fish catch come from then,' I asked.

He gestured towards the waves breaking in the middle of sea. No, he was actually pointing to a small boat with men trying hard to balance the structure as the sea tossed them about viciously. I watched with a growing unease as the boat momentarily disappeared out of sight. Had it sunk? No, the waves were just playing a game of hide-and-seek with us on the shore. The fishermen were still there.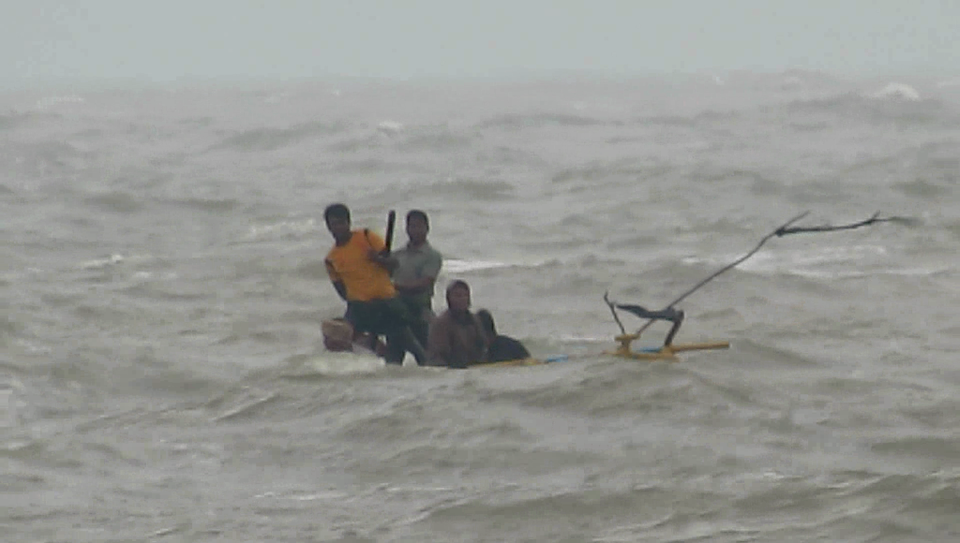 'How do they do this?' I mumbled.
'Their kids need to eat too. That's how,' he stated dispassionately, banging away at the tawaa.
From time to time, he stared out into the distance at nothing in particular.
'Aren't you ever afraid of these year-end cyclones?'
'No. We're all going back to the sea.'
'I notice you don't call out to passersby to come eat at your shack. That's the trick to get them in?
'If that were true, my tables would be full.'
'So you just fry fish and watch people go by?'
'Yes, I get lucky sometimes.'
'What about money?'
'What about it? Would you like some more spice, just a bit more? Some chilli please?'
Oh, he was quite a personage. If he were on Tinder, he'd get along famously with women who like their men contemplative, a tad mischievous and most of all, self-assured with a quiet confidence. He enjoyed cooking too — publicly, and seemed oblivious to the stares and shy smiles of girls passing by.
And so the rest of the morning went by on the sea of Velanganni. Women selling berries cast worried glances at the boats from time to time. Four nuns walked by laughing aloud without a care, their veils blowing wildly in the wind. What a sight it was.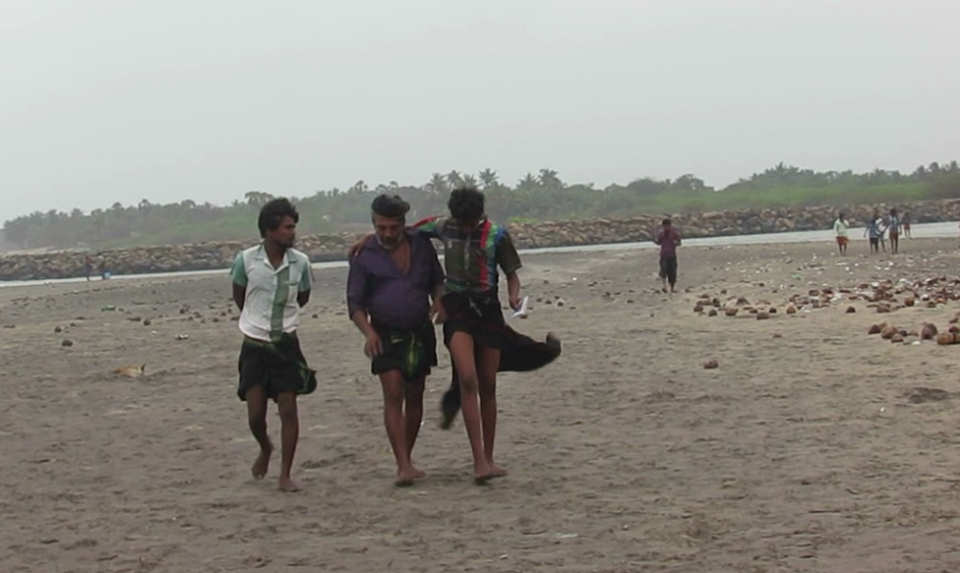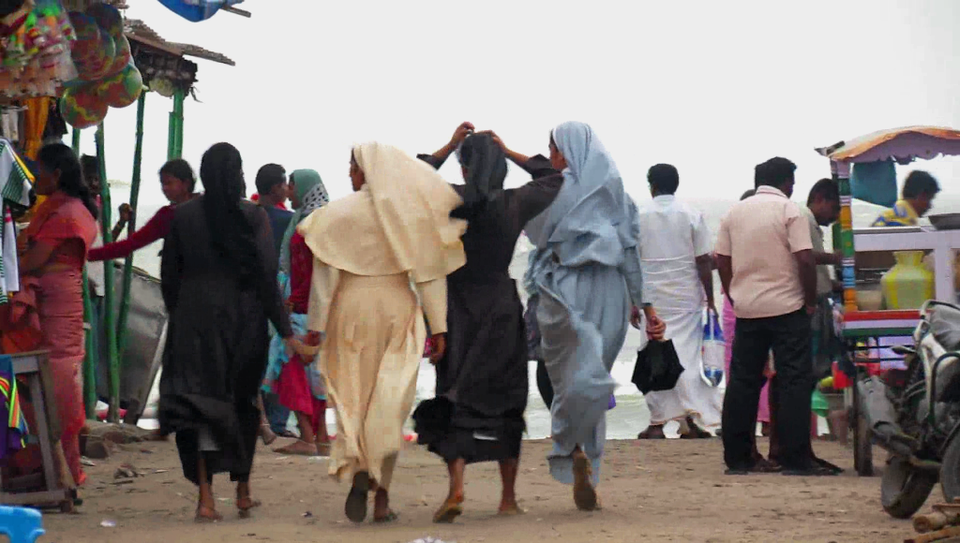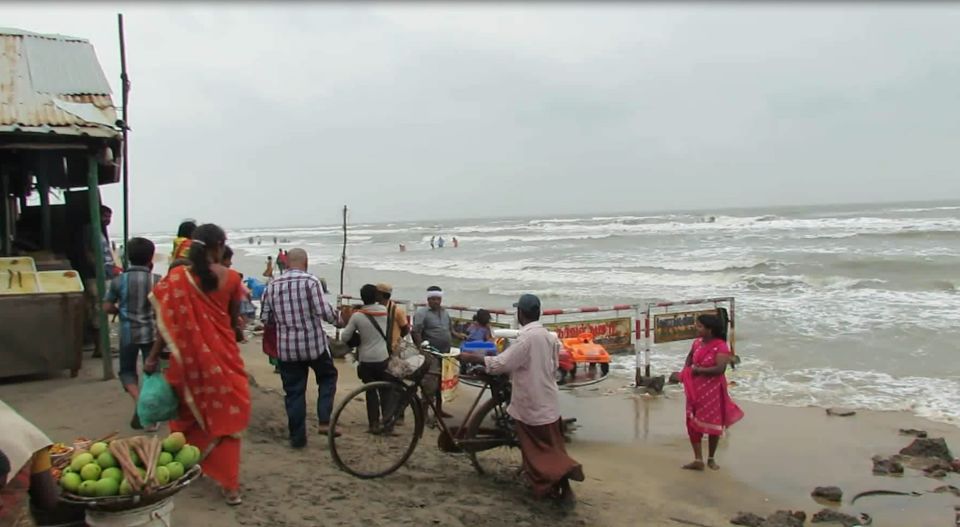 As it got darker and colder, I wished this moment would freeze in time. It wasn't just about him who fried fish all day long, but the people of the sea in general. I thought back to them when I recently read Chemeen, a novel by T.S Pillai that touches upon several themes and questions about the fisherfolk's esoteric beliefs and existence.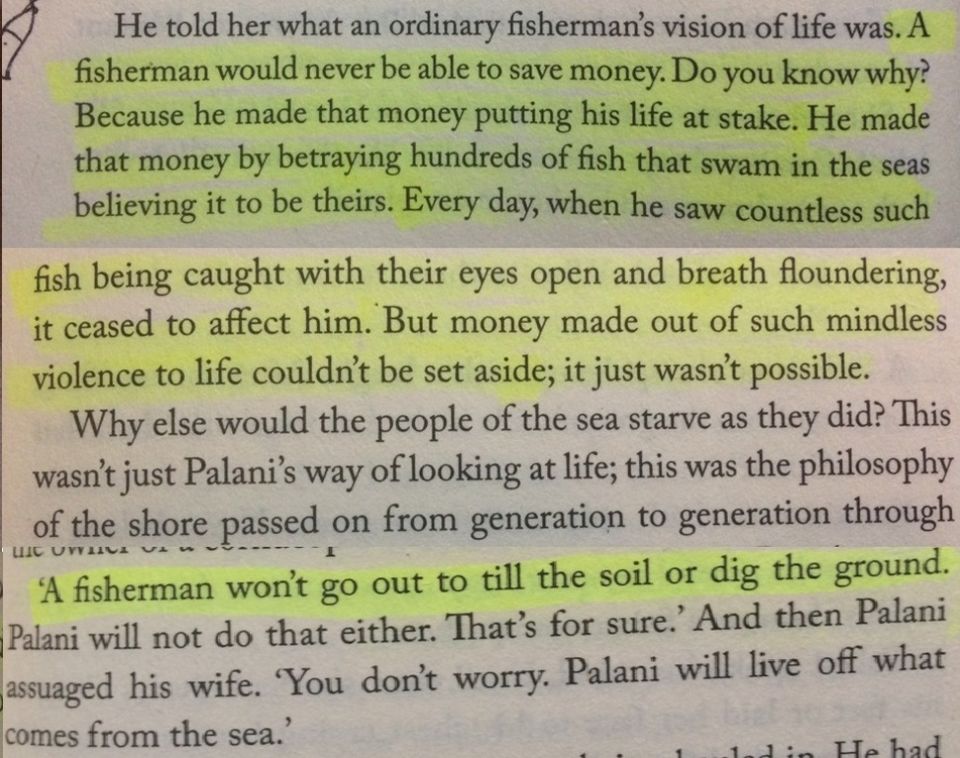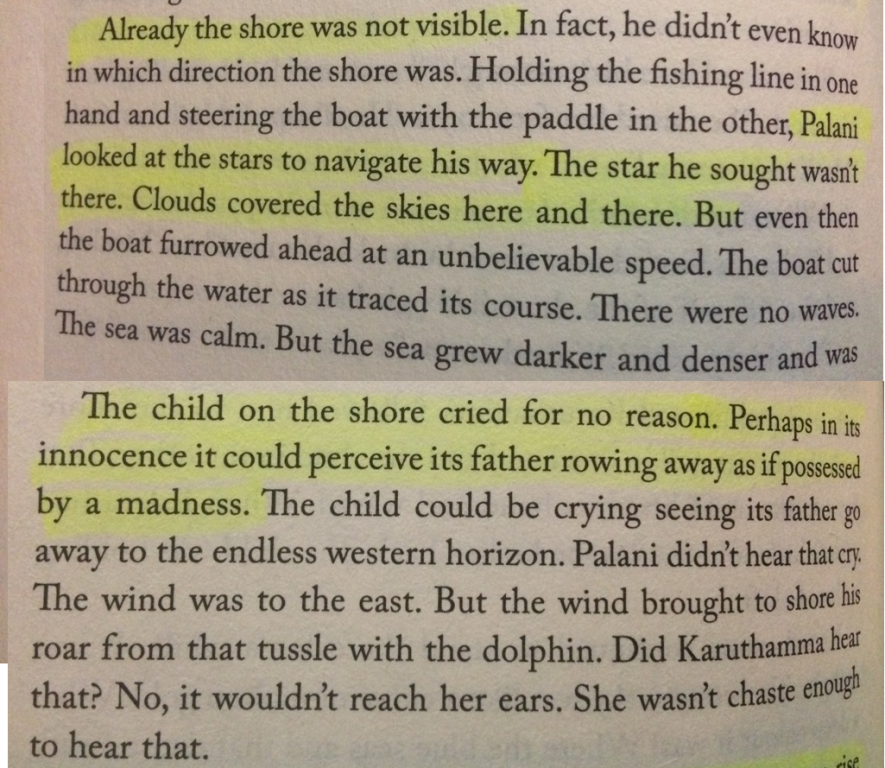 Why do fishermen put their lives at risk everyday? Would a fisherman ever plough the earth, or was he forever a child of the sea? What must it feel like to row in pitch blackness, with nothing but the stars to guide you to the shore. As for the fish — one moment in the inky black sea, the next caught alive with eyes wide open.
Today, the sea for me is a little bit more than Cafe del Mar and Bob Marley. I spend hours watching videos on how islands were formed, on Maldives' bioluminescent glowing plankton, and how free divers hold their breath under water for extended periods. I yearn to go on an extended cruise, and to live on a small island. It's a never-ending and new-found intrigue about the science of the human body under water, of the ocean's deepest secrets, ancient mariners, icebergs, and the role of the oceans in colonisation among other things.
There's an ancient wisdom thrown in for good measure too. A bit like how Rumi said, 'Sell your cleverness and buy bewilderment.'
In the end, we are all going back to the sea.
(Below is a video I shot that morning in Velanganni of the sea and my sea friend/s)