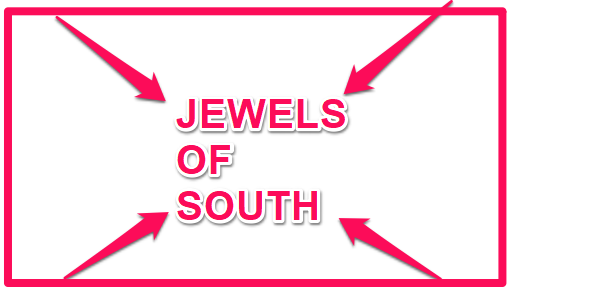 The South India region consists of the five Indian states namely Andhra Pradesh, Telangana, Karnataka, Kerala, and Tamil Nadu. Along with these states, the union territories of Puducherry, Lakshadweep, and Andaman and Nicobar also come under the South Of India. The vast area of the region is enriched with spectacular beaches, lush green forests with abundant flora and fauna, forests reserves, national parks and Sanctuaries, breadth-taking Islands, world heritage sites and many more. To attract more tourism, various national and international resort chains plus some luxurious local resorts have been set up here so that the travelers can relax and enjoy the tranquility of the region while visiting the jewels of the South.
Here is the list of some enthralling places which are must-to -visit in South India:
The temples of Tamil Nadu: South India is inundated with beautiful temples. The temples of Mahabalipuram have been declared as World Heritage site.
Colorful Cochin: Also called as Kochi, the trading port of Cochin is equipped with picturesque and historical places to see.
City of Madurai: This is one of the oldest cities of South India and is in highlights due to its temples especially Sri Meenakshi temple.
White Town Pondicherry: Pondicherry is a popular destination for its French Style architecture, Sri Aurobindo Ashram, and Auroville.
Periyar National Park: For those who love wildlife, here you will encounter some of the Endangered species of animals.
Kerala's backwaters: Kerala is mostly known for its beautiful backwaters which enchant you with its picturesque views while boating.
Chennai: Earlier known as Madras, Chennai is well known for the Marina beach, museums, temples, and its preserved heritage.
To visit the enchanting South, one trip is not enough. To explore the vast culture and heritage of the ever-shining South, I recommend to make 8-10 days trips and visit one belt at a time. I will be publishing a series of blogs for visiting South taking one strap at a time. My kind of a vacation is a mix of exploring the local cuisine, culture, exploring the streets as well as having a relaxing time to rejuvenate myself. Adding, I will also provide some ways how you can minimize the travel cost.
First of all, I suggest using Google flights to search for the cheapest flight for the destination. I recommend looking for airports with 3-5 hours drive from your destination and then choose the airport where you get the flight with minimal cost. You can see for an article on this in my profile. The title of the article is "How to Book Cheap Flight Tickets and Minimize the travel expense on a Vacation."
I have created few Itineraries based on my trips as well as Google search to the enchanting South. Here are the shortlisted ones. Some of the Itineraries drop more on the relaxing side whereas some include more of traveling and experiencing the rich culture of the South. Apart from the mentioned ones, South India is immensely populated with beautiful locations. I will try to publish as many as I can from my vivid search on South India.
Itinerary1: Chennai - Mahabalipuram - Pondicherry
Itinerary2: Banglore - Coorg(Madikeri) (Virajpet)(karnataka) - Ooty - Banglore
Itinerary3: Exotic Andamans and Nicobar and Lakshadweep
Itinerary4: Bangalore - Mysore - Ooty - Cochin - Alleppey - Kumarakom - Kovalam - Trivandrum
Itinerary5: Bangalore - Mysore - Somanthpur - Shravanbelgola - Hassan – Halebidu - Belur - Hassan - Chickmanglur - Hampi – Aihole - Pattadakal - Badami - Bijapur – Gulburga - Bidar Hyderabad
Itinerary6: Banglore- Kanchipuram - Tanjore - Trichy - Madurai - Periyar - Kovalam - Alleppey - Cochin - Mysore – Hassan - Hospet - Bangalore
Itinerary7: Banglore - Mysore - Ooty - Coorg - Kodaikanal - Banglore
Itinerary8: Thiruvananthapuram - Madurai - Rameshwaram - Kanyakumari -Kovalam - Poovar - Thiruvananthapuram
Best Time To Visit: The best time to experience the majestic South is between December and February when the weather is most pleasant. Even the humidity level is very less at this time. You can also opt for August and September when the skies are clear, and humidity is at it's lowest. Summers are scorching and muggy here.
Relish the beauty of God's blessed incredible and fascinating South India.
Happy Travelling!!