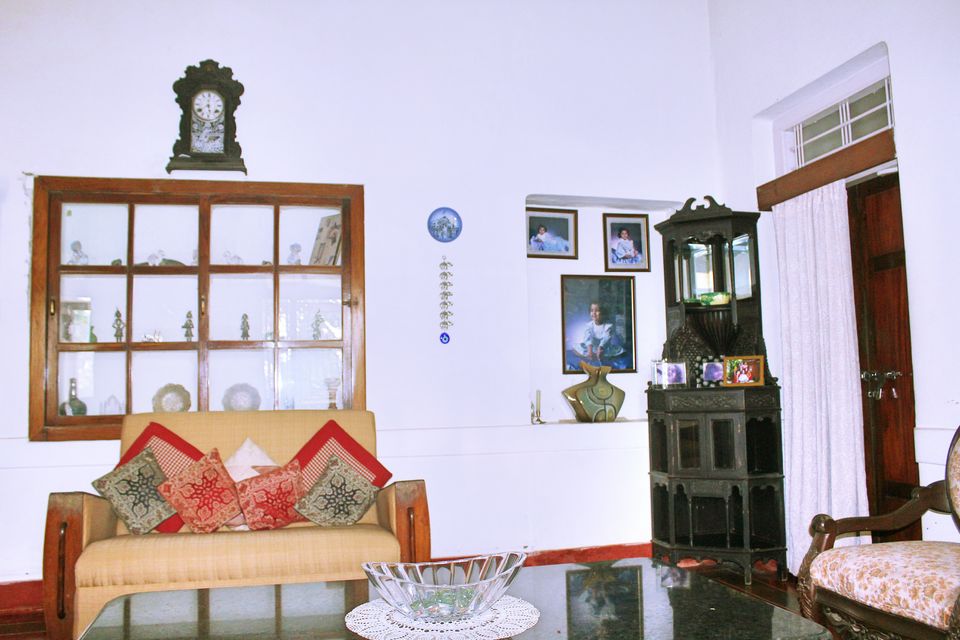 If you are in Thirthahalli and are looking for a home stay that can offer the best prize with good food and ambience and a home away home along with all the tourist attractions like water fall, temple, sunset amidst thick forest, and a visit to the home of the biggest Kannada poet Kuvempu, then you have to select HighPoint Home stay which will easily fulfill all the above requirements in one go. This home stay was built around 1950's and resembles an architecture of Malnad region from inside or can be also called as Thotti mane. The property is just a few meters of distance from Soppugadde bus stop and around 500 meters from the main Thirthahalli bus stop. Thirthahalli can be reached by 60 kms from district headquarters buses plying almost at every time of the day.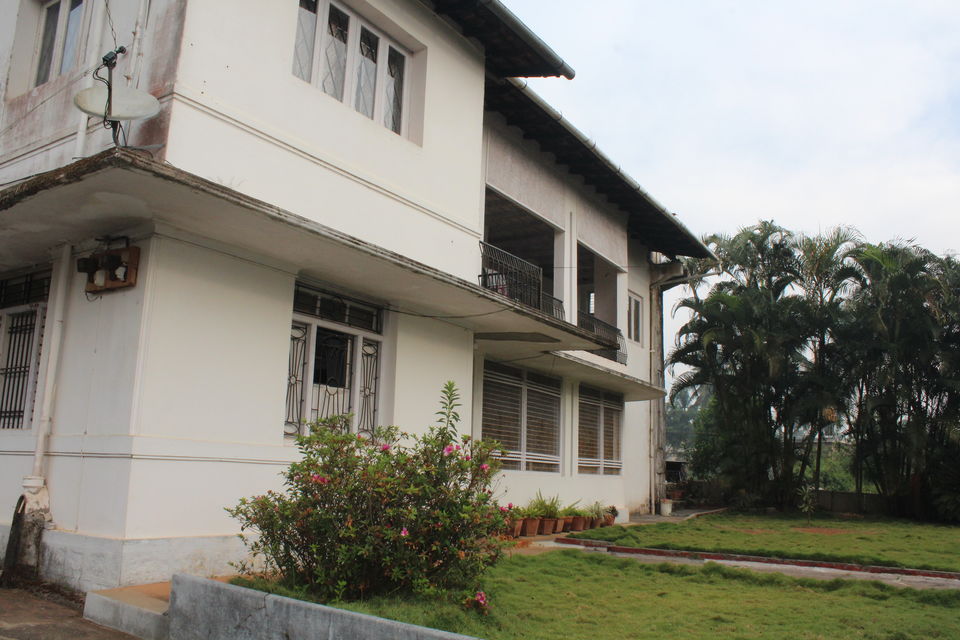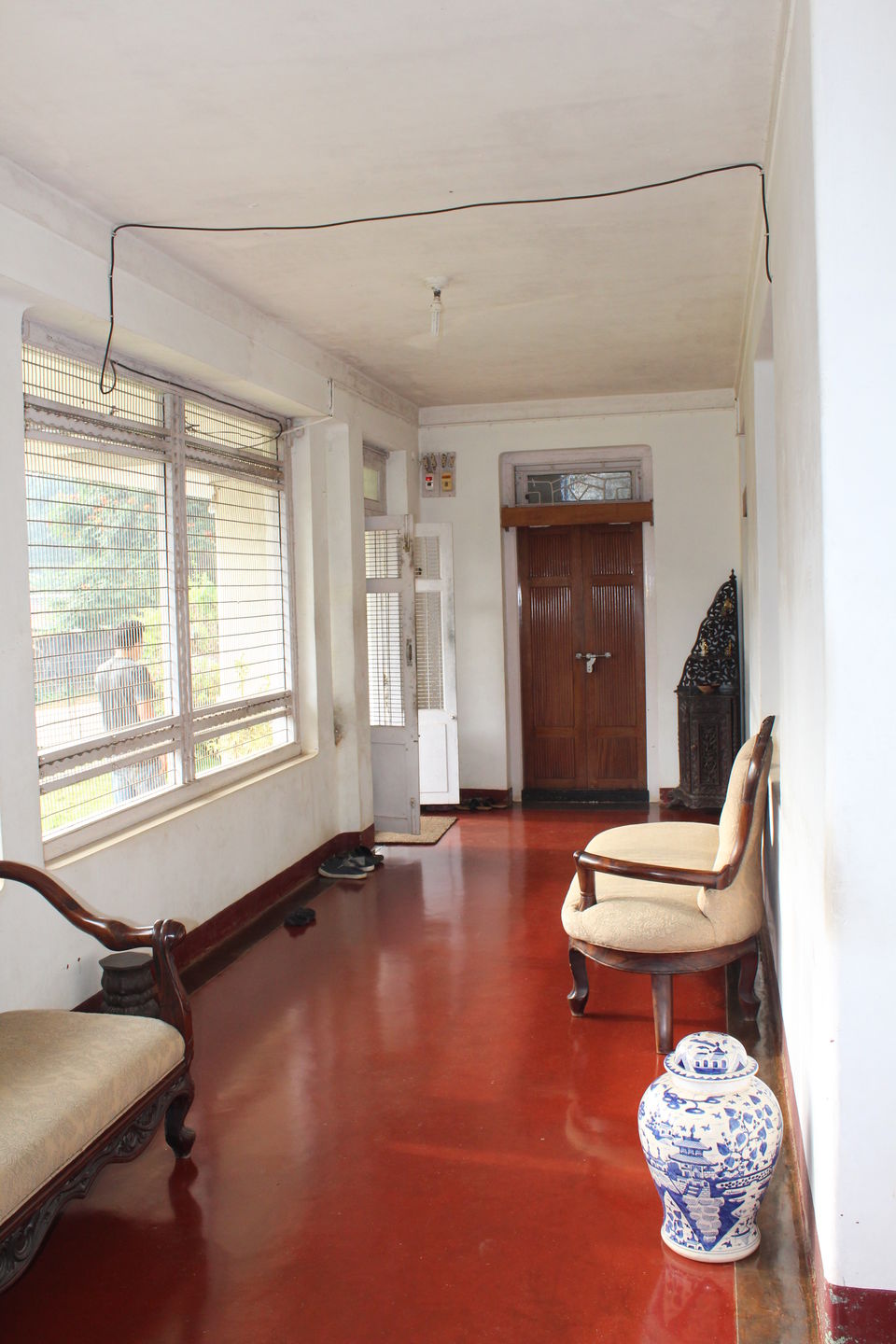 The home stay has a normal entrance, a few meters high from the road level and from outside it looks as a normal house in the stretch. But once you are inside the old architectural style of home just opens itself which gives a grandeur look and takes you 5 decades into the past. The wooden work inside the home stay was tailored with elegance and it displayed the art with a good taste of the couple who owned the property. The home is of 2 floors and the ground floor is entirely used by the owner and his family with an extra room in the entrance for any individual tourist, and the second floor entirely is for the purpose of renting out for guests. The whole building has a red oxide floor which is very rare now a days in any home. The ground floor has a common area with a TV and seating arrangement for more than 10 people and a numerous artifacts, few hanging on the walls all around and few standing straight in the corners of the walls. Once you cross this area you are welcomed by a Thotti (pond) that is open to sky and surrounded by a courtyard with a Thulasi pot in the middle. The open yard allows itself a huge amount of sunlight into the house and it gives a pleasant feel with coconut trees around with a chirping of birds soothes your senses occasionally. There is a place of worship adjacent to the entrance towards left which is also kept in its old style with a Veena used by the ancestors of that home. One can just sit around this courtyard and embrace the sunlight with a novel to read and know no count of time. Right next to this they have a dining room with a dining table adjacent to the kitchen.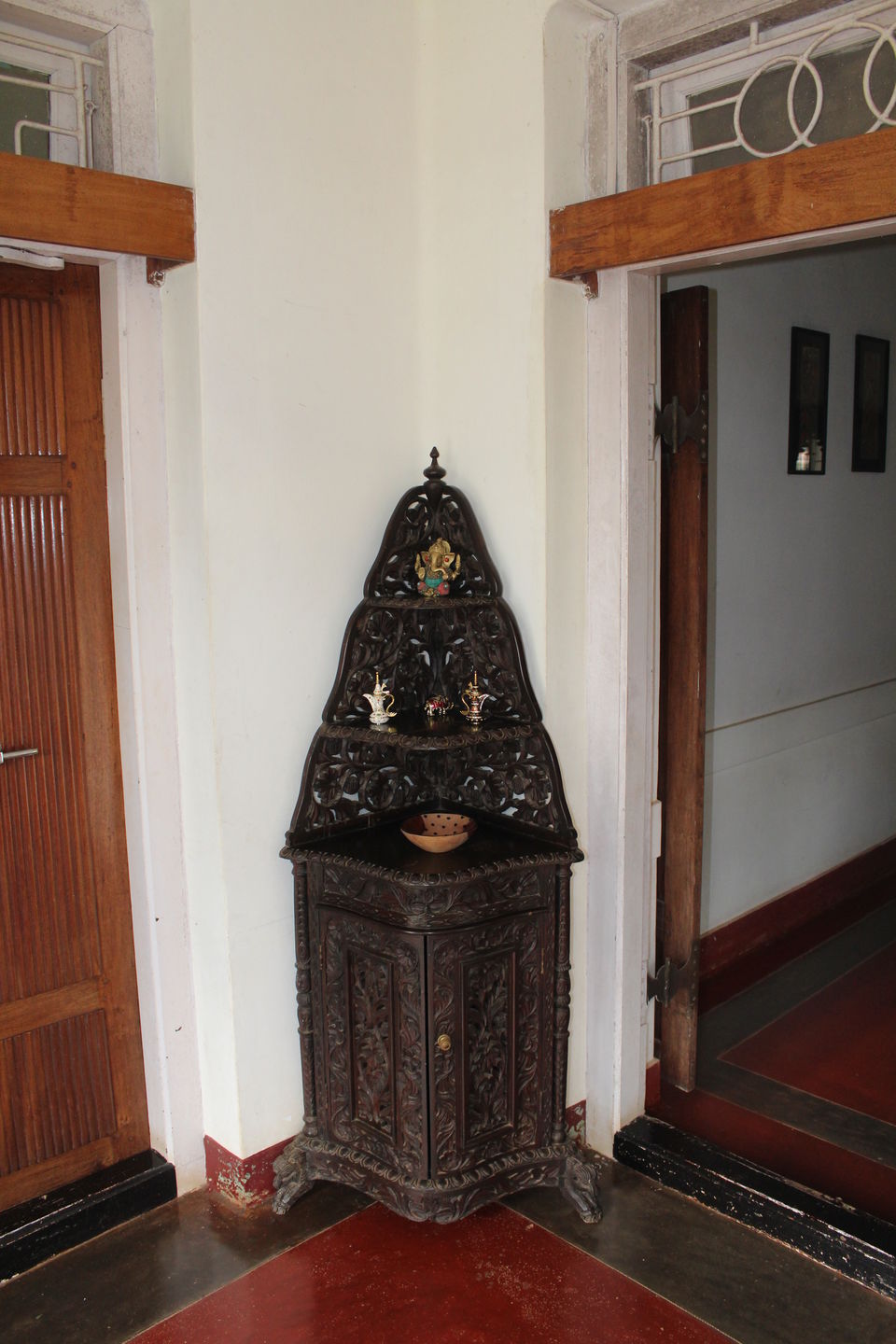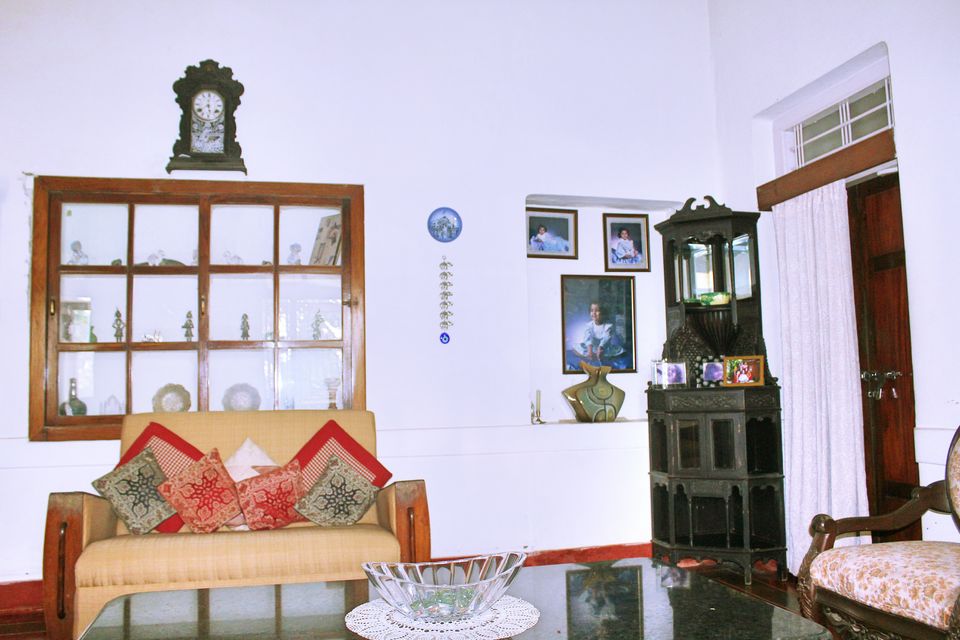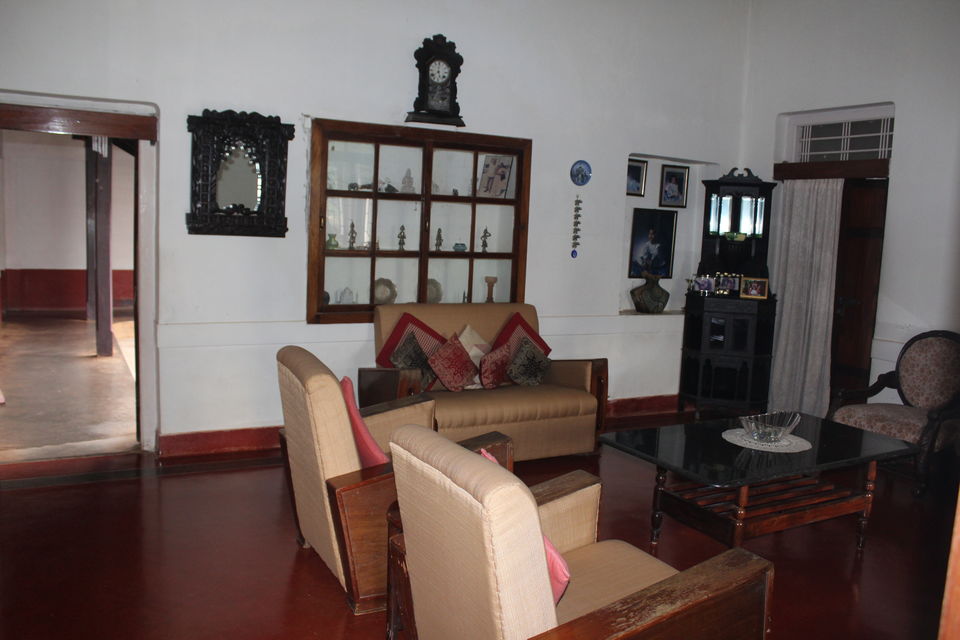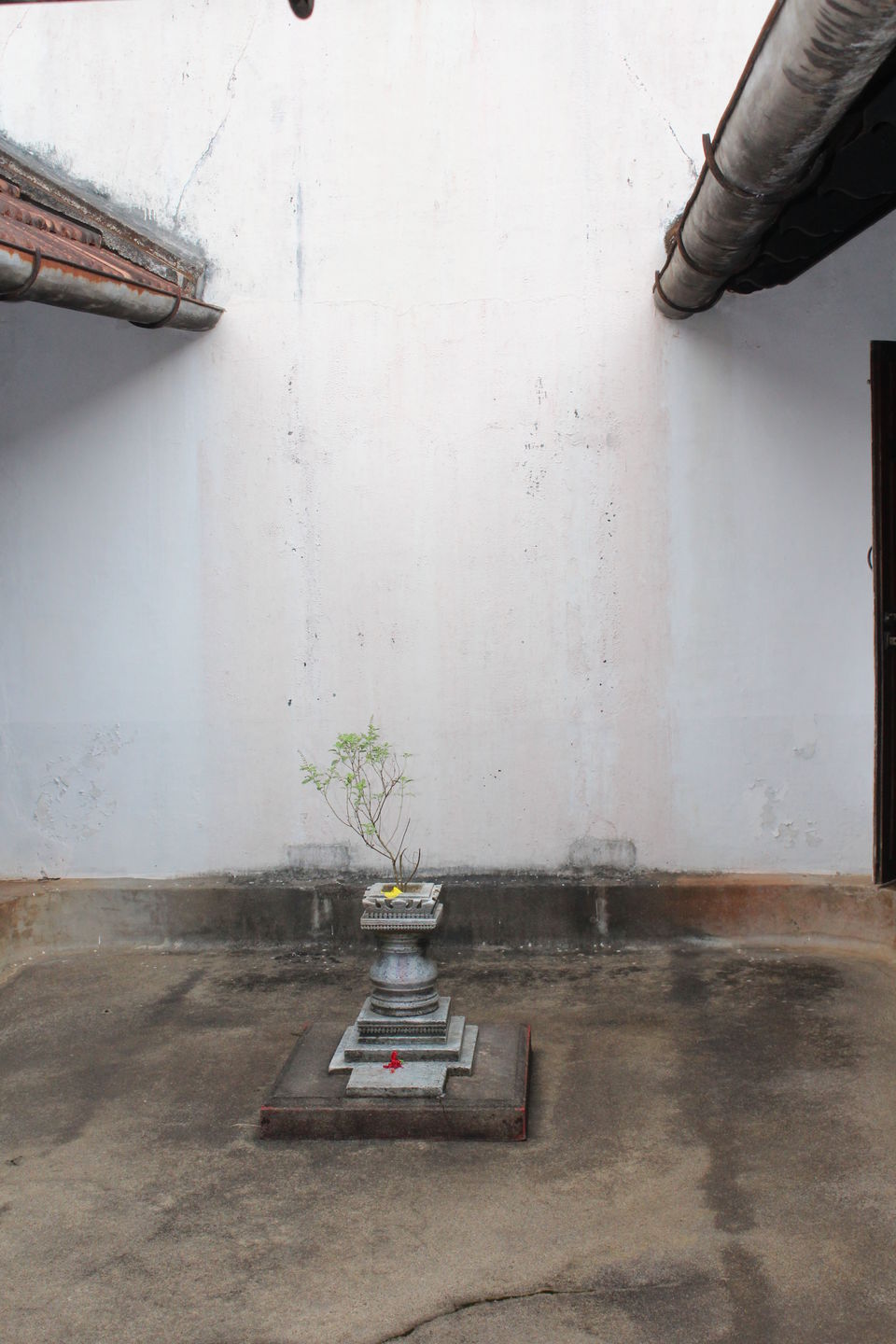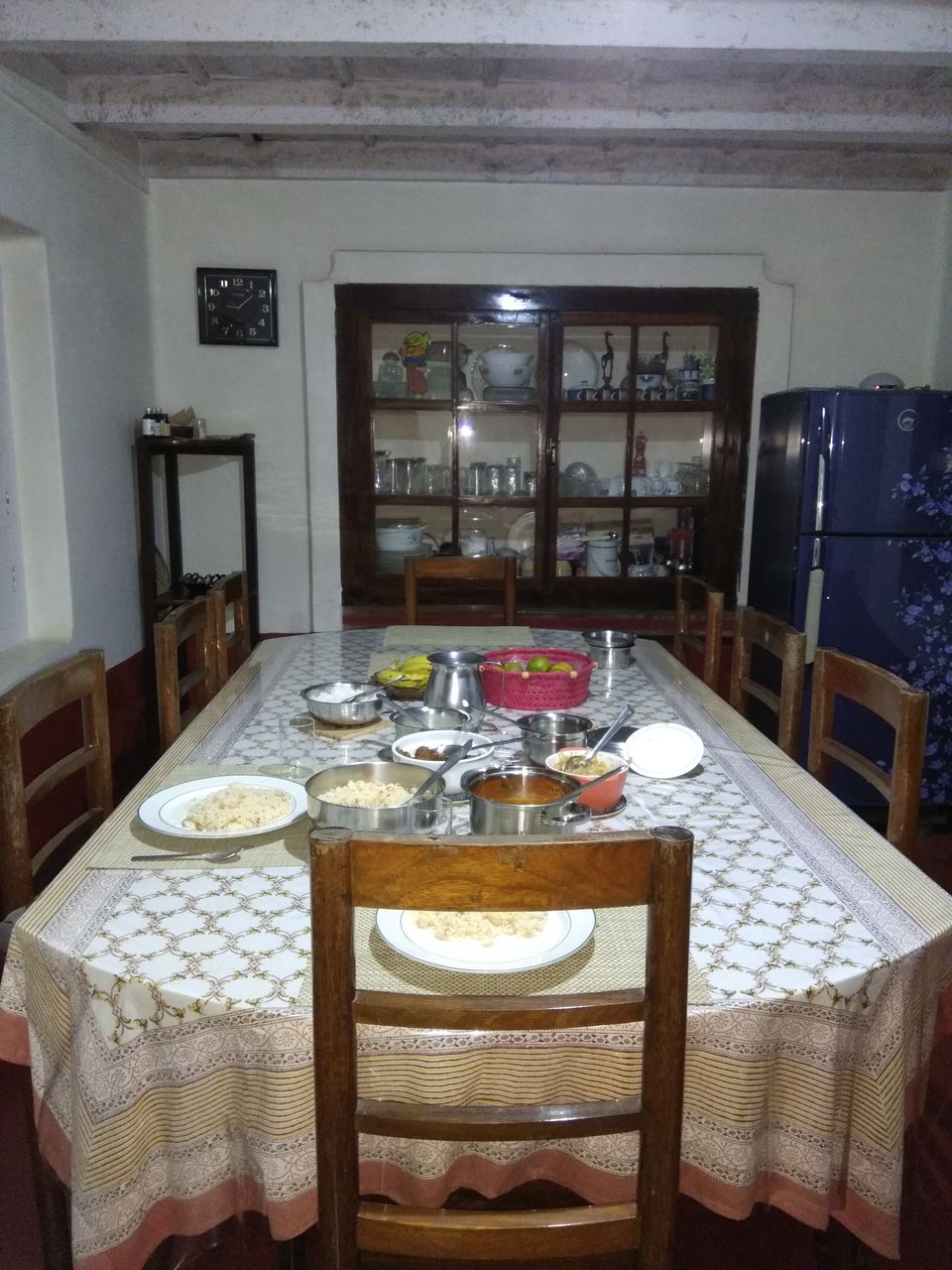 Once having a thorough look in the ground floor, we headed to the next floor which had two bedrooms separated by a small door. This was our place to stay for next two days. Even this floor has a one small separate room with a bed outside the large room. This entire second floor can accommodate up to 10 people easily or two families can stay together in two large rooms. As you enter into the room you are welcomed by a large fireplace with a huge chimney and then the sofa sets remind you of some old palace. This room also has a TV and a double bed on one side. Next comes the cozy large bedroom with a king size bed with an attached bathroom. After having look around the home stay it was time for a breakfast before our plan to roam around Thirthahalli.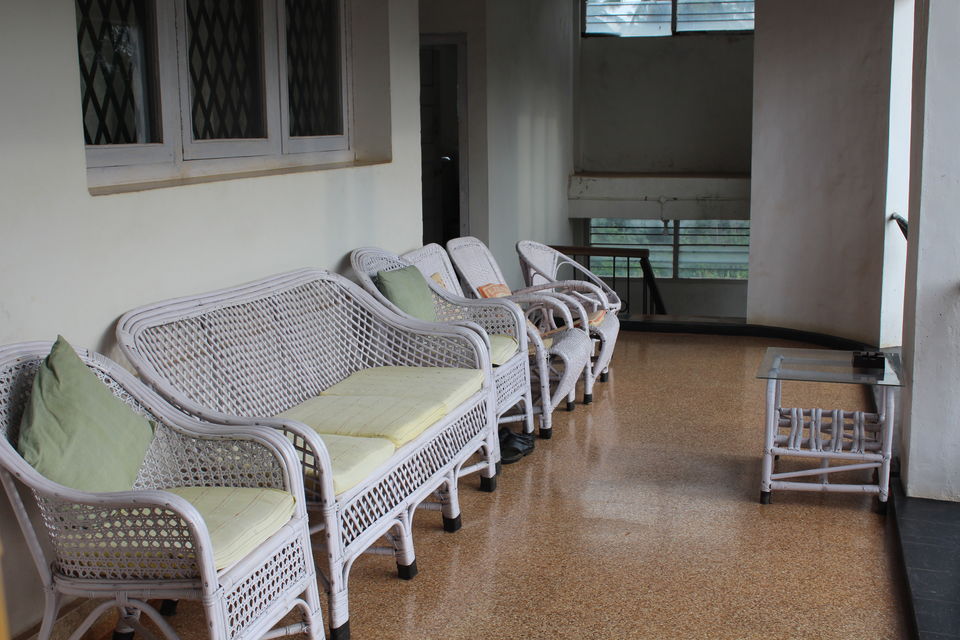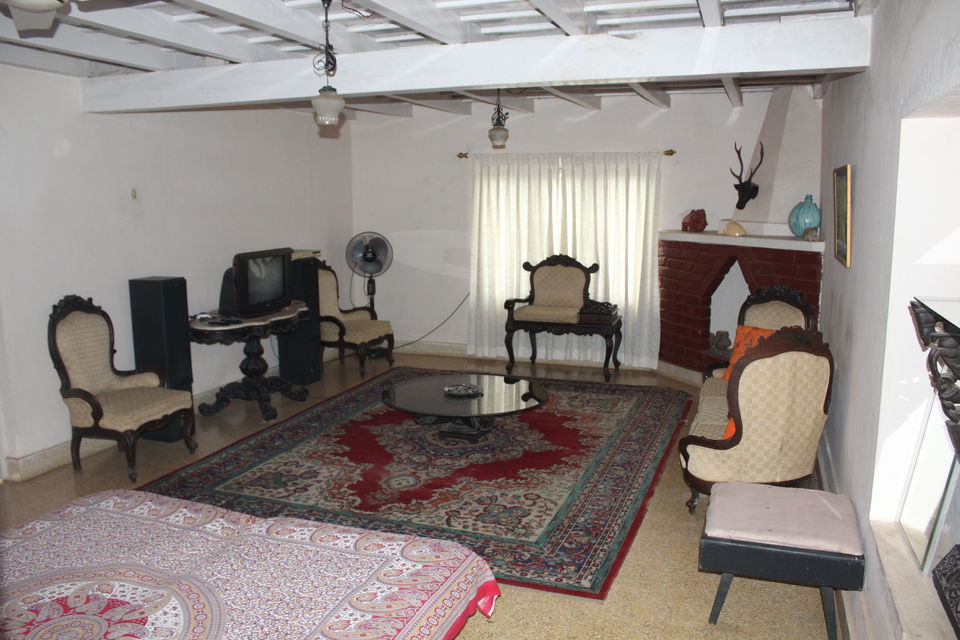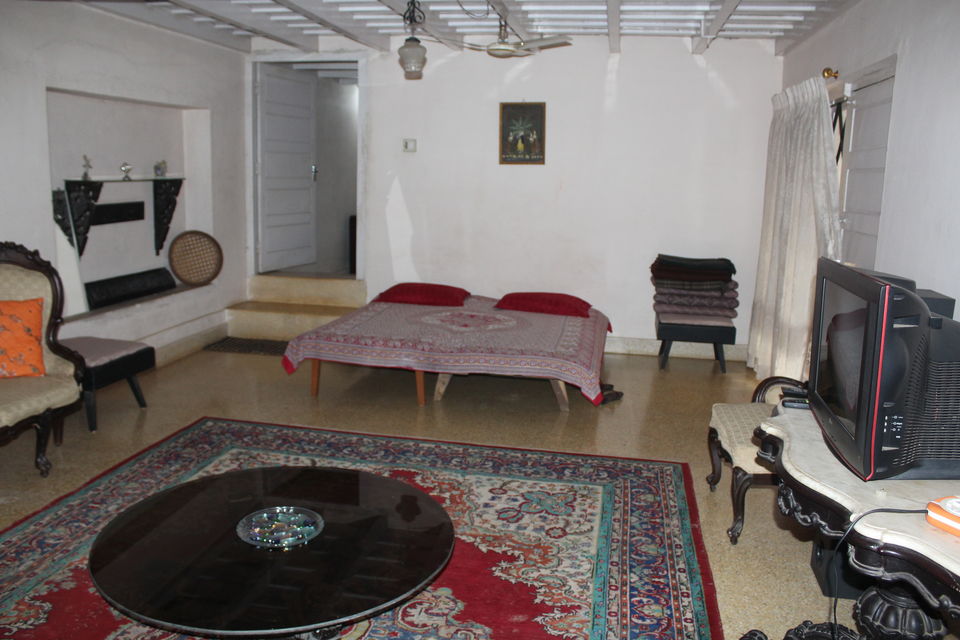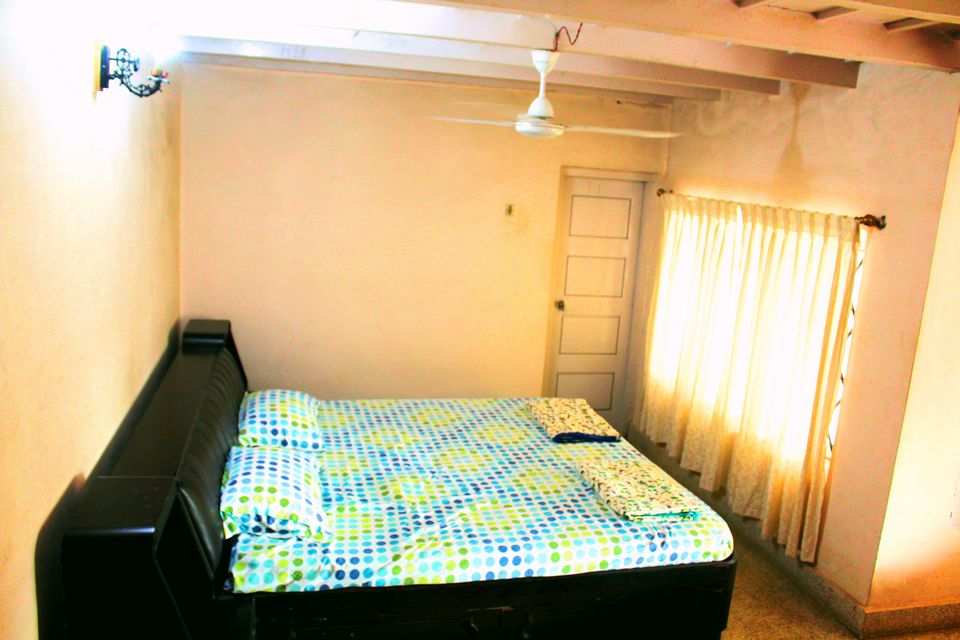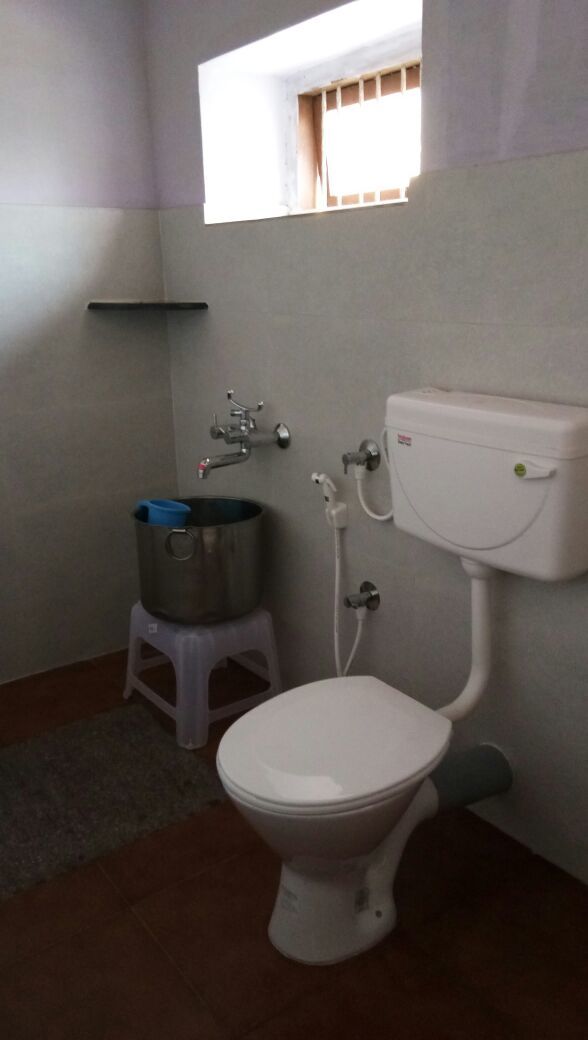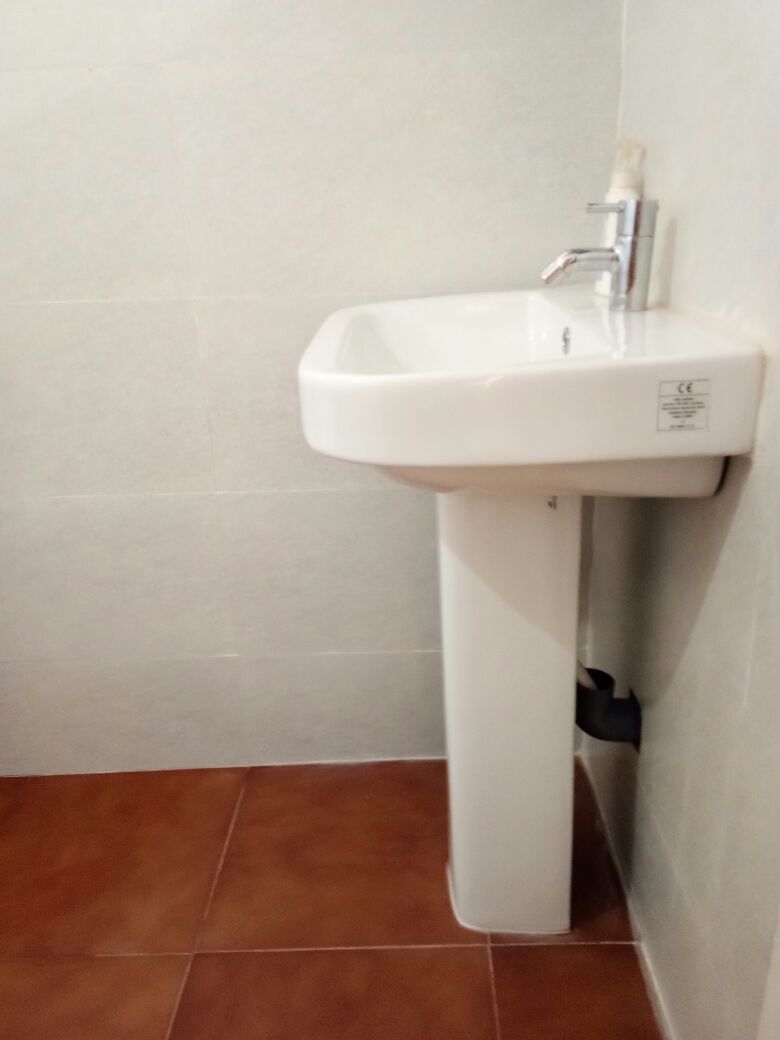 Day 1 :-
It took couple of hours for us to take a small nap and a breakfast by 11 before we left to roam around the attractions near Thirthahalli. The very first attraction was the "Kavimane", the house of a famous renowned poet of Kannada literature none other than Kuvempu (Kuppalli Venkatappa Puttappa). This is the must visit place in Shimoga, being 80kms from the district headquarters and 18 kms Thirthahalli, the taluk headquarters and was the home of Kuvempu for most of his childhood. Today this three-storeyed house is converted into a museum and is called as Kavimane, the house of a poet and is open to public on all the days of a week. As one enters into the compound of Kavimane the light music played in the house welcomes you and every single stone placed alongside the way has poems of Kuvempu etched on them. If you are not well versed with Kannada language it's advisable for you to hire a local guide with you to the house, so that you won't miss important messages given by this poet to the mankind. He is also known for his love towards his language and has given innumerable services to Kannada and Karnataka in his period. He has won prestigious awards like Padma Bhushan to Padma Vibhushan to Jnanapita to Karnataka Rajyotsava awards and many more to name. The ground floor has been kept intact with the old structure of the house with all the photos of the entire family of Kuvempu. The first and second floor of the house is used entirely to display all his awards and books written by him and also numerous books written on this Mahan Chetana from many other renowned poets. This place will leave you speechless and enchanted with its beauty and also the location along with the hundreds of collections of Kuvempu's belongings. One can also buy several works written by poet in various volumes in the store available at the entrance of the house. After spending good 90 minutes inside the home trying to grasp as much as information possible in memory as photography is prohibited inside the museum, our next visit was to the place called Kavishaila.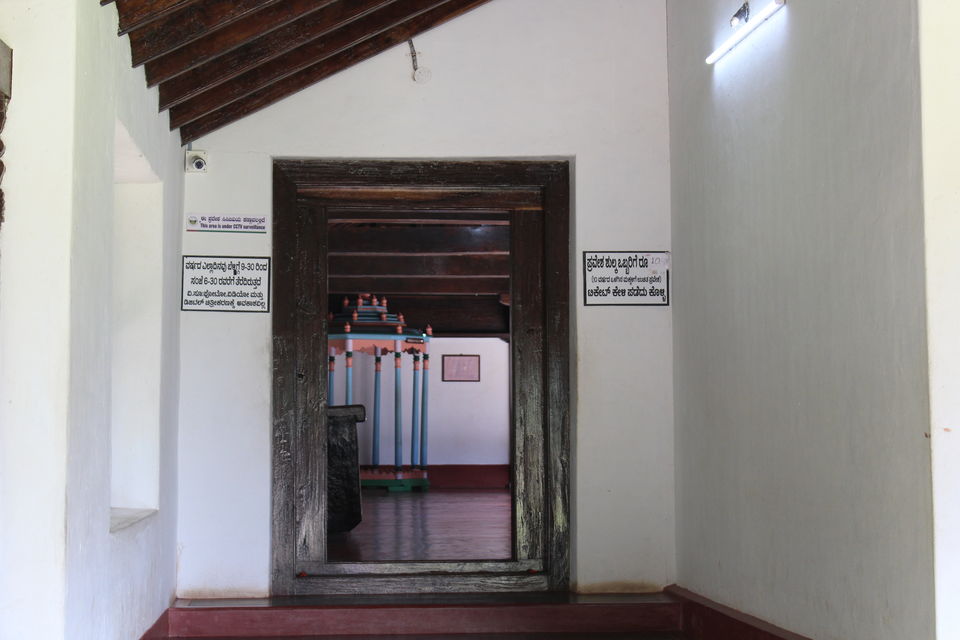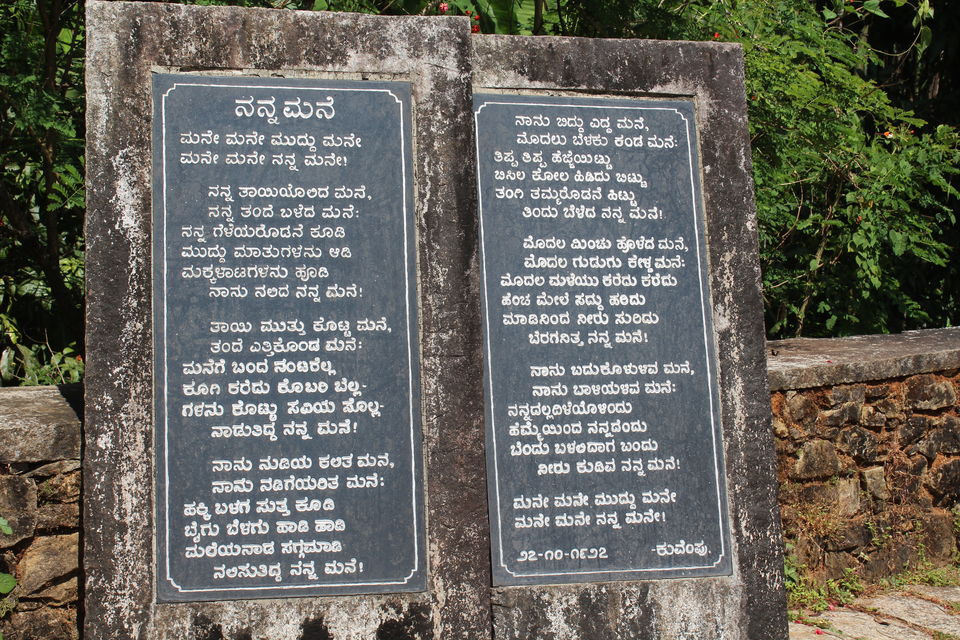 Kavishaila is a megalithic rock monument dedicated to the poet which is on the top of a small hill located little far from Kavimane. This structure resembles Stonehenge in England and the center of this rock is the place where the Kuvempu was laid to rest after his death. The complex also contains various granite stones with the poems of Kavi carved on them. A small rock can be found on this hill where the poet used to sit and discuss about literature with his other poet friends. The view from this place below is simply magnificent and also proves that this was a place where the great poet used to witness sunsets and used to write poems and literatures in his days. It was too hot here in the noon and we soon climbed down for the next visit to the memorial of Purnachandra Tejasvi, Kuvempu's son who himself was a renowned poet and also a best photographers of his time.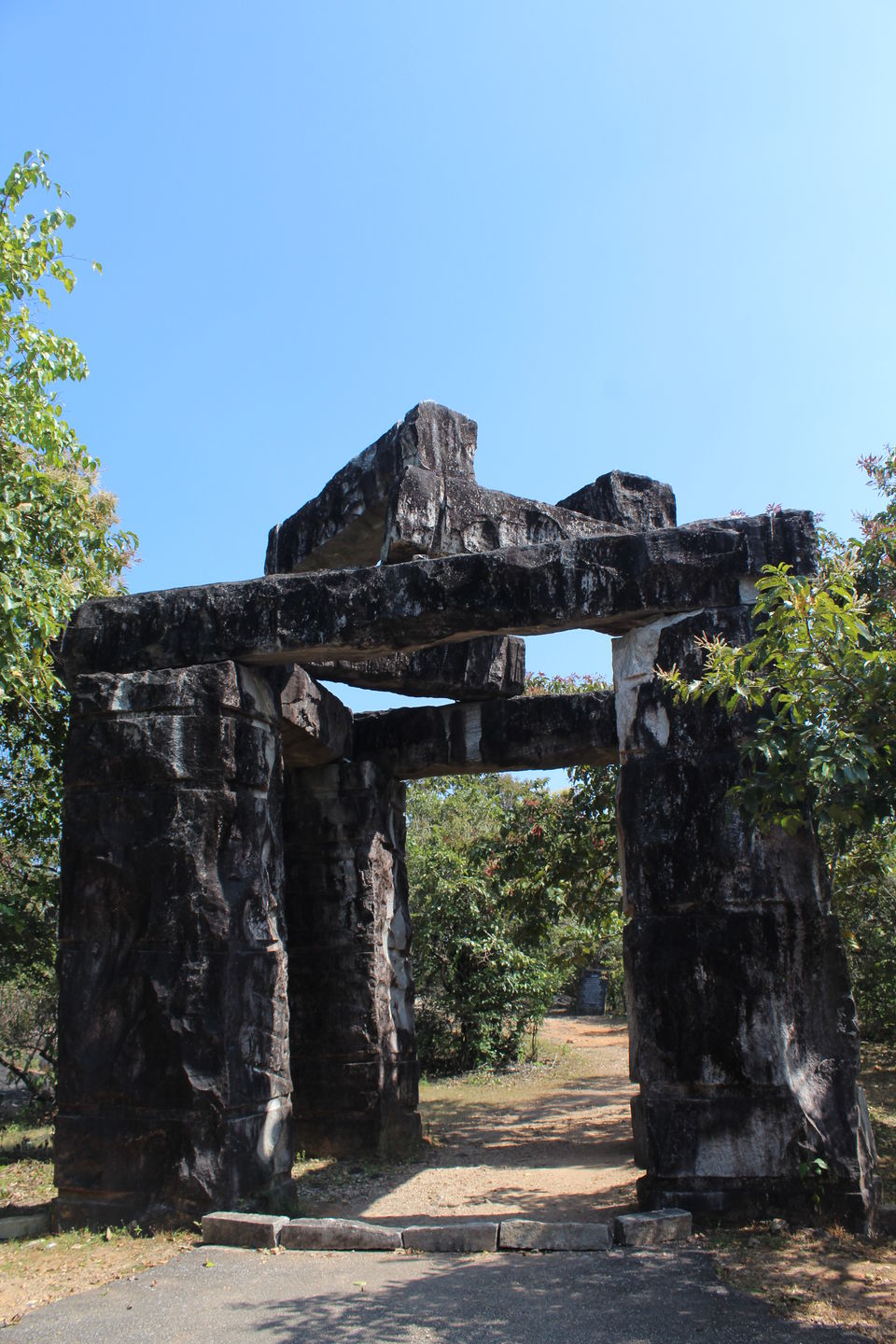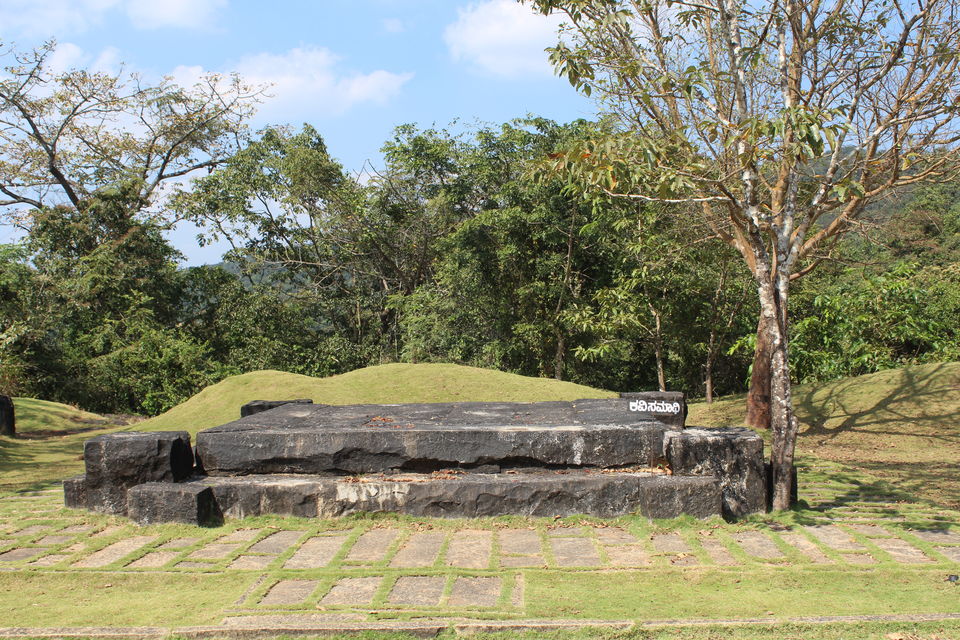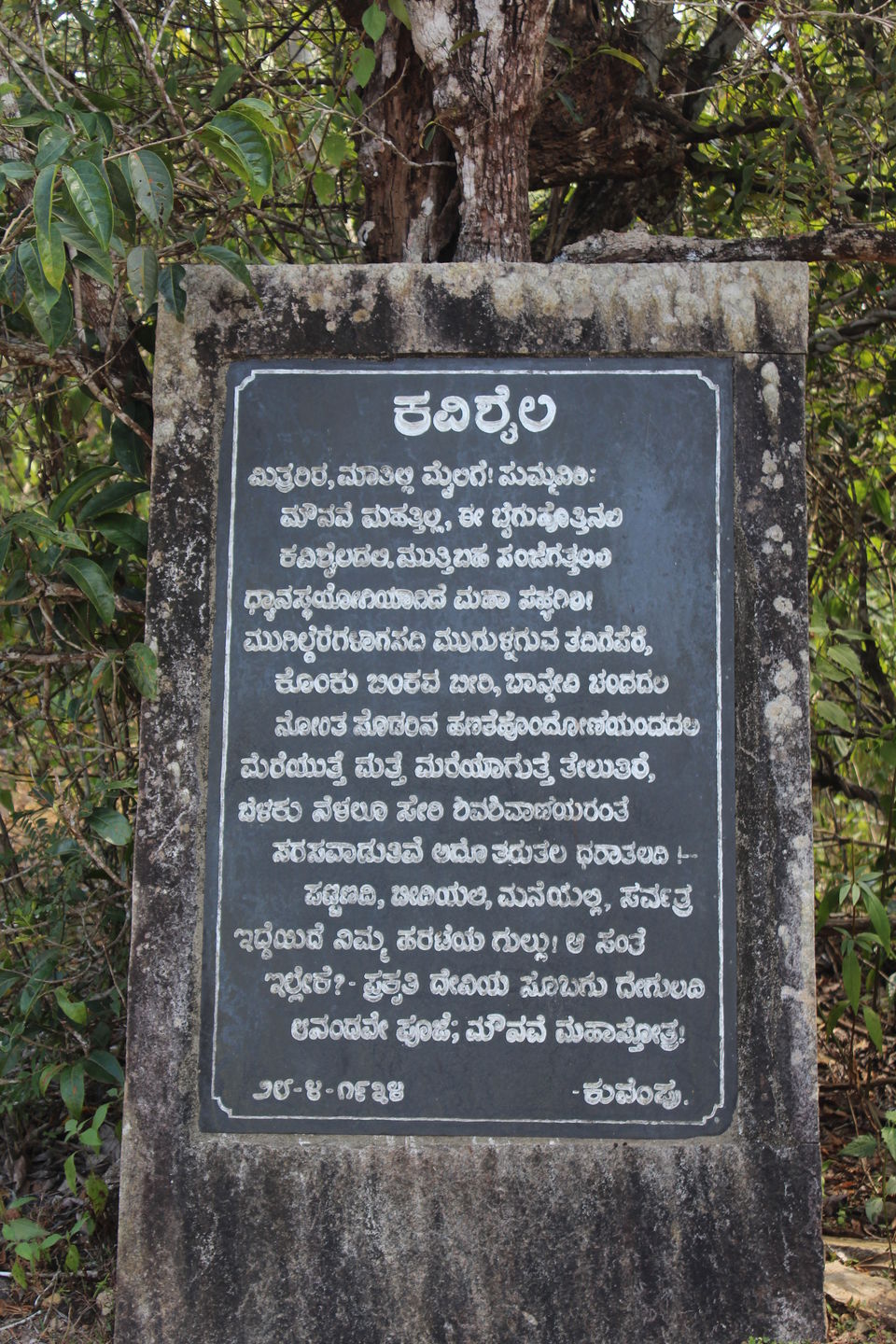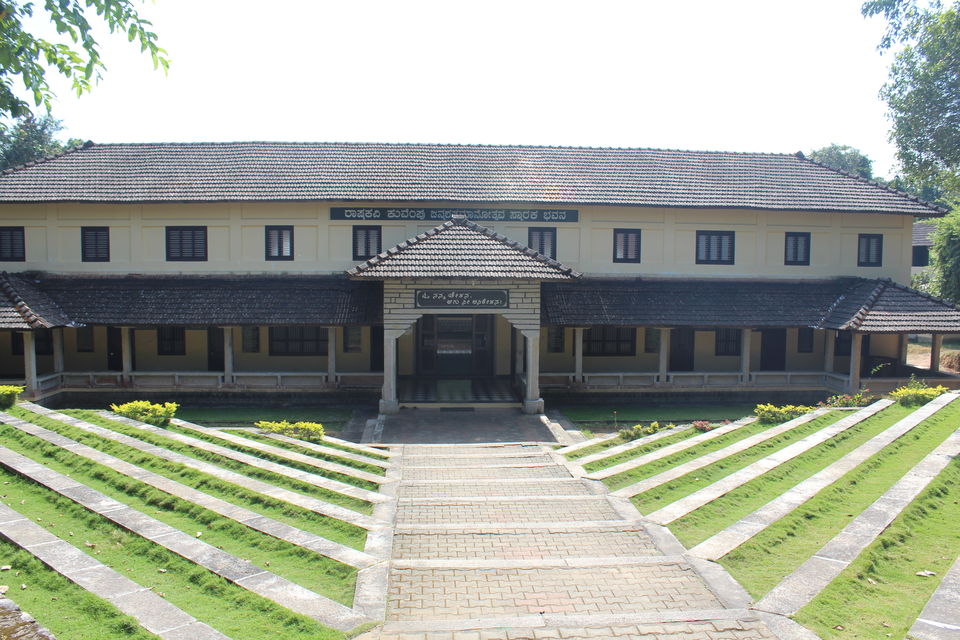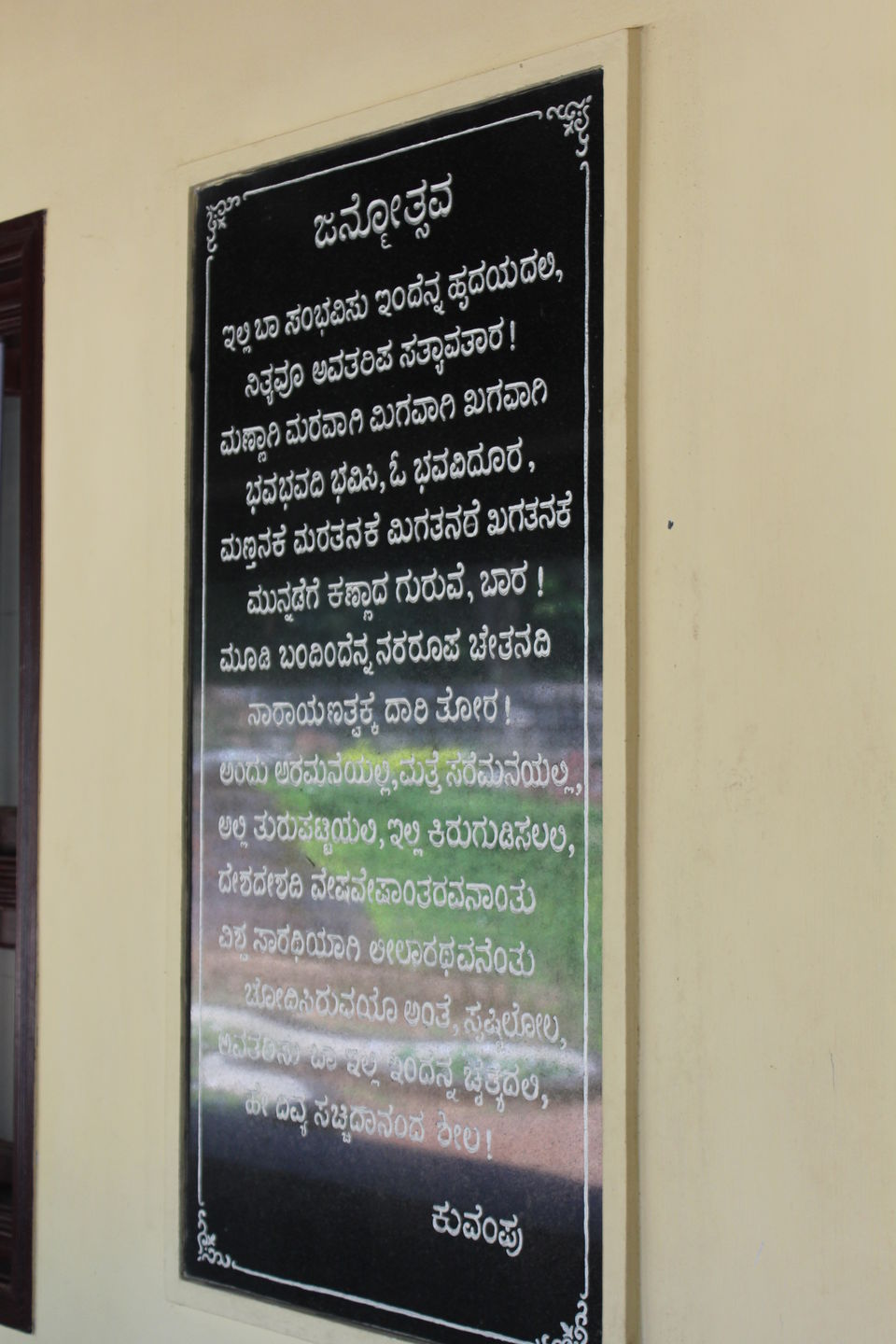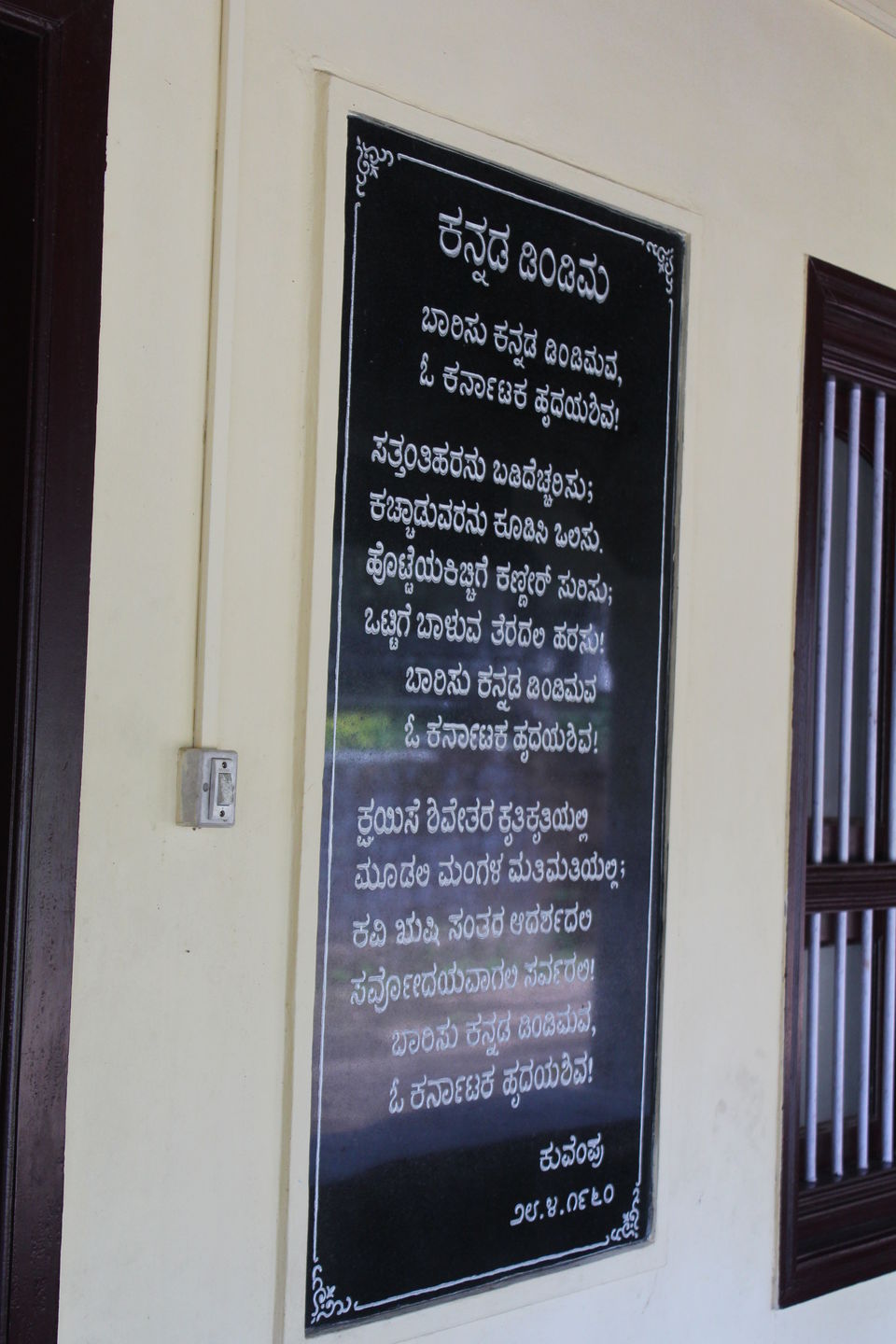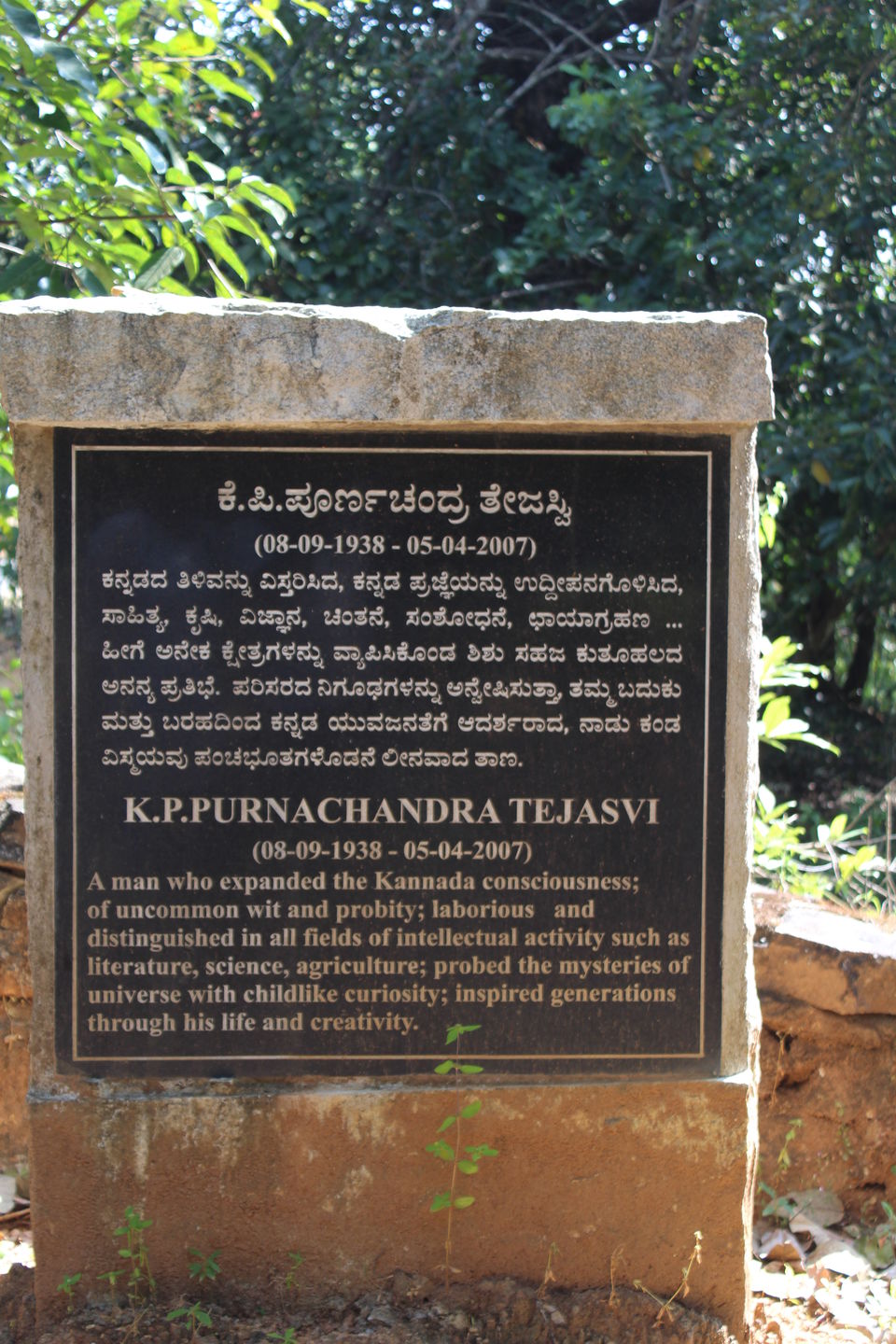 Once done with all the visit to the marble slabs exhibiting the literature and teachings of father and son duo poets we headed towards Chibbalagudde, the place which has a Vinayaka temple and stairs leading down to the banks of river Tungabhadra where one can feed numerous fishes in Matsyadhama.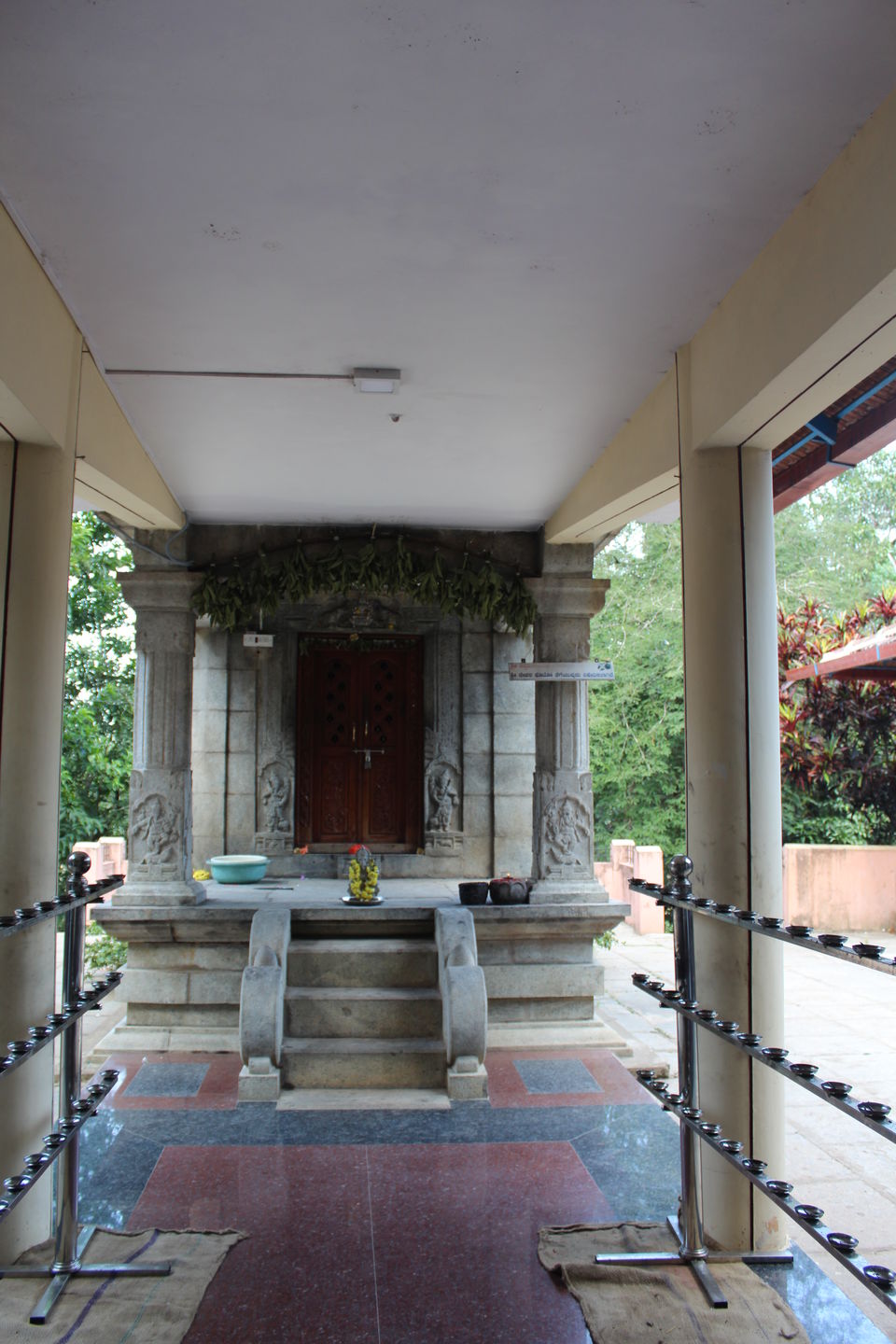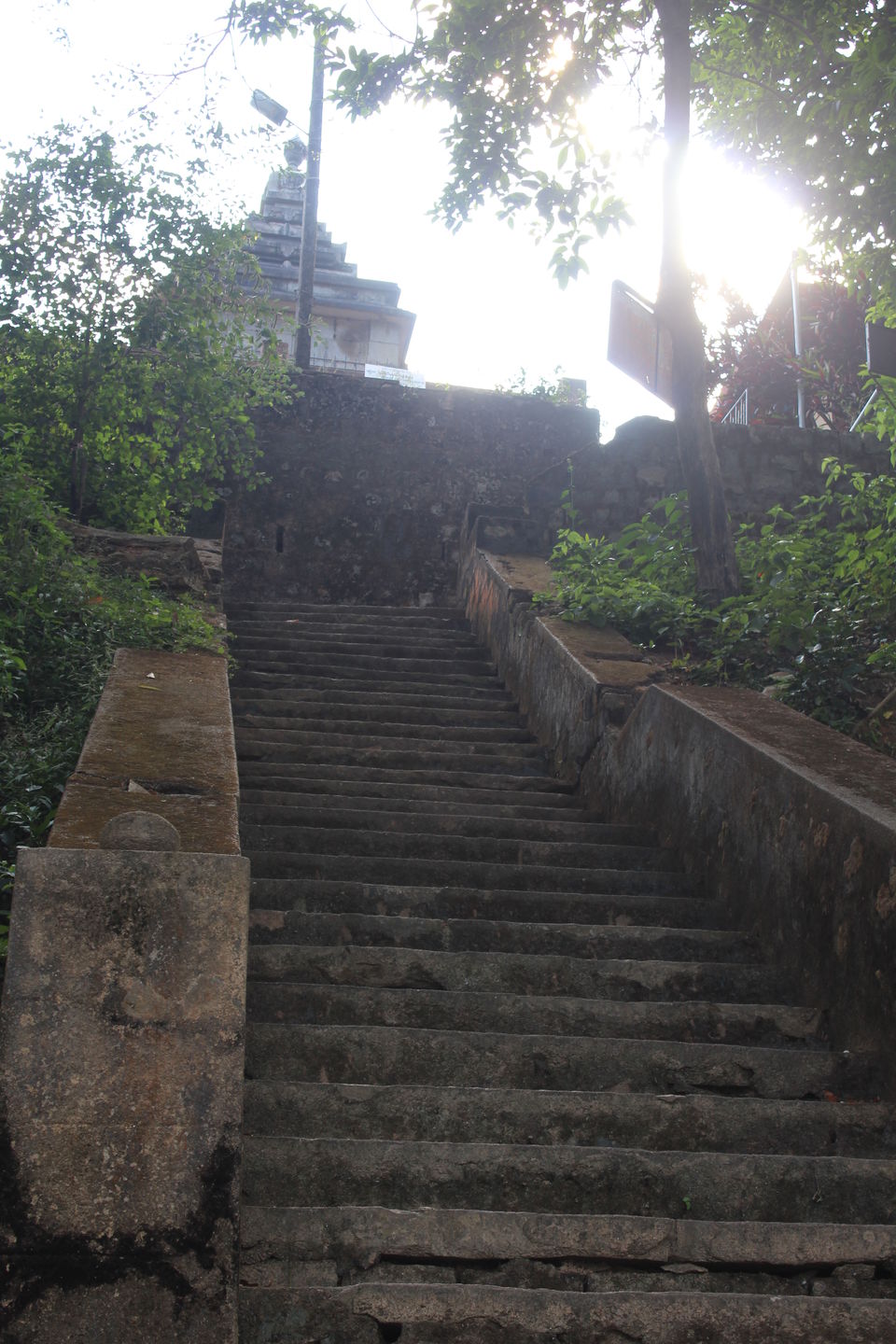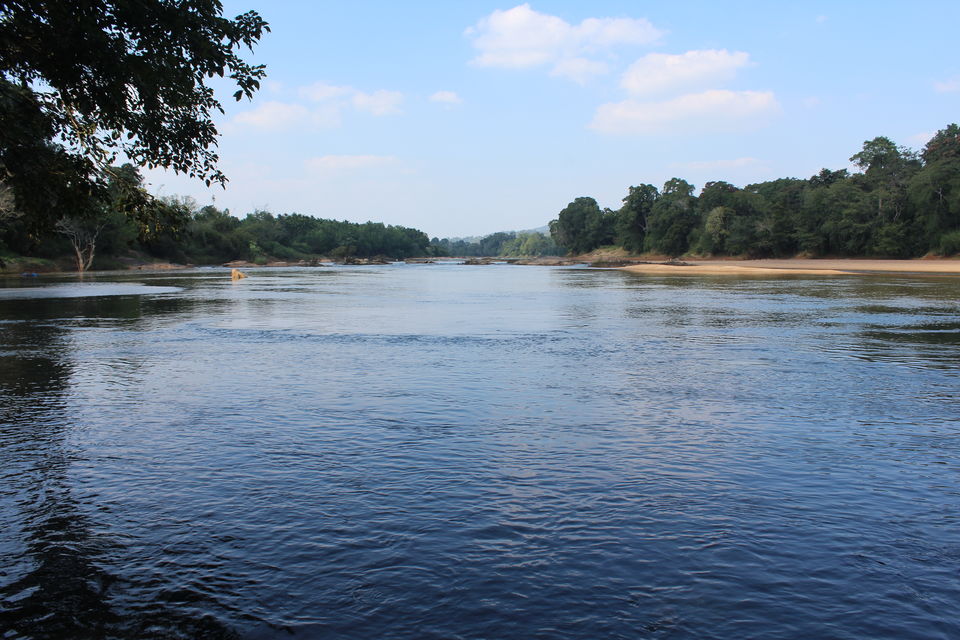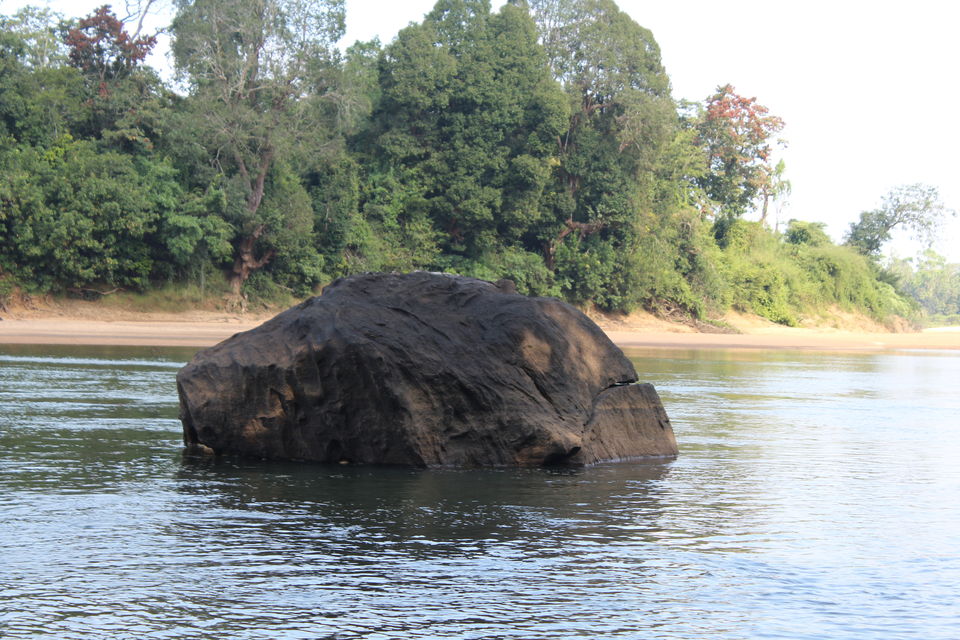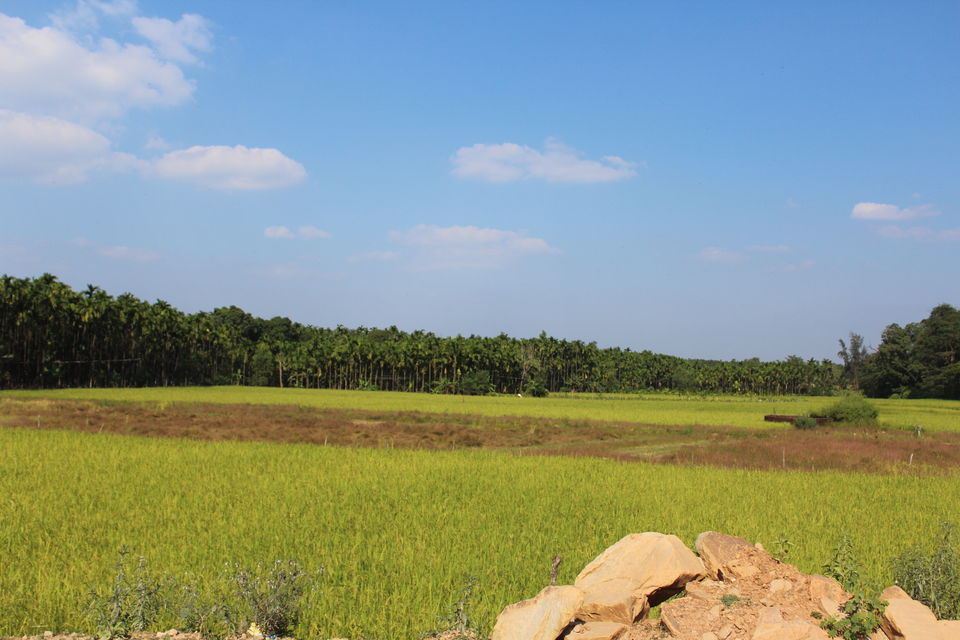 We spent hardly 20 minutes feeding fishes there and then left to the infamous Agumbe, one of the highest sun set point in Karnataka. This view point is located on the Udupi-Agumbe road, 10 kms from Agumbe headquarters. It was 5.30 p.m. and the sun was on his way to set, but we were unlucky after a certain point of time as clouds started forming on the Western Ghats reducing our chances of witnessing a sunset that day. With a tea and a Bhel Poori we left for the homestay, and it took an hour for us to reach Thirthahalli.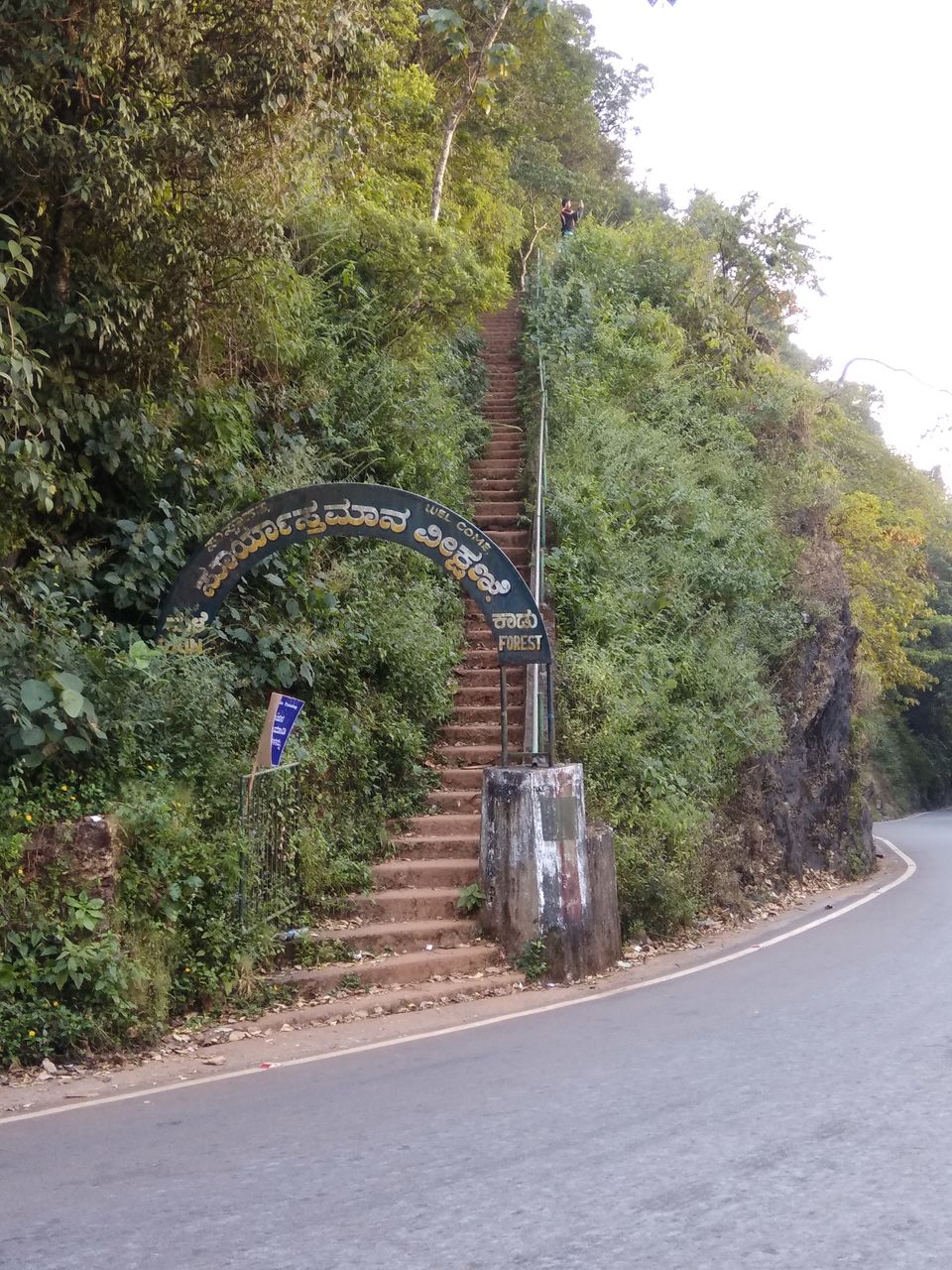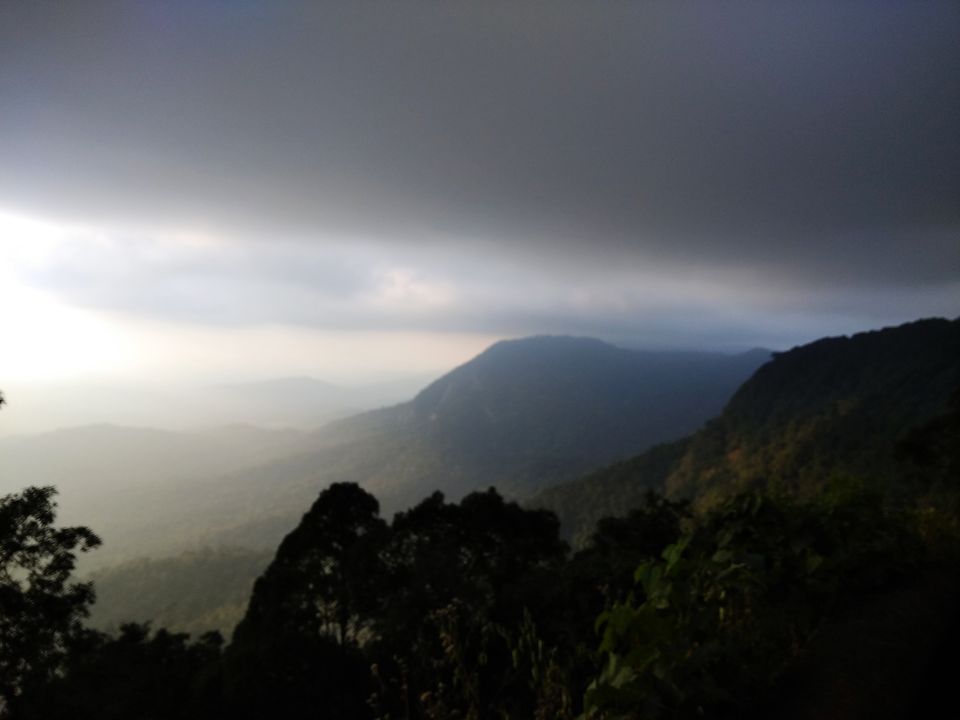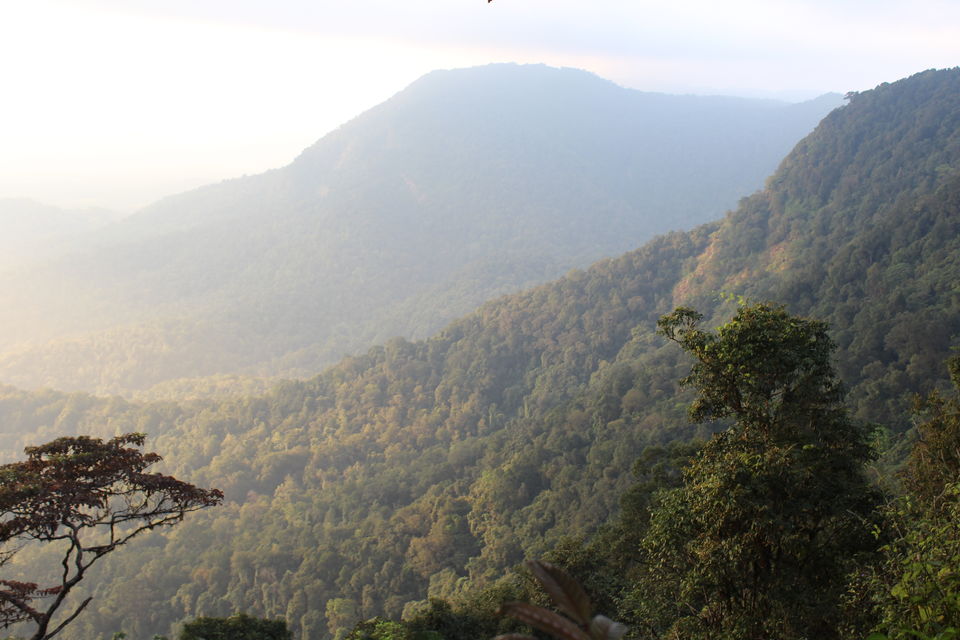 That night we were served an authentic Malnad dinner with a fish caught from Tungabhadra. The dinner was sumptuous and post dinner we had a walk around the area as it was also safe and the fresh air was an added advantage at the night.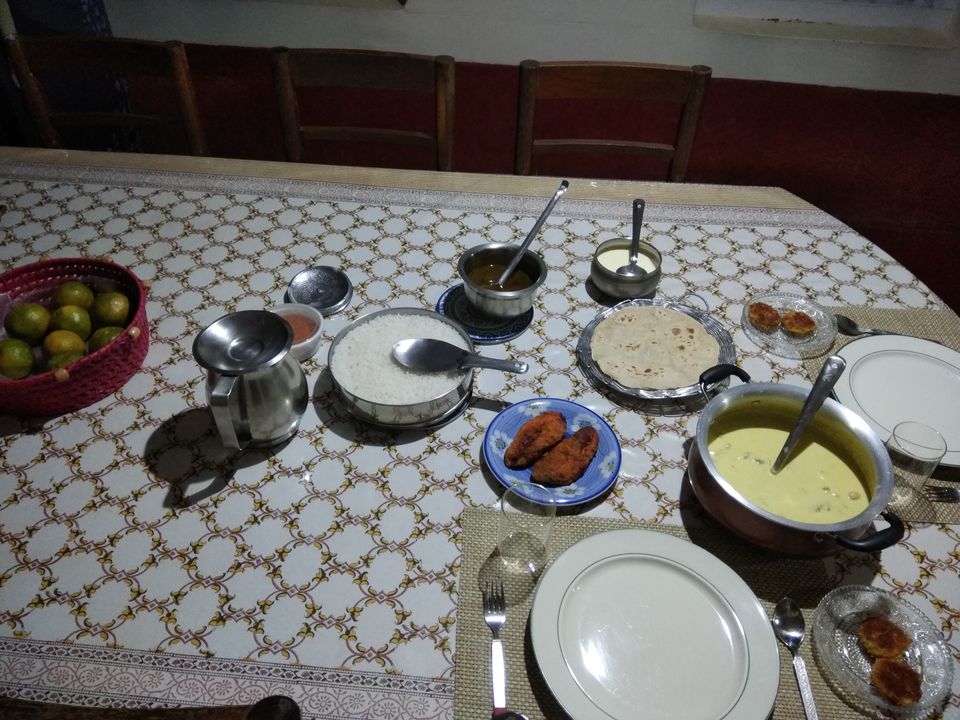 Day 2:-
On the first day in Thirthahalli we travelled around in a rented auto for 400 rupees, but today we had to try a local transport in Shimoga. After a tasty breakfast of Idli and chutney we had to leave home stay by 7.30 to catch a bus to Sringeri, this is located 50 kms from Thirthahalli, and 86 kms from Chikmagalur and it took us 2 hours to reach the temple premises. This was the first Sri Sharada Matha built by Adi Shankaracharya and is 1200 years old.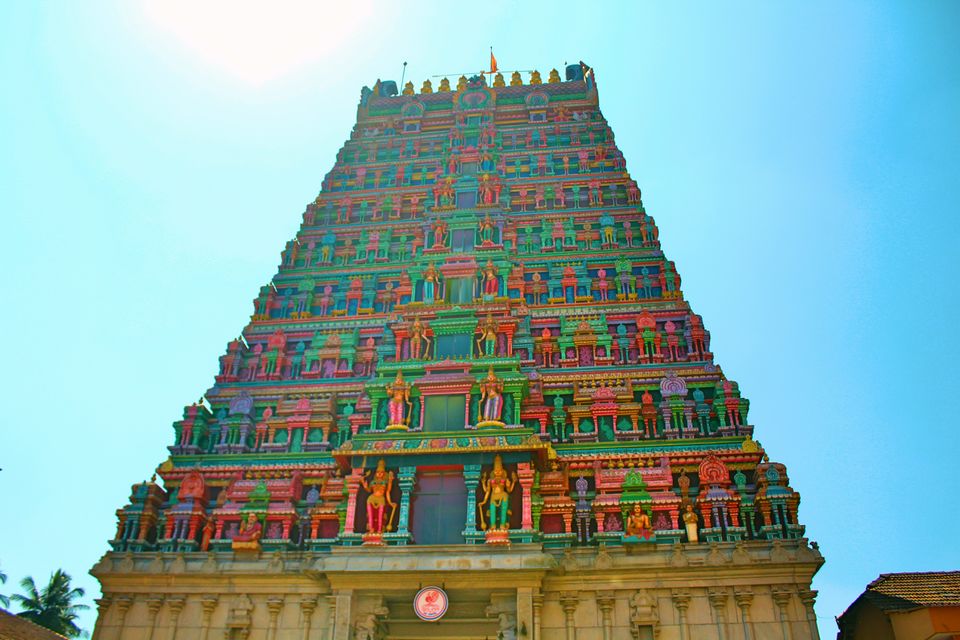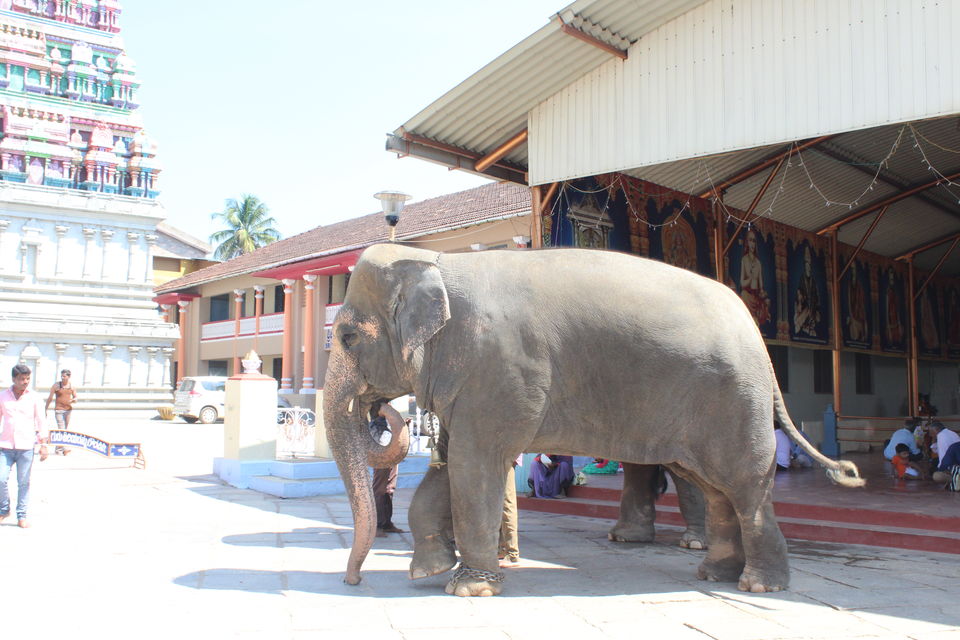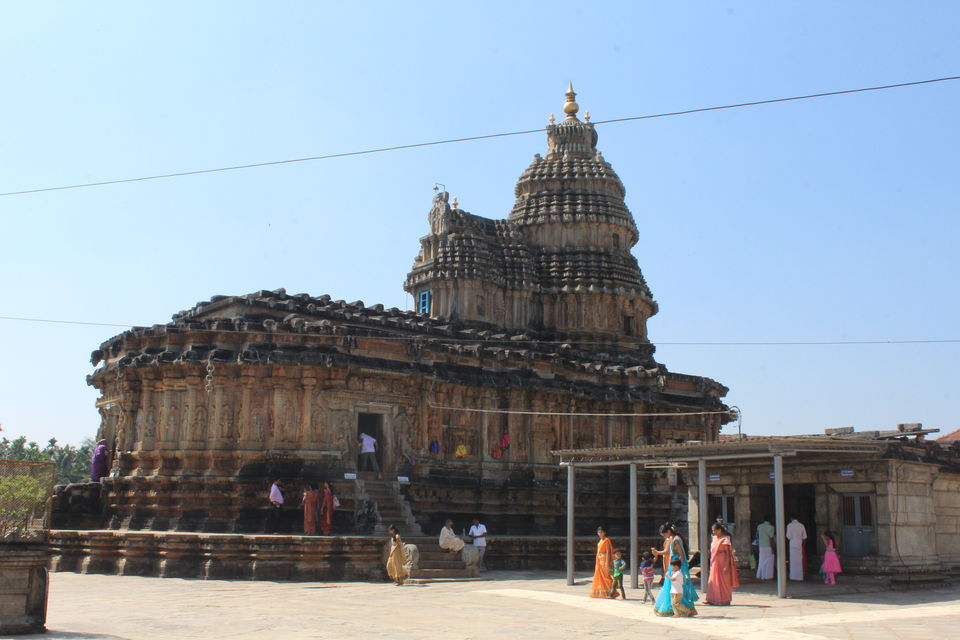 The Vidyashankara Temple in this complex was built by Vidyaranya and has a combination of Hoysala and Vijayanagara architectural features. The monument was encarved in both Hoysala and Vijayanagara periods and was built in 1338 A.D. The premises outside the temple has numerous mythological carvings of Indian history and the inside premises are filled with 12 pillars which symbolizes the 12 zodiac signs and reminds the belief of Hindus towards these. One would easily need an hour to closely observe the architectural marvel and its features which has been built by stone. We witnessed the Maha Arathi which is performed every day from 10.15 to 10.45 in the morning by his holiness Sri Bharati Tirtha Mahaswamiji himself and then had a visit around the temple premises for an hour or so. Later by 12 p.m. anna Prasadam was served for the devotees who had come from various parts of Karnataka as a daily ritual.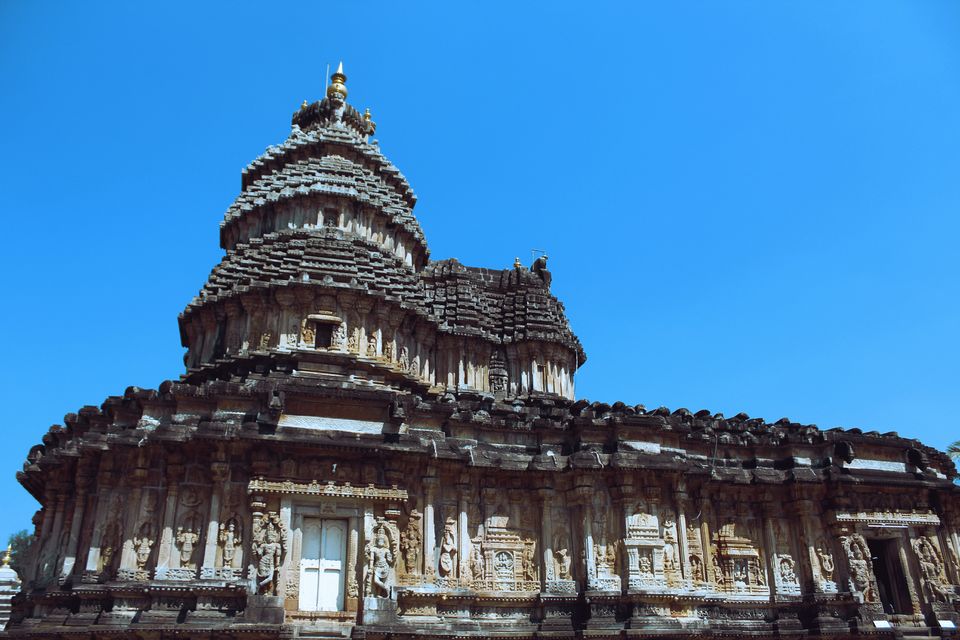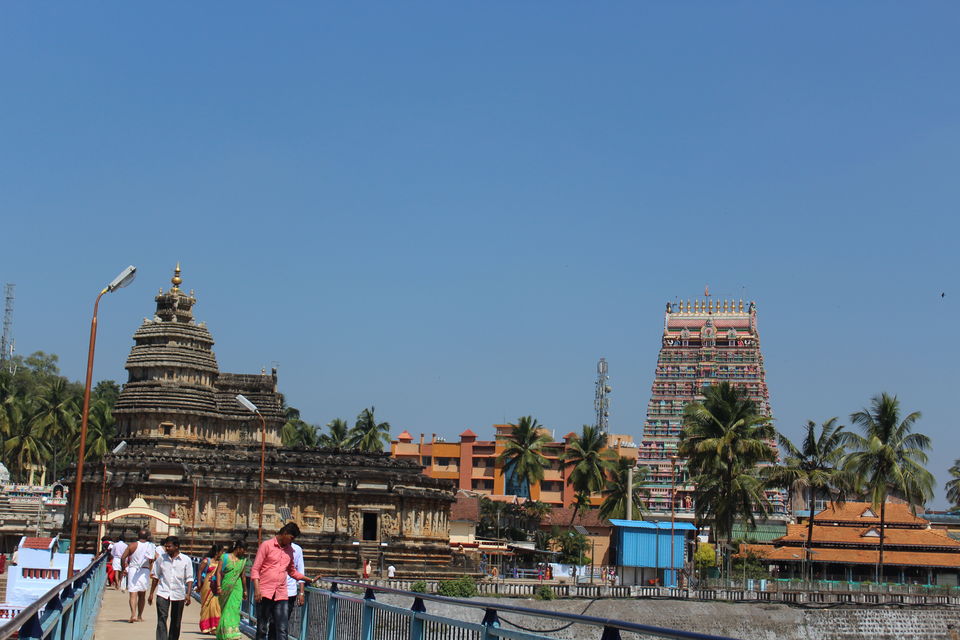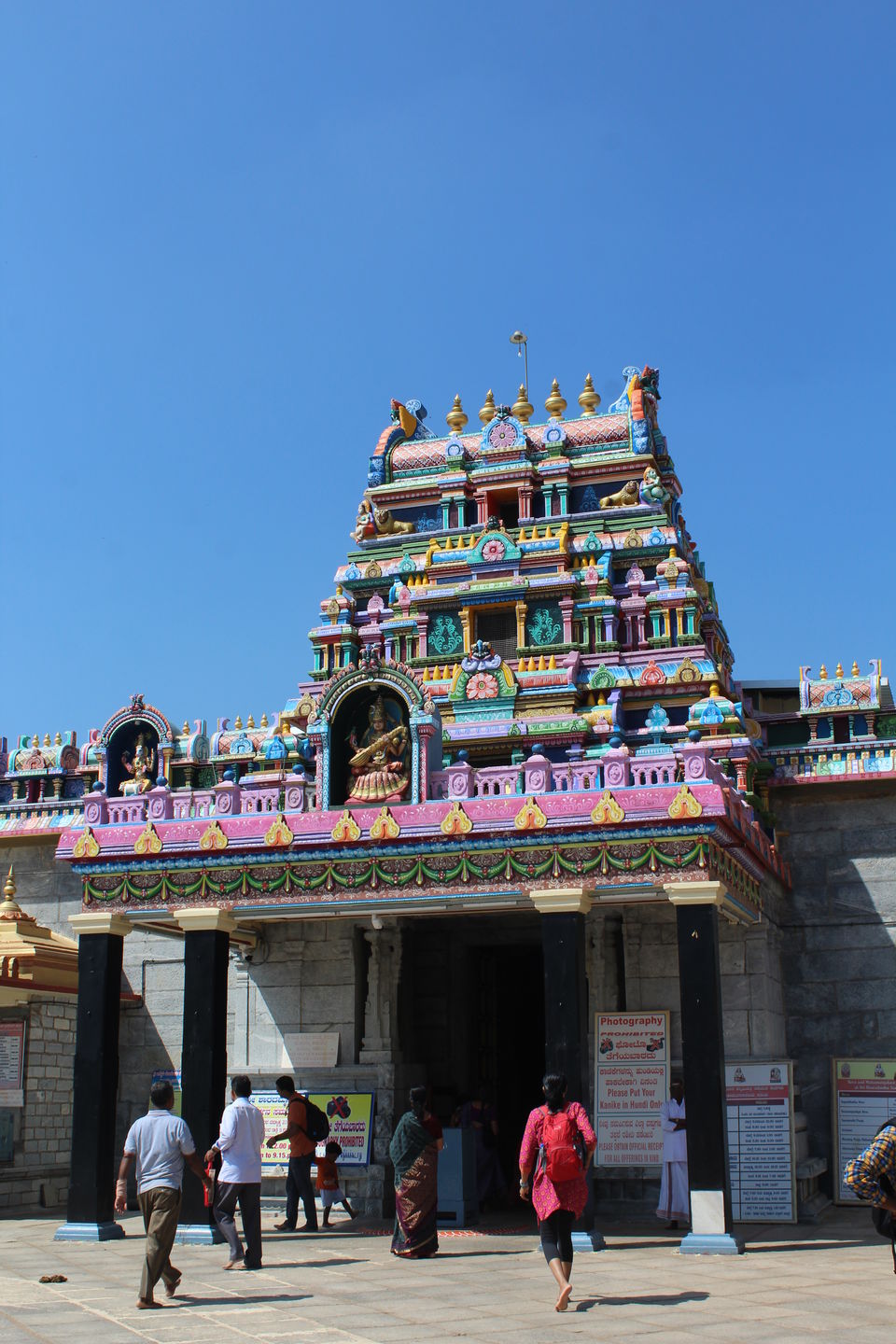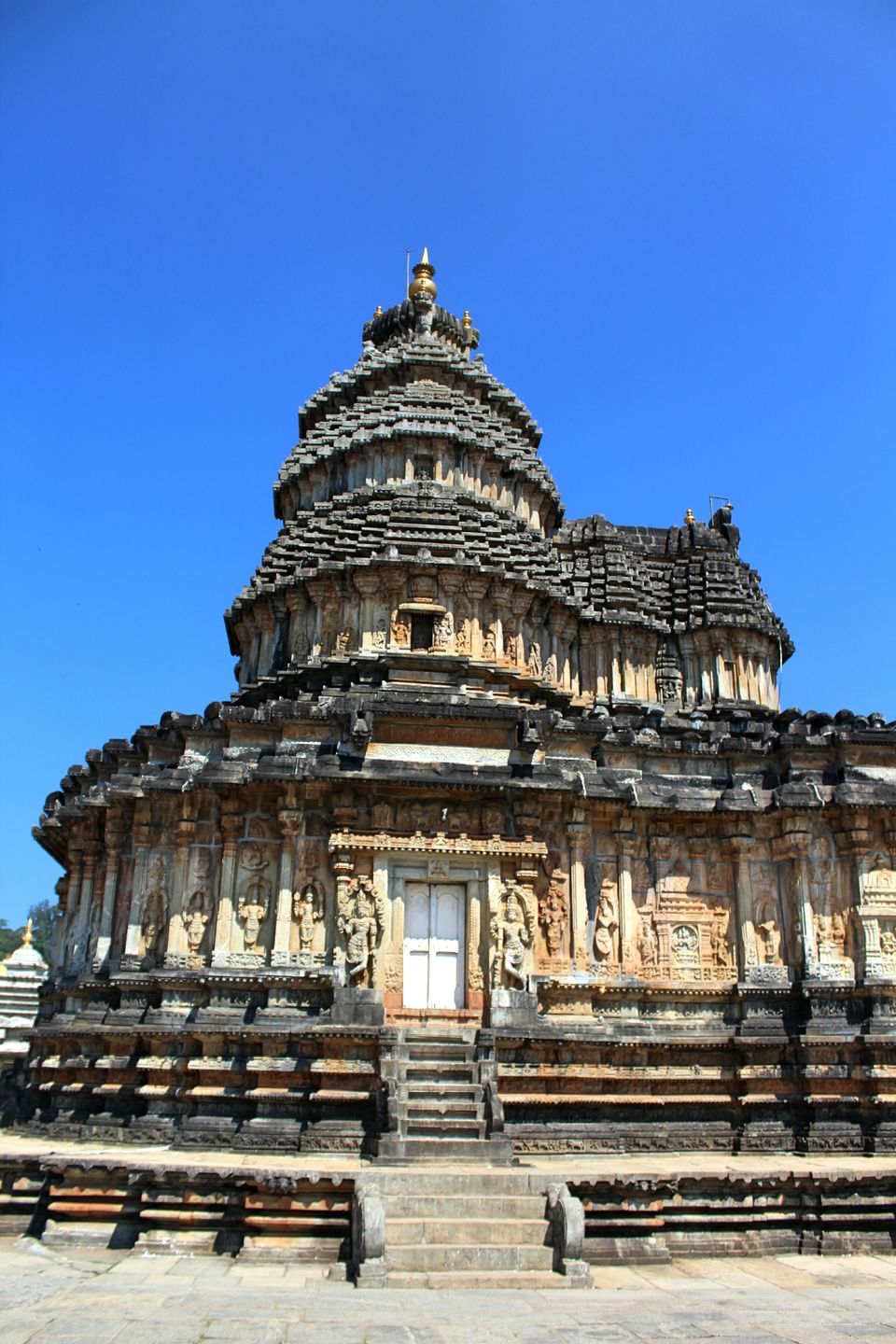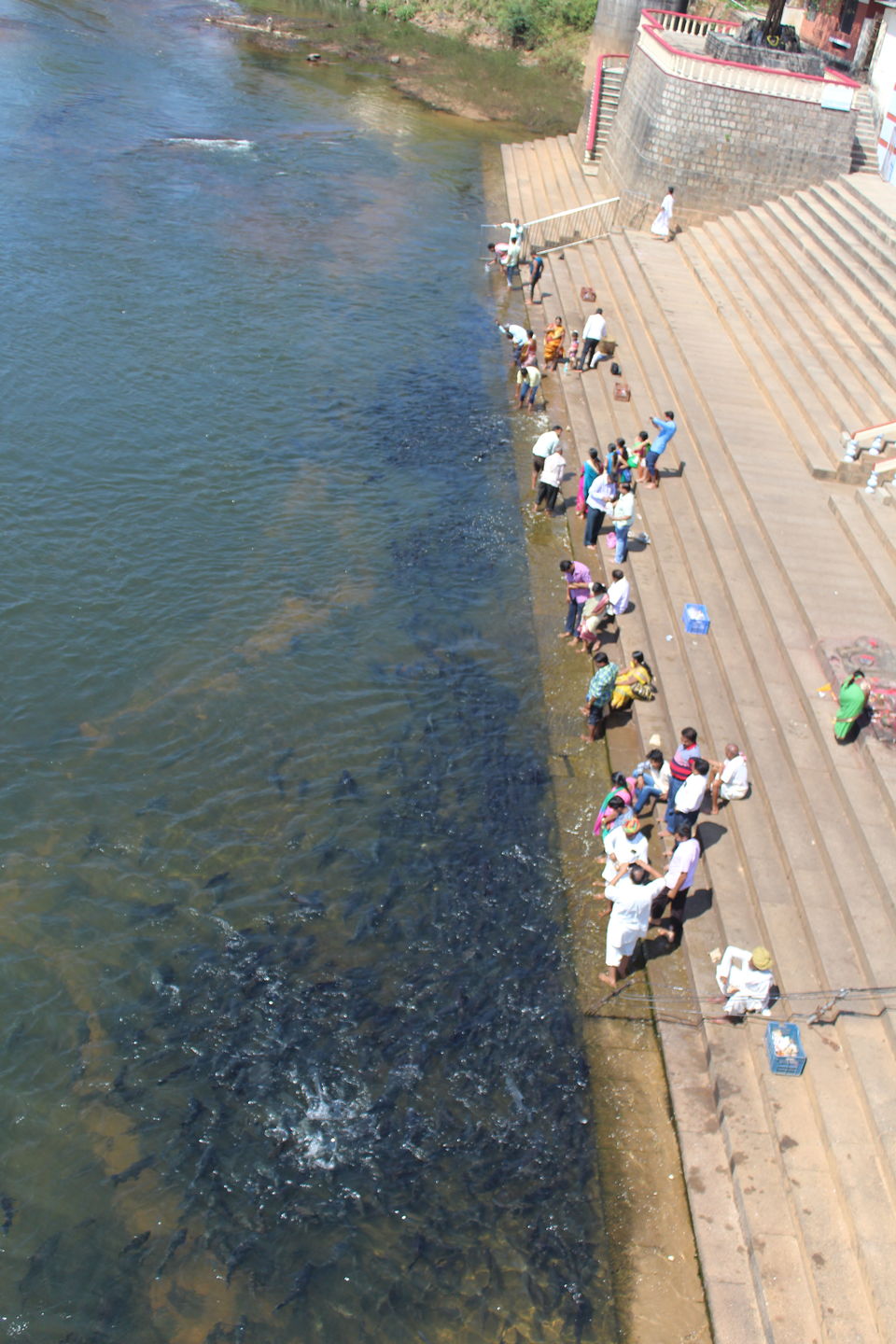 Our next visit was to a nearby waterfall called Sirimane water falls which is located 15 kms from the temple and one can hire an auto for 300 rupees to and fro to falls. The falls was pretty decent and we spent an half an hour at the bottom.

The day was so hot and humid that we decided to take rest the left out day as we also had to travel back to Thirthahalli to homestay. The dinner that night was also good and delicious prepared by the couple themselves.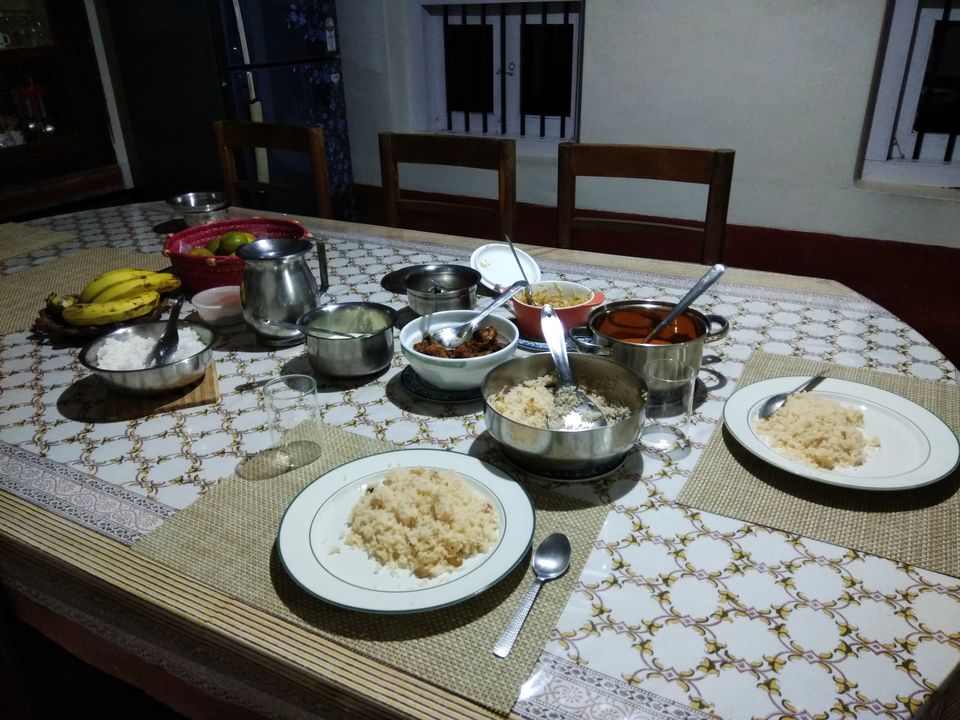 Day 3:-
The third and last day was a visit to the world famous Jog Falls which lies 108 kms from the home stay and again we decided to rely upon public transport as we had many options to go to Jog falls. It was 9 in the morning and we checked out of the home stay with our luggage and we boarded a private bus to Sagara, the town which is 30 kms from jog falls. It took us 12 p.m. by the time ewe reached Sagara and then 45 mins more to reach the water falls. And we were disappointed a bit as there was not that much of water flowing down the gorge as it does in rainy reason. Still the beauty of jog was not less and it had attracted much of tourists into it. After flocking around the view point we headed towards the end point of the gorge where you had to climb down the stairs to reach the bottom of the waterfall.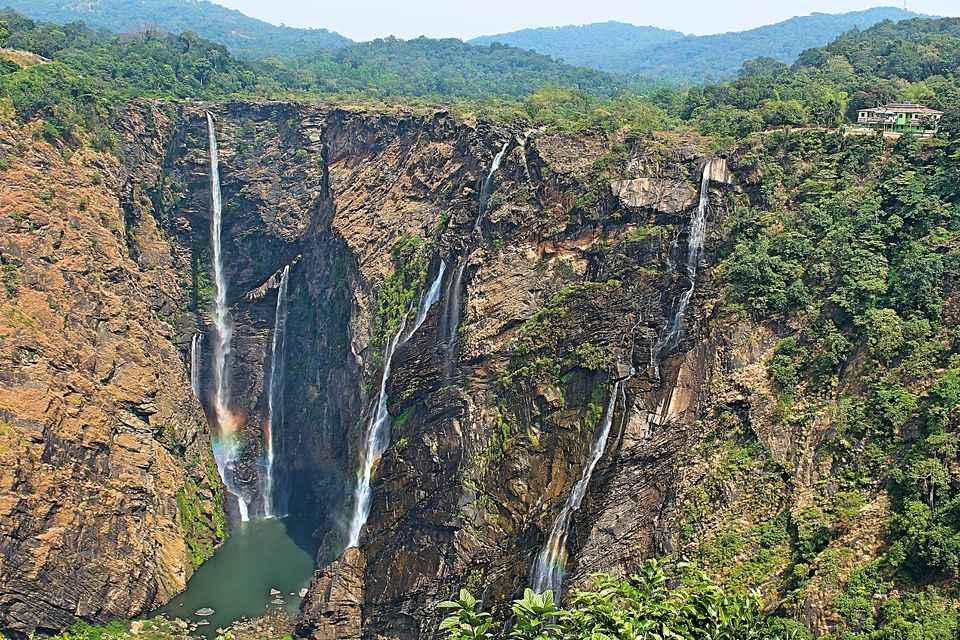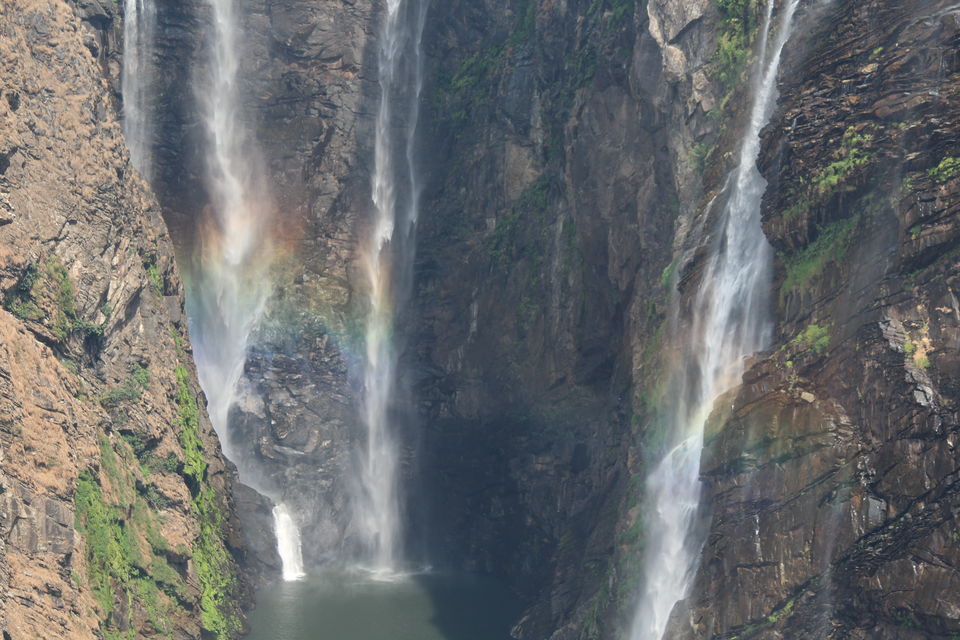 As it was a humid and a sunny day we were exhausted on our way back up and this ended our trip to Thirthahalli and Shimoga. Boarded a night bus from Shimoga to Bangalore.
Details of home stay:-
http://www.highpointhomestay.com/
Goutham (Property Owner) – 9448639222.
Food available – Both Veg and Non Veg.
Tariff –
Rs. 2,000 per couple.
Rs. 750/- per person for a group of 3 - 8 persons.
Kids below 7yrs no charges.
Kids from 7yrs-14yrs half charges.
Breakfast - Rs. 150/- per person
Dinner Rs. 300/- Per person.
Pre - Booking is the better option.

So if your choice is to enjoy all these places with staying in a single place and that would be this home stay which also comes under reasonable price tag with more comforts and good ambience.
Happy Travelling..........