I am not a hill person, but I love anything and everything about mountains, clear blue skies, vast green meadows and dense forests. I am a member of a facebook group - "Backpacking and Budget Travelling in India" every day I see people sharing their stories about trekking which makes me feel so motivated after all trekking is one of the best adventure activity in many terms. It is a physical exercise, and also the unique learning experience as mountains teach you a lot about life. By being open and excepting of new experiences, you allow yourselves to enhance your knowledge and further your understanding of the world and yourself. This time I was in Maharastra exploring some of the famous pilgrim destinations Shirdi and Shanishignapur. Maharashtra has number of amazing places that should cover during the monsoon season only, and The lush green destinations are the major attractions of the state. I had a day left with me, so I decided let's explore the some of the coolest, safest and unexplored treks in Maharastra. I took out my phone and started hunting for some places on the internet and checked with some of my friends' in Maharastra. Initially, I finalized Panchgani but eventually, I ended up finalizing the Visapur Fort Trek reason behind was the terrain of the trek, which is suited for both- an amateur who seeks an experience of a lifetime, and an expert trekker who wants to cater to his adrenaline filled hobby.
Altitude: 3,556 ft Time took: 2.5 - 3 hours each way Water sources: None. Carry at least 2 liters of water Terrain type: Rocky, forest trail Trek gradient: Medium
Visapur fort is a hill fort near Visapur village in Maharashtra, India. The trek to Visapur Fort is easily accessible from Mumbai and Pune. If you are coming from Pune the best way to reach Visapur Trek is the Pune - Lonavala local train. Get off at Malavali railway station. Alternately one can also drive-through using the expressway and get off at Malavi exit.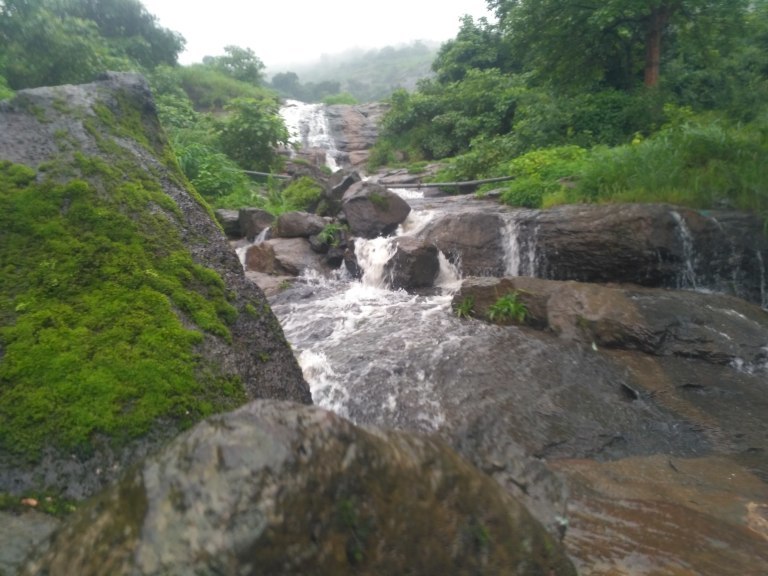 There are two routes for the trek to the top of Visapur Fort. The first is a more well-defined and faster route from the base village of Lohagadwadi and the second route is more winding, slower and difficult is from the Patan Village. After Crossing bridge (on expressway way near Malavali station) take a left for Patan village. I have started from Patan village the only reason to choose this route was its challenging path from the other one. I decided to go solo for this trek although I had no prior experience in any trekking activity so I wasn't sure whether I would be able to do it or not finally, I decided let's give it a try. As I started the trek and walked along the trails from Patan village in Malavli, It started raining heavily, and the rocks were slippery which made the trek extremely difficult to climb.
After walking a few meters the scariest and the thrilling part I have experienced was to cross the stream of the waterfall and go to the other side. As I mentioned before the rocks were slippery and it was difficult to pass the stream one wrong step, and you will be gone forever. The only way to prevent falls during stream crossing is you have to continually climb over the perfectly set stones on which water keeps falling. This stony pathway is safe enough for you to climb up and come down. These are well set and do not move even if you are crossing the waterfall.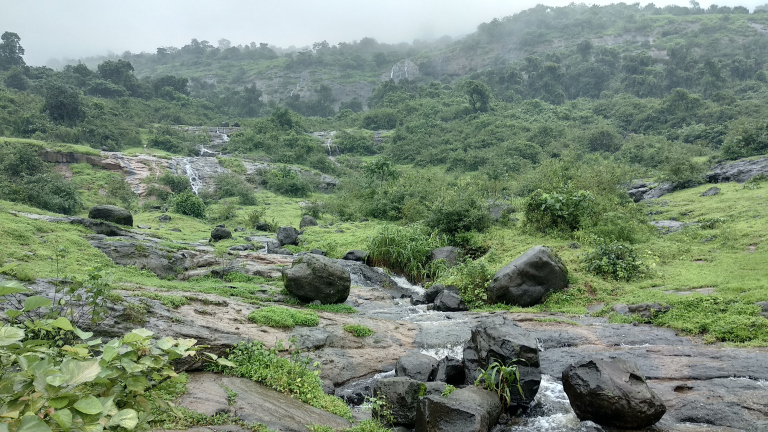 I don't know from which way I started. I'd gone too deep into the jungle. Eventually, I realized I was lost when I decided to go back a bit and figure out a different route. Luckily I got the help of local shepherdess she helped me to trace my way back to the trail.
After walking a few meters, fortunately, I could find the other fellow trekkers, so I joined them. Watching the beautiful view of jungles, valleys, waterfalls, mountains, helping each other on the way, talking with everyone, clicking photographs. Finally, we reached the summit, and we felt accomplished. I took off my bag, relaxed my shoulders and allowed the cold air to pass through my face. Then, I was feeling refreshed as the atmosphere above was quite comfortable. You could hardly see anything from the top as the entire sky is covered with clouds and cold breeze were flowing.
The end part was quite slippery again as it was muddy all the way down after jungle trail and big plateau which falls midway. It took us around one and a half hour to descend to the base. The total time took to complete this trek was 4-5 hours.
Visapur Trek is the most underrated and unexplored trek in India comparatively with its twin fort Lohagadh Kila. Overall, my experience was more than good it was my first trek and I never imagined it would be so thrilling also if you are planning to go solo, please do your homework before starting the trek.