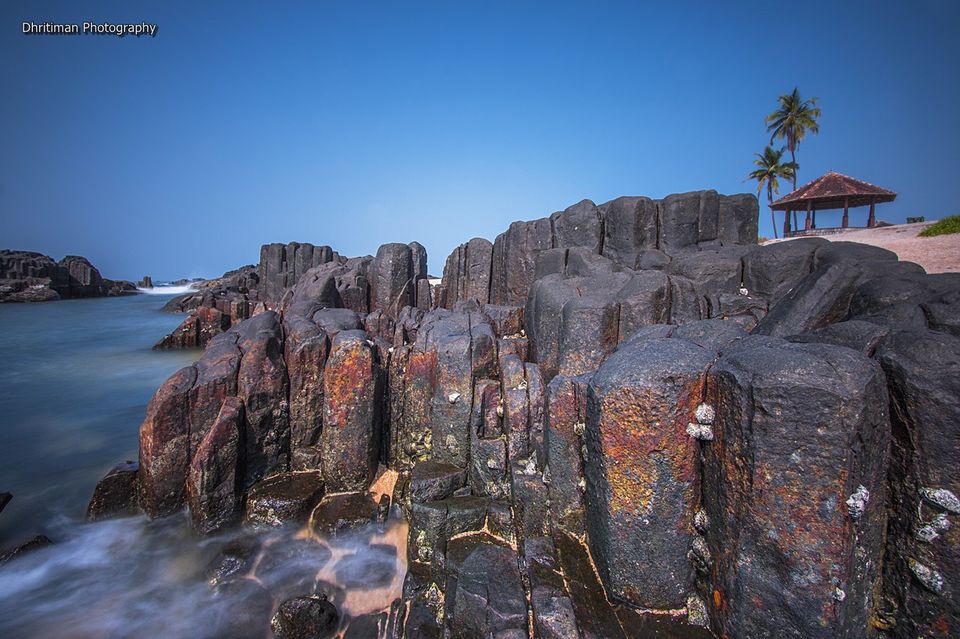 In the 2nd week of January 2016, the OneLifeFewClicks team was in Malpe & St.Mary's Island to set the ground support for its next Photography Workshop & Photography tour.

Folk legend will tell you various version of the story that it was Vasco-da-Gama who landed here first at St. Mary's Islands on his journey from Portugal, fixed a cross on the island and named one of these islands, "O Padrão de Santa Maria".
You may find some versions which say that since he found the island to be too small and could not see land any further from here so he decided to keep going southwards before reaching Khozikhode. This version may have a few flaws as one can easily see the main coastline of the Malpe Town from the St.Mary's Island.
What is important to know is that the rock formation of St.Mary Island called "Columnar Basaltic Rock" ( I may be technically off the mark. But you get the picture, its columnar, its basalt and its rocky, lets leave it at that ). Such kind of rock formation is found only in 2 places in India the first being St. Mary's Island the other being called Gilbert Hill, which is right in the middle of Andheri in Mumbai. (Surprisingly that piece of rock has not been leveled off an sold as real estate, possibly because there are some religious structures made on top of that.)
It may also interest you to know that St. Mary's Island is marked as a "Geological Location / Monument in India" by the GSI making it a significant place to visit.
Note for Photographers:
While it is very easy to be tempted to start day dreaming about the kind of photos you can get, let me help you set your expectations right.
It is without doubt an amazing place to experiment some long exposure photography and make some portfolio worthy seascape images. There are some pitfalls that you will face though, and here are some of them listed below.
For starters no one is allowed to stay on the Island, so no Star - Trials and Night photography is possible.
The first boat to this place is only at 9AM on week ends and on week days by the time the boat actually leaves it is almost 10 am. So no early morning shots are possible.
The last boat back from there is at about 5PM, with some luck you may be able to stretch it to 5:15/5:30, beyond that point there are no boats and neither the security guards let you stay back. So that makes the sunset shots a little difficult, but manageable.
This post was originally published on One Life Few Clicks.