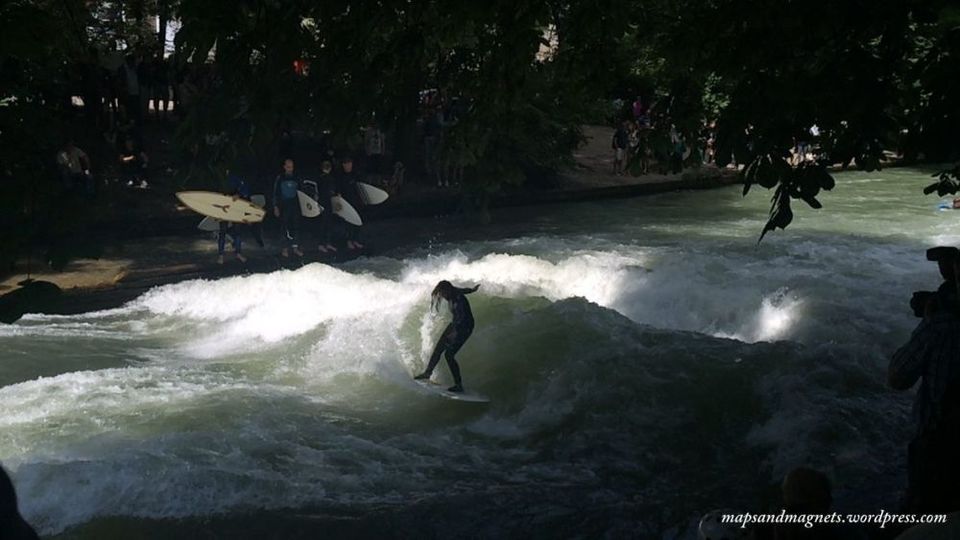 Munich is a lovely city, not too laidback, not too overwhelming. It boasts of some of the best museums and largest beergardens in the world, and you will probably spend a day or two exploring the basics. Here are some really unique and offbeat things to do in Munich you won't necessarily find in your tourist handbook. Try them out if you're looking to discover Munich off-the-beaten-path!
Top 7 Offbeat Things to do in Munich:
- Watch the ice surfers at the English Garden
- Take a day trip to the Bavarian Alps
Take a Third Reich walking tour
1. Watch the ice surfers at the English Garden
This is a hidden gem we discovered thanks to one of the managers at our hotel. I had done a ton of research on Munich before the trip, but this never popped up. I wonder why, because it's a sight to see! In the English Garden, there's a small man-made ice river (Eisbach/Isar), with very strong currents. Experienced surfers line up and take turns to brave the waves - the stream is so narrow and so strong that only one surfer is allowed at a time. There's even a sign up there that advises surfers against trying their luck unless they are professionals! I've always discovered some great offbeat things to do by asking locals. Whether it's the concierge at your hotel, your Airbnb host or a barista, ask them where they like to spend their free time. You're guaranteed some pretty offbeat recommendations!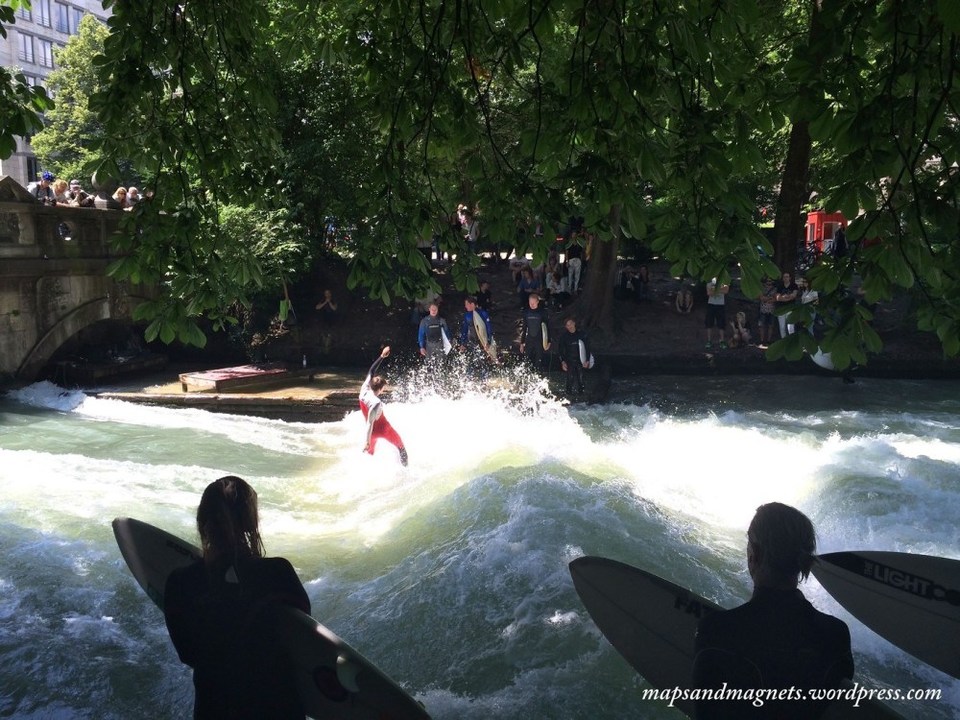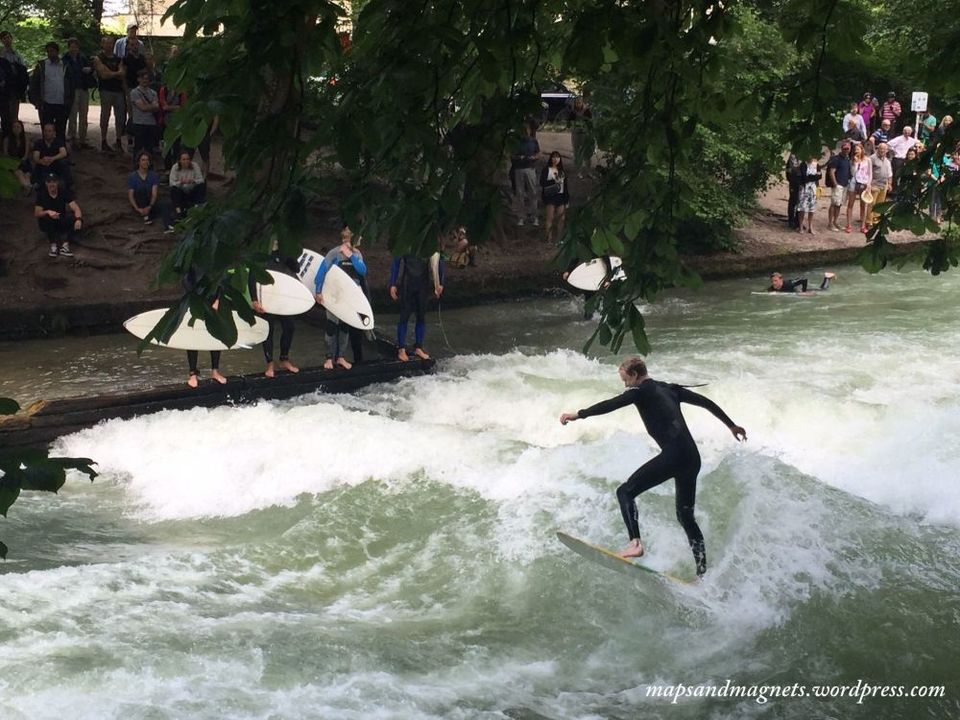 Unfortunately, there's no specific timing for this - it generally happens during the summer for most of the day, especially over the weekends, but I'm not sure about the winter - your best bet is to ask a local.
Don't miss this! You can watch them for hours, trying all sorts of tricks on the icy river!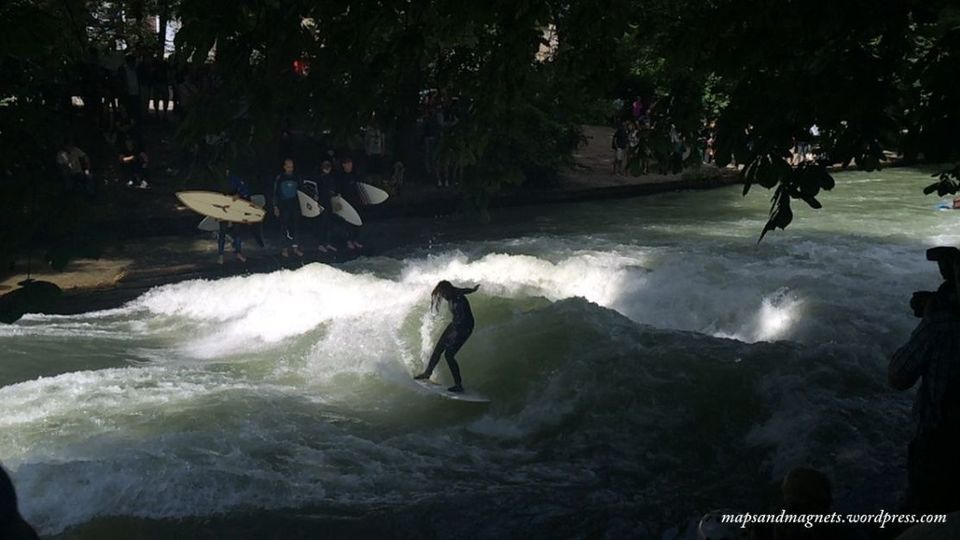 2. Take a day trip to the Bavarian Alps
There are multiple itineraries for the Bavarian Alps, ranging from a day trip to a week-long road trip. Obviously if you have more time, the best way to soak in the Bavarian Alps is to do a multi-day road trip along the Romantic Road and visit the postcard-perfect towns. But if you're strapped for time, and want to cover the essentials, a day trip from Munich should suffice. This usually involves driving to the Neuschwanstein Castle in the town of Schwangau, and exploring the villages nearby.
The Neuschwanstein Castle is said to have inspired the Disney logo - pretty cool, right? We rented a car from Munich, and were at the castle within 2 hours. The drive to the castle is absolutely gorgeous - you'll pass through picturesque mountains, lakes and villages. It's definitely one of the best things to do if you're visiting Munich.

More on how to plan an offbeat road trip to the Bavarian Alps here.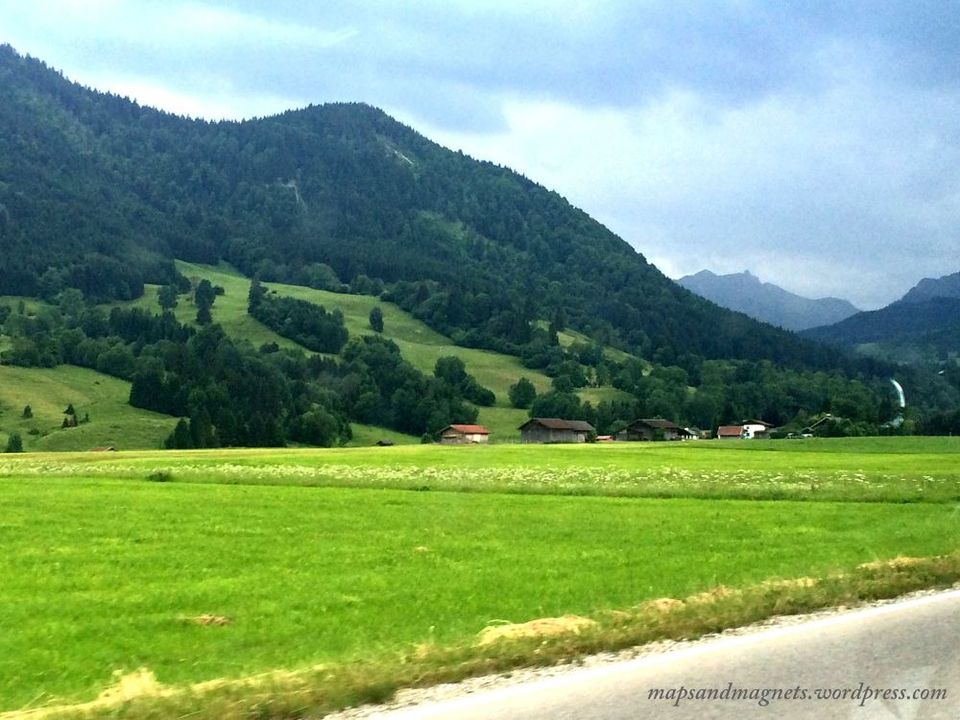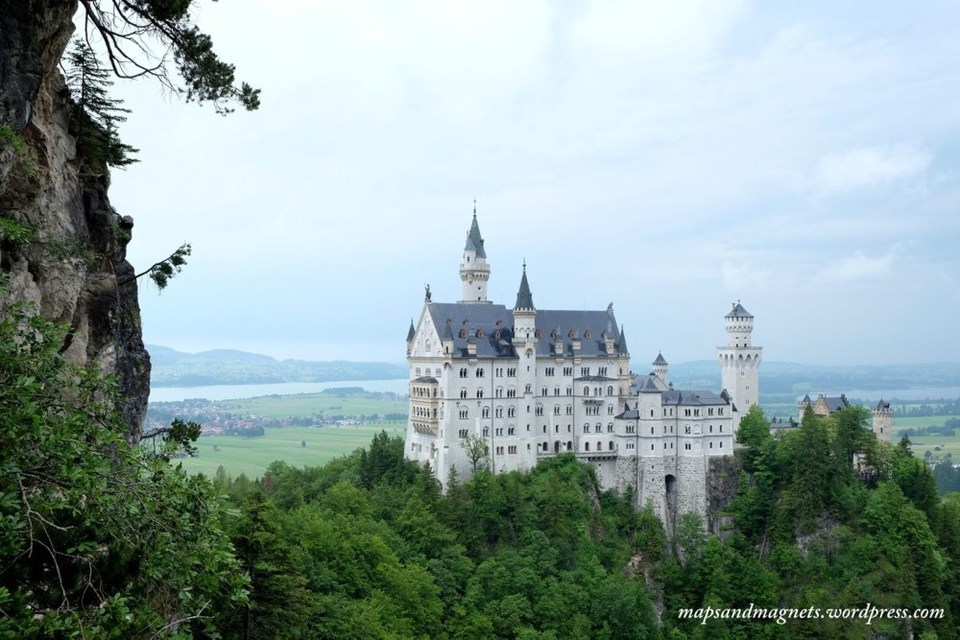 3. Soak in some history with the Third Reich Tour
If you find the history of the Second World War and Hitler interesting, please don't skip this tour! I think this was one of my favorite walking tours of all the cities I've taken on in, and definitely the most offbeat. Many companies run a Third Reich Tour, and I'm positive they're all equally good. We chose to go with Munich Walk Tours simply due to timing.

Our guide, Eric, was brilliant. He answered all the questions the group had, even when it went over the tour time. Despite being American, he didn't let any personal biases get in the way of his storytelling. We covered Hitler's rise to power (which happened entirely in Munich), right from his teenage years to his famous "beer hall putsch" speech, visiting all the important sights along the way, such as the building that used to be the Nazi headquarters: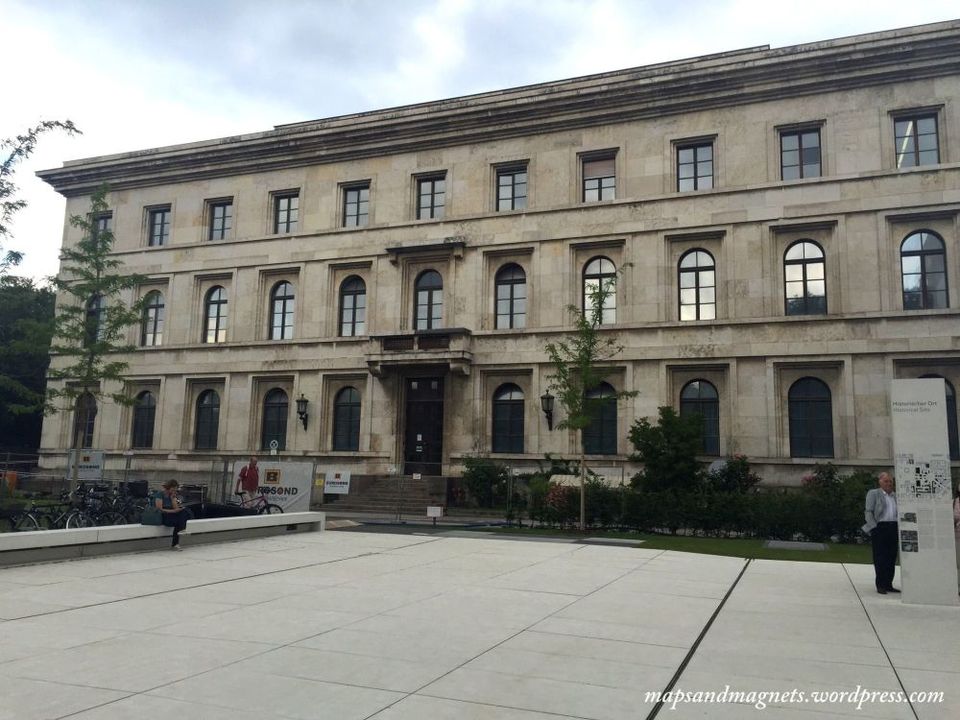 and the Hofbrauhas beer hall where Hitler made the "beer hall putsch" speech: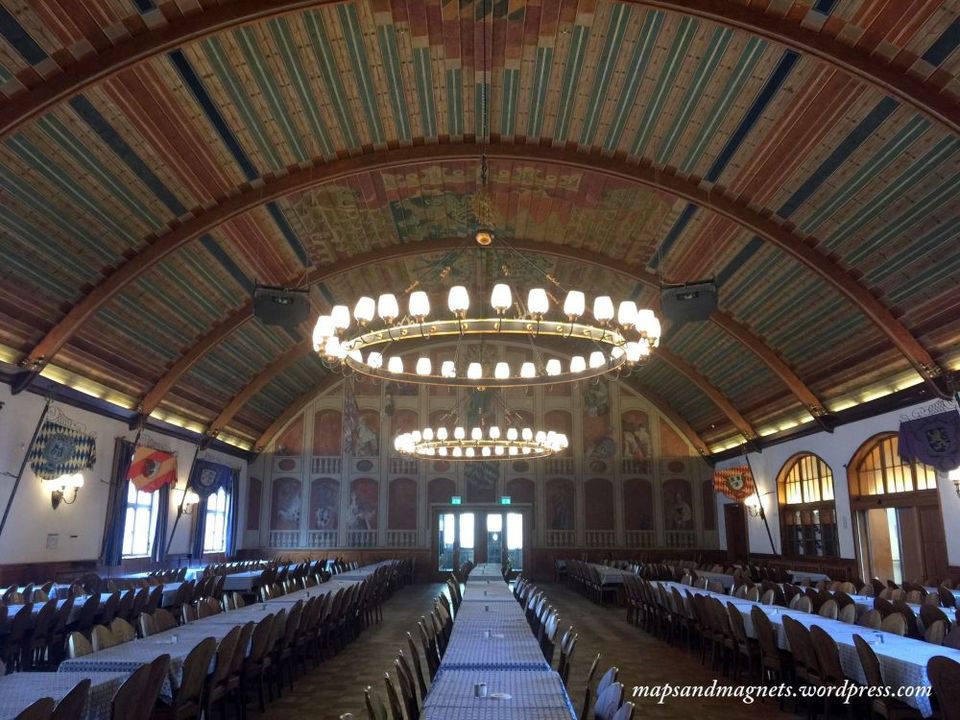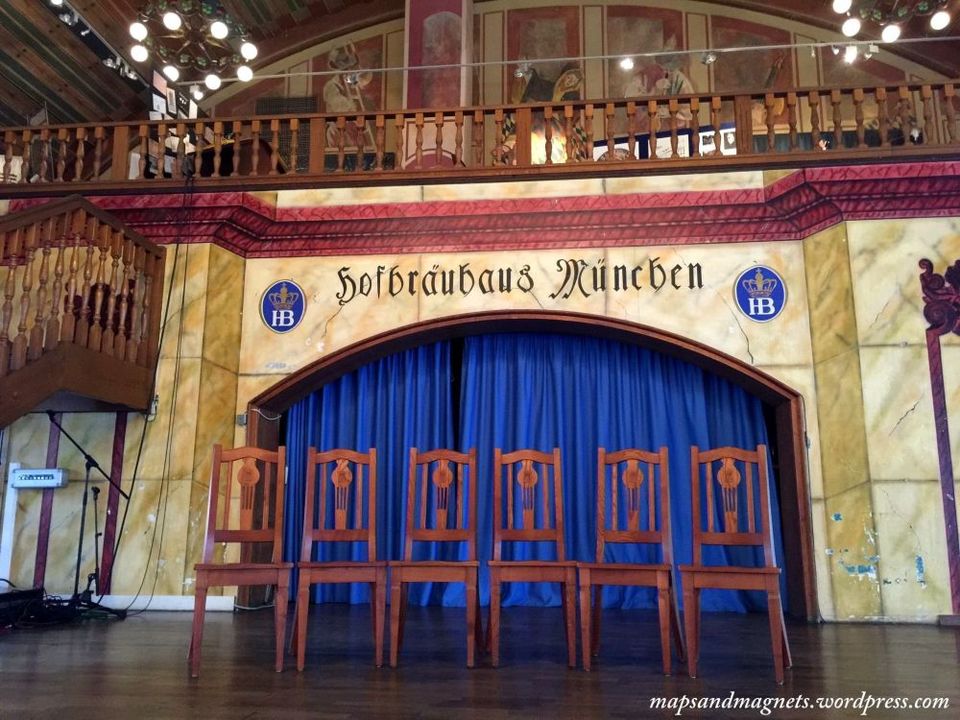 One of the cool spots we visited was known as Dodger's Alley. During Hitler's reign, there was a street in Munich where passersby were expected to pay respect to Hitler (through a salute) as they walked by. To avoid this, many pedestrians would choose to take a detour through a small bylane, which came to be known as Dodger's Alley!
This tour should be high up on your list of things to do in Munich. Definitely one of the most offbeat experiences I had in the city!
4. Bike through the city with Mike's Bike Tours
Munich is a biker's city! It's a bit scary to see bike lanes IN the middle of two car lanes. But in all honesty, Munich is a biker's dream! It seems like almost everyone uses bikes as the primary mode of transport, so it just felt wrong to come here and not do the same.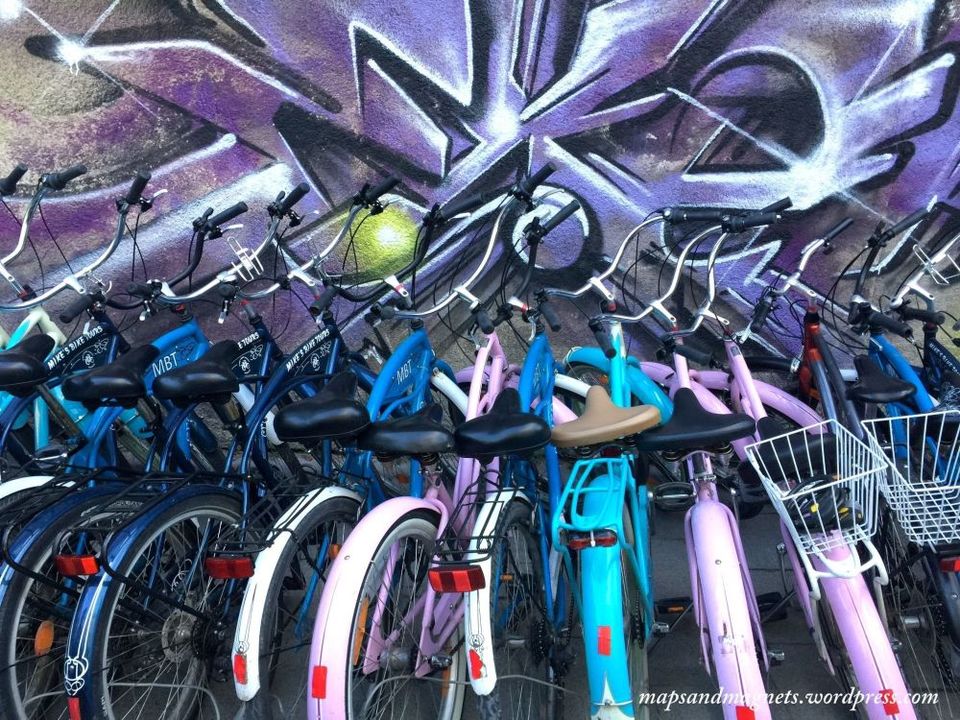 Mike's Bike Tours are the best-rated bike tour company in the city, offering a range of trips from 4-7 hour city bike tours, to Third Reich, Oktoberfest and Neuschwanstein Castle bike tours. Choose one that works best for you! We went with the 4-hour classic bike tour, that covers highlights of the city, since we felt the Third Reich Tour was probably better experienced on foot where you can focus your attention on the historic details and not on worrying about your bike!
The best part was biking through the English Garden - it reminded me of Central Park in New York! If you have more time in Munich, try and come back here for a picnic. The English Garden is also home to the famous Nudist Beach, and yes we did bike past it ???? What a unique way to explore the city.
5. Have a classic Bavarian meal at the second largest beergarden in the world
Mike's Bike Tours stops at the Chinese beergarden midway through the ride, so that everyone can get some food and drinks, and mingle. I'm not sure why this beergarden has a pagoda in the middle, but for whatever reason, it's called the Chinese beergarden!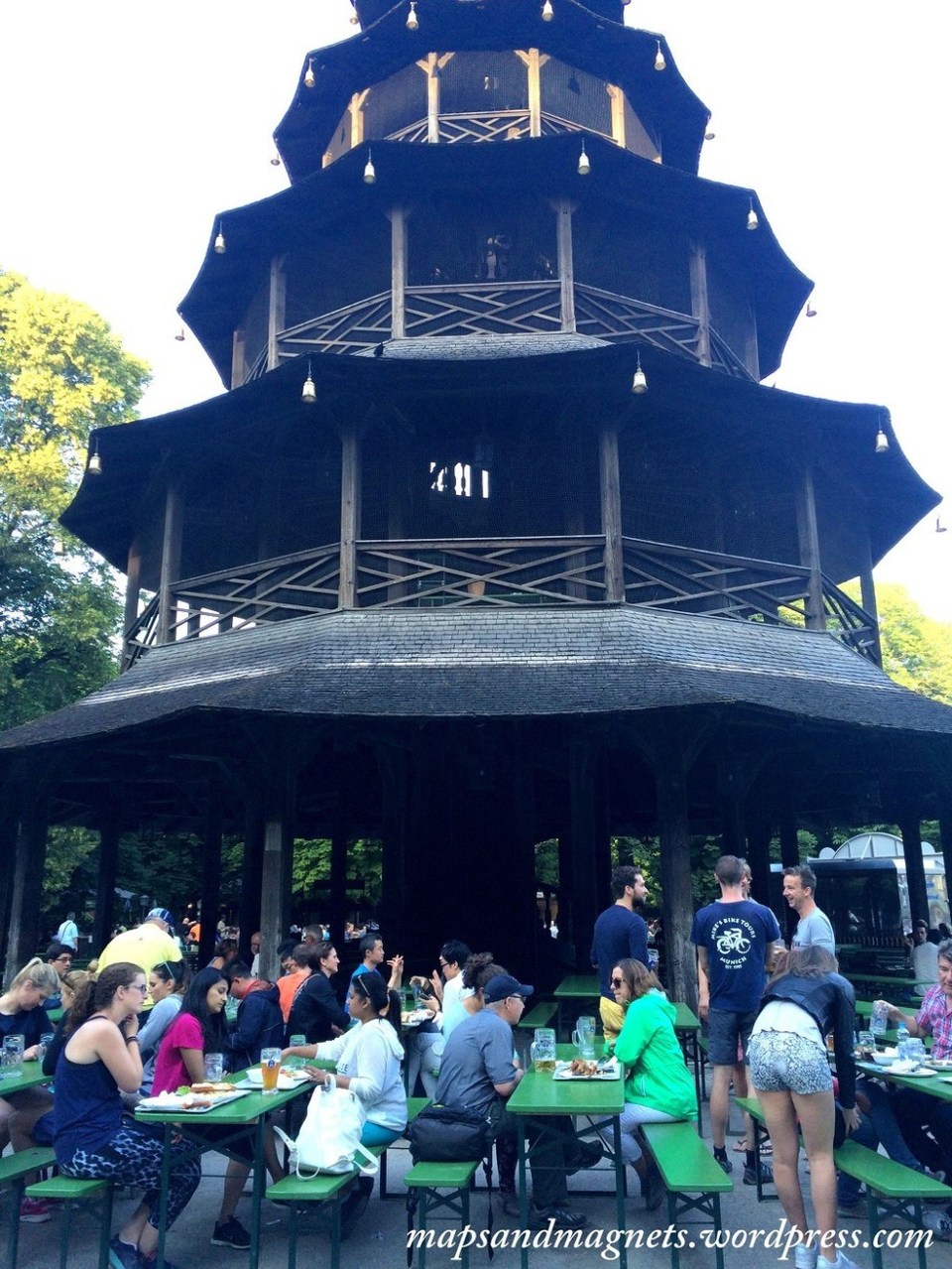 You must try some Bavarian delicacies while you're here. Luckily, there was a decent selection of vegetarian options: pretzels, potato wedges with chive sour cream, and the best thing of all - obatdza: a classic Bavarian dip for your pretzel, made with three types of cheeses - heaven!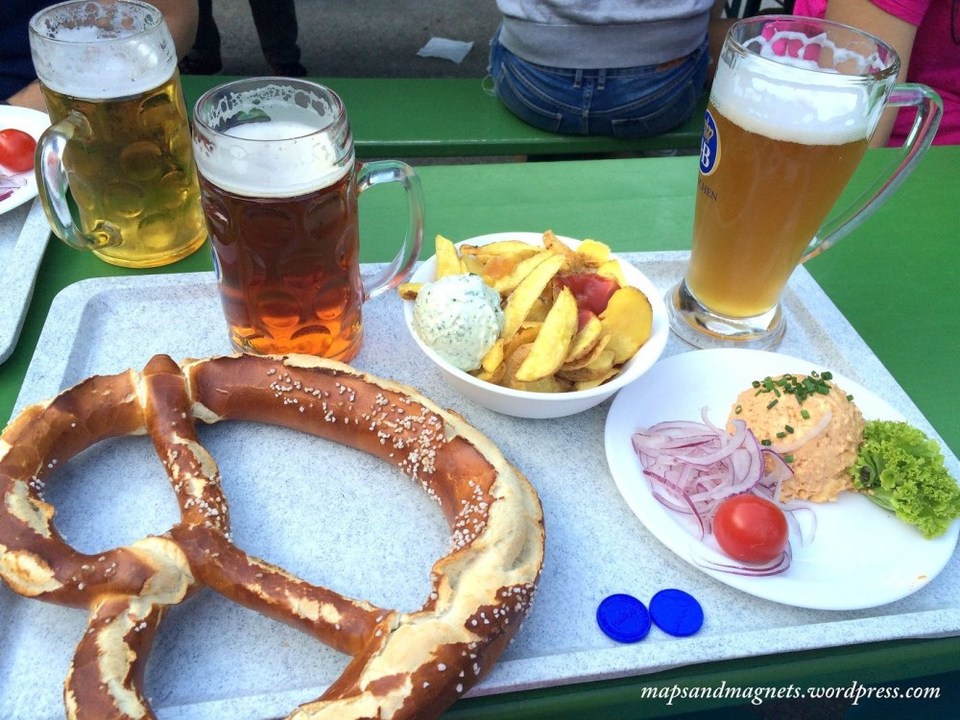 6. Enjoy 1 liter beer mugs at the Hofbraukeller
Hofbrauhaus is probably the most famous beer hall in Munich, since it was where Hitler delivered his famous "beer hall putsch" speech. As a result, it's the first stop on any tourist's list. I'd definitely recommend visiting it because it's an experience for all senses!
However, if you're looking for something more offbeat, head to Hofbraukeller for a real local beergarden experience. They've got an indoor and outdoor section, with a much more relaxed and less crowded vibe.
Fun fact: after 3pm, you can only get 1 liter beer mugs!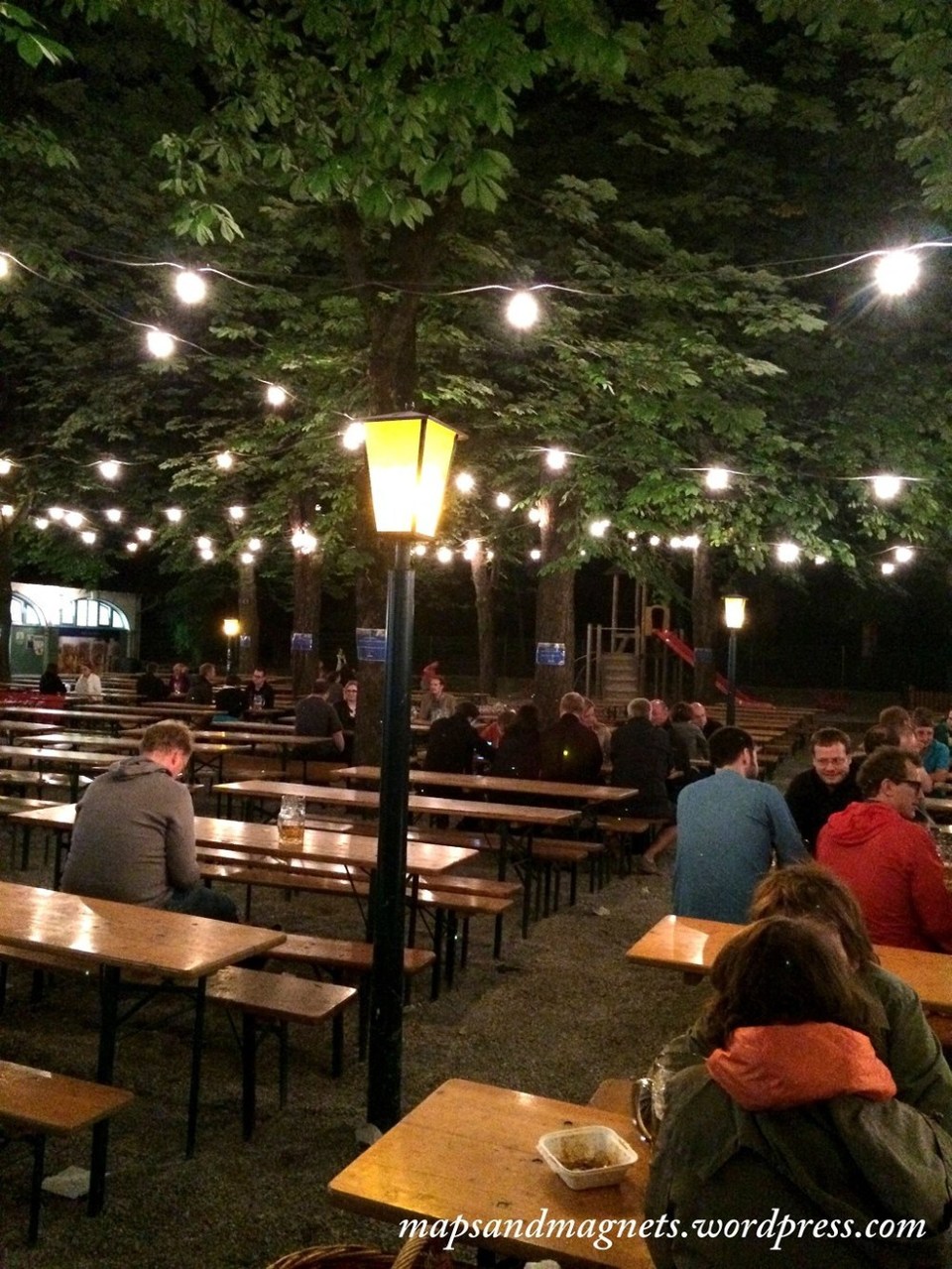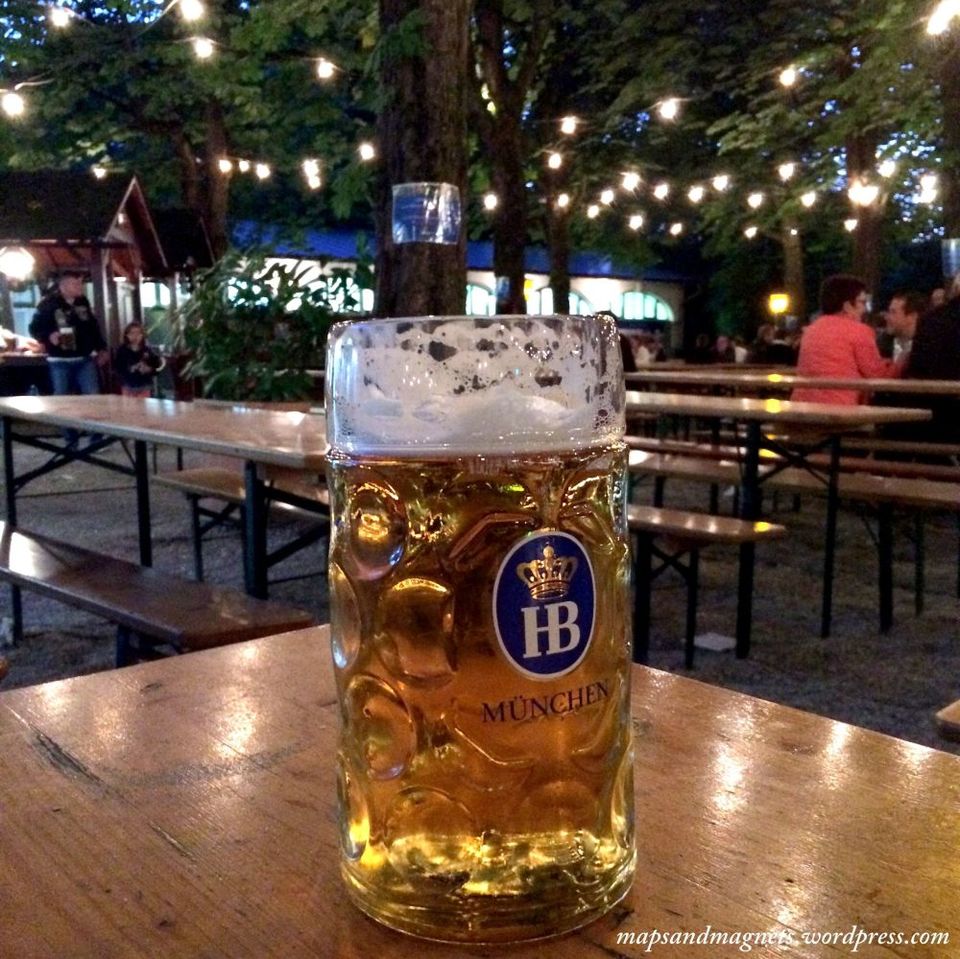 7. Stroll through the Viktualienmarkt
A lively, bustling market home to gourmet food stalls, handmade souvenir stores, and a relaxed beergarden! It's a great place to stroll through, and if you eat meat, definitely a good spot for a meal since you can sample local delicacies from different stalls. Unfortunately, there were literally no vegetarian options ???? Sorry I don't have pictures (wasn't carrying my camera that day) but really - this is such a fun place to be in the summer!

I always like to check off the basic touristy things in a city within the first day or two, and then spend the next couple of days trying out offbeat things that acquaint you with the local culture ???? If you've been to Munich and tried out something really unique, let me know in the comments!