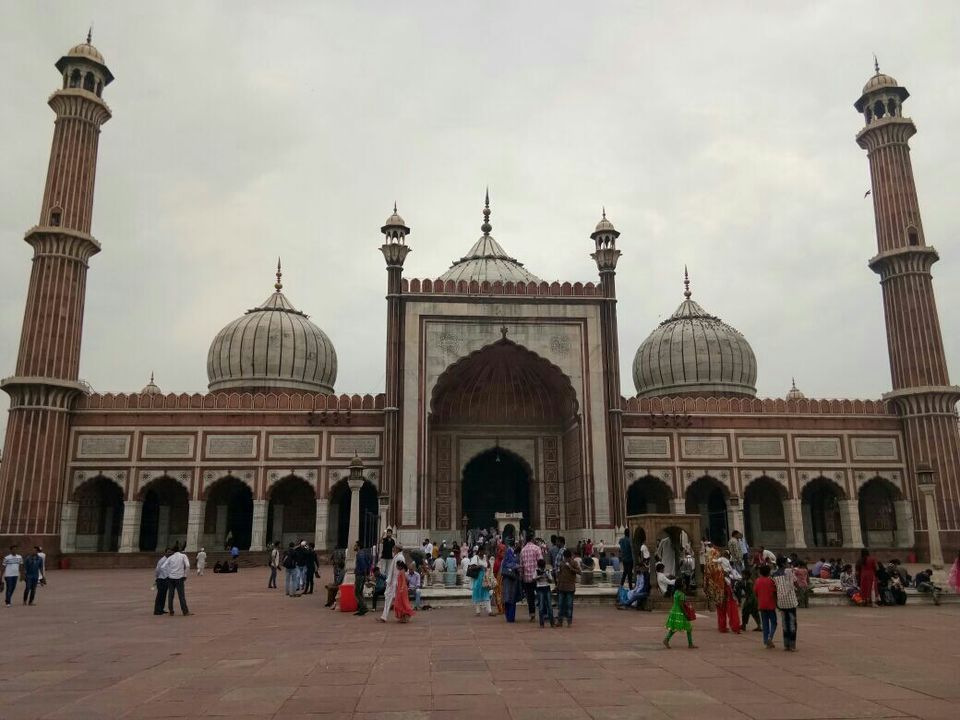 Delhi 6 is all about its sights, smell & sounds. A city within a city. This busy business district is Indian Chaos personified. However this colourful chaos is an an enjoyable one. No one person on the road is stationery. Everyone is moving & moving at a dizzying speed. Still as I alighted into the road from the metro station , I was widely smiled at by a trolley puller who was pushing heavy carton loaded trolley that I was about to bump into. Being the city it is, one is scared being smiled at by a stranger of the opposite sex. But this guy smiled & said, it will not hurt you, but be careful as the roads are narrow & crowded. Not everything is bad about this city ya! The cyclerickshaw & battery rickshaws get into a competition to lure in passengers, but do try the tricycle rickshaws. For 30 rs it takes 3 to Jama Masjid gate 1. The 3rd passenger sits perilously in a seat behind the back seat with the support of a rickety rod. Dangerous, but can be fun. Once the rick starts moving into the lane you have a hell of a ride. The cacophony of horns, hawkers of Chowri Bazar calling you out, pedestrians speaking loudly  (mostly cursing the vehicles) treats your ears. The India that resides in chaos but figures out its order.
The lanes & bylanes are narrow & tangled electric wires hang as festoons over these. Shops, godowns & houses jostle for space & roofs are connected. You can reach a different lane by the "roofways"(pun intended).
Crossing different markets we reach Jama Masjid a place of worship in this jostling locality. The complex is clean with a reservoir of water to wash our hands before we pray. The views from across the gates are colourful yet overpowering. Meana Bazar, known to be the oldest market of the city sells elephants to hair pins. Essentially a market of Jewels this market now sells faux LV purses to shoes & more. Some traditional ittar  (perfume shops) in the locality infuses some refreshing smell in an otherwise overpowering olfactory disturbance. Other markets are similar. But what caught my fancy were the wedding card stores. Brightly lit, ornamented & fancy like a jewellery store.
Moving to the tasting department, this place has undoubtedly the best street food of Delhi. Footpath vendors dish out the tastiest Chole Kulche plates. Chaats & bhallas make way for jalebi & kulfi. Rolls & chaap selling alike. We stopped at the iconic eatery, Karim's & dug into their specialities, khameeri roti, bheja curry, butter chicken & mutton Korma. A meal for 6 @ INR 1200 is a dream in the harsh reality of GST & service charges of restaurants in India. Another landmark eatery is Al Jawahar right next to Karim's. A low key place compared to the popular Karim"s but I have been told by my cousins accompanying me, that they serve better food in comparison to Karim's.
On our way back, the battery operated rick driver could make out that I was a tourist & informed that Delhi 6 movie was actually shot at Delhi 6 & showed me a couple of shooting spots proudly.
Delhi 6 has a lot of foreign tourists who are seen walking around. They do like this colourful chaos & so did I. Delhi 6 has a heart that beats at a pulsating pace.