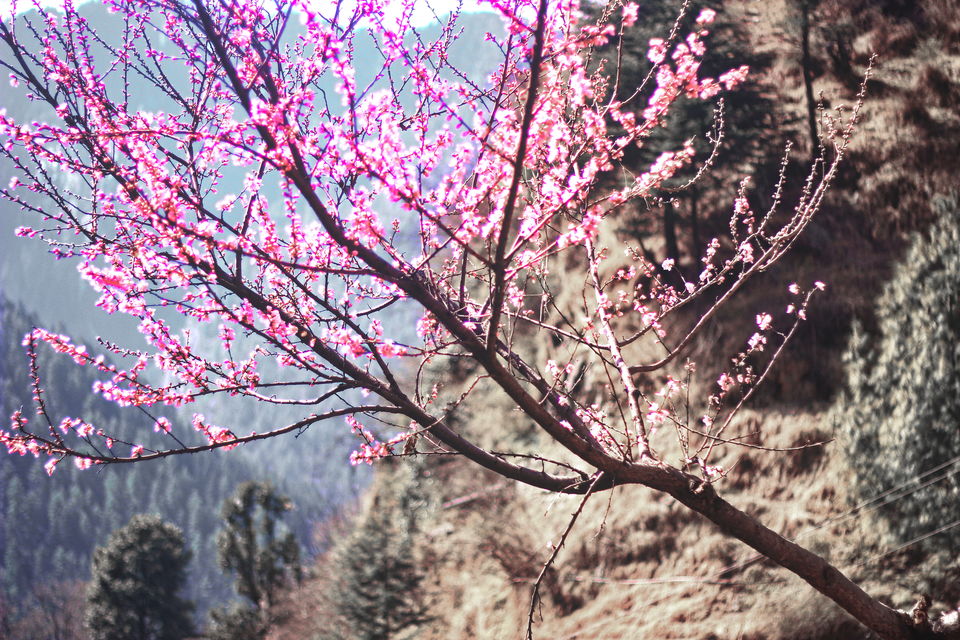 It comes back to me now the feeling of the chilled up wind blowing, kissing my face, letting me lose my own self, making me realize that they are coming from far North. That far North where the Himalayas stand still. That far North where lies no fake faces, no masking up but real smiles. That far North where pure and naked human emotions surface up. Half a thousand miles away from the very mainstream of humdrum of city life, lies a village in the most fortunate lap of Parvati Valley. A village named Tosh in Himachal Pradesh is where we started our main journey into the woods.
This serene village offers some real peace of mind with its calm air and the local people untouched by the world outside, still rejoicing their age old customs and traditions. From Tosh, one can trek to Khirganga which lies at an elevation of 3000 m. Tosh offers some majestic views of snow covered peaks, a couple of which I am sharing here.
Around 4 km east from Tosh, lies a sister village to it. The Mysterious Kutla is an another village where the mountains roars in their own silence. While trekking uphill from Tosh to Kutla , you will witness some extensively beautiful scenery, vegetation, streams and falls. In the month of March this year, we got lucky that it was still snowing in this alienated village and the snow flakes bestowed upon us as we entered and spent a snowy afternoon in a secluded hamlet.
The evening we trekked down from Kutla to our hotel in Tosh, the same evening we further descended into the Parvati Valley and reached Kasol and in the after hours from sundown we trekked uphill to Chalal, yet another village lying on the right to river Parvati ( Kasol being on the left). It rained down heavily all this while adding to our patiences and experience. The next morning when we woke up in Chalal, however, we got the prize for all the hardships. This charismatic village was offering us all some cracking sunshine, the fresh morning breeze right after the cold experience of Kutla the previous evening.
We stayed in Chalal for two nights and explored the nearby brooks, hills, local people and their culture, shepherds, and small scale cafes and restaurants boasting of their local cuisine and fine quality of Hashish on an obvious note.
It is from this village, that the trek to Rasol starts. Rasol (3048 m) lies hidden amidst the mountains and is by far the least explored village I have seen in the Parvati Valley. It is a two to three hours trek form Chalal, almost 70% of which is steep but do able nevertheless. From up above the village one gets a mesmerizing view of the mountains arranging themselves in a zig-zag pattern.
After this trip into the simple and soothing lifestyle of Rasol can be covered in a single day trek. Not many people are aware of the fact that from this village there is an another three to four hours trek that leads to Malana Village, which needs no introduction. Rasol, we trekked our way down to Kasol via Chalal. Kasol being the hub of marketplace and the most happening place to be among all nearby attractions. It is from Kasol that we bid our Goodbye to the Himalyas and came back only with heartfelt promises to visit back soon. Rasol offers a travel into the past, where people are still living proudly with their culture, their own deity, their unawareness about the world outside. It all just thrills your soul. I dare to put forward an opinion that man may wander in the cities, man may travel in the air, man might reach up to the stars, but the peace of mind and the feeling of stillness that the mountains offer are just right for the human conscious mind. That's what make travel into Himalayas a moment of epiphany and mysterious revelations. So plan up, backpack, and get ready to be lost and found in the Himalayas.