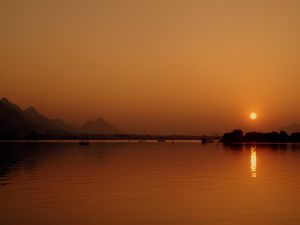 Things to do
Walk, Nature view
Best Months
September - May
Rank
3 out of 39 attractions in Ajmer
Ana Sagar Lake
Ana Sagar Lake is a lake in Ajmer, was built by Anaji tomar, the grandfather of Prithvi Raj Chauhan.
Places to stay near
Ana Sagar Lake
The Royal Paradise Resort and Salt Yard
Reviews of
Ana Sagar Lake
•
2
Anasagar Lake is not far from here. There is no better option than spending an good evening by lakeside. I had to leave for Pushkar on the same day, so I had my lunch at the restaurant near the lake and took a public Bus (Cost INR 20) from Roadways Bus Stand, Railway Colony.
Attractions near
Ana Sagar Lake