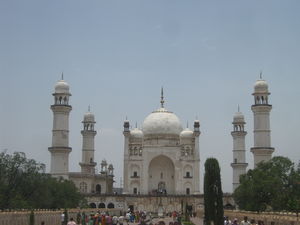 Best time to visit
Arond the year
Open hours
All Days 8:00 AM - 8:00 PM
Things to do
Historical culture, photography
Budget
INR 10/person (Indians), INR 250/person (Foreigner)
Bibi Ka Maqbara
The Bibi Ka Maqbara is just a maqbara positioned in Aurangabad, Maharashtra, India. It had been developed by Azam Shah, boy of Aurangzeb, in 1678 in storage of his mother, Dilras Banu Begum.
Places to stay near
Bibi Ka Maqbara
Hotel Kumkum Palace Ajmer
Homestay at Bungalow-97-Ajmer
Reviews of
Bibi Ka Maqbara
•
1
It is a replica of Taj Mahal built by Emperor Aurangzeb for his fourth wife.He had tried to build it like the Taj.It is very beautiful but is ont well-maintained.Truly a historical monument in Aurangabaad.
Attractions near
Bibi Ka Maqbara