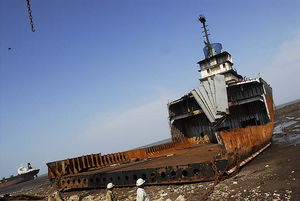 Best time to visit
Round the year
Open hours
All through the week from 8:00 am to 6:00 pm.
Things to do
Go through the remains of what once used to be some very important cargo carrying ships.
Alang Ship Breaking Yard
This ship breaking yard is located around 50 kilometres from the city of Bhavnagar and was set up in the 1980's. The shipyard at Alang salvage about half of the damaged ships from around the world making it a famous ship graveyard across the globe. The yards are situated at the Gulf of Khambat and are famous for the task that its carries out. Once known for its pristine beaches, the place now wears the look of a haunted dockyard filled carriers, supertankers, container ships and more. The ships are torn down and the steel and metal sold as scrap. When in the city of Bhavnagar, do arrange for a tour of this place as you wouldn't want to miss out on it.
Reviews of
Alang Ship Breaking Yard
•
1
The largest ship-breaking dockyard in the world, the shipyards here recycle almost half of the ships salvaged in the world.
Attractions near
Alang Ship Breaking Yard