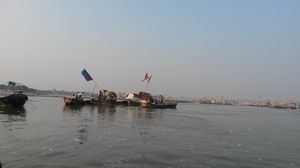 Things to do
fairs, photography, worship
Best Months
September - February
Rank
1 out of 43 attractions in Allahabad
Triveni Sangam Allahabad
This is the confluence place of the rivers Ganga, Yamuna and Saraswati in Allahabad. This is also the place where the Mahakumbh fair is celebrated and is known to be the largest Human gathering which takes place anywhere on Earth. The best part is that people come and be a part of this gathering irrespective of which caste, creed or religion they belong to. People enjoy the colours of humanity here and nothing else. The Ardh Kumbh takes place every six years in Haridwar and Allahabad and the Purna Kumbh takes place every 12 years in Allahabad, Haridwar, Nashik and Ujjain. This goes on for 5 holy days when people come and take a dip in the Triveni Sangam which is said to wash away a lifetime of sins.
Places to stay near
Triveni Sangam Allahabad
OYO 1063 Hotel Star Regiency
OYO 905 Galaxy View Hotel
Arora Lodge and Home Stay
Reviews of
Triveni Sangam Allahabad
•
1
When the sun quietly sets on the western limit adding orange hue to the blue sky above and transparent confluence of Ganga and Yamuna below, a masterpiece of nature reveals itself. The boats and the birds casting the perfect silhouette, the breeze from the land, the belief of the 'majhis' in the great Kumbh Mela, the Allahabad Ford at a distance and as your boat leaves trails on the water, the calmness of the place starts sinking in.
Attractions near
Triveni Sangam Allahabad