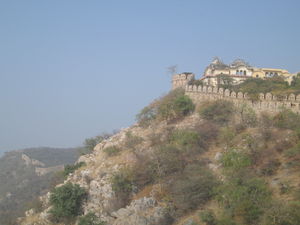 Things to do
History tours, site- seeing, photography
Traveller Types
Families, Friends
Rank
5 out of 29 attractions in Alwar
Bala Quila
Another hostorically rich place in the Aravallis, this fort is situated in the northenmost corner of the Aravalli Range in the Alwar District. The fort was built many years ago and is at presently completely in ruins. Only the huge Eastern Entrance is still intact and this shows that whatever attacks it has faced were all from the other side. The good part is that theauthorities are working towards repairing this whole place and trying to bring back at least a major part of the former glory. You need to obtain a written police permission to enter this fort premises. If you are unawre of this rule and just reached the place, you can stand in front of the fort and look around. Since, the fort is on a lofty hill, you get a lovely panoramic view of the surroundings from here.
Places to stay near
Bala Quila
Ritumbhara hotel and resort
OYO Premium Railway Station Alwar
OYO Rooms Pratap Bas Alwar
Goodliving Hotel and Resort
Reviews of
Bala Quila
•
1
The road to the fort is not very good, but the views from it are amazing. Also, there are no eateries or anything near the fort, so carry your own food and water. But, carrying on, the fort itself is beautiful. the fort was under renovation when we visited, so we weren't able to see the interior, but the outside was enough to wow us. There was a view point behind the fort, accessible through a slight trek. The view of both the fort and the city from here are wroth the trek. Definitely a must visit for anyone going to Alwar.
Attractions near
Bala Quila