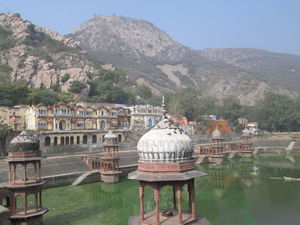 Best time to visit
11:00 AM – 3:00 Pm
Open hours
10:00 AM – 5:00 PM
Things to do
History tours, photography
Traveller Types
Families, Friends
Rank
10 out of 29 attractions in Alwar
Moosi Maharani ki Chhatri
The cenotaph is a monument of love. It was built by Maharaja Vinay Singh, son of Maharaja Bhaktawar Singh in his father's honour. This is also known as Moosi Rani ki Chhatri, named after one of the mistresses of Maharaja Bhaktawar Singh. Moosi Bai is said to have performed Sati by jumping into the pyre of her husband in this place only. After this incident she was given the status of a Queen. This monument is built outside the main palace. It is a two-storey building made of red sandstone. It is based on many small white marble pillars. There are also many domed pavilions on the ground floor. The Bengali styled arches and the just opposite red and white color just increases the grandeur of the beautiful monument.
Places to stay near
Moosi Maharani ki Chhatri
Ritumbhara hotel and resort
Reviews of
Moosi Maharani ki Chhatri
•
1
This is another beautiful, must visit place in Alwar. The red sandstone and and white marble cenotaph is beautiful because of its architecture and carvings. It is a must visit for anyone who loves architecture and history.
Attractions near
Moosi Maharani ki Chhatri