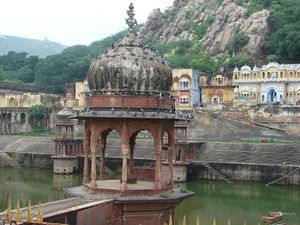 Best time to visit
11:00 AM - 2:00 PM
Open hours
10:00 AM - 6:00 PM, Closed on every Friday
Things to do
History tours, photography
Rank
23 out of 29 attractions in Alwar
Vinay Vilas Palace
This palace was built in the 18th century and just like the name suggests, it was built by Maharaja Vinay Vilas. This palace is also known as the City Palace of Alwar and is the main palace in this city. The beautiful monument is a pure and perfect blend of Rajput and Mughal architecture. This is an evidence of the relations between the two empires in spite of all the battles and wars. There are a number of other attractions inside the monument. The most important ones out of these are the Moosi Maharani ki Chhatri, Purjan Vihar, the beautiful, artificial lake built by the Maharja himself and the Alwar Museum of course. The Alwar Museum is the most popular out of all and has a vast collection of antiques. There is a huge collection of manuscripts in various languages such as Persian, Urdu and Sanskrit. Some of these are Bostan, Waqiat-e- Babri, Gulistan and others written during the Mughal period goving a vivid account of the royal life of the Mughals. There is also a division of the museum where you will find a collection of weapons of the Indian Army and there is a huge collection of beautiful paintings as well.
Places to stay near
Vinay Vilas Palace
Ritumbhara hotel and resort
OYO Premium Railway Station Alwar
OYO Rooms Pratap Bas Alwar
Goodliving Hotel and Resort
Reviews of
Vinay Vilas Palace
•
1
If you dig artefacts, historical monuments... this is the place for you to be. The palace is extravagant with the Durbar Hall being one of the most focused space in the palace. Now this palace turned museum exhibits the cultures and treasures of the Rajputanas and the mughals to some extent.
Attractions near
Vinay Vilas Palace