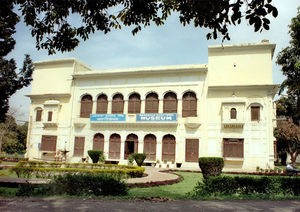 Best time to visit
11:00 AM - 2:00 PM
Open hours
9:30 AM - 5:00 PM except Mondays
Things to do
History tours
Budget
Rs 40 for adults, Rs 20 for children and free for children upto 5 years
Rank
10 out of 52 attractions in Amritsar
Maharaja Ranjit Singh Museum
Located in the largest city of Punjab, Ludhiana, this is a war museum named after Maharaja Ranjit Singh. Maharaja is known as the "Lion of Punjab" and this museum was opened to the public in the year 1999. The museum has a simple design and is circled by a pretty garden with colorful flowering plants. The war museum is mainly dedicated to all those bravehearts who have laid their lives in the various battles fought so far. The items displayed in the museum also make all citizens and visitors aware of the importance of defense in everyones' lives. there are displays of tanks, canons and other weapons along with the model of the INS Vikrant. The sense of nationality is wonderful that each visitor feels over here. The light and sound show which is held here regularly is an attraction as well. In this show you get to know about the Independence Movement in which Punjab took part whole- heartedly.
Places to stay near
Maharaja Ranjit Singh Museum
Amritsar's bed and breakfast
Reviews of
Maharaja Ranjit Singh Museum
•
2
Maharaja Ranjit Singh Museum and Panorama: This museum is modelled close to Shalimar Gardens of Lahore and is a popular tourist attraction in Amritsar owning to its natural scenic vista. It was earlier named as the company garden but was later changed to Rambagh by Maharaja Ranjit Singh to mark his devotion to Guru Ram Das.
You will be witnessing the household of the Sikh Empire's founder. A great fighter and an extraordinary leader. Right next to this museum stands the beautiful Maharaja Ranjit Singh Panorama, which is an eternal visual record which encapsulates the life of the Maharaja. All this is packed in a huge circular and two storied building which highlight the superb painting that gloriously convey the stories of his battles. All this is punctuated with several figures that render the place a new dimension; all this is supported by a multimedia exhibition depicting the scene of war. Some other things that are worth noticing here are several huge and paintings of real life size. Along with that there are dioramas which feature the life and times of the great Maharaja himself. One thing that is highlighted is a court scene of the erstwhile metropolis of Lahore. The latter is a likeness of a painting by the Astro-Hungarian artist, August Schoefft; also called 'Court of Lahore', it was completed it in 1852 and exhibited in Vienna for the first time in 1855.
Attractions near
Maharaja Ranjit Singh Museum