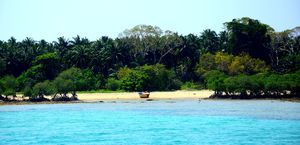 Best time to visit
January to May and then from October to December.
Things to do
If you feel like relaxing. Just stretch out on a mat by the sea.
Budget
This varies from activity to activity.
Best Months
September - May
Traveller Types
Couples, Families
Rank
1 out of 16 attractions in Havelock Island
Radhanagar Beach
This beach happens to be the most popular one out of the many beaches that dot Havelock Island. What is so good about this beach is that it is kept very clean even though it is so popular and is visited by tourists on a daily basis, in large numbers. The sight of the white sands in contrast with the blue waters of the ocean is the perfect retreat for those who need a break from the humdrum of daily life. At Radhanagar beach one should expect to find a number of water sports planned by the department of tourism. This includes snorkeling, boat rides, underwater diving to witness the marine life and much more. As a matter of fact, this beach is famous for the water based activities that keep tourist engaged for days.
Places to stay near
Radhanagar Beach
Rustic hut for three, by GuestHouser
Reviews of
Radhanagar Beach
•
49
Attractions near
Radhanagar Beach